---
With so many brands nowadays it has become more and more difficult to choose a good set of speakers for your home cinema system. That's why a lot of manufacturers are offering complete sets of speakers and a/v receivers to help consumers buy a set without the fuss of having to buy individual parts. For the vast majority of consumers this may be acceptable but if you want to have a good quality home media entertainment system then buying individual parts is the only way to go.
We will be reviewing different sets in our articles trying to cover a wide range of home cinema parts from more affordable in price ones to some more premium brands. Without further delay let start our home cinema speakers review…
IN A FEW WORDS
Our choice for today will be a home cinema set from Klipsch. We have selected the specific parts in order to create a set that will work good when combined all together. Now I have to point out that these speakers are not cheap but at the same time are not the most expensive ones. When dealing with home cinema equipment the sky is the limit as far as how high a budget can go so what we want to do is create a set that will have very good sound without going ridiculously high on price. Klipsch quality is astounding and has received several awards over the years for their quality speakers they make.
Featuring cerametallic cone woofers, hybrid tractrix horns with linear travel suspension titanium tweeters, MDF cabinets with brushed polymer veneer baffle finish and strong, flexible removable grilles these speakers are some of the best you can buy in their price range.
---
FRONT SPEAKERS –
Klipsch RP-250F
Cheapest places to buy :
For the front speakers our choice is a pair of Klipsch RP-250F floor-standing loudspeakers. This model belongs to the Reference premier series as Klipsch likes to call it and what you get here is the most compact speakers in this lineup. I believe that the specific model is enough to cover a medium sized home cinema with enough power and clarity and I like particularly that they don't take a lot of space.
---
CENTER SPEAKER –
Klipsch

RP-440C
Cheapest places to buy :
For the center speaker we chose the Klipsch RP-440C. This is the second in line in the Reference Premiere lineup and the difference is that the RP-450C is equipped with 5.25″ woofers compared to the 4″ woofers of the RP-440C. In my personal opinion the RP-440C is more than enough to provide crystal clear and loud dialogue for a medium sized home cinema room.

---
SURROUND SPEAKERS – Klipsch RP-240S
Cheapest places to buy :
For the surrounds I would recommend the Klipsch RP-240S surround speakers. With four of them you can create a magnificent 7.1 surround sound field. What is special about these specific speakers from Klipsch is that they offer dual Woofers and Tweeters in an angled position making sure the sound is dispersed evenly throughout the room no matter how you position them in space.

---
FRONT HEIGHT SPEAKERS (FOR DOLBY ATMOS) – Klipsch RP-140SA
Cheapest places to buy :
In order to take advantage of Dolby Atmos and DTS:X we need to add a pair of front height speakers. For this we chose the Klipsch RP-140SA height speakers which is what Klipsch recommends. These speakers have an angled design making them ideal to place either at the wall above the main front speakers or on the ceiling. Very clever design and it shows how much thought is Klipsch putting on their speaker designs.

---
SUBWOOFER – Klipsch R-112SW
Cheapest places to buy :
To complete our 7.1.2 speaker setup we have decided to add the Klipsch R-112SW active subwoofer. It's 300W power is enough to make your chest rumble and it will provide all the bass you will need to bring your movies, music and video game to life. I see lately a lot of people like to have dual sub woofers in their home cinema systems but my recommendation is to go for one and test first before you even consider to go dual. For a small room a single unit of the specific subwoofer will be more than enough so testing is always the best course of action if you have a larger dedicated home cinema space.

---
BONUS SUGGESTION – A/V RECEIVER YAMAHA RX-A2070
Cheapest places to buy :
As a bonus I am going to suggest an a/v receiver for the above speakers setup. For this set we chose the Yamaha RX-A2070 which belongs in the AVENTAGE line of Yamaha a/v receivers.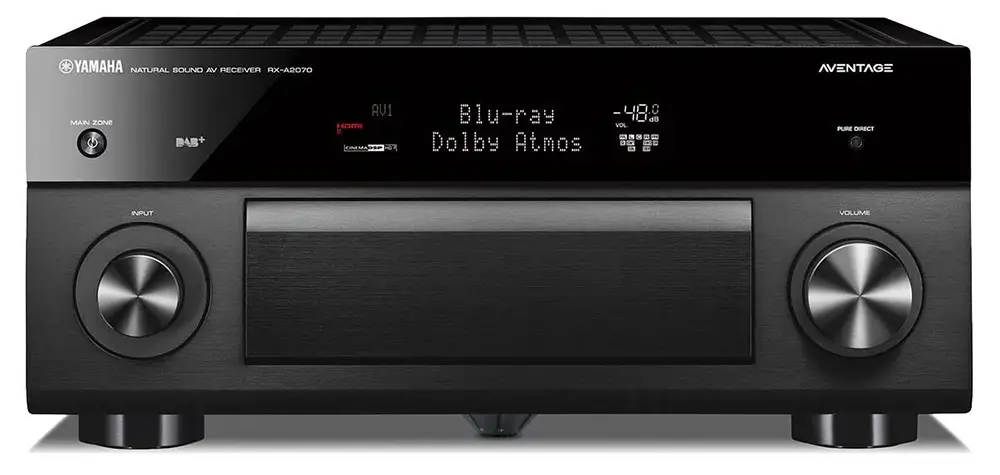 The AVENTAGE series is considered the premium series of a/v receivers that Yamaha is offering and the absolute best you can buy from this manufacturer. The RX-A2070 is a 9.2 channels receiver that supports all the new formats like Dolby Atmos and DTS:X and has a healthy amount of features and connectors for all your needs. This a/v receiver is placed in the middle of the AVENTAGE series and the first one to support 9.2 channels. There are even more top tier models than this that offer 11.2 channels but the price difference is huge and we want to keep it in reasonable budget frames here.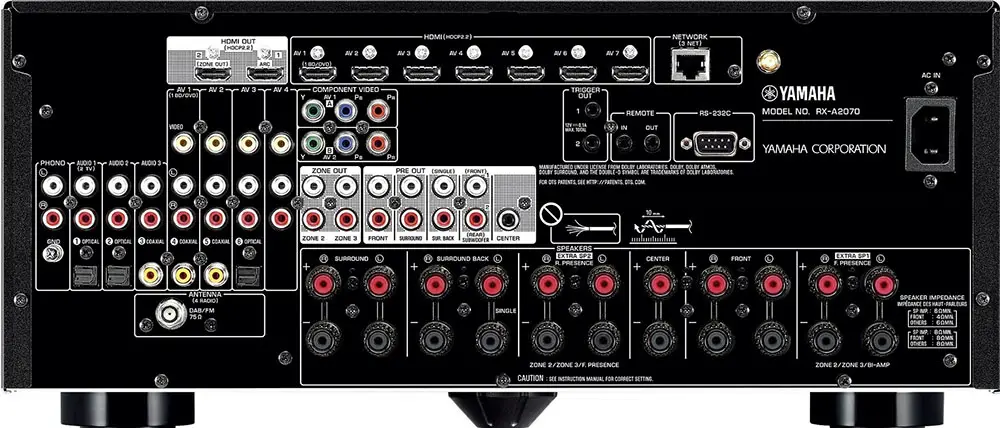 In order to do justice the above Klipsch home cinema speakers set you need a good a/v receiver and we believe the Yamaha RX-A2070 can deliver all the power you will need as well as quality and clarity in sound reproduction. It also supports dual subwoofers if you think that a single unit will not be enough for you so you are covered in this respect also. You can read our detailed review of this receiver HERE.
---
AUTHOR'S VERDICT
In this home cinema speakers review we recommended the above speakers and a/v receiver in order to create a top of the line home cinema system. The parts we chose may not be the absolute best because we didn't want to reach crazy high levels of budget but on the other hand we wanted to get the best possible quality considering the price. You can even find some of the above parts bundled together in the links below for a better price and it is worth a look if you are thinking to get them all to save some money.
Of course a 7.1.4 speaker system is the absolute best you can get for a home cinema system but 11.1 a/v receivers are still very high in price and I would recommend them only if budget is of no concern to you. In this case you can add another pair of Klipsch RP-140SA height speakers and create a truly amazing home cinema speaker system.
But even the above recommendations create a truly amazing set and one that will withstand the passing of time. Klipsch offers amazing quality and the speakers above will provide all the power and clarity you will need for your new home cinema room. The Klipsch speakers will reward you with delightful moments of cinematic and musical satisfaction.