JBL Bar 9.1
Design -

86%

Movies Performance -

91%

Music Performance -

91%

Inputs and Features -

85%

Price / Quality -

90%
---
Cheapest Places to Buy :
---
Every year soundbar manufacturers push the envelope on what these audio devices can offer and we see a gradual improvement on the features being added especially on their top tier units. With Dolby Atmos and DTS:X each brand had to find new ways to incorporate these into their new models and while up until recently virtual technologies was the main way of adding these, manufacturers are starting to fully utilize dedicated speakers to their new releases. One such company is JBL and today in our JBL Bar 9.1 review we will be looking at their flagship unit and what it has to offer.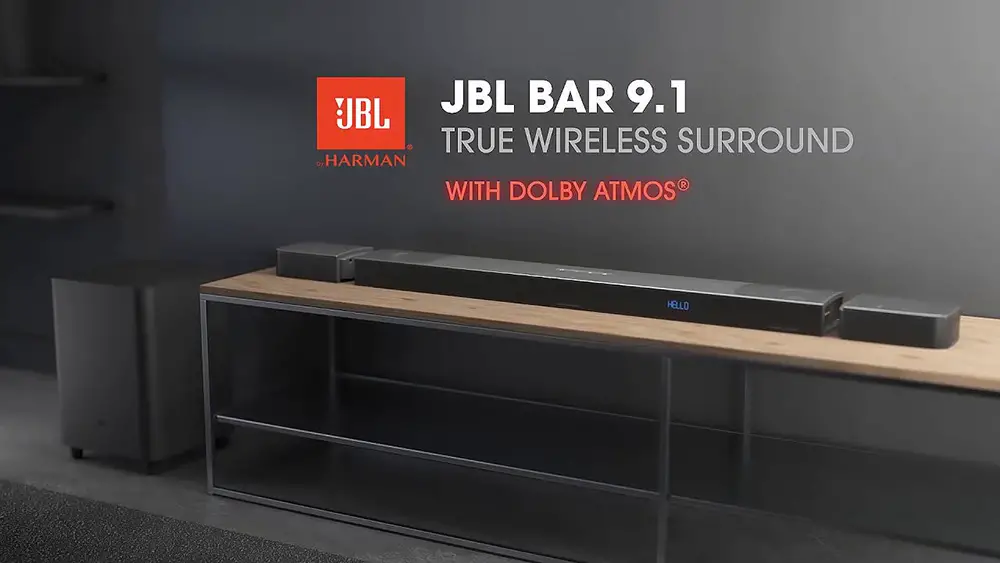 There are a few interesting features that the Bar 9.1 comes with and definitely the highlight is the four up-firing Dolby Atmos drivers it uses while the second is the completely wireless, battery powered surround speakers it comes with. It seems that many manufacturers are slowly embracing both surround and up-firing speakers for their top flagships, one being the recently reviewed LG SN11RG, but in the case of the BAr 9.1 we get completely free of wires surround speakers making placement much more easier.
This soundbar may be JBL's flagship but it seems they have decided to go a different route than LG did with their offering. While the SN11RG comes fully packed with features and extra functions it seems that JBL decided to include what is necessary and focus on the sound performance mostly which in the end is what matters the most with such a high profile unit. But are it's 9.1 dedicated channels and all the technology that hides below the hood enough to give us the kind of Dolby Atmos experience you are hopping for? Le't begin our analysis to find out…
Design, Inputs and Features
Exterior
JBL was never the company that offered top premium quality soundbar designs as they were always mostly focused on the kind of performance their products would offer than the looks and the use of exotic materials that we have seen in some other flagship units. Not that the Bar 9.1 is of bad quality, not by far, it's just that you would expect something more from such a high profile device than what you get. But let's see everything in detail.
First of all it's size. Last week we talked about the gargantuan SN11RG that was one of the biggest soundbars we had reviewed so far. With the Bar 9.1, being a true 5.1.4 channels design, we were expecting to get if not the same at least a similarly sized unit but we were pleasantly surprised. This unit is pretty compact for the amount of drivers it carries measuring just 34.8 x 2.4 x 4.7 inches (884 x 62 x 120mm) and with a weight of 8.0 lb (3.64 kg) which is below average and can make placement a breeze.
Now one thing to mention here is that one of the reasons the LG SN11RG was so long had also to do with the fact that it came with side firing surround drivers also, something that the Bar 9.1 lacks giving JBL the ability to shrink it's size further making it ideal for any TV even as low as 43″. Also as it doesn't have side firing drivers it means that you have more freedom in placing it even in smaller furniture without loosing in acoustic performance.
JBL always offered adequate designs that never had the wow factor but at the same time were still good lookers. The JBL Bar 9.1 is such a design as the unit will never turn heads but will never look ugly on your living room. The soundbar obviously is fully covered in plastic and keeps a very symmetrical design with the whole front face being perforated and covers the front drivers along with the functions display.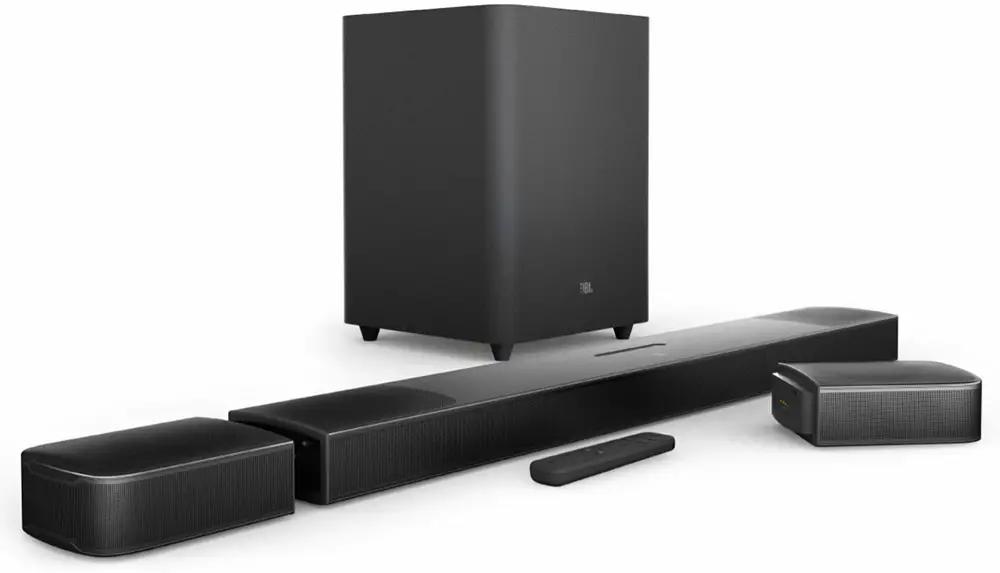 When the surround speakers are docked in the main unit it looks like one body with nice curved edges. But even when the surrounds are detached you can use special side caps to hide both sides of the unit in order to hide the speakers pin connectors.
The top side has a very subtle curve to it which is a nice touch while at the center we get the usual built-in buttons which rather surprisingly are touch sensitive and placed in a specially designed groove which doesn't look as nice as we would like. Touch sensitive buttons may be a more "premium" addition but it can create all kind of problems as these tend to become unresponsive over time and using them in the dark is almost impossible. Exactly to the right and left of the buttons is the built-in microphone array that is used for the audio calibration system that is available.
But being a true Dolby Atmos soundbar at the top we also get two up-firing drivers that are positioned at each far side and hide under a perforated grille. We will talk in more detail about these in the appropriate section while the JBL logo that is placed just in front of the buttons sums up the overall design.
Another thing that we liked is the fact that JBL has included a functions display at the front between the center and right channels. We are always very critical of this as many soundbars don't offer one and it can be a pain to know the status or condition of the unit that way. The display of the Bar 9.1 will show you all necessary information including input source, volume, Bluetooth functionality and others.
The back of the unit is pretty straightforward as we are talking about a sealed design. A single inset located dead center is hiding all included ports and connections while we like the fact that the power connector is near the rest and you can easily group all cables together. There are no holes for wall mounting as the included wall mounts attach to the main unit underneath and not at the back.
If we miss one thing then that would be an IR repeater although the soundbar does indeed feature a low profile design with only 2.4″ (62mm) height we would like to have one in order to cover all bases. Unfortunately we don't so make sure your TVs IR sensor is not low enough to be obstructed by it.

Next let's talk about the surround speakers which are indeed rather unique. JBL instead of following the rest of the manufacturers went their own way and made them truly wireless. All other soundbars that claim to have wireless surrounds most of the time are not really that. They still need power to function but the ones in Bar 9.1 feature a battery so there are no cables whatsoever.
And if you thought that this is a cool feature keep in mind that each rear speaker includes two drivers, one for the surround and one for the rear Dolby Atmos effects! Design wise the speakers feature the same lines and looks with the main bar so when these are connected it looks like one unit. The speakers measure 6.8 x 2.4 x 4.7 inches (173 x 60 x 120 mm) and weight 1.6 lb (0.72 kg) which is not small and this is due to the fact that they include dual drivers along with the necessary battery. Their casing uses the same plastic that we saw in the main unit in order to look same in design.
Each speaker has its own light indicator that shows connection and battery status while charging them from empty will take them around three hours and last for around ten. But JBL went one step further and if you find the need to connect the surrounds to the main unit for them to charge a boring thing to do all the time there are USB connectors that you can use to charge them outside the main unit. Brilliant idea and definitely gives you a lot of flexibility when it comes to their charging.
Last but not least the subwoofer included is a real powerhouse and it's definitely on the big side compared to the size of the soundbar. Featuring a down firing driver and a big bass port at the back it features a very cubic design with smooth, rounded corners and big rubber feet for leaving enough space underneath for the driver to breathe.
The back is pretty simple with a single pair button and the power connector. Measuring 12.0 x 17.3 x 12.0 inches (305 x 440 x 305mm) and weighting 24.5 lb (11.10 kg) this one may not have a very aggressive design as many can mistaken it for a small table but it's size indicates good things on the low end which we are going to find out shortly.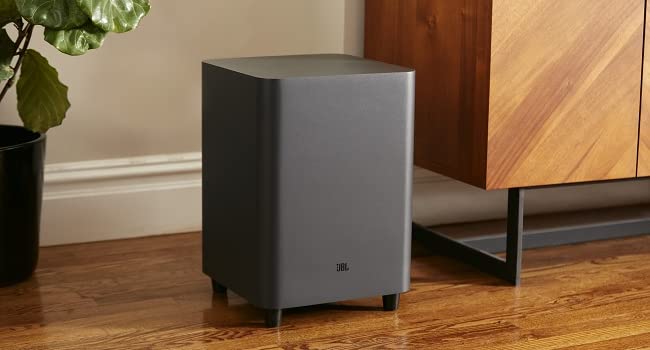 In general the design of the JBL Bar 9.1 is not very high on the wow factor but this was to be expected by JBL. LG for example offers more appealing designs and this is a part where JBL has to try a bit more in the future. It's not bad design but when there are so many other brands out there with much better designs it feels like JBL is left in the past.
Internal Hardware
JBL claims that the Bar 9.1 features 9 separate channels and as was the case with the LG SN11RG this seems to be totally true. Actually the unit features a 5.1.4 channels audio system with the front left, center and right channels along with the two surrounds and is complemented by the four Dolby Atmos up-firing channels, two front on the main unit and from one on each surround speaker along with the subwoofer for the bass.
Another impressive fact is the power rating of the unit as it is rated at 820 watts which is on the high side considering it's size. The main unit is rated at 400 watts, the subwoofer at 300 watts and each surround speaker at 60 watts.
For the three front channels JBL has used four racetrack drivers, two for the center channel, along with three 0.75″ (20mm) tweeters and two up-firing full-range drivers placed at an angle for the Dolby Atmos effects. Each surround speaker comes with a single 0.75″ (20mm) tweeter for the surround channel and a single up-firing full-range driver for the rear Dolby Atmos effects. The subwoofer on the other hand uses a single 10″ (254 mm) down firing bass driver which is above what we usually see in soundbars of the same category.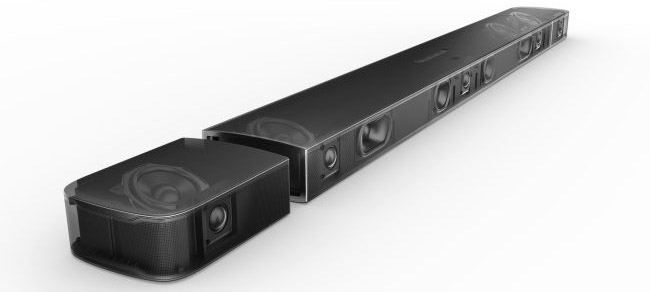 The combination of the the included drivers give the JBL Bar 9.1 a maximum SPL of 103dB and a frequency response of 34Hz~20kHz. Very impressive specs and we are really anxious to see how all this will translate on our tests.
Connectivity
The Bar 9.1 is the top offering in JBLs arsenal so you would expect to get many connectivity ports from such a high profile unit, correct? Well, we cannot say that the unit fails miserably on that but it definitely disappoints for such an expensive soundbar and what we do get seems to be the absolute minimum that could be offered.
What is available is a single HDMI input, a single HDMI output, an Ethernet port for wired connection to the internet, a digital audio optical input and a USB port along with the power connector to the left side.
Having only one HDMI input doesn't cut it anymore. We were critical about the LG SN11RG for having only two of them but the Bar 9.1 totally disappoints in that and you will most likely need to use the TV HDMI ports or a separate HDMI switch in order to connect all your devices. At least both HDMI ports are HDCP 2.3 and there is also ARC/eARC support for lossless audio, 4K and Dolby Vision pass-through. The included USB port is of the older 2.0 version but it's limited use doesn't need for the higher bandwidth that the USB 3.0 offers.

Both the surround speakers and the subwoofer connect to the main unit wireless so there are no physical connectors available other than the power connector on the subwoofer.
As for it's wireless capabilities the JBL Bar 9.1 supports WiFi 802.11 a/b/g/n/ac (2.4GHz/5GHz) and Bluetooth but unfortunately it's the older v4.2.
If there is one thing that these soundbars constantly lack is HDMI inputs as they come with mostly the absolute minimum necessary. Very few seems to go one step ahead and give us more than usual and the Bar 9.1 unfortunately follows the rest in this.
Control Options
Next is the control options that JBL has included with this one. First of all comes the included remote. To be honest for  JBLs top offering the included remote fails to impress. It feels cheap, low quality and really an afterthought for such an expensive device. JBL may have put their attention elsewhere but there is no excuse for offering a remote that feels like it belongs in a budget friendly soundbar and not in JBLs flagship.
It's design is simple and it's using less buttons than what we would like making some of them having dual functionality which can be slightly bothering and frustrating at the same time. With so much space on the remote there is no logic why not to add a few more buttons for the extra functions.
At the top we find a single button for power, two buttons below for input source and Bluetooth functionality, below another two buttons for controlling the Atmos effects intensity along with a HDMI selector that is also used for the audio calibration system, under these we find volume control with a mute button sitting below that and we finish with two controls for bass and rear speakers volume.

The buttons have enough space between them which can make them somewhat easier to find in low lit conditions as there is no backlight function to help with that. Overall we would like a better remote as this one does not reflect the quality of a flagship unit but we had no serious problems using it as it can get the job done.
You also have the ability to use the built-in buttons that we mentioned earlier in our review. The included layout is pretty basic, even more than some other units, with a power button on the left side, two buttons for volume control and mute and a single button for input source. Nothing else is provided so don't expect to use these much as the remote will be necessary most of the time.
But the included remote is not the only one you can use to control the soundbar. If you connect it to the TV through the HDMI port then with the supported HDMI-CEC you can use the TVs remote to control some basic functions of the soundbar like power on/off and volume control. It not a real alternative to the soundbars remote but it can be handy for certain situations.
In this day and age we have seen many manufacturers adding mobile app functionality in their units as this is becoming very popular slowly. Unfortunately JBL doesn't provide any dedicated app for controlling the unit so the only way to do that for some basic functions is only through the Chromecast and Airplay apps that you can use to stream audio along with Google Home. We wouldn't call this a big omission but as many manufacturers are including this as a standard in their feature set the JBL Bar 9.1 feels like it is slightly left in the past.
And the same can be said about voice control. The unit lacks any kind of voice control support even when there are very cheap units out there that come with at least one voice control platform built-in. Although we do get that JBL thought these were not very necessary we are talking about a top tier soundbar and there is no excuse no to include such features that have been around for some years now.
Extra Features and Services
In this section we will be looking at all the extra features and functionality that has been included in this unit.
The soundbar obviously supports the latest Dolby Atmos and DTS:X audio formats. This means that it can also playback all the older formats including Dolby Digital TrueHD, DTS-HD Master Audio, Dolby Digital Plus along with the simpler Dolby Digital and DTS formats and any legacy stereo ones. For the newer Dolby Atmos and DTS:X keep in mind that an HDMI connection is necessary while if you only plan on streaming the older Dolby Digital and DTS formats the optical port is enough.
One more thing to keep in mind is that if the soundbar does not detect an object-oriented track being played it will use its own upmixer in order to utilize all available channels which can result in a more immersive outcome.
Now the Bar 9.1 is a really simple to use soundbar and this shows also from the number of available sound modes as it only have two! The default one is called Smart Mode and with it EQ settings and JBL Surround Sound are applied in order to provide more rich sound effects. You also have the ability to switch to Standard mode with the EQ settings being applied for standard sound effects.
The unit also features an audio calibration system and while you may think that this requires a lot of knowledge we can assure you that JBL made the whole process as simple as possible. Basically the automated system uses a two step process in order to automatically adjust it's EQ settings for your specific environment. First you position the surround speakers next to you and you press the HDMI button for a few seconds. After the necessary tones are heard the test finishes and you next have to position the surrounds in their final positions and redo the same process and that's it. Simple, straightforward and fast.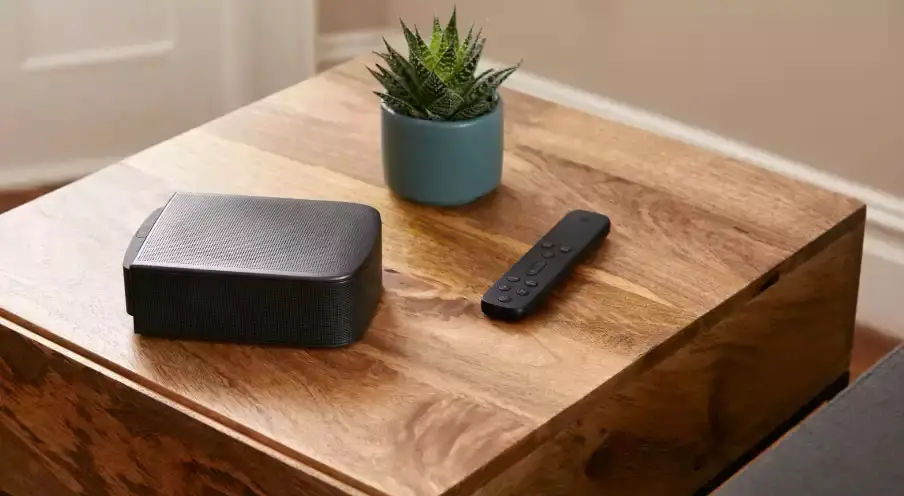 When it comes to streaming things are pretty basic. There is Bluetooth support so you can stream all kinds of audio from any Bluetooth enabled mobile device while there is also limited USB streaming capabilities also. And by limited we mean that you can use the USB port to connect an external storage device but unfortunately the only format supported is MP3 and nothing else. And to add more insult to injury it seems that only the US model offers USB playback. Now the reason behind this is unknown but all other markets will have the USB port only for service purposes.
And speaking of streaming we shouldn't forget to mention the built-in support for Chromecast and Airplay. With these you can stream music and audio from many online streaming services or connect multiple wireless speakers in your house and create your own multi-room environment.
One more feature that seems to be totally missing is any kind of High Resolution Audio support which is a shame. A flagship soundbar should give you the ability to stream high quality audio which the Bar 9.1 totally lacks.
Overall we cannot say that we are thrilled with the available features in the JBL Bar 9.1. It's obvious that the soundbar is not meant for those that seek a huge amount of functionality and is mostly for those that want a simple and easy to use device with as little as possible. But it's all about choice and giving you the freedom to choose what you want to use and what not and in this regard the Bar 9.1 comes a bit short.
Initial Setup
JBL wanted to create a simple to install and setup soundbar, even if we are talking about a Dolby Atmos one with dedicated surround speakers and it seems that they did a damn fine job achieving that.
Initial unpacking and connecting everything was done in just a few minutes as we used the HDMI input to connect our UHD player to the soundbar and used the HDMI output to connect to our test TV. At the beginning we connected only the main unit to the power and used Google Home to go through the initial setup.

After that we connected the surround speakers and left them charge for about three hours that was required for a full charge. When their batteries were full we followed the instructions and used the automated audio calibration system to setup our speakers and after that we were practically ready for use. Basically the only delay was the charging of the surround speakers as everything else will take you literally minutes to complete.
When all is said and done the amount of audio calibrations you can do is extremely limited. You have three controls that you can change for Dolby Atmos intensity, rear channels volume and bass volume. Also you can choose between Smart or Standard mode but we opted to leave the Smart mode at all times during our tests.
Movies
First in line we decided to go with the 4K UHD version of Battleship which features an amazing DTS:X track that is not surprising considering the blockbuster status of the film. There are some amazing Atmos effects being utilized here so it was exactly what we needed in order to test how good the Bar 9.1 is not only in it's surround performance but also how it fares on the overhead layer.
As always we start our analysis from the front. The JBL Bar 9.1 can really create a loud front soundstage which was a bit surprising to be honest relative to it's size. We had tested some larger soundbars in the past that could not go as loud as this one so it is definitely a plus for those that like to bother their neighbors. Panning effects were pretty spot on while channel separation and shifting from left to right was great.
We were always saying that having dedicated surround speaker cannot be beaten by any kind of virtual technology and the Bar 9.1 once again proves that. With it's dedicated speakers the action behind us really jumped into life as effects like cannon fire, projectiles and laser fire were coming through all directions. Also we liked that with the press of a button you could easily change the volume of the surrounds as we felt like they were a bit on the light side and we are fans of strong surround activity.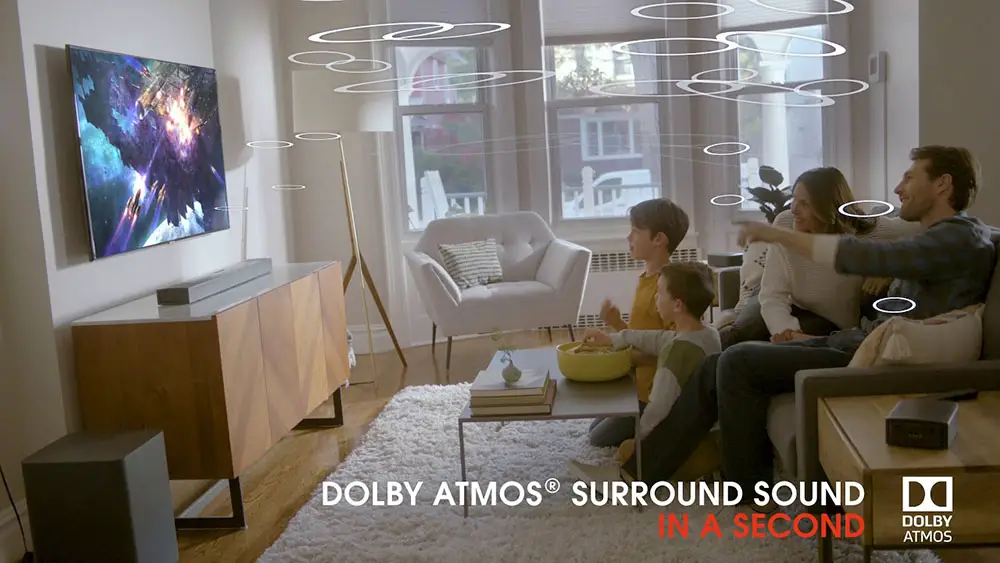 Obviously you are waiting to hear how the soundbar did with the Atmos effects. First of all we are talking about up-firing speakers. This means that in order to get any meaningful Atmos effects you need to have a ceiling no higher than 9 feet (3m). The higher your ceiling the less intensity on the Atmos effects you will get. Our ceiling was exactly 9 feet so we did get elevated action even though not directly above our heads which is about right with up-firing drivers.
The overhead layer felt like it was mostly active at about 7 feet high while it seemed that the sweet spot where the Atmos effects would be the most notable was pretty narrow which was to be expected. Overall there was activity, Atmos effects were audible and pretty distinct given that there were four of them which helped a little with precision and separation but don't expect to get the mind blowing experience of a fully dedicated Atmos setup.
On the low end things were pretty good as the subwoofer really provided all the shaking you will need to give such a film the necessary weight and punch. With an above average size and power the bass was one aspect of the unit that really stood out above the rest and laid an excellent foundation for the rest of the frequencies. When the alien ship launches the pegs and these cut the Destroyer in half throwing debris all over the water our testing room felt like it would fall apart at the same time.
Very good overall performance if you are not very much looking into the details. It can surely go loud and create a very busy soundstage at the front, behind and above your viewing position, channel separation was pretty good, panning effects were great and very immersive while the bass will make sure to keep you at the edge of your seat.
The Atmos effects were not the most distinct we had heard by there were pretty good for up-firing speakers but their precision and clarity depend very much on your rooms acoustics. Also the sweat spot for getting the best out of this unit felt a bit too narrow which will make it's value as a family soundbar a bit lower. What you get in punchy and dynamic sound you will loose in clarity and definition. But looking at it as a whole the experience was very pleasing.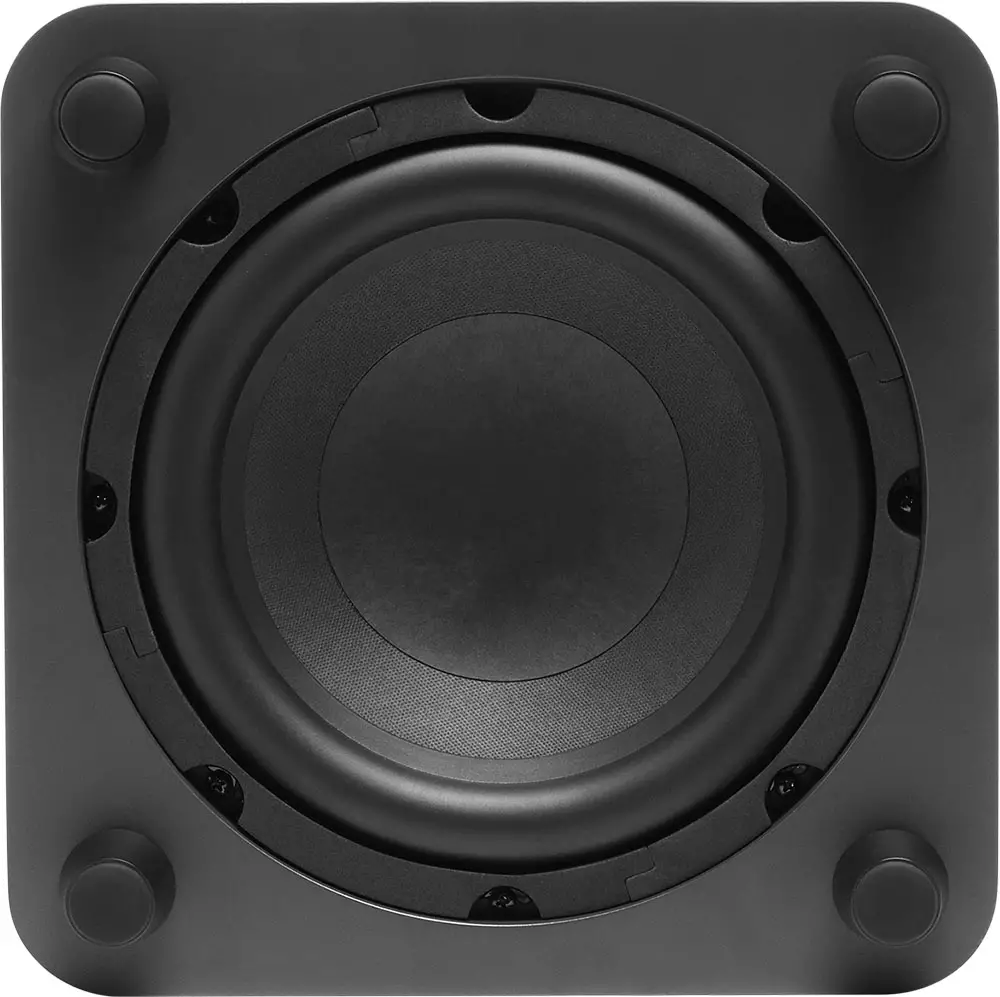 For our second film we decided to choose the 4K UHD version of Pacific Rim with it's totally flooring Dolby Atmos mix. The Atmos format cannot get much better than this, maybe except from the Transformer films, so what we had here was a feast for our ears and the Bar 9.1 did it's best to prove its worth.
We will start a bit backwards on this one as the bass in the film is exactly what the subwoofer needed to almost bring our room down. Digging into the low end with enough power and oomph there was no lack of bass activity and you could feel the weight of these monster machines as they bring down entire cities in their fight with the Kaiju.
Atmos and surround effects made the film alive in all axis in front and behind us with the surrounds being incredibly active and precise while the overhead layer provided this extra activity that would up the immersion even more. As before the Atmos effects felt elevated and not entirely overhead but this didn't mind us as even like this they kept the momentum going.
The front was once again were most of the magic was happening. The sound wall expanded both on the sides and height, panning effects were spot on while good separation of the center channel provided us with very distinct dialogue even through hectic action.
Now overall we can say that the JBL Bar 9.1 is an excellent soundbar for such action oriented films. With its dynamics, punchy low end and good overall separation between its channels this kind of action can be its bread and butter. But while this one could go pretty loud we felt that it did this on the expense of some definition and high resolution. There were moments when everything went crazy that we would like a bit more clarity in the sound to really appreciate the end result but the Bar 9.1 failed to provide that. But for those that don't look for the tinniest of details it can offer an excellent cinematic experience.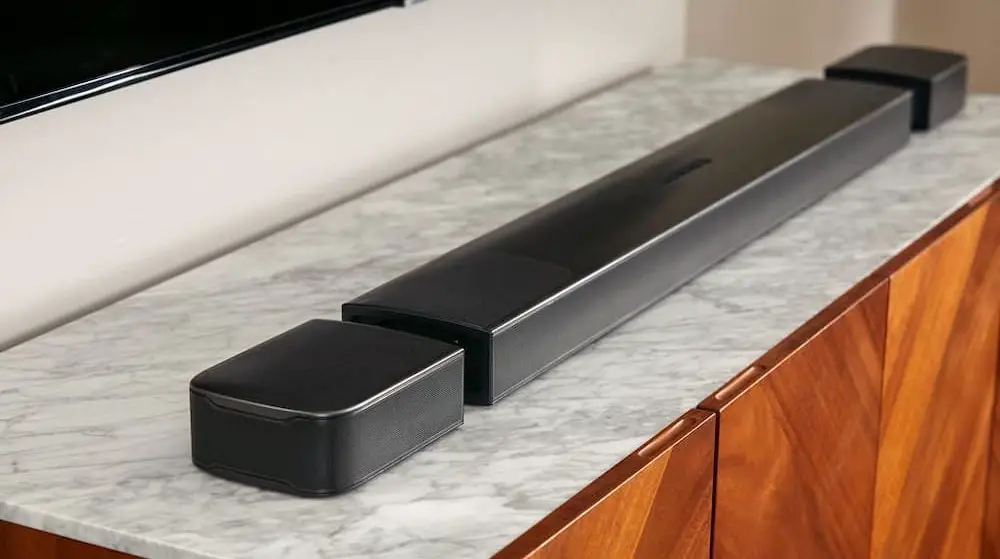 Music
Next is obviously our music testing but as it's USB streaming capabilities are rather limited and with no High Resolution Audio support we were left to choose either to stream some MP3 files from the USB or stream through the internet or Bluetooth which greatly lowers the overall quality of the sound. In the end we opted for some high quality MP3 files which was the best solution in our case.
Now what we can say going through various tunes and music types is that this soundbar can offer an excellent casual performance. And by that we mean that if you don't pay too much attention to details or being particularly nit-picky then you will enjoy what you are going to listen. But the Bar 9.1 is not a HiFi audio equipment and if you want a soundbar that has the quality to make your music shine this is not it.
Sound imaging was pretty good even though not as distinct as we would expect while separation between the music instruments was pretty solid. Stereo panning effects were audible but with such a small size and no side firing drivers don't expect to get the effect you would with dedicated front speakers.
Mid-range felt good enough with the highs keeping good balance and without become over-powered from the rest of the frequencies. The bass laid an excellent foundation and kept the tone remarkably well. Clarity and definition once again suffered a bit which seems to be the main problem here but once again it all depends on what you are looking for. For a casual listener there is nothing wrong with it, just don't have huge expectations out of it.
The JBL Bar is a solid music performer. It's not the HiFi material you may be looking for and will not blow your mind with it's clarity and high resolution audio quality but if you want to use it mainly for movies and also have a casual music session from time to time it will serve you great.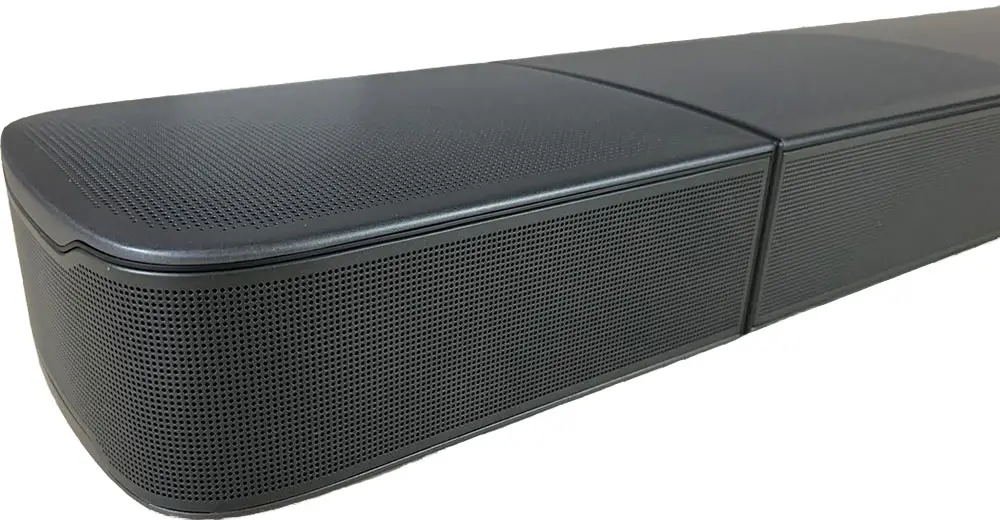 Final Thoughts
We are slowly approaching the end of our review so what we can say about this soundbar is that JBL tried to create a unit that can offer a memorable and loud Dolby Atmos performance with the ease of use of a soundbar and left many unnecessary extra features that could up the price out. Ultimately this one seems to be made specifically for those that are mostly interested about the soundbar's ability to play immersive movie audio tracks and have their occasional music fix.
The main strengths of the Bar 9.1 is definitely its relatively small size for a 5.1.4 channels system, it's total wireless surround speakers, it's ease of use and setup and good price for a 9.1 channels unit. It's performance was very good for movies that ask for power and offer total mayhem while surround activity and overhead Atmos effects were pretty solid and lively. Lastly the bass was one of the main strengths of it's audio performance with enough power and punch even though it lacked a bit in clarity.
On the downsides when it comes to it's actual audio quality we would prefer if JBL would trade some power for more overall resolution and higher definition. Going loud is good and can wow the casual listener but many ask for finer details that a flagship should always offer. Atmos effects, although solid, lacked the definition of dedicated speakers while the room size and configuration play a big role on how they will perform. For a flagship soundbar the Bar 9.1 falls short of extra features and function compared to the competition and in today's world where we want to have plenty of options to choose from this one is rather limited. Lastly having just one HDMI input doesn't really cut it for today's needs.
Closing we can say that if you want a soundbar that is as easy to setup and to use as it can get and provide you with the full Dolby Atmos experience without caring too much about getting the best possible quality or having a lot of extras and functions then the JBL Bar 9.1 is the kind of soundbar that deserves an audition. It can get pretty loud and give you a great Atmos performance… and all that in just a soundbar.

For more reviews you can check our dedicated Full Surround Soundbar reviews list or even look at our Product Reviews Table where you can find the brand and specific product you are looking for.
Also don't lose the chance to subscribe to our Newsletter and gain exclusive privileges.
---
Cheapest Places to Buy :
---
JBL Bar 9.1 Specifications