Samsung HW-A650
Reviewed at $328.00
Product Name: Samsung HW-A650
Product Description: 3.1 CH Soundbar
Design -

9.1/10

Movies Performance -

8.9/10

Music Performance -

8.8/10

Inputs and Features -

8.9/10

Price / Quality -

9/10
Summary
Reviewed at $328.00
Pros
Nice design and build quality
Good front stage performance
Ease of use
Expandable to a full 5.1 channels system
Cons
DTS Virtual: X offers mixed results
USB port placement
Not very deep bass
No WiFi functionality
---
Cheapest Places to Buy :
*We are a reader-supported website. When you buy through links on our site, we may earn a small affiliate commission at no extra cost to you. Home Media Entertainment does not accept money for reviews.*
---
Recently we had a first hand experience with Samsung's 2021 budget friendly lineup, the A series that is replacing last year's T series by reviewing the middle of the three available options, the HW-A550. And so today in our Samsung HW-A650 review we have the chance of testing its bigger brother and determine if this one can offer any noteworthy boost in performance compared to the A550.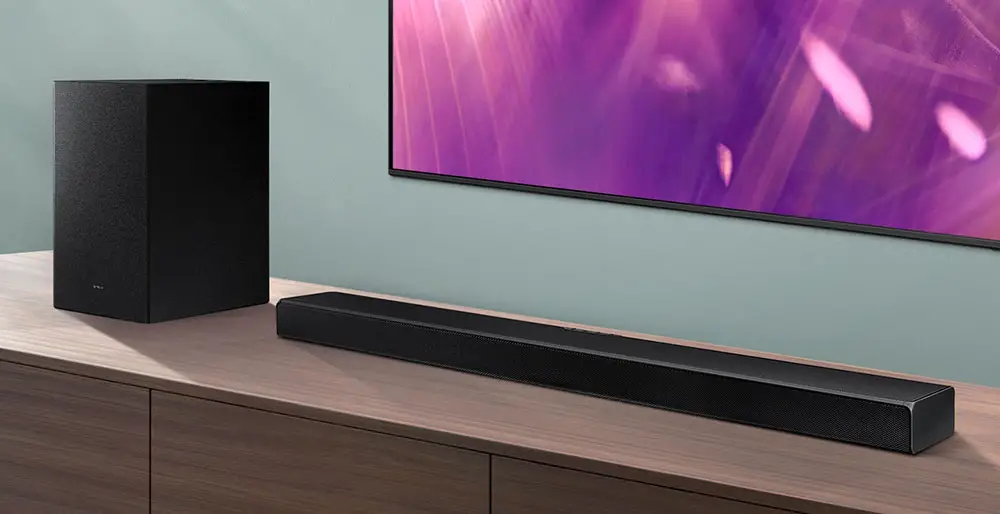 From a quick look at the specs and the unit itself the HW-A650 is not all that different and share an awful lot with its smaller sibling. Similarities come in the way of design, looks, build quality and features included and you have to look a bit deeper to find some changes made to this one that distinguishes itself in comparison to the rest of the A series. The HW-A650 basically replaces last year's HW-T650 and so we will determine if the new release offers anything new or it is just a rebranded release from Samsung.
By taking a quick look at the specs the HW-A650 soundbar is a 3.1 channels soundbar-subwoofer combo that supports both Dolby Digital and DTS formats along with DTS Virtual:X since the main unit lacks any surround speakers to reproduce surround sound faithfully. There are also a few extras like USB and Bluetooth streaming, a few sound and EQ settings, plenty of connectivity options and the ability to add a pair of surround speakers, the SWA-9100S kit, in order to expand the system to a full 5.1 channels setup.
The competition in the lower end segment is very fierce as almost all brands have offerings in this category and is surely an overcrowded one. Does the HW-A650 manages to stand above the rest or we get more of the same in this price? Let's find out.
Design, Inputs and Features
Exterior
The HW-A650 is the biggest soundbar in the A series but even so it is much more compact compared to some of the top tier flagships. The one we have here measures just 38.6″ x 2.3″ x 4.1″ (980.0 x 58.0 x 105.0 mm) and with a weight of 6.8 lbs (3.1 kg) making it very easy to handle and fit even in more tight spaces.
When it comes to its design the HW-A650 borrows elements from all the other Samsung soundbars both this and the previous year. There are subtle changes that has to do with sizes and obviously features each one bears but they all have a very distinctive "Samsung" look to them. In terms of quality of materials we get the standard and there doesn't seem to be any major changes here.
Plastic remains the main material being used but here the difference is at the top which Samsung has replaced with a perforated grille with exactly the same design as the one being used at the front to cover the drivers. To be honest this is a bit of a strange design decision as the HW-A650 lacks any kind of up-firing drivers that would justify the use of the top grille but certainly differentiates itself from all the other offerings in the same series.
Once again we find a set of buttons that is located at the back side of the top face which are very subtle due to their color and size while a characteristic of many Samsung soundbars is the small chamfered top front corner that we find in this one giving it slightly more style and unique look.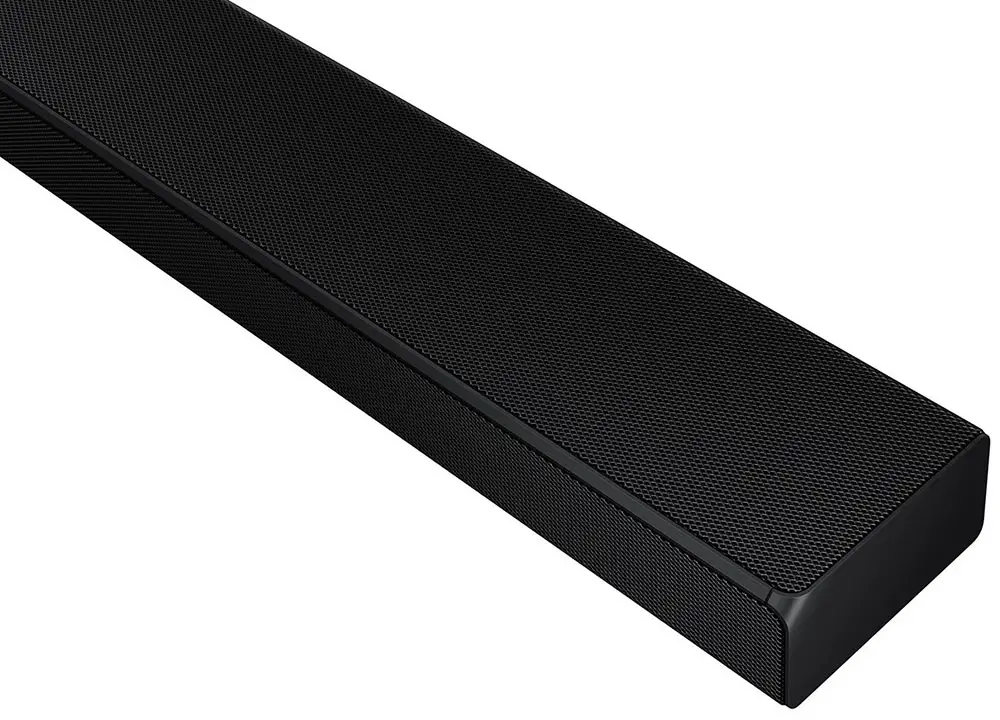 The full frontal metallic grille wraps slightly towards the bottom and has a more interesting holes design rather than the usual circular ones we find in most other metallic grilles. Both the front and top grilles are non removable so you shouldn't even try to remove them.
We also find a fully functional front display which is located behind the metallic grille but this time around Samsung has placed it in the far right corner as the HW-A650 comes with a center channel making it impossible to keep at the same place as we saw in the HW-A550. We do prefer this kind of display as it is much easier to read than using LED lights that many low cost units use and many times you cannot remember all of their combinations. The display is relatively small and as a result not many characters fit in it, only three characters show at the same time, meaning that whatever it displays it has to scroll it for you to see its full message.
The back of the unit follows the same Samsung design principle with only the two big insets visible that house all the connection ports. There are no IR repeaters of any kind so make sure that the size of the main bar will not obstruct the IR sensor of your TV. The soundbar has a relatively low profile but you can never be sure. At the bottom of the unit we see a few holes that are probably for cooling as we are talking about a sealed design and also special holes for the wall brackets to lock in case you want to wall mount it.
The included subwoofer seems to be a different model than the ones we saw in both the HW-A550 review recently and also in the HW-T650 last year and actually seems to combine elements from both of them. Measuring 8.1″ x 13.9″ x 11.9″ (205.0 x 353.0 x 303.2 mm) and with a weight of 12.8 lbs (5.8 kg) the sub has exactly the same footprint as the one we saw in the T650.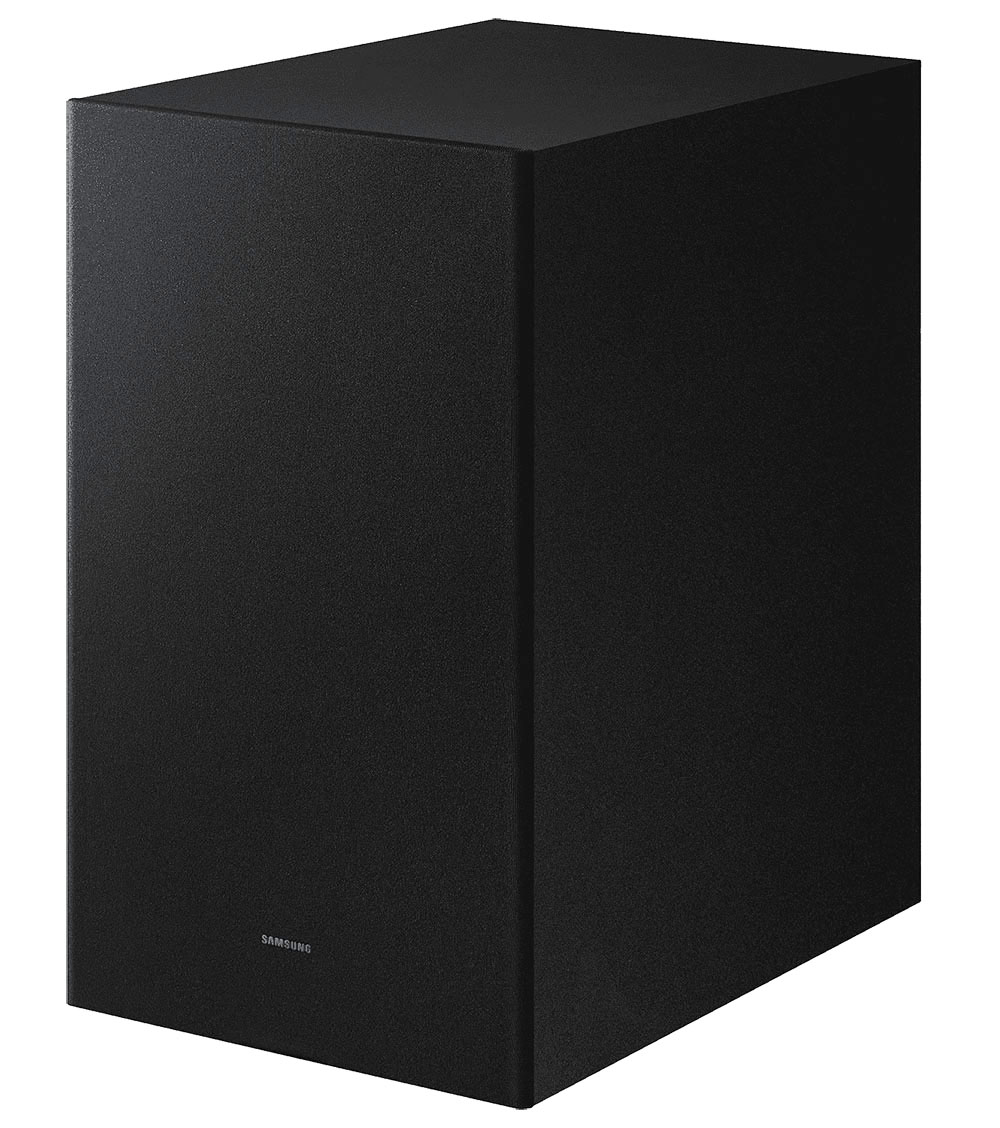 But in terms of design it ditches the side firing driver and instead goes for a forward firing one as in the A550. To be honest we prefer this style as it gives more freedom placing the sub in more tight spaces which a side firing unit wouldn't allow. The cabinet is made out of wood, as per usual in most subs of this kind, and the front grille is using a typical cloth type design that needs special attention not to get teared.
At the back we find a pretty plain sight, with a big air port at the top, the power connector at the lower left and the pair button and led light on the right.
The HW-A650 is not all that different from many other low cost solutions from Samsung. Good aesthetics and satisfactory quality of materials is what characterizes most of Samsung soundbars and this own doesn't deviate much from this principle.
Internal Hardware
Once again Samsung doesn't give any direct information about the drivers being used. There is no mention of their kind either in its specs sheet or in the manual. And with the soundbar's non removable metallic grille it's not easy to identify them by ourselves. What we can say from the specs and by looking through the metallic grille is that for the three channels in the main unit there are six drivers with 30 watts output each for a total of 180 watts for the soundbar.
This means that each channel is using a dual driver configuration which we have seen before in many releases and seems to be the same as the HW-T650 had last year.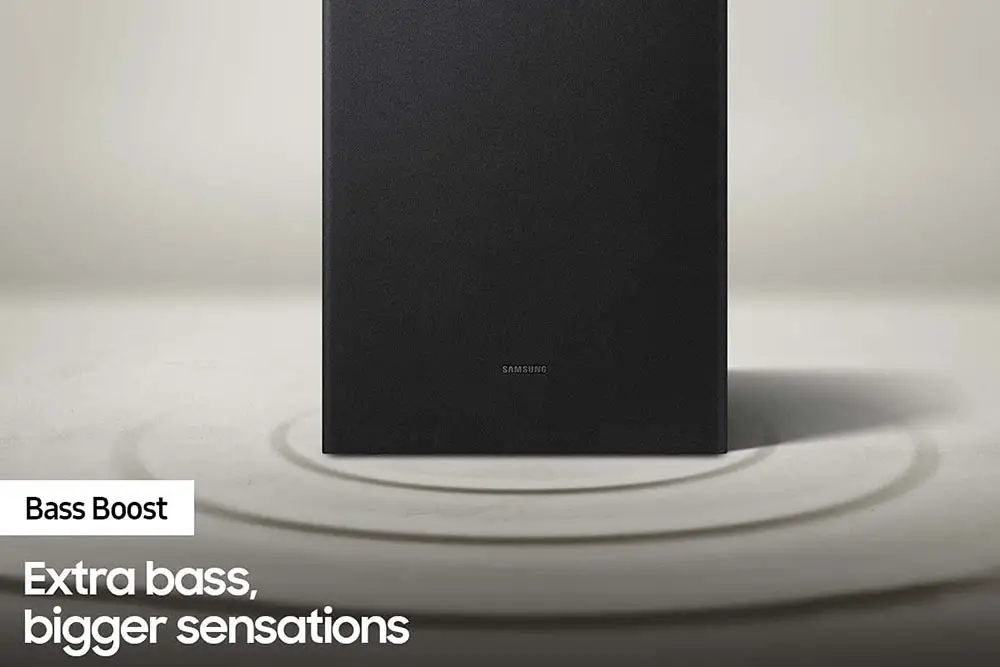 For the subwoofer there is also some secrecy as to the size of the driver being used and the only information we get is its 250 watts power output rating which in theory sounds very good for the size and category of the soundbar and is actually a considerable bump in power if you think that last year the T650 had a 160 watts subwoofer.
With the 180 watts of power output for the main soundbar and 250 watts of the subwoofer we get a total of 430 watts which is very good in theory for a low cost unit as this. But how does this sound in reality, we will find out shortly.
Connectivity
Next we will be looking at the connectivity options of the unit and once again there seem to be no changes compared to last year. As with all the soundbars of similar price we usually see them offering more or less a basic layout with very small deviations depending the brand which may be enough for most that look for simplicity but leaves a lot to be desired if you are more demanding and need to connect a lot of devices. The unit features two deep insets at the back and all connections have been equally split between the two.
The only difference compared to the other Samsung soundbars we have tested is the ports layout and nothing else. On this one we find a circular power connector along with a USB port on one inset while the other on the right features the two HDMI ports, one input and one output along with the Digital Optical input.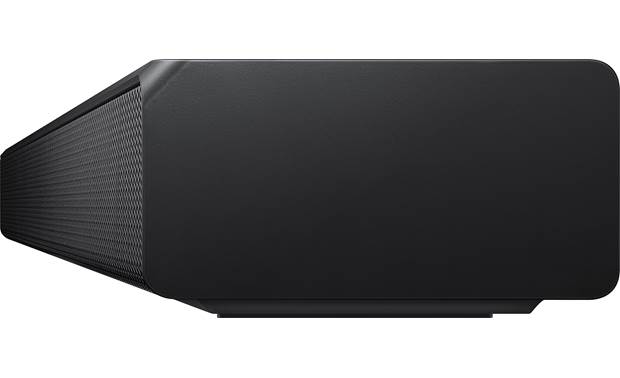 The included HDMI supports only ARC which means no Dolby TrueHD or DTS-HD Master Audio pass-through. Obviously there is no Dolby Atmos or DTS:X either as there is no hardware capable at reproducing these effects. Unfortunately Samsung does not mention what signals its HDMI ports can pass-through and from what we have seen the A650 uses most probably HDMI 1.4 which means you cannot pass-through anything more than 4K@30Hz signals. For 1080p content pass-through will work absolutely fine but 4K pass-through is not guaranteed so if you absolutely want 4K with HDR signals to be passed through, then this soundbar will not do.
Also there is no analog port, which was available in some Samsung models last year and this trend seems to continue as manufacturers are slowly phasing out all kind of analog ports from their devices.
As with the rest of the A series releases the wireless capabilities of the soundbar are limited with the inclusion of just Bluetooth as the unit is missing any kind of WiFi functionality. Samsung doesn't mention which Bluetooth version is included in the unit either in the manual or in their specs sheet so we cannot confirm on this. Once again we tested the Bluetooth connection and we had no trouble with it, everything was stable at least during our testing time with it.
Control Options
Next we will be looking in the ways you can control the HW-A650 and from the looks of it there are no differences or additions to this one this year. We get exactly the same control scheme we saw in previous releases.
As such the soundbar has some built-in buttons that Samsung has placed on the top center but these are placed towards the back and not at the front as we have seen in many other brands. These are physical buttons and are shaped in the form of symbols for easier recognition of their functionality. From left to right we find a power button which also acts as an Auto Power Down button, volume controls and a Source button for choosing input mode.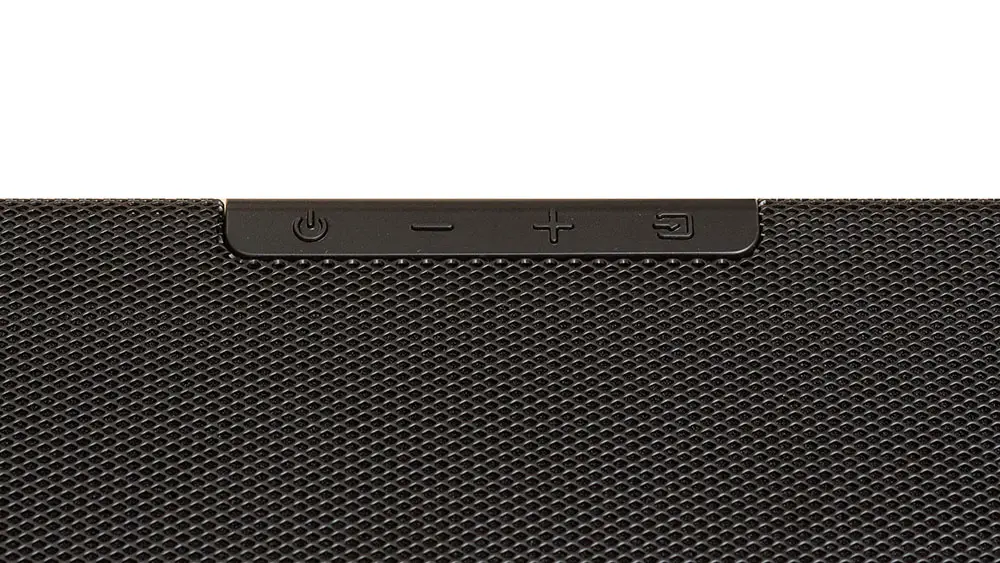 We liked that these buttons are physical as they are much easier to handle but using similar color as the rest of the soundbar makes them slightly hard to distinguish, especially at night, and would be preferable if another color was used.
The One Remote that Samsung has been using on a wide range of their visual and audio devices is one again being used here. Functionality wise this one is the same as the one we saw being used in the HW-A550 as both soundbars have no real differences in terms of features.
The two buttons above the navigation controls are used for source selection and Bluetooth pairing while the other three below the circular navigation controls are for sound mute, sound mode selection and sound control including treble, bass and audio sync. The two buttons at the bottom are for main volume on the left and woofer volume on the right.
We like the One Remote very much although a small design refresh as the one we saw recently in their TV lineup would be a welcome one. Overall easy to use, and with very few buttons to handle all functions, making things so much easier for casual users that don't want to mess with complex controls.
The soundbar supports HDMI-CEC which means that if you connect the unit to the TV with a HDMI cable you can use the TV's remote to handle some basic controls like volume. This may not give you the complete range of supported functions but it may help in certain situations.

The entire A series is very limited when it comes to their control options. Missing WiFi means that there is no voice control as well as no mobile app support which is a shame really as many other low cost units already support both of these. As a result the HW-A650 is offering the very basics.
Extra Features and Services
Next is our extra features section and from the looks of it the HW-A650 once again is entirely similar to the HW-A550 feature set indicating how much in common these two units have.
The HW-A650 seems to support the usual audio formats for a soundbar including Dolby Audio (supporting Dolby Digital), DTS and PCM 2ch. Obviously for Dolby Digital and DTS the signal has to be downmixed since there are no surround speakers in order to use the full 5.1 channels signal. In case you want some extra immersion there is also DTS Virtual: X which is very usual in soundbars of this category and as always we will test it to see if it offers any meaningful differences compared to the other standard modes.
Most of the sound modes that are included are the same we had seen previously, no real changes here either. As such we get Standard which outputs the original audio mix as it is, Surround Sound that provides a more wide sound field than the Standard mode, Game mode which provides stereoscopic sound to immerse you in the action while gaming, Adaptive Sound Lite, was called Smart Sound last year, which analyzes the content audio and provides the optimal sound field accordingly, Bass Boost which enhances the low end for deeper bass and lastly DTS Virtual: X which tries to simulate surround audio without the presence of actual physical speakers.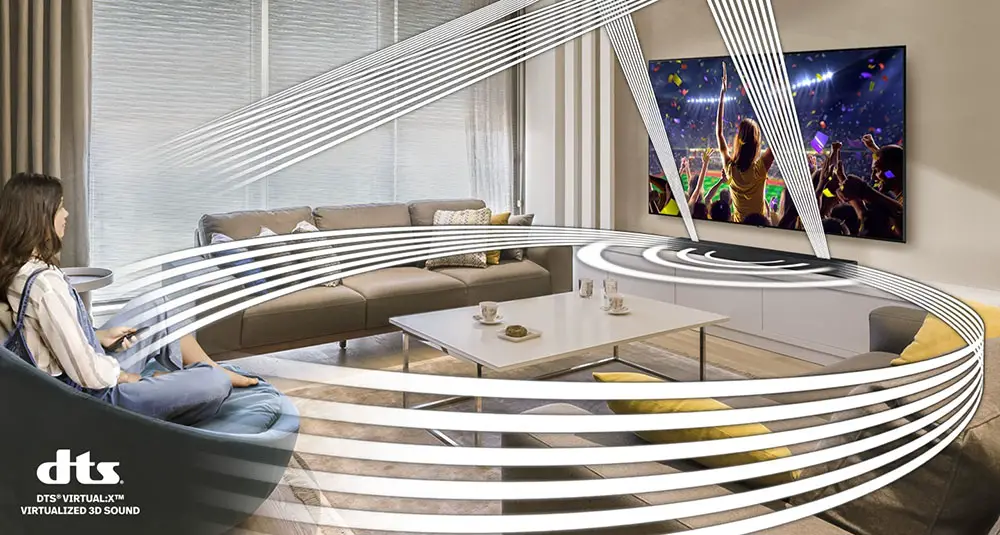 There are no specific Dialogue or Night modes but we do get a mode that Samsung calls Dynamic Range Control (DRC) which lets you apply dynamic range control to Dolby Digital tracks. With the DRC turned on, loud sounds are reduced but this can result in slightly distorted sound so use it wisely.
The HW-A650 also comes with Bluetooth connectivity. First of all you have the ability to stream audio from any mobile device through a Bluetooth connection. The soundbar also supports Bluetooth multi-connection which means you can connect up to 2 devices at the same time. And lastly if you don't want to mess with cables you have the ability to connect it to your TV through Bluetooth if your TV also can support such a connection.
Just keep in mind that you cannot have both your TV and a mobile device connected at the same time. It's either the TV or two Bluetooth devices at a time. Also if you try to connect a third Bluetooth device when two are already connected the first two will disconnect before establishing connection with the third one.
With the included USB port you can playback audio files from an external storage device and it can support almost all major audio formats available, at least the ones that are more popular nowadays. One thing that Samsung really has to reconsider is the placement of the USB port. As it is right now it is almost completely useless as you have to raise the soundbar with your hand in order to reach the port.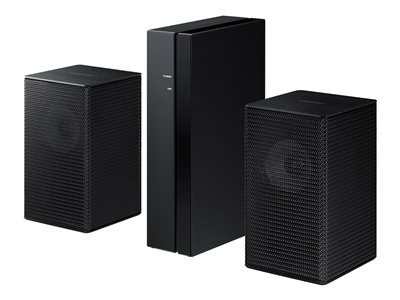 If wall mounted, things can be a bit easier but here we have to consider all options. Using a USB extension cable seems to be the only solution to this but it will certainly look ugly and is surely not the way it should be.
As for the files being supported we get the usual MP3, WMA, AAC and OGG when it comes to low quality ones but we also get High Resolution Audio playback for FLAC, AIFF and WAV files up to 192 kHz which is good to have for a relatively low priced unit.
Now, if you are very much into surround sound and the performance of the included DTS Virtual:X is not satisfying you there is the option to buy the extra SWA-9100S surround speakers and with it to create a full 5.1 channels surround system. Connecting the optional kit is very easy although it still uses cables in order to connect the receiver module to the speakers and to a power socket so they cannot be described as completely wireless ones.
Lastly there is a Bluetooth Auto Power ON/OFF function. The unit will turn on or off automatically depending on the state of its Bluetooth function. When it detects an incoming Bluetooth signal it will power on while if no Bluetooth signal is detected for a period of time it will turn of automatically.
Initial Setup
If ease of use is what you seek then the HW-A650 can really offer that as it is very easy to connect and go through the initial configuration. Simplicity is very important here and the unit complies with all the requirements in order to offer such an experience.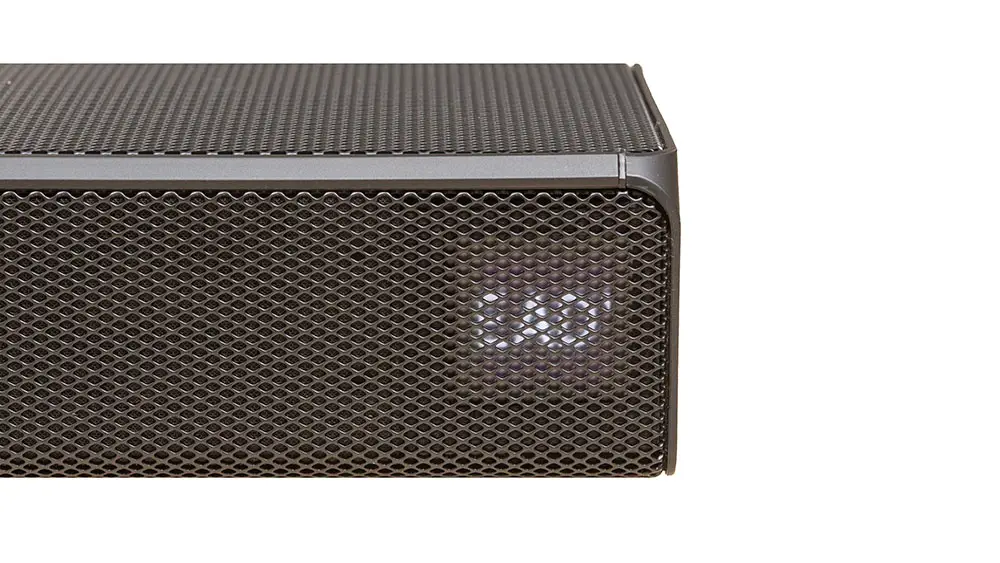 After we unpacked the unit we connected both the main unit and subwoofer in a power outlet and let them pair automatically. But even if they don't the manual offers easy instructions on how to do that.
In terms of connecting the unit, as we mentioned above you have plenty of ways to do. There is HDMI, the optical digital port or even through Bluetooth if you prefer a more wireless type of connection. For our review we went with the HDMI option in order to get the best quality and the most stable of connections.
As such we connected our 4K UHD player in the HDMI input and from the HDMI output to our test TV so this way the soundbar would act as a pass-through device. Keep in mind that, as we mentioned above in the connectivity section, the HDMI ports of the A650 are very limited with what 4K signals these can pass-through and they cannot do full 4K with HDR at 60Hz. And since Samsung doesn't mention what specific signals the unit support it can be a hit or miss with 4K in general. If this is important to you then you will have to look for another soundbar that supports full 4K with HDR pass-through.
As for calibrating the unit you can set the bass and treble along with the appropriate sound mode but you can also dive a bit deeper as you have the ability to make changes in specific frequency bands. Also if you have the rear speakers kit then you can set the volume of the rear speakers individually.
There is nothing else really to fiddle with and the overall process shouldn't take more than a few minutes to finish. So in case ease of use is of utmost importance to you the HW-A650 will certainly satisfy with what it offers.
Movies
This time around we decided to try something a bit different so we popped our 4K UHD disc of Alien Covenant into our Panasonic UHD player that uses a fantastic Dolby Atmos mix. Obviously since the HW-A650 does not support this format we have to settle only for the core Dolby Digital mix which is equally impressive.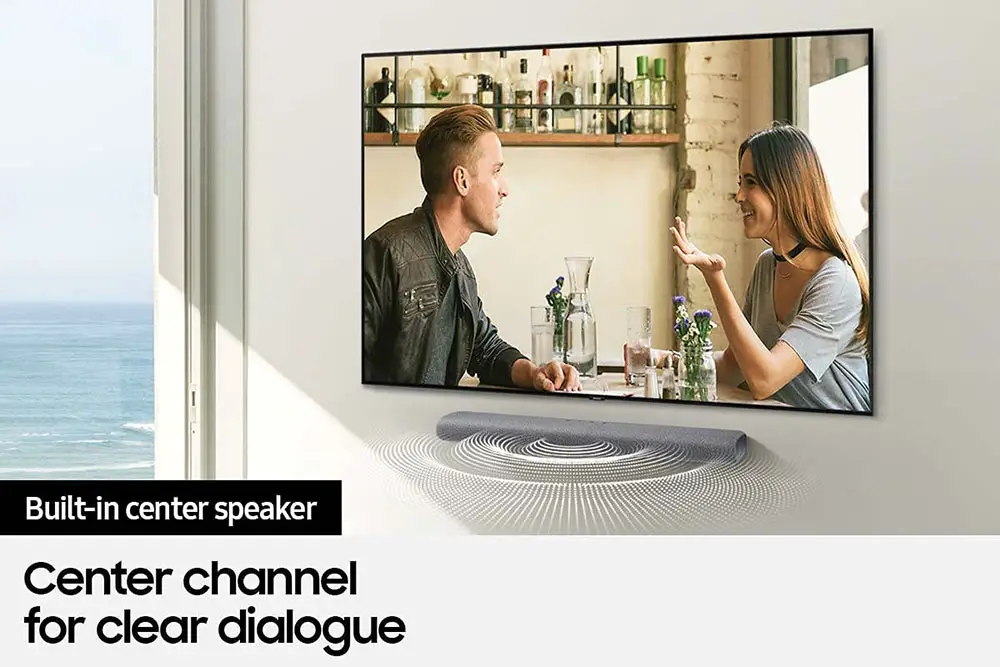 The unit will certainly give you what you should expect from a basic 3.1 channels unit as this one. Immediately the front stage felt more alive, more pronounced and with much more depth that what our TV could ever do. There was not so much in terms of sideways extension as the unit lacks any kind of side firing drivers that could potentially help push the boundaries of the sound wall beyond the physical limits of the main unit.
But the three main channels did a pretty good job at making all the action at the front feel very fulfilling. Separation of the front channels was great with no overlapping between them while the inclusion of a center channel greatly helped at keeping the dialogue distinct and clear, much more than what the HW-A550 we recently tested could achieve.
In the last part of the film when they try to escape with the lander and Daniels confronts the protomorph we never lost a single sentence even through all the hectic action and the soundbar made sure to keep a good balance between its channels output and dialogue.
When it comes to its surround performance unfortunately, as with most soundbars that lack any surround speakers, it disappoints really as all action was firmly originated at the front. With the use of Adaptive mode there was no sense of activity close to our sitting position or behind us and this was to be expected as there was nothing hardware wise to help the unit push the sound around us.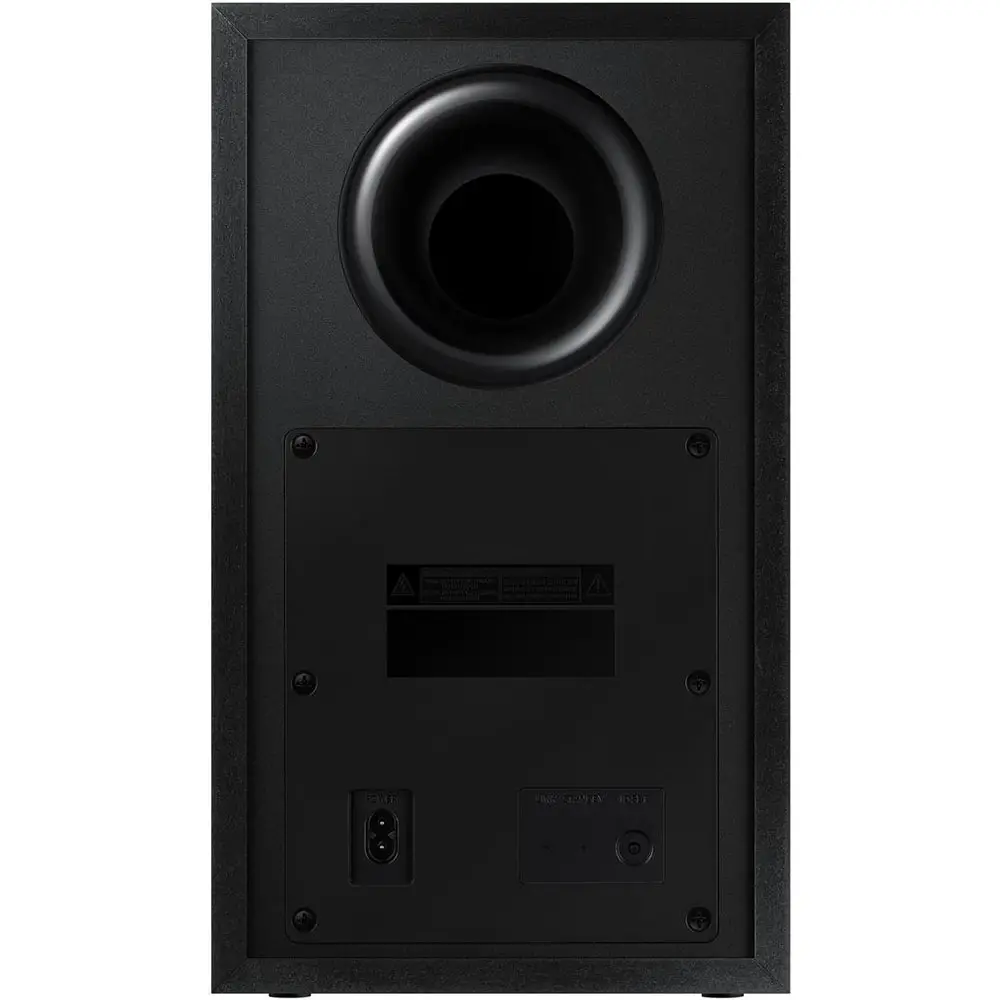 If this disappoints you then you really need to buy the surround kit that the soundbar is compatible with as it is the only way to get the best surround experience out of it. The other solution being the included DTS Virtual: X which tries to offer a similar experience but without the use of physical speakers.
But does it manages to create a convincing 360 degrees soundstage? Well, not exactly. DTS Virtual: X does give sound more volume and more directionality but in no way it can substitute a real surround system. Alien Covenant relies a lot on atmospherics and when the group entered the downed spaceship in the forest we got nice directional effects that really felt closer to us. But in other cases when effects were supposedly coming from the back we could hear them at the front which made the final outcome feel a bit mixed and not natural.
This is what you get with DTS Virtual: X. Sometimes it can really improve on the sound compared to the other standard modes but this is not always the case. As the audio is heavily processed in order to give it more dimensionality it looses some of its original characteristics.
On the low end the included subwoofer certainly had the power but it seemed to lack the ability to go very deep. When the moment asked for it, it got loud, no problem, and without feeling like chocking under its own weight. But it cannot get low enough as some dedicated subs can. It is the kind of performance a casual user will appreciate but a hardcore one will certainly feel like something is missing.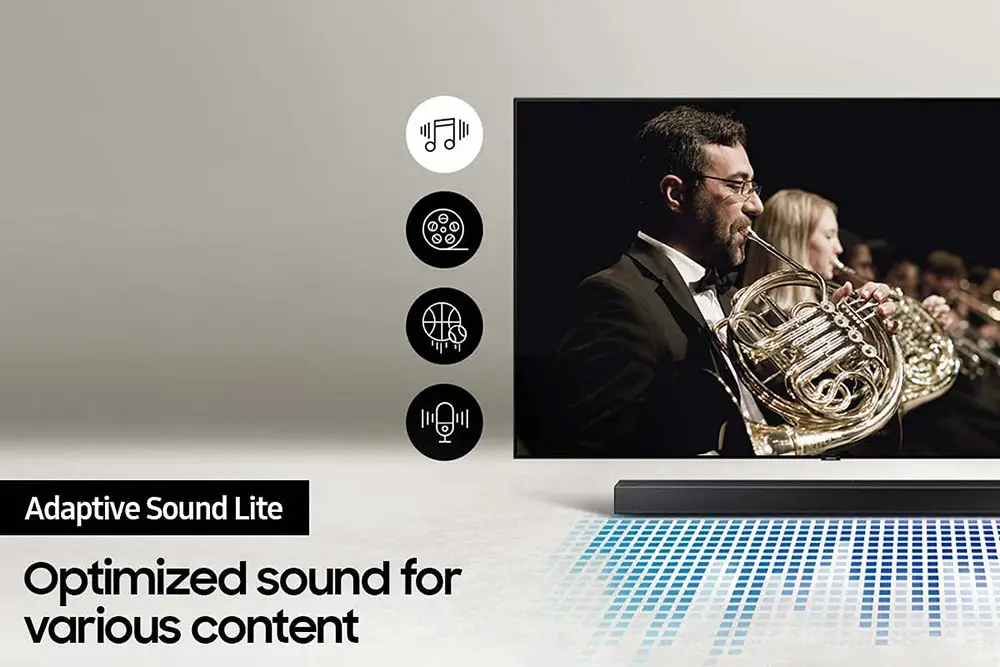 From our experience we would suggest you to use the Adaptive mode in most cases and try out the DTS Virtual: X one in certain situations. The Adaptive mode usually does a pretty good job at determining the best sound option for you and it can really be a select and forget solution for those that don't want to trouble themselves too much with sound modes all the time.
The soundbar was more or less what you should expect from this category. It was certainly a small step above what the HW-A550 can do, as the extra power and additional center channel make the HW-A650 give you a slightly better output across the board. The front soundstage was good, channels separation was nice and its neutral sound was pleasing to the ears. The subwoofer felt a bit unable to reach very deep tones even with its high power rating but it will suffice for most people for sure.
Music
As with the entire A-series, the HW-A650 not only support USB playback but also High Resolution audio files and as such we decided to try out a few selected FLAC files through its port for the best quality possible.
The unit did behave very similar to what we actually remember of the HW-A550 we tested recently with some minor differences. The front soundstage felt slightly more detailed and with better sense of space most probably due to the inclusion of the center channel.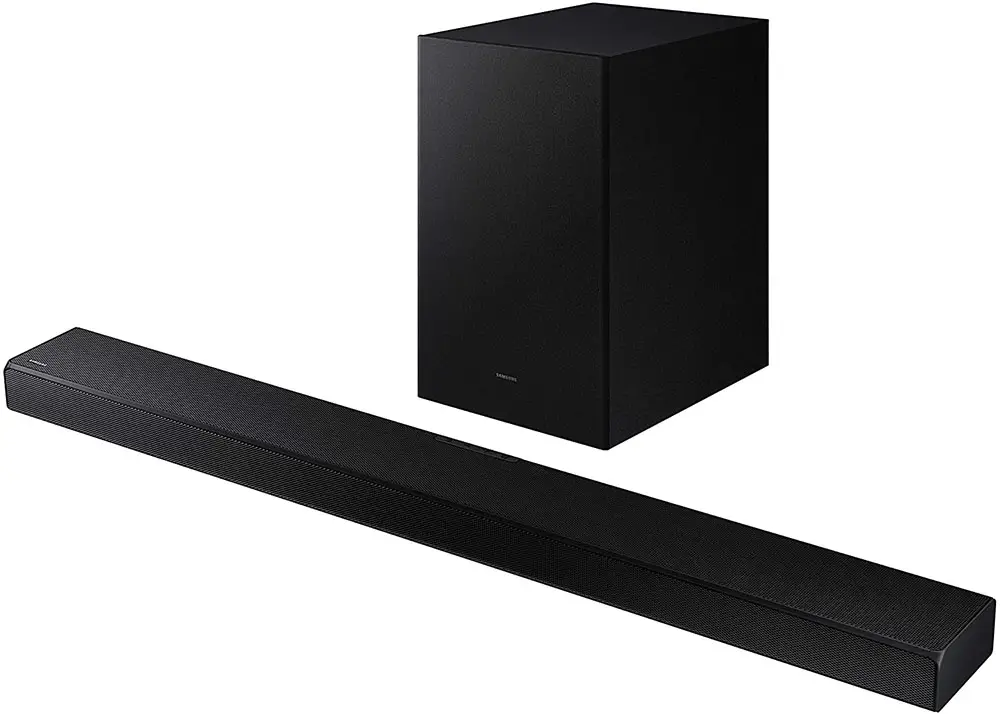 The unit was very capable at keeping the vocals at the center while keeping the rest of the sounds to the other channels. With the center channel vocals had good energy and enough excitement without becoming all too bothering.
This may not be the most transparent soundbar you can get, we have certainly heard better ones but for its category it fared pretty much as you should expect. Satisfactory distinction between the sound sources and good details without pushing the limits of what it is capable of.
In terms of tonality and sound signature the HW-A650 was very similar to its smaller sibling with a more or less neutral sound and a mid-range where it seemed the unit gave most of its attention. The high frequencies we ok but nothing exciting to talk about while the bass was loud but didn't have the weight we would like to see from a rated subwoofer as the one we got here.
Trying out different genres indicated that the HW-A650 can play nice with a wide variety of them and can be a great all around solution for those that use it for casual use. If you are not particularly demanding with the quality of music you will get, you will more than like the sound of this one. Samsung knows how to create great casual soundbars that can offer plenty of music enjoyment and this can be a good investment if you have your expectations at check.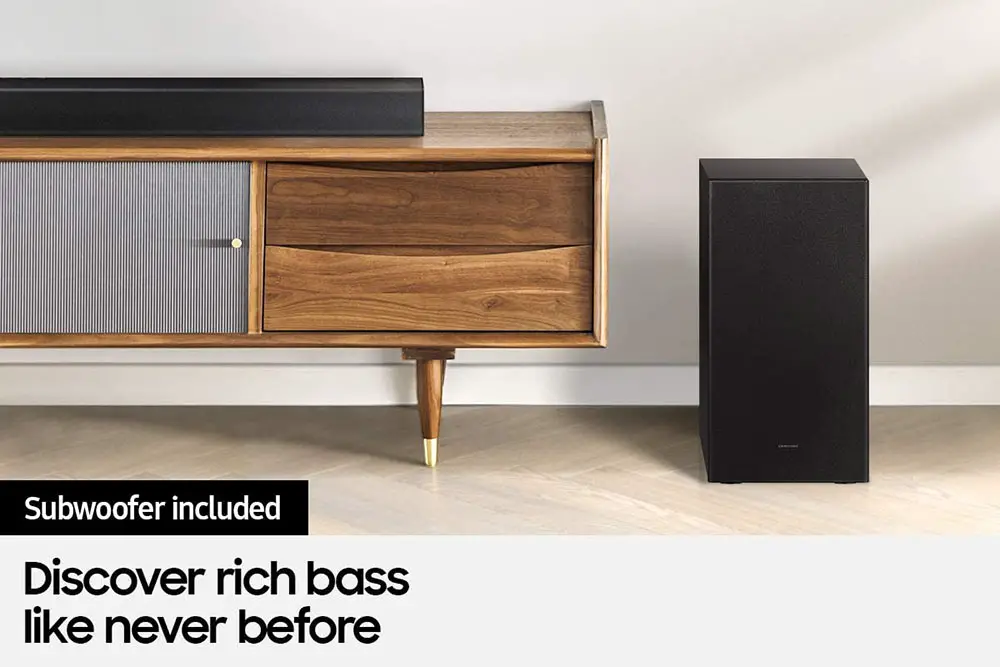 Final Thoughts
Our review is almost at its end and what we can say is that with this being our second experience with the Samsung A series we can say with certainty that Samsung has created a very nice series that combines simplicity, easy of use and good performance at a low cost. Yes the HW-A650 is not the kind of unit that will leave you with your jaw dropped on the floor but this was never meant to.
The design of the unit is very nice and with good quality of materials, the One Remote remains a fan favorite while in terms of performance we can say that for its category it did very good with a very lively front stage that is certainly a cut above what your TV can do. The inclusion of a center channel helps the HW-A650 even more to open the gap between this and the A550 while its longer size allows it to stretch the sound just a bit more than its smaller brother.
What we didn't like was its surround capabilities as with no real surround speakers there was no action behind us. The DTS Virtual:X mode can do so much with the available hardware and you will have to pay extra if you really want surround activity. We were also expecting more from the included 250 watts subwoofer as it failed to give us the low end prowess we were hoping for. Missing WiFi means no voice control , mobile app support or any kind of Chromecast or Airplay 2 services. Lastly the position of the USB port is a head scratching one and we hope that Samsung will redesign the damn thing to be easier to reach in the future.
Now if you want a comparison between the HW-A650 and last year's HW-T650 then we can say that differences are very small to almost non existent. The HW-A650 has a higher rated subwoofer but the difference was not all that audible. All other features were the same and we got a very similar experience overall both in terms of actual performance and in terms of practical features. If you are looking for a low cost soundbar that is easy to use and surround performance doesn't worry you too much the Samsung HW-A650 is a good option to consider for sure.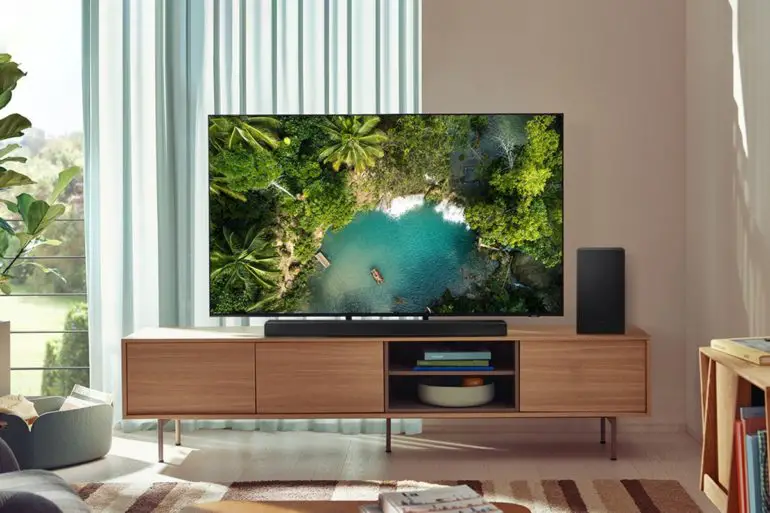 For more reviews you can check our dedicated Soundbar-subwoofer combo reviews list or even look at our Product Reviews Table where you can find the brand and specific product you are looking for.
---
Cheapest Places to Buy :
*We are a reader-supported website. When you buy through links on our site, we may earn a small affiliate commission at no extra cost to you. Home Media Entertainment does not accept money for reviews.*
---
Samsung HW-A650 Specifications