Yamaha RX-V683
Design -

88%

Audio Quality -

92%

Inputs / Ports -

89%

OS, Apps and Features -

90%

Price / Quality -

88%
---
Cheapest Places to Buy :
---
Yamaha continues to be on top of their game as they continually do the last few years offering great all around AV receivers with good performance, a lot of features and options. The Yamaha RX-V683 sits on the top of the RX-V 83 series which is the 2017 lineup of mainstream AV receivers that were produced from the respected manufacturer. The RX-V series may not offer top of the line quality as their AVENTAGE series but what you get is really a trademark of Yamaha's attention to detail and show that they offer more than enough quality and features even at a lower, budget-friendly price. So without further delay let's check our Yamaha RX-V683 review to see how this budget AV receiver performs…
Design
Design wise the RX-V683 has a very distinct look that Yamaha has used a lot of times in the past few years. In the front the bottom half has a brushed aluminum look while the top half is mostly covered by the LED screen showing you all important information. The LED screen font is in big distinguishable letters that can be read in any kind of lighting conditions. The last few years more and more manufacturers tend to hide buttons and ports in the front either by hiding them behind some frontal door or by omitting them entirely.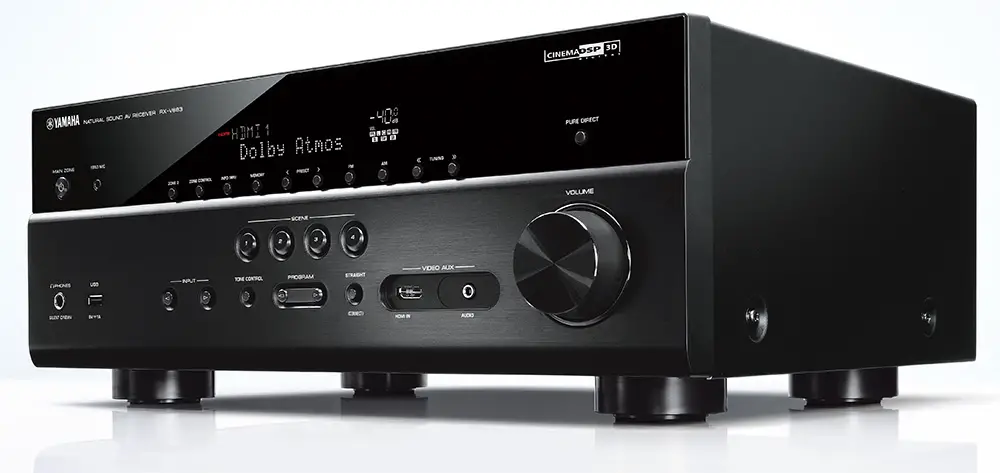 This is not the case with the current lineup as you will find a bit of a button clutter in the front that may not be a big deal for many but I like things to look more clean and having all these buttons only serve as dust magnets because to be honest how many times you are using any of these buttons on the first place. The buttons you will find on the front will help with some basic functionality like input selection, tuning, presets,FM/AM selection and zone/tone controls but you cannot fully control it without the remote. Other than these buttons we get a big turning knob in the right for the volume and a power button to the left.

In all I don't have many complaints about the design. I may not like the decision to include all these frontal buttons as they have almost no purpose but otherwise the quality is of a certain quality that is trademark of Yamaha even if we are talking about a budget friendly AV receiver.
Audio Quality
As with most AV receivers I popped my 4K UHD disc of Transformers into my UHD player for testing. The Dolby Atmos sound track it comes with in my opinion is one of the best reference quality sound tracks with enough punch that can test any receiver to the limit. For a mid budget receiver the RX-V683 responded very well. It may not have the power for a big home cinema room but for small to mid sized rooms it's 90 watts of power can provide all the oomph the Dolby Atmos track has.
Channel separation was good enough with the receiver feeding each channel with the necessary signals to create a great audio experience. Supporting only 5.2.2 or 7.2 setups you may not be able to enjoy the full dimensionality the Atmos track can offer but still the end result will leave you satisfied. During the more busy scenes where the action is at it's peak the receiver handles the audio mayhem with great control never letting things get out of control.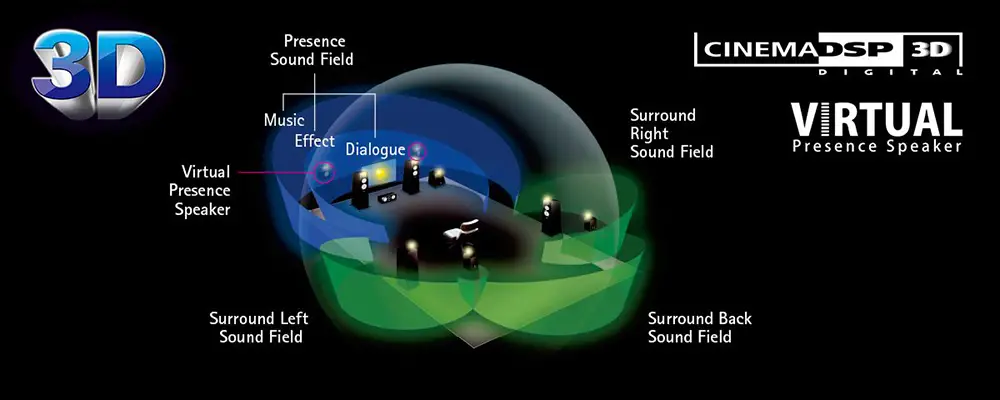 After my initial viewing I put a newer Dolby Atmos track to the test with the newly released Pacific Rim: Uprising. The receiver responded very well to this bombastic track with great precision of positional placement. When the rogue Jaeger fires it's missiles you can hear them fly through the stage with speed and depth.
When Gipsy Avenger is released from the helicopters and hits the ground in order to attend the official ceremony the room shakes making you thing the huge Jaeger landed on the roof of your house. But audio performance is not only good when the scene is busy but also when dialogue is the main focus delivering it with clarity and perfect positioning.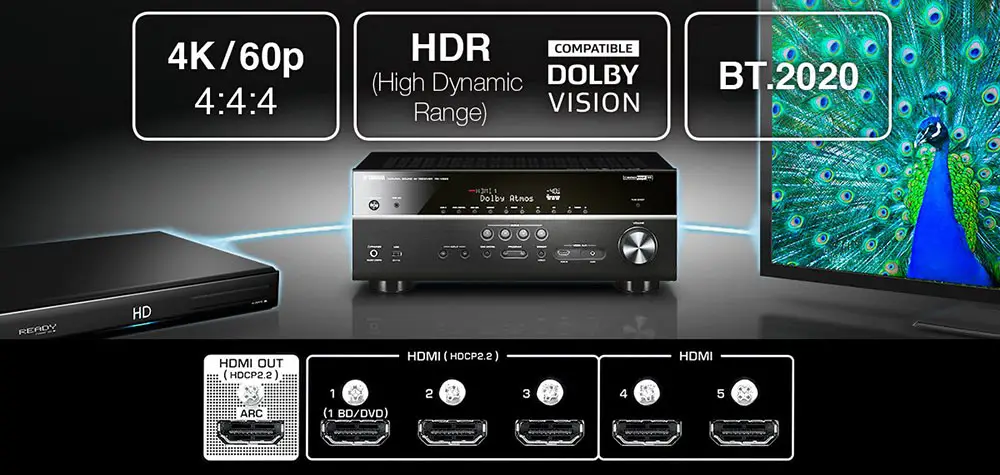 The receiver's main focus may be movies playback but it has also a decent music performance delivering enough bass but at the same time clear and precise vocals. As with all Yamaha receivers there are pre-programmed DSP presets that you can choose from and can enhance the listening experience.
It's good to have these but in all honesty for all the years that I have used Yamaha receivers I never used any of these presets that ultimately offer something different than what the original creator intended. Lastly the RX-V683 is very good at streaming music and with the help of Yamaha's music enhancer it boosts a little the quality of compressed music tracks, just don't expect anything dramatic.
Inputs / Ports
The Yamaha RX-V683 offers a wide variety of connections which is a pleasant surprise for a budget AV receiver. In the front you get all the basic connections you would need with a Headphones jack, a USB port (5V, 1A), a HDMI port and an audio AUX input. Last but not least you will find an input port for the YPAO calibration microphone.
In the back we find enough connections for all your basic needs but naturally in this price range corners had to be cut so the amount of total connections is reduced compared to some other higher tier models we have tested recently. First we find five HDMI inputs but unfortunately only three of them support HDCP 2.2 which means you have to be careful what you will connect to each port in order to take advantage of their capabilities. There is also only one HDMI output but at least it supports the HDCP 2.2 protocol as well as ARC. We also get the standard 7.2 speakers connections meaning the best you can go with is a 5.2.2 speaker setup in order to take advantage of the new object based Dolby Atmos and DTS:X tracks.

As for everything else we get two optical digital inputs and one coaxial, one component video input, 2 composite video inputs and four stereo audio inputs. There is also a trigger out mini port and two remote in/remote out ports. We also find antenna ports for FM and AM as well as an Ethernet port for wired connection to the internet.
In this price range I cannot say I could expect anything more. Analogue and component ports are a pleasant addition to an AV receiver but in 2018 they are not necessary for most people and if there was one thing I don't like is that not all HDMI ports support the latest protocol. In my opinion this is what makes an AV receiver today future proof and not if it adds a few more analogue ports that although welcome are used by the minority of users.
OS, Apps and Features
Yamaha has developed their proprietary calibration system called YPAO and setting up the receiver and it's speakers has become easier than ever. Through the menus you can calibrate speakers positions, volume and type of speakers setup among others. Menus are easy and clear to follow even for inexperienced users making the receiver really mainstream friendly.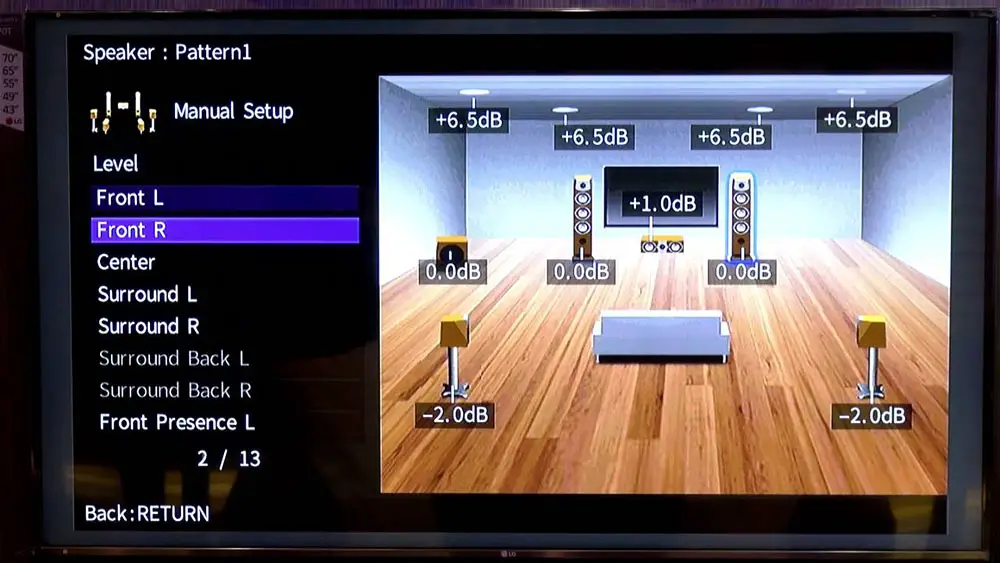 Virtual Cinema DSP is a feature Yamaha has developed that it tries to create an expansive 3 dimensional sound field with only two frontal speakers. The theory is that sound will bounce off the walls behind the viewer to create the illusion of sound coming from behind. The end result may not be anywhere near as good as using a full 5.1 or 7.1 speaker setup but for those that have no other option it may be a good alternate solution.

Yamaha's solution to multi room playback comes in the form of MusicCast which Yamaha has improved a lot since it was originally launched making it a great feature to use if you have other MusicCast enabled speakers around your house. There is also support for a huge list of online streaming services like Tidal, Deezer, Spotify, Napster, SiriusXM, and Pandora but unfortunately there is no built-in support for Chromecast. Also for those using Apple devices there is Airplay that you can use to stream your favorite music to the receiver.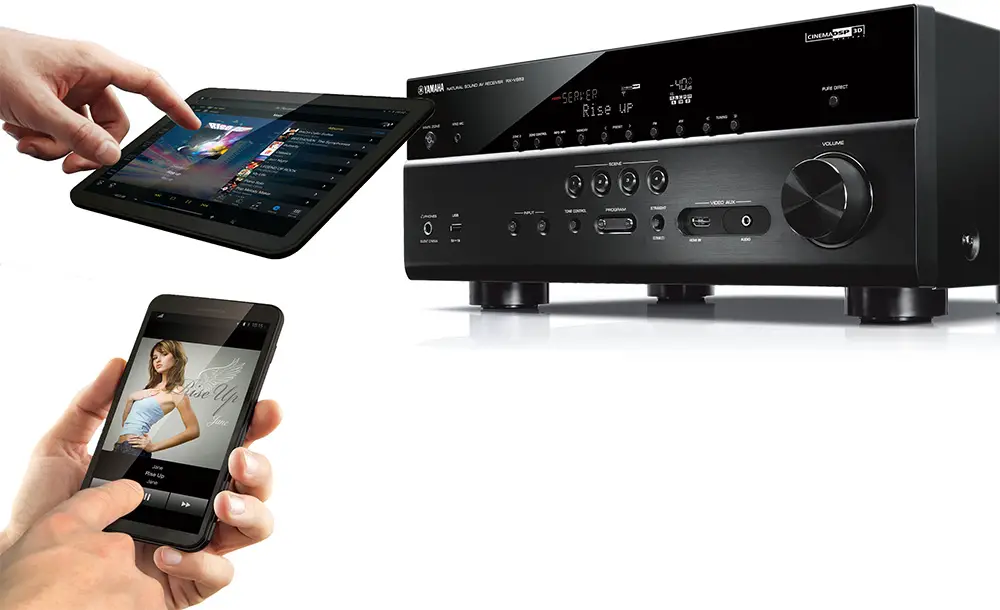 As far as connections is concerned the receiver supports both wired connection as well as WiFi. It also supports two way Bluetooth communication which means you can send and receive signals to the 683 something very practical if you want to use wireless Bluetooth enabled headphones.

One thing I was not impressed very much with was the remote Yamaha is offering with this specific receiver. It has so many buttons on it that I really felt uncomfortable to use. Buttons are small and positioned close to each other making things even worse. In this day and age where most functions are handled through the on screen interface I find it strange that manufacturers insist in using such remotes that only adds to user frustration when they should add to the overall experience. Hopefully Yamaha will improve upon this in the future.
Final Thoughts
The Yamaha RX-V683 is a very decent offering. You cannot ask for a lot more from a mid priced receiver like this. It supports 4K with HDR and Dolby vision playback, it has great audio quality and performance, there is support for the next generation object based tracks, great streaming options, a lot of connectivity options as well as a lot of features and settings.
There are a few drawbacks like not a big support for legacy connections, design of the main unit as well as the remote could be better and not all HDMI ports support the latest HDCP 2.2 protocol but in all truth all of them are to be expected in this price range.
In total this AV receiver is definitely worth it and is a good offering for all people that want to create a basic next generation home cinema system and are not looking for the absolute best and feature complete receiver.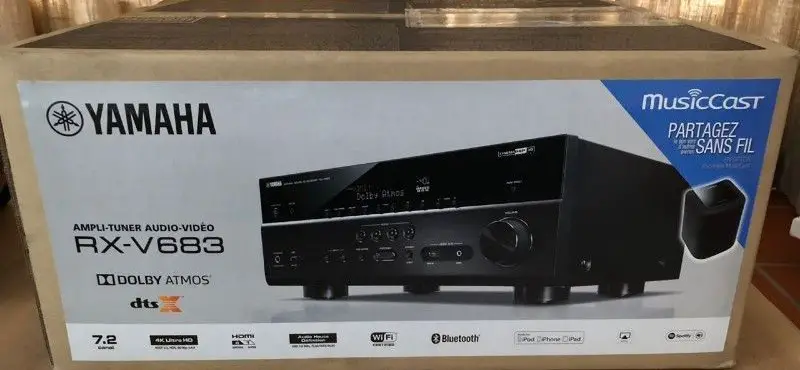 For more reviews you can check our dedicated 7 channels 4K AV Receiver reviews list or even look at our Product Reviews Table where you can find the brand and specific product you are looking for.
Also don't lose the chance to subscribe to our Newsletter and gain exclusive privileges.
---
Cheapest Places to Buy :
---
Specifications
7.2 channel AV Receiver with 90 W per channel (8 ohms, 20 Hz-20 kHz, 0.06% THD, 2-ch driven)

4K Ultra HD full support, HDR Video including Dolby Vision and Hybrid Log-Gamma, and BT.2020
6 HDMI inputs (incl. 1 front) with 3 of them with full HDCP 2.2 support
Dolby Atmos® and DTS:X™ support
Wi-Fi Built-in and Wireless Direct Compatible for Easy Network
Bluetooth® for wireless music streaming and Compressed Music Enhancer for Bluetooth
MusicCast for audio enjoyment in every room
AirPlay®, Spotify®, Pandora®, Napster®, Tidal, Deezer, Qobuz, JUKE music streaming service
DSD 2.8 MHz / 5.6 MHz, FLAC / WAV / AIFF 192 kHz / 24-bit, Apple® Lossless 96 kHz / 24-bit playback
YPAO™ Reflected Sound Control (R.S.C.) sound optimisation for automatic speaker setup
Virtual Surround Back Speaker for playing 7.1-channel content with a 5.1-channel system
Zone Extra Bass and Zone Volume Equalizer (Zone 2)
Versatile Zone control such as Zone mono, Zone volume, Zone tone controls, etc. and Party mode
Phono input for vinyl playback