---
Cheapest Places to Buy :
---
The crew of a colony ship, bound for a remote planet, discover an uncharted paradise with a threat beyond their imagination, and must attempt a harrowing escape.
Plot
*Be aware of spoilers*
Almost eleven years after the futile and disastrous expedition on the distant moon LV-223, the deep-space colonization vessel Covenant equipped with more than 2,000 colonists in cryogenic hibernation, sets a course for the remote planet Origae-6 with the intention to build a new world.
Instead, a rogue transmission will entice the crew to a nearby habitable small planet which resembles The Earth. The unsuspecting members of Covenant will have to cope with biological foes, beyond human comprehension.
Ultimately, what was intended as a peaceful exploratory mission, will soon turn into a desperate rescue operation deep into the cold infinite space.
Directed by
Ridley Scott
Produced by
David Giler
Walter Hill
Ridley Scott
Mark Huffam
Michael Schaefer
Screenplay by
John Logan
Dante Harper
Story by
Jack Paglen
Michael Green
Production Company
20th Century Fox
TSG Entertainment
Brandywine Productions
Scott Free Productions
Distributed by
20th Century Fox
Starring
Michael Fassbender
Katherine Waterston
Billy Crudup
Danny McBride
Demián Bichir
Running time
122 minutes
Author's review
After the prequel Prometheus we get the sequel "Alien Covenant". Although with Prometheus we get a fresh take of the universe that Ridley Scott created by giving us something new with the engineers, with this movie it seems he tried to return to the roots of what made the old movies great. Unfortunately we get a bit of the same as it offers nothing new or fresh. It would be more interesting to keep the engineers in center focus and use the aliens as supplements rather than make the monster the center of the movie once more.
What I didn't like was that in Prometheus they created these godly looking aliens and in this movie they just turned them to nothing more than cannon fodder. I will not give any spoilers for those who haven't seen the movie but in a few seconds it really destroys the whole concept of this mysterious race of the engineers making it one of the major let downs of the movie.Scott seems fell for the fans demands that wanted to see more of the monster again and lost a great opportunity to continue the fresh story that he started with the new alien race of the engineers.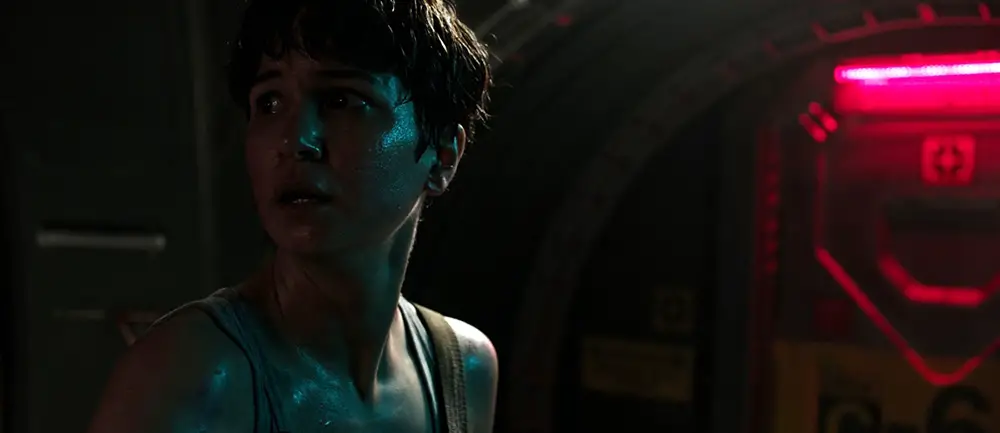 In Alien Covenant we get a new set of characters with only David being the connecting piece between this and Prometheus. Other than Michael Fassbender and Katherine Waterston being the central two characters everyone else are more or less under developed and used mostly as fill ins and of course candidates for more splatter scenes. Fassbender gives a solid performance once again as both David and Walter androids.
Waterston also gives a very good performance as Daniels and to tell you the truth I was pleasantly surprised because Noomi Rapace gave a great performance in Prometheus as Elizabeth Shaw and I was a bit skeptical if they could get the same kind of performance from another female character. Although the two characters are different from a lot of perspectives both give a great performance for what they are.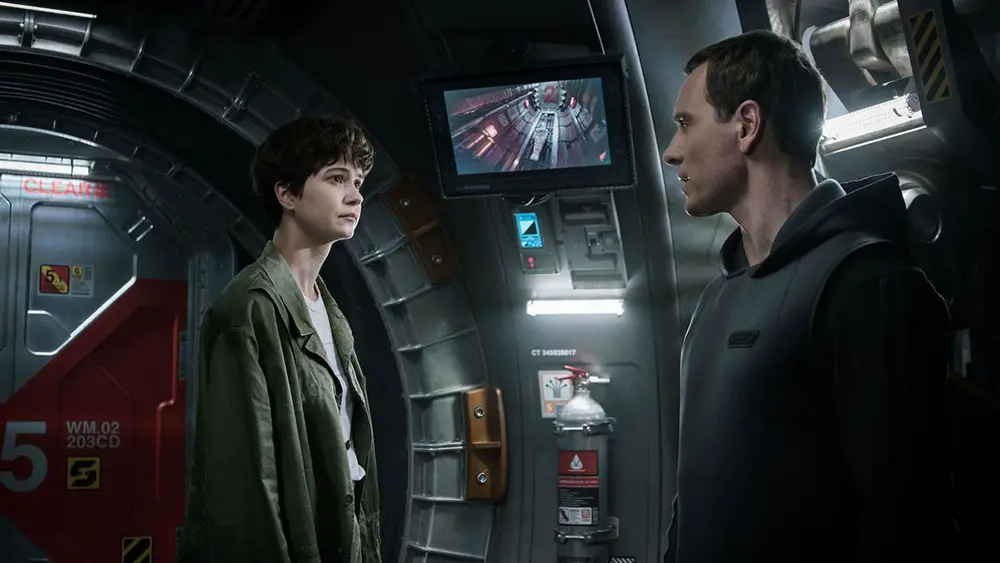 Technically the movie really excels. The special effects both practical and CGI are great. For the Alien I must admit that I liked what they did. Although it's the same creature we all know and loved from the previous films they tried to change a few of it's characteristics to bring back the fear that was lost. It's moving exponentially fast and the way it kills reveals a more brutal and primal animal than what we knew until now but without fundamentally changing it's characteristics. I have to say the way they designed both it's looks and it's behavior may not have brought the same fear as once did but it certainly made it a menacing creature that can make you feel uncomfortable for our characters.
Alien Covenant offers some really great sets and photography is really top notch something expected from a director like Scott. From the lush forest greens to the dark colors of the engineers necropolis the movie offers enough diversity to make each shot interesting and visually captivating. All the same the sound design is great. A film like this needs great sound to immerse you in it's atmosphere and Alien Covenant makes the best use of it. If you have a home cinema system I would definitely suggest getting the 4K UHD as it offers great quality both in picture and sound. Turn off the light, crank up the sound and let the neighbors scream from frustration.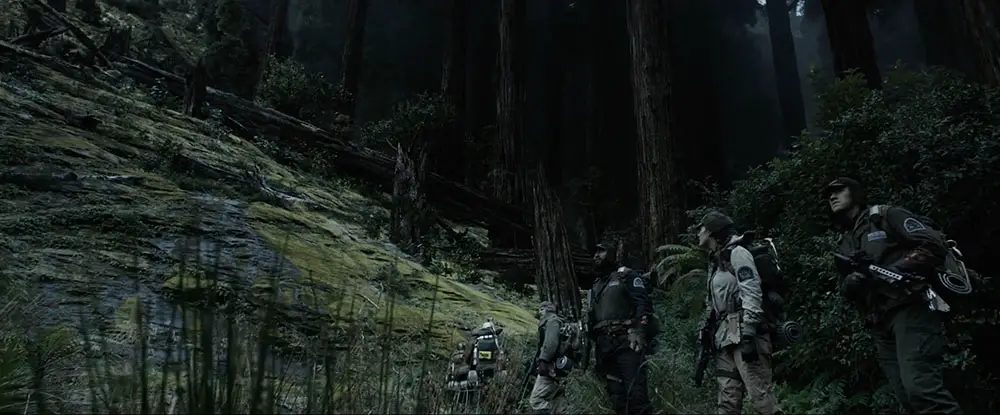 Alien Covenant is not a bad movie. Not by far. If you are an alien fan or a Scott fan in general then you will definitely like this. But I was expecting so much more from a movie with the name "Alien" and a director like Scott. I guess the film fell under the burden of it's own name by creating expectations that realistically could not be achieved. Only by these facts with great disappointment I will give this 3 and a half stars.

Alien: Covenant was shot with Arri Alexa cameras and finished at a 2K Digital Intermediate (DI) as per usual with all effects heavy films. The end result we get in this 4K UHD 2160p transfer courtesy of 20th Century Fox Home Entertainment is pretty good although compared to other 4k UHD transfers it never reaches reference quality. There is a small improvement as far as sharpness is concerned with more details appearing compared to the 1080p transfer like in the textures of their uniforms and small details in the forest on the alien planet.
HDR helps to make highlights more pronounced and this is apparent in many scenes like in the necropolis where dark tones engulf most of the scenes. Colors show more vivid like the orange crates on the outside of the Covenant spaceship and in general they seem a bit different from the 1080p transfer, probably because of the Wide Color Gamut giving us a wider spectrum of colors to display.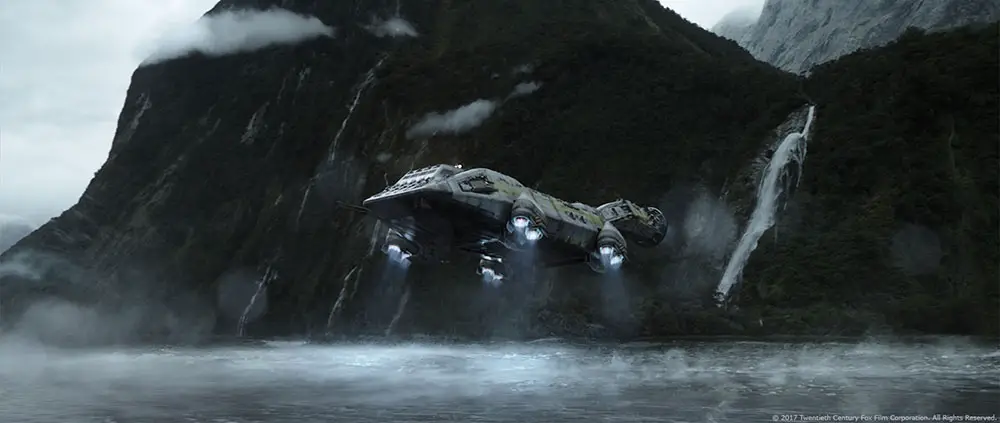 The 4K UHD disc of Alien: Covenant comes with a Dolby Atmos track that is a noticeable upgrade over the DTS-HD Master Audio 7.1 track found in the Blu-ray disc. With the addition of heights speakers you can now hear a lot of the effects hovering overhead while surround sounds separation feels more pronounced. Alien: Covenant has a lot of calm scenes and you can hear even the more subtle of ambient sounds engulfing you in it's environment.
On the other hand when action starts the track is powerful with effects from explosions as well as the lander's thrusters giving you all the bass you will need. Dialogue has good separation from the rest of the effects and clarity from the beginning to the end of the film.
In general the 4K UHD transfer is very good, offering a small upgrade over the 1080p transfer without being the best it could possibly be but enough to keep you happy as it is the best transfer you can find the film in.
Movie Rating :





4K UHD Rating :





If you liked this review you can check more of our movies reviews in our dedicated section. Also don't lose the chance to subscribe to our Newsletter and gain exclusive privileges.
---
Photos
---
Cheapest Places to Buy :