Amazon Fire TV (2017 Pendant Design)
Design / Hardware -

92%

Remote -

90%

Playback performance -

93%

UI, Content and Apps -

90%

Price / Quality -

90%
---
Cheapest Places to Buy :
---
In 2017 Amazon launched it's 3rd generation of Fire TV, the company's new offer in the streaming players segment. Fire TV devices have become very popular the last few years due to their simplicity,  plug and play style of connection and the ability to stream from various streaming services and platforms, even from competing brands making them ideal for the average user that want to watch their favorite TV show or movie.
If you combine all the above with a slick new design and the added features of 4K with HDR and Amazon's Alexa voice assistant through it's remote and all these well under $100 then the end result is hard to pass if you are on the lookup for such a device. So let's see how 2017's offering fairs in our Amazon Fire TV review.
Design / Hardware
Amazon completely redesigned this year's 3rd generation of the Fire TV turning it from a bulky box that you had to place next to your other equipment to a stylish pendant shaped dongle that you connect to your TV's HDMI port and it hangs in the back without ever seeing it again after the initial installation. The Fire TV measures 65 mm x 65 mm x 15 mm and weights just 87 grams giving it a very small footprint and passes almost unnoticed. The box is connected to the HDMI port through a small flat, bendable HDMI cable letting it hanging on the back of your TV.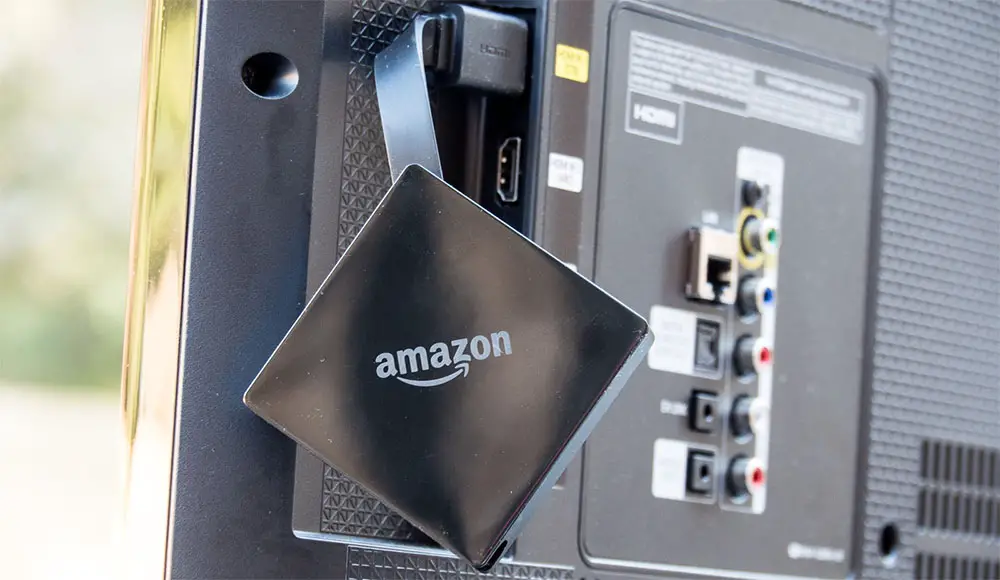 Having a hanging device on your HDMI port may scare a few but the device is light enough not to put any pressure on the port so you don't have to worry of destroying your precious flat TV in any way. One drawback of the Fire TV is that unlike other streaming dongles this one has a separate power cable that is connected to it's micro USB for the extra juice needed to stream content in 4K with HDR. Although it would be nice not to have this I guess it's a necessity so no real complaints there.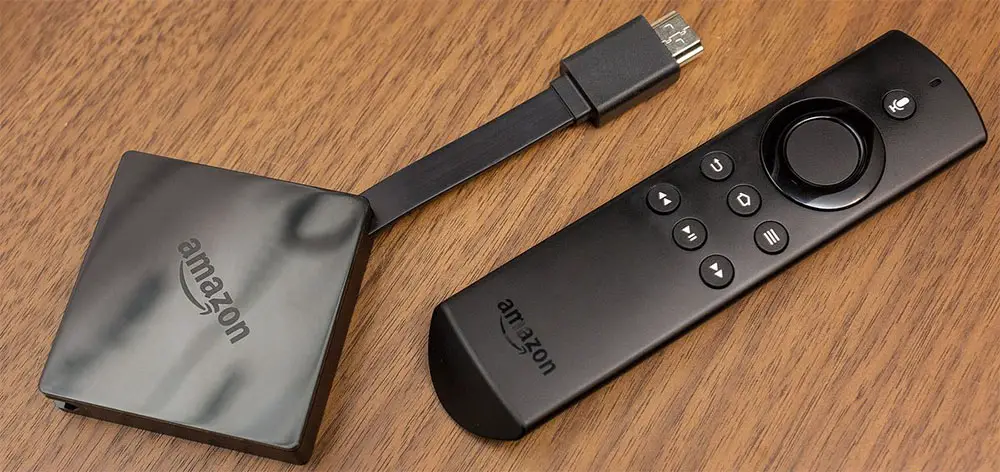 The Fire TV supports 5GHz WiFi connection through it's 802.11ac Wi-Fi antenna that is hidden inside it's main body keeping it's minimalism design intact. There is no other connection on offer although you have the option to buy an extra adapter if you prefer wired connection to the internet. This adapter connects to the micro USB port of the Fire TV and includes a power cable to feed the device with power as well as an Ethernet port. The 5GHz WiFi is good enough for 4K streaming if you have a good signal but if your signal is suffering then maybe you should consider buying the Amazon Ethernet Adapter for an extra $15 that will save you a lot of frustration and let you enjoy uninterrupted viewing.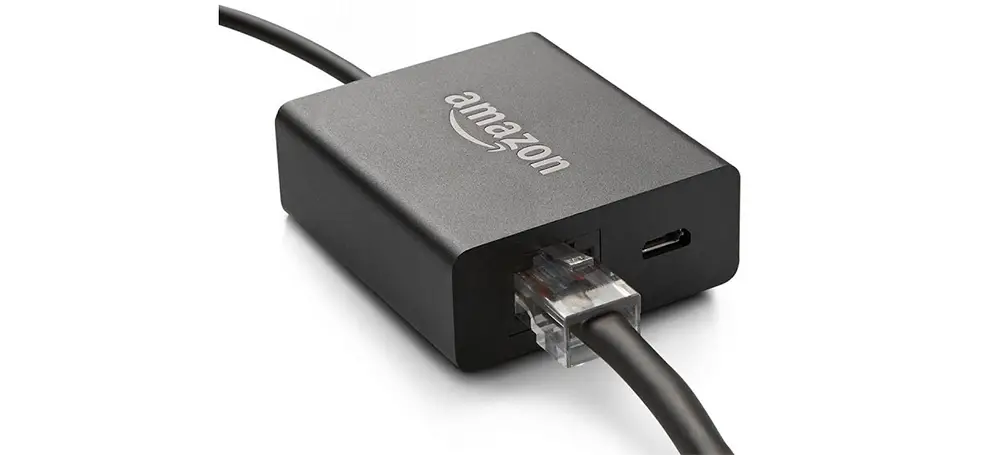 Overall Amazon has improved the design of it's streaming device compared to the 2nd generation Fire TV offering a more slick and practical design, hiding it from plane sight but at the same time equipping it with more features like HDR playback a feat that Amazon should be commended for.
Remote
2017's Fire TV remote design has not changed at all from last year and keeps exactly the same design, functionality and buttons. This is not necessarily bad as the way it was made was already good enough with a simple and elegant design keeping just the most important buttons for navigation and control.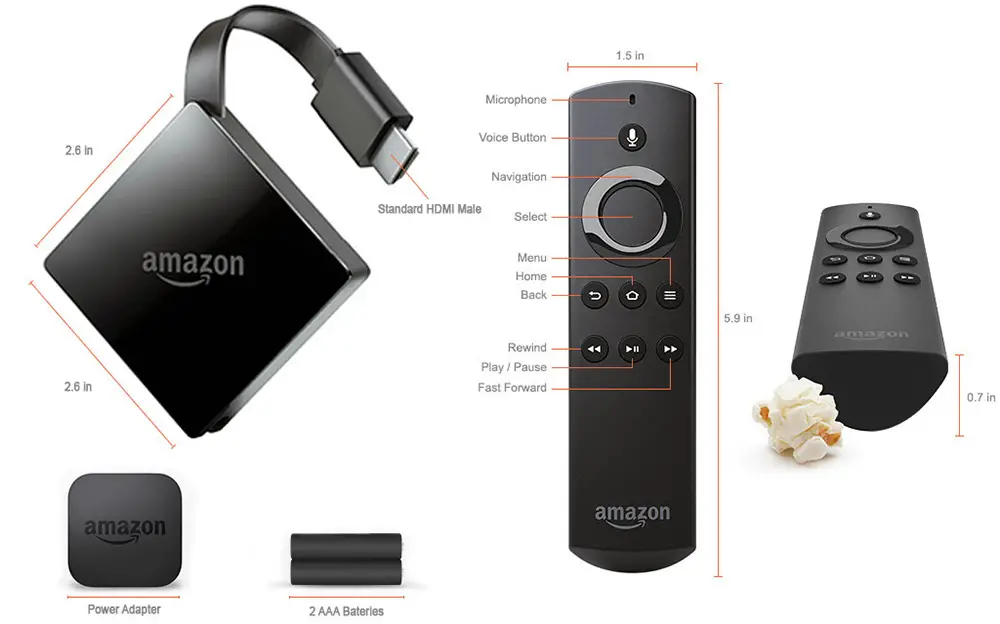 So what we find οn the remote is a circular navigation pad, Home, Back and Menu buttons, a trio of playback control buttons as well as an Alexa/voice control activation button. Above this, is a pin hole microphone that you can use to issue commands to Alexa to search for specific content. Unfortunately you cannot use voice commands to change the volume or toggle power of your TV.
If you prefer to use your smartphone, Amazon has created the Fire TV app for Android and iOS devices which is for free and can completely replace the remote by including all functions as well as Alexa and voice search. You can also use text but you cannot stream content from your mobile device.
Playback performance
Playback of 4K content with HDR needs a lot of power so Amazon has equipped the Fire TV with a 1.5GHz quad core processor, 2GB of memory and 8GB of internal storage making it more than capable in reproducing the upgrade in resolution and image quality. The 2nd generation of Fire TV also offered 4K playback but for this year Amazon added HDR which greatly improves the image quality by enhancing highlights and making colors more pronounced than before.

Although the supported content is still not a lot, streaming services are upgrading their libraries to support both 4K and HDR so the Fire TV becomes future proof in that respect. Streaming services like Amazon, Netflix and even Youtube now have enough 4K with HDR content to support the device and it's only natural more to be added in the coming years. But although the Fire TV supports the basic HDR protocol which is HDR10 it doesn't support Dolby Vision like Apple TV so you will have to accept this omission which is a real shame. Hopefully Amazon will rectify this in some future yearly upgrade of their streaming device.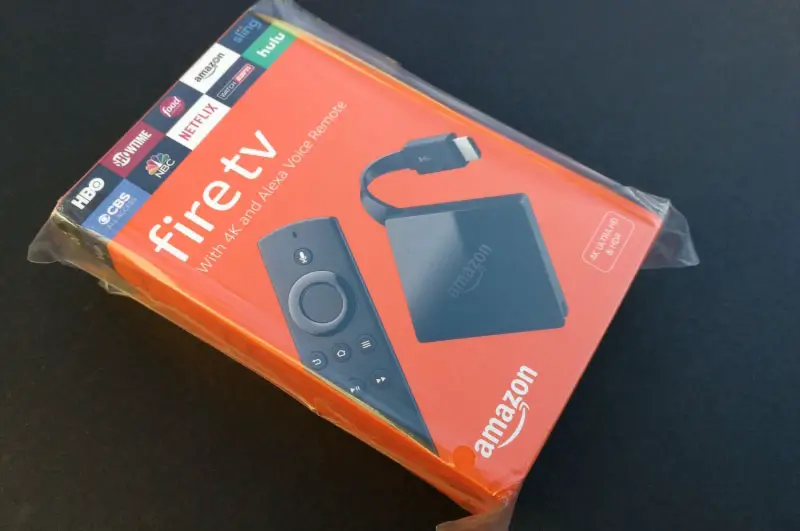 The Fire TV also supports Dolby Atmos and this is a great feature if you have a dedicated sound system that supports this next generation audio track that offers a new dimension in your sound field by adding overhead sounds with the help of height speakers. Although films with Dolby Atmos are still far and few between there has been a big push lately with most new releases supporting this new audio format so the catalogue will get bigger and bigger as we move on.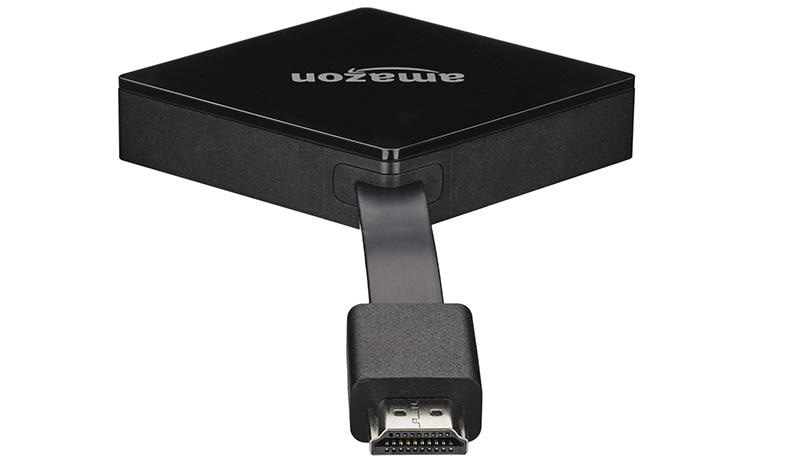 Playback on the Fire TV was very smooth but you should consider that this depends very much on the quality of your internet connection and speed. Streaming a 4K movie with HDR and Dolby Atmos can put a huge pressure on your internet connection and if your connection cannot keep up then the resolution is dropped down to 1080p.
Also it depends on the wireless connection to the rooter so it is preferable to have the two at close proximity as a few walls between them can severely downgrade the WiFi signal. In my opinion to eliminate any signal problems to the router I would suggest you to buy the extra Ethernet adapter in order to connect the devices with a cable if possible. This way you eliminate any possible problems on this regard.
UI, Content and Apps
The UI of the Fire TV is very nicely designed and very smooth to navigate thanks to the powerful hardware that is equipped with. The OS in use is a modified Android version so it may seem familiar to many. There is a big list of streaming services on offer with the most notable names present like Netflix, Amazon Video and Amazon Music, Hulu, Sling TV, Spotify, Youtube, Playstation Vue and Crunchyroll.
And although the list of names is good there are a few notable omissions. Naturally there is no iTunes but you cannot really say this an omission as no other device other than Apple ones support it. A few more notable omissions are Google Play Movies & TV, Google Play Music as well as Vudu.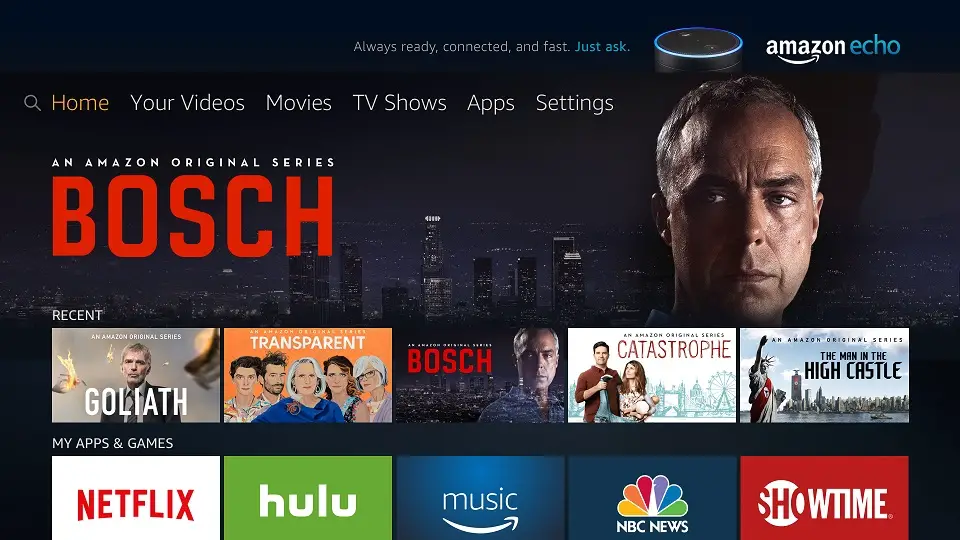 The biggest feature here as with all the streaming devices from Amazon is Alexa voice assistant. There is no hands free controls like with Echo devices since you will have to press a button on the remote to activate the feature. But if you have any Echo devices you can pair them with the Fire TV and gain hand free controls of the device being able to issue commands, open apps, search for content or play music and video entirely with voice commands.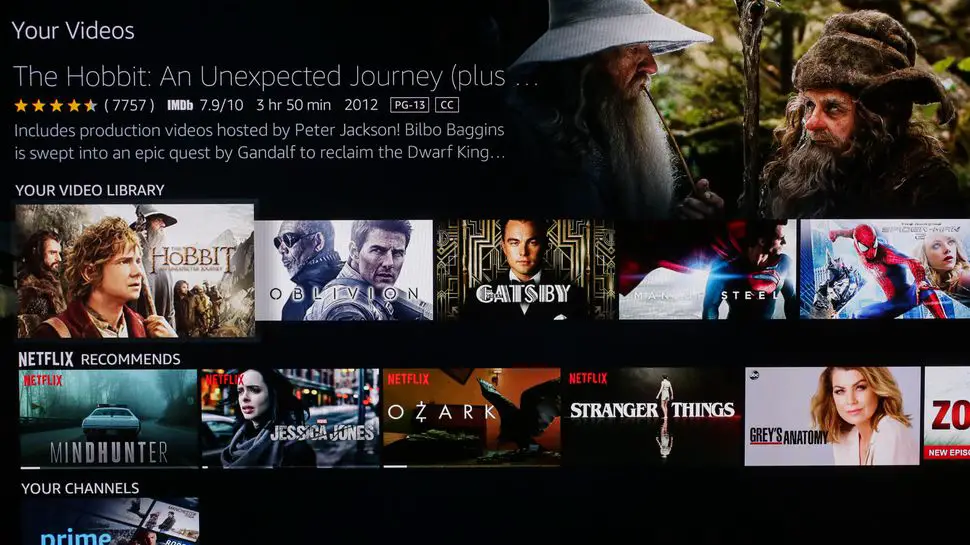 Using the remote's microphone to issue commands to Alexa is a hit or miss situation. On the one hand you can use this feature to search for specific movies or TV shows that can be very helpful but on the other hand a lot of times commands are not registering correctly finding the wrong result if naming is similar or more complex. Amazon seems to improve upon this for some time and hopefully in the future we will be able to give more complex commands without the frustration it creates from giving you inaccurate results.
Using Alexa through the Fire TV can also be used to control your smart home devices like home automation systems, cameras and home security systems but you cannot use it to control your home theater system since it is missing any IR blasters.
Final Thoughts
The Amazon Fire TV is a really nice streamer. Amazon has really got the hang of it in creating nice streaming devices both in looks and in capabilities and for 2017 they created a very capable device with a new, smaller and more practical design, 4K with HDR playback, good performance, Dolby Atmos support and Alexa integration and all these for under $100.
But it's not a perfect device as a few notable streaming services are missing like iTunes, Google Play Movies & TV, Google Play Music as well as Vudu. Also there is no Dolby Vision support if it's a must for you and voice commands are limited to content search and can be a bit problematic with complex searches. Finally there is no Ethernet port and you will need to pay an extra $15 for the adapter in order to have a wired connection.
All the above are notable omissions but if these are not a big deal for you then the Amazon Fire TV will be a device that will definitely offer you some quality viewing time.
For more reviews you can check our dedicated Streaming Boxes reviews list or even look at our Product Reviews Table where you can find the brand and specific product you are looking for.
Also don't lose the chance to subscribe to our Newsletter and gain exclusive privileges.
---
Cheapest Places to Buy :
---
Specifications
Video outputs : 2160p, 1080p, and 720p up to 60 fps
Video formats support : HDR-10. H.265, H.264
Audio formats support : AAC-LC, AC3, eAC3 (Dolby Digital Plus), FLAC, MP3, PCM/Wave, Vorbis, Dolby Atmos (EC3_JOC)
Photo formats support : JPEG, PNG, GIF, BMP
Ports : HDMI output, micro USB for power or optional Amazon Ethernet Adapter (no included Ethernet port or micro SD slot)
Networking : Dual-band 802.11 a/b/g/n/ac – 2×2 MIMO, Bluetooth 4.2 + LE

Voice support : Yes, with Alexa Voice Remote (included) or free Fire TV Remote App (available for download on Fire, Android, and iOS)
Hands-free voice control : Available by pairing Fire TV with any Echo device

Processor : Quad-core 1.5 GHz | ARM 4xCA53
GPU : Mali450 MP3
Storage : 8GB internal
Cloud storage : Free cloud storage for digital content purchased from Amazon
Size : 2.6" x 2.6" x 0.6" (65.0 mm x 65.0 mm x 15.0 mm)
Weight : 3.1 oz (87.1 g)