Anthem MRX 740
Reviewed at $2,899.00
Product Name: Anthem MRX 740
Product Description: 7.2 CH 4K AV Receiver
Design -

9.2/10

Audio Quality -

9.4/10

Inputs / Ports -

9/10

OS, Apps and Features -

8.8/10

Price / Quality -

8.6/10
Summary
Reviewed at $2,899.00
Pros
Amazing sound fidelity and immersion
ARC Genesis is very good
Dolby Atmos, DTS:X and IMAX Enhanced support
Nice new design
Cons
Software has bugs
No HDMI 2.1 (2022 pending)
Few missing features
No dedicated app
---
Cheapest Places to Buy :

*We are a reader-supported website. When you buy through links on our site, we may earn a small affiliate commission at no extra cost to you. Home Media Entertainment does not accept money for reviews.*
---
When it comes to home theater audio most of the time the usual names come to mind that take up a big chunk of the consumer market. Denon, Marantz and Yamaha are the obvious but not the only ones as there are a few more players in the field that are worthy of your attention and money. One such company is Anthem, a Canadian manufacturer that is well known within the home theater market even if they don't have the marketing prowess of the other big three. And in today's Anthem MRX 740 review we will be looking at one of their latest releases and how it compares to the other more known brands.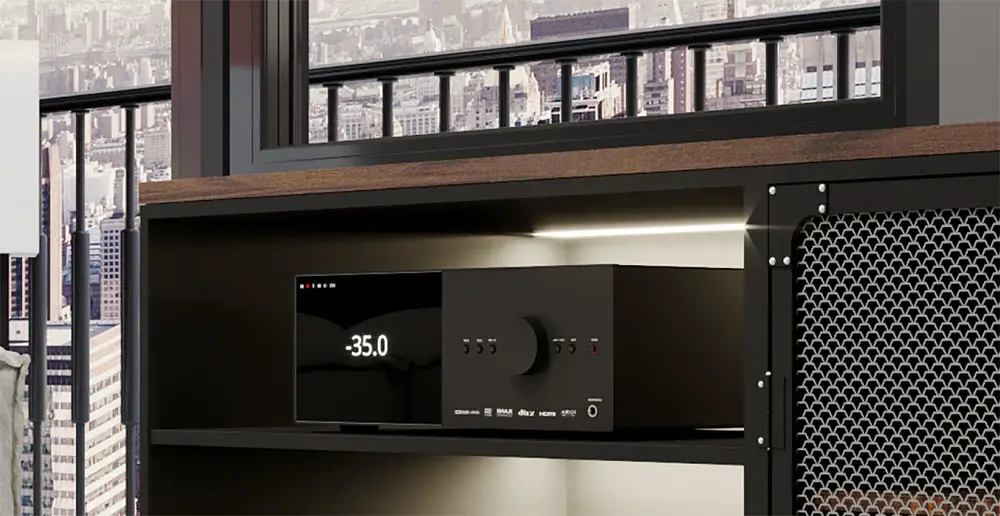 Their new updated, 4th generation MRX series of AV receivers that they released this year consists of three models, the MRX 540, the MRX 740 that we have here for testing, and the top of the line MRX 1140. All of them come with a similar feature set but what sets them apart is the different number of processing channels and built-in amplifiers.
The MRX 740 we have for testing is the middle unit in the series which comes with 7 channels of built-in amplification and the ability to process up to 11 channels with external amplifiers. The unit supports the usual Dolby Atmos, DTS:X and IMAX Enhanced and comes with Anthem's proprietary audio calibration system called ARC, with the most recent version of it available here named ARC Genesis. As for extras the MRX 740 comes fully packed with Airplay 2 and Chromecast available, custom integration options, Bluetooth, Roon and Spotify future availability and pending upgradability for its HDMI ports to the latest HDMI 2.1.
This is our first experience with an Anthem AV receiver so we are very excited to be able to try one out. But does the new MRX 740 has what it takes to stand proud among the competition? Keep reading to find out.
Disclaimer : The video above belongs to its respective owners
Design
For the new lineup Anthem redesigned the whole chassis and to be honest it now looks much better and more in line with today's designs as the old look was starting to look a bit old fashioned in 2021. All three MRX models follow the same design principles for parity reasons while built quality for the MRX 740 seems to be high and reflect Anthem's quality standards.
The unit comes with a size of 17″ x 14-1/2″ x 6″ (43.18 cm x 36.4 cm x 15.24 cm) and a weight of 33.2 lb (15.1 Kg) which is just about what you should expect from an AV receiver of this category. Unfortunately Anthem produce these only in black color so there is no choice that you can make in this regard.
The new design is very minimalistic and uses a two tone design for the front face with half of it being a highly gloss black glass that is covering the functions display while the other half is matte black and includes a big turning knob and some smaller function buttons. The buttons available include menu, select, previous/next selection, mute and a power button on the far right. A set of logos are placed on the bottom which looks nice while a single port for the headphones is placed at the lower right corner.
Here we need to mention that the front display is a full LCD screen and not the usual dot matrix displays that we are used to see in many AV receivers even today. Although it cannot be compared to some other displays we have seen from Arcam or NAD it certainly is a step above what you will find in Denon or Marantz for example.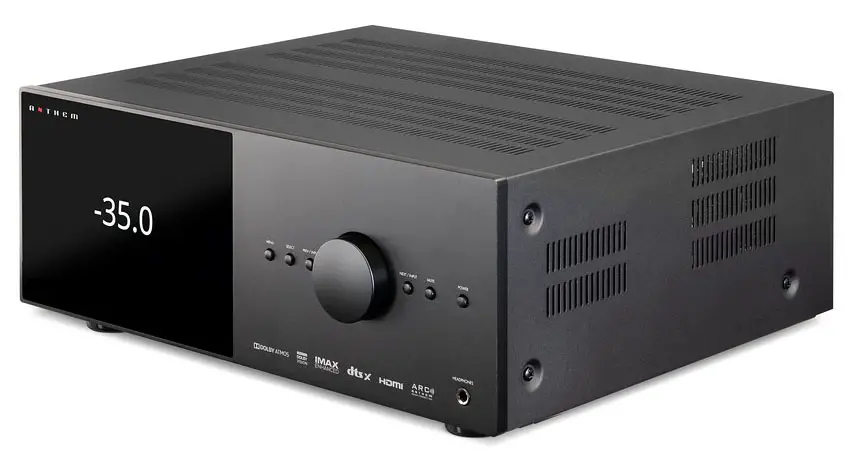 Under the hood we don't find many surprises as the MRX 740 is using 32-Bit/768 kHz DACs along with a next generation DSP platform for signal processing and conversion. Unfortunately there is no information as to the type of DACs Anthem is using in the MRX 740 or for any of the new models for that matter.
Anthem hasn't changed the design of their remote for some time now and the one that comes with the MRX 740 is the same one that was provided in the previous series. There is nothing exciting about it, it looks simple and even a bit cheap we could say but will get the job done. It uses a plastic body with rubber buttons and their layout is good enough with different groups depending their functionality. There is a backlight function available but this work with the press of a button and is not motion sensitive.
Overall Anthem did a good job at redesigning the series. The MRX 740 certainly looks more modern but the remote on the other hand seems like it is stuck in the past. We were hoping Anthem would go the extra mile and offer a new design for their remote also.
Audio Quality
The receiver supports the usual Dolby Atmos and DTS:X object oriented audio tracks but we also find IMAX Enhanced. Auro-3D is missing but we don't thing many will be disappointed with this omission as there is very little content that takes advantage of this today. Along with these we get support for up-mixing and virtual technology features in order to cover all needs and specific room configurations.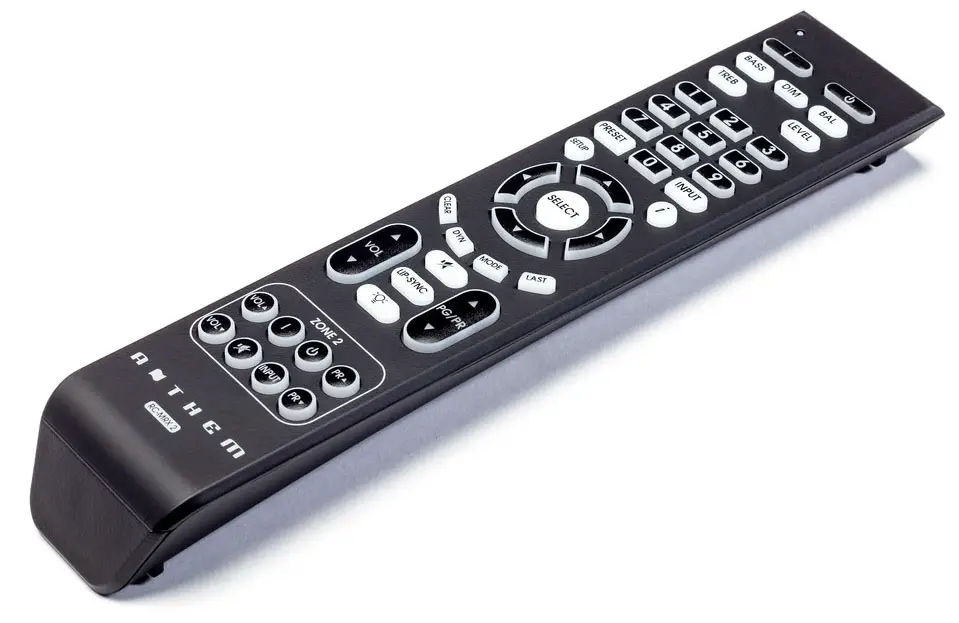 When it comes to up-mixing tech we find the usual Dolby Surround and DTS Neural:X. What these up-mixing tech are doing is to up-convert stereo and legacy mixes in order to make use of all the speakers you have in your setup. But the Anthem MRX 740 also features AnthemLogic which comes in two presets for Cinema and Music depending the content you will be listening to.
As for virtual tech the DTS Virtual:X is capable of creating sounds that originate from virtual created speakers around your room where there are no physical speakers present.
This virtual tech obviously is not as good and accurate as having real physical speakers and are very much room dependent. Also the sound many times can be heard very over-processed something we were never very fond of.
The MRX 740 comes with 7 channels of built-in amplification with 5 channels rated at 140W into 8 ohms or 170W into 6 ohms (2 channels driven) while the last two channels are rated at 60W into 8 ohms or 75W into 6 ohms (again 2 channels driven).
With the available built-in amplifiers you can create a Dolby Atmos system up to 5.2.2 channels. As the MRX 740 offers processing for up to 11 channels if you add some external amplifiers you can create a system with a configuration of 7.2.4 channels. Now, for our testing we opted for a 5.1.2 channels setup with two overhead speakers for the Atmos effects and a single SVS SB-1000 pro subwoofer that was placed in the front left corner of our setup.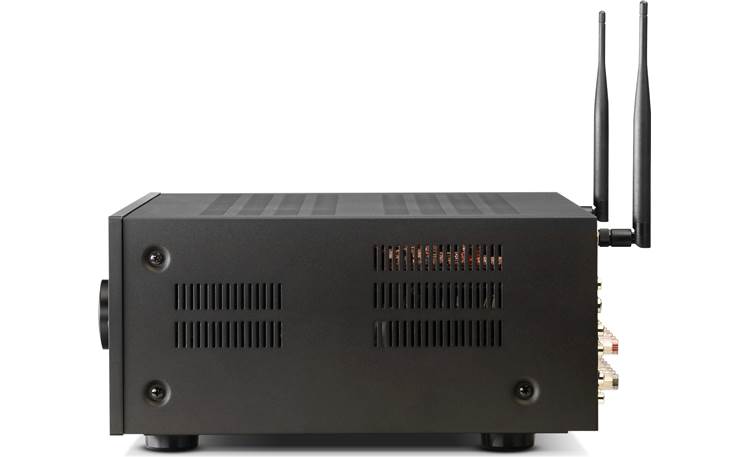 First test of the day was Prometheus in 4K UHD. No Atmos here but an exceptionally good DTS-HD Master Audio 7.1 and the Anthem receiver did an amazing job at rendering all the atmospherics of the alien planet. Nice echo effects when inside the alien ship and good panning sounds creating an eerie atmosphere.
There is not a great deal of low end action but when the moment asks for it like when Prometheus lands, its engines will give you a nice deep shake. Surround effects were spot on and there was nice overlapping between the channels at the front and the rear. Dialogue was distinct with great isolation.
Overall a great performance here even if it was not the visceral experience some other audio mixes provide.
Next on the table we tried out Godzilla vs Kong in 4K UHD and here we got a much more energetic mix and the Dolby Atmos track provided a more deep experience due to the expansive nature of the audio at hand. We skipped right to the final showdown between the trio of monsters and the Anthem did an excellent job at rendering faithfully the size and weight of these creatures.
Low end activity was through the roof obviously and the amount of destruction throughout the city necessitated some heavy lifting on the subwoofer's end. With some nice low level camera angles and the appropriate environmental effects the sense you were getting during the fight was exceptional and you could feel like the battle was happening right outside the room.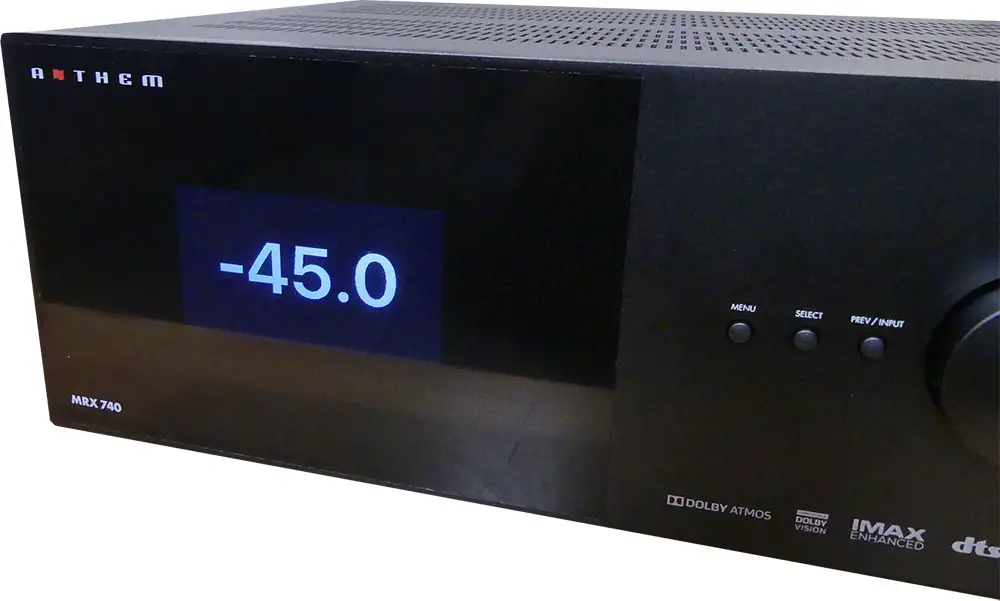 The Atmos effects provided the much needed height extension making the size of these monsters more believable while the usual surround effects would add the necessary immersion in order to create such a grand battle. Even through all the chaos the receiver never had a problem rendering all the dialogue front and center keeping everything balanced and controlled.
We changed setting after this by trying Greyhound in Apple TV that uses a really immersive Dolby Atmos mix. Many scenes we would love to try out here but some of the more notable ones is when the Fletcher-class destroyer is battling a couple of U-boats in the Pacific ocean. The scene combines great atmospherics with realistic weather conditions and rough seas that are rendered faithfully and with amazing detail from the receiver along with impressive panning effects like when it's throwing all its ordnance on the enemy ships.
When its 127 mm MK 30 guns were firing towards the camera you could sense the shells flying right by your head towards the target. The same could be said when the twin Bofors 40 mm gun was hitting the U-boat when it was passing by the American destroyer. All ballistics had good energy, pinpoint accuracy and exceptional fidelity.
The low end was hitting us again and again as the Greyhound's cannons were firing non stop to stop the German threat while explosions would hit us with nice low end waves from the blasts.
We changed scenery once again and we tried out The Fellowship of the Rings in 4K UHD and we went right into the mines of Moria which is an excellent opportunity to show the Anthem's capabilities at rendering expansive sceneries. The MRX 740 was particularly capable at giving us the right illusion of size with echoes travelling in our room in all directions. Faint sounds were reproduced with amazing detail while no information was getting wasted.

When the action started there was a great deal of realism across the board with metal clashing, stone breaking and wood bursting all having the right tone and timbre. The steps of the cave troll had the necessary weight and his growl was deep and heavy. When Balrog appears, well…what can we say. The Anthem can really make such an epic scene justice. The combination of the orchestral music with the sound effects of Balrog as we fights Gandalf in the Bridge of Khazad Dum is an experience to be remembered.
The receiver made sure to render the size of this ancient beast faithfully while his growl felt menacing and harsh. Dialogue was still very distinct through all this chaos and everything felt controlled and accurate.
Last test of the day came with Jurassic World Fallen Kingdom that uses an impressive DTS:X mix in its 4K UHD form. We skipped to the moment when the volcano raptures and it was a particularly impressive scene as there is a lot of surround activity as the dinosaurs try to escape the pyroclastic flow and at the same time blast of melted rock land all over the place from above us.
The low end had good energy and enough vigor to give you a good sense of weight these animals had while the T-Rex signature growl felt natural and with high detail. The main channels had good cooperation with both the surrounds and the Atmos speakers and thus created a very immersive bubble. When the Gyrosphere fell into the water nice underwater sounds would give you the illusion of really being there. Very good and very accurate overall.
Last part of our tests was music so we switched to a 2 channels setup and got some tunes to see how the MRX 740 can do with something more delicate.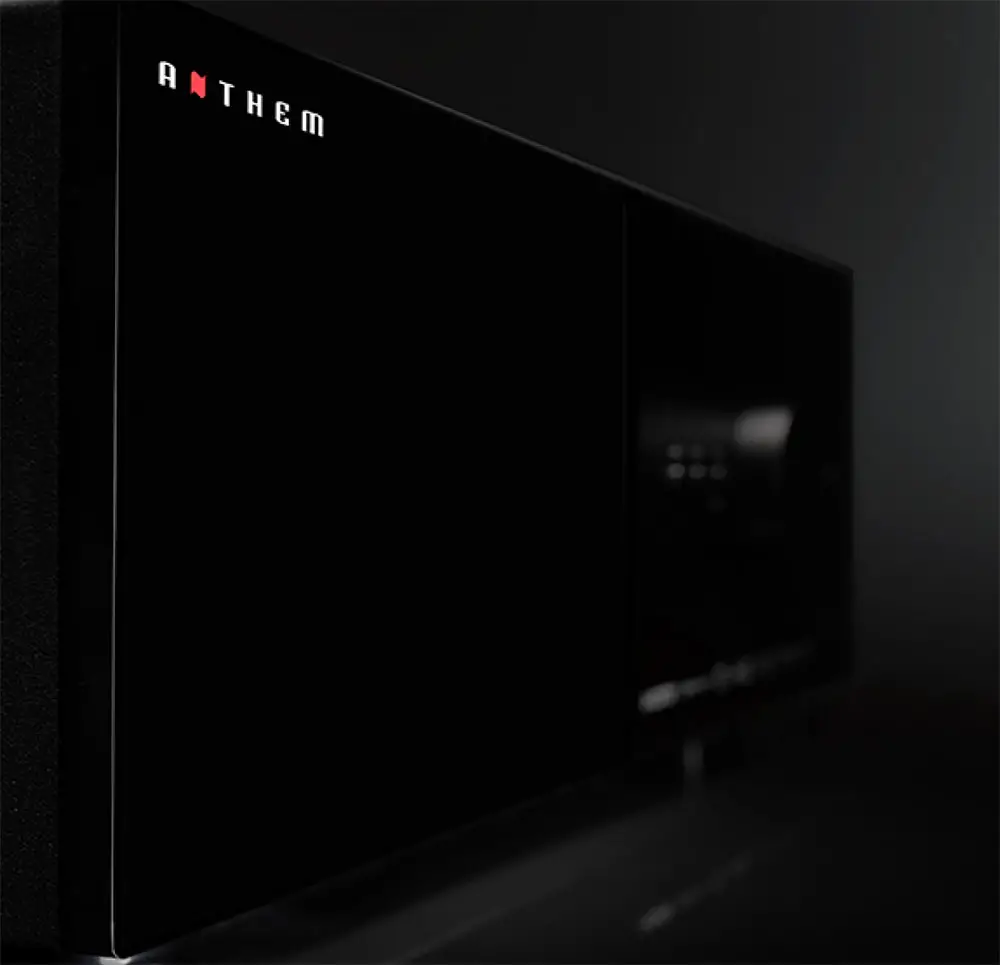 The receiver is really a very enjoyable experience no matter how you see it and the output quality is really impressive when it comes to music fidelity and dynamics. Just make sure to use some good quality speakers and the receiver will take care of the rest. Transparency was great while panning stereo effects were very impressive elevating the entire performance. Mid-range was tight, high frequencies were playful and full of life while the low end never disappointed us with the receiver working in harmony with our subwoofer on delivering the required bass for each song.
As we always do in these reviews we tested various genres like rock, metal, pop, electronic, classical, jazz and soul and the MRX 740 had no particular weaknesses in any of them making it an excellent choice no matter the material you are planning on throwing at it. The Anthem had noteworthy integrity and visceral control over all its elements, never letting even the tinniest of detail unattended. As such the MRX 740 will serve you great not only during big cinematic moments but also great musical performances.
And with this we will close this part of our review which was really impressive and showed us that Anthem takes very serious our enjoyment and entertainment. The MRX 740 felt capable at even the most demanding moments and no matter what we threw at it, it never buckled under the pressure. Anthem did a great job in this regard.
Ports and Connectivity
The Anthem MRX 740 comes with most of its connection ports at the rear as the headphones jack is the only available port at the front side. This shows the different approach in design Anthem took compared to the other known brands that like to include more ports at the front for easier access.

Now at the back the first thing we notice is the 7 speakers terminals that can be used with the built-in amplifiers. Anthem has also included a generous 7 HDMI inputs and 3 HDMI outputs, enough to connect all the devices you may have.
As for the rest we get 5 analog stereo inputs, 3 optical audio inputs and 1 output, 2 coaxial audio inputs, 1 IR input, 3 trigger ports, an RS-232 port for control, 7.2.4 multi-channel pre-outs, 1 analog line output, an Ethernet port for wired connections to your local network and a USB port. There are also dual WiFi/Bluetooth connectors at the two corners of the AV receiver.
What needs to be mentioned here is that the new MRX series, including the MRX 740 we have here, only have HDMI 2.0 ports which means you can pass signals up to 4K@60Hz. The ports supports Dolby Vision, 4:4:4 Subsampling @ 4K60 (18.2 Gbps), High Dynamic Range (HDR), Hybrid Log Gamma (HLG), BT.2020 Color Gamut, 4K 50/60 Switching and eARC.
Anthem has also announced that their latest series can be upgraded with HDMI 2.1 ports and this can be done from the beginning of 2022 making the series even more future proof. To be honest it feels like Anthem is a bit late to the game as most other manufacturers had already HDMI 2.1 capable receivers from as early as 2020. But at least Anthem will give this option to its potential buyers which is better than being stuck with the older HDMI 2.0 ports.
Lastly the unit comes with the standard set of wireless capabilities. With it's built-in WiFi it can connect to wireless networks while it also supports Bluetooth streaming. The MRX 740 comes with Bluetooth 4.2 and while we would prefer the newer Bluetooth 5.0, we didn't face any problems connecting with the included module.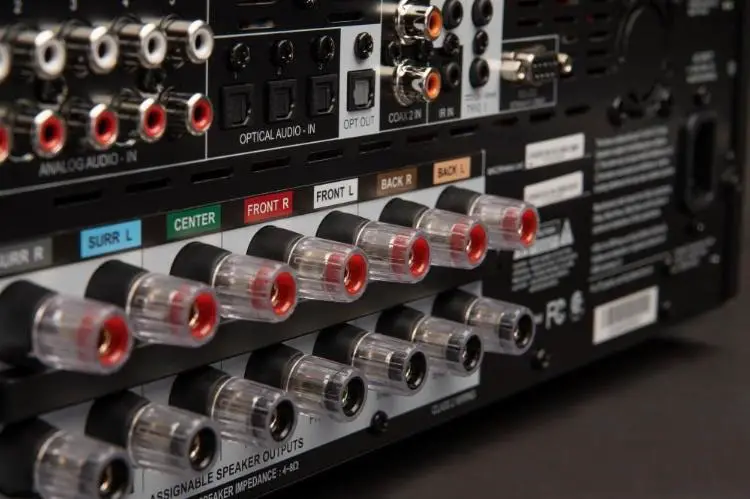 Overall the MRX 740 features a very similar layout to competing brands. The inclusion of HDMI 2.0 instead of 2.1 does hurt its value but at least Anthem will offer a solution for this very soon. Also we would love to have at least a front HDMI port as it can be such a huge practical feature that unfortunately many seem to exclude nowadays.
OS, Apps and Features
The receiver comes fully packed with features and this was to be expected from a unit released in 2021. In fact the whole MRX series comes with the same feature set so there are no real differences here if you are wondering.
Although in terms of the supported feature set there are not many differences compared to competing brands if there is one area where Anthem differentiate themselves that is surely their audio calibration system called ARC (Anthem Room Correction). The latest version of this system included with the MRX 740 is called ARC Genesis and along with the receiver you also get the necessary microphone and a nice mic stand.
The ARC system has a really nice user interface and you can use it from both Windows or Mac systems. Actually its user interface is much better than most other auto calibration systems available and this is surely a huge advantage on Anthem's part. ARC measures the output of each speaker relative to the listening area and make the appropriate adjustments to their output.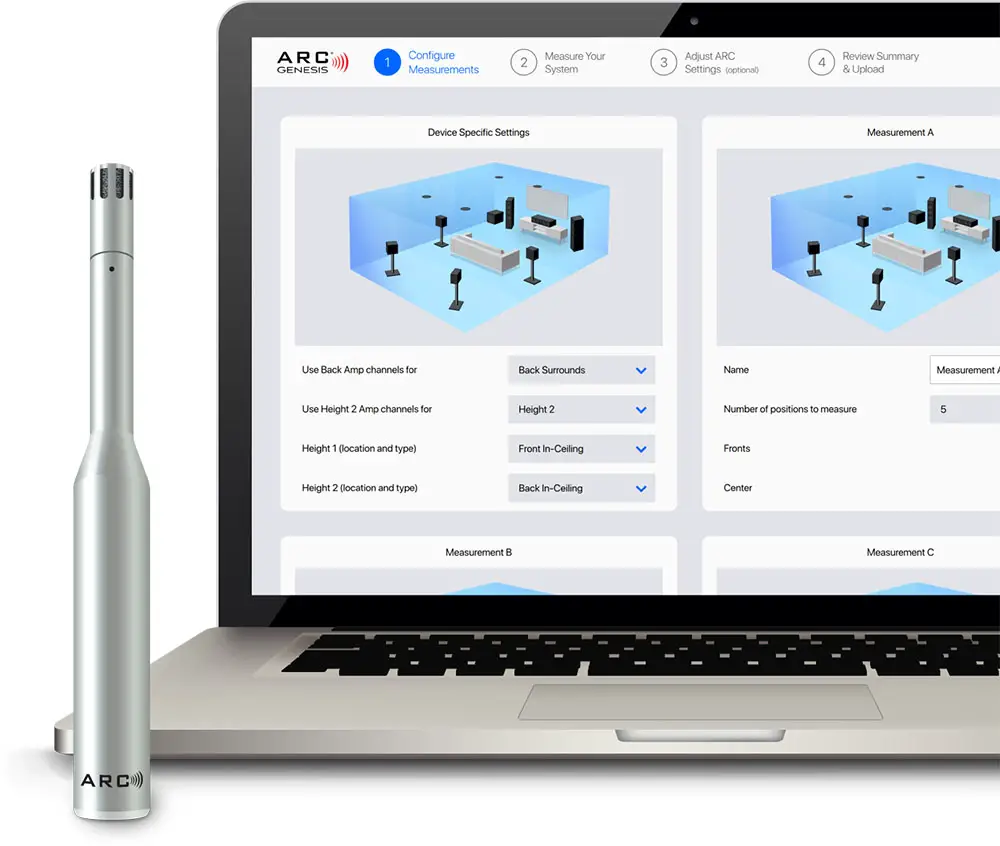 If there is one downside to this compared to the other usual calibration systems is that the ARC cannot measure the distance of the speakers and you will have to enter the values manually. But we wouldn't consider this a big problem because I always found their measurements inaccurate and I had to go and correct the distances myself anyway.
After the system takes a specific number of measurements it makes the necessary calculations for each speaker and apply target curves to each one for better individual response. There is a lot more to it as it allows you to create your own custom target curves, save multiple profiles and create some nice calibration reports.
Anthem may not provide a dedicated app for controlling the receiver but they have created a very nice web UI that includes all the functions and controls you will need. A dedicated app would be preferable but at least web control is not so bad and from what we saw Anthem put a lot of effort in making it as good as possible.
The receiver comes with the usual streaming capabilities most AV receivers offer nowadays. As such both Chromecast and Airplay 2 are built-in and available for use. With Airplay 2 you can stream content, plus songs stored on local networks, to any AirPlay-enabled device. AirPlay 2 adds support for multidevice play so you can hear your music throughout the home.
Google Chromecast on the other hand, lets you stream content from any Android device like a phone, tablet, or laptop to the receiver. If you can listen to it on your phone, it can be cast to receiver itself. For Airplay 2 you will need to have the Airplay app installed in your device while for Chromecast you need to download Google Home from the Google Play store.
But if you prefer a wired connection the MRX 740 also supports Zone 2 for adding another room to your setup.
Online is only one way to stream audio these days and modern AV receivers gives you a lot of freedom in the way you listen to music. One way is to stream audio from a network drive or NAS server if it happens you to have one connected to your local network. Also if you prefer a more wireless way of streaming your music there is Bluetooth available for connecting with your mobile device. Unfortunately the MRX 740 does not grand you the ability to connect external storage as the included USB port is only there for service purposes.
Another handy feature that we do find is HDMI-CEC and this one lets you use the TV remote to control the AV receiver if the TV also supports this. You can understand the practicality of this as this way you can reduce the amount of remotes you will need to have in your home theater. Obviously this feature lets you use only the most basic functions of the receiver but for everyday use it can be a very time saving one. This is an old feature that we see being included for the last few years now.
The unit will also allow for signal pass-through when turned off which will pass not only the video but the audio to your TV. This can be handy in case you want to connect a pair of headphones for some silent viewing.
There are a few more features that are worthy of mentioning and one of them is channel re-assignment as with it unused amplifier channels can be re-assigned to bi-amplify demanding front speakers, power surrounds, presence speakers, or a second zone.

The Anthem MRX 740 features external control and IP control capabilities for easy customization and compatibility with third-party integration solutions. It offers IP control capability for major third-party control devices including Control4, Savant, RTI, Creston, ELAN and URC.
A couple of features that were not initially supported but will work with an update is Spotify Connect allowing you to turn your smartphone into a remote and allow you to play, pause, and stream content from Spotify along with Roon allowing you to connect, stream and manage your music collection.
The MRX 740 may not be the most feature complete AV receiver we have tested and there are certainly a few notable omissions like no dedicated app and no voice control support. But what is there is more than enough for most and certainly will have more flexibility with the upcoming upgrades.
One thing we need to mention before closing is that while what we saw was certainly very promising and shows that Anthem has done a lot of work with the included software, it still felt very rough around the edges. The receiver is amazing but certain bugs does not allow it to reach the excellence it deserves. Many users have been complaining about bugs in the software and during our review we did notice a couple of them. Some of them are pretty minor but we also faced a couple of them during the ARC calibration that could be described as more nerve breaking than they should be.
And this is probably the only major complaint you can have with such a fine piece of equipment. The potential is there and Anthem has done many things right so if they keep ironing out the bugs it only gets better after that.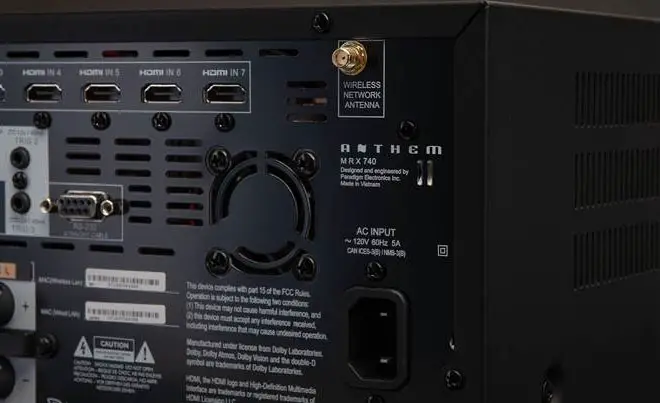 Final Thoughts
Having a receiver for testing that is other than the usual brands was certainly a breath of fresh air. Anthem is well known among the more experienced fans even if they don't have the marketing exposure of Yamaha or Sound United (Denon, Marantz). And their latest lineup surely is what they needed as they moved into 2021.
The MRX 740 is an amazing receiver in terms of audio fidelity and performance. Once you manage to go through the initial calibration and setup everything correctly it will surely offer you an experience that is beyond what you can find with more mainstream brands. The ARC calibration software is certainly unique, the web UI Anthem created is a great one and feature wise the unit comes with all the online and offline bells and whistles you come to expect from a 2021 AV receiver.
On the other side of the coin the Anthem can be a bit harsh with inexperienced users. It takes time and effort to get the most out of it and to tap into its full potential with the power of the ARC Genesis. And things don't get better with the bugs you are going to encounter and there are certainly a few of them. In general if you have used any of the more mainstream brands, the MRX 740 will feel more rough around the edges and needs some more time for its software to mature. A few missing features put it behind competition while missing any HDMI 2.1 ports will surely make gamers think twice before pulling the trigger. At least Anthem will offer an upgrade option at some point in 2022.
Closing our review we can say that we definitely liked what we saw with the Anthem MRX 740. The receiver is surely very capable and can output some amazing quality audio. If it was not for certain bugs in the software and feature omissions it would be a no brainer choice but considering the future updates and promises from Anthem the future of this unit is certainly bright.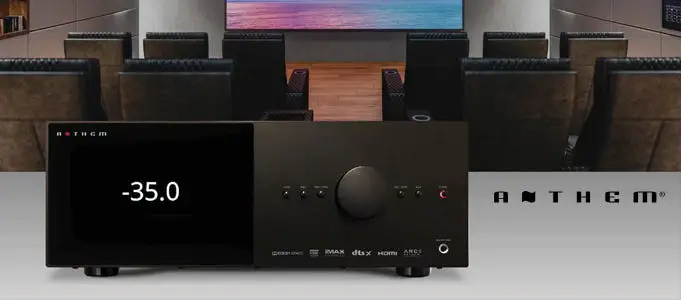 For more reviews you can check our dedicated 7 channels 4K AV Receiver reviews list or even look at our Product Reviews Table where you can find the brand and specific product you are looking for.
---
Cheapest Places to Buy :

*We are a reader-supported website. When you buy through links on our site, we may earn a small affiliate commission at no extra cost to you. Home Media Entertainment does not accept money for reviews.*
---
Anthem MRX 740 Specifications