---
Cheapest Places to Buy :
---
Arthur Curry, half human and half from Atlantis struggles to accept his true destiny of becoming a king as he embarks on a quest to stop an imminent war between humans and Atlanteans.
Plot
*Be aware of spoilers*
In 1985 Maine, lighthouse keeper Thomas Curry rescues Atlanna, the Queen of Atlantis, during a storm. He takes care of her and eventually they fall in love and have a son named Arthur. But Atlanna will be forced to leave them both and return to Atlantis entrusting her adviser, Nuidis Vulko, with the task to train young Arthur in order to become a capable warrior. But when Arthur learns that his mother was executed because he was a half-breed he rejected Atlantis and never traveled to his world.
In present day Arthur stops a group of pirates from taking over a submarine by killing their leader, Jesse Kane, while his son, David, vows revenge. David uses the sub to attack Orm, Arthur's younger brother and incumbent monarch of Atlantis, who uses this as a pretext to declare war to the human world. King Nereus joins Orm's cause while his daughter, Mera, refuses to follow them. Instead she gains Arthur's trust by saving his father and arrange a meeting with Vulko.
Arthur is being captured and challenges Orm for a duel to the death in order to determine the rightful ruler of Atlantis. Arthur barely escapes the fight with the help of Mera and both of them travel to the Sahara desert where they find a holographic message that leads them to Sicily, Italy in order to find the Trident of Atlan, the first ruler of Atlantis as he who wields it will claim his rightful place as King.
David receives a prototype  Atlantean battle suit from Orm to kill Arthur which he alters himself and confronts Arthur and Mera in Sicily but Arthur manages to defeat him. Mera and Arthur travel to The Trench and through a portal arrive to the center of the Earth where they find Atlanna alive. Arthur faces Karathen and reclaims the Trident of Atlan and attacks Orm's army that is in battle with  the crustacean forces of the Kingdom of the Brine with an army of marine creatures. Orm's followers renounce their obedience to him and embrace Arthur as the true king as Arthur defeats Orm during a duel.
Atlanna reunites with Thomas while Arthur ascends to the throne with Mera by his side.
Directed by
James Wan
Produced by
Peter Safran
Rob Cowan
Screenplay by
David Leslie Johnson-McGoldrick
Will Beall
Story by
Geoff Johns
James Wan
Will Beall
Based on Aquaman by
Paul Norris
Mort Weisinger
Production Company
DC Entertainment
Peter Safran Productions
Distributed by
Warner Bros. Pictures
Starring
Jason Momoa
Amber Heard
Willem Dafoe
Patrick Wilson
Dolph Lundgren
Yahya Abdul-Mateen II
Nicole Kidman
Running time
143 minutes
Author's review
After Marvel saw extreme success with their superhero franchises it was only logical for Warner Bros. and DC to want some equal success with their own franchises. And while DC may not have the diversity of the Marvel characters they own two of the most know characters in comic books with Superman and Batman. And while Batman saw major success recently with Christopher Nolan's saga it was in a self contained universe meaning that in order to bind him with the rest of the characters meant to make certain changes.
Warner and DC really tried to follow the Marvel path with their own franchises but unlike Marvel that was fortunate to see almost all of their releases getting critical and financial acclaim, their success was a hit or miss thing. Because for every successful "Man of Steel" there was a questionable "Batman VS Superman" and for a very good "Wonder Woman" we got a so and so "Justice League". And while in Marvel's case we were first introduced to all their characters before bringing them together in the case of Aquaman the opposite happened.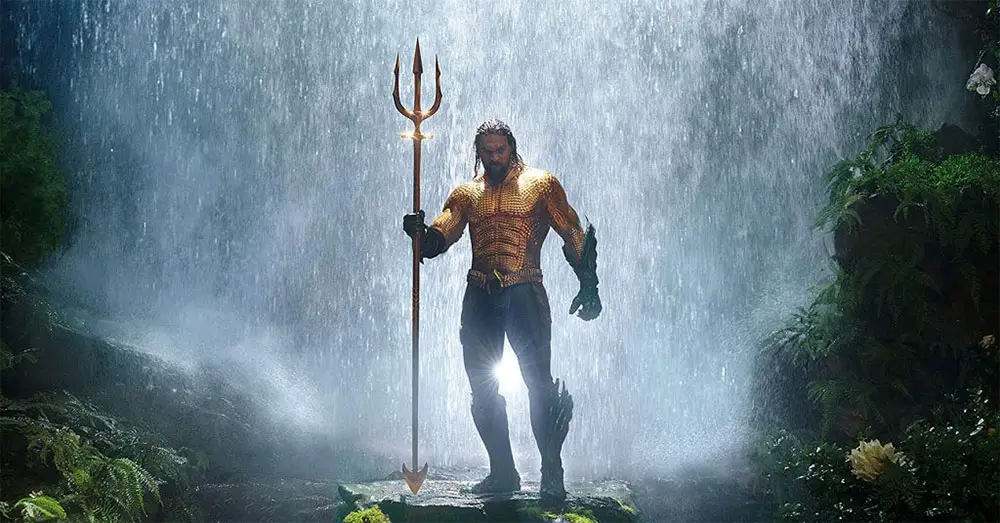 Getting a solo film after fighting Steppenwolf in Justice League along with the other heroes feels a bit strange but in our opinion this is the result of poor planning as getting the band together was their first priority. If you have watched Justice League then you know more or less what to expect from Aquaman with Jason Momoa reprising his role as the half-Atlantean/half-human but this time James Wan, of Insidious and Conjuring fame, takes the director duties from Zack Snyder as he tries to imbue his own qualities in this franchise that is considered part of the DC Extended Universe.
The first sense you get from this film is that the film makers truly tried to create a self contained film. There is no mention of the other heroes here neither of the storyline that will probably eventually end up in Justice League 2. Here we clearly get a story that is all about the Aquaman himself and while there are brief mentions of the term meta-humans that clearly refer to our other heroes there is no other connection to be found.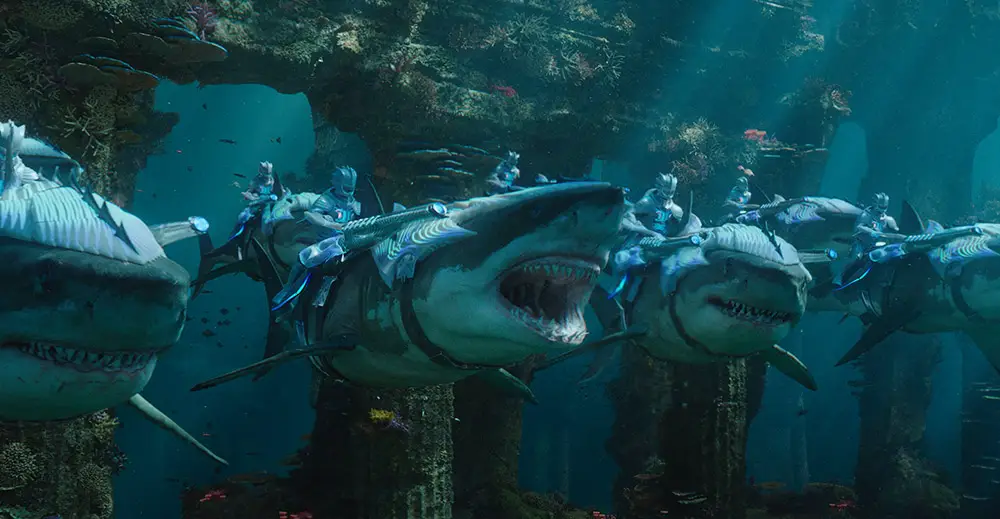 Getting such a self contained story was a risk for a franchise that clearly doesn't have the caliber of Superman or Batman as usually in such situations you really add elements from your most successful characters to up the probability of success. Not here, as the writers decided that we would focus on the Aquaman character completely without any distractions from the rest of the group as having any of the other heroes in the story could risk to overshadow the hero that is supposed to be front and center here. And judging by the end result this decision was a great one as the film is all about Aquaman and his struggle to overcome his denial of what he really is.
The story felt really well written and while the first act felt a bit rough around the edges until you understand what really happens once this finishes the rest of the film has a very good flow. Being more than two hours at no point did it felt boring or that it was slowing down because there are so many elements and details to shallow in each scene that you are not given the time to relax.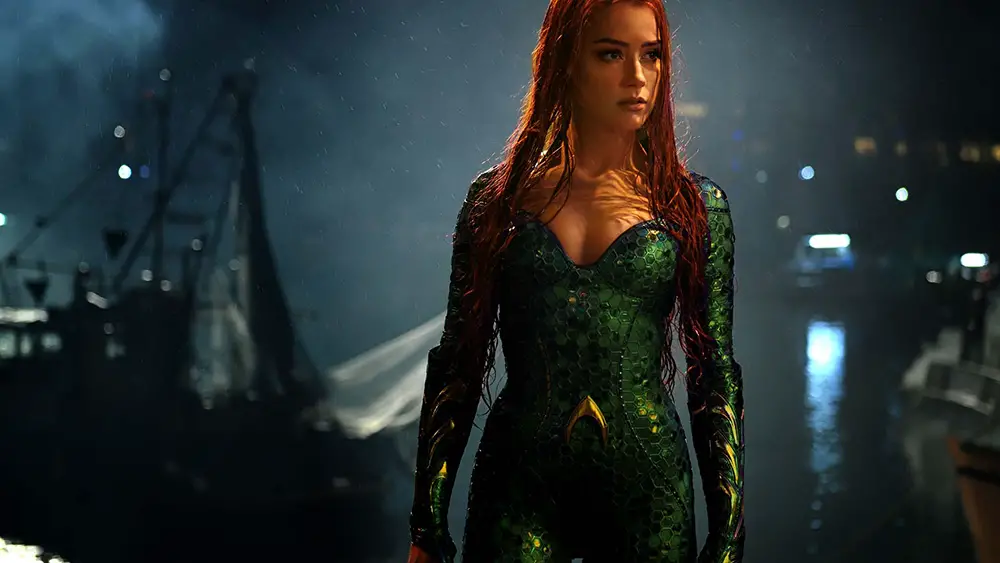 Creating a self contained story that would be interesting and keep your attention constantly can be one thing but the other real challenge was to faithfully recreate the Atlantean world as well as all the underwater scenes in a manner that would look both realistic but also work from an artistic point of view. A large portion of the film takes place under the water so creating all the necessary elements in order for the viewer to believe that what takes place in the film really happens in the water was an amazing challenge. We have seen a small portion of that taking place in Justice League but here we are talking about a huge amount of time taking place in water and not only for fighting as there are many story driven scenes that had to be developed.
Visual effects in a film like this of course would be the highlight but with most of the time underwater we get to see something we had never seen before. The various special effects were amazing but it's when we get to Atlantis that we get a visual spectacle that is second to none. The amount of details that were created left us with awe and made the city of Atlantis feel like a real city under the water. The colors, the highlights, details on the front and on the background created a world that is hard to explain without seeing. Very rarely would a film be able to leave us with such a feeling and the last time this happened was when we were introduced to the world of Pandora in James Cameron's Avatar. Bold words to be honest but in reality this is the best way to describe the sense you get when you see Atlantis for the first time.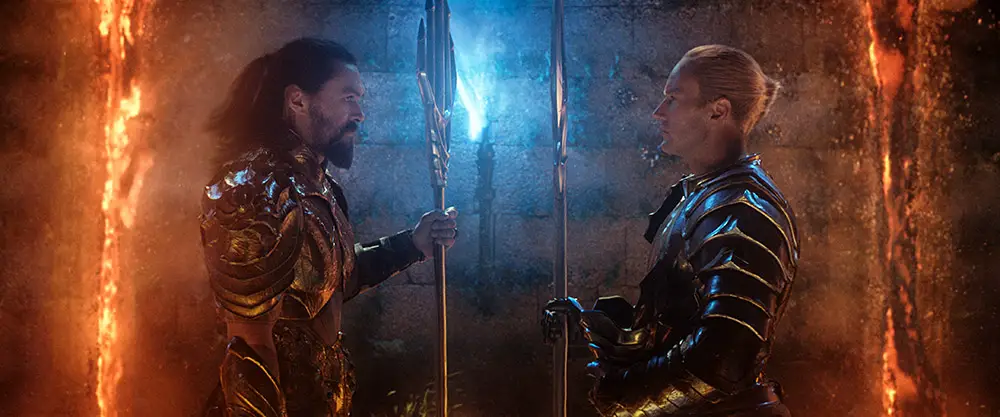 We already mentioned Jason Momoa as Aquaman but the film brings together many top rated names to fill the rest of the roles with Amber Heard as Mera, Arthur Curry's love interest, Willem Dafoe as Vulko, Atlantis' counselor, Patrick Wilson as Orm Marius, Arthur's half-brother, Dolph Lundgren as Nereus, The king of the Atlantean tribe of Xebel, and Nicole Kidman as Queen Atlanna. The cast amazingly fits together very well although we can admit that we are not very fond of Amber Heard in general, here she along with the rest of the cast managed to give real heart and soul to their characters without overdoing it. James Wan masterfully managed to guide the actors and while in a superhero film there is so much you can do with acting nevertheless it never felt cheesy or overacting.
Being underwater it felt very refreshing as the action was not bound to the same principles that we have seen in countless other superhero films to date. The way the characters move, fight and react is completely different and this new style felt like new making this an additional element that really worked well as a whole. We have seen heroes fly, fight on the ground, destroy buildings and deal with all kinds of earth elements. But seeing them react under the water changed the rules completely and created new ones. Of course we get the usual non-water action and although very well directed and choreographed it's the underwater action that left us the biggest impression.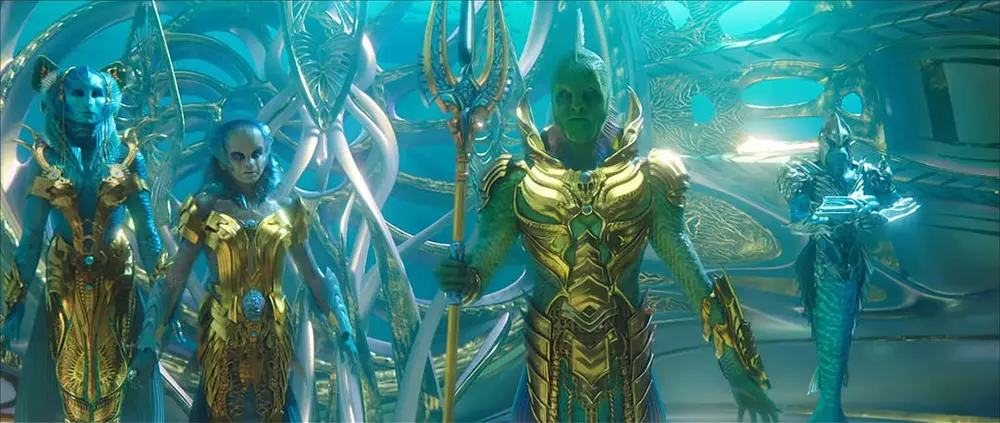 The musical score has been made by Rupert Gregson-Williams who also made "Wonder Woman" and it fits nicely with the water elements that most of the film portray complimenting the action and giving each scene the necessary weight without overdoing it or feeling over the top. For the rest of the sound elements they are as impressive as the visual ones. While in the water you get to hear ambient sounds that create a really immersive atmosphere and elevates the realism of the visual effects tenfold. We got the feeling that the sound was never neglected and the necessary attention was paid in order for the image and sound to bind together in a way that created a unique result.
Aquaman managed to work in so many levels that is really an example of a film when everything is done right. With a few questionable films in the DC Extended Universe under their sleeve Warner Bros. and DC needed a breakthrough and in our opinion they got it with Aquaman. If you are a superhero fan then there is definitely something to like here and we would even dare to put the film in the same league as the best film in the DC Extended Universe to date which is, in our humble opinion, "Man of Steel". Having made more than a billion dollars in the box office the audience seems to agree also after the mild financial successes of the previous films.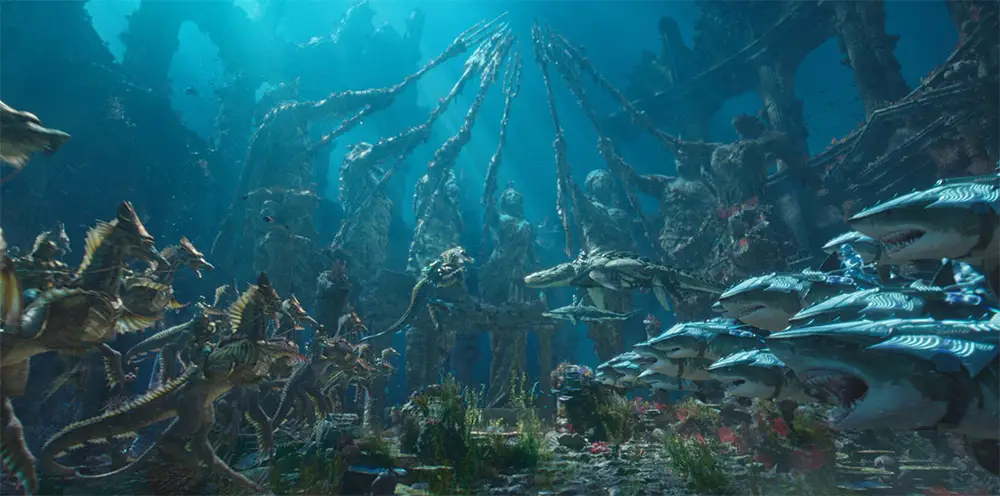 What remains to be seen is if Warner and DC will be able to buck on this success and the coming films will follow suit or we will continue this hit or miss situation that we are accustomed with the DC films lately. But as far as Aquaman is concerned we are happy that it not only worked but it came out triumphant and only made us anxiously waiting for the expected sequel. If you haven't seen it yet make yourself a favor and do so.

Aquaman dives into the 4K UHD format with an amazing 2160p resolution, HVEC/ H.265 encode from Warner Bros. with an aspect ratio of 2.39:1 for normal scenes and 1.78:1 for the IMAX ones. The UHD disc comes with both HDR10 and Dolby Vision and the first thing that impressed us was that although the film was not shot in 4K and with only a 2K Digital Intermediate this release is one amazing piece of visual spectacle with so much details, clarity and sharpness that we can easily categorize it as reference-level material.
There are so many things to like in this release. Obviously the elements of the film help a lot but if the encode was not so good many of the details would be lost in the transfer. We already mentioned the amount of detail on the screen and one prime example is when Arthur first goes to Atlantis. There are so many small details to look out for that is mesmerizing and make the city feel so much alive. But equally impressive is the color palette as Aquaman is one of the few superhero films that is not afraid to use an expanded variety of colors. Using a wide range of different locations help this with sun-lit Sicily, red-hot Sahara desert, blue-lit Atlantis, low-lit Trench and murky ocean depths creating a multi-colored canvas that is a feast for the eyes.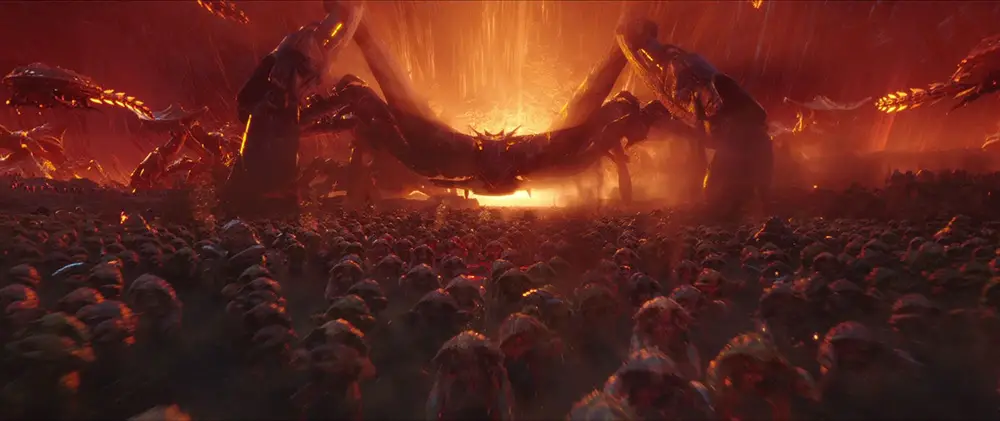 As such HDR finds strong material to show it's capabilities and here is a prime example why HDR is so important to the whole UHD format. From the shiny gold-plated armor of Aquaman to the burning red colored hair of Mera and the mesmerizing blue lights of underwater Atlantis, HDR shows it's capabilities in every given scene creating an amazingly three-dimensional image.
The included Dolby Atmos track is equally impressive. With so many action scenes the audio track manages to up the immersion even more by offering a more expanded soundstage. Of course the real highlight are the underwater scenes as in these scenes all channels work equally in order to give the necessary underwater immersion. We can definitely say that as with the visuals, the audio also reaches reference level quality with a couple of underwater scenes being the most impressive. The last underwater battle is a very good scene to try out your home theater as it offers plenty of audio mayhem across all frequencies that can leave anyone breathless.
It has been a while since we last saw a 4K UHD release that would combine both reference visuals and audio quality and we can definitely say that Aquaman is one of them. If you want a film to showcase your home theater in any capacity then the 4K release of Aquaman is the one you should try. If you haven't bought it yet you are doing a crime against humanity.
Movie Rating :





4K UHD Rating :





If you liked this review you can check more of our movies reviews in our dedicated section. Also don't lose the chance to subscribe to our Newsletter and gain exclusive privileges.
---
Photos
---
Cheapest Places to Buy :