BenQ X1300i
Reviewed at $1,249.00
Ports & Connectivity
8.7/10
OS, Apps and Features
8.9/10
Pros
Great 1080p image quality
Very accurate out-of-the-box colors
Very low input lag
Good Android TV experience
Cons
Average black levels
Limited setup features
No Netflix app
A bit expensive for a 1080p projector
---
Cheapest Places to Buy :
---
BenQ is no stranger in the projector market and they have released a few very nice low budget projectors that we have reviewed in the past. In our BenQ X1300i review today we will be looking at a gaming projector that was released in 2021 and although this is not a 4K model but a 1080p one there are many people that still find gaming at this lower resolution more than an acceptable choice. BenQ has recently released the X3000i which is the 4K brother of the model we have here so stay tuned for that review in the very near future also.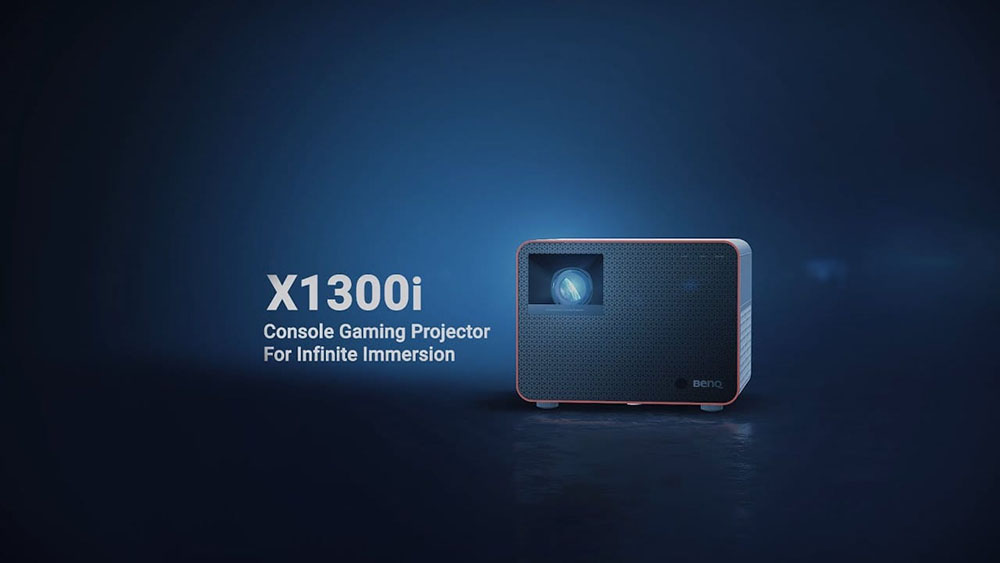 Gaming projectors is not something new but if you think of the whole projector market then they only take a small portion of the consumer market. And there are a lot of reasons this is happening as normal projectors have certain weaknesses that for gaming, let's say they are not the ideal option. And this is where gaming projectors come in and although these have their own set of problems and downsides they are specifically designed to offer a more smooth and pleasant gaming experience.
The BenQ X1300i we have here for testing can output only 1080p resolution, although it can accept 4K signals with HDR without a problem. It supports both HDR10 and HLG as usual and is rated at 3,000 lumens brightness. It uses DLP technology but instead of the usual lamp it uses a 4LED light source which has its own advantages and disadvantages. But its major strength as you have guessed is its extremely low input lag and game specific settings. Lastly if you add the inclusion of Android TV which gives the projector certain smart functionality makes this a very interesting proposal.
There has been a vast array of low cost projectors lately that are very close to the $1,000 price mark and this surely puts extra pressure on the BenQ X1300i. With so many cheap projectors, 4K or otherwise, on the market does this one manages to stay above the competition? Let's find out…
Design
The X1300i comes with a rather unusual cubic design that we don't see very often in projectors in general, although in the last couple of years it seems that more manufacturers are adopting this look.
As far as its size the projector is a bulky one measuring 10.7 x 7.8 x 10.2 inch (272 mm x 207.1 mm x 259.4 mm) and with a weight of 14.1 lbs (6.4 kg) makes it less ideal for portable use although the inclusion of a built-in audio system will surely make you think otherwise.
The projector comes with a two color combination with most of its plastic made chassis coming in white color while the front features a dark faceplate with an orange trim breaking slightly the monotonous white look.
The X1300i follows the usual asymmetrical design with the lens being placed on the left side of the front face with the front IR sensor sitting at the lower right corner right next to the BenQ logo. The usual LED indicators found in most other projectors are here present also but instead of these being placed on the top side, here we find them at the top right corner of the front faceplate. These indicators are for power, temperature control and light conditions.
Ventilation seems satisfactory as the whole right side, as we look the projector from the front, is being used to let cold air in while on the left side there it's where the hot air comes out. In general a pretty standard cooling solution that keeps the projector at normal temperatures.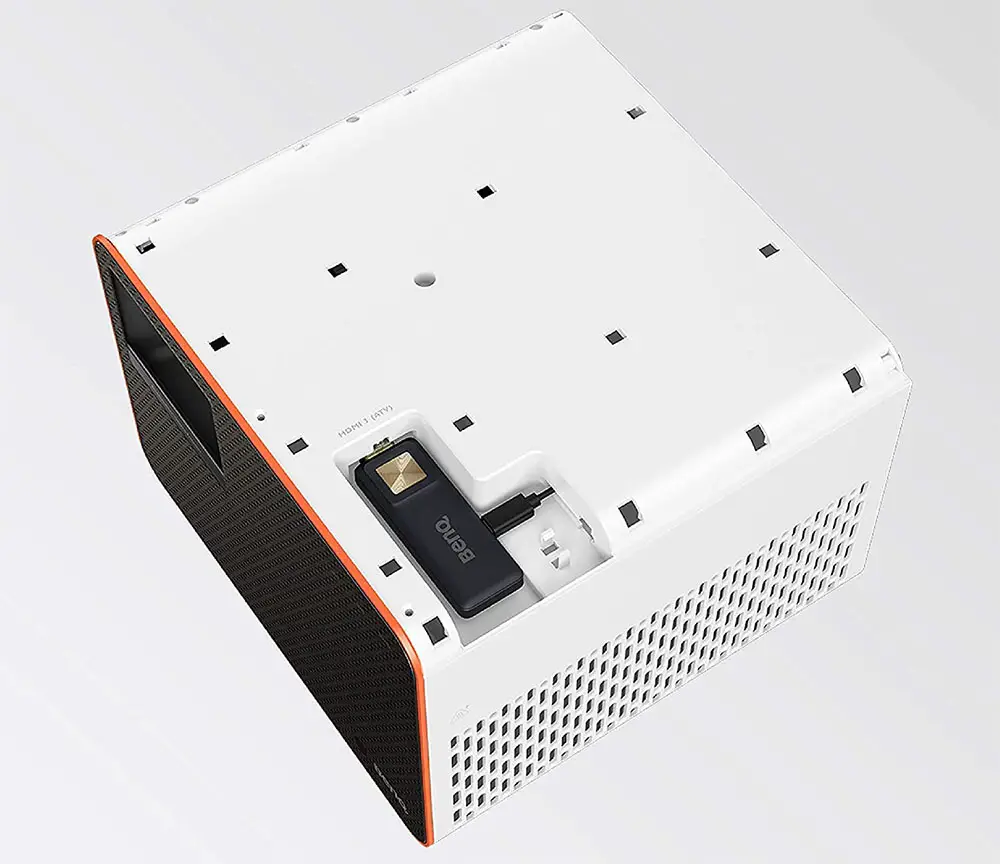 At the top we find a cover secured by screws which you can remove in order to install the QS01 streaming stick that enables the Android TV functionality of the projector. And this means that all built-in controls had to move to the side where the lens are located. In this side it's where we find the focus and zoom rings which give the projector a 1.2x optical zoom. One thing to keep in mind is that the projector is missing any lens shifting so initial placement is made harder by this fact especially if you don't have enough space to move the projector around.
In the same side we also get the built-in controls which feature a pretty standard layout. Except for the circular navigation menu controls there are two buttons above it for powering on/off the unit along with an input selector while below the navigation buttons there is a Back, menu and Eco Blank buttons.
At the back we find all the connecting ports grouped together and we will talk about them in the appropriate section below while below them there is a second IR sensor. The projector is using two front positioned tilt-adjustment feet in case you plan on putting it on a furniture and want some easy and fast placement calibration.
As for the lens that is being used, the X1300i has a throw ratio of 1.3~1.56 for a throw distance of 7.6 feet up to 14.2 feet. In terms of size the unit can project a min/max 30″ ~ 300″ diagonal image but keep in mind that there are certain limitations. As we already mentioned the projector is missing any lens shifting and if you combine that with the relatively small 1.2x zoom then placing it correctly can be a real challenge especially if your room is not very big.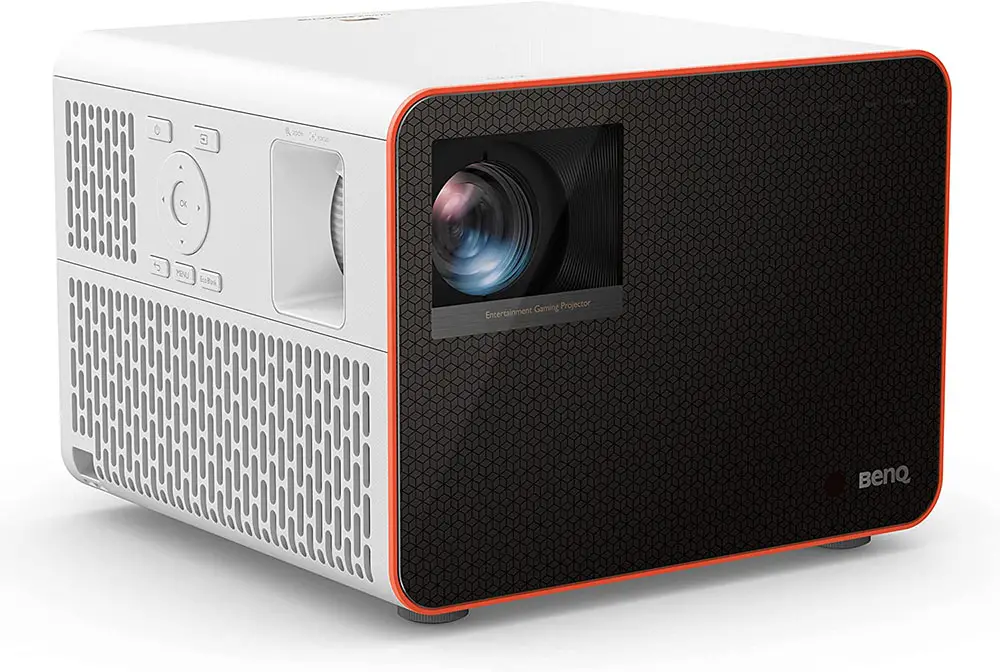 BenQ has added a few features that can help with that and the most obvious is keystone correction. But we would advise against that unless absolutely necessary as keystone correction will surely downgrade the resulting image and also adds latency which any gamer would like to avoid.
The projector is rated by BenQ at 31 dB normal mode and 27 dB in Eco mode but what we measured was slightly higher than this. In normal mode we measured 34 dB and in Eco mode 32 dB. In general the X1300i felt more quiet compared to most 4K pixel shifters we have tried the last few months. Maybe the fact that this is a 1080p projector does help as there is no pixel shifting technology that also adds slightly to the noise of the projector.
We had the projector at about 4-5 feet distance and the general experience was very pleasant as the unit remained very silent even when there was not so much action on screen. To be honest we are bothered when there is even the slightest of noises and this was one of our major gripes with 4K pixel shifting projectors. But the X1300i was a pleasure to use in this regard.
In terms of lamp life the projector uses a LED light source instead of a traditional lamp and this means that its lamp hours differs from typical lamp based DLP models. As a result in normal operation you can get as many as 20,000 hours of usage while in Eco mode this can extend to even 30,000 hours.

As for the remote that is included with the projector it is a very similar one to the one we used with the TK700STi and not without reason. You see, both projectors are Android TV enabled so more or less they have similar functionality and so their remotes didn't have to be much different. As a result design is the same, as is the buttons layout. The only difference we saw is the functionality of three of the buttons that are located above the navigation controls.
Its white color along with its rounded sides does make it feel more futuristic while BenQ has limited the number of buttons included making it feel less cluttered.
The most prominent is the navigation controls in the center with certain functions buttons above and below that. There is also a Google Assistant button in order to use the projector's voice control functionality. Keep in mind that while the remote is IR based for its commands, in order to use the voice control functionality you have to pair it to the projector through Bluetooth.
Overall there is nothing bad to say about the projector. Build quality feels good enough for its category but surely its design is not for everyone as it looks more bulky than what some people may like.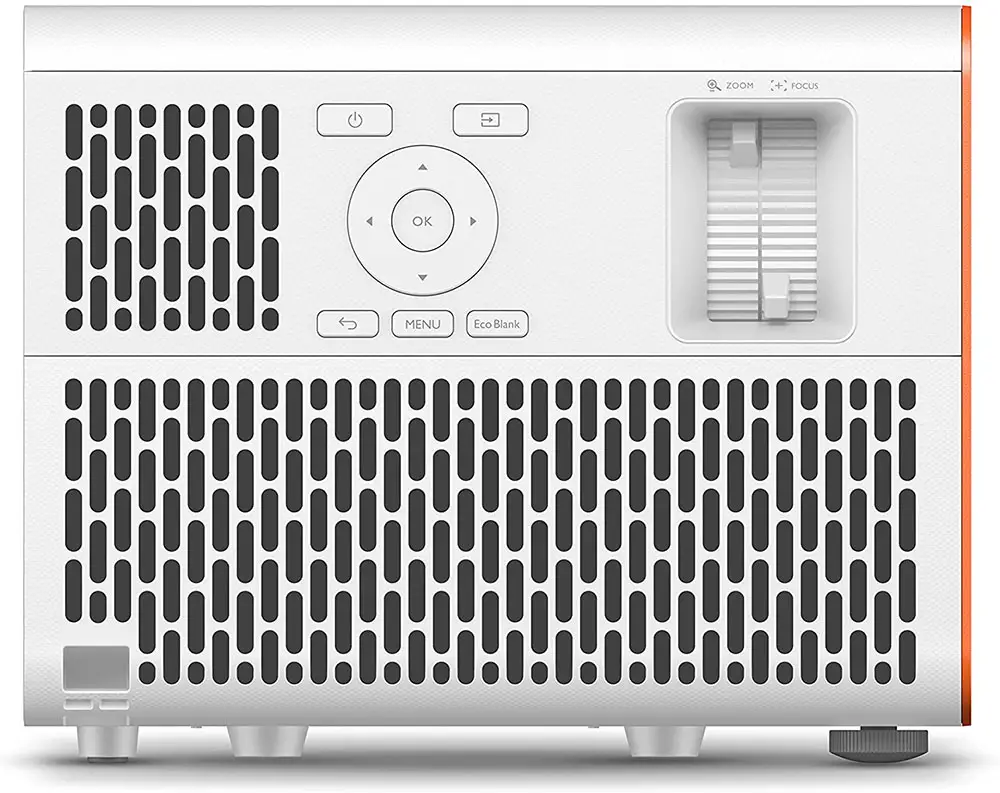 Video Quality
Technology used
The  BenQ X1300i comes equipped with a single 0.65″ DLP chip made by Texas Instruments and has a native resolution of 1920 x 1080 pixels. Having a single chip setup has certain advantages over three-chip designs as these some times are prone to misalignment which can affect sharpness and color quality. Having a single chip eliminates this problem altogether.
Also keep in mind that while you may see that this projector supports 4K UHD this is meant only for the input source as the 4K image will be downscaled and output in 1080p resolution. So no 4K output here. If this is a must for you then you may look at the newer BenQ X3000i that we will review soon.
4K UHD / HDR Content
Keep in mind that while the projector does support HDR content anything that is in 4K resolution will be down-scaled to 1080p resolution output. This means that some of its original sharpness and high detailed output is surely lost but surprisingly the X1300i did manage to retain much of the original elements intact. As always we used our copy of Aquaman in 4K UHD for our testing and the image rendered by the projector had nice clarity even if it was a small step lower than what a real 4K image would be.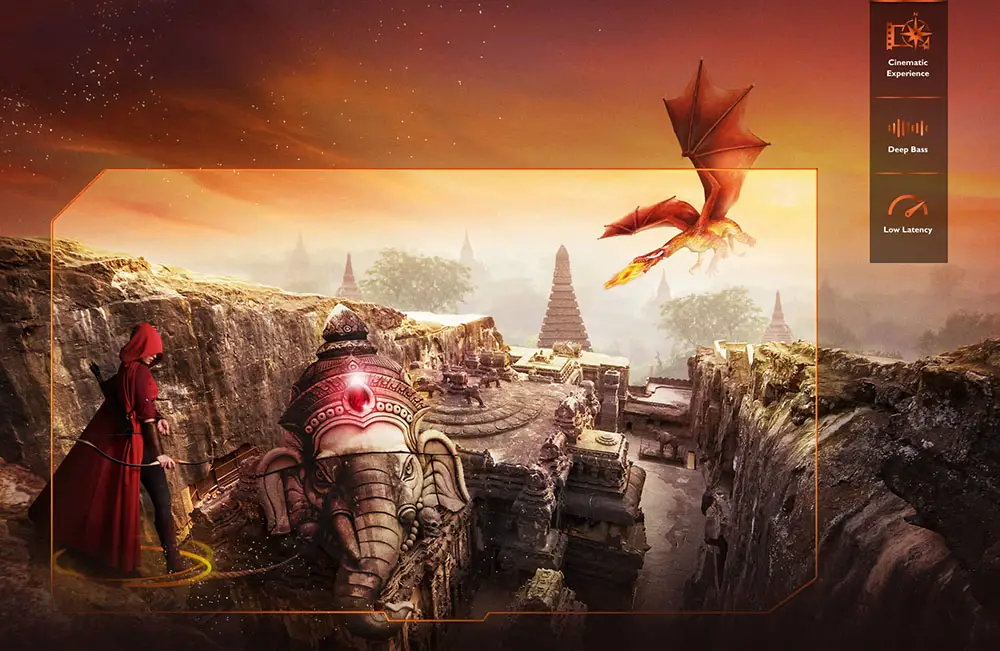 And while overall sharpness was not bad even with the downscaling happening one thing that particularly impressed us was the accuracy of the colors even without any calibration at all. Most of the color modes available were more than acceptable, even the Bright one that usually trades color accuracy for more brightness, but as most cases the Cinema mode seemed to be the preferable one once again.
If there is one bad thing to talk about that is surely the higher than average black levels which surely is not all that surprising. Some other DLP projectors we have seen fared better here but in general many of these cheap projectors have trouble displaying blacks as they should. Obviously the brighter the room the less this weakness will show and since we are talking about a gaming projector most probably you will have some ambient light in the room.
In terms of contrast ratio BenQ is rating the X1300i at 500,000:1 but don't look too much at these numbers as each manufacturer used different ways of measuring their models and it doesn't mean a lot in a real world situation. As we said before when you are a gamer you will pay more attention to a projector that can provide you a low latency/fast response experience rather than the best contrast/black levels that ultimately you will not get at this price.
When you are watching HDR content the projector will switch to the appropriate HDR display mode and from there you can decide which HDR picture mode you like the most. BenQ offers two different modes with HDR10 and HDR Game the ones available. If HDR Game is selected then the GameMaestro settings unlock from which you can select between FPS, RPG and SPG depending the kind of game you are playing.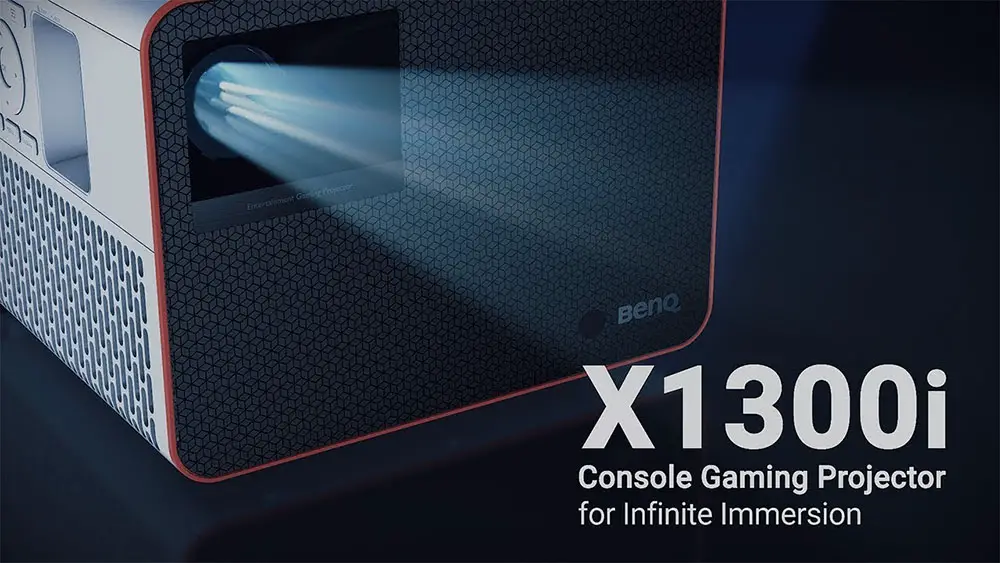 The X1300i may be essentially a 1080p projector but it does comes with HDR support in both HDR10 and HLG. But we will talk more of these available modes shortly.
Full HD / SDR / 3D Content
Feeding the projector with its native resolution we get the kind of quality you would expect from any 1080p material. In this review we used our Blu-ray disc of Oblivion and the X1300i did an excellent job at providing a very clean image with a lot of details and no visible artifacts. Everything appeared to be as they should showing that they unit was right at home with this kind of content.
Once again color reproduction was extremely accurate for such a low priced projector and the Cinema mode is the ideal one for movies. Without even touching the color settings the image was highly detailed and with lifelike colors rendering skin tones, materials and surfaces composition very accurately. Again, if there was one thing that becomes immediately noticeable is the higher black levels the projector outputs but this is something you will have to live with unfortunately.
The X1300i is capable of recognizing a 3D signal and will switch to the appropriate 3D mode automatically. Keep in mind that when viewing 3D content, brightness always takes a hit due to the nature of the image but in general we found the projector doing very well in this regard with its relatively high brightness output. So if you are looking for a gaming projector that can also do 3D and perform good the X1300i is a good option to consider. Its 3D output had nice depth and was free of any visible crosstalk or any other 3D related artifacts.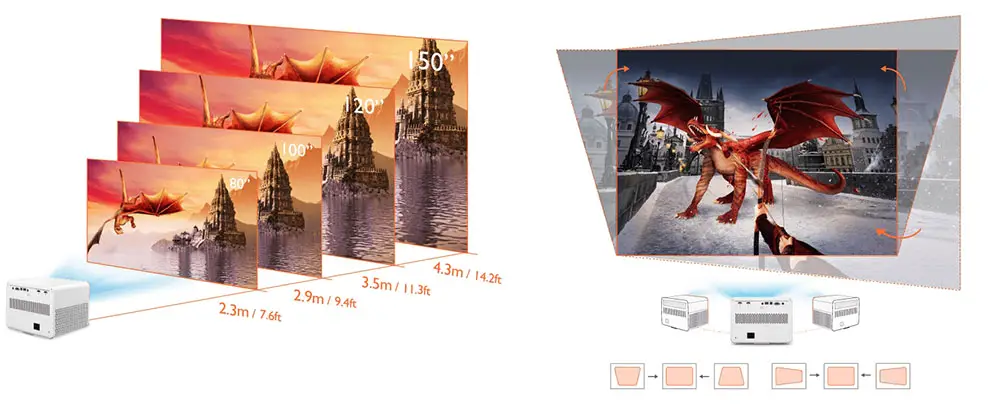 Color Coverage
Let's see now how the X1300i can do with colors specifically because from the tests above we were really impressed by how the projector could do without any calibration. The projector comes with a 4LED light source (RGBB) which means it uses two blue LEDs along with a red and a green one. BenQ has rated the unit at being able to cover 98% of the Rec.709 color space which practically means this is not a wide color gamut projector. Although this may not mean much by itself, it should be mentioned for those wondering.
As we usually do, we will talk in more detail about the available color modes in our next section of the review but in terms of color performance and accuracy we would suggest you to use the Cinema mode as this gave us the best results in terms of brightness output, contrast, color gradients and realistic color volume without the need for any calibration making it the best out of the box option to choose from the available ones even if some of the other available ones were also very close.
The Cinema mode can still be tweaked for the better but even without any adjustments the DeltaE color points were extremely low which resulted in very accurate color representation. Bright mode was also acceptable which seems to be a standard among BenQ projectors and it didn't have this very noticeable green tint that many other models tend to have in their brightest mode.
Therefore the Bright mode can still be a useful one with this projector especially if you tend to play games in a very bright environment. But the Cinema mode is still your best bet when it comes to color accuracy and representation.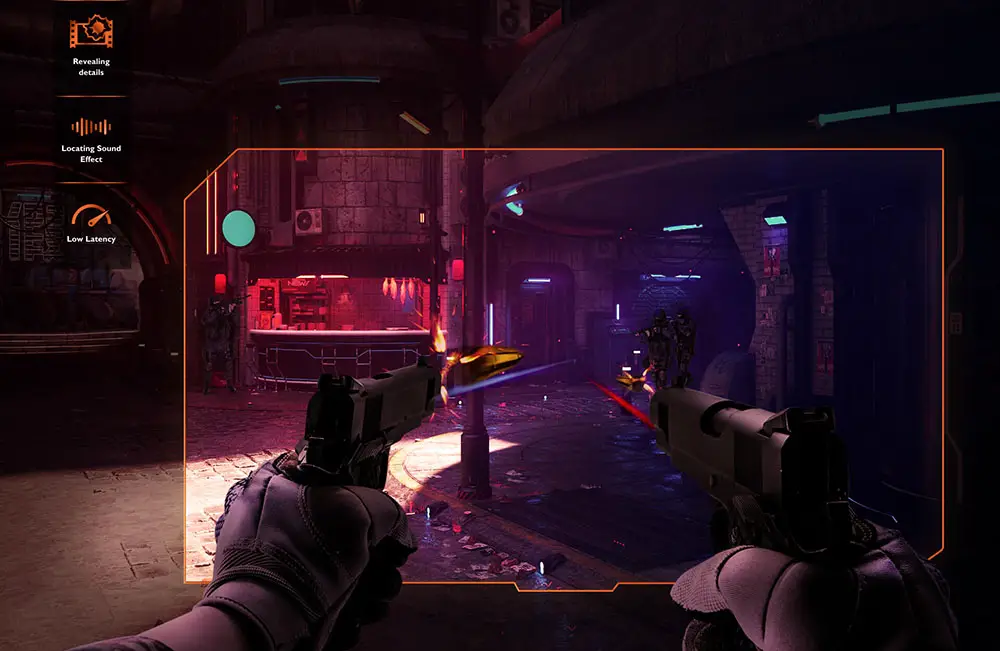 Also keep in mind that the projector features an auto-calibration system that adjusts colors in order to keep color accuracy even with when the LEDs deteriorate with time.
Lastly we should mention about the infamous Rainbow effect that usually plagues projectors that come with color wheels. There were reports that the X1300i had very visible rainbows and that an available firmware update came out to rectify this problem. We checked the firmware of the projector at hand and this one indeed had the updated firmware. That's probably the reason why we didn't notice any rainbow effects ourselves. We don't have a pre-updated unit for comparison so we cannot comment on the extent of the problem originally.
The only downside to this, is that if your unit does not come with the updated firmware you will have to send the projector to BenQ for the update which can be a frustrating procedure. But if you do have problems with the specific model at least there is hope that the problem can be rectified.
Brightness / Picture Settings
Next is our brightness test and according to BenQ the X1300i is rated at 3,000 ANSI lumens. Keep in mind that there are many factors that can affect brightness on a projector, with different lamp hours for example, so the numbers we provide are only for giving you a general idea of the projector's capabilities and yours may differ in the end.
When watching SDR content the available modes include Bright, Cinema, Game, Living Room, Sports and a User defined. There are more available like 3D, HDR10, HDR Game and HLG but these are enabled automatically when the appropriate signal is used.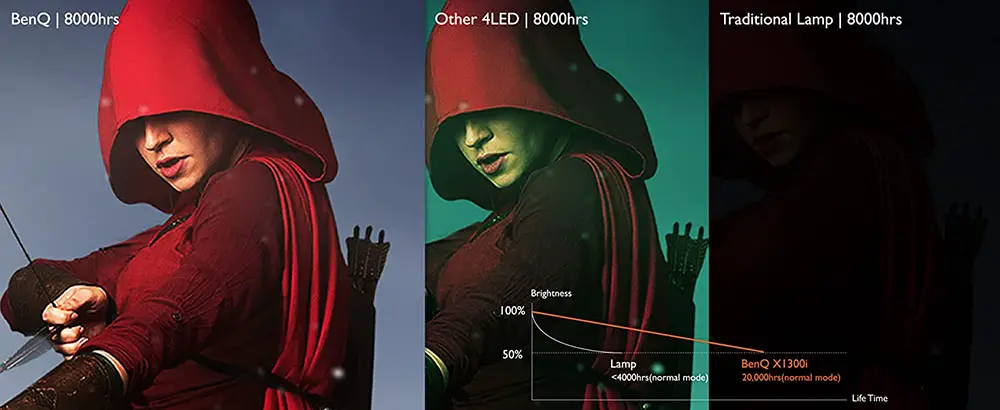 As always we use the widest angle along with Bright mode in order to get the maximum brightness and in this case we got 2,714 lumens which is good but not quite close to the 3,000 lumens rating that BenQ claims.
We already mentioned above that the Bright mode may not be the most accurate but is still more acceptable than what we had seen in other projectors. Cinema, Game and Sports modes came extremely close to each other with Cinema coming in second with 1,622 lumens while Game and Sports were very close behind. For the Game mode there are three presets to use which are SPG, FPS and RPG with the SPG one measuring 1,617 lumens, the RPG 1,600 lumens and the FPS 1,580 lumens. Last came the Living Room mode at 1,405 lumens.
For SDR content we would still suggest you to use the Cinema mode which is the most accurate one but if you will use the projector in an extremely bright room then the Bright mode can still be considered a good and accurate one even if not as good as the Cinema mode. For HDR content as we mentioned above you cannot choose as the projector will switch to HDR mode as soon as it recognizes the appropriate signal. With HDR we measured 1,611 lumens of brightness.
Black Levels / Contrast
Overall we cannot say that we had anything major complaints about the X1300i as it manages to do so many things right. But this doesn't mean that it is perfect. Obviously one area where all these low cost projectors fall short is their black levels performance. We didn't had any reason to believe the X1300i would behave differently and from what we have seen this is indeed an area where you shouldn't really expect any miracles.
The projector certainly have elevated black levels that become more apparent if you are using it in a low lit or completely dark environment. Its saving grace is that since this is supposed to be a gaming projector and not a dedicated home theater one, it is meant to be used in at least a low lit environment with some ambient light instead of a completely dark room. This surely helps and the more light there is in the room the less pronounced this problem will appear.
Also the projector is missing a dynamic iris that could potentially help here so the problem becomes even more apparent. Obviously the problem is more evident in certain scenes like when displaying space scenes where the grey-ish blacks are very noticeable and can be very distracting. On the other hand with colorful and bright lit scenes you are not going to pay so much attention to this.
The unit is in line with many other projectors in the $1,000-$2,000 price range. Unfortunately although there may be some minor differences between them most have similar problems with black levels and you will have to go to a higher price category to get any meaningful upgrade here.
Input Lag
Into our input lag tests now and this obviously is one of the most interesting parts of our analysis as the X1300i is being marketed as a gaming projector with incredibly low input lag numbers.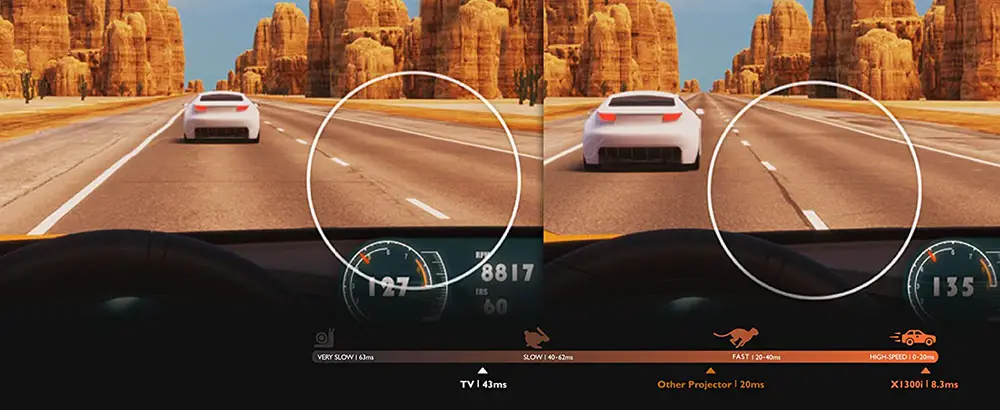 BenQ has actually provided real numbers regarding its input lag and from what they have publicly released they claim that the projector can go as low as 16ms when accepting a 4K@60Hz (downscaled to 1080p output) with Game mode enabled. This number goes even lower at 8ms with a signal of 1080p@120Hz.
Now from our measurements we were able to get an input lag of 16.5ms at 1080p@60Hz and 8.3ms at 1080p@120Hz which is indeed almost the same as BenQ claims. With an input signal at 4K resolution at 60Hz, input lag was also similar at 16.6ms which is excellent and can provide a very smooth gaming experience.
Since the projector is actually a native 1080p projector there is no 4K pixel shifting technology that could contribute in higher input lag. And along with certain processing that is switched off in Game mode the X1300i is able to achieve these low numbers. The projector is missing any kind of VRR technology but this was to be expected.
As in all our reviews, we connected our PS5 to the projector and used our copy of F1 2021 for a few laps. For this test we tried out both fidelity and performance modes which gave us 4K@60Hz and 1080p@120Hz signals respectively. In both cases the actual output was in 1080p so it's better to go for performance mode since there is no reason to add additional processing to down-scale the image.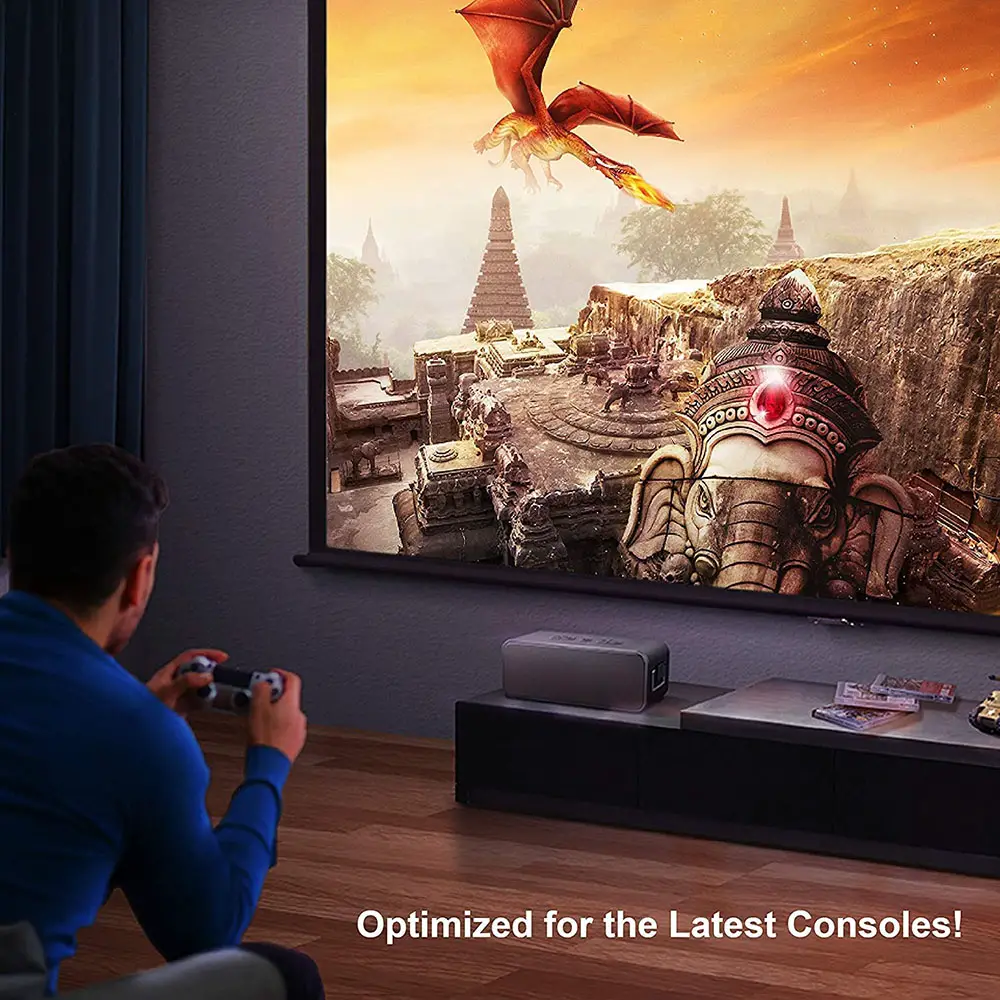 The end result? Excellent gameplay and a very smooth session with blazing fast reaction times to all our commands. If you don't care much about 4K resolution and you are looking for a gaming projector them the X1300i definitely ticks all the right boxes.
Motion Performance
Since the projector is mostly aimed towards gaming with as low input lag as possible in terms of motion performance you get the absolute basics. This means that there is no frame interpolation available but with the content we did try out the projector did reasonably good without any major issues. Frame interpolation would add to the input lag so gaming projectors tend to avoid having such features available.
We did notice some judder here and there but it was not to the point of being bothering or overall frustrating. It's just there and you will probably notice it a few times.
Overall motion handling on the X1300i was satisfactory and most of the content we tried on it looked crisp, full of details and no information missing even with most fast action oriented scenes. Yes, the projector is focusing mostly on its gaming virtues but this doesn't mean it is not strong with movies playback.
Ports & Connectivity
Next we will be looking at what connectivity options the X1300i comes with and upon first look we can see we get a pretty standard layout.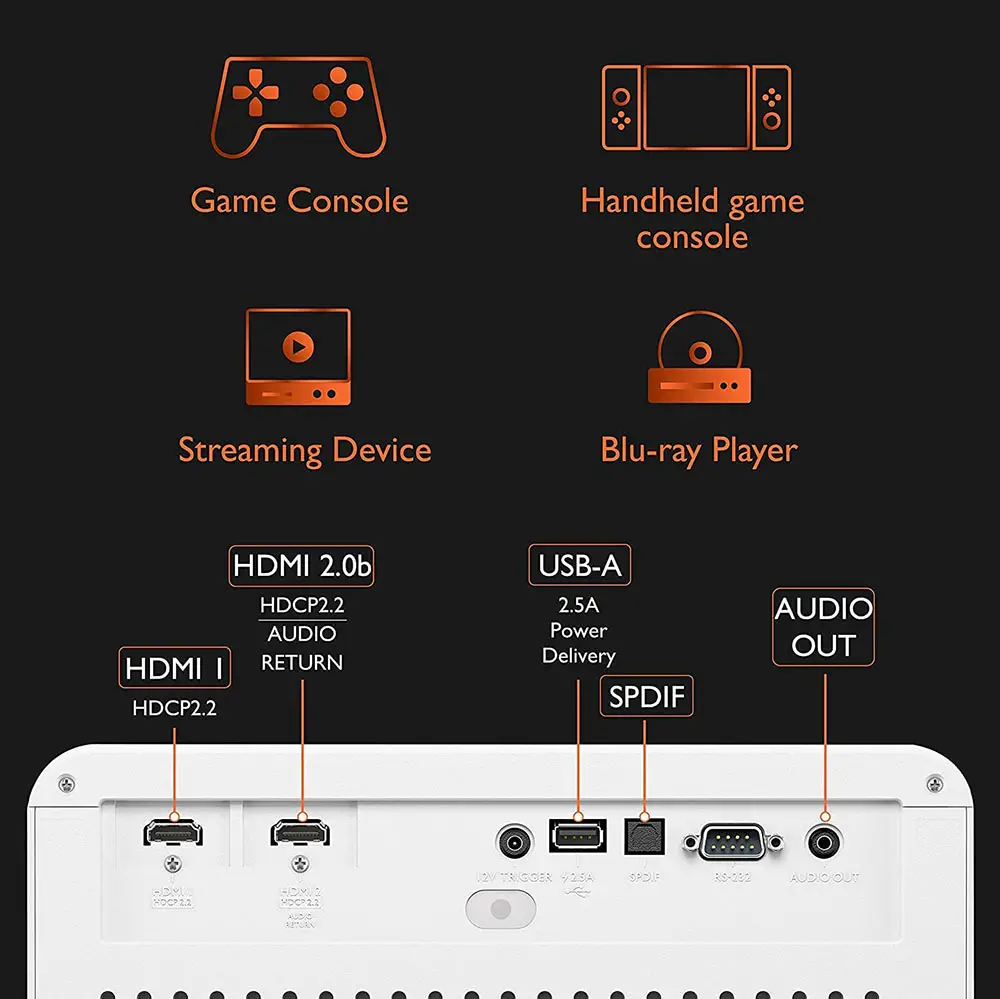 All ports are located naturally at the back of the unit and from left to right we find a couple of HDMI ports, a 12 volts trigger, a USB Type-A, a digital audio output, an RS-232 port for control and a 3.5mm analog audio output jack.
Both HDMI ports are HDMI 2.0b/HDCP2.2 which means they can support up to 4K@60Hz signals or 1080p@120Hz. One of the HDMI ports also supports ARC which means you can pass audio to an external audio device if needed. As for the USB port this is a USB 2.0 but is used only for power delivery and not for connecting external storage.
Another thing to mention is that the projector comes with BenQ's QS01 HDMI Media Streaming dongle which we also saw in our TK700STi review. The strange thing is that this thing is not built-in and you actually have to unscrew the top cover and install in its its special inset where an extra HDMI and a micro USB are located exactly for this reason. This dongle will enable Android TV in the projector but why BenQ decided to add this separately we do not know.
Finally we praise the decision to have a 12 volts trigger as the TK700STi was missing this which was a strange design decision. There are no HDMI 2.1 ports but since the projector cannot accept anything more than 1080p@120Hz or 4K@60Hz there is no need to have any.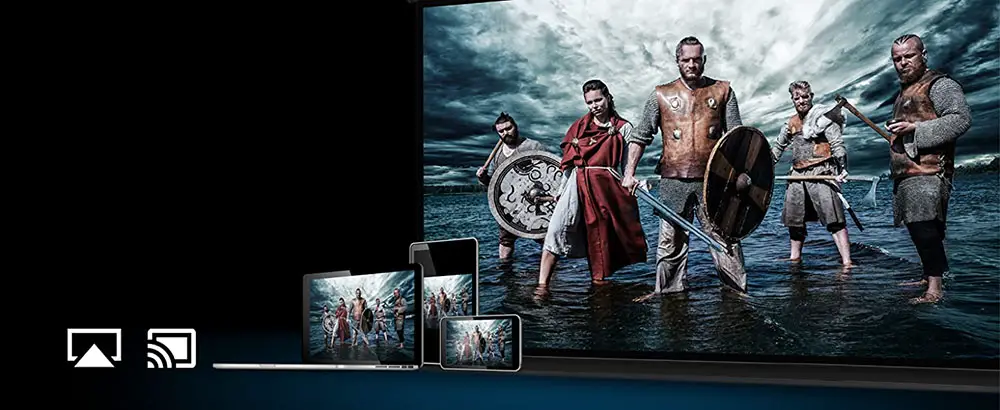 Lastly when it comes to wireless connectivity the projector comes with built-in WiFi that supports 802.11 a/b/g/n/ac (2.4G/5G) and Bluetooth 4.2.
OS, Apps and Features
The projector comes with Android TV 9.0, essentially making it a smart projector with many functions we find in today's smart TVs. If you have used the Android TV user interface in the past then you will feel right at home as there is no difference here. All this is due to the inclusion of the QS01 Certified Android TV Dongle which you connect at the top of the unit and allows the projector to gain all its smart functions. Essentially it's more or less the same thing we saw recently with the TK700STi.
Now as is the case with these Android TV projectors you actually have two menus. The one can be accessed by pressing the projector menu on the remote and the appearing menu is the usual you see in any projector and allows you to change all settings like colors, image adjustments and picture modes among others.
The second UI is actually the Android TV UI and this can be accessed by pressing the home button on the remote. This will bring the Android TV interface which allows you to use all the available smart features and streaming services available.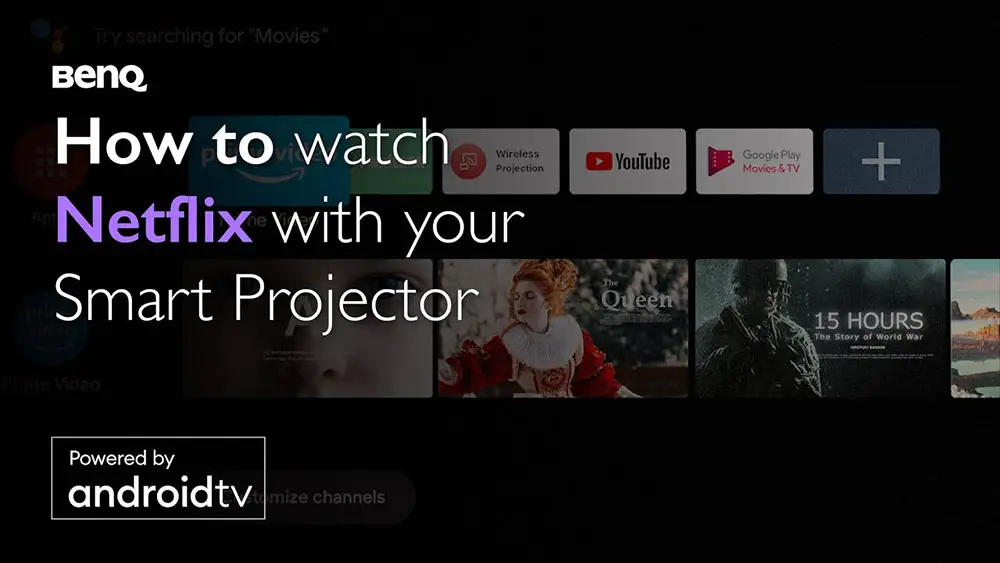 Again navigation through the various Android TV menus felt smooth enough without any major lag. We have experienced more smooth scrolling in some TVs but in general we had no problems accessing the various apps available. As for streaming apps availability you get everything you would expect from a device that has Android TV.
Big names like Youtube, Google Play Movies, Amazon Prime Video, Hulu and many more are all present along with many music apps like Spotify and Tidal. Unfortunately the remote comes with only one dedicated button for Amazon Prime so if you are not using that service the button is more or less useless. Once again on a BenQ projector we find Netflix missing but at least BenQ provides some directions on how to use that service without official support.
The QS01 Certified Android TV Dongle comes with Chromecast support which means you can stream content from any Chromecast enabled device to the projector. And here is the solution, a temporary at least, to the missing Netflix app. You can cast Netflix from a PC using a browser or another device that does support it to the projector itself. BenQ provides detailed instructions on how to do this and at least it is a solution, even if not the best there is.
Voice control is also available with Google voice search and Google Assistant which can be activated from the dedicated button in the remote. Unfortunately there is no Amazon Alexa available.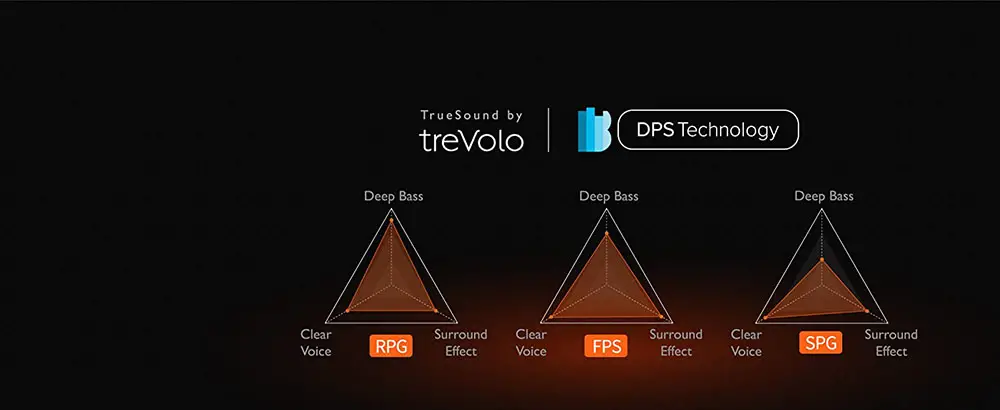 The X1300i may not be the ideal projector for portable use due to its size and bulky design but nevertheless BenQ added a built-in audio system for those cases that it may be needed. It seems the system that is being used is the same one we saw in the TK700STi as the projector uses treVolo and Bongiovi DPS (Digital Power Station) technology, which incorporates its patented algorithms with 120 calibration points that optimizes any audio signal in real time to add depth, clarity, definition, presence and enhanced stereo field imaging.
Again any built-in audio system is there to offer basic performance and the dual 5 watts speakers in the X1300i can do just that. The projector comes with five different sound modes to choose from with Cinema, Music, Game, Sports and User the ones available. Also there are a few EQ settings you can fiddle with by adjusting specific frequency bands but even though we tried the different sound modes and did sense some changes in the sound output depending the content, your expectations should be kept at a low level. If you want a real cinematic experience get a dedicated surround system.
Having tested the newer TK700STi recently it felt like a very similar experience when we tested the X1300i and this is because these two projectors share a lot in terms of extra features and Android functionality. The missing Netflix app may disappoint some but overall this is a very stellar release especially if you consider that the X1300i is mostly meant to be a gaming projector and not so much a smart one.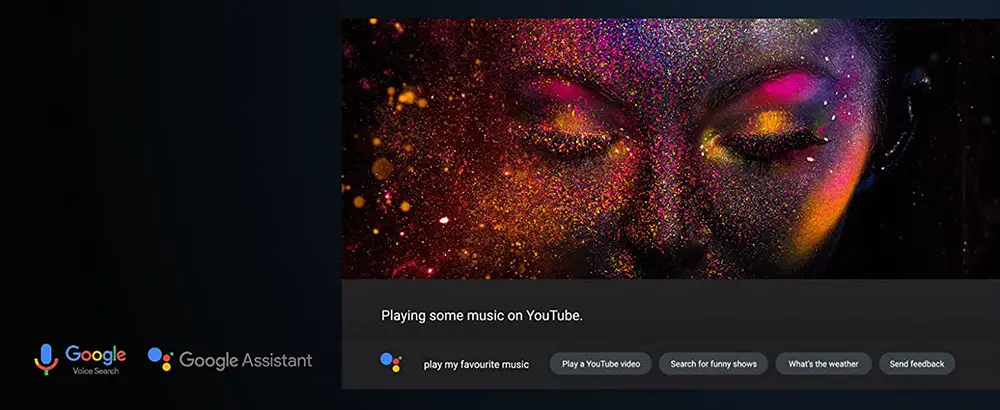 Final Thoughts
With the market being flooded with low cost 4K pixel shifters and gaming units, the X1300i may feel like being obsolete. But this couldn't be more far from the truth as when it comes to gaming not everyone is aboard the 4K bandwagon especially since low input lag and smooth motion is a much higher priority than image resolution. And the BenQ X1300i does tick all the right boxes if you are looking for a good performing 1080p gaming projector.
The projector may be labeled as a gaming one but it did really good in many areas that are not very game centric. In terms of image quality the 1080p resolution images we got were crisp enough and with a lot of details while the most surprising aspect of this one was its color accuracy without any calibration which surely will be appreciated if you are not very fond in calling a professional calibrator or diving deeper into its settings yourself. Input lag was extremely low and very close to what BenQ claimed while its Android TV experience was solid and trouble free.
On the other hand its black levels performance leaves a lot to be desired which is typical in most low cost DLP projectors. The missing Netflix app is probably the only black spot in Android TV's overall performance while the limited zoom and no lens shift will surely make placement harder. Lastly coming at a price of $1,249 it will be hard to find its place among equally priced 4K units that dominate the market at the moment.
Closing, what we can say about the BenQ X1300i is that it can be an excellent choice if it meets some specific requirements. If you don't care about 4K and you plan on using it mostly for gaming in a fairly lit environment then it can be an ideal choice. Especially if the price is right then it can offer you plenty of value, either it be gaming or movies you plan to use it for.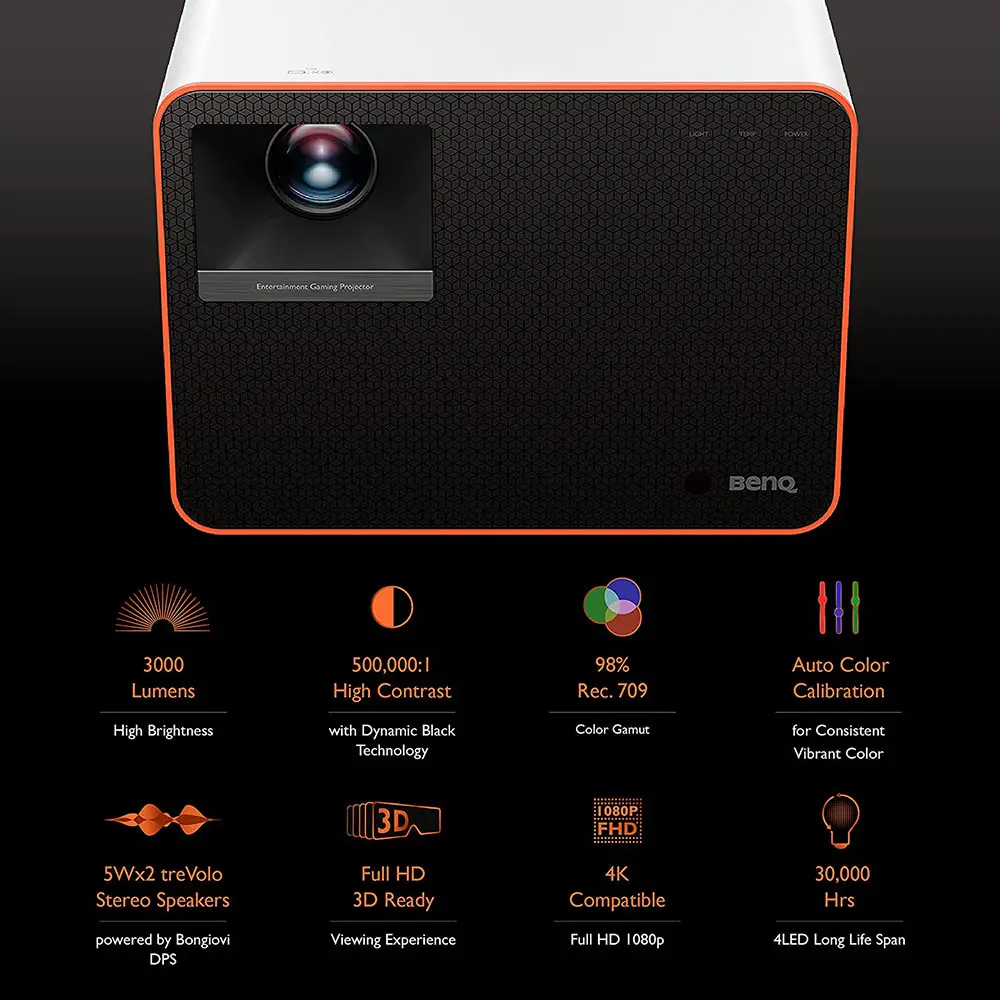 For more reviews you can check our dedicated Full HD Projector reviews list or even look at our Product Reviews Table where you can find the brand and specific product you are looking for.
Also don't lose the chance to subscribe to our Newsletter and gain exclusive privileges.
---
Cheapest Places to Buy :
---
BenQ X1300i Specifications