---
Cheapest Places to Buy :
---
A young blade runner's discovery of a long-buried secret leads him to track down former blade runner Rick Deckard, who's been missing for thirty years.
Plot
*Be aware of spoilers*
In 2049, with the powerful Tyrell Corporation under the control of the visionary scientist Niander Wallace, the bio-engineered replicants, NEXUS-9, seem to have integrated seamlessly into society.
Purposed to eradicate the outdated rebellious NEXUS models, LAPD's officer K–a new generation of Blade Runners–stumbles upon a dangerous and well-hidden secret that could easily undermine an already frail stability in the world.
As K puts the pieces together, he will soon realise that the key element that binds everything together in this mystery is the retired Blade Runner, Rick Deckard, who still remains disappeared or has gone underground. But is K allowed to unearth the truth?
Directed by
Denis Villeneuve
Produced by
Andrew A. Kosove
Broderick Johnson
Bud Yorkin
Cynthia Sikes Yorkin
Screenplay by
Hampton Fancher
Michael Green
Story by
Hampton Fancher
Production Company
Alcon Entertainment
Columbia Pictures
Bud Yorkin Productions
Torridon Films
16:14 Entertainment
Scott Free Productions
Distributed by
Warner Bros. Pictures (North America)
Sony Pictures Releasing International (International)
Starring
Ryan Gosling
Harrison Ford
Ana de Armas
Sylvia Hoeks
Robin Wright
Mackenzie Davis
Carla Juri
Lennie James
Dave Bautista
Jared Leto
Running time
163 minutes
Author's review
After so many years in the making finally the sequel is here called "Blade Runner 2049". The original film may not have had the greatest of success when it came out but after all these years it somehow became a true classic with a very large fan base and a benchmark for future sci-fi films. The first time I saw it I was troubled to understand what it was all about and why it had become such a phenomenon over the years. I guess not all people see and understand the same things so I will leave it to the judgement of the audience and that everyone's taste is different.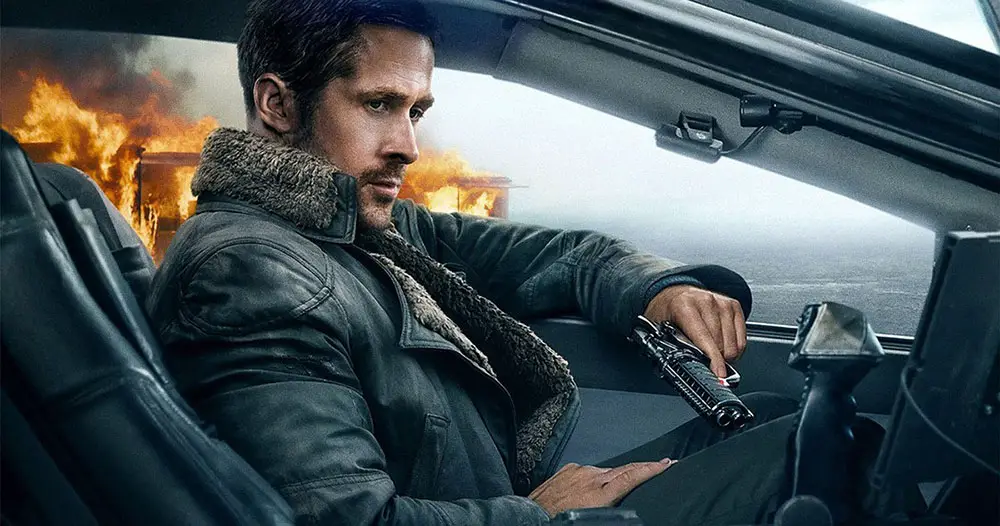 The years have passed and we get a sequel that keeps a few connections to the past but also tries to make new ones to the future. This time the main protagonist is agent K played by Ryan Gosling and although Harrison Ford is back as Rick Deckard he is there more like a connection to the past rather than to offer something new to the story. I definitely liked Gosling's acting and it fits the role of agent K. In the contrary I found Harrison Ford's acting very fake and wooden and it felt like he was trying very much to get back to his role without much success. I don't know why it showed so much but to me it was very obvious and definitely Ford has given far better performances than what we get here.
Worth mentioning was the performance of Jared Leto as Niander Wallace as I liked how they portrayed the character and how he was behaving towards his creations making him look like a Godly figure with human properties. As for the rest of the actors they gave solid performances without being out of the ordinary for a movie like this.
The story is nothing special to tell you the truth and it really is forgettable after a while. Usually I remember the story of most of the movies I have watched and for Blade Runner 2049 I have already start forgetting key parts of the plot meaning to me that I not only found it uninteresting but I could say borderline boring. For a sequel to such an acclaimed film I was at least expecting a little more as far as the story goes.
The movie makes good use of special effects and it really shows that they tried to copy the mood of the original . CGI helped a lot to make these scenes more alive and give them a grander scale than before. There is not a lot of action scenes and the ones that are there really are mediocre at best. Most of the movie is spent in dialogues trying to move the plot forward. If you are expecting a grand action film then you will be disappointed for sure.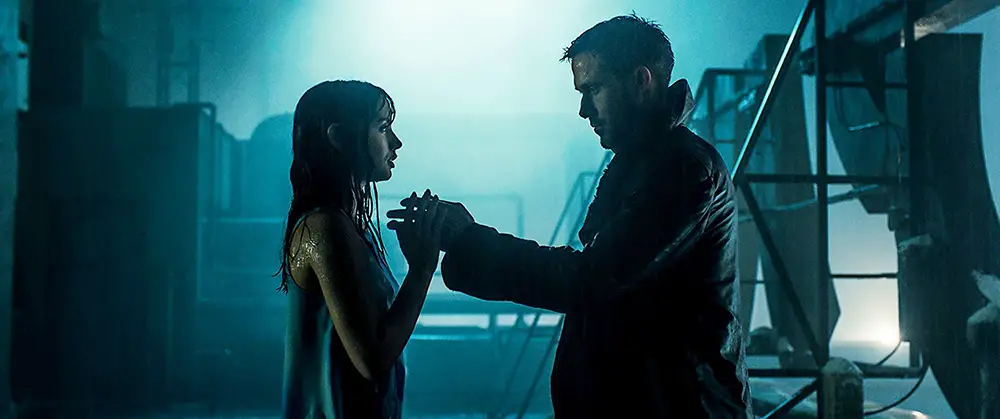 All the same the sound track of the film tries to be true to the original injecting it with some fresh tones. I cannot say I was ecstatic by it but it does the job to help create this dystopian future.
Although it's a well made movie it never really gets as good as the first. Denis Villeneuve really tried to copy the recipe of what made the first film such a cult classic but it seems the execution lacked in imagination resulting in something that could elevate to greatness but never does. Good special effects with solid acting from the actors but it feels like a movie that they tried really hard to make because fans wanted it. The characters are really forgettable and the story doesn't seem anything special or new.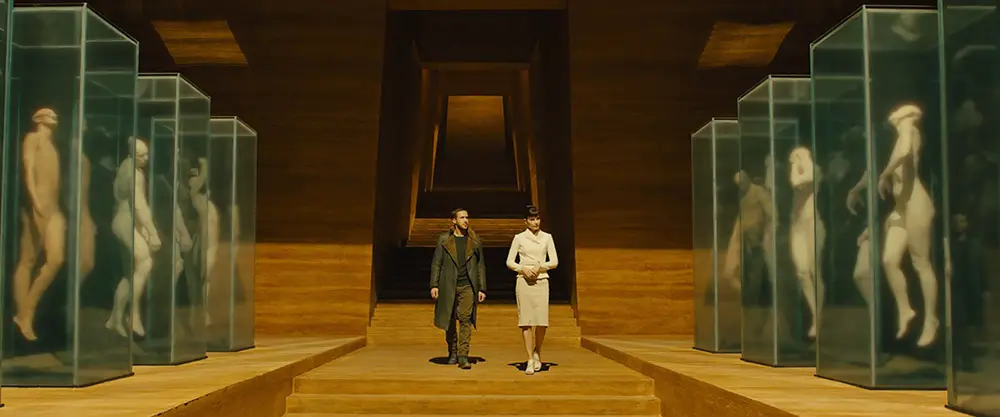 Nevertheless it's a solid addition to the franchise and one deserved to be seen even if it never reach the high standards of the original film. I will give it 3 stars because it's one of these movies that are easy to forget. They said that they want to turn this into a franchise so maybe if they make a sequel they will be able to think of a better story that will make it truly great.

Warner's 2160p, HEVC/H.265-encoded UHD comes at a 2.40:1 format so those that were hoping for a larger 1.90:1 IMAX version will definitely be disappointed. The new format let the movie "breathe" and give it an extra boost of sharpness and clarity compared to the already excellent Bluray disc. Colors feel more pronounced and alive and because of the film's unique visual style the expanded color palette gives the image more depth. HDR is also excellent and make some scenes look so much better like when we see the digital neon signs  and holographic advertising in the city.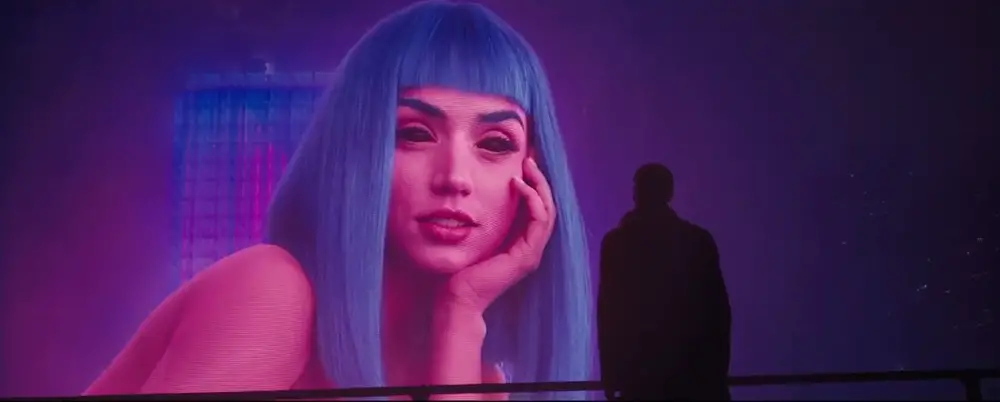 The 4K UHD disc comes with a Dolby Atmos soundtrack that is every bit as exciting as the image quality and definitely shows the technical expertise behind the transfer. Bladerunner 2049 is not a particularly action oriented movie although it has it's moments therefore the soundtrack is filled with subtle background ambiance. In every scene you can hear very subtle noises or environmental sounds that really give a new depth to the whole film.
When action kicks in the soundtrack makes sure to fill the whole soundfield around and overhead with sounds and give you a very clear positional awareness of the sounds around you. Dialogue is clear and separates very good from the rest of the sounds when in action but also when in more dialogue driven moments. An overall excellent soundtrack that knows when to get loud and when to be almost silent.
Movie Rating :





4K UHD Rating :





If you liked this review you can check more of our movies reviews in our dedicated section. Also don't lose the chance to subscribe to our Newsletter and gain exclusive privileges.
---
Photos
---
Cheapest Places to Buy :