Bose Soundbar 700
Design -

96%

Movies Performance -

93%

Music Performance -

93%

Inputs and Features -

90%

Price / Quality -

90%
---
Cheapest Places to Buy :
---
Bose is a company that has connected their name with quality audio products over the years so reviewing one of their latest soundbars was something that we were very anxiously expecting. Bose is no stranger in the soundbars segment but we are entering an era where voice controlled, smart soundbars are starting to become the norm and as such the American company released a few months ago a couple of new soundbars that include smart, voice-control functionality among all the other supported functions.
In today's Bose Soundbar 700 review we will be looking at their flagship model and determine if it's premium look and capabilities reflect upon it's high price especially when there are so many other capable soundbars that cost much less. Does Bose managed to keep their high quality standards that we are used to see in their products one more time? Continue reading to find out.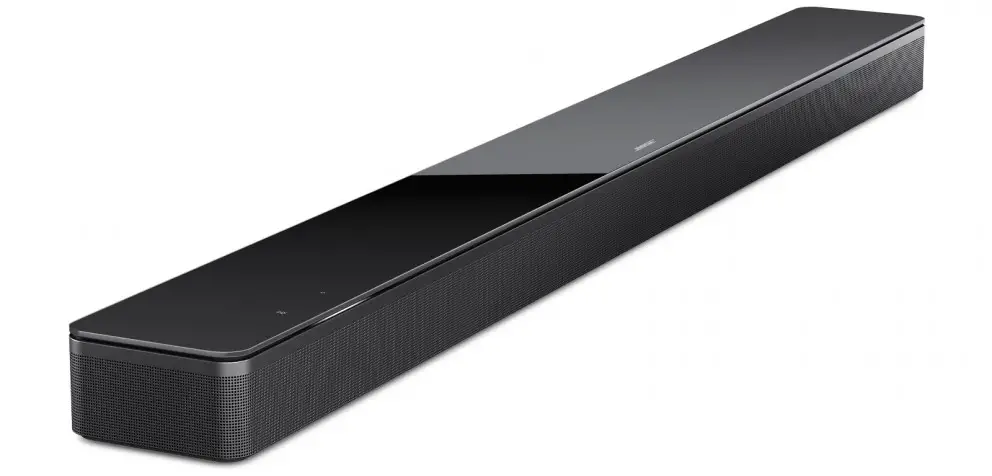 Design, Inputs and Features
The Bose Soundbar 700 is a 3.0 channels soundbar as there is no subwoofer or surround speakers included in the main package. It measures 2.3 in (5.72 cm) X 38.5 in (97.8 cm) X 4.3 in (10.8 cm) and with a weight of 10.49 lbs (4.76 kg) the Soundbar 700 is not the biggest one we have seen but comes at a size that can sit comfortably under any 50″ flat TV. But we liked that the design is such that even in smaller sizes it would not look completely out of place.
Being the flagship soundbar from Bose means that build quality would be definitely on the high side and we were not disappointed in this regard. The top is covered in tempered glass while at the front and sides Bose have used a single perforated aluminum grill while on the back we get all the ports grouped together. The general look of the soundbar looks and feels very premium and is typical for a brand like Bose.

Continuing with it's premium characteristics the Soundbar 700 provides the user with only a couple of buttons on it's top. One of them is an action button while the other is for turning the built-in microphones array on and off, an interesting function that we hadn't seen in other voice controlled soundbars before but a nice one if you don't want a device to hear your room all the time if not in use.
At the front, between the perforated grill and the top buttons, we get a LED light bar that depending on it's activity and color indicates it's current status that includes WiFi and Bluetooth connections, Alexa functions as well as updating and error procedures. Although it's a bit hard to remember every single light function and something that made us look at the manual a couple of times to find out what the soundbar was actually doing we liked it's inclusion as it gives a really high end feel to it.

The Soundbar 700 has a pretty low profile making it easy to place it under almost all TVs but in case you want to wall mount it Bose is also selling appropriate wall brackets that unfortunately you will have to buy separately. The wall mounting position is the same as is when placing it on a furniture due to the way the drivers are pointing under the grill so it may extrude a bit more than what we would like especially if you have a very thin TV that will make this even more noticeable. A minor problem but one that we should mention especially when there are soundbars that offer different furniture and wall mounting positions.
Under the aluminum grill we get a 3 channels setup and while not a lot of details are provided Bose has used custom-designed low profile transducers for the center channel that provide clear vocals while maintaining the low profile of the soundbar. For the left and right channels Bose used what they call PhaseGuide technology that is using small transducers to direct beams of multi-directional sound in order to create a more expansive soundstage. Whether this technology actually works or not we will discuss a bit further down in our performance section.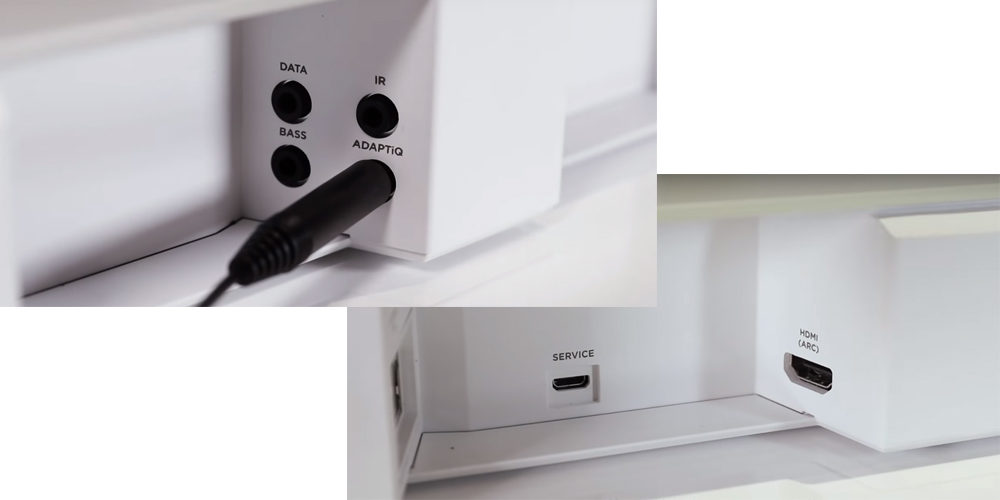 At the back of the unit we get recessed ports at the far end of both sides that Bose calls QuietPort technology and helps improve bass performance while in the middle there are 2 specially designed recesses that house the connection ports. In one of them Bose has placed the power connector and 4 3.5mm jacks for Data, Bass, IR and AdaptIQ while on the other recess we find an optical digital audio input, an Ethernet port for wired connection to the Internet, a service USB port and a HDMI port with added ARC functionality.
The Soundbar 700 also has wireless capabilities with built-in WiFi and Bluetooth connectivity supported. With such an expensive unit we would like to have a few more ports available but it's clear that the unit is more aimed to be used through it's wireless capabilities in order to keep wires at a minimum which may limit your options concerning how you will connect this unit.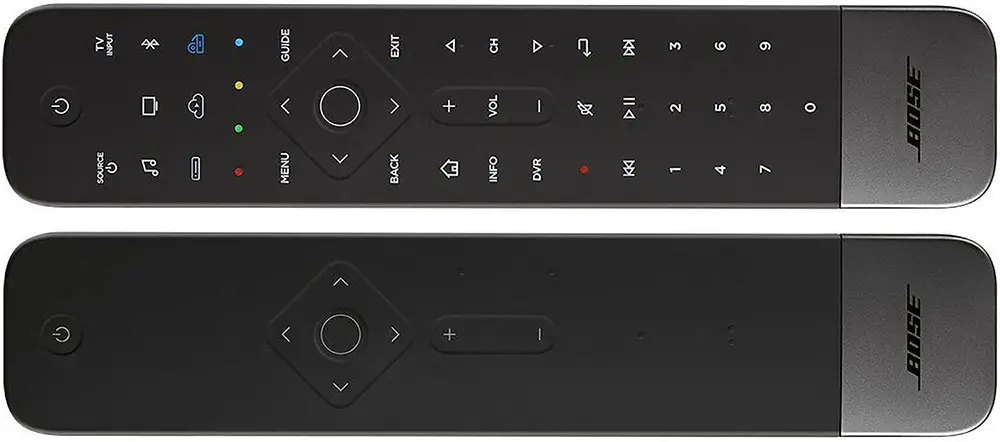 Controlling the soundbar is done with 3 ways. The most obvious one is with the included remote and in all honesty the one provided is one of the most interesting designs we have seen in any audio device and not because of it's aesthetics but because of how it works. When you first look at it the only visible buttons are the power, menu navigation buttons and volume controls. It is when you pick it up that more buttons light up due to it's built-in sensors. But the interesting part is that not all buttons will illuminate as only the buttons associated with the selected source will appear making it hard to press some wrong button by accident. Ingenious design and one we would definitely like to see in other audio equipment.
But the remote is only one way to control the unit as Bose has also created the Bose music app which you can download to your smartphone and make this your means of control. Unfortunately if you were using the previous Bose SoundTouch app with some of the Bose products you will not be able to use that here as it doesn't support this new lineup of soundbars. The new Bose music app is very good with a nice interface and easy to use and while it doesn't support the Bose SoundTouch series the app offers full control over Bose's new wireless smart speakers.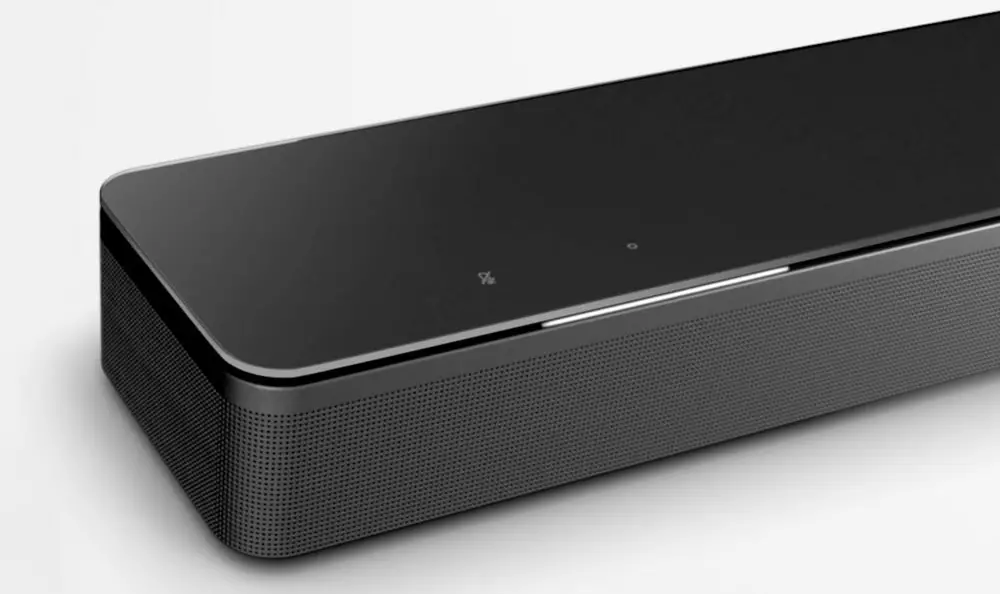 The third way and the most advertised one is with voice control through Amazon's Alexa. The Soundbar 700 comes with a custom designed 8 microphones array in order for Alexa to pick up your voice even with loud sound. We put that to the test and the results were pretty good with Alexa detecting our voice even when there was loud sound in the room which was really surprising to see and it really shows how much things have improved in voice detection technology. Also when talking to Alexa the LED light bar indicates it's status like listening, thinking, or speaking. Control with Alexa is not limited to the actual unit as playing music services, news, and weather forecasts can now be done with just a voice command.
Soundbar 700 supports the usual Dolby Digital and DTS formats but since there is no upfiring speakers it does not support the latest Dolby Atmos or DTS:X. Also it's a bit disappointing that there is no virtual surround features support and while having tried these in some other soundbars with mixed results having no real surround speakers such a feature could be useful in some situations.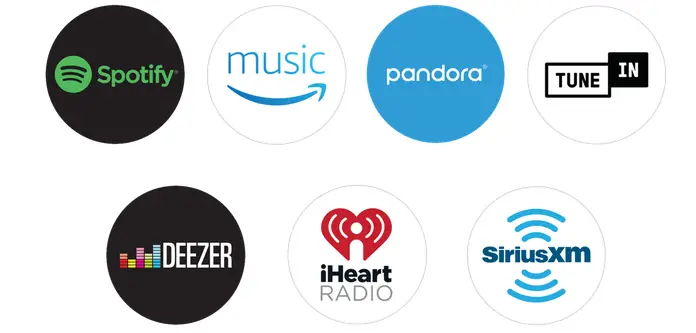 The Soundbar 700 also include many streaming services with Amazon Music, Deezer, Pandora, SiriusXM internet radio, Spotify, TuneIn and iHeartRadio available. There is also Apple's Airplay support for streaming audio through Apple devices while recently Bose added Airplay 2 support through a firmware update which is Apple's solution to a multi-room environment.
And while the main package only includes the soundbar, you have the ability to expand it's capabilities by adding both a wireless subwoofer like the Bose Bass Module 700 and Bose Surround Speakers. This way you can create various audio setups that expand the basic 3.0 system's performance. As such you can go for a 3.1 system that includes the subwoofer, a 5.0 setup that includes the surround speakers or go for a full 5.1 surround setup that has the soundbar, subwoofer and surround speakers work all together. This way the soundbar can fit in any kind of situation and according to the user's needs.

When the Soundbar 700 was initially released Bose promised that further functionality will be added with future updates and it seems that they have kept their word on that as recently an update added Airplay 2 support. Similarly Bose has said that another update that will release in Spring 2019 will include Google Assistant support expanding even further the voice-control capabilities of the unit. It remains to be seen when this update will be released as of the time of writing this review no news of it's release has been revealed.
Performance
Just to make it clear we tested the soundbar without the subwoofer or the surround speakers in order to determine the performance of just the main unit. It is a given that adding these additional speakers would dramatically improve our experience but we wanted to see how the unit could do without adding anything extra on it. After all you pay a premium price for this and it's good to know what to expect for it's core experience.
Setup of the unit is not particularly hard for someone with even the slightest of experience but we suspect that for some people it may take a bit more time that what they would like. If you are not very tech savvy or it's your first time you go through such a setup make sure to download in your smartphone the Bose Music App and follow the instructions in order to complete it without problems.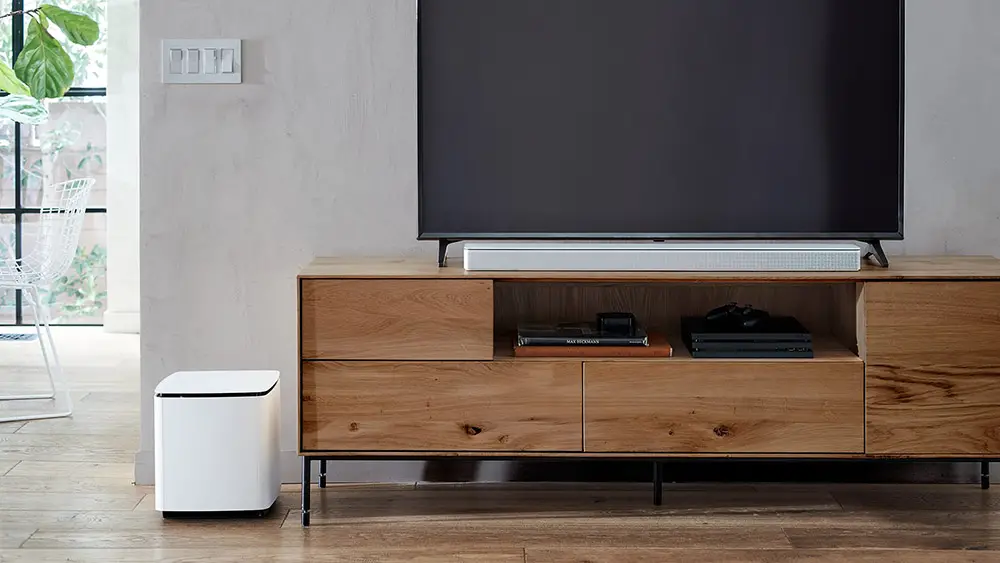 After connecting the soundbar to our TV and downloading the Bose Music App to our smartphone we powered up the unit and went through a series of steps to connect to our WiFi and Amazon account. When finishing this part you can go through the AdaptIQ calibration which is a neat process and it involves wearing a special headset that measures sound in various positions. During calibration just make sure to stay still and silent otherwise the system will not be able to make correct measurements. It's the first we see a headset instead of the usual microphone and while we cannot say which way is better the AdaptIQ system is certainly unique.
Upon finishing the calibration we saw that the Soundbar's LED light was sliding sideways which meant that the unit was downloading and installing an update that we suspect was the one that enabled Airplay 2 to the unit that Bose had promised some time ago. Upon finishing the update the unit was ready for use and through the Bose Music App we had the ability to further calibrate the unit as Bass and Treble controls are provided in order to change them to your liking.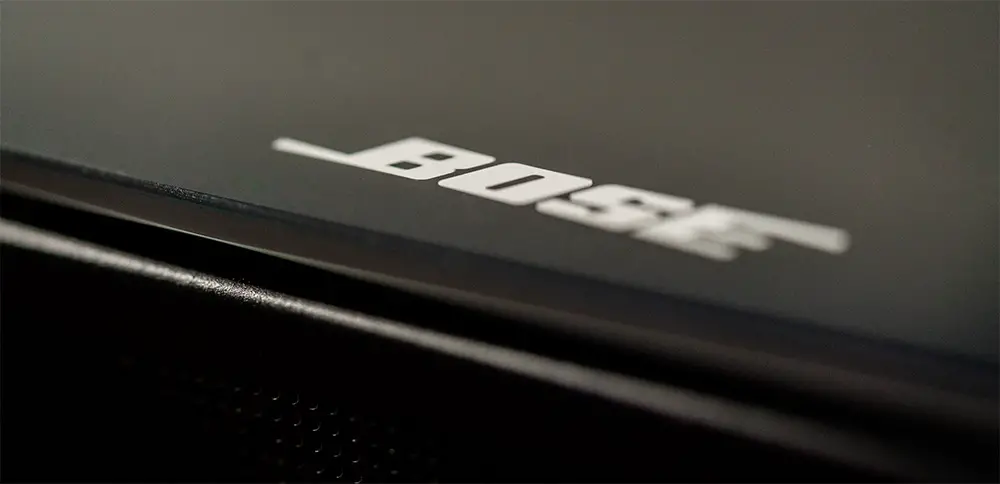 Movies
Moving on to our movie testing we picked up the 4K UHD version of Saving Private Ryan that comes with a fantastic Dolby Atmos track and although the soundbar doesn't support this object-oriented track we were curious to see how faithfully it will be able to reproduce such an encompassing and immersive film as this.
The Soundbar 700 is at it's basis a 3.0 system and we tried the opening scene of the film with the landing on Omaha beach as we had seen this part numerous times with various setups and we pretty much knew how the audio can be with a full blown surround setup. The first thing that becomes immediately apparent is the precision and clarity of sound the unit was able to deliver. Dialogue even in all this mayhem was very distinguishable and easy to hear and there was no overlapping with the other sound effects.
The second thing we observed was how wide the front stage was with sounds extending to the far sides of the soundbar that go beyond the physical limits of the speakers. It really felt like sound were coming from the right and left sides of our testing area and it made us turn our heads more than once to see where the sound was coming from. Bose made a very good job on this part.
Bass was ok but the omission of a subwoofer is really hurting it's overall performance. The soundbar is able to go low by itself and for casual viewing it can be more than enough but if you want to elevate your cinematic experience you really need to buy the separate unit as it will help the unit go so much more low.
Lastly we need to mention it's surround performance. Not having any surround speakers it's a weakness that all soundbars have and although in recent years we have seen manufacturers trying to rectify this by adding various virtual technologies to improve on this, surround immersion is still the thing they lack the most. That's why we see so many models nowadays offer modular designs that allow to buy surround speakers separately. And this is the case here also. The basic experience although good lacks any depth behind us as most of the action could be heard only from the front. When the German machine guns are ripping through the allied soldiers you could hear the bullets fly all over the room, an effect that was audible only at the front here.
As with the bass we would have to say the same thing for the surround experience also. If you want to have the best performance possible then adding a couple of surround speakers is the way to go. If your budget allows for that and you have enough space to place them, then you will not regret it. But even if you can't get them the basic unit manages to improve on your TV's performance tenfold by not only offering superior audio quality but also by expanding the front soundstage much more than the limited boundaries of your TV screen.
Music
We also tested a few music tracks to see how the soundbar performs with music and the Soundbar 700 really amazed us with it's performance. Here the omission of surround speakers is not so much evident, although we are still missing the subwoofer as the bass was a bit on the light side. But once again we were amazed by the clarity of the sound provided. Vocals and musical instruments were clearly separated with the unit being able to deliver a very good mid-range while the high frequencies were the highlight of the unit.
If it's music you will mostly be using this soundbar for the the Bose Soundbar 700 is an ideal choice delivering quality that only a few soundbars can. If you can pair it at least with the subwoofer you can expect music that will be amazing across all frequencies.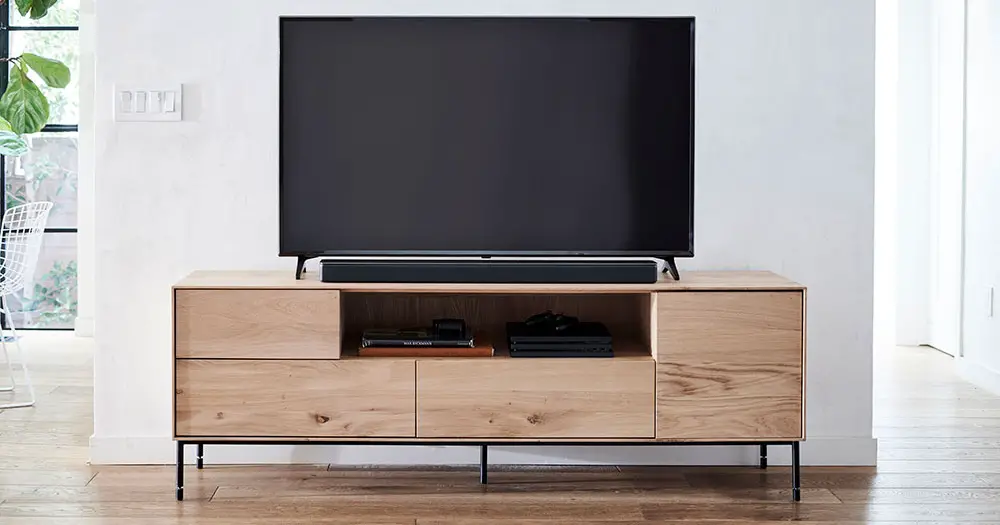 Final Thoughts
Closing this review we have to admit that although we are strong supporters of dedicated audio setups wherever possible, the Soundbar 700 really left us with very good impressions. Bose has created a soundbar that feels and looks premium, has a performance that really goes beyond what most soundbars can offer in term of audio quality while it also provides enough features, control options and connectivity to support most needs. It's modular design is an extra plus as you can tailor the unit any way you want. Special mention must be made on the remote as it's buttons light in a way that we had never seen before in most standard audio equipment remotes.
In the downsides we have to mention that if you are using the previous Bose app you are out of luck as the new Bose music app will need to be used with this soundbar. Also setup and calibration may be a little difficult for those that are not very experienced and you need to carefully follow instructions in order to complete everything with success. Another low point is that if you decide to only buy the basic unit without the subwoofer or the surround speakers you are loosing a lot on what the soundbar can really offer. It still sounds good for what it is but bass will be on the light side while you will also loose a lot of depth behind you as the soundbar by itself fails to give you a realistic surround immersion.
The unit is not cheap and for just a soundbar there are many cheaper options you can consider. But if you want quality both aesthetically and acoustically then the Bose Soundbar 700 is a great choice. We would definitely recommend adding the Bose Bass Module 700 as it will elevate the quality of the low frequencies so much more while the Bose Surround Speakers will give you the full surround immersion. In the end you pay a premium for a Bose product and if your budget can afford it then we definitely recommend it.
For more reviews you can check our dedicated Single Soundbar reviews list or even look at our Product Reviews Table where you can find the brand and specific product you are looking for.
Also don't lose the chance to subscribe to our Newsletter and gain exclusive privileges.
---
Cheapest Places to Buy :
---
Specifications
Design Features : Tempered glass top
Integrated Components : 8 microphones array
Amplification Type : Active
Output Features : PhaseGuide, QuietPort
Audio Amplifier : Integrated
Built-in Decoders : DTS decoder, Dolby Digital
Connectivity Technology : Wired, wireless
Connectivity Interfaces : Bluetooth, Wi-Fi
Internet Streaming Services : Amazon Music, Deezer, Pandora, SiriusXM internet radio, Spotify, TuneIn, iHeartRadio
Features support : Airplay, Amazon Alexa
Connections : HDMI output, Infrared input, calibration, data input, digital audio input (optical), subwoofer output
Connector Type : 19 pin HDMI Type A, TOSLINK, mini-phone 3.5 mm
Dimensions (H X W X D) : 2.3 in (5.72 cm) X 38.5 in (97.8 cm) X 4.3 in (10.8 cm)
Weight : 10.49 lbs (4.76 kg)