DALI Opticon 6 MK2
Reviewed at $2,500.00 (pair)
---
Cheapest Places to Buy :
---
It's not very often to see a speakers manufacturer release an update of a currently available series, at least not in the way DALI has done it with their new Opticon MK2 series. It has been around 6 years since the first iteration of their Opticon series was released and while in the speakers market this is not a very long time it seems that DALI wanted to proceed with a refresh of their mid-tier series. And so today in our DALI Opticon 6 MK2 review we will be looking at the smaller of the two floorstanders belonging in this new MK2 release.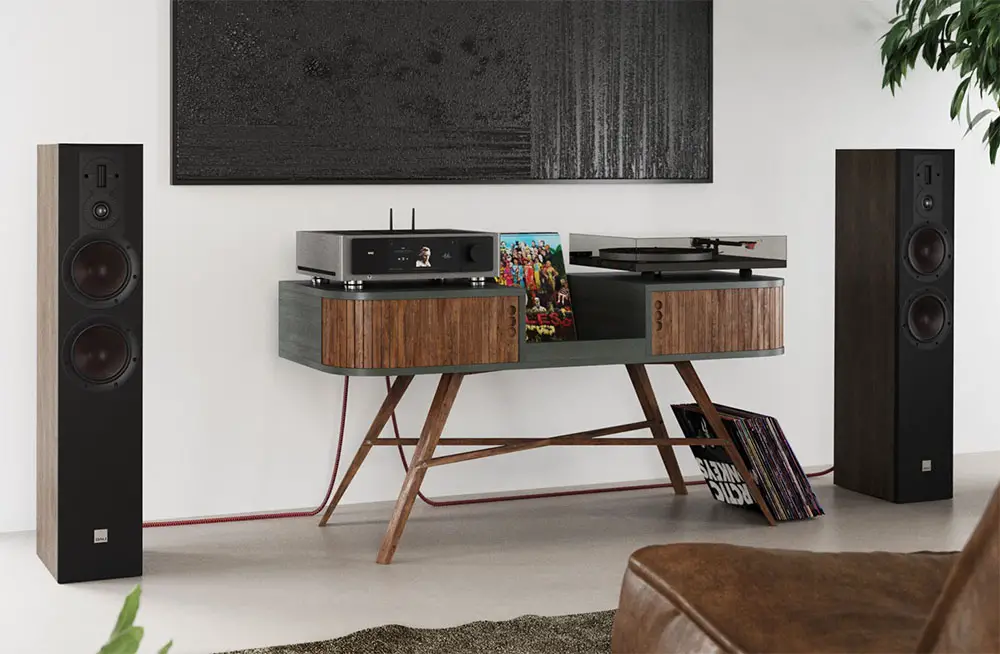 The new Opticon MK2 series consists of a complete lineup of speakers including the Opticon 6 MK2 and Opticon 8 MK2 floorstanders, the Opticon 1 MK2 and Opticon 2 MK2 bookshelf speakers, the on-wall Opticon LCR MK2 and the center Opticon Vokal MK2. As such you have the ability to create a vast range of different setups that can be ideal either for music, home theaters or even both. The Opticon MK2 series sits comfortably in the middle of DALI's entire lineup above the Spektor and Oberon series and just below the premium Rubicon and Epicon lineups.
Looking close at the new series it seems that the new Opticon MK2 is more of an evolution rather than a revolution in design and speakers mechanics. Borrowing technologies found in many of their other series it seems that DALI knew what to do in order to improve the already very good Opticon series and they did that with the MK2 release. Featuring an improved hybrid tweeter system that DALI has been using in their premium series, mid-range drivers featuring DALI's wood fibre cones and patented SMC technology along with in-house manufactured woodwork the Opticon MK2 feels like the culmination of years of work in design and manufacturing.
On paper the new series has all the ingredients to be an excellent choice for all those that look for something better than just the basic HiFi experience. Has DALI managed to improved what made the Opticon series so good these years and how much of a difference the updated MK2 release make? Keep reading to find out.
Design, Inputs and Features
Exterior
The Opticon 6 MK2 speakers, as with most DALI speakers, has a certain look and design that gives up their true origin. Coming in at 39.4″ x 7.7″ x 13.0″ (1001 x 195 x 330 mm) and with a weight of 42.5 lbs. (13.3 kg) these are not particularly big floorstanders and thus are mostly suited for small to medium sized rooms. After all for bigger spaces DALI has the Opticon 8 MK2 available also.
As for the cabinet, as with many other cabinets they release, DALI has been manufacturing these themselves in their Denmark facilities. The Opticon 6 MK2 speakers use 25mm thick front baffles in order to provide massively rigid foundations for the drivers along with extra internal bracing to further ensure rigidity and practically eliminate panel resonance. To ensure the most secure attachment on the bass/midrange drivers and their integration with the enclosure, their five mounting holes are located along the arms of their driver chassis.
Furthermore, the internal profile of the bass/midrange driver baffle cut-outs is relieved between the fixing points to provide clearer airflow space behind the driver diaphragms. The new Opticon 6 MK2 cast aluminium tweeter faceplates are held securely in place with four or six screws to minimize the possibility of vibration and resonance.
The new series comes in three different colors with Satin Black, Satin White and Tobacco Oak finishes available. The finishing laminates of the MK2 series are of very good quality and they look much more expensive than they really are.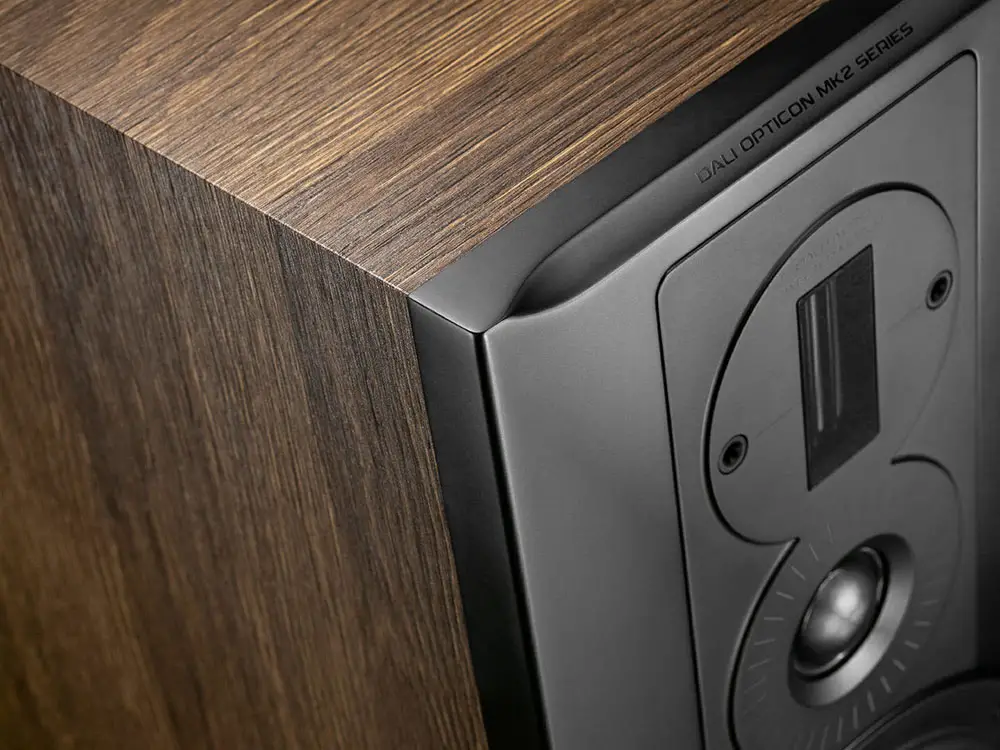 As for the front grille, the ones used in the Opticon 6 MK2 may not be magnetic but DALI created a smart design in order to hide the ugly inserts from the front baffle. As such the grilles are attached via inserts integrated elegantly into the tweeter and bass/mid driver faceplates and chassis. This style of attachment secures the grilles in a manner that eliminates the possibility of resonance and also leaves the baffle surface aesthetically clean without unnecessary and distracting visual features in case you want to use them without them.
The Opticon 6 MK2 are reflex loaded speakers which means they employ the otherwise unused acoustic output from the rear of a bass driver to extend low frequency bandwidth and increase low frequency power handling. And with DALI's Dual Flare technique the exit and entry flares are carefully designed to minimize turbulence at the airflow rate expected from the port diameter and tuning frequency.
As for the stands, the speakers use four cast aluminum feet that are screwed on the base of the cabinet. You can either use spikes for carpets or rubber feet for hard floors and everything required for the assembly is included in the box. The feet are very subtle and they don't protrude very much from the cabinet retaining the overall aesthetics but also keeping the footprint of the Opticon 6 MK2 to a minimum.
Overall in terms of design and manufacturing the Opticon 6 MK2 are really nice speakers. They look and feel good quality and the attention of detail DALI has put on them really show for their respective category.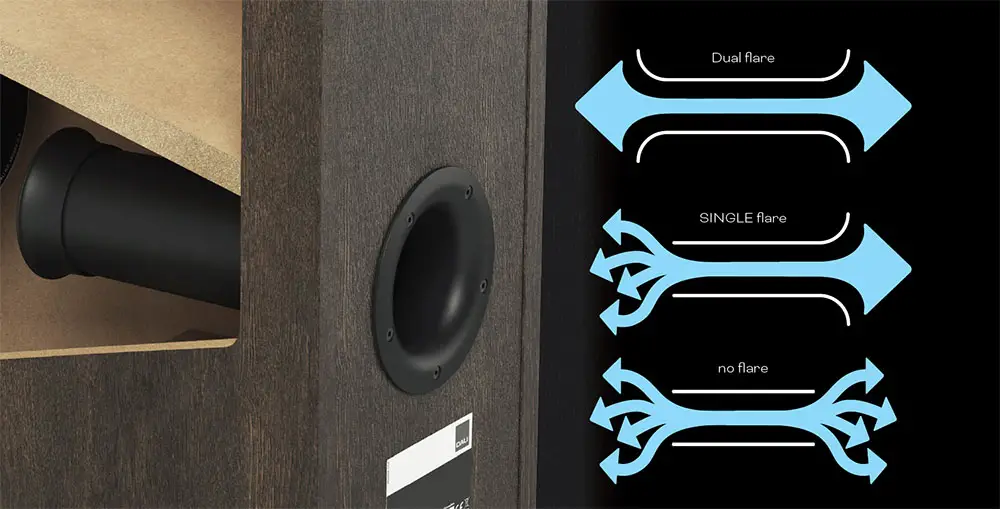 Internal Hardware
Curiously DALI is designating the Opticon 6 MK2 as a 2½ + ½-way speaker and this has to do with the use of the hybrid tweeter system we find in the new series. DALI has a long and successful tradition for engineering and integrating hybrid tweeter modules comprising a soft dome element working together with a ribbon element.
This hybrid tweeter design marries the Callisto derived 29mm soft dome element with a custom designed 17mm x 45mm ribbon element mounted on a cast aluminium faceplate. The system is configured in such a way that the ribbon element begins to contribute from 10kHz upwards, just as the response of the soft dome element is beginning slowly to fall away and become more directional. The ribbon element both extends the system frequency response towards 30kHz and contributes to keeping high frequency horizontal dispersion wider than would otherwise be the case.
The 29mm soft dome tweeter used in the Opticon 6 MK2 originates from the Callisto series and is a new design that offers significant advances over the two different soft dome tweeters used in the previous Opticon series. Its relatively small increase in diameter over the previous 28mm tweeter may seem a minor detail, however it results in a significant increase in dome radiating area which means lower distortion, higher power handling, and an ability to operate at lower frequencies.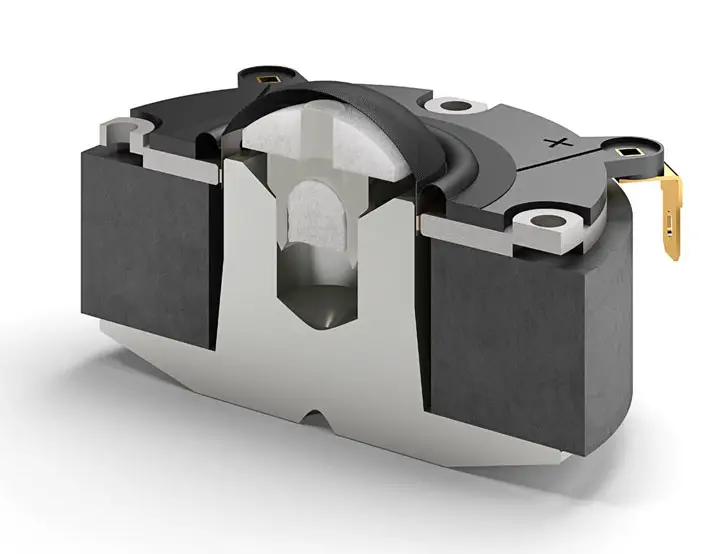 The new soft dome tweeter enables crossover frequencies as low as 2kHz to be safely employed with no risk of distortion or power handling limitations. The tweeter is equipped with high flux saturation and very low-viscosity ferro-fluid in its magnet gap which provides increased power handling and resonance damping without slowing the impulse response speed of its ultra-light coated diaphragm.
Overall what DALI did was to merge two technologies that are good at different things. The soft dome tweeter has great dynamics and excellent clarity while the ribbon tweeter offers the very high frequency detail and smooth finesse that is usually missing from soft dome tweeters.
As for the mid-range woofers DALI is using two 6.5″ wood fibre cones which have a distinct look and are very characteristic in many of DALI speakers. A mix of paper and wood fibre ensures minimal break-up resonance while the diaphragms are terminated by rubber surrounds chosen for their soft and very flexible mechanical properties that enable free movement with minimal low frequency damping.
The Opticon 6 MK2 bass and midrange driver chassis are manufactured in die-cast aluminium that provides extremely high rigidity and low resonance along with minimal extraneous influence on the internal magnet system. Its magnet system consists of a large ferrite ring magnet surrounding a pole piece manufactured entirely of the unique DALI SMC material. The pole piece and the ferrite magnet are secured between soft iron front and back plates to create the appropriate magnetic field for the voice-coil.
The crossover assemblies in each speaker are located internally adjacent to the terminal panels in order to shorten signal paths. They also upgraded the quality of some of the individual crossover components by using lower loss capacitors while the filter topology has been simplified in order to have as little components between the amplifier and drivers as possible.
The combination of the hybrid tweeter system along with the dual 6.5″ low frequency / mid-range drivers give the Opticon 6 MK2 a frequency range of 49 Hz to 30 kHz (+/-3dB) with 4 ohms of nominal impedance, 88 dB of sensitivity while its crossover frequencies has been set at 800, 2,200 and 14,000 Hz.
Connectivity
At the lower back we get two pairs of high quality gold-plated speaker terminals that can firmly hold bear wires or fitted with special plugs like spades or banana plugs. The Opticon 6 MK2 offer optional bi-wiring to enable its bass/midrange and high frequency sections to be connected independently if you desire to do so.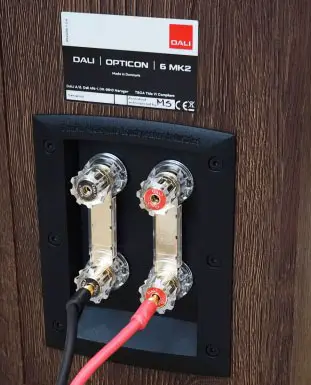 Performance
The speakers were very well packed and wrapped in synthetic cloth to protect them from all outside conditions. Their weight and size was not so big so a single person with some care can handle them easily. As we mentioned above you will need to assemble the feet by yourself but everything is very simple and easy and all tools are provided.
Usually manufacturers give some very general guidelines concerning the positioning of their speakers and DALI offers very clear instructions on how to place theirs. One thing that you should keep in mind is that the Opticon MK2 series as well as many other of DALI releases are designed with a wide dispersion principle. This means that they are heard better off axis reducing harmonic distortion and diffraction. This is explicitly mentioned in the manual so no toe-in is required compared to other floorstanding speakers. Once again we like to follow the manufacturer's guidelines and since DALI themselves suggest no toe-in we decided to place them completely off-axis from our listening position.
As we always do in these tests we left about 2 feet from the back wall in order to give them slightly more breathing space. Distance between the two speakers was around 9 feet. Keep in mind that placing the speakers near a wall will increase its bass output while lowering its overall definition so finding the best balance is always crucial.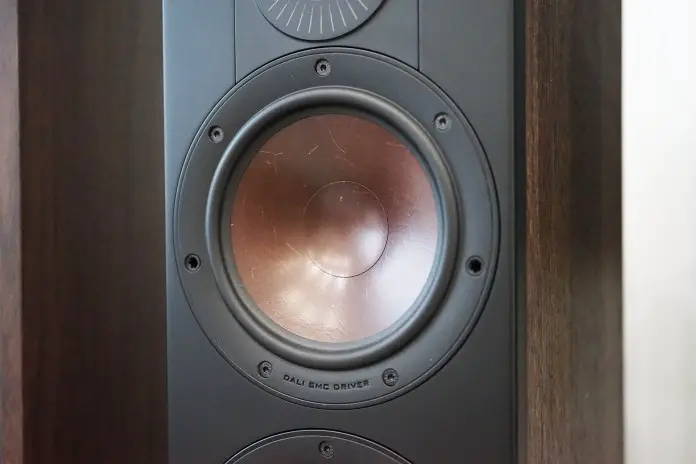 We were told that the speakers we tested were completely new so we are sure they can do even better after their initial break-in period. Most manufacturers do suggest between 50-70 hours of break-in time before speakers can reach their peak performance but we always suggest to wait until around 100 hours to be completely sure that what you hear is what the speakers can ultimately give you. DALI themselves specifically mention 100 hours before maximum performance is reached.
Now as far as our testing is concerned, for our movies we like to use a simple 4.0 channels surround system with only two front channels and a couple of surrounds and the reason for this is because we can easier determine how the front speakers can cover the omissions of a center speaker and a subwoofer. Weaknesses become more pronounced and although this would not apply to any real home theater system as almost all of them would have both a center speaker and a subwoofer we are here to determine specifically the characteristics of the two front channels and at least for us this is the best way to do so.
On the other hand when it comes to our music testing, as always we like to go for a pure 2.0 channels system with only the two front channels as this is the way that most music purists tend to go with. Now after all necessary connections and calibrations with our Marantz AV receiver we were ready to begin.
Movies
So going into our movie testing we wanted to go big with these ones so what better way than popping the 4K UHD disc of Pacific Rim in our UHD player for a spin. The Dolby Atmos mix in this one is every bit as impressive as the Jaegers themselves so it was exactly the material we needed for the occasion.
The film has a lot of high pitched noises and electronic sounds and the speakers felt right at home with this kind of material. The hybrid tweeter system worked its magic here and we didn't miss anything from this incredible performance. Micro-details were rendered faithfully as the Opticons didn't let any information to pass without pushing it into our testing area.
There is a lot of chaos throughout the film but the Opticons kept a straight face at all time. It was amazing how detailed and energetic the high end felt but at the same time it never gave us any ear fatigue. It was like it knew how to handle the material and present it to us in the best possible way.
Dialogue came very distinct and with impeccable clarity. It didn't matter that we were missing a center channel, the Opticons covered this omission without breaking a sweat keeping the dialogue dead center and isolated from the rest of the sound effects.
It didn't matter what scene we would try, the speakers would continue to showcase all the qualities and then some. Explosions would push the 6.5″ woofers to their limits to produce bass that was tightly controlled and well defined without becoming boomy or muffled at any point, even during the most crucial moments when the film would hit the lows hard.
They fell a bit short on going very deep on the low end but this was not such a huge problem as they still managed to produce a very pleasing low end. Obviously in a full home theater system a dedicated subwoofer will free the speakers of that burden but they were still impressive even without one.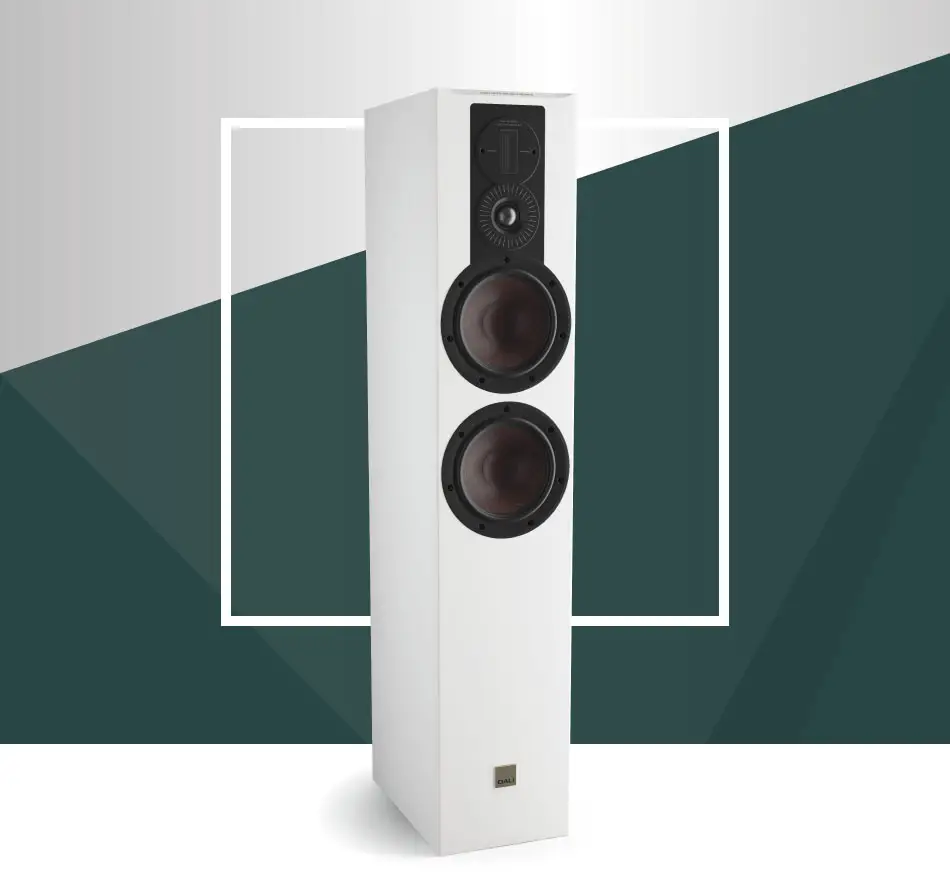 In terms of overall performance the Opticons worked very well with our surrounds, although we have to admit the ones we used are also of the same brand so all of them having the same wood fibre cones helped with the much desired timber matching of a home theater system. As such we got an amazing surround performance with sound effects panning across our room and creating a very energetic atmosphere.
Turning the volume at higher levels didn't show any kind of distortion coming from either the cabinet or the flare ports. The speakers remained excessively stable and well controlled even when pushed too much showing the amazing engineering and bracing work DALI did on them. No vibrations were audible that could potentially destroy the whole experience.
For our second test we couldn't resist the desire to try out a bit of The Lord of the Rings magic but this time we went with the Two Towers instead. The Dolby Atmos mix here is every bit as impressive also but it comes in a bit of a different flavor compared to the Pacific Rim we tried before. Due to the nature of the film what we get here is slightly different sound elements but with the speakers showing equally capable at handling.
The siege of Helm's Deep is the obvious choice and from the first moment of the Uruk Hai marching the Opticons would portray the full scale of the force at hand. When Saruman's army hit the walls there was so much information rendered by the main speakers it felt amazing just trying to discern all the small details that you could hear for the first time.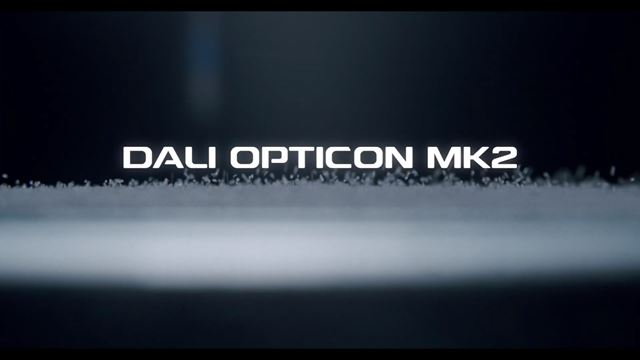 Elements like metal, stone, fabrics, shields and dirt would be reproduced faithfully, with clarity and with extreme detail. When the wall explodes and send debris all over the battlefield a low end sonic wave would hit us that may not have been as powerful and vigorous as a subwoofer can do but considering the size of the woofers at hand it felt impressive at least.
Dialogue one again never failed to be distinguishable with the main speakers keeping everything isolated in the middle. It was so good that we could close our eyes and almost feel like there was a center speaker present. Actor's voices were well defined while the Uruk Hai growls felt menacing and raw.
Also amazing was how the speakers managed to portray the expansive size of the battlefield. The Opticons did an excellent job on giving the illusion of a much grander space and they did that without loosing their transparency. When a scene would focus to a more confined space you could sense the difference compared to the more wide scenes featured throughout the running time.
We did try another scene and this was the last march of the Ents and what an amazing scene to have some good speakers handling it with care. The Opticon 6 MK2 was very delicate with Treebeard's voice while when the Ents storm Saruman's tower the amazing orchestrated music would complete an epic scene with the Opticons at the helm giving this specific sequence the quality it deserved.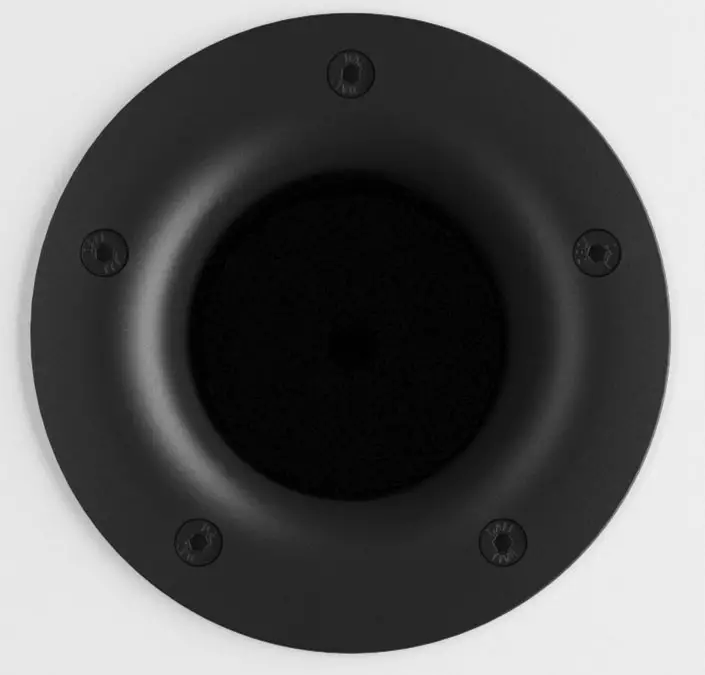 Closing this part of our review we could keep going and going to be honest if we had more words to describe them. The speakers were so good at what they do that kept us far more time than what we should spend on them as they can turn any movie viewing into an incredible experience. If you are on the lookout for some new speakers for your home theater then the Opticon 6 MK2 is an excellent contender and in their price they surpass many other options in the market. DALI has a real winner here.
Music
Last test for the day is all about music so we switched to a pure 2.0 channels audio setup with only the two front speakers connected and we streamed a selection of FLAC music tracks through the front USB port of our Marantz receiver.
One of the first things that will immediately strike you is how detailed and smooth the high end is. Vocals filled our room like the performers were there with us while high frequency notes from the instruments were rendered with amazing detail and breathtaking accuracy. The soundstage felt incredibly transparent and expansive without any sacrifice on the tiny details that defined each song.
Excellent tonality overall with every frequency coming out the way it was supposed to. The speakers were very capable at being energetic without being aggressive and overall bothering. The sound felt natural, warm and with a smooth tone that define DALI's wood fibre cones. The Opticons 6 MK2 are not the speakers of the extremes. They handle the mid-range with care, they render the higher frequencies with intensity and amazing clarity and in the end give this series a very distinct acoustic signature that definitely many will love.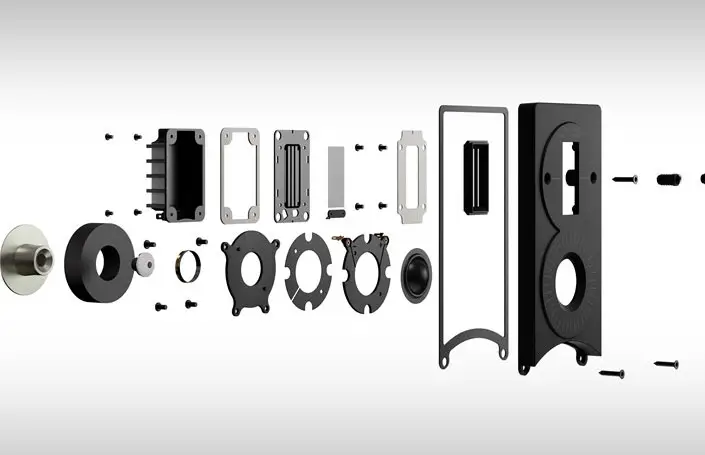 On the lower end the speakers did very good with what they had by handling bass with extreme control and never felt like they were left from breath when very demanding sessions were played. It was not the deepest bass we had heard and this may be one of the tiny downsides we could admit they had but up to the point they could go the speakers had no problem handling the lower registers with care providing each song the necessary foundation for the rest of the performance.
We do like to try different genres with each speaker we test and in a similar fashion we put the Opticon 6 MK2 through various pop, rock, electronic, classical and jazz music and overall the speakers showcased their qualities across the board. Smooth high end without being intrusive, exceptional details in the mid-range and tight control over the bass without loosing its responsiveness no matter the material we tried on them. What they would loose a bit in deep bass they would gain in everything else.
Although leaving the speakers a few hours to flex their muscles would greatly benefit the end result we can say from the first outing the Opticons 6 MK2 showed us that DALI's decision to go forward with a second iteration of their Opticon series was an excellent one and the results speak for themselves. The speakers could really go loud for their size and we felt that they did slightly better in this part compared to their predecessors also.
The Opticon 6 MK2 is the kind of floorstander that can stand proud in any music setup. If you consider that these are close to $2,500 speakers per pair then you will understand the amazing achievement DALI has in their hands and will surely please all kind of music audiophiles that demand a lot but don't want to spend an arm and a leg.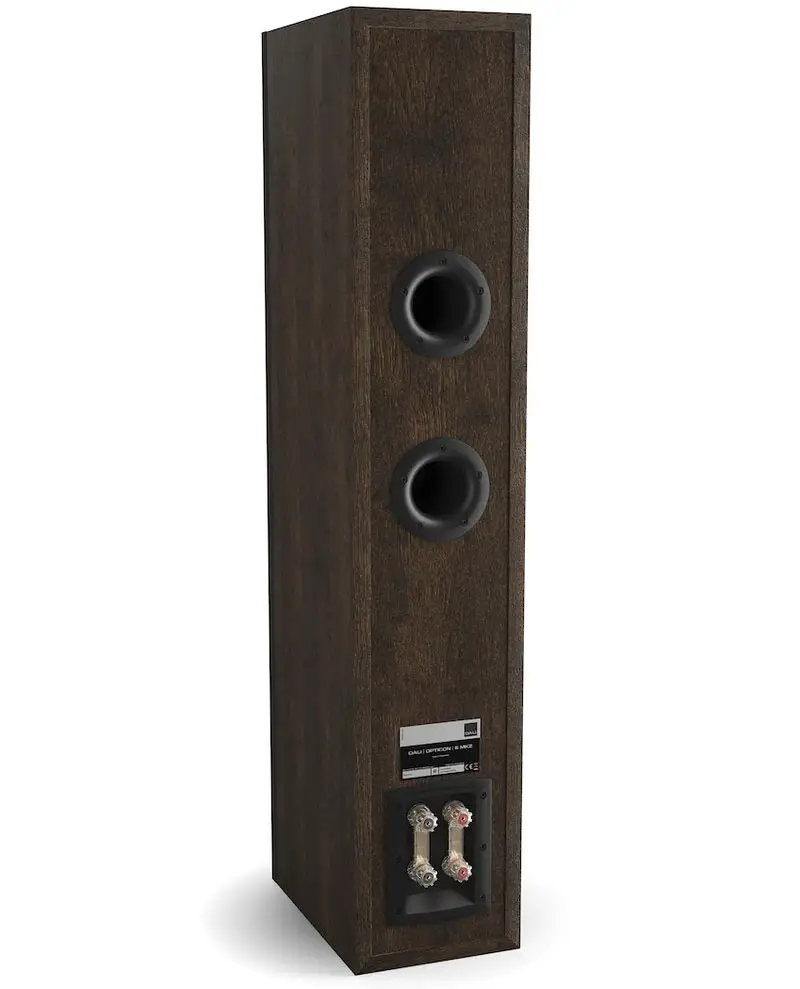 Final Thoughts
DALI is no stranger to us as we have reviewed a few of their series before but they never stopped to amaze us with their amazing craftmanship, attention to details and extensive engineering knowledge. The new Opticon 6 MK2 is the culmination of all their knowledge in a design that may not be revolutionary but it is certainly an evolution of an already very good performing speaker.
The Opticon 6 MK2 is the kind of floorstanding speaker that is oozing with quality both in terms of cabinet design and aesthetics but also with all the technologies it includes in order to provide us with the amazing final acoustic result. The improvements over the initial Opticon lineup may not be vast but they are certainly audible as the new speakers are not shy of clarity and details. They seem to be able to flex more in the high frequency range as well as in the upper mid levels. The lower end felt well controlled and balanced without becoming boomy even with more demanding sessions.
Is there anything bad we could say about them? Well not much to be honest as the speakers left us with amazing impressions. The low end is not the most deep experience a floorstander can offer but keep in mind you have only 6.5″ woofers to hit the low registers here so this was more or less bound to happen. Also the speakers are meant only for small or medium sized rooms with sizes of about up to 300 square feet. If your area is bigger then we suggest you to look for the Opticon 8 MK2 instead.
Closing, what we can tell you for sure is that everything we saw in the Opticon 6 MK2 is a step in the right direction. DALI took everything the original series had and made improvements across the board. These improvements some times are big while in some other cases they are more subtle but the fact remains that when you see the whole picture what these floorstanders offer is a clear evolutionary step that makes an already very good series into an excellent one. Kudos to DALI and for this they gain our recommendation for floorstanders in the $2,500 price range.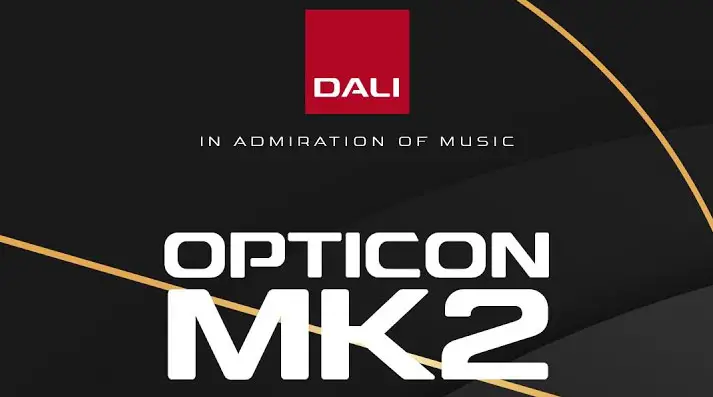 For more reviews you can check our dedicated Floorstanding Speaker reviews list or even look at our Product Reviews Table where you can find the brand and specific product you are looking for.
Also don't lose the chance to subscribe to our Newsletter and gain exclusive privileges.
---
Cheapest Places to Buy :
---
Dali Opticon 6 MK2 Specifications