Dali Opticon 6
Design -

90%

Movies Performance -

92%

Music Performance -

92%

Inputs and Features -

94%

Price / Quality -

90%
---
Cheapest Places to Buy :
---
Reviewing speakers is a hard thing. And it's hard because the way we perceive sound is different for each person. So what one speaker may sound good to one, may sound awful to another thus making the writing of an objective speakers review more difficult than it should. We can present all the diagrams and waveforms of how good a speaker is but in the end our ears decide if what we hear we believe is good or not. But with this into consideration there are certain qualities that sound has that cannot be ignored and that's what we are trying to pinpoint our attention the most and separate good speakers from really great ones.
Today we will be reviewing another pair of floorstanding speakers from Danish Audiophile Loudspeaker Industries, or DALI as most come to know them, and this time unlike our last review we will be checking a pair of Opticon 6 speakers that is aimed for bigger areas than the Zensor 5 series. And although not the biggest model in the Opticon series, as the Opticon 8 is taking that spot, the Opticon 6 manages to impress with it's performance across the board. Let's see if the Opticon series can give us the performance that DALI is promising in our Dali Opticon 6 review.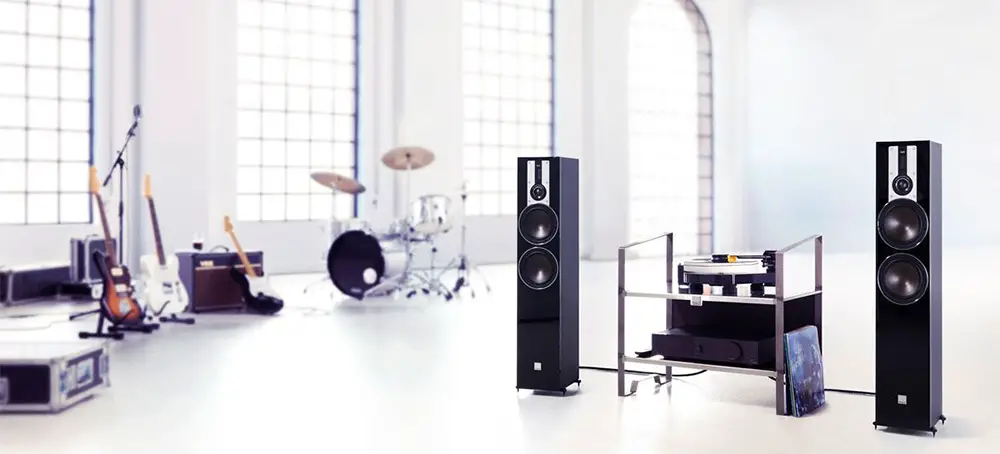 Design, Inputs and Features
With a height of exactly one meter the Opticon 6 series is a speaker that will make it's presence noticeable but without becoming too cumbersome as some bigger models. Measuring at 1001 x 195 x 330 (mm) / 40.0 x 7.8 x 13.2 (inch) (HxWxD) the speakers are trying to balance size, power and quality. Dali is very proud of the Opticon series as they emphasize that these speakers are constructed in-house from the beginning till the end thus being able to have direct control of all manufacturing steps which will ensure the end result will be nothing but the best possible.
The cabinet itself is made out of Medium Density Fibre board (MDF) manufactured in Dali's woodworking facility in Denmark and comes in three colors with black, white and light walnut being able to cover a wide range of room designs and space configurations. The front is covered by a high-gloss lacquered front panel while a large cloth grill is covering the group of drivers. At the bottom we only find the Dali logo breaking the monotony of the black frontal panel.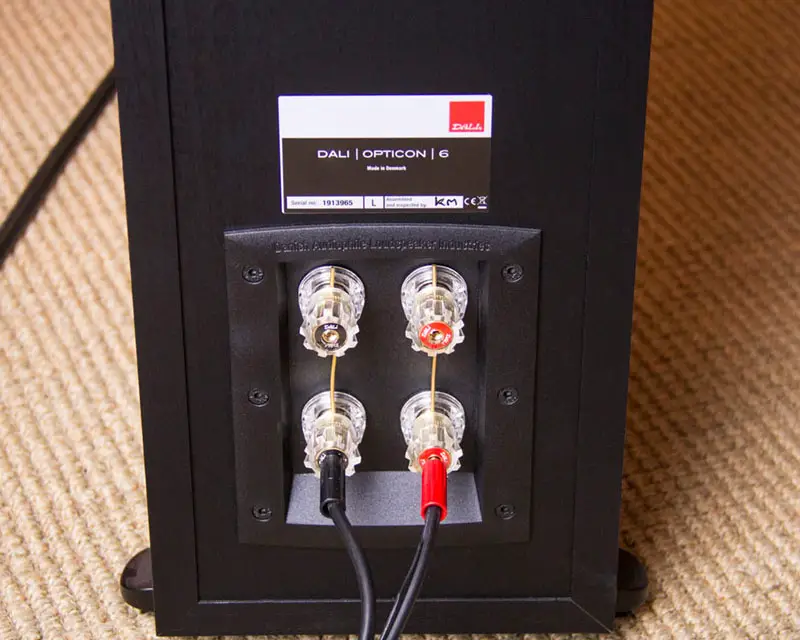 At the back we find a dual bass-reflex port configuration promising a lot of power making Dali suggest placing the speakers at 20 cm minimum from the wall and up to one meter for optimal performance. As with all the Opticon series the Opticon 6 comes with gold-plated bi-wiring terminals thus offering the best connection possible. The speakers sit on four height-adjustable spikes while rubber feet are also included.
Removing the front grill we are presented with two 6,5″ drivers accompanied by a hybrid tweeter module above them for the treble for a 2.5 + 0.5 bands acoustic configuration. This means that when the first driver stops at 800Hz the second one goes up to 2200Hz while the soft dome tweeter goes up to 14KHz at which moment passes the baton to the ribbon tweeter.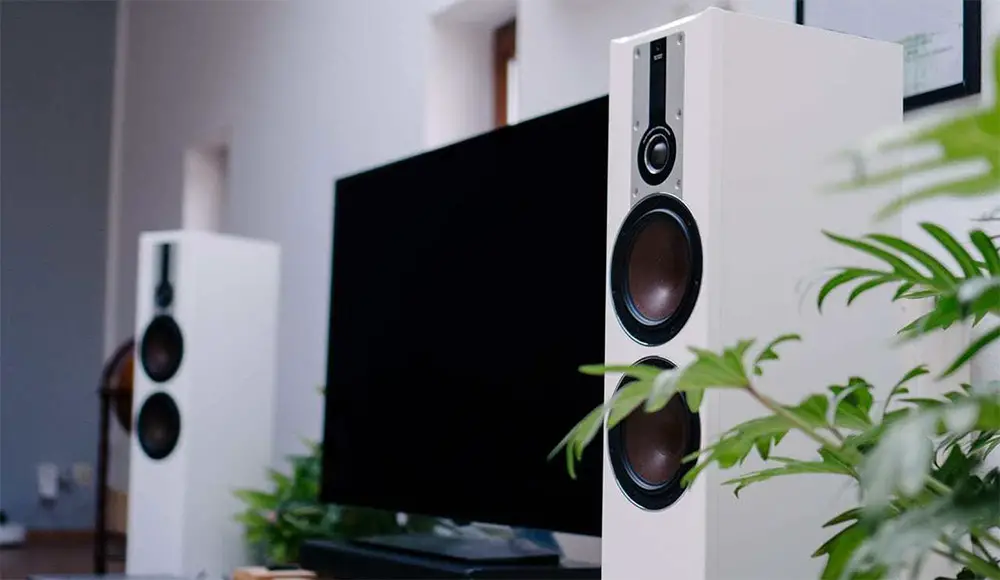 The two 6,5″ woofers are made from a wood-fibre and paper mixture base making them lightweight and resulting in very low surface resonance. Both woofers are attached to Dali's own Soft Magnetic Compound (SMC) magnet motor system which is made from a special compound and results in a significant reduction of distortion from mechanical loss. Dali's exclusive hybrid tweeter module consists of an ultra-light 28mm soft dome with a 17 x 45mm magneto ribbon tweeter. This unique tweeter setup promises to deliver low resonance frequency, high power-handling, exceptional headroom from the soft dome and extremely wide dispersion delivered by the ribbon, filling the room with a flawless soundstage.
The combination of all drivers give the Opticon 6 speakers a frequency range of 49 – 32,000Hz with 89dB of sensitivity and 4 Ohms of nominal impedance.
Performance
Due to their size and dual bass reflex ports in the back placing the speakers in an optimal position needs a bit of trial and error as each listening space is different and this can produce different results. Keeping in mind to leave enough breathing space around them is very important to get the most out of them so after some moving around in our testing area and making the necessary connections to our Onkyo TX-NR646 AV receiver we made a few calibration runs and were ready to test them out.
Movies
As usual with all out testing we chose a few selected clips from the 4K UHD disc of Pacific Rim: Uprising. A movie that comes with an amazing and bombastic Dolby Atmos track and is ideal for checking the performance of any kind of home theater speakers. When you hear the Opticon 6 speakers for the first time they will definitely surprise you pleasantly. If you give them the necessary breathing space they will fill the room by creating a three dimensional space around the viewer. The front soundstage  felt wider and expanded that usual. The metal armor of the Jaegers felt real while each step of these giant mechanical beasts will make you feel their real weight.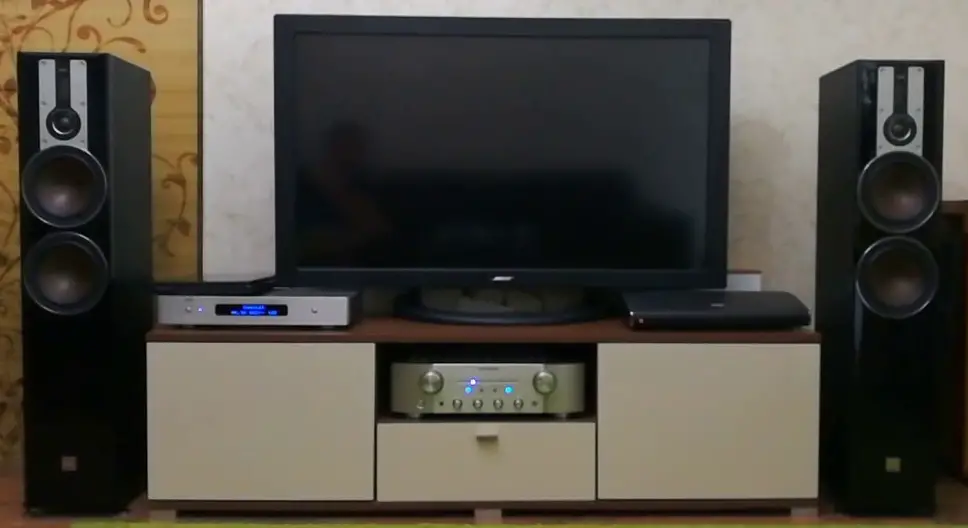 The film is full of high frequency sounds and due to the hybrid tweeter module trebles are rich and sharp. Lows deliver all the rumble of collapsing buildings and explosions without creating an acoustic cacophony. On the contrary the Opticon 6 managed to keep  the balance even when bass was trying to cover everything else. Both ends were masterfully tied by a amazingly balanced midrange that the dual medium frequency drivers were able to deliver.
For our second test we wanted to try a different type of soundtrack and for this reason we chose the blu-ray disc of Lord of the Rings with it's amazing orchestrated heavy soundtrack that was ideal to test not only action oriented, effects driven moments but also to see how the speakers behaved when a full orchestra would be added to the scene. The speakers never felt to loose their balance while each instrument was very clearly reproduced keeping a distinct separation from the rest. When there were both sound effects and the orchestrated theme the Opticon 6 speakers managed to keep a good distinction between the two without one overshadowing the other. Bass was adequate but we are sure in such a case a subwoofer will definitely be present to handle the lows. Midrange was smooth while treble again was amazing.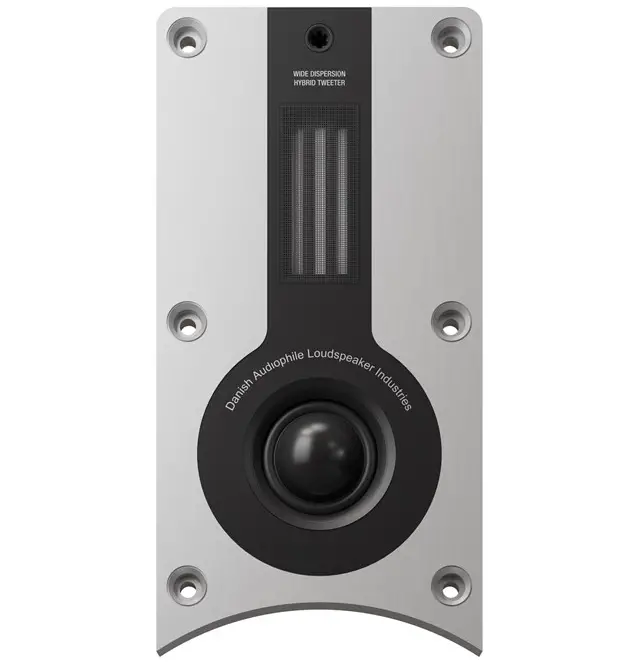 The Opticon 6 series will definitely deliver what it is claiming to offer. Having such a balance while trying different audio tracks proved that they can be used in any kind of film and thus offer a complete experience without compromises. We definitely enjoyed our time with them and we only wished we could use them more as we were starting to become very fond of the audio quality the offered during testing. They have the looks but what is most important is that they have the performance in order to be the main speakers of your new home cinema system.
Music
If you are mostly a music fan instead of a movie fan then we have something for you also. Our main focus may be performance during film viewing but we should not forget that the Opticon 6 are very capable music performers also. We have a selection of FLAC tracks that we use with all our testing in order to test how the speakers react to different types of music.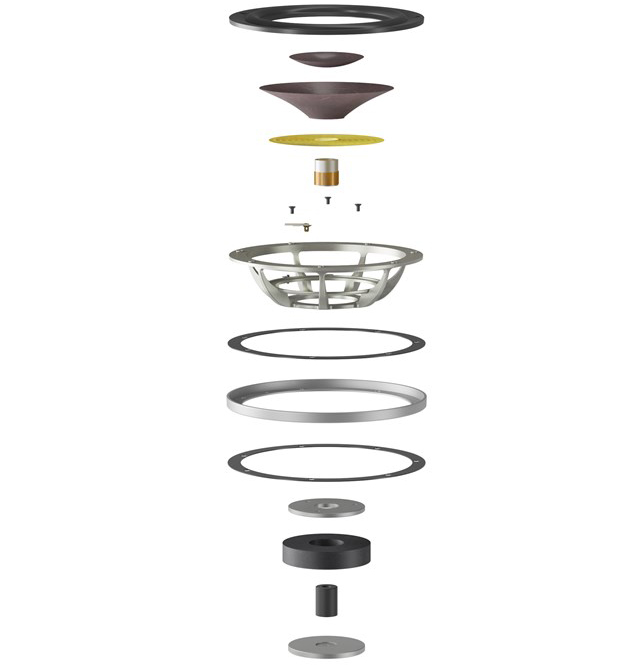 During playback it was very characteristic how sharp vocals are heard without losing balance with the mids and lows. With four drivers at work here it's so easy to loose integration but the Opticon 6 manages to keep all frequencies in sync. Sudden shifting in songs dynamics didn't bother the speakers keeping a very controlled performance throughout the testing.
We tried to up the volume a few notches and the speakers fed us with more music power without breaking a sweat. Also quality remained high at all times without any audible distortions at least until the audio level we managed to take them.
Final Thoughts
The Dali Opticon 6 speakers left us with a very pleasant feeling at the end of both our movies and music tests. They give you a very balanced performance which is characteristic of the drivers combination used. Bass and lows in general are in abundance and certainly sufficient without at any point feeling like covering the rest of the frequencies. Mids are well balanced and clear while the unique hybrid tweeter module offers some brilliant treble by using the strong points of each individual technology offering a performance that is both sharp and smooth at the same time.
Placing the speakers at a certain distance from the walls play major role and should be taken into consideration and thus making their placement in small areas difficult. The speakers are meant for medium to large sized home cinema and entertainment rooms that have enough space for better placement configuration. Also these speakers are not for the budget sensitive as there are much cheaper speakers to buy in this size but this cannot be said about the quality also.
In the end the Opticon 6 are characterized by their very balanced performance that is a result of the very good materials and engineering design used. If you have the room and the budget then you should definitely add them to your consideration list.
For more reviews you can check our dedicated Floorstanding Speaker reviews list or even look at our Product Reviews Table where you can find the brand and specific product you are looking for.
Also don't lose the chance to subscribe to our Newsletter and gain exclusive privileges.
---
Cheapest Places to Buy :
---
Specifications
Frequency Range (+/-3 dB) [Hz] : 49 – 32,000
Sensitivity (2,83 V/1 m) [dB] : 89.0
Nominal Impedance [ohms] : 4
Maximum SPL [dB] : 110
Recommended Amplifier Power [W] : 25 – 200
Crossover Frequency [Hz] : 800 / 2,200 / 14,000
Crossover Principle : 2½+½-way
High frequency driver, Quantity : 1 x 28 mm soft dome, 1 x 17 x 45 mm ribbon
Low frequency driver, Quantity : 2 x 6½"
Enclosure type : Bass Reflex
Bass Reflex Tuning Frequency [Hz] : 42.0
Connection Input : Bi-wire / Bi-amp
Recommended Placement : Floor

Recommended distance from rear wall to speaker's rear panel [cm] : 20 – 100

Dimensions (H x W x D) : 1001 x 195 x 330 (mm) / 40.0 x 7.8 x 13.2 (inch)
Weight : 18.9 (Kg) / 41.7 (lbs)
Accessories : Spike set, rubber feet, manual