Dali Zensor 7
Design -

88%

Movies Performance -

94%

Music Performance -

94%

Inputs and Features -

95%

Price / Quality -

90%
---
Cheapest Places to Buy :
---
Once again we have the pleasure to review a pair of speakers from Danish Audiophile Loudspeaker Industries, better known as DALI. The last time we checked on this company we did a review on the Zensor 5 speakers which performed very well but were mostly suited for small to middle sized rooms. Quality in general was very good and they deserved to bear the name of such a respectable audio company. You can find our review of these speakers HERE.
So now it was time to take it up a notch and review the big brother in the series, the DALI Zensor 7. Now having reviewed it's smaller brother we had a small idea of what to expect as both speakers share many identical components but at the same time we were intrigued to find out what differences the increase in size would bring to the whole audio performance and if it is a worthy set for consideration. Without further delay let's start our DALI Zensor 7 review.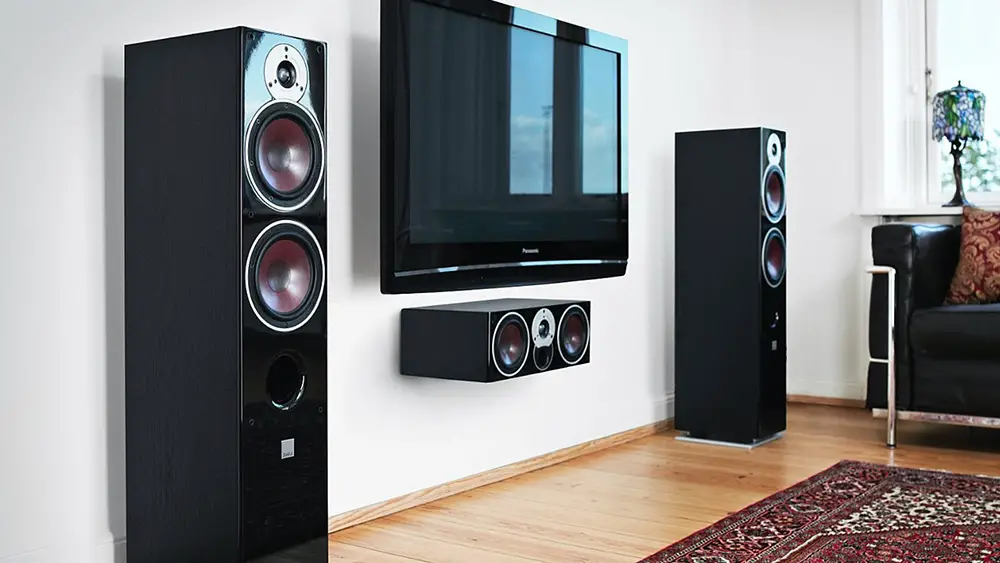 Design, Inputs and Features
With a size of 994mm x 257mm x 320mm (HxWxD) the Zensor 7 is the biggest speaker in this specific series and they are not shy at all of their size. These speakers are definitely destined for larger areas and home theater rooms and although the word "large" by itself cannot put specific limits to where these speakers would be optimal to be used they certainly ask for some breathing space in order to show their quality.
And although the Zensor 7 may be the biggest model in the series design wise it has many similarities with the lower Zensor 5 model but also some distinct differences. As such the front has a similar high-gloss lacquered finish while the rest of the cabinet is made of medium density fibreboard. In the Zensor 7 we also find the same aluminum base with it's distinct design that keeps the speaker steady but also elevates it a little from the floor.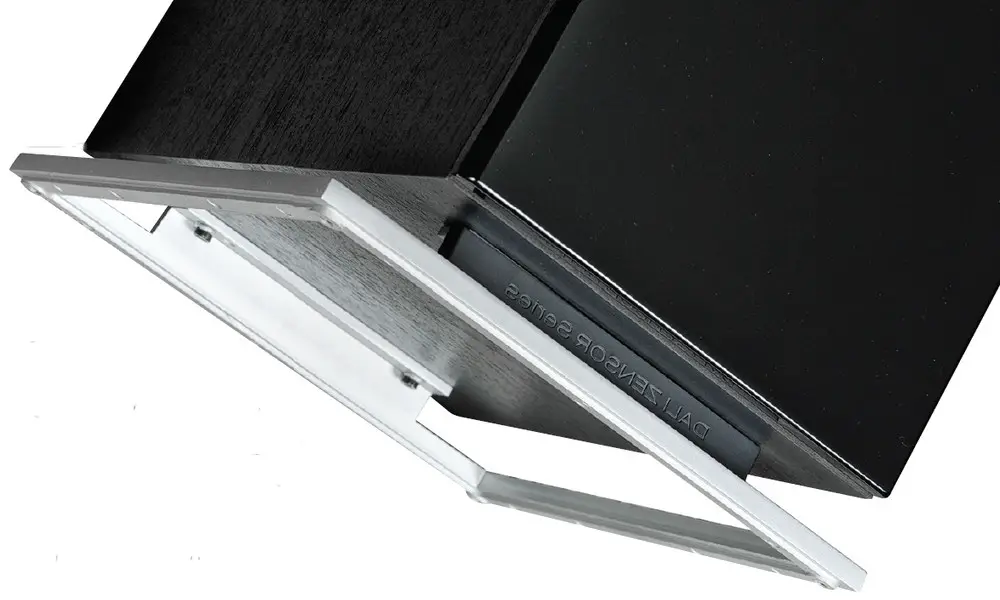 Following the same construction for the whole series the cabinet is CNC machined MDF board while this model along with the Zensor 5 features internal bracing in order to reduce structural resonances. Similarly in order to improve the bass and mid-range the Zensor 7 comes with damping material on the sides, top and bottom but not on the rear side of the front baffle as this creates a more direct contact between the woofer and the bass port.
The front face is rather simple with it's long squarish column shape including a cloth cover grill for the drivers, a bass port under it and the Dali logo the only elements that brake a bit this black monotony. Dali decided to place the bass port in the front instead of the back which makes things a bit easier when it comes to placing these monsters near some wall. Placing the port in the back would require a bit more breathing space but this is not a problem here although it is still recommended to leave a minimum distance from the walls. As with the Zensor 5 removing the cloth grill we find a similar drivers array with a Tweeter-Midrange-Midrange configuration. Having a bigger size means that Dali chose to use bigger drivers this time going for dual 7″ wood fibre woofers that feature the same 4-layer voice coils that we saw in the rest of the series in order to provide more precise sound reproduction.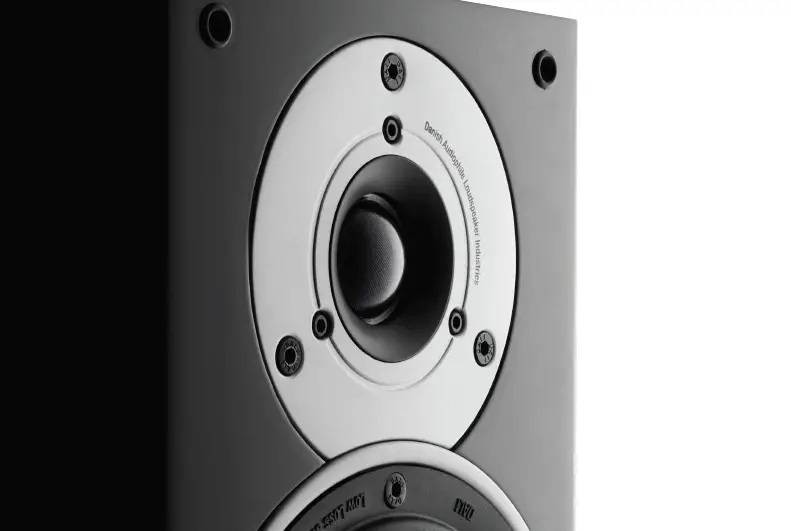 Above them we find the same 1″ (25mm) soft textile dome tweeter we saw in the Zensor 5s. Dali put a lot of engineer thought into it in order to increase power handling and minimize compression by making it more lightweight than the usual tweeter and by using a vented voice coil former. Also the damping material under the dome minimizes reflections from the pole piece. The Zensor 7 speakers have a frequency range of 40Hz – 26,5kHz and a crossover frequency of 2,4kHz with 90dB of sensitivity and 6 Ohms of nominal impedance.
At the back we find the speaker wire terminal on the bottom and they are very well constructed with gold-plated binding and plastic screws so you can either connect bare wires or use some special banana plugs if you prefer.
The Zensor 7 come in three colors with black ash and light walnut having a black front while the white one covers all sides.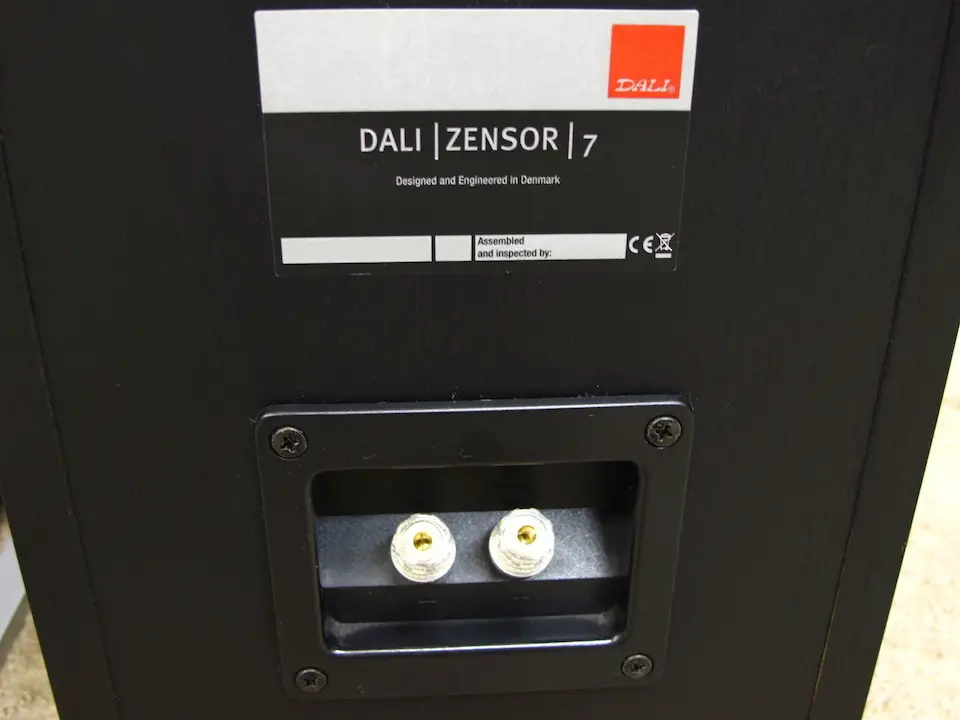 Performance
Time to test these fine speakers has come so we connected the pair of Zensor 7 to our Onkyo AV receiver, run through a few calibration tests to bring the whole audio setup into balance and we were ready to go.
Movies
All our movie testings nowadays focuses on 2 feature films with the first one being Battleship in 4K UHD. The film comes with a DTS:X audio track and we know that it can provide any quality speakers with the necessary audio information that would make you hold tight on your seat. And having these big speakers only made us more anxious to listen what they have to offer. First test scene is the first encounter between the Navy destroyers and the alien ship when the explosive pegs are launched and hit the human ship completely destroying it.
The results were exactly as we would expect them to be from the big brother of the Zensor series. The front soundstage felt so alive and full while it felt more expanded compared to smaller speakers we tested before. Bass felt to us a bit better this time compared to the Zensor 5 and although most of the work will be done by the subwoofer the front speakers had very good bass clarity and precision. Mid-range felt very balanced while high frequencies were delivered exactly as we would like without being distracting. And a film like Battleship has a lot of high frequency sounds and we were a bit worried if it would feel too excessive but the Zensor 7 speakers managed to throw all our worries away.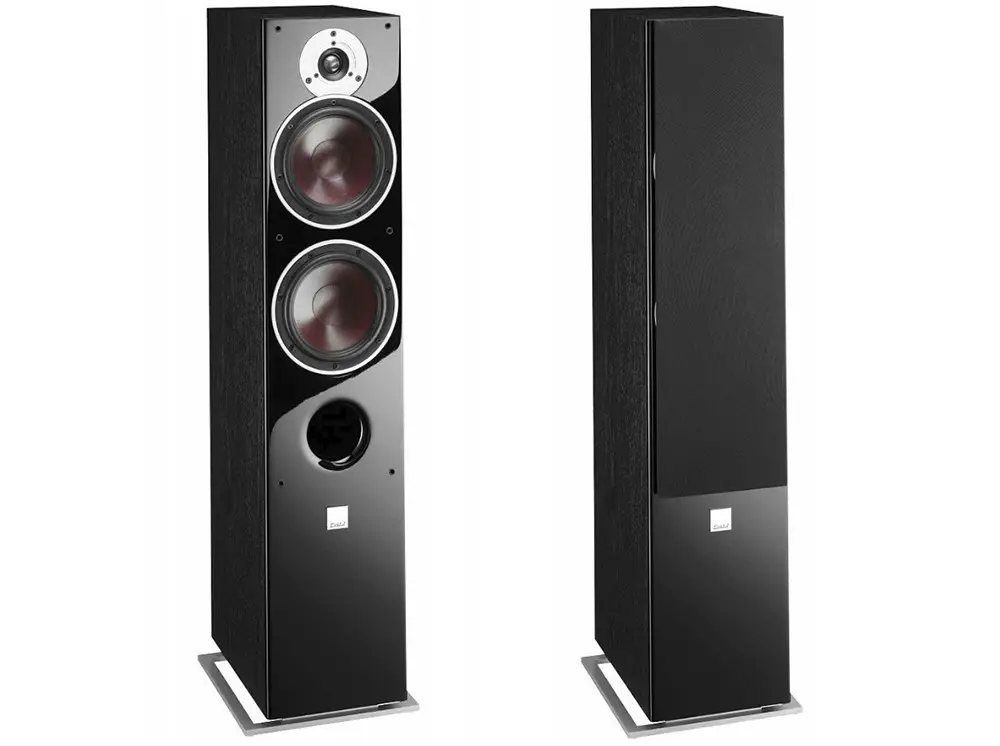 Next film we like to test has a bit of a different setting as we go from a tech filled film to a more fantasy style with the Blu-ray disc of Lord of the Rings. Although the Blu-ray disc comes only with a DTS-HD Master Audio 6.1 audio track, no next generation tracks here yet as we will have to wait for the 4K release hopefully for that, the result is breathtaking. Howard Shore's score accompanies the rest of the audio effects masterfully as the troll brakes into Balin's tomb and smashes everything in it's path. The Nazgul scream is being delivered with such a punch while when Gandalf confronts the Balrog your ears will almost bleed from excitement as the Zensor 7 will hit you with a mix of bass and high frequencies all delivered with amazing control.
The performance we got from the speakers was so good that it almost made us watch the whole Lord of the Rings Trilogy but unfortunately our limited time would not allow that. The Zensor 7 left us with the best impressions and if you plan to use them for movies you cannot go wrong. Mid-range and highs felt precise while bass was more than adequate and balanced. If you have adequate space to place them their quality will definitely put a smile on your face.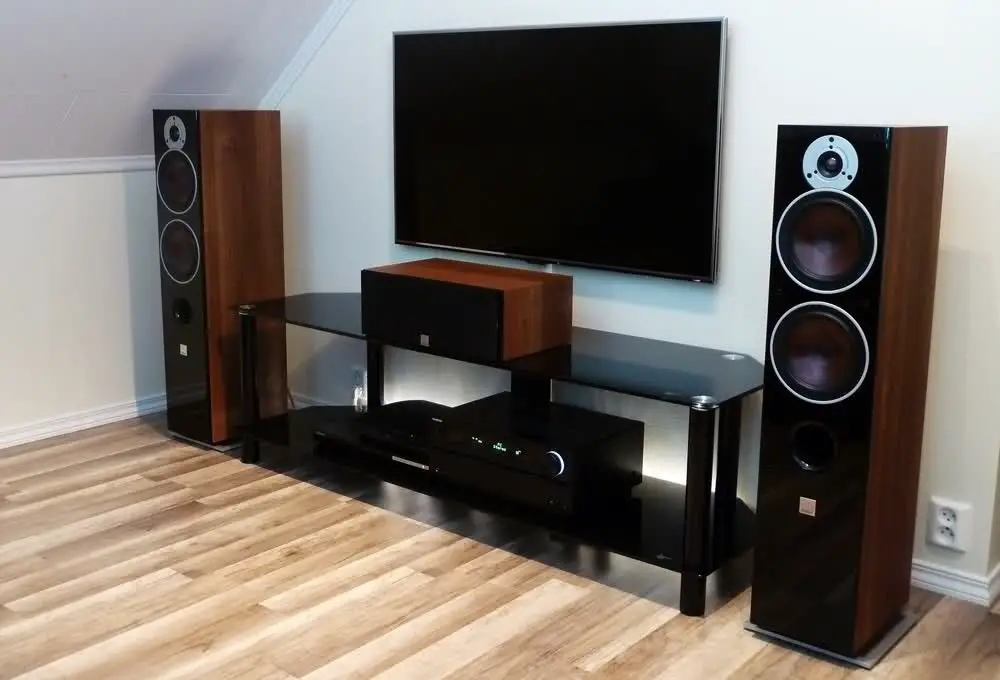 Music
Sadly we had to move on with our testing and so we proceeded with music to see if we would get the same kind of quality and behavior as we got during our movies testing. For this we got a selection of FLAC music tracks with different rhythms and tunes in order to see what kind of reaction the Dali 7 speakers will show.
Overall we would say they gave a very strong performance. The bass was very precise even if just a bit excessive, the highs were detailed and precise and all of them were brought together by a mid-range that was very balanced and was the strongest point of the Zensor 7 during our music testing. Dynamic shifts were a piece of cake for the speakers and musical instrument separation was great giving a great sense of position in space. Vocals were very precise and clearly distinguishable.
The speakers wouldn't budge even when pushed to higher volume levels, they managed to stay in control the whole time. We pushed them even to levels that are a bit unpleasant for our tastes but for the shake of testing we were pleased to see that doing so didn't reveal any audible distortions or crackling.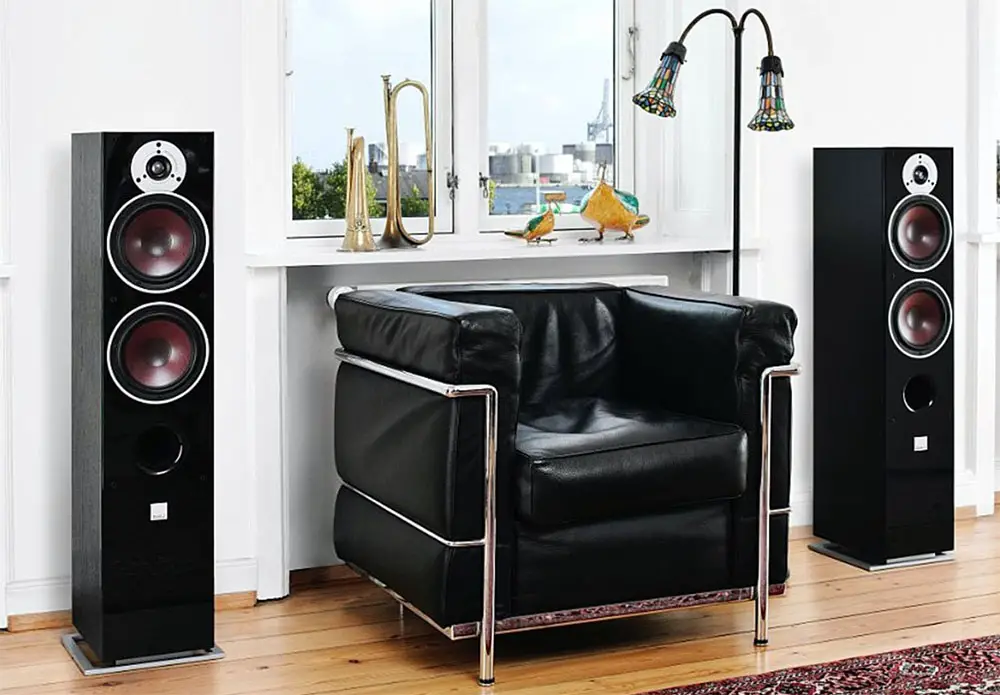 Final Thoughts
The Dali Zensor 7 speakers are amazing, period. We liked them during our movies testing and we definitely liked them when listening to music. They offer the kind of balance and precision that speakers of this range should offer. Two things you should consider is that you need a good quality AV receiver in order to make them real justice and also you should consider that as with almost all speakers they need some running-in period in order to be able to perform to their maximum. Dali says 100 hours of normal usage is enough to reach their peak performance so don't be discouraged if hearing a brand new pair doesn't give you the results you want. Giving them a bit of time will surely makes things a lot better.
These speakers were definitely made for large rooms as they have the kind of power to fill large media rooms and home theaters with all the audio immersion you will ever need. Price is a bit on the high side but if you consider the value you get with their size then they are worth it and we would definitely recommend them to anyone that considers them.
For more reviews you can check our dedicated Floorstanding Speaker reviews list or even look at our Product Reviews Table where you can find the brand and specific product you are looking for.
Also don't lose the chance to subscribe to our Newsletter and gain exclusive privileges.
---
Cheapest Places to Buy :
---
Specifications
Frequency Range (+/-3 dB) [Hz] : 40 – 26,500
Sensitivity (2,83 V/1 m) [dB] : 90.0
Nominal Impedance [ohms] : 6
Maximum SPL [dB] : 110
Recommended Amplifier Power [W] : 40 – 150
Crossover Frequency [Hz] : 2,400 Hz
High frequency driver, Quantity : 1 x 25 mm
High frequency driver, Diaphragm type : Soft Textile Dome
Low frequency driver, Quantity : 2 x 7″
Low frequency driver, Diaphragm type : Wood Fibre Cone
Enclosure type : Bass Reflex
Bass Reflex Tuning Frequency [Hz] : 40.0
Connection Input : Single Wire
Magnetic Shielding : No
Recommended Placement : Floor
Recommended Distance From Wall [cm] : 20 – 80
Dimensions With Base (HxWxD) [mm] : 994 x 257 x 320
Weight [kg] : 14.9