Definitive Technology BP9060
Reviewed at $2,398.00 (pair)
Product Name: Definitive Technology BP9060
Product Description: Floorstanding Speaker
Design -

9.3/10

Movies Performance -

9.2/10

Music Performance -

9.2/10

Inputs and Features -

9.4/10

Price / Quality -

9.2/10
Summary
Reviewed at $2,398.00 (pair)
Pros
High build quality
Spacious output
Powerful bass
Can incorporate the A90 Atmos module
Cons
Slightly less focus than traditional designs
Need breathing space
Only one color
Need careful handling
---
Cheapest Places to Buy :
---
There are so many brands that first pop into mind, when you are looking for a new pair of floorstanding speakers, with names like Klipsch, SVS, Polk Audio, DALI, JBL, Paradigm, Monitor Audio, KEF and Q Acoustics being a few of the more recognizable ones. But there are many more worthy names out there that may not have the brand recognition of the above. And in our Definitive Technology BP9060 review today we will be looking at pair of floorstanders that is surely not the ordinary speakers that most of us come to expect nowadays.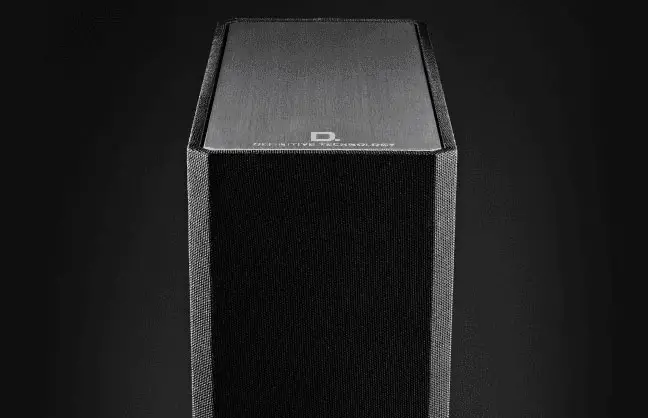 What is interesting about Definitive Technology's offering is that their entire BP9000 series feature a bipolar design, which means that they come with drivers that face both forward and to the rear something that we don't see in a standard floorstanding speaker. The entire series includes four different sized floorstanding models, with the BP9020 being the smallest, the BP9040, the BP9060 we have here for testing and their top of the line BP9080x.
So what this unique speaker brings in terms of features? The BP9060 comes with a Forward Focused Bipolar Array with drivers both at the front and at the back using a Balanced Double Surround System (BDSS) along with a built-in 10″ powered subwoofer. Due to the included subwoofer it also comes with Intelligent Bass Control while it has been designed in such a way that it can even incorporate the company's A90 Dolby Atmos up-firing module for a more seamless design.
Just looking at the specs the BP9060 surely looks unique and unlike anything we have tested so far, that use more conventional speaker designs and configurations. But does all these unique features give the BP9060 an edge over the other brands or its more technical gibberish in order to impress its customers? That's why we put them to the test to find out…
Design, Inputs and Features
Exterior
Even though the Definitive Technology BP9060 is not the biggest floorstander in the series its size measuring 44.5″ x 11″ x 13″ (113.1 cm x 15.3 cm x 33 cm) including the base along with its weight being 50 lbs (22.68 kg) show us that these speakers mean real business and they surely pack some serious hardware inside.
When the speakers are assembled and ready they surely have an ominous look as they stand firm like big dark columns. The acoustically transparent black cloth grille wraps around the speakers all the way to the back while its chamfered corners do give them a bit of style.
The top is covered by an aluminum plate with Definitive Technology's logo engraved onto it which can be removed in order to add the optional A90 Dolby Atmos module. We love how they have incorporated this design into the BP9060 as it looks much better than having to add Atmos modules that just sit on top of the speaker as we have seen with other brands. With the A90 the BP9060 looks as a completely integrated system that will make you think it is one part and not two connected together.
There is so much attention to detail that even the D logo that is placed at the bottom of the speaker can illuminate adding some premium quality to them. And before you say that this may be distracting in a dark room, Definitive Technology added a switch at the back so you can turn it off showing that they have considered all possibilities.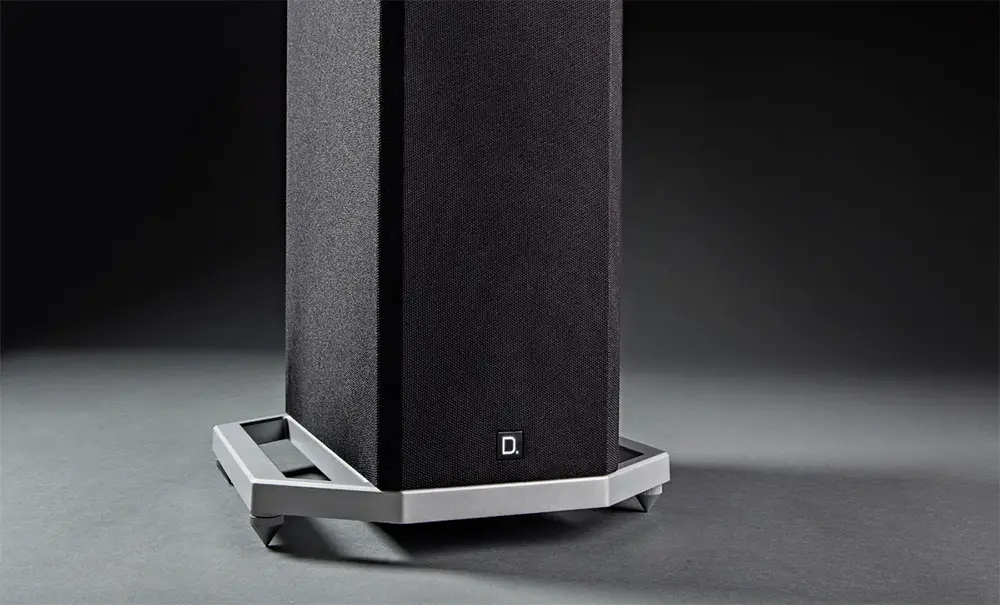 Unfortunately the BP9060 comes with a single color as the black fabric grille is the main material being showed from all angles. So if you were hoping for some variation here don't. But in our opinion this is not such a huge deal.
The BP9060 comes with a very nice and high quality base that you need to attach along with appropriate carpet spikes or hard floor glides. The base is made out of aircraft grade aluminum and is made in such a way that keeps the tall speaker steady and completely stable. The only minus these have is that they have a much larger footprint than the speakers themselves so they surely need ample space when placed, something that should be a given anyway.
At the back we find all the connections and surely the speakers come with more than what we usually see in floorstanding models, but more on these in our dedicated section below.
The Definitive Technology BP9060 speakers are amazing looking. The black cloth grille may take a bit away from their high quality nature but this does not stop them from emitting a very powerful aura. Attention to details is high, the base is nicely designed and of high quality and the top where you can incorporate the A90 Atmos module has been designed in a very smart way that doesn't feel like an afterthought but as an integral part of the whole system.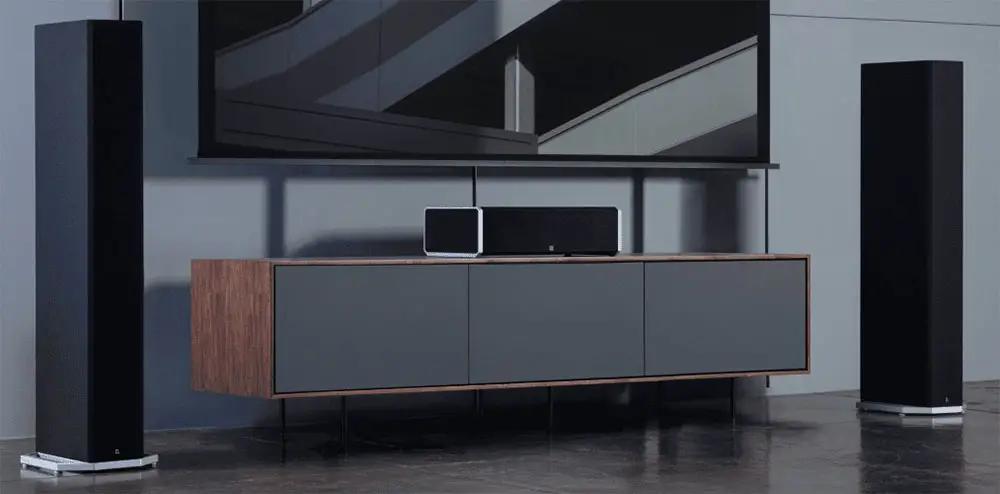 Internal Hardware
This is probably one of the most interesting parts of this review as the inclusion of a bipolar design makes the BP9060 very different from most other traditional floorstanders. So let's see in detail what we have here. The speakers feature a Forward Focused Bipolar Array (FFBA), Balanced Double Surround System (BDSS) drivers, integrated subwoofers and passive bass radiators.
The BP9060's premier technology is obviously their patented Forward Focused Bipolar Array (FFBA). The BP9060 array incorporates three 4.5" midrange drivers (two front-facing/one rear-facing) and two 1" aluminum dome tweeters (front and rear-facing). By simultaneously firing both forward and backward, a naturalistic delay is added to the sound that, in theory, creates more depth for a more immersive performance.
But this is not the only unique feature as the BP9060 includes a built-in powered 10" subwoofer powered by a 300-watt Class D amp, which results in more consistent bass throughout your room while eliminating the need to invest in a standalone subwoofer. Along with it there are dual passive bass radiators which dramatically increase the speaker's bass-producing surface area making them ideal not only for home theaters but also music oriented setups.
The aluminum dome tweeters featured in the BP9060 are ultralight and their rigid construction enables them to play significantly higher frequencies than we can hear with incredibly fast and accurate transient response.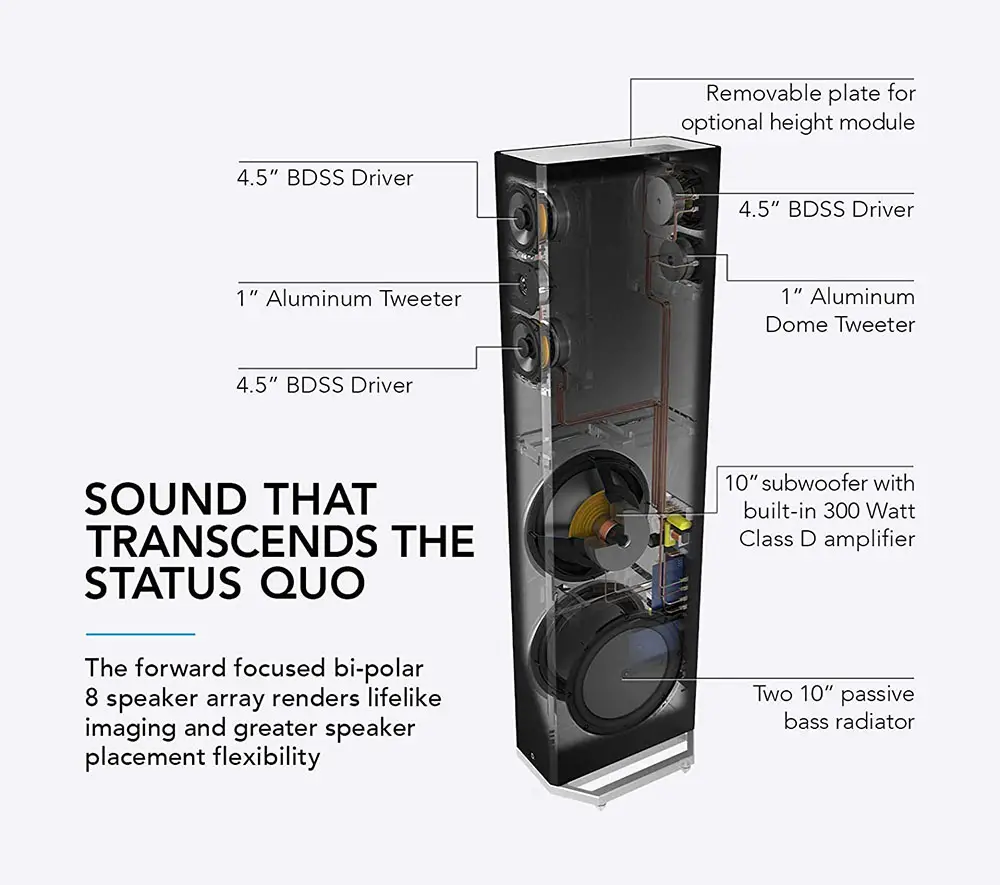 As for the mid/bass woofers in the BP9060, these feature the Balanced Double Surround System (BDSS) technology which improves driver excursion. BDSS results in a wider, more uniform midrange soundstage throughout your listening environment and also enables the BP9060's drivers to play lower and blend better with its built-in subwoofer.
Due to the inclusion of the dedicated 10″ subwoofer in the BP9060, Definitive Technology has also added Intelligent Bass Control which enables you to experience powerful deep bass performance from the speakers without sacrificing optimal midrange clarity. Intelligent Bass Control achieves this by utilizing 56-bit digital signal processing to allow boosting of the bottom two octaves of your signal without altering the bass-to-midbass blending and crossover point.
All the above give the BP9060 a frequency response of 18 Hz to 40,000 Hz with 8 ohms of nominal impedance and 92 dB of maximum sensitivity.
Connectivity
Looking at the back panel of the BP9060 we find two sets of high quality 5-way binding posts. The lower one is for the speaker itself while the one above it is dedicated to the Dolby Atmos A90 module and you will use them only if you add this separate module. Both binding posts can accept anything from bare wire to banana plugs, spade connectors and the likes.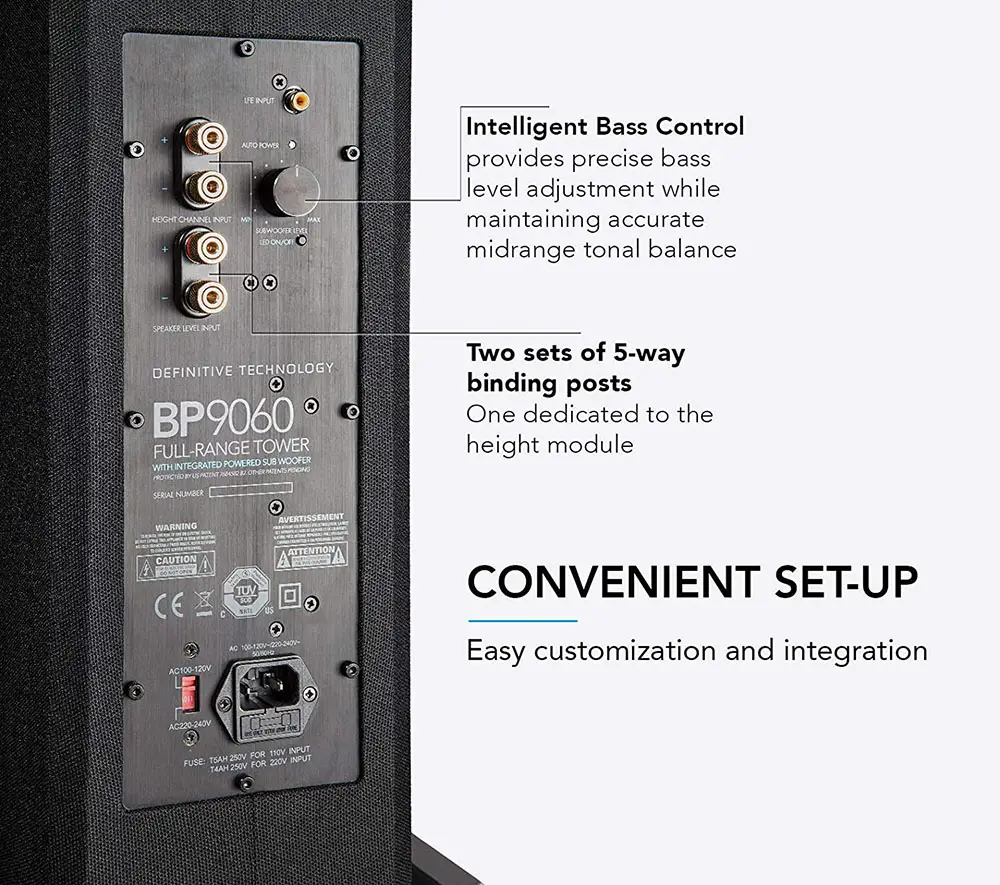 But this is not all, as with the inclusion of an active subwoofer the BP9060 has a separate LFE input that you can use to connect your AV receiver or processor. This is optional and the speaker's sub will work just fine even without connecting this port but for those that seek better customization and control over the sound output this is a handy feature.
Performance
Keep in mind that since these speakers come with a lot of drivers you have to be extra careful how you unpack them. In the package you will also find a separate box that includes the aluminum base and all other accessories needed to finish setting these up.
Now as far as positioning, Definitive Technology suggests you toe-in them a bit for a more focused center image and also due to the BP9060's bipolar sound, which means they will reflect sound off the back and sides, they recommend at least 4" away from your back wall and 6″ from the side walls in order to maximize their performance.
We usually try to follow the manufacturer's advice when placing the speakers in our test room but as always this is more of a trial and error process and you have to place them the way they sound best to your ears. As we always do in these tests we left about 2 feet from the back wall in order to give them slightly more breathing space. Distance between the two speakers was around 9 feet.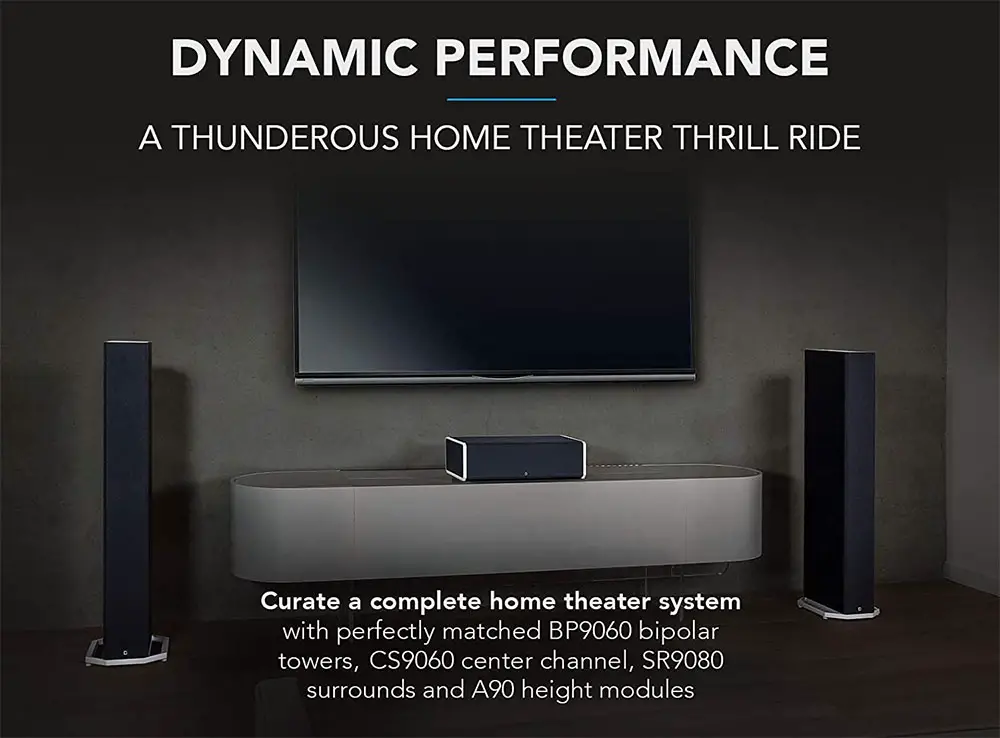 The speakers we tested had a few hours under their belt but we could not confirm if they were past their break-in period. Most manufacturers do suggest between 50-70 hours of break-in time before speakers can reach their peak performance but we always suggest to wait until around 100 hours if they are new to be completely sure that what you hear is what the speakers can ultimately give you.
Now as far as our testing is concerned, for our movies we like to use a simple 4.0 channels surround system with only two front channels and a couple of surrounds and the reason for this is because we can easier determine how the front speakers can cover the omissions of a center speaker and a subwoofer. Weaknesses become more pronounced and although this would not apply to any real home theater system, as almost all of them would have both a center speaker and a subwoofer, we are here to determine specifically the characteristics of the two front channels and at least for us this is the best way to do so.
On the other hand when it comes to our music testing, as always we like to go for a pure 2.0 channels system with only the two front channels as this is the way that most music purists tend to go with. Now after all necessary connections and calibrations with our Marantz AV receiver we were ready to begin.
Movies
For our first test we decided to try out Jurassic World in 4K UHD that comes with a exceptionally balanced DTS:X mix.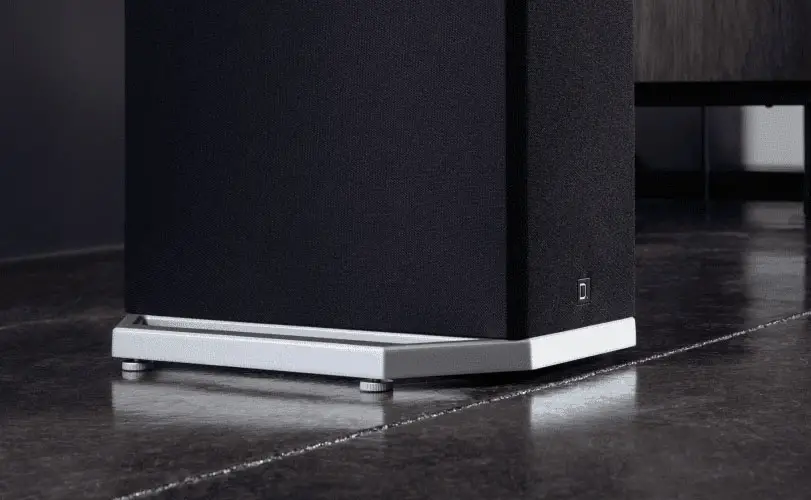 If you are used to listen to traditional forward based speakers then experiencing a bipolar design for the first time will surely feel a bit different. You can immediately sense the more spacious distribution of sound which surely in a film like Jurassic World adds a lot to the total immersion. Especially in scenes that rely a lot on atmospherics like in jungle scenes or in the underground complex, the BP9060 surely can throw you in the middle of the action.
One thing of note is due to this design the speakers felt like they had to trade some of their focus. It was not night and day difference but it was definitely noticeable. There were many other speakers we had tested that even without a center speaker they fared exceptionally well as dialogue was well reproduced within their limits. But with the BP9060 dialogue felt slightly less detailed and isolated. Obviously in a full home theater system a center channel is a must so most probably this weakness will not be so evident so this shouldn't worry you too much.
As for its bass performance the BP9060 is surely a cut above all other floorstanding speakers we have tested so far and the inclusion of an active subwoofer does place them on a completely different level. Even without a dedicated sub the BP9060 did excellent here and there was enough low end power in order to shake us. Dinosaur roars, explosions, the T-Rex footsteps…everything had enough energy and low end prowess to make the whole experience more…cinematic.
If there was one thing to note is that the BP9060 could not dig extremely low but this did not detract from their overall performance. They may not be able to reproduce extremely deep bass as a good dedicated subwoofer can but this will be more evident if you only are an extremely die hard bass lover.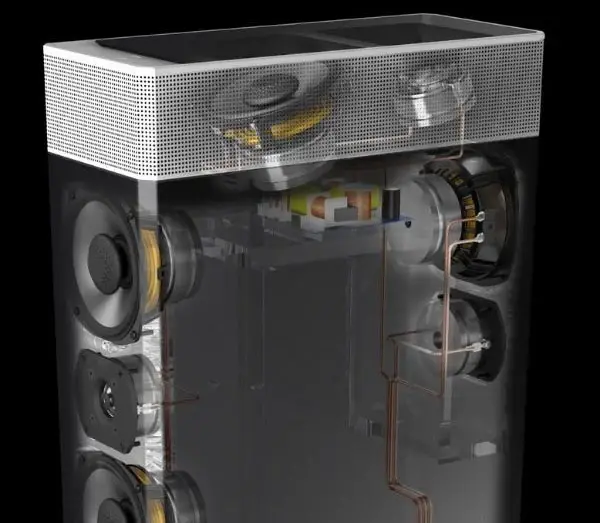 Second test of the day we chose Independence Day: Resurgence with its grand Dolby Atmos track. This film goes for more destruction, more open shots and more panning effects so precision and focus is not so much needed as was the case with Jurassic World.
In most of the aerial battles the immersion was just amazing with panning sound effects all over our room and the BP9060 capable at deepening the front sound wall even further. Once again what we got in extra spaciousness we lost in pinpoint precision but again this was not so much to make the session any less impressive. Sound may not have been of the utmost detail but on the other hand we didn't notice any reverberation or sound coloration that would make the effects feel unnatural or out of place.
With so much destruction and all out mayhem the BP9060 did feel right at home here. Buildings that crumbled under their own weight had enough vigor and low end power, explosions sounded natural and raw and the big spaceships would send low end pulses throughout our room. Again this may not be on the same level as a top class dedicated subwoofer is but surely it was impressive seeing such bass prowess emitting from the two main speakers.
We did try a bit of the Hobbit: The Battle of the Five Armies in 4K UHD and the film could not be more impressive with these speakers. The expanded battle scenes greatly benefited from the bipolar design of the BP9060 and made the battlefield feel more expansive and impressive. Smaug's voice was raw and deep without feeling muddy or muffled. Dialogue was clear and focused enough but slightly loosing in accuracy and overall isolation.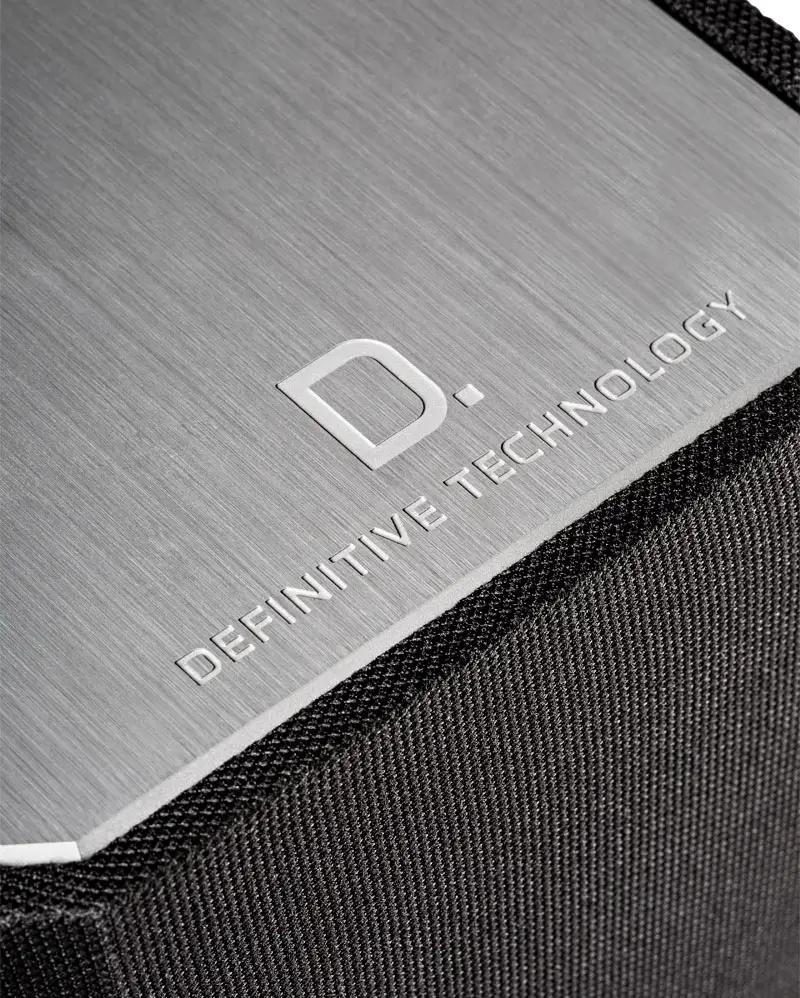 Surround sound was just perfect, and the BP9060 not only perfectly mixed with our surround speakers but the kind of expansion we got at the front of our viewing position was noteworthy and impressive. Overall a commendable performance that made such a film a real justice.
And this concludes our movies testing. The BP9060 speakers are surely not your ordinary design. They are unique in their sound output and they need a bit of time to get used to what they have to offer. Surely the bipolar design makes tradeoffs, as for a more spacious and immersive performance you loose some focus, but while this may seem like a bad thing in reality if you hear them yourself what you gain is really worth it. The attention to detail, high resolution output, expanded sound and powerful low end performance are some of the merits the BP9060 has and surely any home theater setup can greatly benefit from them.
Music
Last test of the day is all about music so we switched to a pure 2.0 channels audio setup with only the two front speakers connected and we streamed a selection of FLAC music tracks through the front USB port of our Marantz receiver.
The speakers surely can output some very detailed music and the added space you gain doesn't make the music feel artificial or unnatural. If there was slightly less cohesion this didn't bother us as the speakers seemed to know where the fine balance between pinpoint focus and spacious sound distribution was, making the end result nothing less than impressive.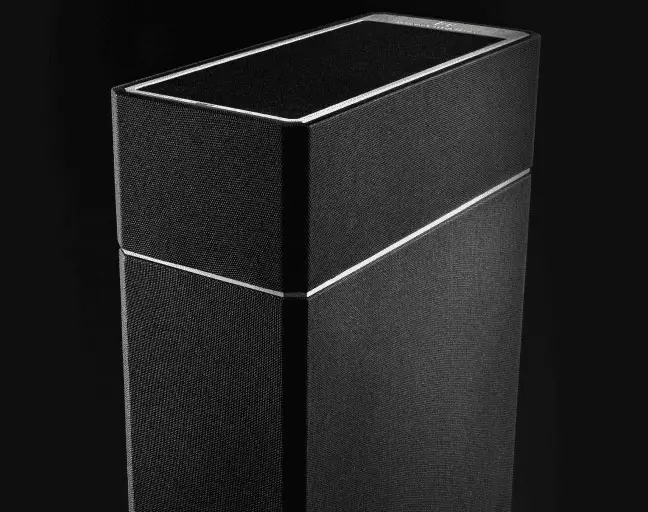 The front sound stage was really deep and stereo imaging was equally impressive. It was very easy to pinpoint the location of the various sound sources in space and it was as if everything came to life in front of our listening position.
The bass of the BP9060 was really impressive. You really don't feel that a subwoofer is needed and you can really sense the omission only on very specific, very bass intensive performances. The built-in subs did an excellent job at providing the necessary bass that had enough weight, good energy and enough resolution while keeping the pace with noteworthy accuracy. Would a dedicated subwoofer could do better? Obviously, depending the sub of course, but the BP9060 really are not the kind of speakers that ask for such.
As always we tried a few different genres to get a feeling of how the speakers do in different situations and these really managed to put a smile on our face on every single one of them. Our selection consisted of electronic, some classical music, a bit of Jazz and also a few heavy metal songs for good measure. In all of them the deeper soundstage and expansive performance was noticeable. The amount of focus really varied depending on the song and the type of performance so while in some cases some imaging was lost there was others moments that we didn't feel the difference.
The Definitive Technology BP9060 proved to us that although the bipolar design may be better suited for movies, content that doesn't ask for extreme imaging it is no slouch when it comes to high quality music reproduction. Yes, they may not be the extremely focused speakers that some other HiFi offerings are but their strengths really can overshadow these small weaknesses their design may show.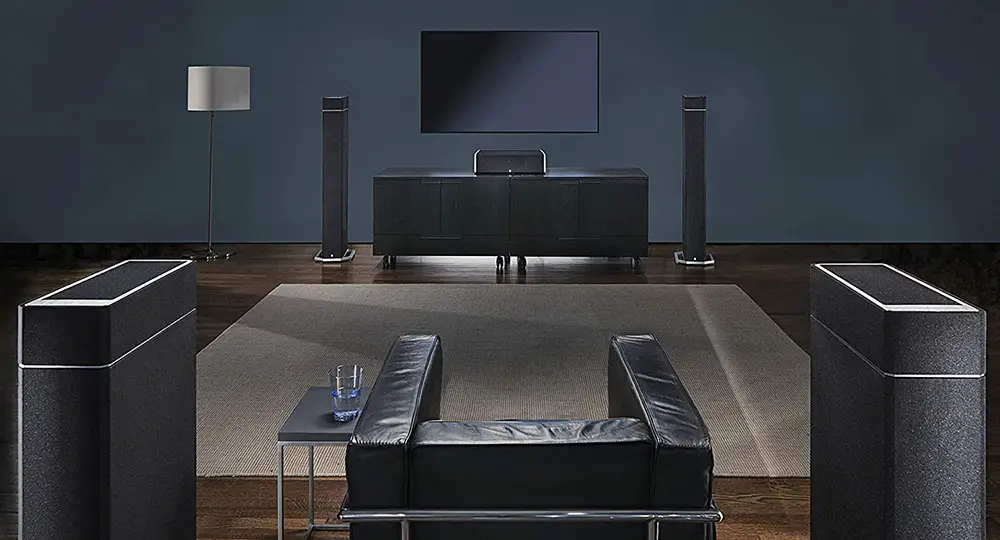 Final Thoughts
Definitive Technology may not be the first brand that comes to your mind when deciding for a new pair of floorstanders. But the BP9060 proved to us that you don't need to have the brand recognition that some other releases have to achieve high quality sound and deliver a remarkable cinematic experience. And with their price being well under the $2,500 price mark for a pair these can be considered a very good choice for those looking for more than an average speaker.
Build quality is very high with an exceptional design and meticulously crafted cabinet that is placed on a very solid aluminum base. The bipolar design is really a very unique and interesting design even though it is not following the standards that most other brands go for. Sound wise the BP9060 is not missing anything compared to other high profile brands. Very high detailed output, spacious and deep performance and bass that is better than most other contenders in the same price range.
When it comes to downsides then these are the obvious ones that we mentioned above. What the speakers gain in wider distribution they slightly loose in imaging and focus. Is this enough to be bothering? Not really, at least not to us but as always you have to lose something for what you gain. Also due to its bipolar design these speakers are surely meant for big rooms. If yours is more limited in space then you may consider one of the smaller offerings in the series like the BP9020. Lastly the base size increase the footprint of the speaker by some margin while the single color offering doesn't allow for much of a choice if you are not fond of dark colors.
This concludes our today's review. We really didn't know what to expect from such a unique design but the Definitive Technology BP9060 speakers proved to be excellent handlers either it is movies or music you plan on using them for. They have the quality and the power to create amazing performances and with a price that is lower than the $2,500 price mark for a pair, at the time of writing this review, they are very affordable for a big chunk of the market and thus gain our higher recommendation.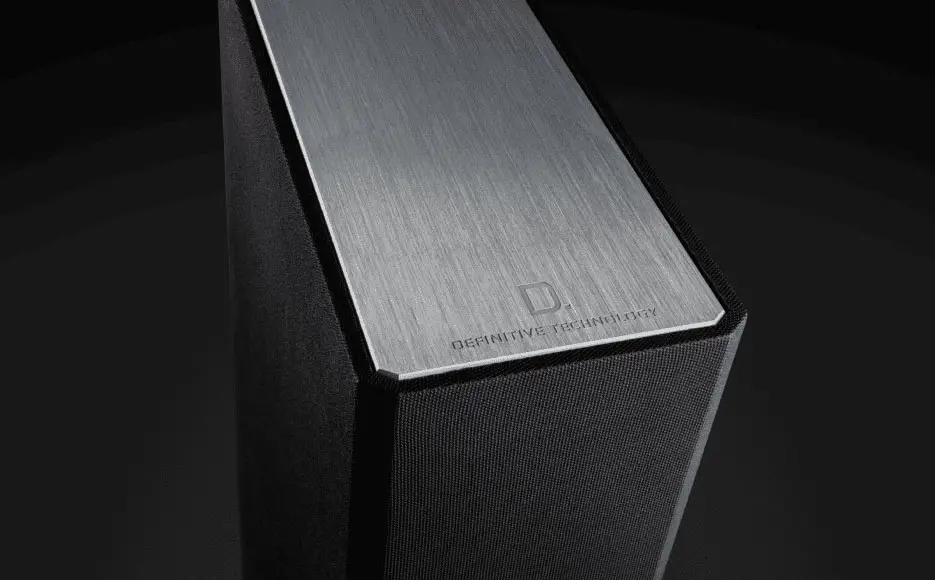 For more reviews you can check our dedicated Floorstanding Speaker reviews list or even look at our Product Reviews Table where you can find the brand and specific product you are looking for.
---
Cheapest Places to Buy :
---
Definitive Technology BP9060 Specifications