Denon AVR-S930H
Design -

90%

Audio Quality -

90%

Inputs / Ports -

89%

OS, Apps and Features -

90%

Price / Quality -

93%
---
Cheapest Places to Buy :

---
Are you looking for a new AV receiver to be the heart of your home entertainment? The task can be a little hard to accomplish as there are so many features in today's AV receivers that you need to be a bit of an expert to know what they can offer. Do you need 4K? Is the new audio formats like DTS:X and Dolby Atmos what you will be using? Denon, a brand that has connected it's name with audio excellence, is offering all these and much more in their latest receiver the AVR-S930H.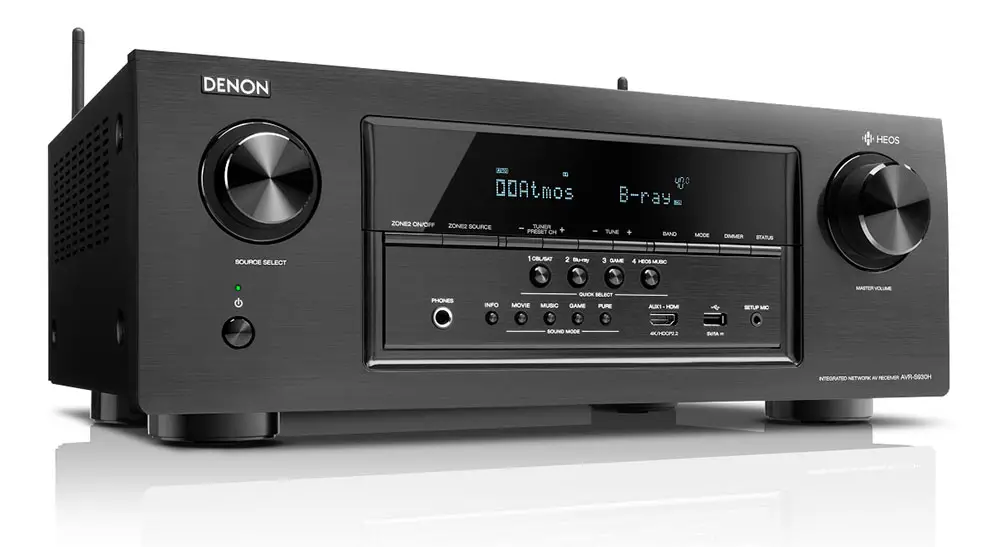 Design
The design of the AVR-S930H is pretty much standard and that we get is to turning knobs in the front, the one on the right for the volume and the one on the left for the source selection. Under the left knob you get the power button. In the center we find the display screen with all the important information like source selection, type of audio track, volume, speakers enabled among others. Under the main display screen we find 4 quick select buttons that you can configure to  whatever devices you have connected. There are also a few other buttons for some basic controls as well as a few connectors. Not much to say about the design and my only observation would be that I would like a front door that would hide all the buttons and ports in order not to collect dust.
Audio Quality
As mentioned before the Denon AVR-S930H supports all the next generation formats from Dolby Atmos to DTS:X as well as most audio formats that i tested on it. The sound is crisp and clear without any audible noise or distortion, something expected from a 2017 AV receiver. Audio separation was good and you hear all the individual sounds coming from the surround channels.
The receiver is not only good for movies soundtrack but excels also in music playback by featuring high resolution audio decoding with file types like FLAC, ALAC and WAV up to 24-bit/196-kHz along with compatibility for 2.8/5.6-MHz DSD files (DSD is the audio coding format of SACD). There is also support for more common lossy file types like MP3 and WMA. All these file formats can be played with a USB memory stick or from your home network.
All in all this is a great receiver and it may not be able to reach the greatness of the top of the line receivers but the overall sound quality will leave you more than pleased.
Inputs / Ports
In the front of the receiver we get an HDMI input, a USB port, a HEADPHONES jack and the port for connecting the calibration microphone. Standard configuration for today's AV receivers.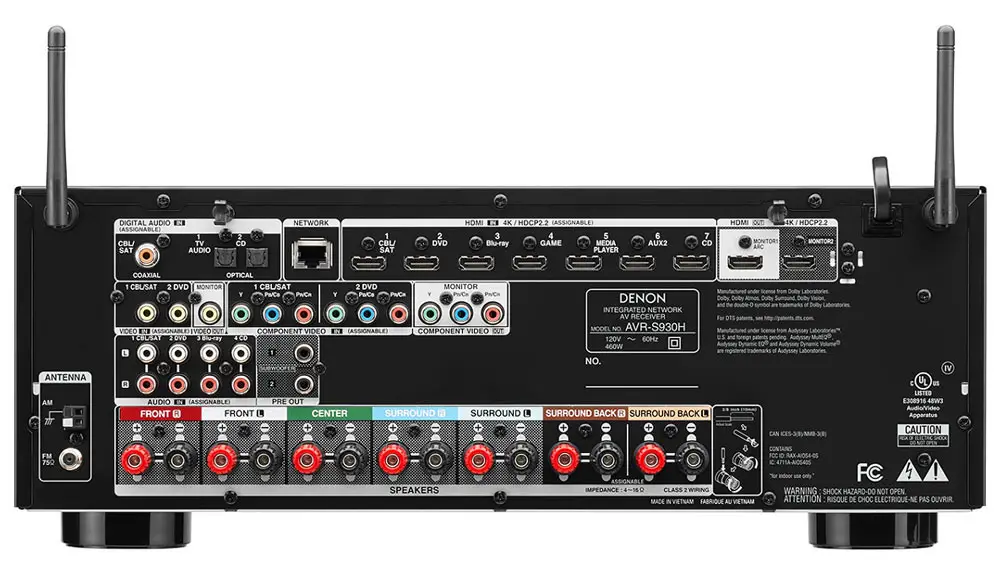 In the back what we get is 7 HDMI inputs and the good news is that all of them are HDCP 2.2 which means they support the latest technologies like 4K, HDR, Wide Color Gamut among others. This means you are getting a future proof receiver that will last for many years to come. It also has 2 HDMI outputs so you can connect both a TV and a projector if you have both.
Other ports that we get is a coaxial digital audio input and two optical digital audio inputs, component video inputs and outputs, composite video inputs, 4 analogue stereo inputs, pre out connectors, FM and AM external antennas connectors and an Ethernet port if you prefer wired connection to the internet. On the bottom we get the speakers connectors enough for a 7.2 channels setup.
OS, Apps and Features
As with all Denon receivers what we get here is the standard features that we are used from a company that has many years experience in the current field. The receiver is rated at a theoretical maximum of 185 Watts per channel. I like particularly the Eco mode that adjusts the max power according to the volume level, but not only this, it also has a meter that shows you how much power consumes at any given moment.
Denon is using a system they developed called HEOS that can handle all your music needs. Listen to music from your home network or online, connect with other HEOS devices around your house, use streaming services and devices and so much more. The receiver can connect to the internet either through dual Antennas or through the RJ45 connector. Denon also offers an android or iOS app to control the receiver through your telephone if you don't like the included remote.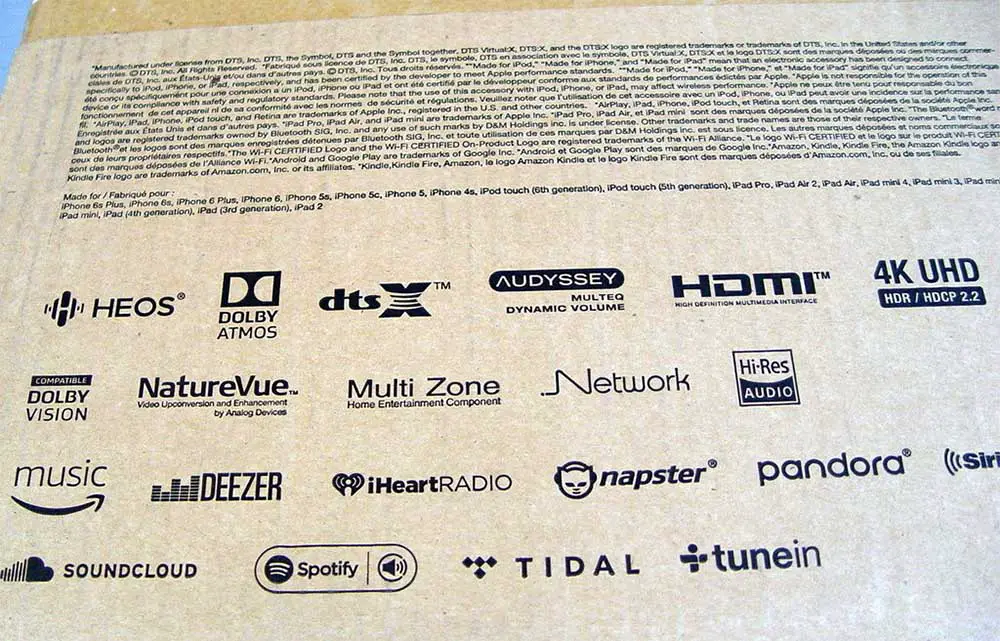 Final Thoughts
This is a receiver that offers so much that it can become tiresome for many. It's a receiver full of features and this makes it a good purchase because it will stand the test of time as the new technologies are just starting to become mainstream. With a lot of connectors, a lot of streaming functions, support for all next generation formats, wireless functions, auto calibration and the HEOS system that Denon created you could not ask for more from a receiver that aims to become the heart of your next home cinema system. Either you want it for movies, music or video games the Denon AVR-S930H can cover all your home entertainment needs.
For more reviews you can check our dedicated 7 channels 4K AV Receiver reviews list or even look at our Product Reviews Table where you can find the brand and specific product you are looking for.
Also don't lose the chance to subscribe to our Newsletter and gain exclusive privileges.
---
Cheapest Places to Buy :

---
Specifications
Power output:   90 watts (8 ohms, 20 Hz – 20 kHz, .08% 2ch Drive)
Number Of Channels:  7
Subwoofer Outputs: 2
>HDMI Inputs: 8
HDMI Outputs: 2
USB Connections:  1 Front
Ethernet Port: 1
HDCP 2.2
Dolby Digital DD, TrueHD, DD+, ES, and Dolby Atmos
DTS, HD, HDMA, ES, 96/24, and DTS:X