Denon AVR-S940H
Design -

90%

Audio Quality -

90%

Inputs / Ports -

90%

OS, Apps and Features -

90%

Price / Quality -

94%
---
Cheapest Places to Buy :

---
Recently we had the opportunity to try out the top receiver in Denon's 2018 S series, the AVR-S940H, that managed to combine good features with a price that is more than affordable in order to build a respectable home cinema system. And while we were prepping to release our review Denon started releasing a trio of new affordable AV receivers for 2019 that belong in their more consumer friendly S series. With the S940H's successor already being sold across various markets we were curious if last year's model was still competitive enough.
It seems that 2019's AVR-S950H has a few updates compared to the S940H like HDCP 2.3, eARC, ALLM (Auto Low Latency Mode) as well as Dolby Atmos Height Virtualization Technology with the first three being part of the HDMI 2.1 protocol that is bound to become the standard in the coming years. But also comes with a higher price of more than $100 in selected retailers. Is it worth it to pay the extra price for these features or 2018's model is still a very liable option to consider. Read our Denon AVR-S940H review to find out.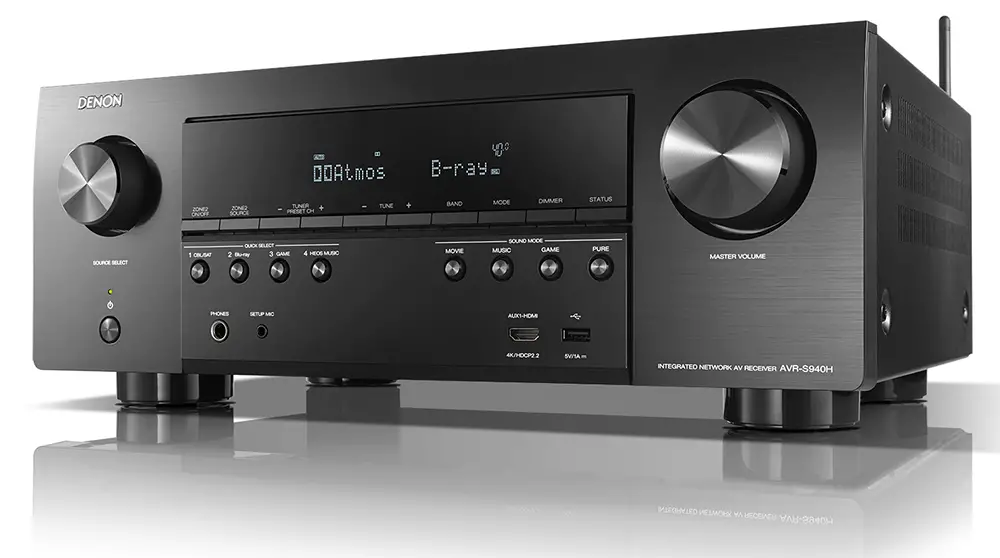 Design
The design of the AVR-S940H is similar to previous years with straight lines and hard edges and while it won't win any design competitions for it's aesthetics it gets the job done. After all AV receivers are probably the less interesting part in a home theater system as it is basically a black box with knobs and buttons. The unit we are testing today measures 17.1" x 6.6" x 13.3" (434 x 167 x 339mm) and weights 20.7 lbs (9.4 Kg) which make it a middle sized receiver and while we never had heating problems with receivers of this size if this is your first experience with such equipment you should be aware to leave enough breathing space around it for ventilation.
The front of the receiver gets the usual front display at the center with two big knobs at the right and left for volume and source selection. Under the source selection knob we find a small round button for the power while under the central display we get a line of 10 buttons for various controls like zone 2, tuner as well as band, mode, dimmer and status buttons. Under this line we get a second group of round buttons with four quick selection buttons to the left and four sound mode buttons to the right. Finally under these we get the usual front connection ports with a HDMI input, a USB port for connecting external storage, the test microphone port and a headphones jack.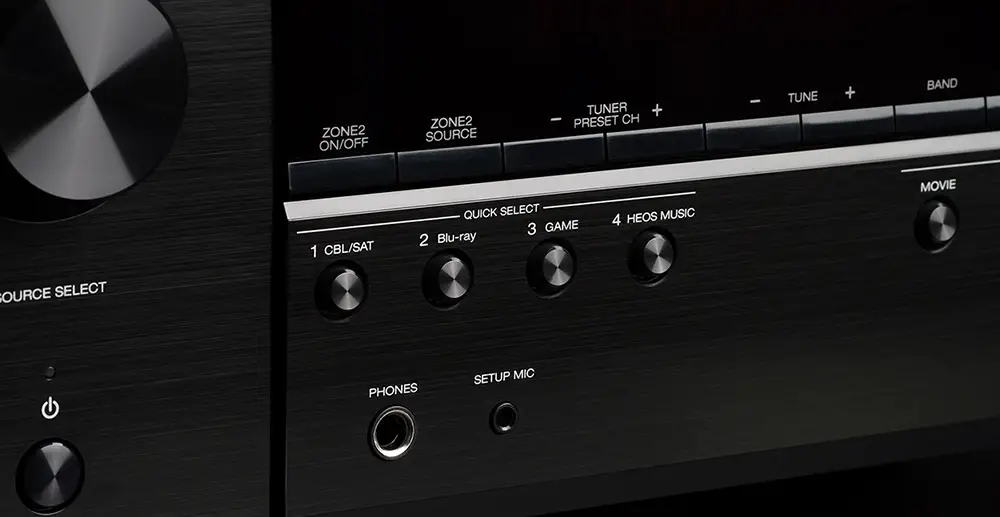 The front face has a black brushed aluminum finish that we have seen in many other receivers while it's construction and build quality, being a Denon product, is in general more than average if you consider that we are talking about a low to middle tier AV receiver. Under the black case the unit is equipped with discrete power amplifiers as well as with a 32bit AKM DAC.
The remote we get with this model (RC-1228) seems to be exactly the same we had seen in some other Denon receivers in their 2018 lineup which has a really forgettable design and there is not much to say about it. It features rubber buttons with good distance between them but with a bit smaller size than what we would like. Buttons placement is the usual fare with source selection buttons at the top, navigation controls in the middle, a trio of playback buttons under them and at the bottom we get the four quick selection and four sound mode buttons we also find on the front of the receiver. No backlight with this remote which is a bummer.

Good design and quality overall from Denon without anything fancy which is typical in this price range. It features everything you would expect from such a product.
Audio Quality
The Denon AVR-S940H supports all the most recent audio formats with Dolby Atmos and DTS:X but also comes with DTS Virtual:X which is an up-mixing technology that gives the illusion of overhead sounds without the need for actual speakers. It seems that these virtual technologies have started to become a standard feature in lower priced receivers also which is a good thing even if the end result is not the most exciting one. But nevertheless it's good to try it for yourself and judge if you like it or not. The only audio format not supported is Auro-3D as this we only find in the top receivers that far exceed the price of the one we test today.
The receiver comes with 7 separate channels and with 90 watts per channel (8 ohm, 20 Hz – 20 kHz, 0.08% 2ch Drive) in addition to the 2 subwoofer ports the AVR-S940H is capable in providing the necessary power for any kind of small to middle sized audio room. With the channels provided the unit grands you the ability to create various setups from the most simple 5.1 surround setup all the way to a full 5.2.2 Dolby Atmos enabled system with dual subwoofers and 2 overhead speakers for the height layer effects. During our testing we went for a 5.1.2 system which is our preferred setup whenever we test a 7 channels receiver with the 2 Dolby Atmos speakers being placed in the middle of our viewing area.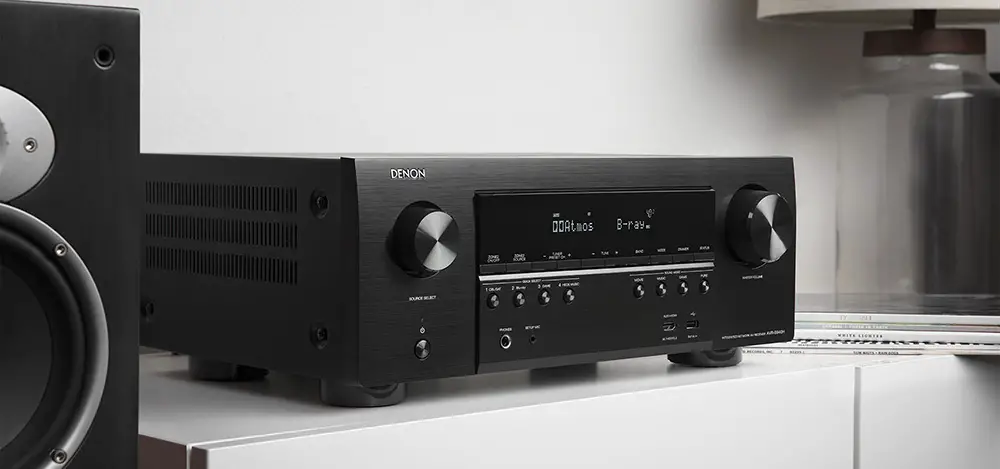 Moving on with our testing we chose the 4K UHD of the Transformers: The Last Knight with it's bombastic Dolby Atmos track that can make any receiver run for it's money. We are not very fond of the film's quality in general but it's visual and audio qualities are undeniably amazing.
The Atmos track provided was a good choice as the AVR-S940H managed to show very good control over the overwhelming audio elements it's action scenes provide. With so many explosions, missiles, projectiles flying all around, debris falling and giant robots duking it out the receiver was able to provide all of them with tight control over the 7 channels with good channel separation and precise shifting between the speakers.
Overhead channels provided the necessary height to the soundstage creating an even more immersive experience. And even through all this cacophony dialogue managed to stay very distinguishable from the rest of the audio. Pushing the volume to higher than normal levels made the receiver reach it's limits but the 90 watts provided are definitely more than enough for the average viewer.
We also tried an all time favorite which is the Blu-ray version of Lord of the Ring: The Return of the King. It may not have an object-oriented audio track but the DTS-HD Master Audio that comes with the Full HD version is one of the finest in this format and because the film offers a different, more orchestrated, type of audio track we like to include it in our tests. Our reference scene is during the Minas Tirith siege with the charge of the Rohirim against Sauron's army. What an amazing moment that is with so many audio details making this scene so much more alive. The receiver performed here very well also with the sound effects being reproduced with great clarity and precision while Howard Shore's orchestrated music gave so much more depth to the whole scene.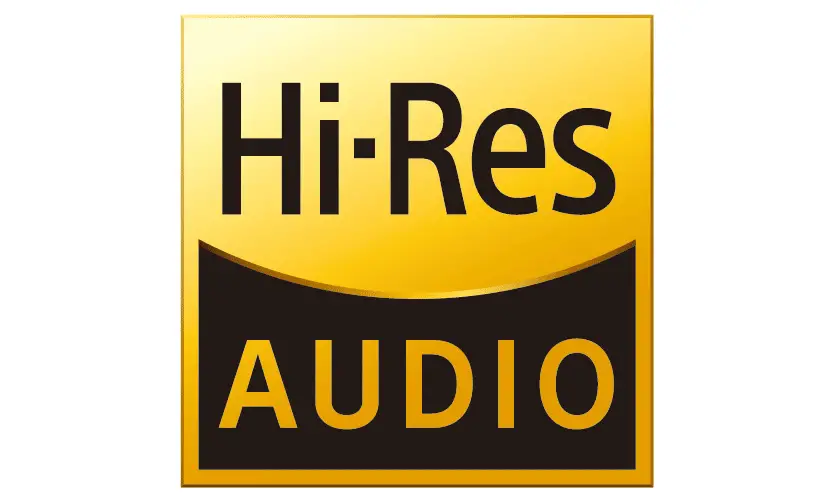 Naturally such a receiver couldn't do without support for not only lossy audio files but also have support for High Resolution Audio. As such the list of supported audio types extends to MP3, WMA, AAC, FLAC, ALAC, WAV, FLAC HD 192/24 bit, WAV 192/24 bit, ALAC 192/24 bit as well as DSD streaming (both 2.8 and 5.6MHz). Always during our receiver tests we prefer to use a selection of FLAC files that we stream through the USB in order to test the music capabilities of the unit with all of them being streamed flawlessly.
The resulting sound was in general very good with the receiver giving a very solid performance. Every music instrument was very distinguishable while their position in space was well defined. Separation between the music and vocals was good and they never overlapped into one another. Also balance in the mid-range was very good creating an excellent bridge between the high and low frequencies. The receiver was able to feed our subwoofer the necessary bass giving the necessary weight to each music track. It felt like the overall audio was a bit too clear and we would prefer just a bit more warmer tone to the overall audio signature but this is really a personal preference than a problem with the receiver's performance.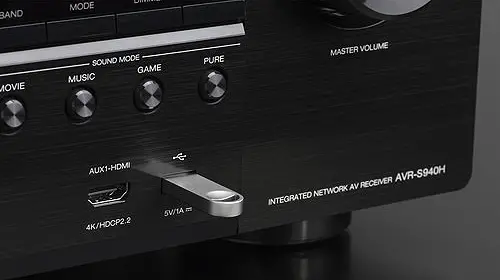 Overall we don't have any complaints as far as it's movies or music performance. At this price range you should expect more or less a standard behavior and this is what we experienced here. The Denon AVR-S940H will not dazzle you with it's audio capabilities but will definitely offer you more than enough to feed your acoustic needs either it be an action film or any kind of music track. And for it's cost you cannot ask for anything more.
Inputs / Ports
Connectivity wise the front side of the S940H offers a pretty standard setup as the ports we are getting is the usual headphones jack and next to it the Audyssey test microphone input with both of them located under the four quick selection buttons while under the sound mode buttons to the right there is an HDMI input that supports 4K/HDCP 2.2 and a USB port (5V/1A) for connecting external storage.
Turning the receiver on it's back is where we find most of the connections with the most important ones being the 7 HDMI inputs and 2 outputs on offer with all of them being 4K/HDCP 2.2 enabled. On the bottom there are 7 speaker terminals enough to create many different setups from the most simple 5.1 system all the way to a Dolby Atmos enabled 5.2.2 channels setup.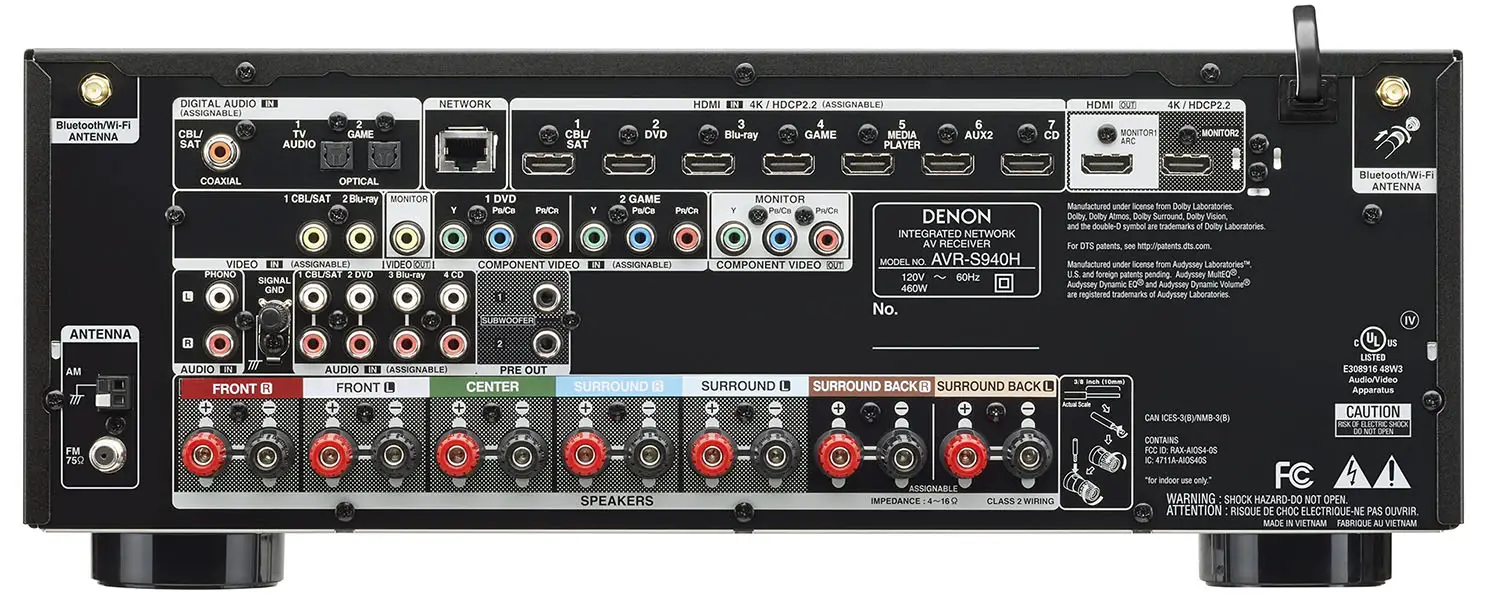 Looking at all the other connections we get 4 analogue stereo inputs, 1 dedicated photo input, 2 composite video inputs and 1 output, 2 component inputs and 1 output, 1 coaxial digital input as well as 2 optical ones. There is also an Ethernet port for wired connection to the Internet while on the bottom left corner are the FM and AM Antenna ports. Lastly on both left and right top corners we find the standard WiFi/Bluetooth antennas.
Nothing fancy here as we get the most basic types. There are no pre-outs, RS-232C, remote control ports or some other types that we mostly see in the top tier premium models but if you are interested in a receiver in this price it means that most probably you will not need any of these more specialized ports making the AVR-S940H offering a very solid selection for the most usual setups.
OS, Apps and Features
The Denon AVR-S940H has all it's HDMI ports support HDCP 2.2 which means we get 4K/60Hz full-rate pass-through, 4:4:4 color resolution, HDR and BT.2020, plus Dolby Vision compatibility and Hybrid Log Gamma (HLG) that is used for broadcasting in all of them. There is also upscaling supported with SD and HD signals upscaled to 4K resolution but this feature is limited only from HDMI signals as analogue to HDMI upscaling we only find in top tier models. It's a nice feature to have but we prefer the upscaling to be handled by our TV rather than the receiver.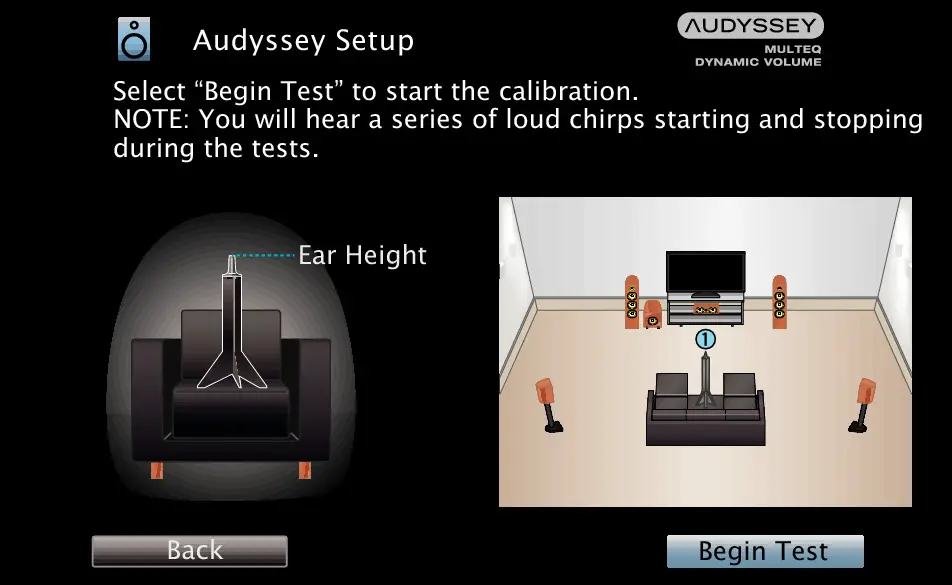 One major difference we find in this S series compared to the more premium X series is that here we get the simpler Audyssey MultEQ calibration system that offers less options and capabilities than the more advanced XT version that we saw in the X series. Along with it comes the Dynamic EQ feature that helps to keep the dynamic levels and clarity even at low levels as well as the Dynamic Volume which balances sudden volume spikes between TV programs and commercials shifts. Lastly the Audyssey LFC is also missing as it is reserved for the higher models.
Calibration can be done with 2 ways by either using the receiver's built-in user interface or alternatively you can download the Audyssey MultEQ Editor in your smartphone as it is available for both Android and iOS devices. The app offers much more flexibility and options compared to the built-in UI as it can show you speaker detection results, it lets you know of possible wrong installation as well as compare results before and after calibration. Along with a nice visual interface the Editor app is a really useful tool for any serious audio fanatic. The only downside of the app is that it's not free and you have to pay a one time fee to be able to download it which is a shame really.

Other than the Audyssey app Denon has also created the Denon 2016 AVR app with which you can control your receiver's functions if you prefer that than the usual remote. It's a lovely app and during the time we have used it we have only good words to say about it. Also being free is a plus and you can definitely give it a try to see if you like it or not.
Connecting the receiver to the TV through an HDMI cable and powering it on we were greeted by the Denon Setup Assistant which helped us go through the rest of the setup with a series of step by step instructions in order to finish all other connections in our system. It's a very easy to follow guide giving you very clear directions that even if you are a completely rookie with such kind of equipment you shouldn't have any problem to finish. After ending with the setup all settings are separated into 8 different categories with Audio, Video, Inputs, Network, HEOS Account, General settings and Setup Assistant covering everything you need. Simple but practical we would say but we would like the visuals to get a fresh hand of paint at some point in the future.

There is also an ECO mode available that you can turn to Auto or completely turn off. In the Auto mode the receiver is managing it's power automatically in order to reduce power consumption while turning that off will work at full power all the time.
Concerning streaming services we get what seems to be the standard list that consists from Spotify, Pandora, SiriusXM, Amazon Music, TIDAL, Deezer, iHeart Radio, Napster, Soundcloud, Mood Mix as well as Internet radio with TuneIn covering every major service in existence. The receiver also gives you the ability to stream music from your local network if you happen to have a NAS server connected or some other network storage.
The Denon AVR-S940H can connect to the Internet either through it's built-in WiFi which supports both 2.4GHz/5GHz or with the included Ethernet port. We used the wireless option during our testing and everything was smooth without experiencing any connection problems. Obviously if you have a weak signal for whatever reason it's preferable to use the wired option to have the best results.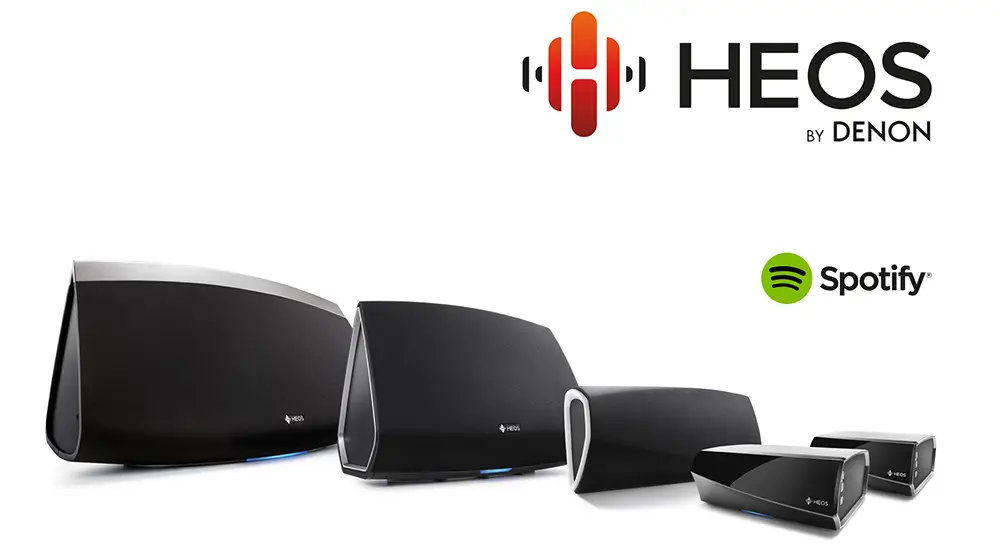 But network streaming is not the only option as with the front USB you can stream music through external storage or flash drive while with the built-in Bluetooth you can stream audio from a tablet or smartphone. Completing the list of streaming capabilities of the S940H we also get Apple's Airplay as you can stream content from an Apple device to the receiver.
As far as multi-room capabilities the AVR-S940H comes with the HEOS feature that lets you create your own multi-room environment if you have the necessary HEOS speakers across your house or alternatively you can use Apple's Airplay 2 which is a similar feature with multi-room capabilities.
Voice control has become the norm nowadays and while until recently manufacturers were supporting mostly one of the major voice control features it seems there is a slow adaption of the full set of voice control options available. As such the AVR-S940H comes with support for Amazon's Alexa, Google Assistant, Apple Siri and Josh.AI giving you the freedom to choose to your liking. We tried a bit of Alexa to see how the receiver behaves and it seems that the unit responded well to most of our commands.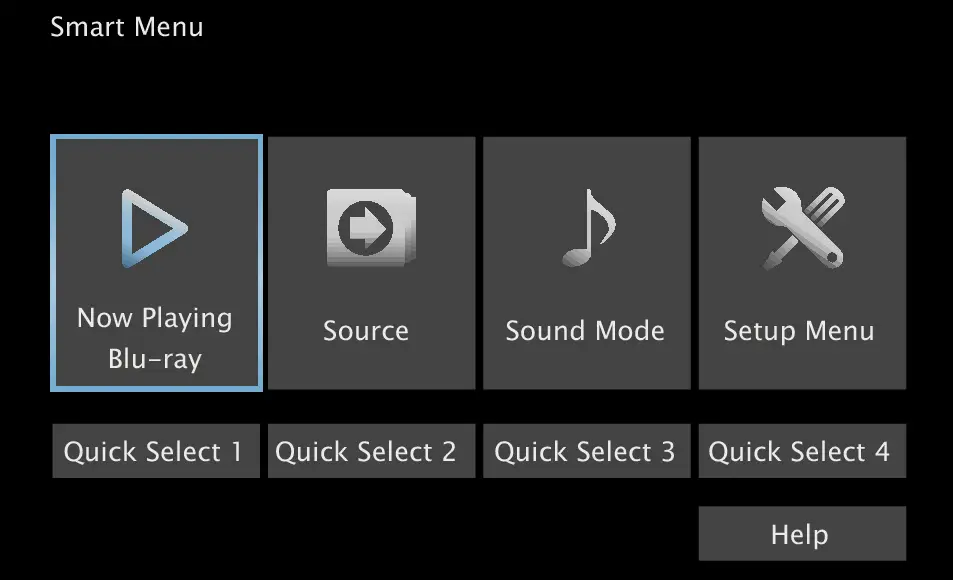 Lastly we get smart TV connectivity through the HDMI CEC function as with it you can control the receiver with your smart TV remote. This can be a very handy feature if you have a small flock of remotes sitting around your media room and you try to find a way to reduce their numbers a bit. By using this feature and in conjunction to the Smart Menu home screen you have quick access and full control over your receiver.
Feature wise the Denon AVR-S940H comes fully packed especially if you consider the price you have to pay for it. Yes it is missing a few very specific features that you can find in far more expensive units but for the average Joe that is looking for a good quality receiver to build a nice home theater this unit provides all the features someone would ever need and more. Good work from the manufacturer in this regard.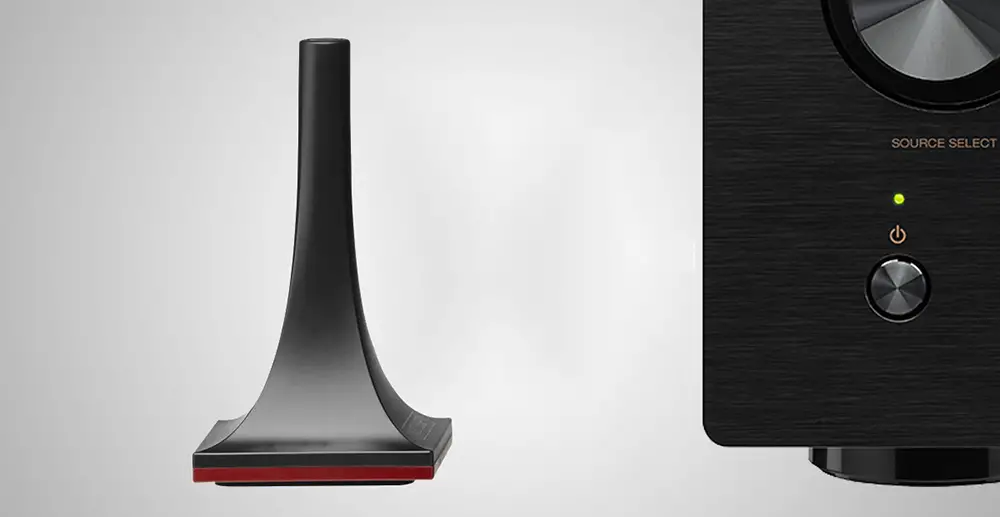 Final Thoughts
Denon had never disappointed us in the past and closing this review we were left once again with a very good opinion of this model. With the new 2019 models now out last year's offering will slowly start to phase out which means a lower price makes this the perfect opportunity to get it.
The AVR-S940H offers very good audio performance both in movies and during our music tests, supports Dolby Atmos, DTS:X as well as up-mixing technologies like DTS Virtual:X while it offers many connectivity options. It also comes with Denon's Audyssey audio calibration system with the Dynamic EQ and Dynamic Volume features for easy calibration of your home theater. It's 90 watts per channel amplification will be more than enough for small or medium sized media rooms and home cinemas while the unit also comes with a wealth of online, streaming and multi-room features as we get HEOS, Airplay, Airplay 2, voice control with Alexa and Google Assistance as well as the most usual streaming music services.
Is there anything we didn't like? Well in this price not much. There is no Auro-3D obviously and we get only 2 height channels which makes the overhead effect less pronounced and precise than having 4 speakers. Also having a big home theater room means that the receiver may run out of juice with it's 90 watts of amplification but this depends on how loud you like to go with it.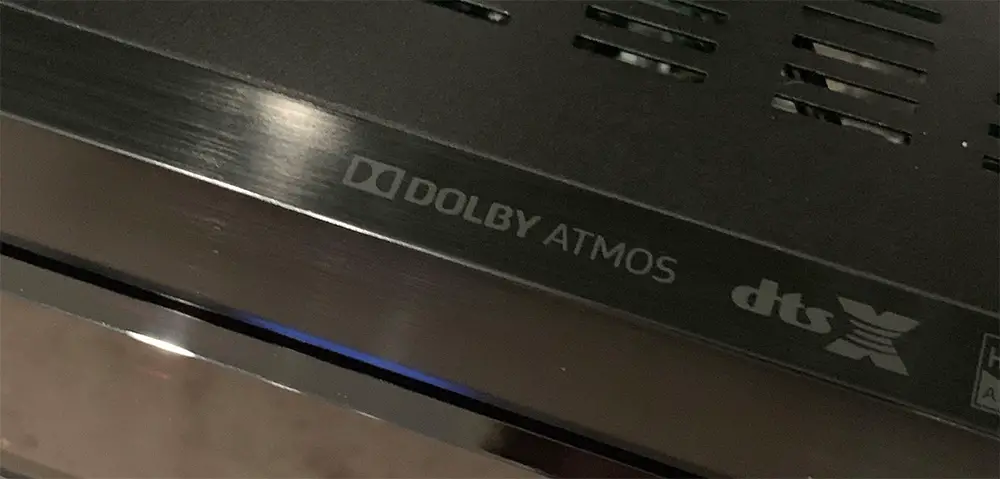 Some naturally will wonder if it is worth it to go for the AVR-S940H now that the new AVR-S950H is out. Well, the two receivers are not very different, on the contrary we would say they have more similarities than differences with most differences centered around 2 features. Firstly Denon updated it's HDMI ports to support some of the version 2.1 features like ALLM, eARC and HDCP 2.3 while the second being Dolby Atmos Height Virtualization.
There are a few other smaller differences but nothing major. Does these two extra features worth an extra $120? Currently we would say no as there is no content that needs HDMI 2.1 right now while devices that support it are few and far between. Yes, this makes the S950H more future proof but until the new HDMI becomes the norm much newer receivers will have been released. As such we believe that the Denon AVR-S940H with it's new lower price makes it an excellent choice for anyone that looks for a quality receiver without looking for anything fancy and thus gets our high recommendation.
For more reviews you can check our dedicated 7 channels 4K AV Receiver reviews list or even look at our Product Reviews Table where you can find the brand and specific product you are looking for.
Also don't lose the chance to subscribe to our Newsletter and gain exclusive privileges.
---
Cheapest Places to Buy :

---
Specifications
High-performance 7.2 channel AV receiver with 90W (8 ohm, 20 Hz – 20 kHz, 0.08%, 2ch Drive)
Supports Dolby Atmos (5.2.2), DTS:X and DTS Virtual:X audio processing
Amazon Alexa / Google Assistant / Apple Siri / Josh.AI voice control compatibility
HDMI 8 inputs/ 2 outputs; HDCP 2.2 support on all HDMI ports
4K Ultra HD/60 Hz full-rate pass through, HDR, Dolby Vision compatibility and HLG
Advanced Graphical User Interface and Denon AVR remote app
Spotify / Pamdora / SiriusXM / Amazon Music / TIDAL / Deezer / iHeart Radio / Napster / Soundcloud / Mood Mix available streaming services

Built-in HEOS wireless multi-room audio technology

Smart TV connectivity to control the AVR-S940H with a TV remote
ARC and HDMI-CEC support for seamless pass-through of the latest picture and audio coding from your TV to the AVR
Front panel USB input for convenient audio playback of MP3, WAV, FLAC, ALAC and DSD (2.8/5.6MHz) files
Smart TV connectivity via HDMI CEC

Phono input to connect your turntable and play vinyl records

Upgraded sound design with 32bit AKM DAC
Powered HDMI Zone 2 for same or different source

Dual subwoofer outputs

Audyssey MultEQ app and included mic and stand /Dynamic EQ & Volume