Denon AVR-X1700H
Reviewed at $699.00
Product Name: Denon AVR-X1700H
Product Description: 7.2 CH 8K AV Receiver
Design -

9/10

Audio Quality -

9/10

Inputs / Ports -

9.2/10

OS, Apps and Features -

9.1/10

Price / Quality -

9.2/10
Summary
Reviewed at $699.00
Pros
Excellent audio output
Three 40Gbps HDMI 2.1 ports
Fully packed with features
Affordable price
Cons
No front HDMI input
Remote and UI need a refresh
Audyssey MultEQ Editor app not free
Bluetooth still v4.2
---
Cheapest Places to Buy :
---
While many were hoping for a new lineup of AV receivers in 2022 it seems that we will have to wait a bit longer to see a refreshed lineup from Denon. But this doesn't stop us from looking at some of their previous releases and so in our Denon AVR-X1700H review today we are going to be testing the smaller unit they have available in their more premium X-series.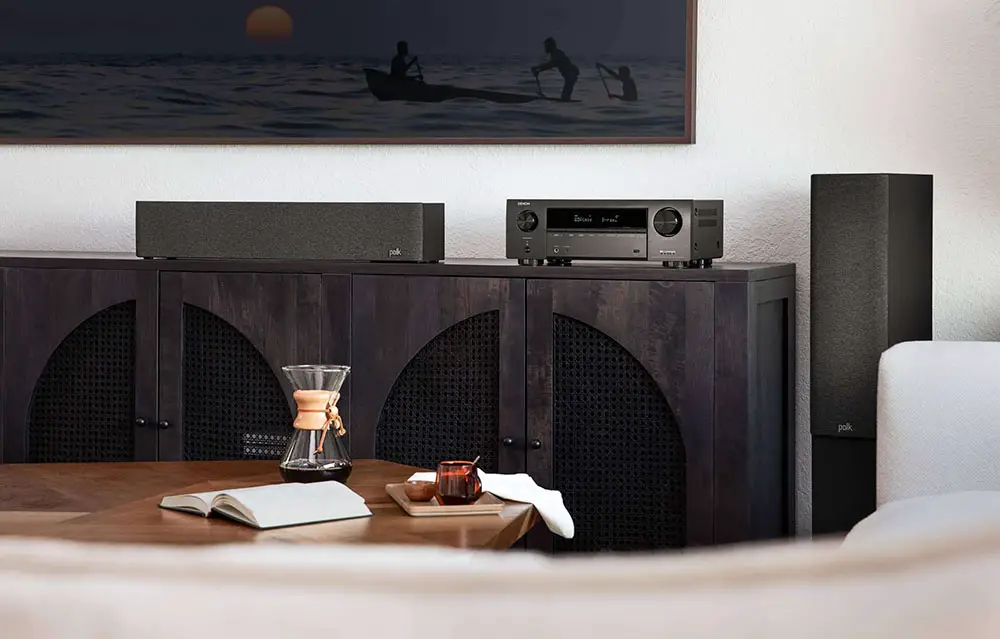 Although Denon has separated their AV receivers into two categories, the X-series and the S-series, some models from both seem awfully similar, both in design and specs. This is because both series have in fact a lot of common hardware and their differences are very small to distinguish upon first look. The AVR-X1700H for example that we have here today seems to be very close in specs with the AVR-S760H which we reviewed a few months ago.
So what does the X1700H has to offer? The unit features 7.2 channels of built-in amplification with 80 watts of power, supports Dolby Atmos and DTS:X along with the usual virtual and up-mixing tech like Dolby Surround, DTS Neural:X, Dolby Atmos Height Virtualization and DTS Virtual:X, comes with Audyssey MultEQ XT auto calibration system and features plenty of extras like High Resolution Audio, HEOS technology, AirPlay 2, voice control, custom integration as well as HDMI upscaling and fully working HDMI 2.1 ports.
Many are wondering of the differences between the X1700H and the S760H so as we analyze this AV receiver we are also going to point out what is different so in the end you can decide which one is best for you. So without further delay let's start our review.
Design
In terms of design the X1700H seems to borrow elements from both its bigger brother, the X2700H as well as the S760H. The unit does not deviate from the usual Denon look and this is something that the manufacturer has kept in all their releases the last few years.
Dimensions wise the X1700H is exactly the same as the S760H and so we measured it at 17.1″ x 13.3″ x 8.5″ (434 x 339 x 215 mm) with the antennas in vertical position. You can slightly minimize its height to 6″ (151 mm) if you turn them horizontally without any loss of wireless quality and thus strikes a perfect balance between size and capabilities. The size of the receiver is just about what you should expect from this category so no real surprises here.
In real Denon fashion the outer shell is featuring straight lines and sharp corners as this is your typical black box receiver that sounds much better than it looks. The front features a brushed metal texture with the exact shame layout as some of the other receivers in the X-series.
This means a big central display showing all functions with two big circular knobs at each side for volume on the right and source selection on the left. Under the source selection knob we find the power button while a thin line under the central display houses 10 function buttons that include tuner and zone 2 controls, Dimmer, Status and four quick select buttons.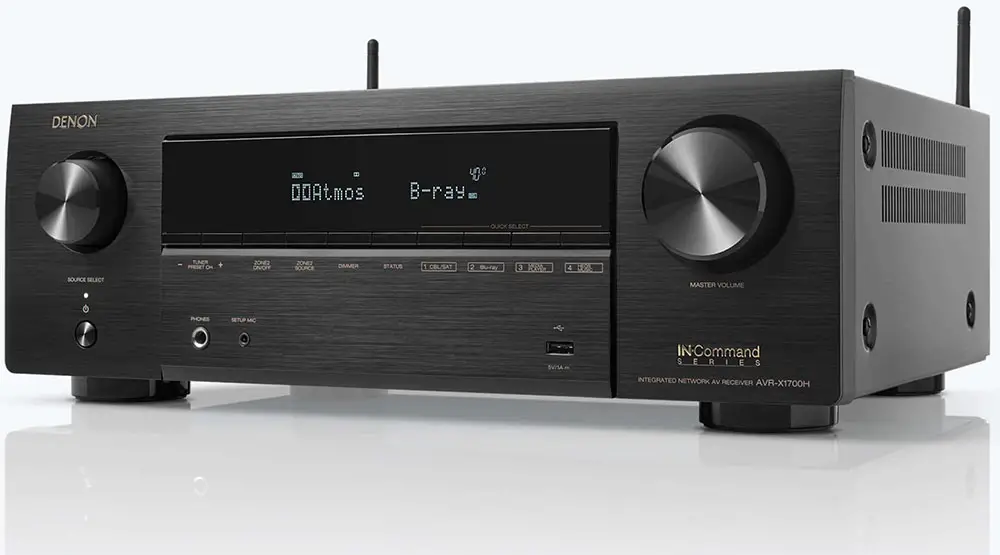 What is missing in the X1700H that was present in the S760H is the eight circular buttons beneath them. Not a big omission in our opinion and having less buttons visible makes the face of the X1700H feel less cluttered.
Under these buttons, as usual, we get the front ports with the headphones jack and setup microphone port on the left and a single USB port on the right that can be used to stream audio from a USB based external storage like a flash drive. There is no front HDMI unfortunately which is something that Denon has done in many of their latest releases. Hopefully they will bring this back as it is a huge convenience and should be available.
When it comes to its internal hardware we don't find much difference from other similarly priced Denon units either. The receiver features discrete high-current amplifiers on all channels with low-impedance drive capability while it's 32-bit D/A converters allow for high resolution audio decoding up to 192 kHz / 24-bit while providing low distortion and the widest possible dynamic range.
The remote we find with this unit is code named RC-1244 and is exactly the same one we used in the S760H which is not all that surprising given that both receivers are so much alike.
The remote comes with all the input buttons at the top along with the HEOS and Bluetooth functions, navigation buttons in the middle along with channel and volume controls while playback, quick selection and sound mode buttons are being placed at the bottom.
The remote in general is a big one while the buttons have a relatively small size and we would like them a little bigger to be easier to the touch. At least the long distance between them minimizes the risk of a wrong command which can be a regular phenomenon in a dark environment since the remote lacks any kind of backlight functionality. Its construction is good and feels pretty solid with a nice texture on top to make it look a little bit more premium.
To be honest, while the remote is ok we would definitely love to see a total redesign that would use far less buttons and would be paired with a new UI to take advantage of it like smart TVs do nowadays. Because the control scheme of most AV receivers seems like it is stuck in the 90s.
Overall a solid offering. The X1700H has the usual quality that we are accustomed by Denon. It may not wow you by its presence but its performance is what matters more than anything with these systems.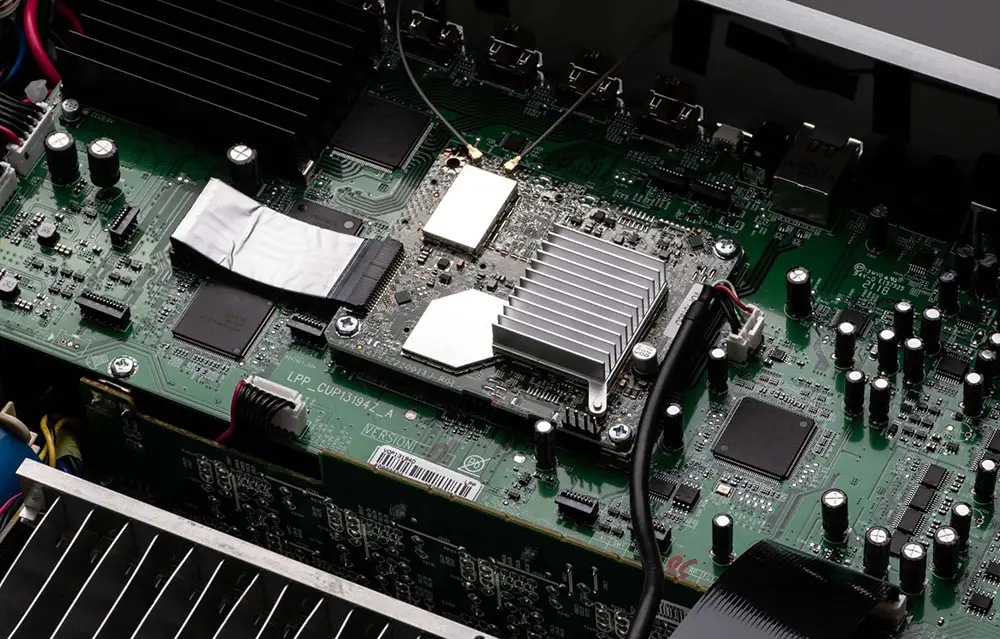 Audio Quality
When it comes to its audio capabilities the X1700H offers the standard you should expect from a system with this price tag. We get support for the usual Dolby Atmos and DTS:X object oriented audio tracks but along with these we get support for up-mixing and virtual technology features in case you prefer to use them.
When it comes to up-mixing tech we find the usual Dolby Surround and DTS Neural:X. What these up-mixing tech are doing is to up-convert stereo and legacy mixes in order to make use of all the speakers you have in your setup. As for virtual tech Dolby Atmos Height Virtualization and DTS Virtual:X are capable of creating sounds that originate from virtual created speakers around your room where there are no physical speakers present.
This virtual tech obviously is not as good or accurate as having real physical speakers and are very much room dependent. Also the sound many times can be heard very over-processed something we were never very fond of. If there is anything missing here that would be Auro-3D along with IMAX Enhanced as both of these are kept only for the higher tier releases in the X-series. But support for these is minimal so you don't loose much.
The X1700H is the most affordable X-series receiver and comes with 7 channels of built-in amplification with each channel capable of 80 watts of power (8 ohm, 20 Hz – 20 kHz, 0.08% 2ch drive). As always you should not be fooled by this number as manufacturers always give ratings with only 2 channels driven meaning that when all 7 channels are active this number goes down considerably. Unfortunately they don't provide power ratings when all channels are in use which is a shame.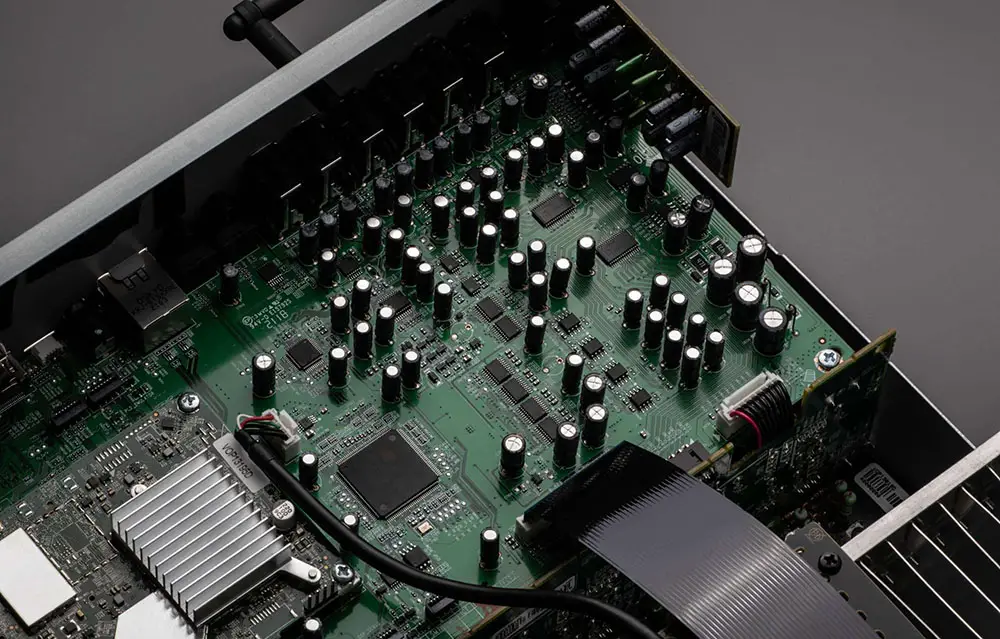 With the supported channels you can go all the way for a 5.2.2 channels audio setup with two dedicated overhead speakers for higher immersion. For our test we went for a 5.1.2 setup using a single subwoofer, placed on the front left corner, and 2 Atmos ceiling speakers placed at the middle of our viewing area.
First test of the day was Battleship in 4K UHD which comes with an explosive DTS:X mix. Regardless of what you believe of the film, in our opinion it was fun and pure pop corn action, the DTS:X mix it comes with can surely bring any system to its limits.
The X1700H showcased all the same characteristics we had heard in many of our other Denon AV receivers. The front soundstage is the most prominent one, obviously, but the Denon managed to give it nice depth and satisfying extension in all other axis.
The front channels did a magnificent job at reproducing all the elements on screen with great accuracy, high resolution and masterful precision. The center channel made sure to keep all dialogue contained from the rest of the action making it very distinct and easy to hear no matter if it was some calm scene or when all hell broke loose.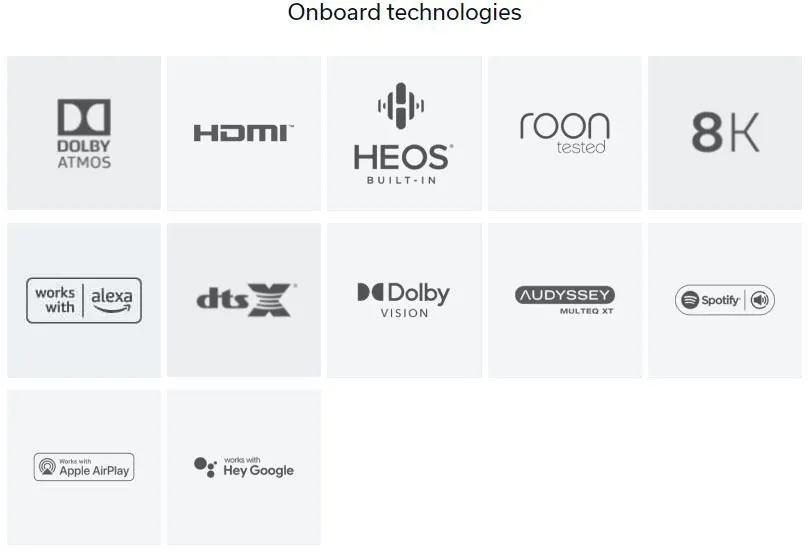 Atmos effects were equally impressive and although these were not so much to the face the added height to the performance was more than obvious in certain scenes. When the alien ship launches the explosive pegs towards the Navy Destroyers you can clearly feel them flying above your head. And the film is full of such moments with the X1700H never missing the chance to show how good it is at reproducing them.
Surround activity was also very satisfying. The film takes place in open sea waters and the exceptional surround capabilities of the Denon makes it possible for this expansive world to translate nicely into your home theater area. The rear speakers were active most of the time and a lot of sound effects had very precise panning activity like machine guns, cannon fire and missiles.
The bass was also very impressive, and if you have a good performing subwoofer the Denon will really show what it is capable of. You will get more than enough shaking that will make some of your neighbors angry and it shows that the receiver has no problem throwing everything it has to your subwoofer.
Next we changed pace and went with the newly released Jurassic World: Dominion and its excellent DTS:X track. Jurassic World offers a bit of a different scenery, one that relies more on ambience and atmospheric effects and the AV receiver did a really great job here also.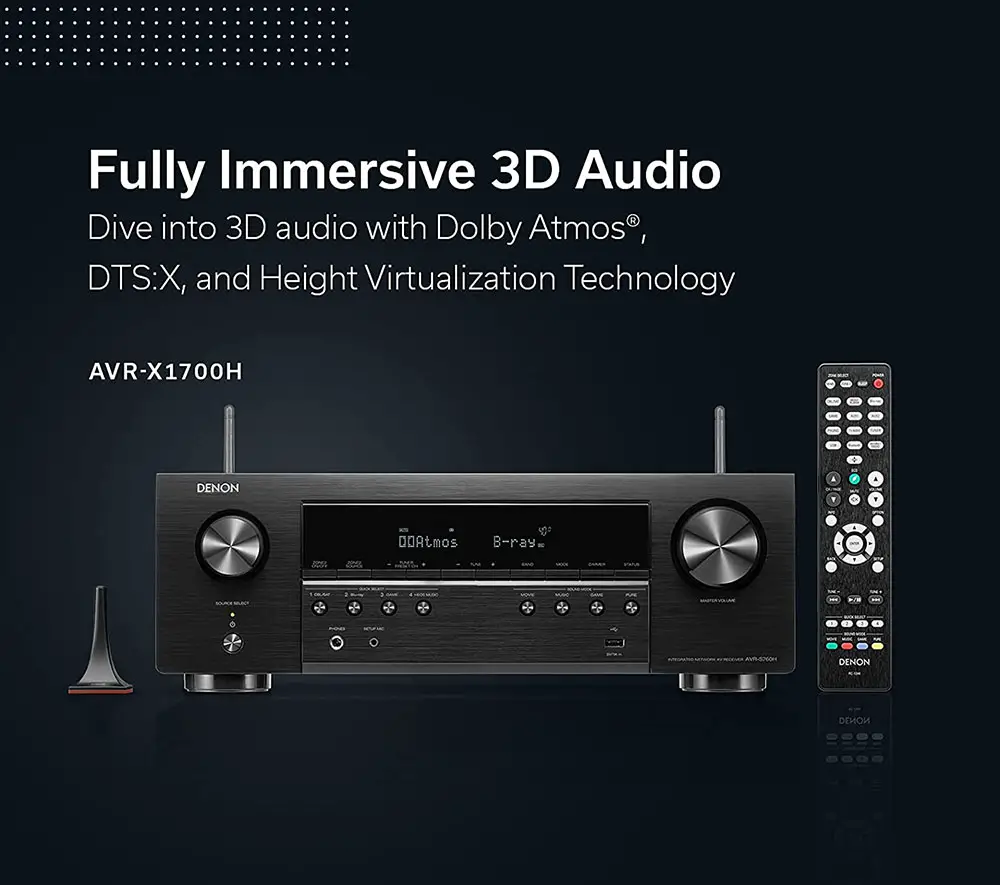 The front soundstage kept all elements together with a balanced and high resolution output. This is a more dialogue driven film and the center channel produced all voice with clarity and complete isolation from the rest of the audio.
Once again there was nice expansion across all channels but the difference here was that instead of gun fire and missiles flying all around, we got nice environmental effects. Especially during the last act, in the dinosaur preserve, you could hear a lot of subtle sounds emitting from the jungle and these came from all angles making you feel as if you were really there.
During the dinosaur chase in the city the fast camera movements allowed the Denon to reproduce all elements that were not visible to the camera and it was a scene that really throwed us in the middle of the action.
Here the surround capabilities of the Denon played a huge role as the rear speakers did an excellent job at binding the action behind us with the main front stage. The same can be said about the overhead layer, although with Jurassic World this was more subtle and not as obvious as in Battleship.
Lastly a special mention to the bass itself. Obviously a good subwoofer will jump from joy here but the X1700H did its part perfectly by providing it with all the low end information needed to portray all the roars and heavy action of these big animals in their raw and natural state.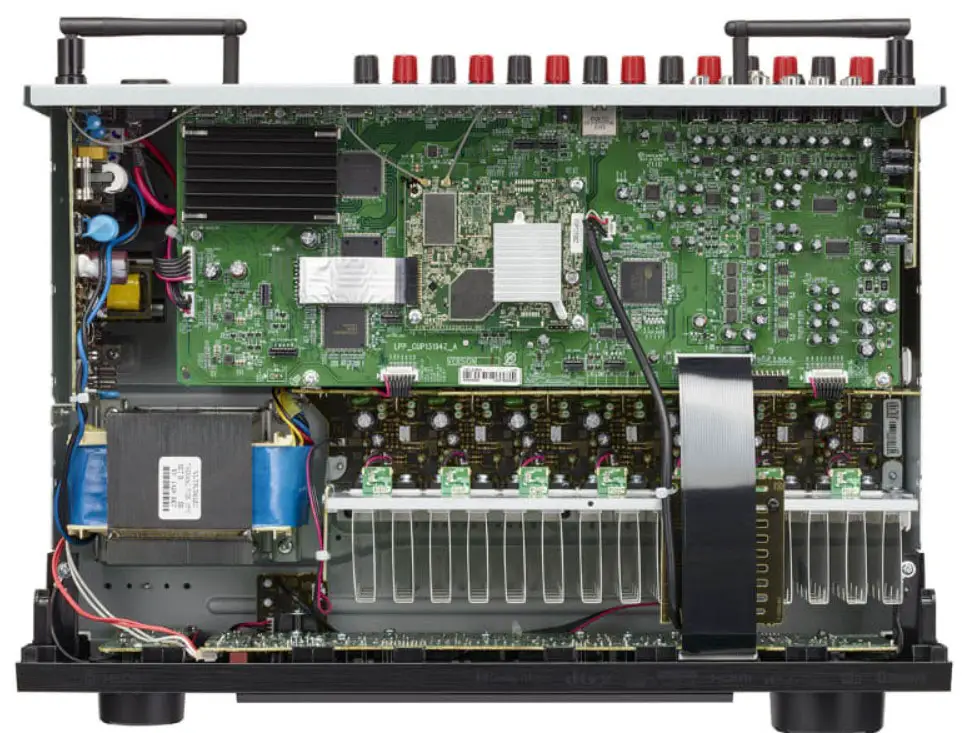 Closing our movies testing there is not much else that can be said about this receiver. It is every bit as good as we were expecting it to be and shows that Denon remains one of the most prominent players in the home theater sound market. If you have a relatively small area and you are looking for a good performing AV receiver the X1700H should definitely be on your list.
Naturally, High Resolution Audio couldn't be missing so except from the usual low quality MP3, WMA and AAC the receiver can also playback FLAC, ALAC and WAV files up to 192 kHz / 24-bit as well as DSD for both 2.8 and 5.6 MHz. In our case, as we always do in our reviews, we selected a few music tracks in FLAC format that we streamed through the USB port of the receiver for the best possible quality.
And for that we switched to a 2 channels setup which is mostly preferred when listening to music. As we always say it is not only a matter of how good the AV receiver is but also with what kind of speakers you are going to pair it with in order to get the best of results.
The X1700H did not behave all that much different than the S760H we had tested before. After all, these two have so much in common that it would be surprising to notice any differences between them. The receiver may not offer the most powerful of performances, after all it is not meant for such use, but surely it can do music real justice if it is paired with good quality speakers.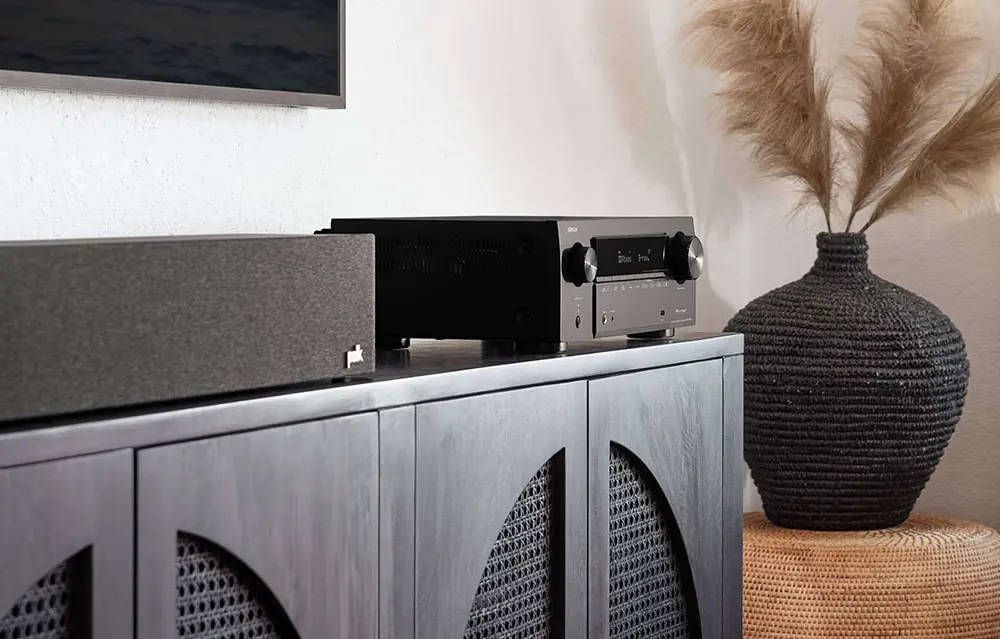 From what we heard there was nice balance across the entire frequency spectrum, there were no noticeable exaggerations at no point of our session and it seems like it knew its strengths and what it was capable of and never pushed beyond that.
As we always do in this part of our review we threw a few different genres to it including electronic, jazz, heavy metal and some classical music and the Denon played nice with all of them. There are obviously a lot of factors at play that can determine the sound output but at least in our case we found the X1700H to be a very capable handler of anything that has to do with music.
Obviously for those looking for the absolute best will prefer to go with separates equipment but if you are the kind of person that wants such a receiver for mixed use then the Denon will suffice and then some. It may not sit at the top of the HiFi ladder when it comes to pure audio output quality but these AV receivers are not meant for that but to offer a system that can do equally good across all kinds of material thrown at it.
Ports and Connectivity
Moving on we are going to look at all the connections available in the X1700H. And from what we saw the X1700H offers everything we found in the S760H with a couple of extra additions.
First of all we already mentioned above about the frontal ports that include the Headphones jack, the setup microphone port and the USB port. Exactly the same configuration as many AV receivers of the same category so no surprises here.
At the back of the unit, towards the bottom, there are 7 speaker terminals placed in a straight line which helps a lot with cable management. The terminals are the usual quality we have seen from Denon so all is good here with good quality plastic caps while each terminal has its own amplification.
At the top we find the HDMI inputs and here we find six of them with three of them being HDMI 2.1 while the other three are the older HDMI 2.0.
As for the rest of the connections we get 3 composite video inputs and 1 output, 2 optical and 1 coaxial digital inputs, 1 Ethernet port, 0.2 channels pre-outs, 2 analogue audio inputs and one more dedicated for phono, a zone 2 stereo output, an IR input and the usual FM/AM antenna inputs along with the WiFi/Bluetooth connectors.
The only differences we find here between the X1700H and the S760H is that in this one they added an IR input along with a Zone 2 pre-out. And for some reason they made the power capable detachable. Everything else is exactly the same.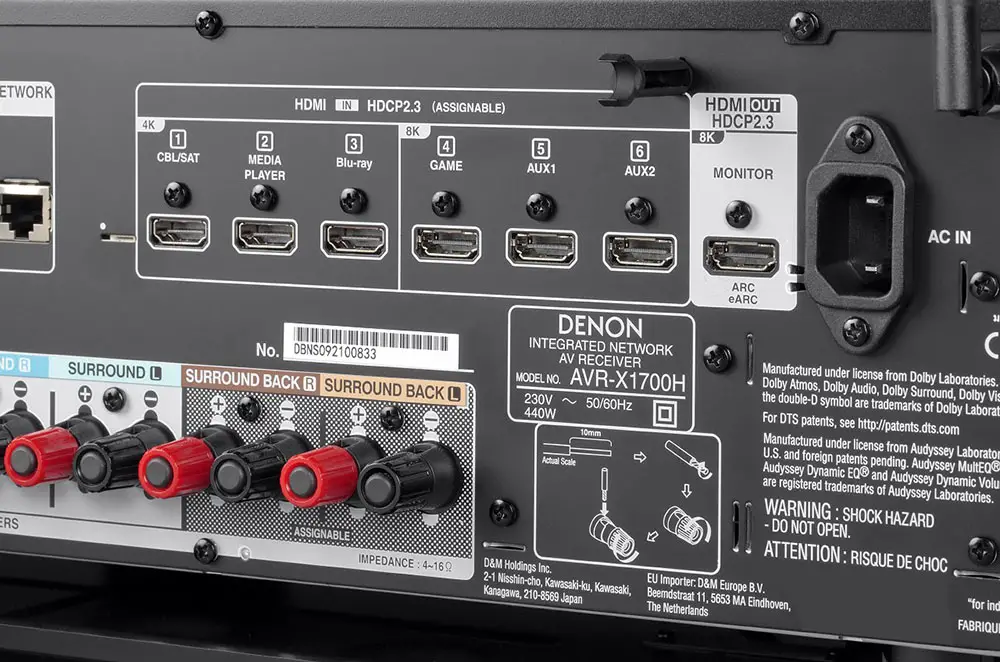 But the most interesting aspect here is the HDMI 2.1 ports themselves as they support all the old and new exciting technologies including 8K/60Hz and 4K/120Hz video passthrough, 40Gbps bandwidth, 4:4:4 Pure Color sub sampling, HDR10, HDR10+, Dolby Vision, Hybrid Log-Gamma (HLG), Dynamic HDR, 3D, BT.2020 pass-through, Quick Media Switching (QMS), Variable Refresh Rate (VRR), Auto Low Latency Mode (ALLM) and Quick Frame Transport (QFT).
As you probably guessed from the above the AVR-X1700H comes with the new unaffected HDMI 2.1 ports, as was the case with the AVR-S760H. All the 2020 AV receivers that featured HDMI 2.1 ports came with a bugged Panasonic chip that wouldn't allow it to pass certain signals, like 4K/120Hz RGB signals from the Xbox series X for example as it would result in a black screen.
The AVR-X1700H on the other hand seems to be using an updated version of this HDMI 2.1 chip which allows up to 40Gbps of bandwidth in three of its HDMI ports and this includes all the signals with a 4K@120Hz configuration including Xbox Series X.
As always, just to confirm this we connected and Xbox series X to the TV and we got a trouble free 4K@120Hz with VRR signal at 40Gbps signal bandwidth. We played for some time with it just to see if there would be any break ups in the HDMI handshaking but during our play time we didn't notice any hiccups.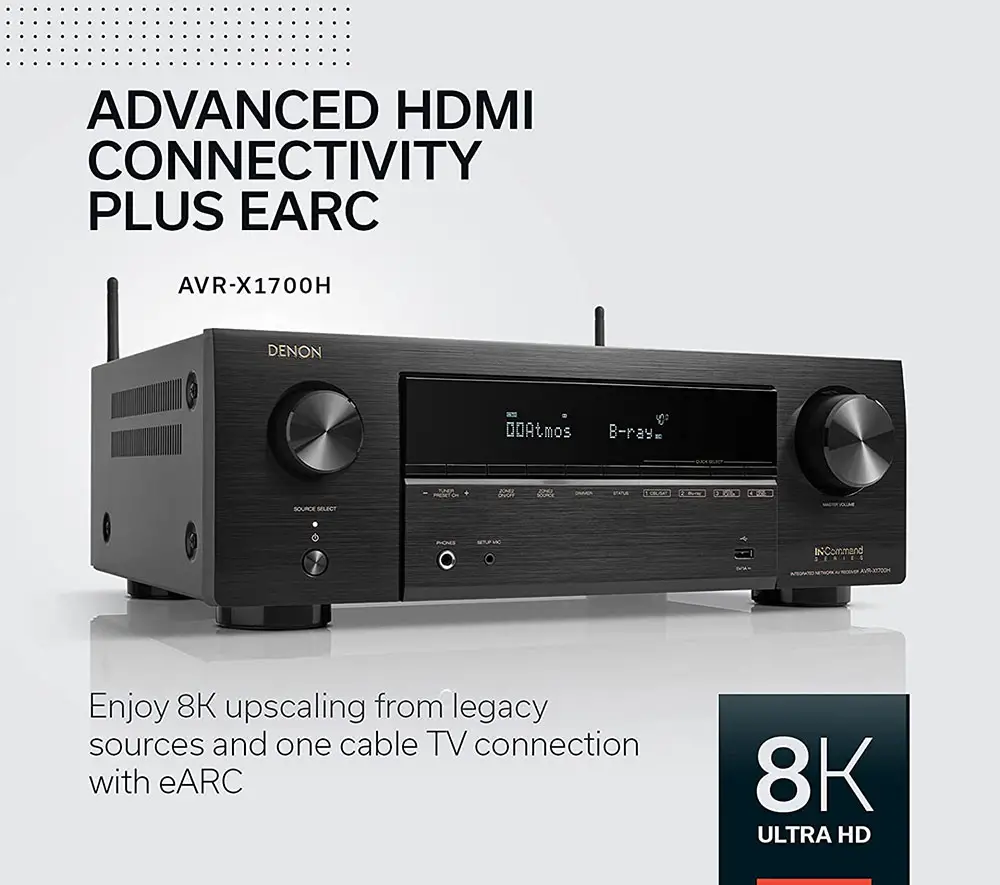 As for the unit's wireless capabilities we get built-in WiFi which can connect both in 2.4GHz and 5 GHz networks while it also supports Bluetooth streaming. The AVR-X1700H supports Bluetooth 4.2, which is typical for Denon AV receivers, which may not be as efficient as the newer v5 but at least during our testing we didn't notice any lagging or connection problems. Let's hope they will finally update it in their next releases.
As was the case with the AVR-S760H, the X1700H's main strength is the three fully working, 40Gbps capable HDMI 2.1 ports. The X1700H does come with a couple of additions to the S760H like the IR input and the Zone 2 stereo input but everything else is exactly the same so you can say that these two are almost similar here.
Again, if there is anything to complain about then this would definitely be the missing front HDMI port. For us it was a huge convenience and we strongly hope they will bring it back at some point in the future.
OS, Apps and Features
Next we will be looking at all the extras that Denon has included. The last couple of years there are not any major changes in terms of extra features as most of their offerings are already fully packed so this section of our review will be very similar to other Denon reviews and we will be making changes and additions wherever we deem necessary.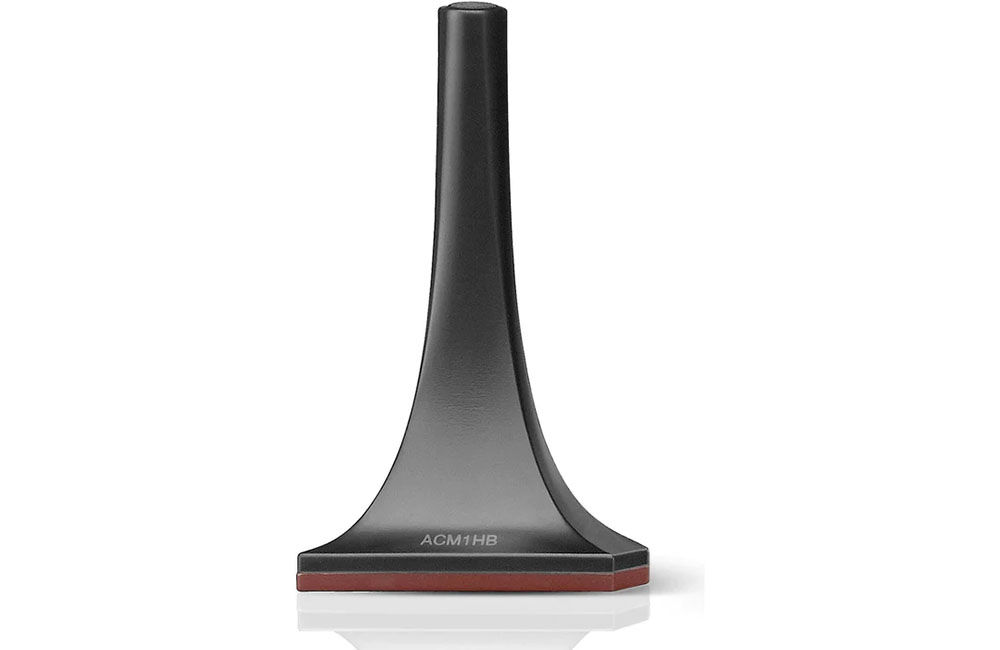 First of all we will talk about the audio calibration system. Denon is using the Audyssey system and as with all manufacturers they scale it accordingly to meet the price and performance standards of each of their models. The AVR-X1700H is using the more advanced version called the Audyssey MultEQ XT which is a step above from the basic version we used in the S760H. In comparison this one features higher resolution filters which can result in much better accuracy.
The Audyssey MultEQ XT comes also with Dynamic Volume and Dynamic EQ. Dynamic EQ is a feature that is responsible for keeping the clarity and dynamic levels of audio even when you like to watch at low volume, like for night viewings for example. Dynamic Volume on the other hand is capable of balancing sudden changes and spikes in volume that could appear when there are sudden changes from TV broadcasting to commercials.
Going through the Audyssey calibration can be done either through the built-in wizard or, if you want to dive deeper into calibrating your system, by downloading the Audyssey MultEQ Editor app that is available for Android or iOS and do a more thorough setup with the help of your mobile device.
Only keep in mind that this app has a one time fee which is a shame but it is what it is. As for the built-in system this is more than enough for most casual users as it offers almost everything you need to make very good and precise adjustments to your system.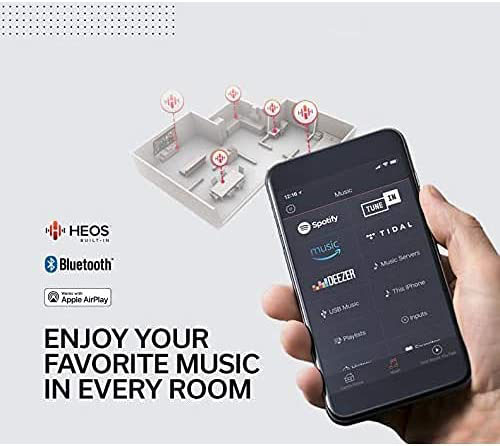 But Denon provides another app for this AV receiver and this one comes completely free. The Denon 2016 AVR Remote app as it is called lets you control the unit with your mobile device through a nice visual interface. If you are tired of the included remote this is a nice, and most important, free alternative. The app is available for both Android and iOS devices so we suggest you give it a try to see if you like it.
As for the UI, this is the same one we have seen in many Denon and Marantz AV receivers the past few years with a few changes and additions here and there. Hopefully at some point they will decide to upgrade it because it may be simple and easy to use but it looks archaic and very 90s compared to the modern UIs of TVs today.
The receiver comes with the usual streaming as well as multi-zone capabilities that Denon includes in almost all their units. As it supports both HEOS and Airplay 2 you can either stream music online from one of the available online streaming services that include Spotify, Pandora, Amazon Music HD, TuneIn, SoundCloud, SiriusXM and TIDAL among others or create your own multi-room environment with the use of appropriate wireless speakers.
Both the HEOS and Airplay 2 apps are available for downloading from their appropriate stores for use with your mobile device. But if you prefer a wired connection the AVR-X1700H also supports Zone 2 and here we find a small difference compared to the S760H as the X1700H supports 2 ways of a Zone 2 connection. Either through the use of the speaker terminals or by connecting an external amplifier to the Zone 2 stereo output.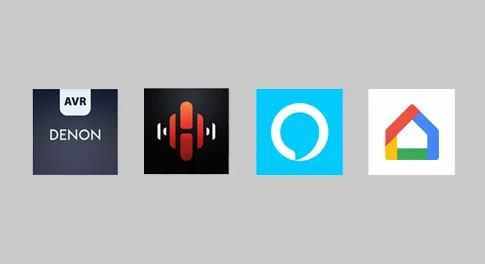 Now as far as streaming, online is not the only option you have as you can stream audio from a network drive or NAS server if it happens you to have one connected to your local network. Also with the included USB port you can stream music through some connected external storage or flash drive. Lastly if you prefer a more wireless way of streaming your music there is Bluetooth available for connecting with your mobile device. If you use Apple devices then Airplay 2 can also be used to stream music wireless through it.
And since we mentioned Bluetooth another function that is included in the X1700H and seems to have become a standard is that the receiver can output audio in two different ways using its Bluetooth transmitter. The AV receiver is capable of streaming audio to Bluetooth enabled headphones for a completely silent house experience or it can also output sound from both its speaker terminals and to a Bluetooth headset. This can be particularly practical in case there is a member in the family that is hearing impaired.
But keep in mind that this can be used only for music and not for movies. And this happens because the Bluetooth transmitter of the X1700H is using the SBC codec and not some more advanced codec meant for such use, like aptX Low Latency. As a result there is bound to be an audio delay due to the Bluetooth transmission speed making this feature ideal only for music use.
Denon is known for including all known voice control platforms to most of their models and the X1700H is not any different in this regard. As such there is support for both most known ones with Amazon Alexa and Google Assistant but there is also support for Apple's Siri through the Airplay 2 app and the advanced automation system Josh.ai making this receiver complete in every way.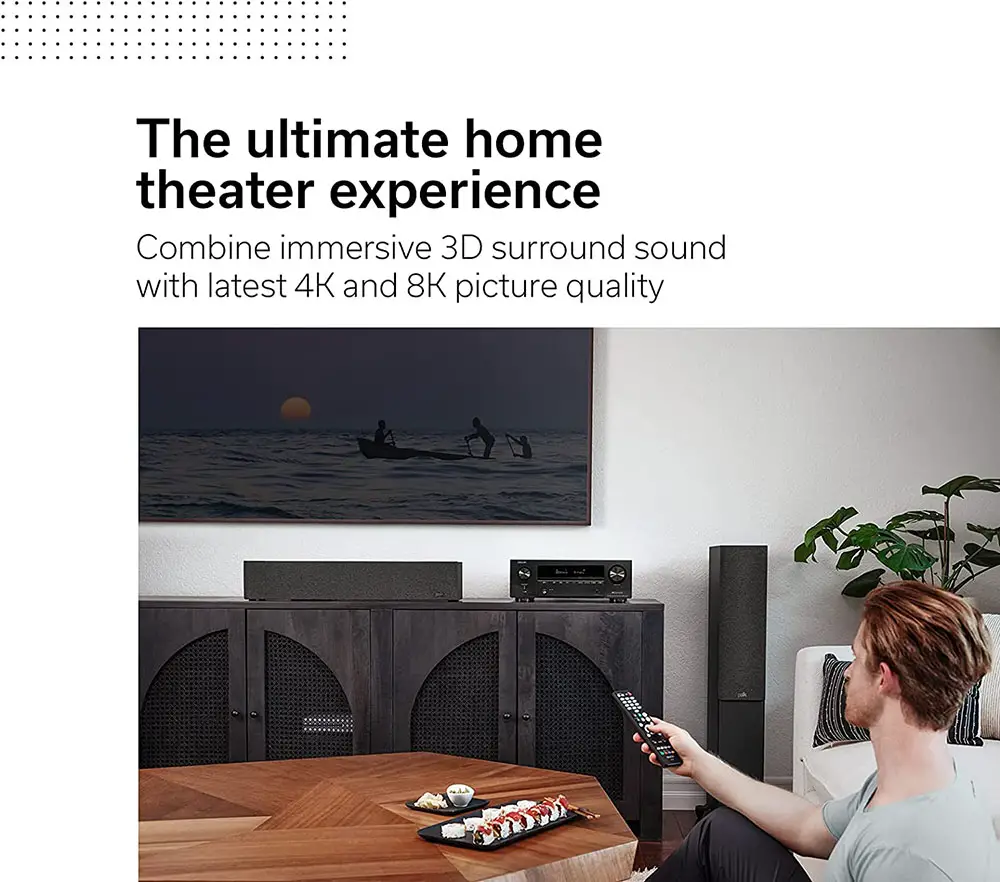 Another handy feature that we do find is HDMI-CEC and this one lets you use the TV remote to control the AV receiver if the TV also supports this. You can understand the practicality of this as this way you can reduce the amount of remotes you will need to have in your home theater. Obviously this feature lets you use only the most basic functions of the receiver but for everyday use it can be a very time saving one.
But extra features don't end here so let's see what else is included. The receiver supports video upscaling to 8K resolution but the limitation here is that the X1700H can do that only through its HDMI ports and not from analog to HDMI as some more premium models can.
We also get an ECO mode that can regulate the receiver's power usage for a more environmental friendly power consumption, custom integration for Domotz Pro and OvrC as well as being "Roon Tested" certified.
For this last one there seems to be a bit of confusion as there are two types of certifications. Roon Ready and Roon Tested. The AVR-X1700H, as with many other similar receivers like Marantz, is Roon Tested which means while Roon will work on this unit you will not get the highest quality possible. So for example if you use Airplay, audio quality is limited to 16 Bit/44.1kHz. Keep that in mind in case Roon is specifically important to you but also want your files to be streamed in their original quality.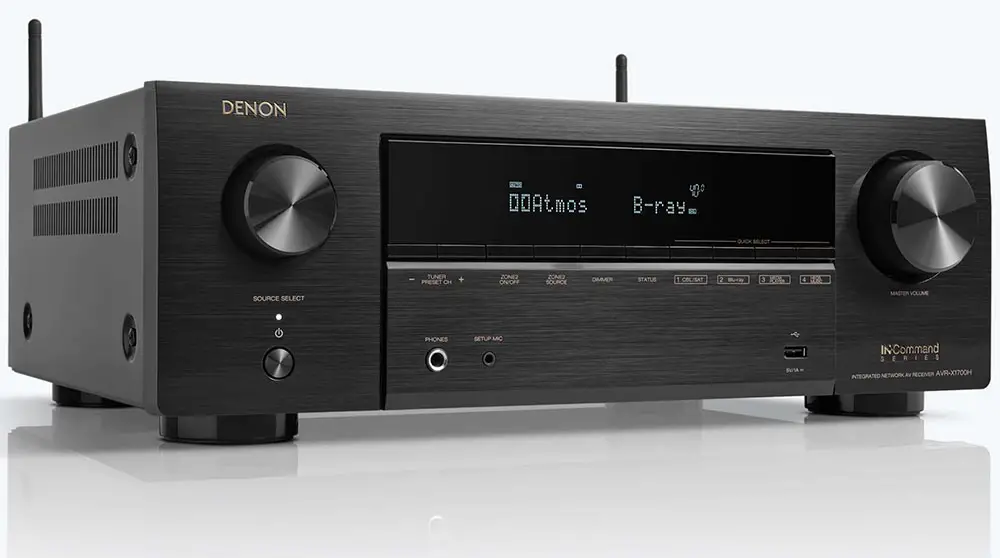 Final Thoughts
The AVR-X1700H costs about $100 more than the S760H and for this extra cost you will get slightly more power, a better audio calibration system, Zone 2 stereo output, an IR input, a detachable power cord and a longer warranty. Are these enough to justify the cost? That is really up to you and what your needs are but if you really need any of the above then we would say that it is worth it.
As for the X1700H specifically, the AV receiver is as good as any Denon unit that we have tested lately. Its audio output and quality were great, its surround performance was phenomenal, it came fully packed with features, both online and offline, and the three fully working, 40Gbps capable HDMI 2.1 ports makes it an excellent choice for any gaming setup.
Its downsides are more or less the same we discussed in our S760H review. We hate that Denon took out the front HDMI port and the remote needs a serious redesign that will go along with a more modern UI like most smart TV do nowadays. The Bluetooth needs to be updated after so many years stuck with version 4.2 and lastly keep in mind that this receiver is meant mostly for relatively small to medium sized rooms as it doesn't have the power for larger areas.
Closing our review the Denon AVR-X1700H is a very solid offering and a worthy entry in Denon's X-series. It will do great in any kind of setup either it be for movies, gaming or both and has the potential and features to be the heart of your system for many years to come. Highly recommended from us.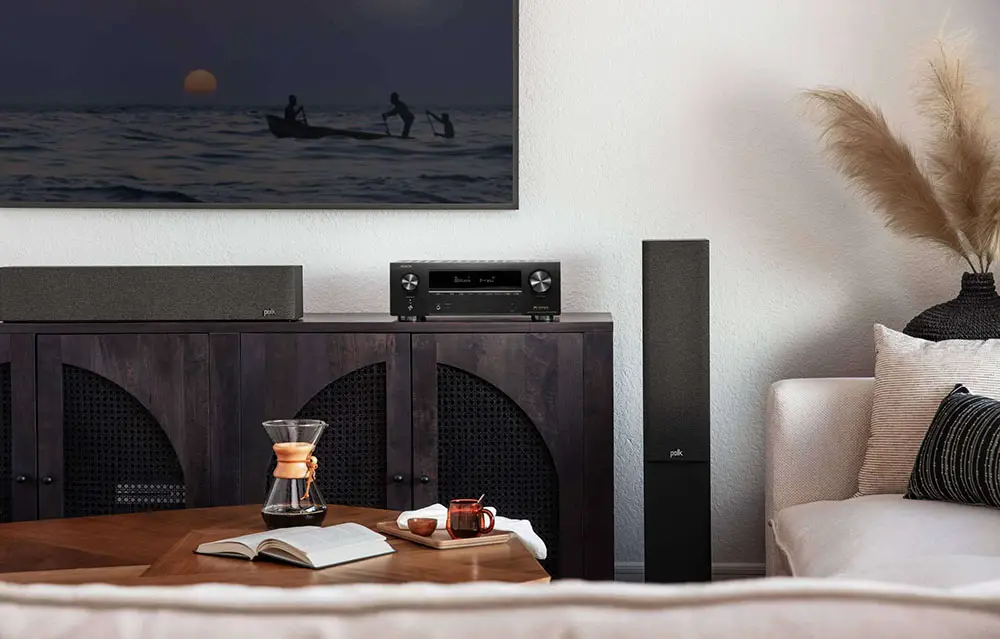 For more reviews you can check our dedicated 7 channels 8K AV Receiver reviews list or even look at our Product Reviews Table where you can find the brand and specific product you are looking for.
---
Cheapest Places to Buy :
---
Denon AVR-X1700H Specifications