Denon AVR-X2500H
OS, Apps and Features
9.4/10
Pros
Good audio performance
A lot of features
Plenty of connection ports
Great build quality
Cons
No Auro-3D support
Audyssey MultiEQ editing app has a charging fee
Fierce competition in this price range
Voice control has certain limitations
---
Cheapest Places to Buy :
---
Denon has released in 2018 6 models in the latest lineup of their premium, top of the line AVR-X series. These 6 models range from the lowest denominator, the AVR-X1500H, all the way to the top of the line AVR-X8500H which offers everything you could imagine in a receiver and more. Every year Denon makes sure to keep certain characteristics in their X lineup in order to distinguish them from their entry-level S series. As such we get a more advanced audio calibration system with the Audyssey MultEQ XT, a 3rd year warranty as well as zone 2 pre-outs for the lower X models.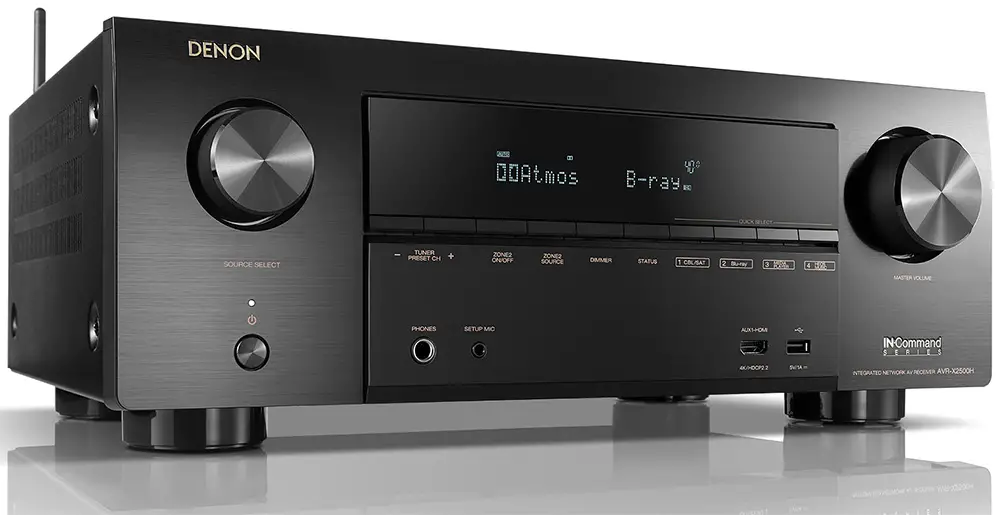 Today we will be testing the second in this lineup, the Denon AVR-X2500H, which we believe offers a great deal of value if you take into consideration what features it supports, what specs it has and in which price range it belongs making it ideal for a great many of people that want to create a good quality home cinema without having to dedicate very high budgets for it. Does this receiver manages to fill all these needs especially when we are talking about a highly competitive price range? Continue reading our Denon AVR-X2500H review to find out.
Design
Design-wise the AVR-X2500H may not win any awards as it features a relatively standard and uninteresting front side but in all honesty most receivers are the same with very few exceptions. Measuring 17.1 × 13.4 × 6.6 (434 x 339 x 167mm) and weighting 20.7 lbs (9.4 kgs) the receiver has just the right size for what it offers. It is generally of the smaller full-sized av receivers we have tested and heat shouldn't be a problem but nevertheless you should always leave some breathing space around it if you place it in a tight area.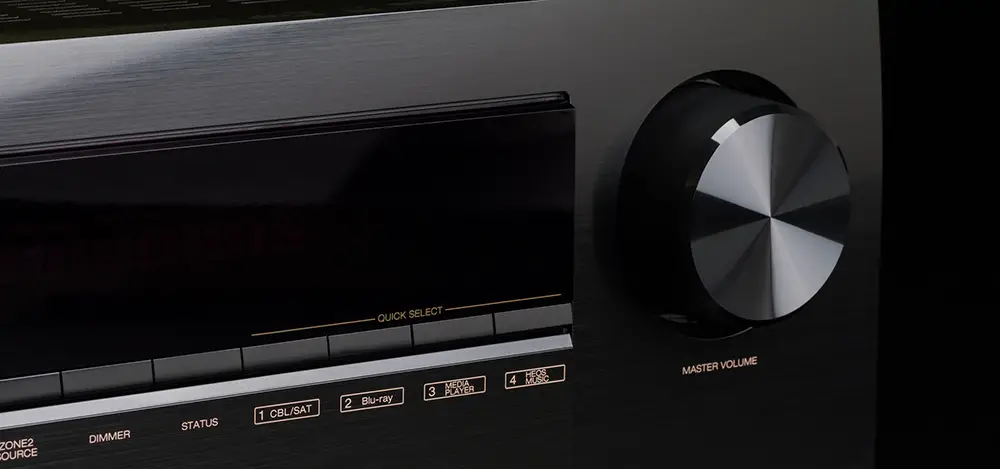 On the front we get a relatively familiar sight as a lot of receivers follow the same design principles. 2 big turning knobs with one at each side, one for the volume and one for the input selection, are catching the attention immediately. In the center we get a big functions LED display showing all important information like audio track, input selection, volume, active speakers etc. Under the display we find a thin line of buttons that consists of tuner control, zone 2 buttons, dimmer, status as well as 4 quick selection buttons. Completing the front design, under this line of buttons we get the usual front inputs that consist of a headphones jack, an HDMI port, a USB port and the calibration microphone input. Under the input selection knob we get the round power button, and that's all.
The front face have a black brushed aluminum texture and what is characteristic of it's design is the hard edges and straight lines. Build quality is very good and this was to be expected from a Denon product as they always offered quality audio equipment and this is also the case here even if we are talking about a receiver that is towards the lower tiers in the lineup. Under the hood the AVR-X2500H features an advanced DSP chip that has 4 DSP cores running at 300 MHz enough to support the necessary audio and video needs as well as all the included features.

The included remote (RC-1228) is pretty standard featuring a rather forgettable design and we would like to have a somewhat better offering. The included buttons are from rubber with most of them featuring a round design which we are not very fond of as their size is a bit smaller than what we would like but at least they have enough space between them in order not to press the wrong one at the wrong time. All buttons are separated into groups and as such at the top we get the input selection ones, in the middle we find menu navigation buttons, under these a few playback ones and at the bottom some quick selection and sound mode buttons. At least it feels sturdy enough compared to some other ones that felt like breaking at the first drop. Unfortunately there is no backlight buttons to be found here.
Closing this part we could summarize Denon's offering in a few words by saying that the AVR-X2500H offers very good build quality both at the outside and under the hood that is very characteristic of Denon's expertise and attention to detail. The receiver may not be on the higher levels of this lineup but it certainly has more than meets the eye.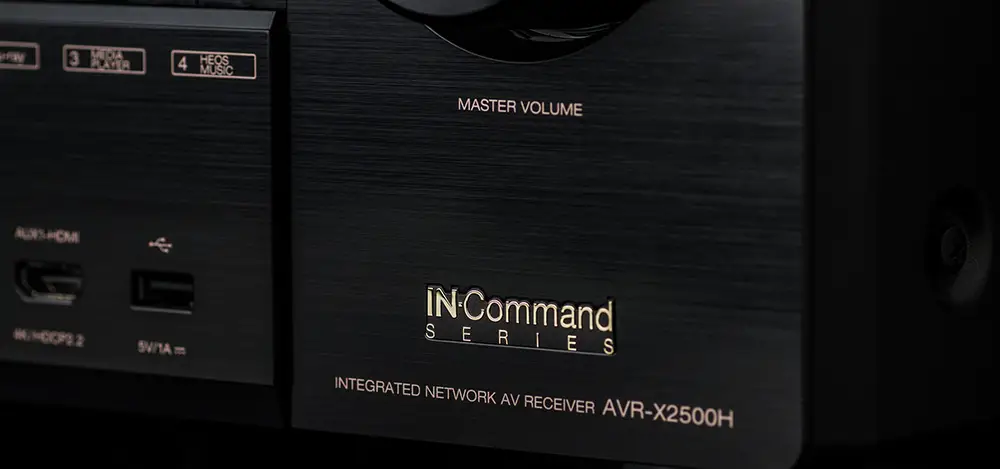 Audio Quality
Denon AVR-X2500H supports Dolby Atmos and DTS:X as well as DTS Virtual:X which is an up-mixing technology that can create the illusion of overhead sounds from virtually created speakers. Having tested this technology previously we can say that it is a neat feature that some times can create a more immersive environment but it depends very much on the source material and it is not a feature to be used all the time. We were pleasantly surprised by it a few times while it left us unimpressed some others. So it's really a case by case scenario and you should test it yourself to judge if it is worth it or not. The only omission we see in this model is Auro-3D as this is supported only by more expensive models in the series.
Having 7 channels of built-in amplification with 95 watts per channel (8 ohm, 20 Hz – 20 kHz, 0.08% 2ch Drive) plus 2 subwoofer ports the AVR-X2500H is a rather capable receiver with enough power for small to middle sized areas and with it you can create various audio setups from the most basic 5.1 channels to the more advanced 5.2.2 channels by using 2 subwoofers and 2 overhead channels for taking advantage of the height layer that Dolby Atmos and DTS:X provide. In our case we went for a 5.1.2 channels audio setup with one subwoofer and 2 Atmos speakers that were placed in the middle of the viewing area.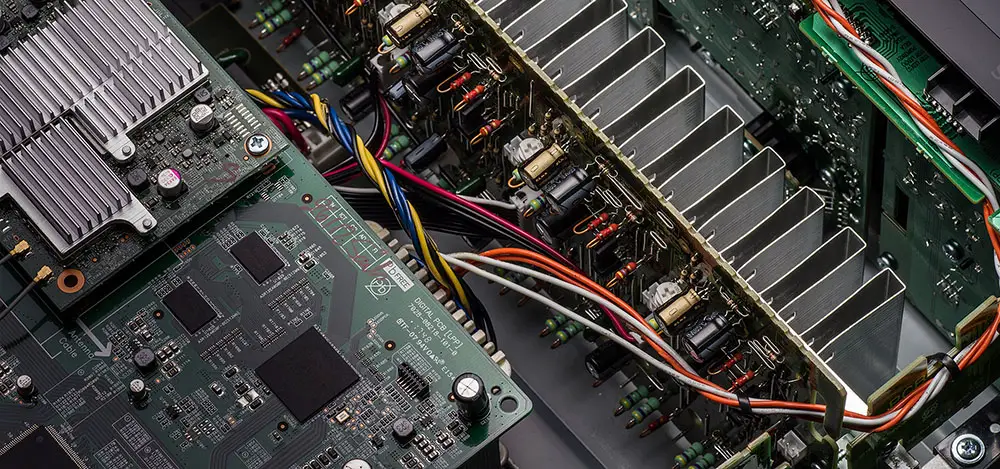 For this testing we opted to try a different film than what we are used to and instead went with the 4K UHD version of Transformers: The Last Knight which comes with an amazing Dolby Atmos track that is just what we needed to check how this receiver will behave. The film itself left us a bit uninspired but technically it offered an amazing experience both in the visual and audio departments.
We tested various action scenes in the film and the AVR-X2500H performed very well in all of them. The Dolby Atmos track provides the necessary elements for the receiver to stretch it's muscles as gunfire, explosions, robotic-pitched sounds, debris and missiles create an acoustic mayhem that can bring any audio system to it's limits. The receiver provided a very deep and wide sound stage that expanded well behind and above us every time surround effects made their presence felt. Channel shifting was very good and precise while the center channel provided very clear and distinguishable dialogue even during moments where action was the main focus.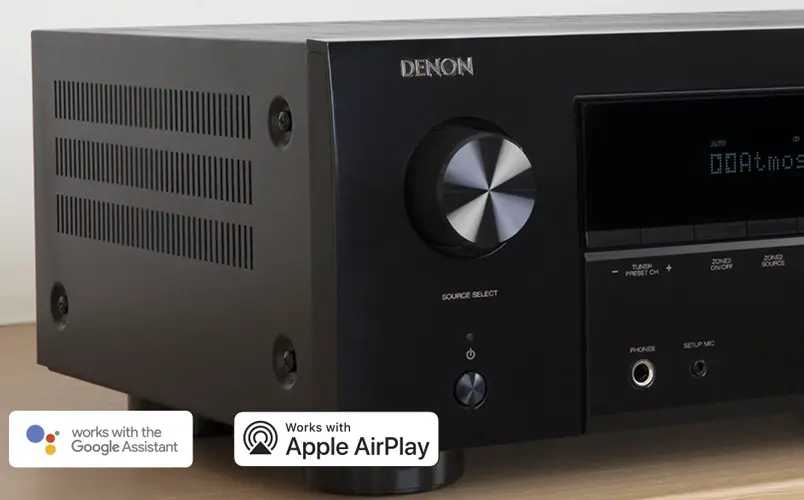 Another film that we tried during testing is the Blu-ray version of Lord of the Ring: The Return of the King which may not come with a next generation audio track but the included DTS-HD Master Audio track is one of the best this medium has to offer. We skipped forward to see part of the siege of Minas Tirith and the receiver managed to keep us in awe as the Rohirrim were charging towards Sauron's vast army. The receiver provided all the necessary oomph as the Mumakils were charging towards the city while the walls were shaking every time the trolls were killing everything in their path. The Witch King's scream for sure made a few neighbors upset during his confrontation with Eowyn. In total an excellent track that the Denon receiver managed to produce very faithfully.
Something we find standard these days even with the most lower priced receivers is wide support for most known lossless and lossy audio formats. As such the AVR-X2500H supports MP3, WMA, AAC, FLAC, ALAC, WAV, FLAC HD 192/24 bit, WAV 192/24 bit, ALAC 192/24 bit as well as DSD streaming (both 2.8 and 5.6MHz). In our case we used a collection of FLAC music tracks that we streamed through the USB port in order to determine the music abilities of the receiver.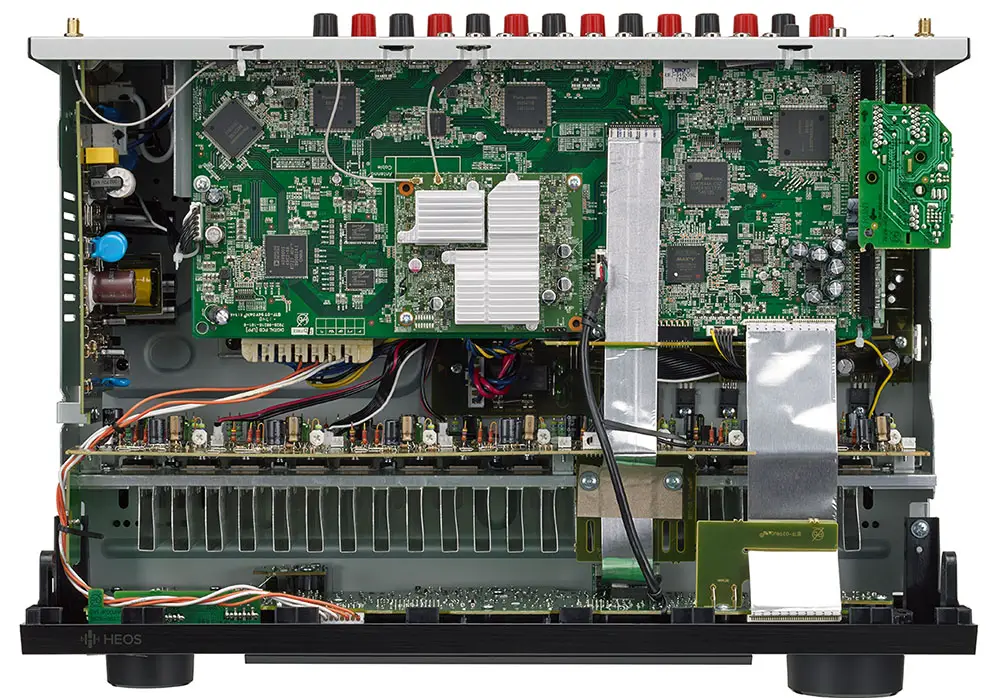 During testing the receiver provided a very pleasant audio experience. Sound instruments were clearly distinguishable while positions in space were well defined. Balance between low, mid-range and high frequencies was pretty good while audio separation between music and vocals was great. In general we can say that there was nothing wrong with how the AVR-X2500H performed with music, it's just that some times it felt like it was playing it a bit too safe. As there are a lot of capable receivers in this price range the Denon fails to rise above the rest by giving a very stellar but at the end of the day a forgettable performance.
Competition is fierce so if you want to be at the top of the game you need to offer something that the rest cannot. The AVR-X2500H fails to offer this extra something that will make us particularly remember it but this doesn't mean that it performed badly by any means, on the contrary we spend a few hours really enjoying a very stellar performance and this is what matters in the end.
Inputs / Ports
The Denon AVR-X2500H may be placed towards the bottom of the AVR-X series but it remains part of this premium lineup and thus Denon made sure to offer enough as far as connectivity is concerned in order to keep it in line with the competition. As we mentioned a bit earlier in the front we found a familiar set of ports for today's standards with a headphones jack, the calibration microphone port, an HDMI port that supports 4K/HDCP 2.2 and a USB port (5V/1A) in order to connect external storage.
But when we turn the receiver and look at the back is where we find most of the connections and at first glance we would say that the amount of ports on offer are more or less in line in this price range. At the top we get 7 HDMI inputs and 2 HDMI outputs with all of them being 4K/HDCP 2.2 enabled while at the bottom we find the 7 speaker terminals enough to go for either a 7.2 or a 5.2.2 audio setup.

As for the rest of the connection ports that are offered in this receiver we find 4 analogue stereo inputs, 1 dedicated phono input, audio pre-outs, 2 composite video inputs and 1 output, 2 component video inputs and 1 output as well as 1 coaxial digital input and 2 optical ones. We also get a RS-232C port, 1 remote control input and 1 output and an Ethernet port for wired connection to the Internet. Finishing with the connectors we also see FM and AM antenna connectors as well as the usual dual Bluetooth and WiFi  antennas connectors.
Considering the price range the AVR-X2500H is positioned at we would say that Denon has included the right amount of ports making this receiver a very versatile one as it offers enough to create any kind of audio setup you would like. There are obviously some omissions to be honest but this was to be expected as more and more ports are added as we climb the ladder towards the top of the series. We may not be thrilled by what is on offer but we are definitely satisfied with what we get.
OS, Apps and Features
The Denon AVR-X2500H supports the latest protocols through it's HDMI ports and as such we get 4K/60Hz full-rate pass-through, 4:4:4 color resolution, HDR and BT.2020, plus Dolby Vision compatibility and Hybrid Log Gamma (HLG) that is used for broadcasting. There is also SD and HD up-scaling to 4K resolution but in the 2500H model this is restricted only from HDMI to HDMI port. There is no analogue to HDMI up-scaling support here.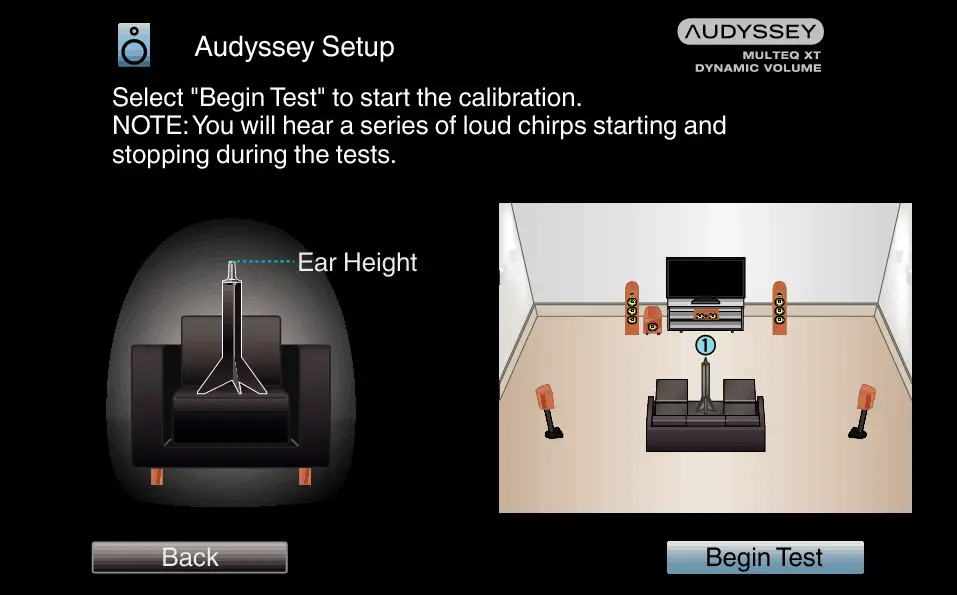 Denon has included the Audyssey calibration system with this receiver and in this model we get the Audyssey MultEQ XT version which is a step up from the basic Audyssey MultEQ version by offering more options and capabilities and it's one of the key features that distinguishes this X series from the consumer S series. Along with the calibration system come the Dynamic EQ feature which helps to keep the dynamic levels and clarity even at low levels as well as the Dynamic Volume which balances sudden volume spikes between TV programs and commercials shifts. Unfortunately the Audyssey LFC is missing here as we find it in the next higher model in the lineup.
As with all Denon receivers we also get the ability to either calibrate our system through the built-in user interface or alternatively use the Audyssey MultEQ Editor that is available for both iOS and Android. The app offers much more options and a better visual interface than what you will find in the built-in editor but the downside is that it's not free as you have to pay a one time fee for it. But if you are into these kind of calibrations it is worth it as you get more freedom over your system.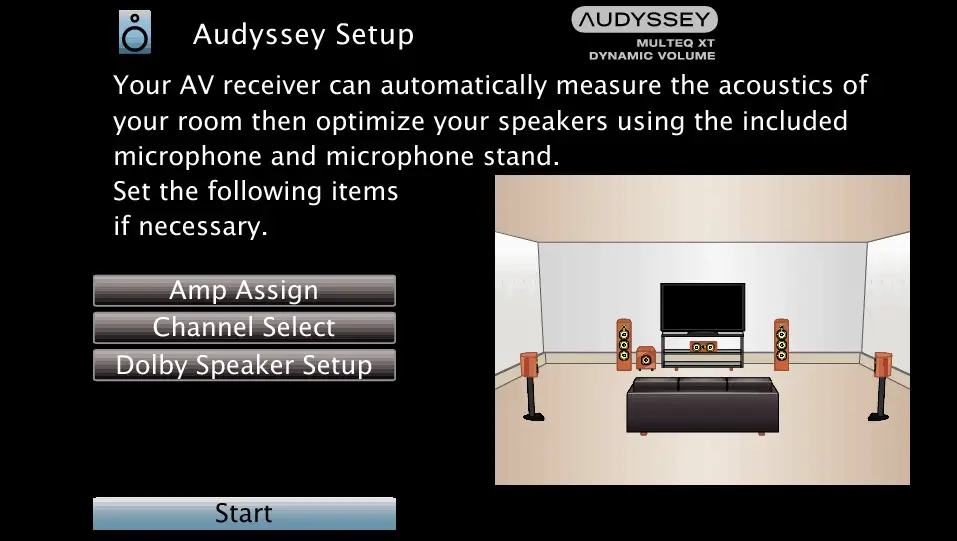 Another app that is available and this time is free is the Denon 2016 AVR app with which you can control your receiver's functions through your smartphone or tablet. It's a nice app that we had tried many times before both for Denon and Marantz receivers and it offers many functions and controls making it a very good alternative.
The Denon AVR-X2500H has very simple and easy to follow menu interface that is almost the same as the one we have seen in the Marantz receivers. It's simple, with clear instructions and uses simple graphics to help you with each setting. What we had said before applies here also. We like the menus for their simplicity and easiness to follow but we would like them to get an update at some point in order to offer a better visual experience. Receivers come equipped with powerful processors nowadays so it wouldn't be too much trouble to support a better visual environment.
The receiver naturally supports an ECO mode with Auto and Off options. If you use the Auto the receiver will manage it's power automatically in order to lower power consumption while having it in Off it will be able to provide full power at all times.

Streaming services are in abundance here as we get Spotify, Pandora, SiriusXM, Amazon Music, TIDAL, Deezer, iHeart Radio, Napster, Soundcloud, Mood Mix as well as Internet radio with TuneIn. If you have a NAS server connected to your local network you can also use the receiver to stream music and audio files.
Connecting to the Internet can be done either through it's dual band built-in WiFi that supports both 2.4GHz/5GHz or with the included Ethernet port. We prefer to use the wireless option unless we have connectivity problems and connection was stable at all times. If you get slow speeds or disconnections then prefer to use a wired connections as this options will eliminate these problems most of the times.
The frontal USB can be used to connect an external storage and stream music through it while Bluetooth support lets you audio stream from a smartphone or tablet. Another streaming feature is Apple's Airplay offering many streaming alternatives to choose from.
As far as multi-room capabilities the Denon AVR-X2500H comes with HEOS technology that gives you the ability to create your own multi-room environment in your house by using special HEOS speakers in different rooms. Except from HEOS there is also Airplay 2 available which is Apple's alternative to HEOS and it seems that slowly this also becomes a standard feature.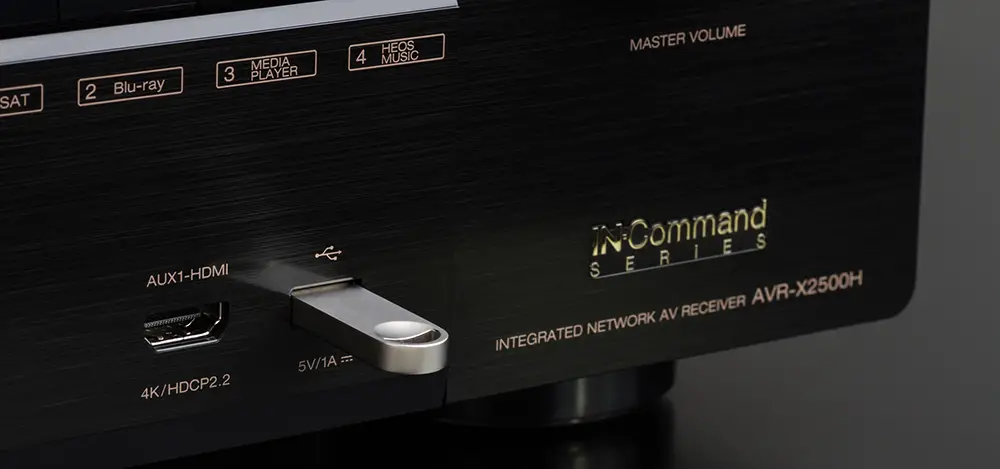 Voice control is another feature that manufacturers are slowly adopting to all their models. The receiver offers multiple options in this area also by having support not only for Alexa through the HEOS Home Entertainment skill but also for Google Assistant, Apple Siri and Josh.AI. Lot's of options here to choose from and this is a feature that seems more and more people start to use so if you like this type of control you will be happy to know that Denon made sure to keep the AVR-X2500H up to date with all current technologies.
The receiver also supports TV connectivity through the HDMI CEC function which lets you control it with the TV remote which can be handy if you want to reduce the number of remotes you will be using. Unfortunately one feature missing here is eARC as we get this only with the more expensive models.
Denon has found a good balance between specs and price and made sure to equip the AVR-X2500H with enough features that concern the average user while there is nothing important missing. We are very pleased in this area.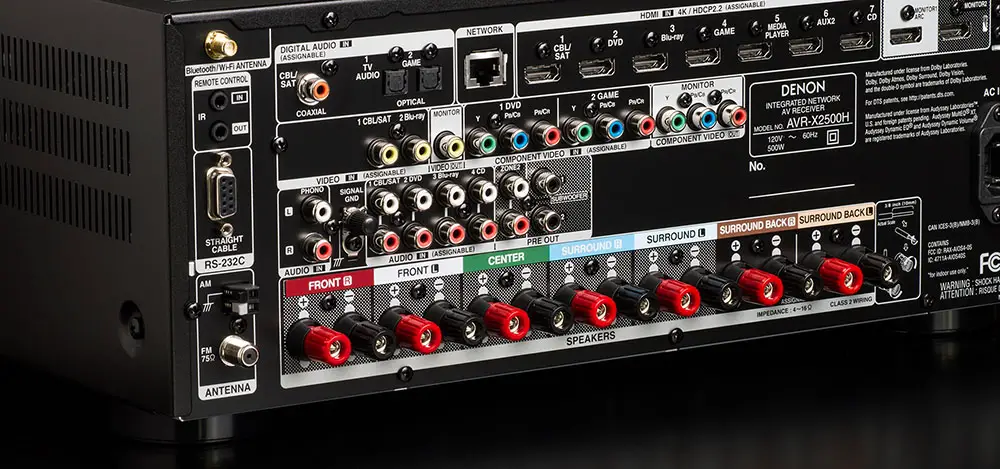 Final Thoughts
Closing this review we would like to say that the receiver has left us with very good overall impressions. It may not be a monster receiver offering loads of power or more features than you could ever dream of but it was never meant to. In this price range we believe a lot of consumers will be reaching their limits as far as their budget for an av receiver is concerned and in all honesty you don't need much more in order to create a respectable audio setup that can offer good immersion and nice audio quality.
During our testing the receiver managed to perform very good while it offers support for most next generation formats like Dolby Atmos, DTS:X as well as up-mixing technologies like DTS Virtual:X. Also it supports 4K/60Hz full-rate pass-through, Dolby Vision and HLG compatibility and has enough features and streaming services to satisfy most needs. Being in the X-series it means that it gets an updated version of the famous calibration system called Audyssey MultEQ XT along with the Dynamic EQ and Dynamic Volume features. As far as connectivity it offers enough next generation as well as legacy ports enough to support most usual setups while with 95 watts per channel the receiver has enough juice to support small and middle sized home cinema areas. Following the current trends it also supports multi-room technologies like HEOS and Airplay 2 but also voice control through Alexa, Google Assistant, Apple Siri or Josh.AI.

On the opposite side the receiver doesn't have many bad things to talk about. It's missing a few features that naturally are kept for the more expensive models like Auro-3D while the Audyssey app is not for free. The receiver can support only 2 height speakers so if you want to go for a full 5.2.4 setup you will need to step up the ladder and choose a higher-tier model. Voice control is a nice feature and some people like it but we still believe it has certain limitations that stops it from completely replacing traditional controls. But in our opinion the biggest drawback of the AVR-X2500H is the huge competition it finds itself in this price range. There are so many good receivers around the same price that although Denon's offering is solid, it's hard to distinguish itself from the rest.

We believe that Denon for one more year created a very good lineup. And more specifically the Denon AVR-X2500H offers a good balance between cost and features that many people will find comfortable. It may not be as exciting as some of the top dogs but this was never it's purpose. It was created to offer enough features and good performance at a price that you will not find unreachable. And in this regard Denon has a winner for one more year.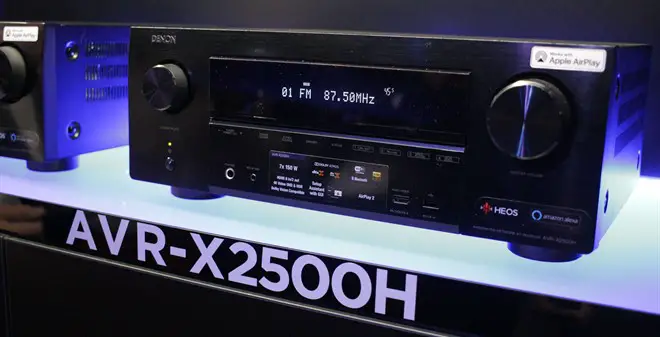 For more reviews you can check our dedicated 7 channels 4K AV Receiver reviews list or even look at our Product Reviews Table where you can find the brand and specific product you are looking for.
Also don't lose the chance to subscribe to our Newsletter and gain exclusive privileges.
---
Cheapest Places to Buy :
---
Specifications
7.2 channel AV receiver with 95W power per channel with 7 powerful amplifiers

Supports Dolby Atmos, DTS:X and DTS Virtual:X

Amazon Alexa voice control compatibility

HDMI 8 inputs/2 outputs; 4K Ultra HD 60 Hz with full-rate pass-through HDCP 2.2 support on all HDMI ports

Dolby Vision, HDR10, Hybrid Log-Gamma (HLG), 4:4:4 color resolution, and BT.2020

Denon guided Setup Assistant and advanced Graphical User Interface

Spotify, Pandora, TuneIn, Deezer and many others — via Bluetooth, AirPlay 2 or the HEOS app

Built-in HEOS wireless multi-room audio technology

External and IP control capabilities for third-party integration solutions

RS-232C serial port for remote monitoring capability

Audio playback of lossless files WAV, FLAC, ALAC and DSD (2.8/5.6MHz) files

Smart TV connectivity to control the AVR with a TV remote via HDMI CEC

Phono input to connect your turntable and play vinyl records

DSP chip with four 300MHz DSP cores

Powered Zone 2 for displaying up to two different sources

Dual subwoofer outputs

Audyssey MultEQ XT app and included mic and stand/ Dynamic EQ & Volume