Denon AVR-X4400H
Design -

90%

Audio Quality -

93%

Inputs / Ports -

92%

OS, Apps and Features -

87%

Price / Quality -

92%
---
Cheapest Places to Buy :
---
The AVR-X4400H is the third in line in Denon's premium line of AV receivers and the only one offering 9.2 channels that can very well become 11.2 channels with an external amp. This receiver has many similarities to last year's very good AVR-X4300H and it seems Denon took that model and made some improvements upon it for this year.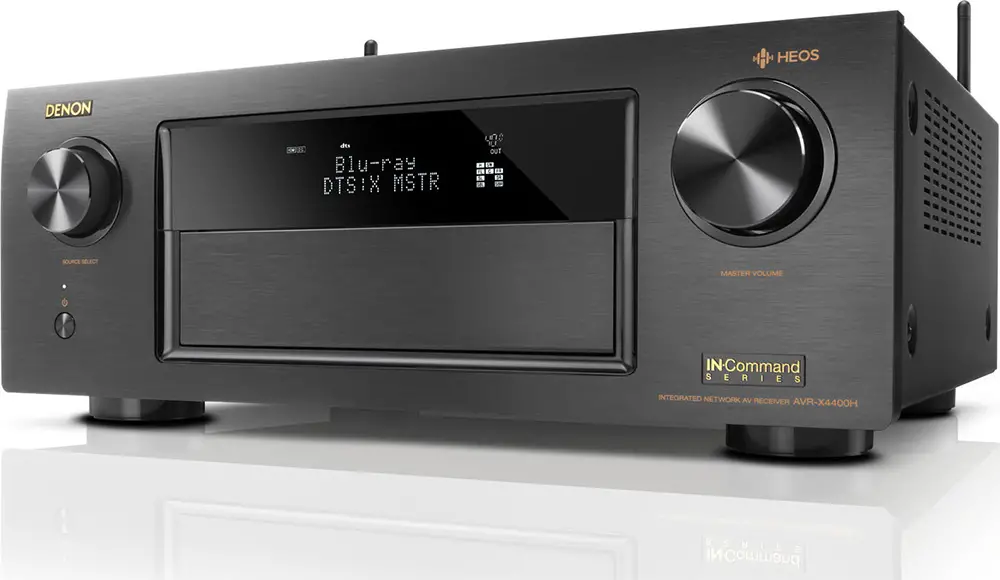 While keeping some of it's best features like high resolution 32bit DAC, Audyssey MultEQ XT32/LFC room equalisation and support for Dolby: Atmos and DTS:X, HDR10 and Dolby Vision, Wide Color Gamut (WCG) and 4K 60Hz they added a few other parts like AL32 Multichannel processing and Bass Synch technology as well as adding Auro-3D which was an extra that you had to pay last year.
In theory these seem to be considerable updates for this year but as a result price has gone up considerably also. At the time of writing this article (June 2018) the AVR-X4300H costs $1000 while this year's AVR-X4400H costs $1600. The difference as you can see is very big so let's see if this receiver justify it's price in our Denon AVR-X4400H review…
Design
The Denon AVR-X4400H uses exactly the same design as last year and I have to say that this is not necessarily bad. The overall minimalistic design was very practical and good looking at the same time so if something is not broken why to change it?
In the front we have two big turning knobs, the one in the right for the volume and the one on the left for changing sources. There is only one more visible button and this is the power button placed under the source selection knob. In the middle we get a very simple display that shows all the important information like inputs, volume and soundtrack type playback among others. Under the display is a drop down panel door revealing some basic control buttons as well as a HDMI port, a USB port, a headphone jack, a composite video input, stereo analogue inputs and the Audyssey setup microphone input.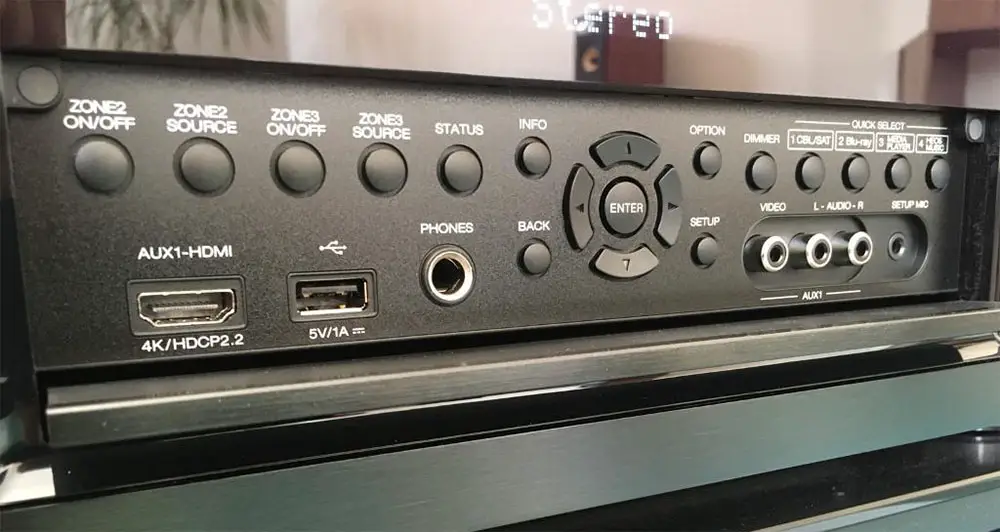 The front of the receiver is aluminium based while the rest of the body has a fetching brushed metal finish. It feels to have a sturdy construction to keep the resonance as low as possible and stability at good levels. In general what we get here is a very good design for a middle to high tier product and one that will definitely leave you satisfied. Depending on your preference it comes in two colors of black and premium silver.

Denon also paid a lot of attention to the internal design of the receiver. Under the hood we find a 32-bit AKM AK4458VN digital-to-analogue converter (DAC) on all channels. Also by using an independent DAC PCB ensures minimal interference from other circuits for the best result possible. We also find DDSC-HD AL32 multi-channel processing that provides with high resolution digital audio filtering. This is a feature we were only seeing on top tier receivers and it seems that Denon started to use it in lower end receivers in their recent lineup.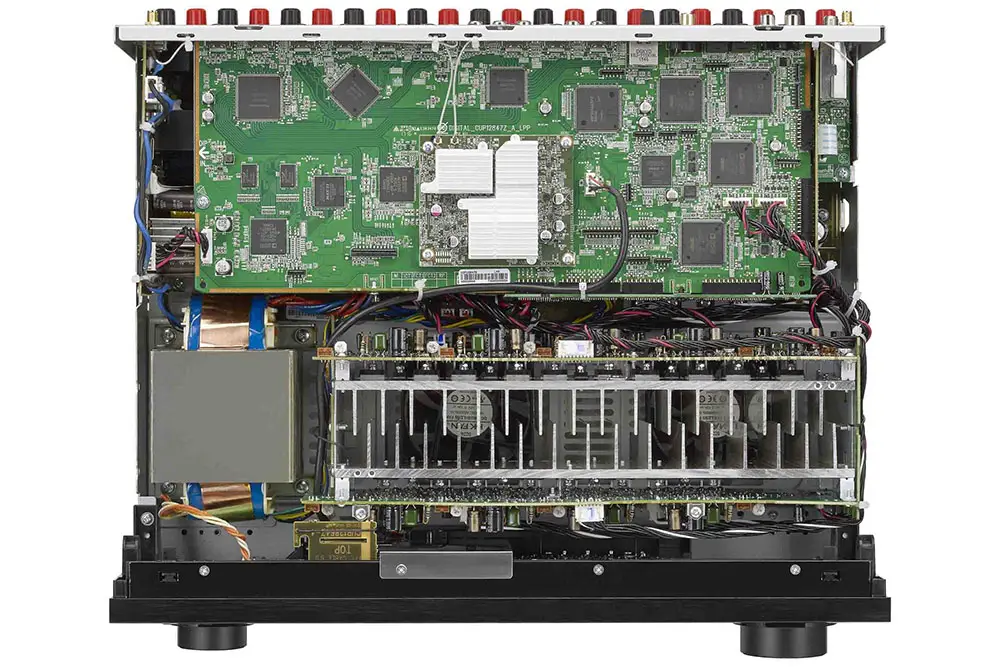 Audio Quality
This new receiver from Denon has nine channels of built-in amplification with enough power to handle a middle sized home theater room. It may not be as powerful as some other receivers in the same range but I didn't find it under-performing in any way and it delivered the desired power and energy that will keep you satisfied.
It is capable of handling either a 5.2.4 or a 7.2.2 setup with its built in amplification, more than enough in creating an immersive sound field. One of the movies I like to test is the 4K UHD of Transformers as it offers a bombastic and over the top Dolby Atmos sound track, good enough to test any receiver in very busy situations as well as in some more calm, dialogue driven, scenes. The end result is more than satisfying with the receiver offering very distinct separation of each sound layer and providing a thrilling experience.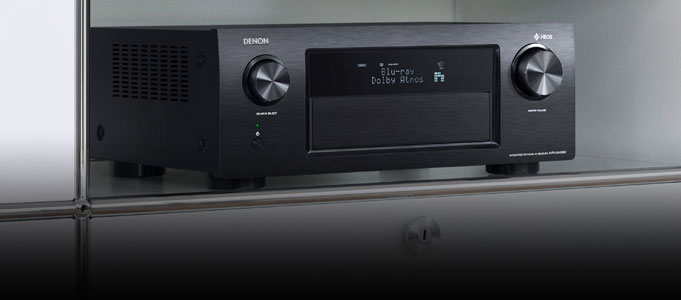 In the movie's most busy scenes there is always enough explosions, debris, moving vehicles and projectiles flying around that will keep you trying to dodge them as the receiver is covering the whole sound field and putting you right in the middle of the action. The sense of depth is really spectacular while the bass is not shy either. The overhead speakers were busy enough with creating over the top sound effects while the classic Transformers low electronic sound will put a smile in your face with the power it is delivered. Dialogue on the other hand is clean and precise giving you the perfect idea of the overall capabilities of this receiver.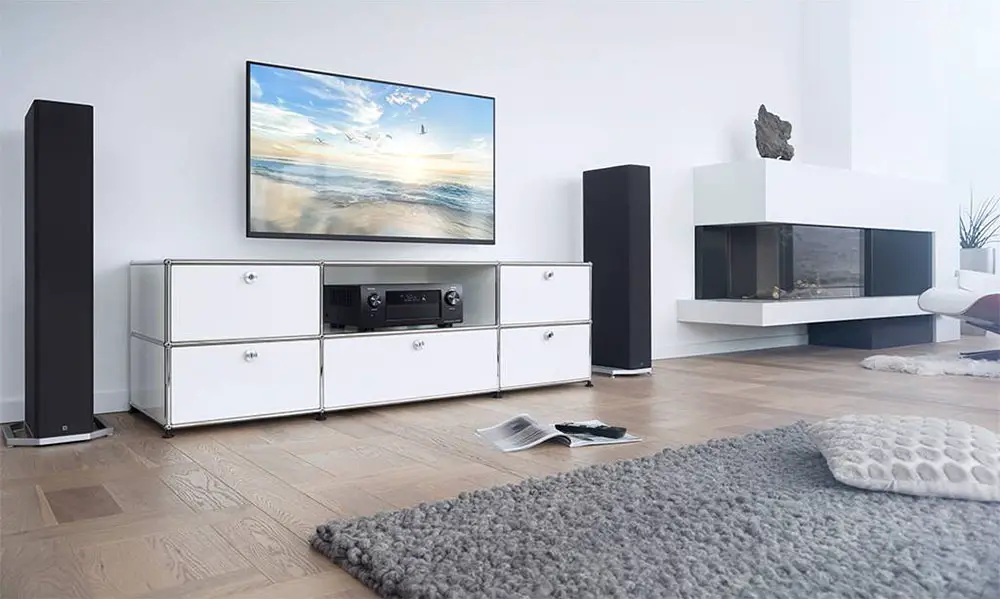 But the receiver is not only able to reproduce some of the best Dolby Atmos and DTS:X tracks but also the more classic but rather old 5.1 Dolby Digital and DTS tracks and can even upmix them into the whole 9.2 or 11.2 channels with Dolby Surround, DTS Neural:X or Auro-3D Neuraliser that the receiver supports. The end result may not be as pronounced as a reference quality Dolby Atmos track but it will definitely boost the sound separation and create a more full sound field even if the sound track does not support it natively. I am not very fond of this feature and I prefer the sound track to be listened the way it was mixed in the sound stage but to some this may be an interesting and is definitely good to be able to have it for use.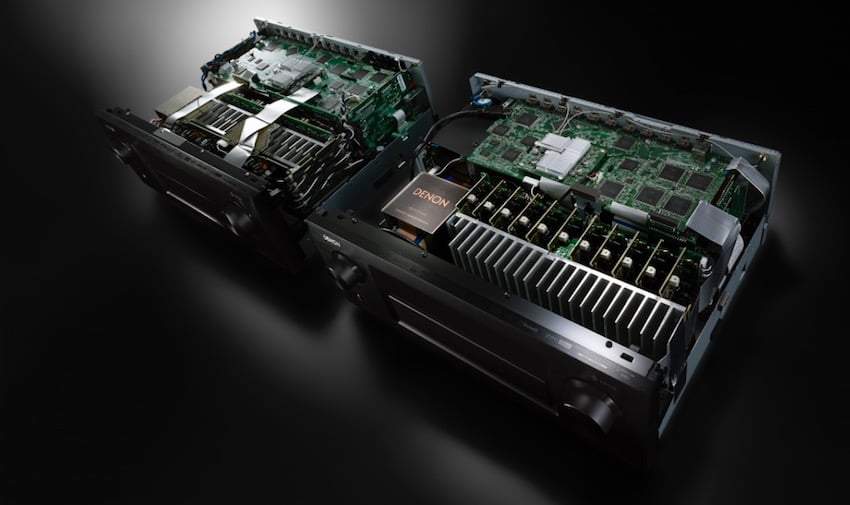 Last but not least the AVR-X4400H is able to reproduce some great quality stereo and multi-channel music. Either it is streaming music, DVD-Audio or SACD the receiver is keeping the pace high at all times delivering every music instrument with precision and clarity and by supporting HEOS you can hear your favorite music from anywhere in your multi-room system. The Denon AVR-X4400H is an AV receiver that offers greatness at all levels and will feed your needs for sound excellence until full.
Inputs / Ports
The receiver offers a huge amount of ports and inputs that will certainly satisfy even the most hardcore users. You get eight HDMI ports (seven at the rear and one in the front) as well as 3 HDMI outputs all of them being 4K HDCP 2.2 compliant and support up to 4K 60Hz, Wider Color Gamut (WCG) and HDR (HDR10, Dolby Vision and HLG). We also get colored speaker ports that total 11.2 channels but only 9 channels can be used with the built-in amplification resulting in either 7.2.2 or 5.2.4 setups. For an immersive 7.2.4 setup you will need an external amp to run the additional 2 channels and the receiver provides the appropriate pre-out connections for this purpose as well as dual subwoofers connectors.

The Denon AVR-X4400H also offers a huge amount of legacy connectors for those with old equipment that still need those. So what we get is six analogue stereo inputs, two coaxial digital audio inputs as well as two optical ones. There are also two component video inputs and one component video output, three composite video inputs and two composite video outputs.
Other connections that we get are FM and AM connectors for external antennas, two trigger out ports, an RS-232C port, an IR remote control input and one output, a Denon Link HD port, an Ethernet port if you prefer wired internet connection and dual Wi-Fi/Bluetooth antennas connectors.
OS, Apps and Features
The first moment you will power up the receiver you will go through a series of steps where the built in guide will help you calibrate your system. The on screen instructions are very clear and easy to understand even for those not so much experienced with such calibrations. From speakers setup, to volume, distance, source inputs to even speaker polarity it provides you with everything you will need to make a correct setup and with the help of the setup microphone and the advanced Audyssey MultEQ XT32 room acoustic measurement system you are provided with a feature complete environment to make as good calibrations as possible. Denon also offers the Audyssey MultEQ Editor App from which you can make even more customizations to your setup and is perfect for advanced users.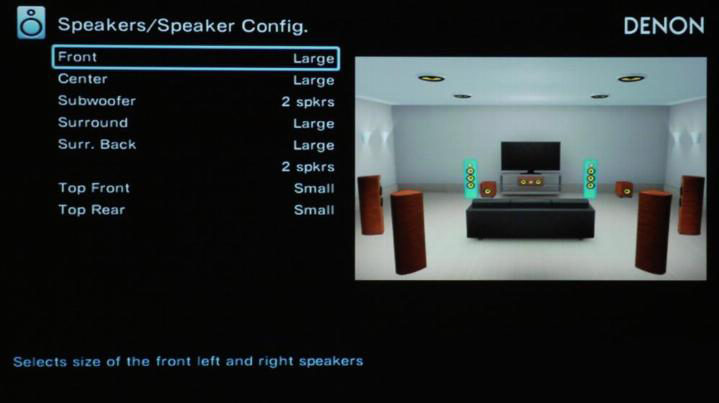 The Denon AVR-X4400H also supports the famous HEOS multi-room system with which you can hear music anywhere at your house provided you have the necessary HEOS speakers around in the rooms. The system can be controlled with your smartphone through the appropriate app and it supports a wide range of online music services that you can use.
Another high end feature is Bass Sync support that helps with LFE delay corrections found in multi-channels audio tracks. Also we get ALAC, FLAC and WAV high resolution audio decoding up to 24-bit/196kHz as well as 2.8/5.6MHz DSD files compatibility.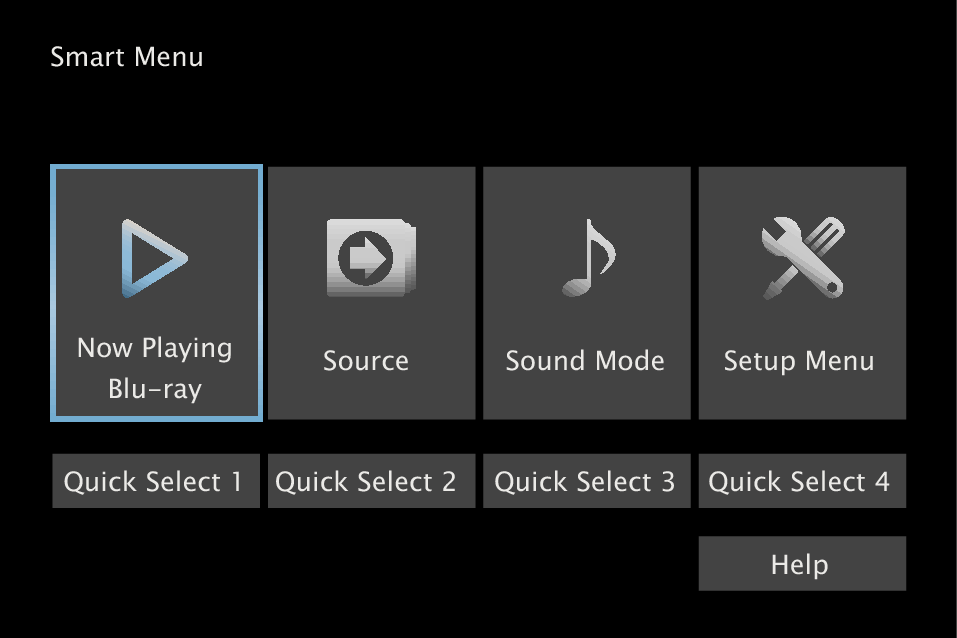 Denon provides the same remote control they did with last year's AVR-X4300H receiver. The remote has a brushed metal finish look on the top which gives it a certain look compared to more classic remotes. The buttons seem to be well organized and separated into certain categories. At the top you will find all the source selection buttons, in the middle volume and channel controls, under them setup navigation buttons as well as playback buttons and on the bottom a few quick selection buttons. In general the remote is very practical and easy to handle and if there was one thing that I didn't like was that there is no kind of backlight which to me should be a given for all electronic devices even more so when we are talking about such an expensive AV receiver.

If you want an alternative to the standard remote, Denon offers an app that you can use in your smartphone and you can control your receiver from there. The apps works in conjunction with the HEOS app and this is great because it allows for a more seamless experience. With a press of a button you can change to the HEOS app and control all the devices you have in your multi-room system. A great offer from Denon and a very usefull one for those that want to keep thing as simple as possible.
Final Thoughts
We have reached a point were manufacturers are struggling to offer big upgrades over last year's models as they continue to pack more and more features to their whole lineup every time. The Denon AVR-X4400H is a prime example of this as the receiver offers small upgrades over last year's AVR-X4300H with the most glaring additions being support for Auro-3D out of the box and the upgrade of some of it's internal components.
Does the receiver worth it? It certainly is, offering some breathtaking audio performance, support for almost every format you will throw at it, great connectivity, a plethora of ports and a great set of features and settings making it a worthy competitor against other receivers in the same price range. Its biggest enemy I would say is last year's model as the AVR-X4300H offers almost the same features with a much lower price but considering stock will not last for long, the Denon AVR-X4400H can stand on it's own against competition and come through with flying colors.
For more reviews you can check our dedicated 9 channels 4K AV Receiver reviews list or even look at our Product Reviews Table where you can find the brand and specific product you are looking for.
Also don't lose the chance to subscribe to our Newsletter and gain exclusive privileges.
---
Cheapest Places to Buy :
---
Specifications
9.2 channel AV Receiver with 125 W per channel (8 Ohm – 20 – 20000 Hz – THD 0.05% )
4K/60 Hz full-rate pass-through, 4:4:4 color resolution, HDR, BT.2020 , Dolby Vision and HLG (Hybrid Log Gamma) pass-through
8 HDMI inputs (incl. 1 front) with full HDCP 2.2 support; 3 HDMI outputs (inc Zone 2)
Analog to HDMI conversion and SD to HD/4K Upscaling
Dolby Atmos (up to 7.1.4 with an external 2ch amplifier) and DTS:X™
Built-in Wi-Fi (2.4GHz/5GHz dual band support)
Built-in HEOS wireless multi-room audio technology
Bluetooth®, TuneIn Internet Radio, Pandora®, Spotify®, Amazon Prime Music, iHeartRadio, SiriusXM, SoundCloud®, Tidal, Napster or Deezer Network Audio Streaming
DSD (2.8/5.6MHz), FLAC, ALAC and WAV support
Audyssey MultEQ XT32, LFC, Dynamic Volume and Dynamic EQ
Color-coded speaker terminals, Setup Assistant
ECO mode with off/on/auto setting
Advanced multiroom options, 11.2-channel processing with pre-outs for all channels, RS232 Control
Control with Alexa voice commands