Denon AVR-X6500H (US) - Denon AVC-X6500H (UK)
OS, Apps and Features
9.2/10
Pros
Excellent audio quality
Auro-3D and IMAX Enhanced
Many connectivity options
Huge amount of features
Cons
Audyssey MultEQ Editor app not free
No backlight on the remote
Small update over last year
Pricey AV receiver
---
Cheapest Places to Buy :
---
When it comes to home theater AV receivers if there is one name that comes immediately to mind is no other than Denon. Part of Sound United for a few years now the Japanese company has become one of the major players in the field with amazing releases year after year. In our Denon AVR-X6500H review today we will be looking at one of their top AV receiver offerings, in fact the X6500H is the second in line in their premium X-Series just behind their flagship, the AVR-X8500H.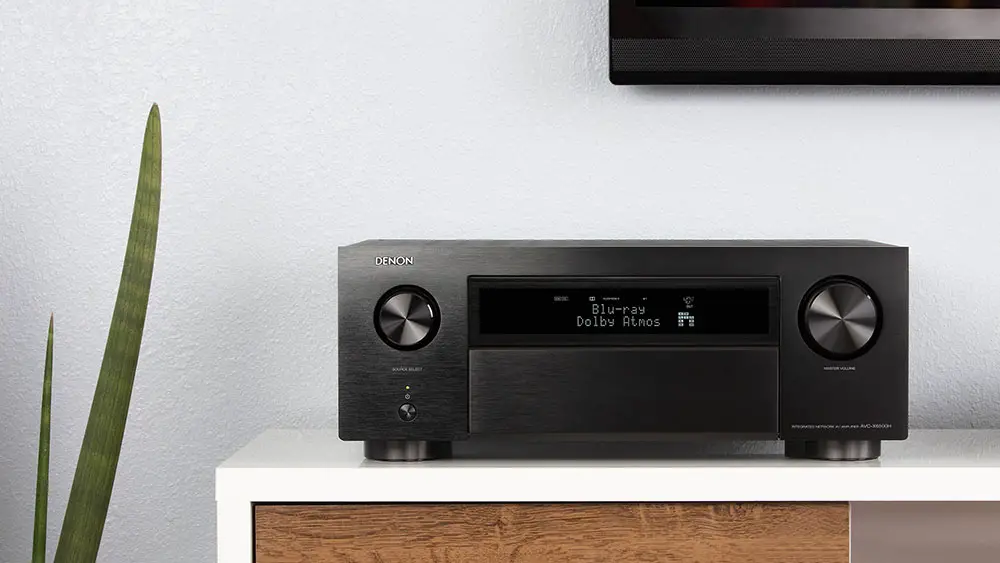 The interesting part is that the X6500H is not a new model, in fact it's not even a 2019 model. It was released in 2018 along with the X8500H and X4500H from a total of six models that consist the X-Series. With Denon only updating the three more budget friendly models in 2019 it will be interesting to see if in 2020 they will do the same for the top three ones. But until they do the X6500H remains the only 11.2 channels AV receiver in Denon's arsenal making it certainly a unique model among all their offerings.
With such a high end unit also come high end features as the receiver not only supports the usual Dolby Atmos and DTS:X formats but boasts a huge list of extra features to keep even the most hardcore users satisfied. As such the receiver comes with 140 watts of power per channel, comes with Auro-3D, IMAX Enhanced and DTS: Virtual X support while the list of features also include the Audyssey MultEQ XT32 audio calibration system, High Resolution Audio, HEOS and Airplay 2, eARC, custom integration, voice control, a huge array of connections as well as bi-amp capabilities, multiple multi-room zones and HDMI upscaling.
With such a rich feature set can the X6500H still claim to be one of the best AV receivers around 2 years on or does some newer competing models have managed to offer more nowadays? Let's find out.
Design
It seems that when Denon transitioned to their 2018 models they made slight changes to the design of their units and the X6500H seems to be one of them. Not anything radical and in the long run it's not affecting either it's practicality or functionality but the unit does look slightly different from the 2017 X6400H. Being the second in line AV receiver in Denon's lineup this one was bound to be a small monster. Measuring 17.1 x 6.6 x 15.1 inch (434 x 389 x 167 mm) and with a weight of 31.1 lbs (14.6 kg) this one isn't much bigger compared to the other X-Series models but is definitely heavier due to the more amplifiers included to support all 11 channels in it.
As for it's looks. Well, this is the typical Denon design as all their receivers feature a very simple look and layout with straight, sharp lines. The unit incorporates two big turning knobs, one at each side, with the right one for the volume and the left for input selection. Under the left one we find a single button for the power while the display screen sits prominently between the two. Nothing else is visible as all other controls are hidden behind a drop down flap door positioned exactly under the display and thus hides everything from plain sight and dust.
Opening this door reveals more controls that you will ever use on the main unit along with a few very useful frontal connections. Exactly in the middle we find the usual menu navigation buttons in a circular layout with four buttons around it for info, option, back and setup. On both sides of these controls there is a group of 5 additional buttons with the left one including zone controls and status while on the right one there is dimmer control and quick select buttons.
Lastly we get a front HDMI input that can be very handy and practical, a USB port that you can connect external storage and stream content this way, the Audyssey microphone port and the usual Headphones jack. A pretty basic setup but one that covers all needs we could say.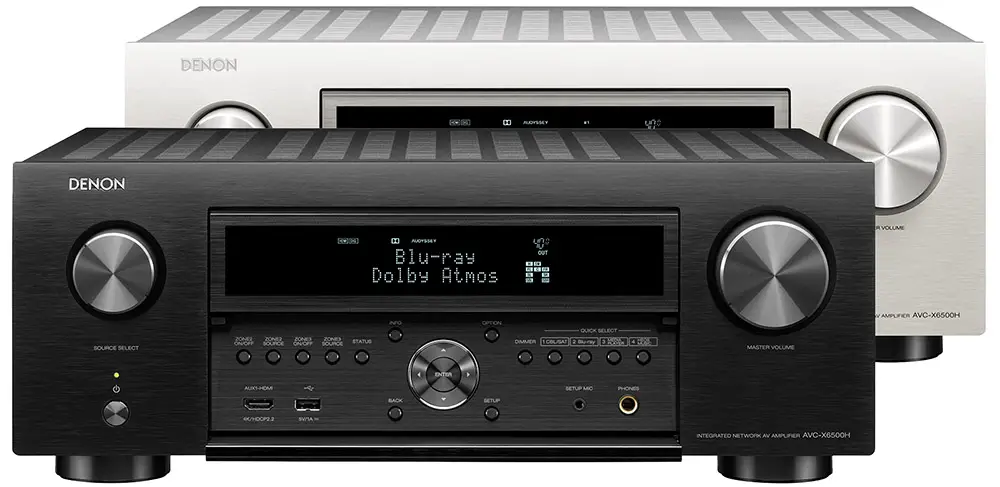 Denon was never shy on the quality of audio components they are using in all their models. And with the AVR-X6500H sitting so high on the performance ladder it needs the right tools in order to be able to perform accordingly. Featuring a sophisticated monolithic power amplifier design with 11 powerful amplifiers the unit can offer exceptional clarity and power. Low impedance drivers provide operational stability for a wide range of speakers and create balanced, tonal sound.
Four 4th generation 300MHz SHARC DSP processors are providing the unit with all the processing power it needs while it's AKM 32-bit D/A converters allow the unit to process High Resolution Audio and handle all necessary conversion duties.
The remote we find with this unit is the 2018 RC-1219 and while it offers a pretty sturdy construction we cannot say that it offers the kind of design and layout that we are thrilled about. The remote is fully packed with buttons and while some may like it we ourselves are more fans of simpler designs with less buttons to handle. The remote in general follows the design principles of older remotes that offer as much buttons as possible.
As such you get individual buttons for input selections, volume, channels controls as well as zones, sound modes, playback buttons, functions and a numerical pad. The remote lacks a backlight function and with so many buttons to handle on it if you like to use it in the dark you will have some hard times finding the correct one to press. For such a premium model we would like to see a better one and hopefully in the refresh model that will come at some point Denon will rectify this.

Closing this part of our review we can say that more or less the X6500H offers what you would expect. Looks that have the usual Denon feel, internals that are up to the task for such a high profile unit and a remote that although offers a lot of functionality is not up to design standards of today while the lack of a backlight will certainly frustrate many. But what makes or breaks such an expensive unit is it's audio quality and this is what we will be looking at next.
Audio Quality
Such a premium receiver couldn't be without extensive audio support and indeed the X6500H has a lot going for it. Obviously the latest Dolby Atmos and DTS:X are present but we also get Auro-3D which many home theater fans will appreciate and IMAX Enhanced which may not still have a lot of supporting material but it's always good to have all the latest that can make a unit future proof. Except from these we also get up-mixing and virtual technologies that supplement the audio capabilities of this model.
When it comes to up-mixing tech we find the usual Dolby Surround and DTS Neural:X. What these up-mixing tech is doing is to up-convert stereo and legacy mixes in order to make use of all the speakers you have in your setup. As for virtual tech the DTS Virtual:X is capable of creating sounds that originate from virtual created speakers around your room where there are no physical speakers present.
This virtual tech obviously is not as good and accurate as having real physical speakers and are very much room dependent. Also the sound many times can be heard very over-processed something we were never very fond of. If there is one thing missing here is Dolby Atmos Height Virtualization but this was to be expected as this tech was included in the newer 2019 models.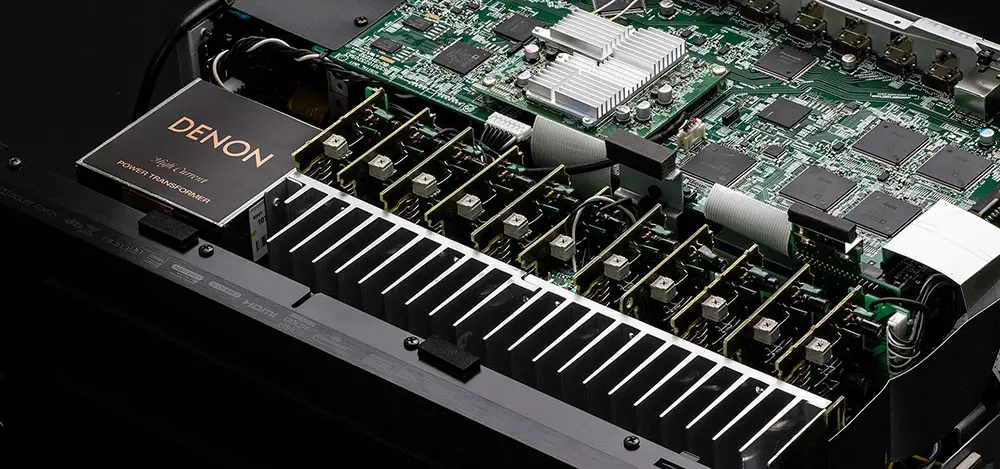 The AVR-X6500H is the only AV receiver that Denon currently offers with 11 channels of built-in amplification and each channel can pump 140 watts of power (8 ohm, 20 Hz – 20 kHz, 0.05% 2ch drive). Obviously you should take this number with a grain of salt as manufacturers always give ratings with only 2 channels driven meaning that when all 11 channels are active this number goes down considerably.
With the supported channels you can go all the way for a 7.2.4 channels audio setup with four dedicated overhead speakers for maximum immersion. For our test we went for a 7.1.4 setup using a single subwoofer and four Atmos speakers placed on the ceiling.
For such a premium receiver we need a movie that holds nothing back and for this reason we chose the 4K UHD of Godzilla: King of the Monsters. Now the film may not have been as good the first one but still comes with a totally amazing Dolby Atmos mix. This is not the most delicate of mixes but we were not looking for such. Godzilla's Atmos track is a loud, demanding one that can bring any AV receiver to it's knees.
Plenty of action scenes to choose from here but obviously the highlight is when we see these titans duke it out. The first thing that immediately hits you is how immersive the sound-stage becomes when all 11 channels are active. The receiver provides very good and precise separation between the channels while panning effects traveled across our room in all axis. With the grand size of these monsters the Atmos track makes good use of the overhead speakers in order to give the necessary weight and dimensions to these creatures while there are many effects like fighter jets and missiles travelling all over the place.
The front sound-stage is as always the most dominating with the front channels separating their elements masterfully from the center and as a result we were able to get clear and distinct dialogue, as much as there is in such a film, even when things went crazy. In all this mayhem we never felt the center channel to be drowning under the rest of the action.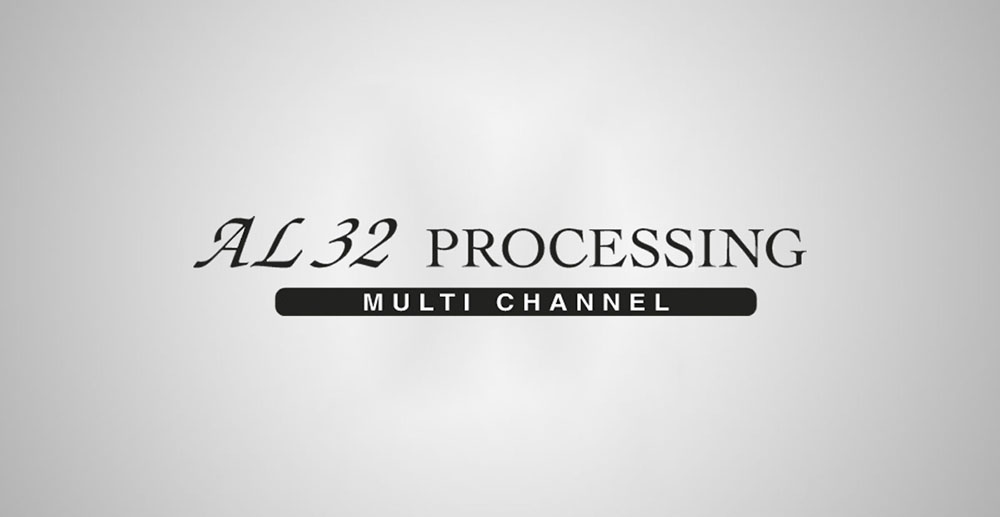 As for the bass, well not that it needs any special mention with such a film but if you happen to have a good subwoofer the Denon will make sure to feed it with all the low end it will ever need. Bass goes pretty low and deep with the receiver making sure to give us a sense of weight with every step Godzilla was making. This is the kind of chest pumping experience that you want to feel while it's not shy of shaking your walls till your neighbors will start begging you to lower the volume.
Next we decided to take out our 4K UHD of Valerian and the City of a Thousand Planets with it's immersive Dolby Atmos mix. This film gives slight priority to it's environmental and ambient effects and the X6500H made an excellent job at giving us exactly that. Every alien planet shown on screen gave us it's distinct acoustic signature with various panning effects giving you a sense of realism and immersion.
The film is not as harsh as Godzilla but has it's moments also and instead tries a different route where small details in the audio track is what make it more realistic. And the receiver had no problem bringing forward every small detail in the mix. Either it be in the surrounds or the overhead speakers or on the occasional low end everything felt precise, clear and of top quality. Once again panning effects felt excellent with spaceships traveling above our heads, laser fire travelling along all speakers and a subwoofer that growled whenever it was needed our session with Valerian went by and we didn't want to stop watching.
Naturally High Resolution Audio couldn't be missing so except from the usual low quality MP3, WMA and AAC the receiver can also playback FLAC, ALAC and WAV files up to 192 kHz / 24-bit as well as DSD for both 2.8 and 5.6 MHz. In our case as we always do in our review we selected a few music tracks in FLAC format that we streamed through the USB port of the receiver for the best possible quality.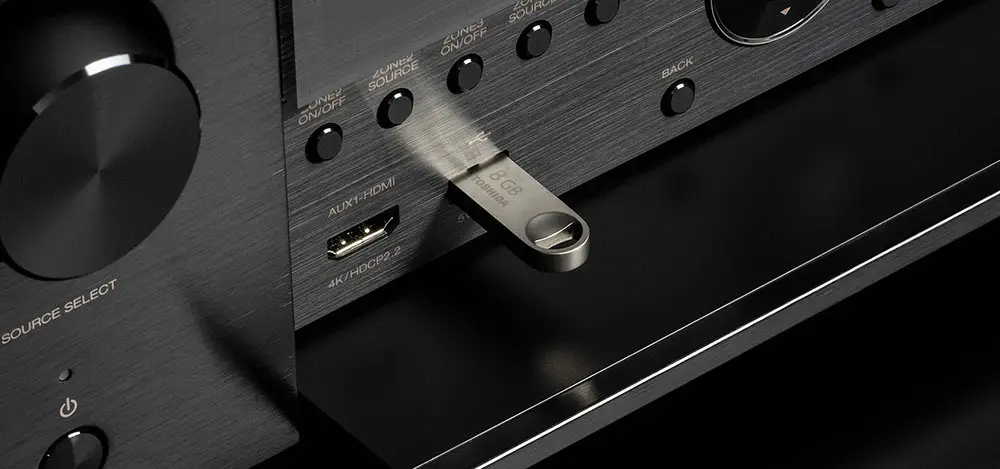 We also switched to a 2 channels setup and the receiver gave it's best to provide us with what we would describe as musical bliss. Obviously the combination of the receiver with the kind of speakers you connect it will play a big role but if you have a pair of good quality speakers then be ready for some amazing musical quality. The front sound-stage felt alive, with excellent volume and depth while sound imaging was extraordinary. Every sound, every rhythm and tone that was coming out of the speakers you could sense it's originality and position in space.
The receiver never bulked under the pressure of more demanding rhythms and even at reference volume it gave us a very controlled outcome that never felt to bother it. It was like it demanded from us to give it more. Mid-range was spot on with highs that felt lively but never bothering and a bass that proved authoritative but never overshadowed the rest of the performance. Vocals were clear providing all the necessary emotion and excitement of each music track.
If you are a music lover and you are looking for an excellent AV receiver then the X6500H should definitely be in your list. It has the power, quality and authority to bring forth all the emotions and qualities of each music track either it is jazz, rock, electronic or classical music.
Closing our testing section we can say that the Denon AVR-X6500H is a serious piece of audio equipment and if you combine it with some good quality speakers prepare yourself for a performance to be remembered either it be for movies or for music. Denon created a champion and it really behaves like one.
Ports and Connectivity
Usually when it comes to yearly releases manufacturers don't change much in terms of connections. Either they make slight alterations or they leave things exactly the same. In our case it seems the second is happening as comparing the X6500H with the previous X6400H we see that there is absolutely no difference between the two as we get the same number and type of connections.

We will not say that this is a bad thing as the X6400H was already fully packed making it one of the most connection complete receivers in the market. As we already mentioned above the X6500H features a few frontal ports with one HDMI, one USB, a headphones jack and the microphone port.
Turning the unit around the first thing that we see are the 11 speaker terminals placed in a straight line at the bottom which helps a lot with cable connections. Also we like how the terminals are of great quality with nice plastic and gold plated endings while all of them can be used as they all feature built-in amplifiers. At the top we find the second most important connectors with 7 HDMI inputs along with 3 HDMI outputs. If you also take into account the front one we have a total of 8 HDMI inputs which are more than enough for any home theater system.
As for all the other connectors there are so many on offer that for sure you will find what you are looking for. There are 6 analogue stereo inputs along with one more dedicated to phono, 3 component video inputs and 1 output, 4 composite video inputs and 2 outputs, 11.2 channels pre-outs, 2 analogue multi-room outputs, 2 coaxial and 2 optical audio inputs, 2 12V triggers, one RS-232C port for command and control, one Remote Control input and one output, a Denon Link HD port, an Ethernet port if you prefer a wired connection to the internet as well as the usual FM/AM antenna and WiFi/Bluetooth connectors.
Being a 2018 model the HDMI ports of the X6500H are all HDCP 2.2 and not the newer HDCP 2.3 but at least the receiver does support the newer eARC for anyone interested. As for the rest of the specs the HDMI ports allow for 4K Ultra HD 60Hz video, 4:4:4 Pure Color sub sampling, Dolby Vision, High Dynamic Range (HDR10), Hybrid Log-Gamma (HLG), 21:9 video, 3D and BT.2020 passthrough. If there is one thing missing that we do find in the 2019 models is ALLM which can be a useful feature if you connect a video games console that also supports it.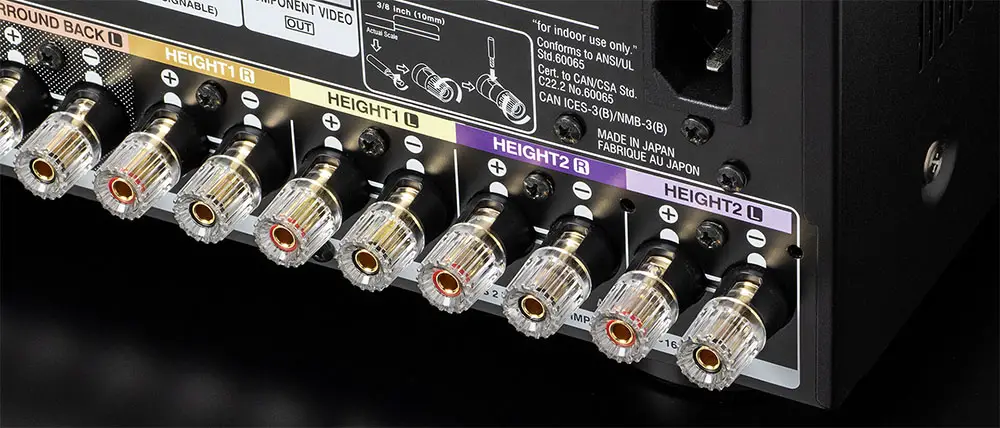 Lastly we should say a couple of things about the unit's wireless capabilities. With it's built-in WiFi it can connect both in 2.4GHz and 5 GHz networks while it also supports Bluetooth streaming. Unfortunately the X6500H supports the older Bluetooth 3.0 + EDR which is not as efficient as the newer v4 and v5 ones.
Considering we are talking about a 2018 model the X6500H manages to offer almost everything. There are a couple of things missing like XLR ports, HDMI ALLM or a newer Bluetooth version but with technology progressing so much it's good to see this unit still managing to stay competitive in this regard.
OS, Apps and Features
Being the second in line model the X6500H was bound to have a very rich feature set that covers almost all bases. So let's see each one of them separately.
First of all we will talk about the audio calibration system. Denon is using the Audyssey system and as with all manufacturers they scale them accordingly to meet the price and performance standards of each of their models. For the X6500H we get the full platinum suite which is the best version of this system that includes the whole feature set.
As such the one included is called Audyssey MultEQ XT32 with Dynamic Volume, Dynamic EQ, LFC and SubEQ HT. This version of Audyssey has the ability to analyze up to 8 different listening positions with the help of the included microphone and creates precise digital filters in order to offer the best audio result for your particular space.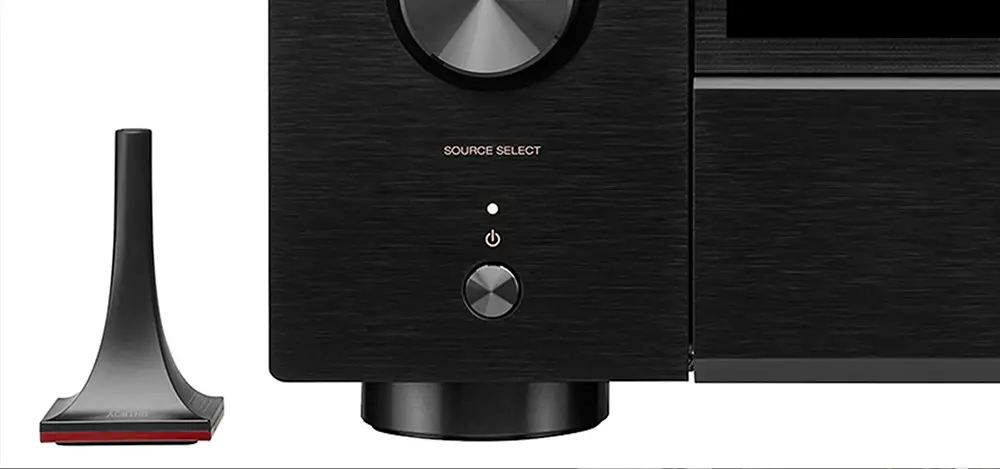 But expect from the core system we also get Dynamic EQ which is a feature that is responsible at keeping the clarity and dynamic levels of audio even when you like to watch at low volume, like for night viewings for example. Dynamic Volume on the other hand is capable of balancing sudden changes and spikes in volume that could appear when there are sudden changes from TV broadcasting to commercials.
Another useful feature that we get is Audyssey LFC which is a system that isolates the low frequencies withing your listening area in order not to bother other people around you and SubEQ HT is essentially a dual subwoofer calibration tool in case you use such a setup.
Going through the Audyssey calibration can be done either through the built-in wizard or if you are more crazy about calibrating your system then you can download the Audyssey MultEQ Editor app that is available for Android or iOS and do a more thorough setup with the help of your mobile device. Only keep in mind that this app has a one time fee which finds us completely against especially when you pay such a high price for such a premium device. As for the built-in system this is enough for most casual users as it offers almost anything you need to make very good and precise adjustments to your system.
But Denon provides another app for this AV receiver and this one comes completely free. The Denon AVR app as it is called lets you control the unit with your mobile device through a nice visual interface. If you are tired of the included remote this is a nice and most important free alternative. The app is available for both Android and iOS devices so we suggest you give it a try to see if you like it.

When it comes to the User Interface the one in this unit is pretty simple and straightforward. Although it doesn't have the visual impact of some other UIs we have seen used in TVs for example it's layout is very nicely done and you can find all the settings you will need without much effort. We would like at some point to see a more nice design but it seems this is not so much of a priority to most manufacturers right now.
The receiver comes fully featured when it comes to it's streaming as well as multi-zone capabilities. As it supports both HEOS and Airplay 2 you can either stream music online from one of the available online streaming services that include Spotify Connect, Pandora, SiriusXM, Amazon Music, TIDAL, Deezer, iHeart Radio, Napster, Soundcloud, Mood Mix among others or create your own multi-room environment with the use of appropriate wireless speakers. Both the HEOS and Airplay 2 apps are available for downloading from their appropriate stores for use with your mobile device. But if you prefer a wired connection the X6500H also supports Zone 2 and Zone 3 for your convenience.
Now as far as streaming, online is not the only option you have as you can stream audio from a network drive or NAS server if it happens you to have one connected to your local network. Also with the included USB port you can stream music through some connected external storage or flash drive. Lastly if you prefer a more wireless way of streaming your music there is Bluetooth available for connecting with your mobile device although the Bluetooth 3.0 available can be a bit problematic with connections. If you use Apple devices then Airplay 2 can also be used to stream music wireless through it.
Such a advanced premium device wouldn't be able to do without some advanced means of control. Denon is known for including almost all known voice control platforms to most of their models and the X6500H follows accordingly. As such there is support for both most used ones with Amazon Alexa and Google Assistant but there is also support for Apple's Siri through the Airplay 2 app and the advanced automation system Josh.ai making this receiver complete in every way.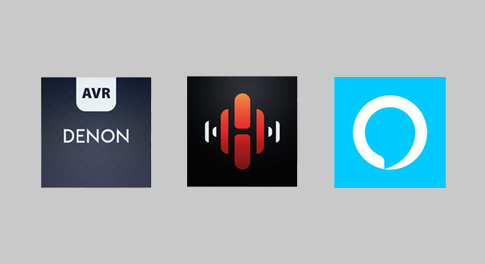 Another handy feature that we do find is HDMI-CEC and this one lets you use the TV remote to control the AV receiver if the TV also supports this. You can understand the practicality of this as this way you can reduce the amount of remotes you will need to have in your home theater. Obviously this feature lets you use only the most basic functions of the receiver but for everyday use it can be a very time saving one.
But extra features don't end here as there are much more on offer. The receiver supports video upscaling to 4K resolution from both it's HDMI and analogue inputs, there is bi-amp capabilities which is a favorite among home theater fans, an ECO mode that can regulate the receiver's power usage for a more environmental friendly power consumption, custom integration with the use of Ihiji Invision and Domotz Pro along with support for Control4 automation and Creston intelligence and lastly we get ISF certification.
Closing we must admit that for a unit that was released in 2018 there is hardly anything missing. Obviously many of these features have found their way to some cheaper models but this shows how fully packed this one was when it came out and still is to this day.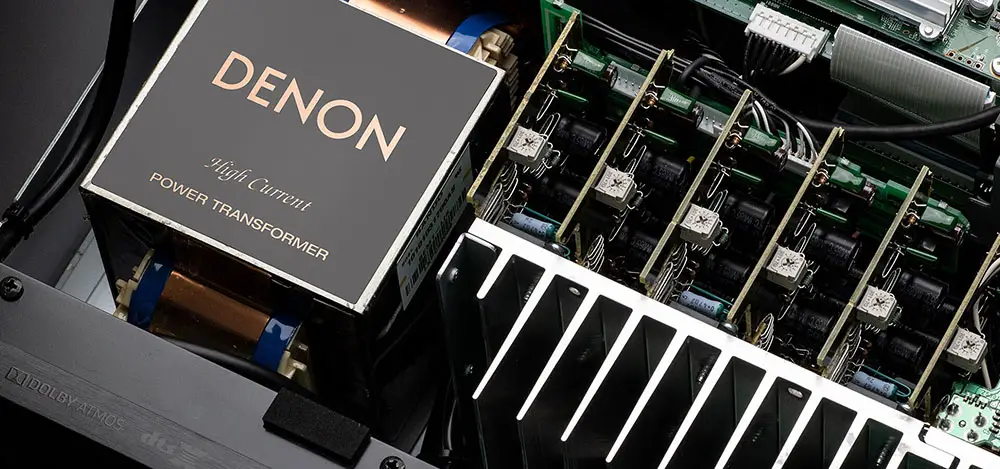 Final Thoughts
The AVR-X6500H is the kind of receiver that offers exactly what you would expect from a yearly update. Destined to replace 2017's excellent X6400H, with one year of extra time the X6500H comes with a similar feature set with slight additions that may or may not be worthwhile depending on your needs while some of the new features have found their way to the previous model also.
New additions include support for Amazon Alexa, it's HDMI now support the newer eARC, there is Airplay 2 strengthening even more it's streaming capabilities while Denon has included IMAX Enhanced support which may not be a feature that has yet made any impact but we are bound to see more of it in the future.
There are so many things to like in this one really. It supports not only Dolby Atmos and DTS:X but also Auro-3D, IMAX Enhanced and DTS Virtual:X along with up-mixing tech, High Resolution Audio, HEOS and Airplay 2 along with a vast list of streaming services and extra features and functions. With 140 watts of power and 11 channels of built-in amplification this receiver has the means and quality for all kinds of demanding home theater setups and during our test it really showed it's capabilities with crystal clear audio and totally immersive and precise performance.
On the downsides there are not many things to complain about. Obviously the price is not for everyone and you cannot consider this your average consumer friendly AV receiver. Not giving the Audyssey MultEQ Editor app for free is definitely a minus while no backlight in the remote will make more than a few frustrated using it in the dark. Lastly the receiver in not such a big update over last year while some of the new features have also been introduced to the X6400H by an update making their value have even less of an impact here.
Closing the Denon AVR-X6500H is the kind of AV receiver that deserves the title of premium top of the line audio device. It's the only 11 channels model in Denon's arsenal and has everything it needs to take on the competition. Denon knows their craft and the X6500H is the result of this. Excellent choice for anyone looking for one of the best 11 channels receivers on the market today.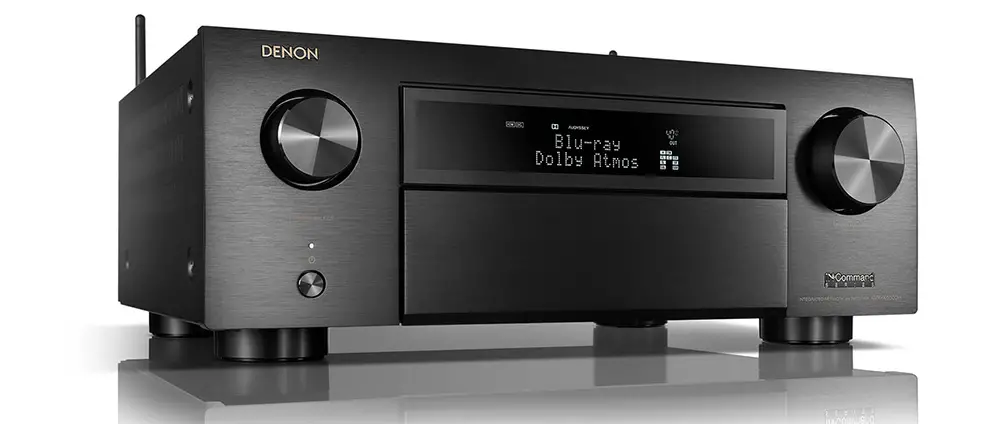 For more reviews you can check our dedicated 11 channels 4K AV Receiver reviews list or even look at our Product Reviews Table where you can find the brand and specific product you are looking for.
Also don't lose the chance to subscribe to our Newsletter and gain exclusive privileges.
---
Cheapest Places to Buy :
---
Denon AVR-X6500H Specifications