Denon HEOS Bar
Design -

93%

Movies Performance -

88%

Music Performance -

90%

Inputs and Features -

94%

Price / Quality -

85%
---
Cheapest Places to Buy :
---
Wireless speakers connectivity is becoming more and more popular these days with a wide range of audio devices supporting such a feature. And a name that pops in mind when thinking of wireless multi-room speakers connectivity is HEOS, a brand that was created by Denon but nowadays has evolved into a brand of it's own. Denon may be known mostly for their excellent home theater AV receivers but that doesn't mean they are confined only in that segment.
With flat TVs the need for better sound has become more apparent and as such soundbars have risen in popularity for offering what a flat TV cannot while at the same time try to offer a complete package into a single device. Denon took note and as such created the HEOS Bar to cover this particular need. But with so many soundbars nowadays in the market where exactly this one stands? And does it offer anything to make it stand out from the rest? Continue reading to find out in our Denon HEOS Bar review.

Design, Inputs and Features
The HEOS Bar by itself is a 3.0 soundbar that consists of three front channels. It may not be the biggest soundbar we have seen but measuring 2 7/8 x 43 3/8 x 5 7/8 inches (72 x 1100 x 148 mm) and weighting 10.58 lbs (4.8 kg) it certainly is not small either covering the whole length of a 55-60 inch flat TV. In contrast to the more conservative designs that Denon has used us the HEOS Bar has a rather futuristic design with more sharp corners than most soundbars we have seen.
The soundbar's 3.0 system consists of 6 oval woofers and 3 tweeters in total, 2 woofers and 1 tweeter for each channel, all positioned in a 45 degrees angle. This was done in purpose as the soundbar can be either placed on a furniture or hanged on the wall so placing all woofers at an angle would not obstruct the sound output. The drivers are enclosed by a dark cloth grill that cannot be removed and covers most of the top and front sides. On the right side we find a couple of buttons only for volume mute and volume calibration while all connection ports are located at the back.

Most soundbars present a common problem, they obstruct the TV's IR signals if placed directly on the front. No such problem for the HEOS Bar as it has the ability to pass the IR signal with the help of 4 IR repeaters that are placed at the back of the soundbar. A clever design and indeed very practical. Under these repeaters we find the all the connections available to the soundbar. The HEOS Bar comes equipped with 4 HDMI ports with all of them being v 2.0a which means they support 4K UHD with HDR while the HDMI output also supports ARC. We also find an IR IN jack, an optical and a coaxial digital audio input, a 3.5mm analogue audio jack, a USB port for connecting external storage and an Ethernet port for wired connection to the Internet. There are also a couple of buttons, one for Bluetooth pairing and one for WiFi connection.
The HEOS Bar offers a wide variety of ports making it easy to create any kind of audio connection and Denon seems to have put a lot of thought into it. But although the amount of ports is satisfying what we didn't like was placing the USB port at the back making it almost impossible to have easy access to it if you want to use a flash drive for streaming your favorite music. A different position like in the side or in a more easy to access position would definitely help than where it is now and this would be our only complaint regarding the ports.

The soundbar can be connected to the Internet with the wired port that we mentioned above or wireless through WiFi as it supports the latest 802.11 networks including N and AC that offer the highest speeds. If you have a router close to the soundbar then wireless connection should work just fine as it did in our situation but if you have connection problems or your router is far away a wired connection will definitely solve all your problems.
Denon HEOS Bar supports a wide range of audio formats including Dolby TrueHD and DTS-HD Master Audio but unfortunately since there are no height type of speakers here there is no Dolby Atmos or DTS:X support. The Bar will still play these formats but will downgrade them to the Dolby TueHD and DTS-HD master Audio core tracks.
When it comes to audio files support we also get a wide list of files supported that include WMA up to 192kbps, AAC and MP3 up to 320kbps, FLAC, WAV and ALAC up to  24-bit/192kHz as well as DSD 5.6 (streaming). As you can understand Denon made sure to include all the known formats and from testing a wide list of files this seems to be true as we didn't encounter any problems when we USB streamed some music.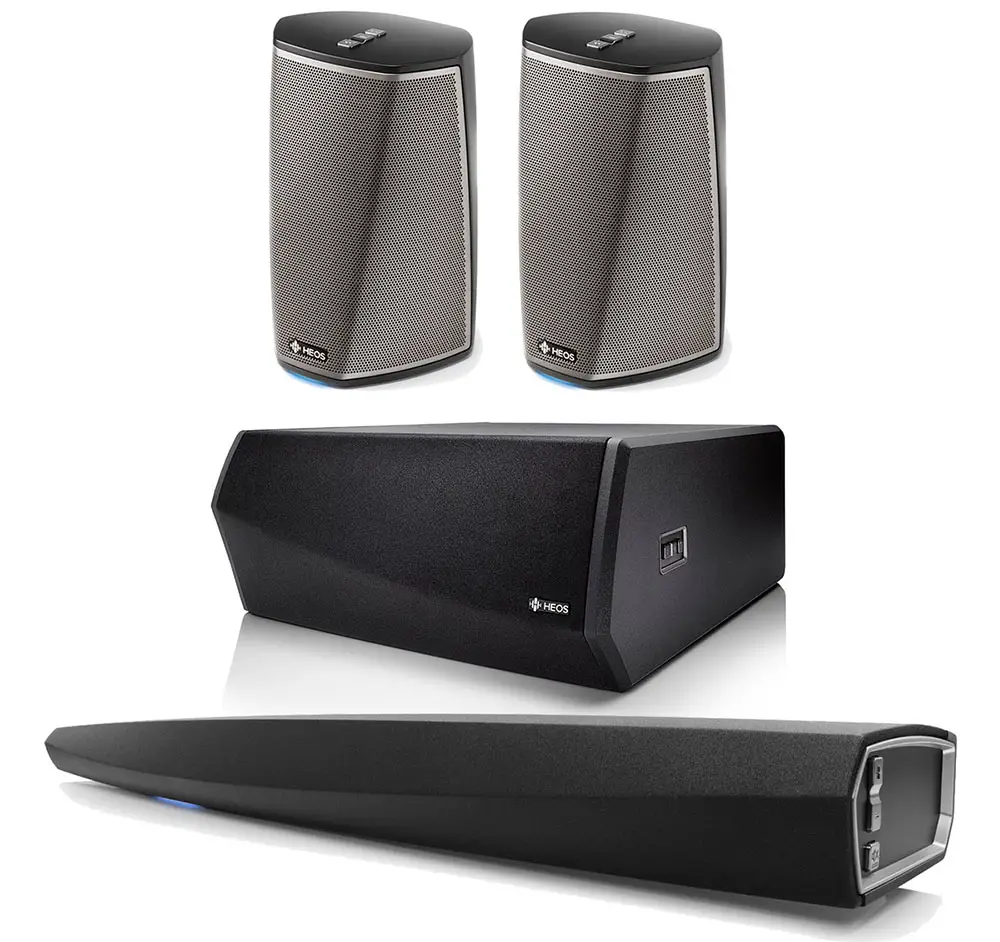 One key characteristic of the HEOS Bar is that although to it's core it's a 3.0 system it has the ability to expand to a 3.1 system by adding a HEOS subwoofer or even take it a step further by making it a fully surround 5.1 system by adding a subwoofer and 2 surround HEOS speakers like the HEOS 1. We have seen a couple of soundbars offering such a modular feature from other brands but in general it's not something we see very often but we definitely support it as it gives the users the ability to choose what they want.
You prefer your house to shake with every explosion on screen? Add the subwoofer that will add the necessary bass for it. Or you maybe prefer deep surround effects by hearing the bullets fly by your head in each gunfight so you do that by adding a couple of surround speakers. The choice is yours and although adding more speakers expands the core system it also raises it's initial price. But if you consider the cost of a dedicated surround audio system we believe that going for a full 5.1 system with the HEOS Bar at it's core will not be much higher in price all things considered.
The HEOS Bar also supports a wide list of online streaming services which can be controlled with the online app. Services include Rhapsody, Pandora, Spotify and TuneIn, iHeartRadio, SiriusXM and MOOD:MIX giving you a good variety for your audio streaming pleasure.
Bearing the HEOS name means that the HEOS Bar brings this feature front and center as the soundbar can be connected with all kinds of HEOS enabled speakers in order to create your own multi-room environment.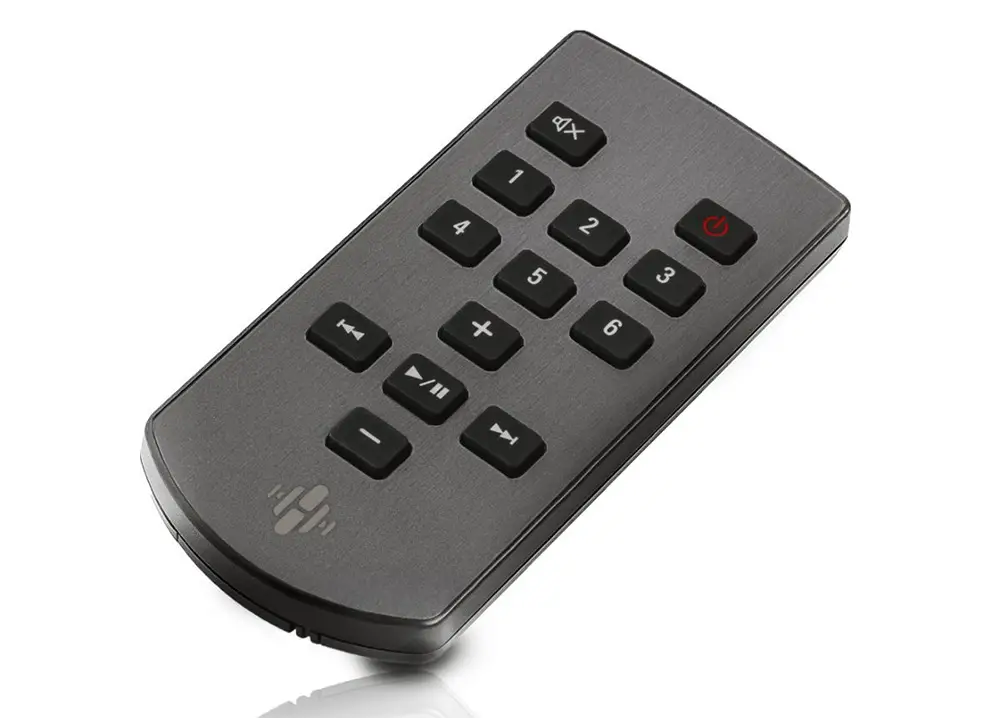 Being in line with our times the HEOS Bar also supports voice control by having added both Alexa and Google Assistant support. If you have an Amazon Alexa enabled speaker in your house or a similar Google Assistant device then you can use it to issue hands-free commands to your soundbar. A very useful feature for those that like this kind of control.
The included remote has a small palm-sized design that separates it from the usual look of soundbar remotes. It has very few buttons, just enough for the most basic of functions but the rubber buttons have a nice touch and have enough space between them for easy pressing. And although the remote can handle the most usual functions it's the HEOS app that really is the centerpiece of control for the HEOS Bar and the one that brings everything together. Although you have to create a HEOS account to use it once you do it gives you a huge amount of control over your system.
With the HEOS app you can control audio calibration, connect other HEOS speakers, create multi-room setups, rename your speakers and stream music from the included online services. In a way if the HEOS Bar is the body, the HEOS app is definitely the brain that makes everything tick. The app felt very stable without any major delays or dropouts during testing.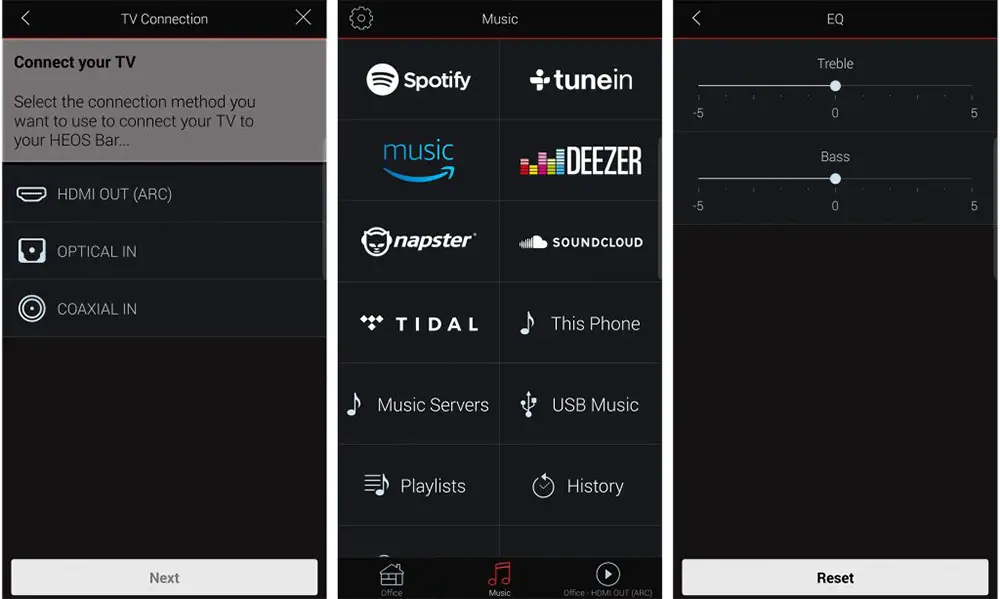 Performance
Setting up the soundbar is done through the HEOS app and to be honest although it takes a bit of time if it is the first time you are dealing with a HEOS device the whole process is relatively easy. Once you power up the soundbar you have to connect your smartphone through the AUX port in order for the app to identify the device. After the initial setup you have the ability to add more speakers like the subwoofer and surround speakers if you have more than just the soundbar, calibrate the audio settings and connect additional sources as video consoles, streaming boxes etc.
Once you finish setup and calibration it is not necessary to use the HEOS app anymore as you can use the included remote if you prefer but we found the app very easy to use and we continued using it through our testing. Usually issuing commands through an app has a small delay but we found the specific app to be very responsive and didn't experience any problems showing how much work Denon has put into it.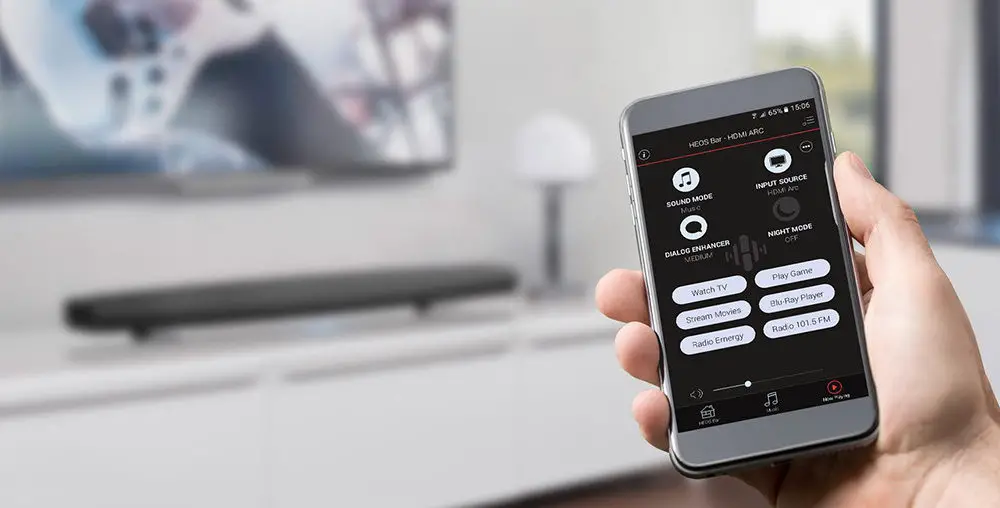 Movies
Two films are included for our movie testing and we start with the 4K UHD disc of Battleship that includes an amazing DTS:X soundtrack. Although the HEOS Bar does not support DTS:X it does support DTS-HD Master Audio and this is what we were getting during our testing. A soundtrack as bombastic as the one featured in Battleship has a lot of low and high frequencies making it ideal for testing the capabilities of any soundbar.
We usually like to check the first encounter between the Navy Destroyers and the Alien ship when the explosive pegs explode on the destroyer deck. The HEOS Bar really managed to reproduce the audio track very faithfully. The front stage felt more wide with channel shifting being very accurate and precise. You could really sense the sound effects traveling from one side to the other following the action. Dialogue was very clear without the vocals becoming distracting to the rest of the action.
Unfortunately while the front sound stage felt very wide and complete the HEOS Bar could not expand it very much behind us as most of the action felt like coming from the front. There is a virtual surround mode that improves things a little bit but at no point did we feel like sound was coming from behind making the use of some HEOS 1 surround speakers a necessity if surround immersion is what you are looking for. Also without a subwoofer the sound came out a bit flat. In the same vein although the HEOS Bar can manage to produce some bass, even more than some other soundbars that we had tried before, if you want to really make your house shake the HEOS subwoofer is a must as it helps the soundbar go even lower and deliver a more rich frequency range.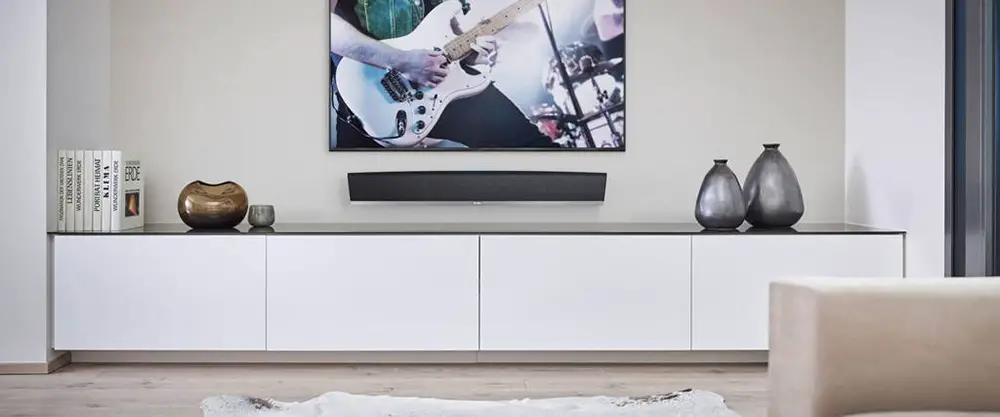 Moving on to our next test we use the Blu-ray disc of Lord of the Rings : The Fellowship of the Ring which comes with a DTS-HD Master Audio track in order to test a more orchestrated audio track that is heavy on bass and dialogue. Here we saw a similar kind of behavior although here the omission of surround speakers was not so evident as the film is not relying so much on surround effects but what was really missing was the subwoofer in order to give us the necessary oomph such an audio track can offer. Other than this the HEOS Bar managed to create a very pleasing result on the front delivering the sound effects, orchestrated music and dialogue with precision and clarity.
Closing we will say that the HEOS Bar performed more or less how we expected. At the front the results were very good delivering the audio tracks with precision, good separation and very good channel shifting while dialogue was clear and bass was actually good if you consider we talk about a soundbar. But the HEOS Bar showed the same weaknesses all soundbars have. Surround felt shallow and almost non existent while bass was so and so. But while with other soundbars you have to learn to accept these problems the HEOS Bar gives you the choice to delete them by adding the HEOS subwoofer and HEOS 1 surround speakers in order to create a fully immersive audio environment.

Music
Next in our testing was music performance and we connected our flash drive with some FLAC audio tracks to the USB port which by the way is in a frustratingly uncomfortable position. Things here are a bit better than during our movie testing as the omission of surround speakers is not very obvious while the bass although a bit light for our tastes the soundbar managed to go relatively low and in combination with a tight mid-range and very good highs it delivered very good results. Drums, guitars, bass and vocals were all delivered with precision and thus making the HEOS Bar having a very balanced performance.
The soundbar by itself may not be able to go very low but it knows it's limits and gave us a sense of control over it's capabilities without trying to go into ranges that it cannot handle and as a result offered us a very good music experience for as long as we had it for testing.

Final Thoughts
Denon has created a rather interesting soundbar that features a modular design that will certainly appeal to many. Being able to choose what you want, either the core 3.0 system or expanding it to 3.1 or even a 5.1 system by adding more HEOS speakers and a subwoofer is giving you the freedom that not many soundbars are able to offer. Although the price for these extra speakers will cost you a bit extra if you consider the cost of a full dedicated speakers setup then you may find the price not so much more expensive.
As for the core 3.0 soundbar what we can say is that it offers a good upgrade over any kind of TV audio system would be able to offer. It managed to expand the sound stage in the front while offering clear vocals and good separation between the front channels giving an overall good performance both for movies and music. The amount of ports offered are very good and the amount of features and streaming services give the user a lot of freedom to choose from. The HEOS app is what binds all together and Denon has created a system that is easy to control and access all options and features.
On the other hand of you stick just with the HEOS Bar you may find that it lacks a bit in bass as the sound comes out a bit flat for our tastes and makes the necessity for a subwoofer a must. Similarly there was not much depth as the soundbar failed to offer realistic surround sound without the presence of any surround speakers. The virtual surround mode tries to push the sound field a bit further to the back but we cannot say that it created an encompassing audio bubble as we would like.
If you plan to use the HEOS Bar just for music then we would say that just the soundbar is enough to offer you satisfying performance. But if you plan to use it for movies also then we would definitely suggest you to expand the core system with the subwoofer and surround speakers as by itself it fails to offer a completely immersive experience. Does it improve the TV audio? Yes it does, by far and if this is enough for you then go for it but for the full experience consider going for the full 5.1 system if budget and room space allows for it. In the end the Denon HEOS Bar is a fine piece of audio equipment that has many strengths but also the familiar limitations that plague almost all soundbar systems, it's just that with this soundbar you have the ability to delete them if the core 3.0 system seems not enough for you. And this by itself is a very good thing.
For more reviews you can check our dedicated Single Soundbar reviews list or even look at our Product Reviews Table where you can find the brand and specific product you are looking for.
Also don't lose the chance to subscribe to our Newsletter and gain exclusive privileges.
---
Cheapest Places to Buy :
---
Specifications
Drivers system : 3.0 Speaker System
Channels : 6 channels of high efficiency, cool-running Class D digital amplification
Audio Formats support : Dolby TrueHD, DTS-HD Master, Dolby Digital, Dolby Digital Plus, DTS Decoding support
Connectivity : 4K HDMI Input and HDMI Output with added ARC support, Auxiliary Analog Line Input
Audio Files support : WMA up to and including 192kbps, AAC and MP3 up to and including 320kbps, FLAC, WAV and ALAC up to and including 24-bit/192kHz, DSD 5.6 (streaming)
Streaming Services : Rhapsody, Pandora, Spotify and TuneIn, iHeartRadio, SiriusXM, MOOD:MIX
Image Files support : JPG, PNG, BMP and GIF album art picture formats support
Features : USB streaming support, IR Remote Learning
Internet Connection : Supports the latest 802.11 networks (including dual band "N", "AC"), RJ-45 wired LAN port
Power supply : 100-240 Volts AC, 50/60 Hz
Dimensions :

On the shelf : 2 7/8 x 43 3/8 x 5 7/8 inches; 72 x 1100 x 148 mm
Wall mount : 5 7/8 x 43 3/8 x 2 7/8 inches; 148 x 1100 x 72 mm

Weight : 10.58 lbs; 4.8 kg