Denon Home Sound Bar 550
Reviewed at $649.00
---
Cheapest Places to Buy :
---
Denon is a very recognizable brand in the home theater arena mostly thanks to their top performing AV receivers and amplifiers. But their product range does not stop there as they also have wireless speakers, headphones and the list goes on and on. One of their most popular product ranges lately has been the Home wireless speakers as with the use of the HEOS app you can create a wireless ecosystem in your house. What was missing from this product range was a soundbar and this is where our article will focus today as in our Denon Home Sound Bar 550 review we will be testing the latest addition to Denon's Home range of products.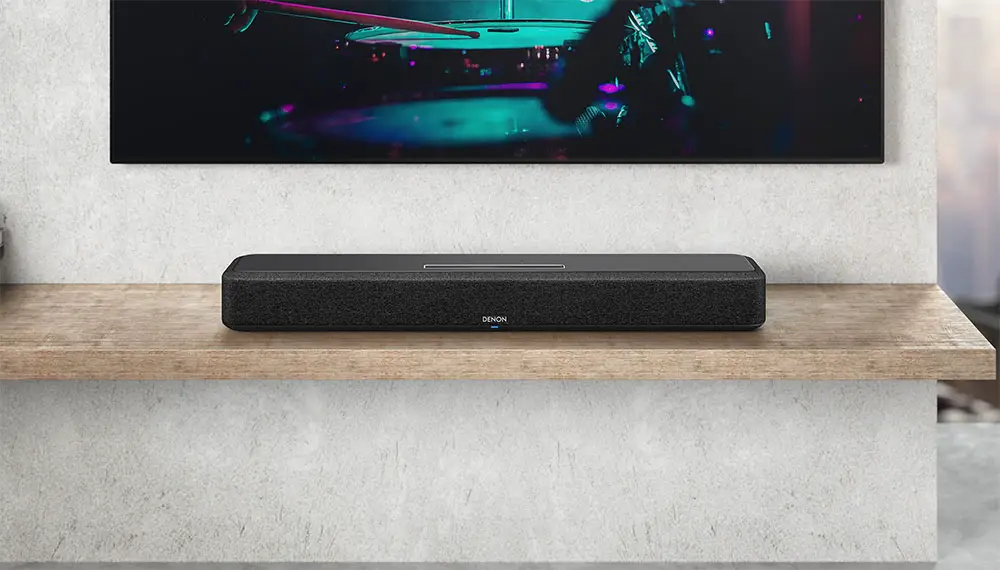 Denon may not be very popular when it comes specifically to soundbars although they have a few models released in the past few years. But the Home Sound Bar 550 is not a simple soundbar as you would normally describe it but should be considered as part of a bigger family that can also work independently. Also with Denon advertising this as a Dolby Atmos capable unit it will be interesting to see how such a small unit can do with the highly demanding Atmos effects and overall cinematic sound output.
Going over the specs really quickly and what we see is that the Denon Home Sound Bar 550 is in reality a 4.0 channels system that supports both Dolby Atmos and DTS:X audio formats. It comes with Amazon Alexa built-in and also features USB playback, Bluetooth streaming, High Resolution Audio support, Airplay 2 while the unit is also Roon tested. It can be controlled through the HEOS app and you can even expand it to a full surround system by adding other Home wireless speakers and a subwoofer.
In theory the new addition to the Denon Home family looks an interesting one. It seems simple to setup and to handle, it is compact enough and comes with all the basic features you would expect. But is it really as good as it seems? Because a soundbar may come with all the features of the world but it will not make much of a difference of it cannot perform accordingly. Let's start our analysis to find out.
Design, Inputs and Features
Exterior
The soundbar sports a very compact design and can easily fit under any TV or even monitor you may have. With a size of just 25.95″ x 2.95″ x 4.72″ (650 x 75 x 120 mm) and a weight of 7 lb 11 oz (3.5 kg) your only concern should be if it will obstruct your TV's IR sensor as some TV models have really low profiles and the soundbar does not use any IR repeaters for this case.
Build quality was pretty good for a Denon product. The unit felt sturdy and the plastic didn't feel cheap. Design wise it's not the kind of soundbar that will wow you with its presence but it doesn't disappoint either. Mostly we would say it will go by unnoticed in your room and this is good.
The unit features a tight cloth grille that covers the entire front face, both sides and ends up at the back. The rest of the shell including the top is made out of plastic and in general the aesthetics are good enough. There are no exposed drivers here, everything is covered by the fabric grille and give the Home Sound Bar 550 a very streamlined look.
At the top we find a few built-in buttons placed in a special groove. What is particularly interesting with these buttons is that they are touch sensitive. If you have read any reviews of ours from the past we kept saying that touch sensitive buttons may look good and more premium but they always posed a problem if you used the unit in a dark environment as it is simply impossible to press the correct one.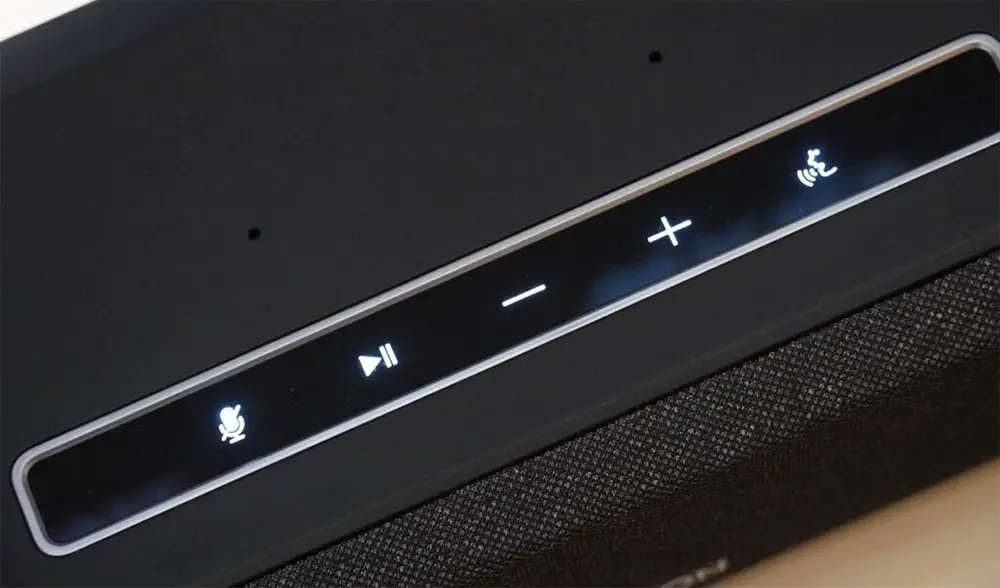 It seems that Denon put a lot of thought into this and found a nice solution. The built-in buttons feature a sensor and when your hand is near them the buttons will illuminate and you can clearly see what to press. An ingenious design and hopefully we will see this used more often with soundbars that utilize touch sensitive buttons.
There are five buttons available on the unit itself including a microphone mute, play/pause, volume controls and an action key that can call Alexa. Above these buttons we find two small holes and this is the microphone array of the unit for the voice control feature.
Unfortunately while we liked what Denon did with the buttons we were disappointed that there is no full functions display to show what the soundbar is doing. Instead Denon included two LED lights, one big that is placed at the center of the front face and is indicating what Alexa is doing while there is another, smaller one, placed under the Denon logo and depending on its color it shows various functions of the soundbar itself. For example when you change a setting it will blink, it turns green when you setup the unit while it becomes orange when updating.
In the box the Home Sound Bar 550 also comes with special wall hook holes that attach on the back of them unit.
Overall the soundbar is compact with good looks, satisfying build quality and a very nice touch control system. If only it had a full functions display and we wouldn't be able to ask for anything more from such a small device.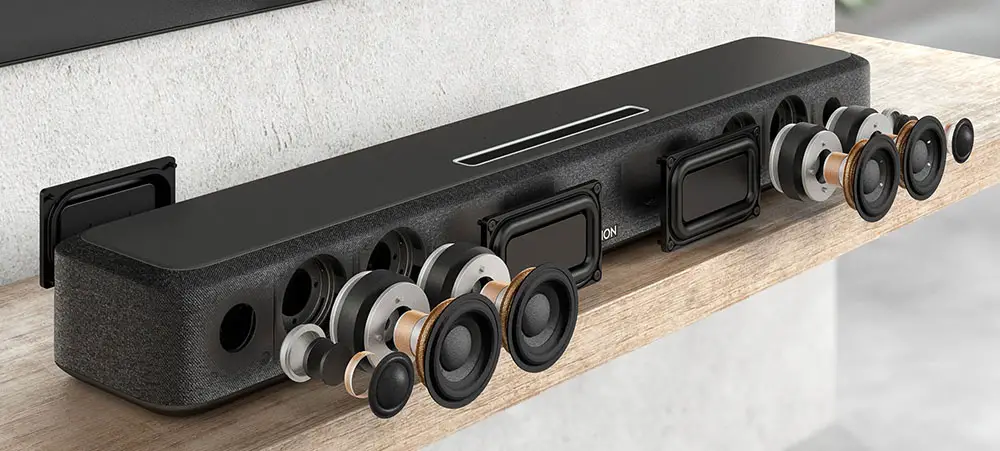 Internal Hardware
The Denon Home Sound Bar 550 comes with a 4.0 channels configuration which means no dedicated up-firing drivers for the Atmos effects and as such the soundbar has to rely in virtual technologies in order to give you the illusion of height activity.
The unit comes equipped with four 55 mm full range drivers that are supplemented by two 19 mm soft dome tweeters. Due to the compact size of the soundbar and the omission of a dedicated subwoofer the bass would suffer greatly and for that reason Denon decided to add three 50 x 90 mm passive radiators, two at the front and one on the rear, to boost the low end as much as possible.
That's all there is to it. Without any up-firing or side-firing drivers the Denon will surely be more constraint in terms of audio expansion but more on this shortly. Denon does not provide any power rating for the unit so we have no means of comparison with other competing brands.
Connectivity
Next we will be looking at all available connections which Denon placed together in a central inset at the back of the soundbar. From left to right we find the power connector, a digital optical input, a 3.5mm analog stereo input mini jack, an HDMI output, an HDMI input, a USB port and an Ethernet port.

We do like the fact that the soundbar gives you the ability to pass-through the signal from the unit to the TV. This eliminates the need to use the ARC/eARC connection which can create a whole new set of problems and also introduce audio lag. Denon nowhere mentions what kind of HDMI ports the unit comes with but we were able to pass signals with 4K resolution and HDR. But not everything was smooth as when we tried to pass 4K@60Hz with HDR the signal would not pass which is a bummer if you are a gamer and want to use this soundbar in pass-through mode for gaming.
The included USB supports external storage from which you can playback music although we always found it strange to position the port at the back as it can be such a frustrating procedure to reach it every time needed. Lastly the inclusion of an Ethernet port ensures stable connection to your local network which can be the ideal way to go since the soundbar supports High Resolution Audio which requires higher than usual bandwidth.
Overall a pretty standard layout for the Denon Home Sound Bar 550. If there is one thing we didn't like is the inability of the unit to pass 4K@60Hz with HDR signals. Yes, a single HDMI input does not cut it and the placement of the USB at the back can be a pain to reach but both of them can be solved. The 4K@60Hz with HDR matter cannot and greatly limits the soundbar's usability mostly for movies and not so much for gaming.
Control Options
Next we will be looking at the ways you can control the soundbar. Above we already mentioned the built-in buttons available but these can only give you very specific control options.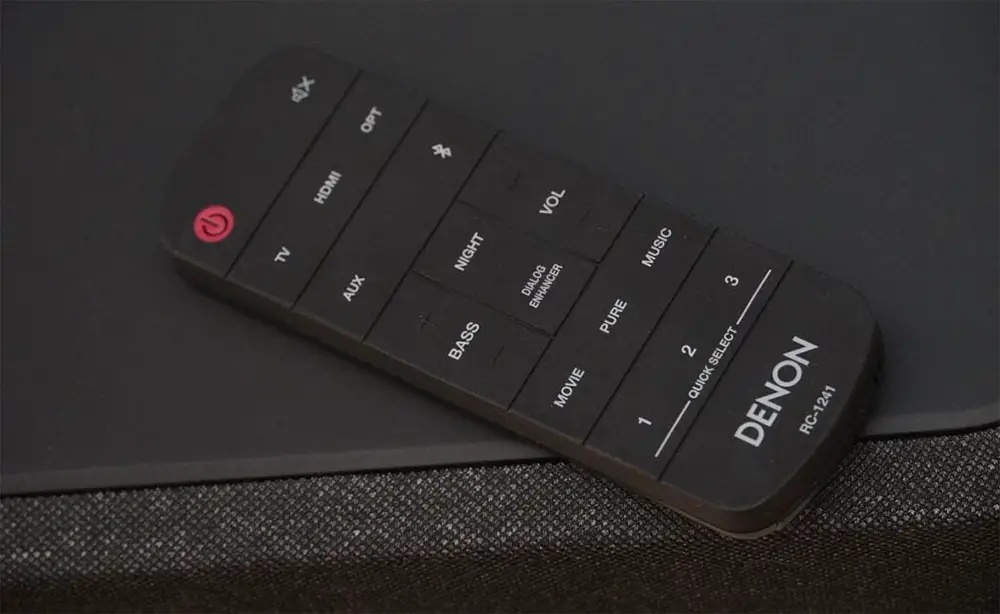 So your best bet is the included remote which is a pretty small one but has all the functions you will need. One thing that we didn't like with the remote is the proximity of the buttons. Many of them are not separated and this poses a problem using it in the dark. We find it strange how Denon spent so much thought into solving the touch sensitive buttons on the unit itself but could create something better for the remote as it will create the exact same problems when being used in a dark environment.
Also the remote cannot act as a universal remote like other brands offer so you cannot use this one to control your TV's volume for example.
But if you want total control over the soundbar we would suggest you to use the HEOS app as it can act not only as a replacement for your remote but also comes with plenty other options for streaming music and setting up the unit. At the bottom there are three tabs available with the left one displaying the speakers connected to the HEOS app while the middle one gives you various streaming options either from a streaming music service like Spotify, Deezer, Tidal or Amazon Music or locally from a NAS server or even from some external storage connected to the available USB port.
The right tab enters the soundbar's functions and from here you can choose sound modes, choose a quick select option which saves your preferences and even change bass and treble levels. Don't expect any deep EQ settings and everything that is there is basic and easy to handle by even casual users.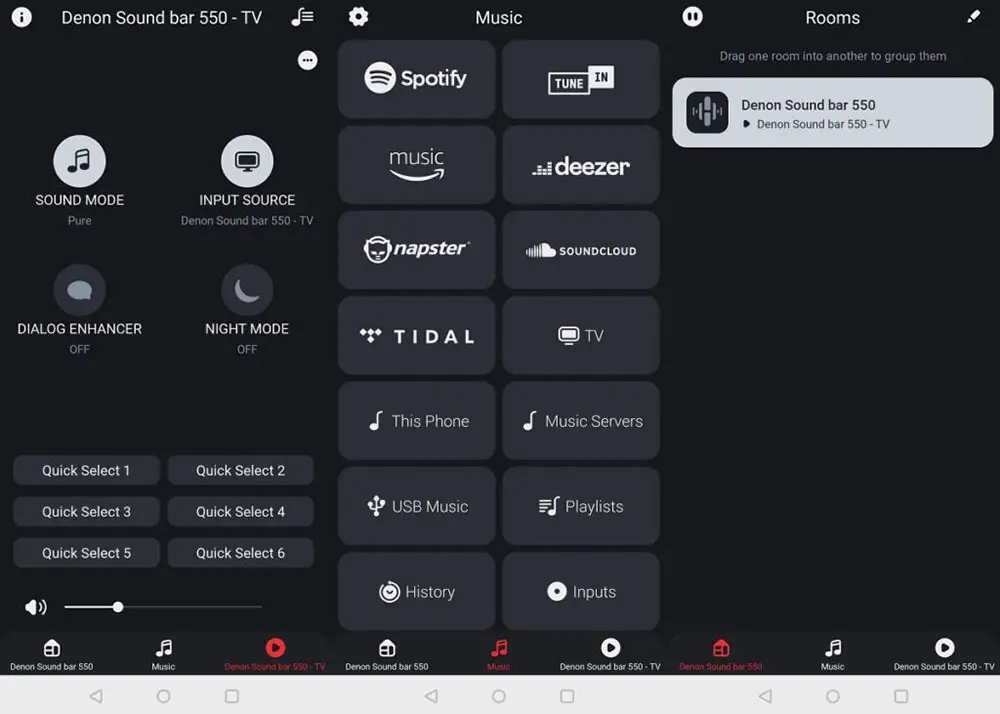 Lastly the unit comes with built-in support for Amazon Alexa that can be used through the microphone array that is placed on the main unit. Unfortunately while the unit can also work with Google Assistant, this is not built-in and for Google's voice control you will have to use an external Google device.
Extra Features and Services
Next we will be looking at all the extra features that come with the unit.
First of all let's see what kind of audio formats are supported with the soundbar supporting all the known ones. There is Dolby Atmos and DTS:X which is a big plus for such a small device. Many soundbars have left DTS out lately so seeing it being supported here is always good. DTS may not be as widely used as Dolby's formats but still there are many big releases that use it and it should be considered a standard nowadays. Big plus in our books. Also the soundbar supports multi PCM which is common to have along the rest.
Denon has equipped the Home Sound Bar 550 with various sound modes but honestly we found the overall scheme more complicated that it should be and the manual is not making things much clearer. And if we, that have some experience, found the modes available complicated we can only imagine the frustration of more casual users trying to understand which mode is better for each content.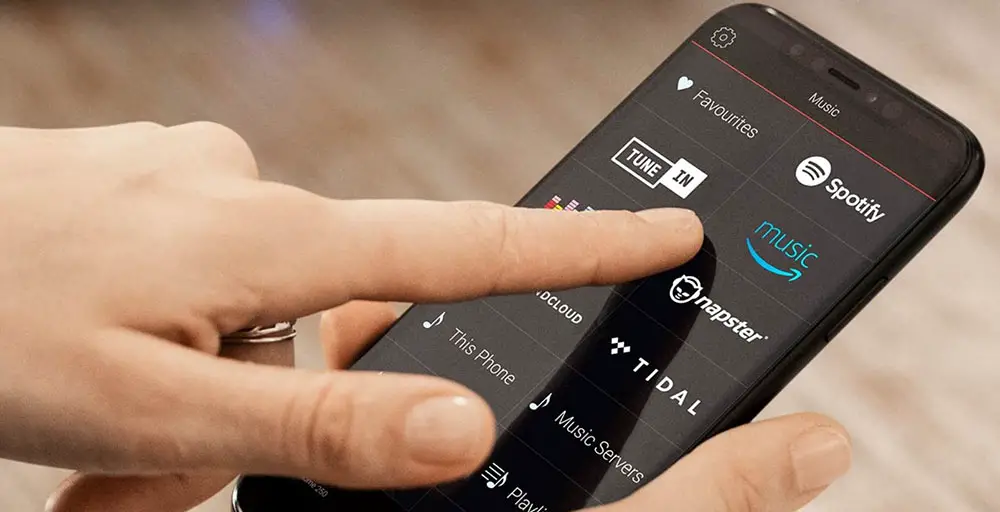 Now, depending the input signal there are various modes available with some of them being specific to the signal received. As such we have Stereo, Multi-channel Stereo, Pure, Direct, Dolby Atmos, Dolby Atmos (Movie), Dolby Surround, Dolby Surround (Movie), DTS:X and DTS Virtual:X. Some of them look similar but work differently as the ones with the (Movie) are using Dolby's technology exclusively while the others also use Dolby Virtualizer in order to create more depth and height to the output.
There is also a Night mode that can be turned on and off while the Dialogue Enhancer has three settings for Low, Medium and High other than having it completely off.
Denon certainly needs to make these sound modes available less complicated. Casual users don't know and don't really understand how all these different modes work and the explanation given in the manual is not making things any easier.
The soundbar comes with the standard offline features like Bluetooth streaming which enables you to connect any Bluetooth device on the soundbar and stream music that way. USB playback is also available through the USB port and through this you can play not only low resolution files like MP3, AAC and WMA but also High Resolution Audio in the likes of PCM, FLAC and ALAC up to 192kHz/24 bit. There is also DSD support for either 2.8 or 5.6MHz.
Lastly as this is part of the Home family you can add more wireless Home speakers in order to expand the capabilities of the main unit. As such you can add through the HEOS app any of the Denon Home 150, Denon Home 250, or Denon Home 350 as rear speakers and even add the Denon DSW-1H subwoofer for a complete immersive experience.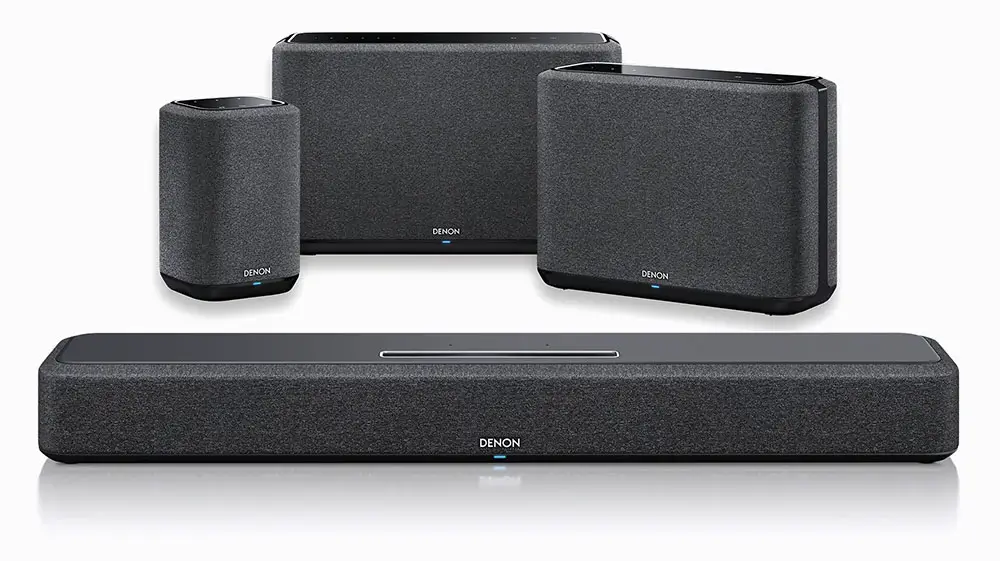 Initial Setup
The soundbar is very easy to setup as any such small soundbar should be. After initial unpacking all you have to do is connect the unit to a power outlet and choose your method to connect it to the TV either in pass-through mode or from the eARC port. Then all you have to do is download the HEOS app and follow the on-screen instructions in order to add the soundbar and choose all the right settings.
The soundbar doesn't come with any kind of automated calibration system so everything has to be done manually but there is not much in terms of calibration settings to begin with anyway. You can set the treble and bass levels and choose the appropriate sound mode and that's it. If only the available sound modes were more easy to understand it would be ideal as they feel too much complicated as they are right now for the casual, non tech savvy user.
Movies
Onto our testing now and for the Home Sound Bar 550 we decided to try out Saving Private Ryan in 4K UHD first which comes with an amazing Dolby Atmos mix.
Obviously when it comes to such a compact soundbar the first thing that you most probably want to know is if it is an actual upgrade over what your TV can do. The answer is definitely yes. The Denon Home Sound Bar 550 surely can output much better audio than most TVs can do, no doubt about it. But is this enough? Well, this really depends.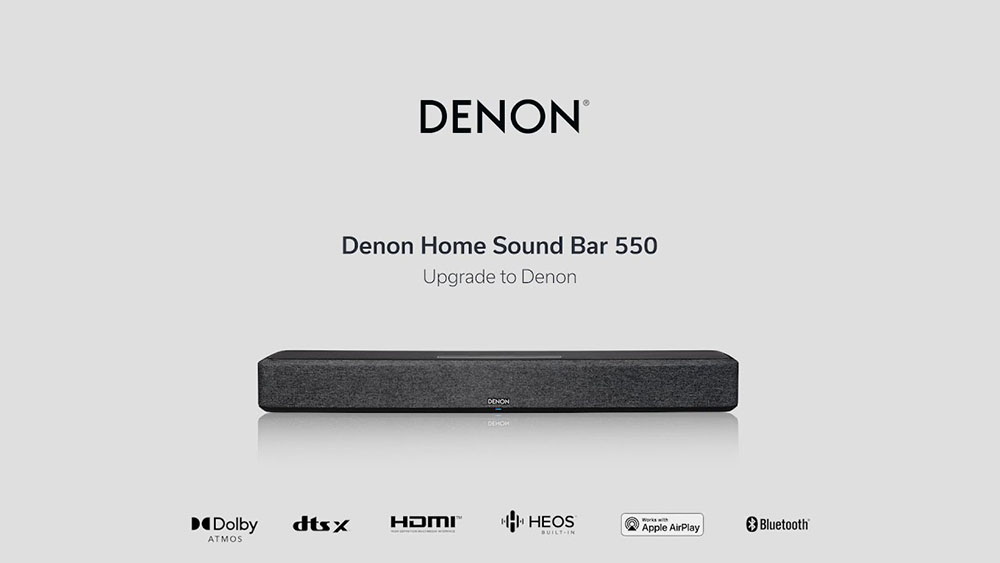 The soundbar has certain limitations and has to play by the book of its limiting hardware. The front soundstage had enough clarity and felt slightly wider than the physical limits of the unit itself, just don't expect anything extreme as it lacks any side-firing drivers that would help to get even more sideways extension.
Dialogue was not as defined or as clear as we were hoping it to be and this in part has to do with the fact that the soundbar is missing a dedicated center channel. The Dialogue Enhancer can help a bit here so it's not as bad as you may think. Even during heavy action sequences most of the dialogue was clear enough even if there were moments that it got lost in all the other sound effects.
One area that we had no hope was with surrounds as the unit cannot do anything to give you over-the-shoulder activity. For this you will need to add some extra wireless speakers otherwise all action will be completely front focused.
We left Atmos performance for last because this is an area we wanted to focus slightly more. When you advertise a soundbar as Dolby Atmos capable then you expect a certain level of overhead activity. The Denon does try hard to push the overhead layer but the results are mediocre at best. You can sense some elevation and some overhead sounds here and there but these are entirely front oriented, they are not as high as you would expect and they lack clarity and definition of a true Atmos system. It's a small step above a non Atmos soundbar but cannot really reach the performance of a soundbar that has up-firing drivers.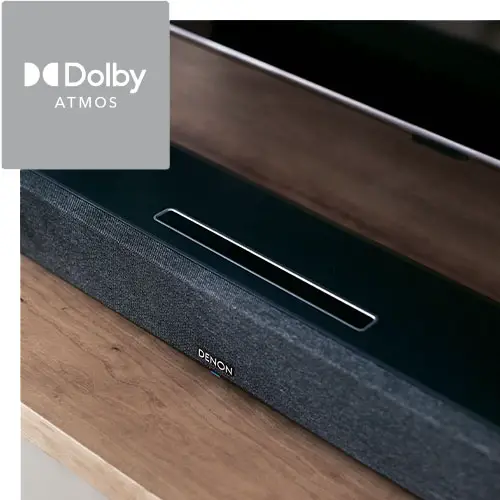 Bass was more or less what you should expect from a compact soundbar with no dedicated subwoofer. It was barely ok but don't expect to get the cinematic shaking experience a dedicated subwoofer can offer. There is no deep bass here and even mid-bass felt weak and uninspiring. At least Denon offers the option to add a subwoofer if you feel the same as we did.
One thing that we did notice was when you use the unit at normal to high levels everything sound good, all things considered. But when you push it close to maximum levels the soundbar looses some of its balance and as a result you can hear a lot of undesired compression. We did try this with a couple of other films just to be sure it was not a problem with the specific content and the problem was still there. If you are going to use the Denon in normal to high volumes you will not even notice it but if you like to push things to the limit some of this stability is lost.
For our next test we opted for The Lord of the Rings: The Two Towers in 4K UHD and there is no better scene that the Battle of Helm's Deep. Once again we saw all the same characteristics we noticed in our previous test.
The front soundstage was not bad considering the size of the unit, with some extra extension and depth. Surround activity was again missing in action but Lord of the Rings is a more front oriented film anyway. Atmos effects were slightly audible with specific scenes but they lacked clarity, precision and height definition to wow you.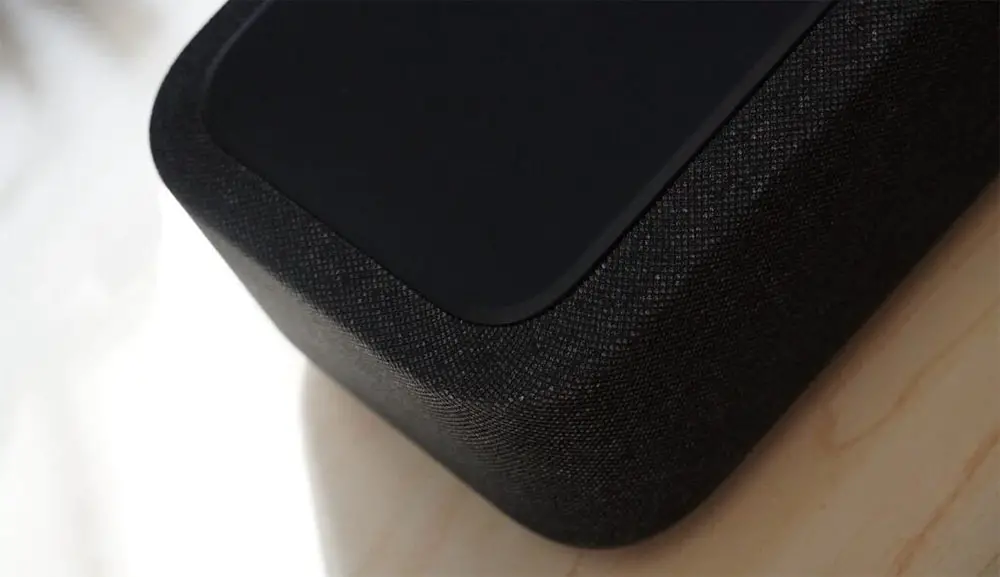 Dialogue was ok most of the time, we did notice a few scenes were it got lost in the action again so we did try the Dialogue Enhancer and things did improve in this area. Bass was just ok and made such a grand sequence feel a bit soulless and uninspiring.
Lord of the Rings is a film that has a lot of dialogue and is vastly front driven so the Home Sound Bar 550 had its moments and considering what it has to work with it did surprisingly good at times. But in more demanding scenes the unit simply lacks what it needs to takes things to the next level.
Closing what we can say is that if you want to use the Denon Sound Bar 550 for movies you should be aware of its weaknesses. It can offer a satisfying front stage for its size with enough clarity and good details but dialogue may not be as clear as you would like, Atmos effects lack precision and extension, surround activity is completely missing without any surround speakers and bass is mediocre at best making heavy bass scenes feel flat. If you add surround speakers and a subwoofer things will surely improve vastly so at least the choice is there for you to make.
Music
For our music testing we used the USB playback capabilities of the soundbar and we opted to try a few selected FLAC music songs we keep at hand specifically for such cases. If only the USB port was placed at a better to reach position than where it is now it would make the whole process so much easier.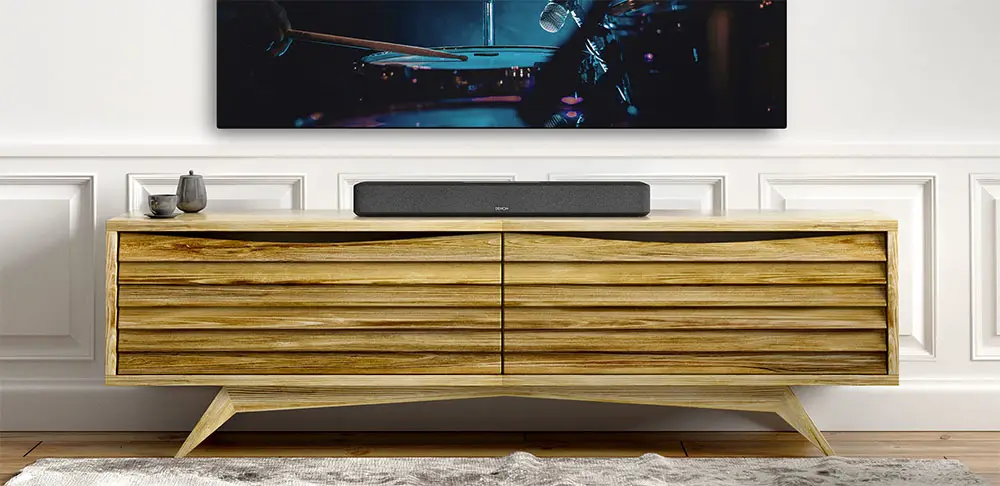 As for the music quality the Denon Home Sound Bar 550 can do good enough providing a spacious performance that is entirely front oriented. There is satisfactory cohesion and enough transparency to make the whole performance feel more natural. Obviously the compact nature of the unit is a bit limiting when it comes to pinpoint accuracy of some sound sources while stereo panning effects don't have this wow factor that some larger soundbars can offer.
The mid-range felt surprisingly well balanced and tight while the vocals had enough energy and playfulness to them. The bass was so and so but all things considered it should be enough for casual use. If you want something better then the subwoofer is a must here as a lot of heavy bass songs we tried felt like they had lost their energy and weight.
As we always do in such reviews we tried various genres and this time we tested some electronic music, a bit of jazz, heavy metal and a few bits of classical music. The soundbar is not the high resolution powerhouse obviously but it can be satisfactory across the board for casual use. Just keep in mind to keep the volume at normal levels and the soundbar will do really well. But if you try to really push it to the limit them all the power output will be on the expense of cohesion and overall detail.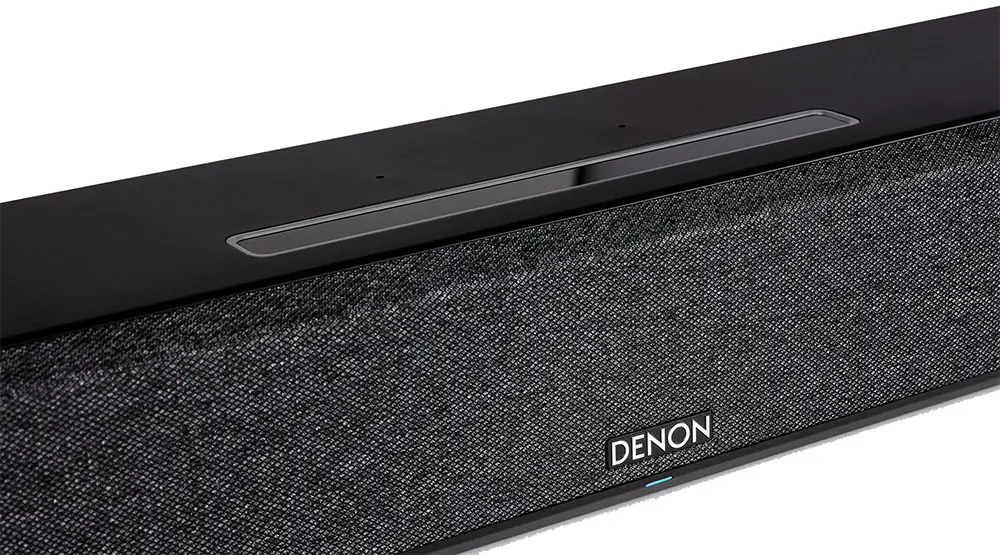 Final Thoughts
It's been a long time since we had tested a Denon soundbar, actually this is our second one, so we were not sure what to expect from a manufacturer that mostly focuses on making AV receivers and amplifiers among other products. And with the Denon Home Sound Bar 550 targeting the compact soundbar segment things could be nasty with the kind of competition there is right now from other brands.
But we cannot say that Denon has failed here. On the plus side the Home Sound Bar 550 is a very nice looking compact design that has good build quality and is very easy to setup in no time. Its front stage performance was good enough, it will provide slightly more depth and more height compared to non Atmos soundbars while having support for both Dolby Atmos and DTS:X is a plus in our books. Add to these the inclusion of a healthy list of features and the ability to expand it to a full surround system and you have a soundbar that covers all bases.
On the other side we can definitely say that Atmos performance leaves a lot to be desired as it lacks both the clarity and precision of other Dolby Atmos soundbars that use dedicated up-firing drivers. Also it will loose its cohesion when pushed to maximum volume levels. There is no surround activity which was expected and the bass is not as good as we would like making the purchase of the subwoofer a necessity if you want to use it for movies. The HDMI ports have certain limitations which is not ideal for gaming while the price for a single soundbar of such a compact size is a bit on the high side and it will surely face a lot of competition from other brands.
Closing we will say that the Denon Home Sound Bar 550 is ideal if you are looking for a small soundbar that supports Dolby Atmos and DTS:X and plan on using it in normal volume levels. If this is the case and you keep your expectations at check then it will provide a very pleasant cinematic experience.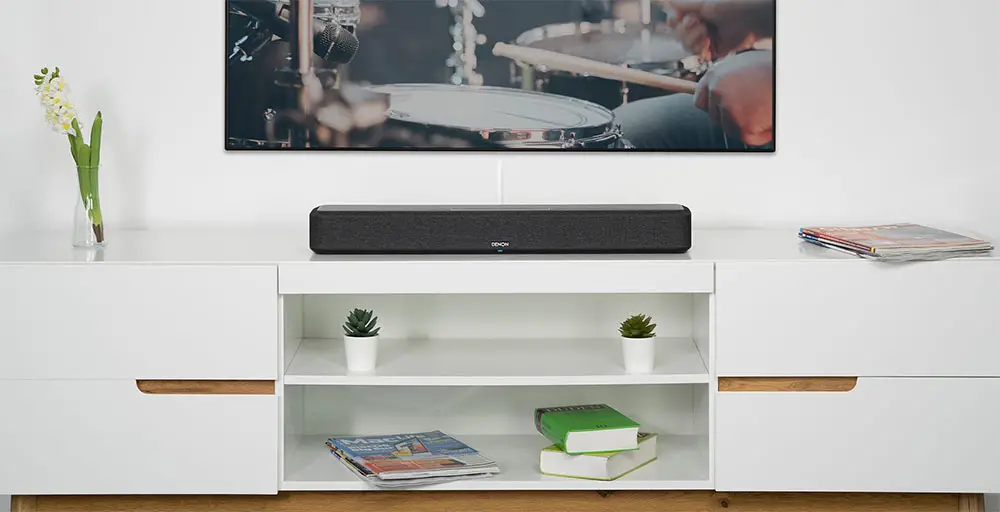 For more reviews you can check our dedicated Single Soundbar reviews list or even look at our Product Reviews Table where you can find the brand and specific product you are looking for.
Also don't lose the chance to subscribe to our Newsletter and gain exclusive privileges.
---
Cheapest Places to Buy :
---
Denon Home Sound Bar 550 Specifications