---
Cheapest Places to Buy :
---
Allied soldiers from Belgium, the British Empire and France are surrounded by the German Army, and evacuated during a fierce battle in World War II.
Plot
*Be aware of spoilers*
May/June 1940. 400,000 British and French soldiers are holed up in the French port town of Dunkirk. The only way out is via sea, and the Germans have air superiority, bombing the British soldiers and ships without much opposition.
The situation looks dire and, in desperation, Britain sends civilian boats in addition to its hard-pressed navy to try to evacuate the beleaguered forces. This is that story, seen through the eyes of a soldier amongst those trapped forces, two RAF fighter pilots and a group of civilians on their boat, part of the evacuation fleet.
Directed by
Christopher Nolan
Produced by
Emma Thomas
Christopher Nolan
Screenplay by
Christopher Nolan
Production Company
Syncopy Inc.
Distributed by
Warner Bros. Pictures
Starring
Fionn Whitehead
Tom Glynn-Carney
Jack Lowden
Harry Styles
Aneurin Barnard
James D'Arcy
Barry Keoghan
Kenneth Branagh
Cillian Murphy
Mark Rylance
Tom Hardy
Running time
106 minutes
Author's review
The name of Christopher Nolan has become synonymous to quality movies and every time a new movie of his comes out I always wait anxiously to see it. This time he gave us the story of Dunkirk. A real story that happened during the 2nd World War. I was always a fan of historical movies so when i saw the trailer for the first time I was sold. But my final thoughts about the movie are a bit different than what I expected.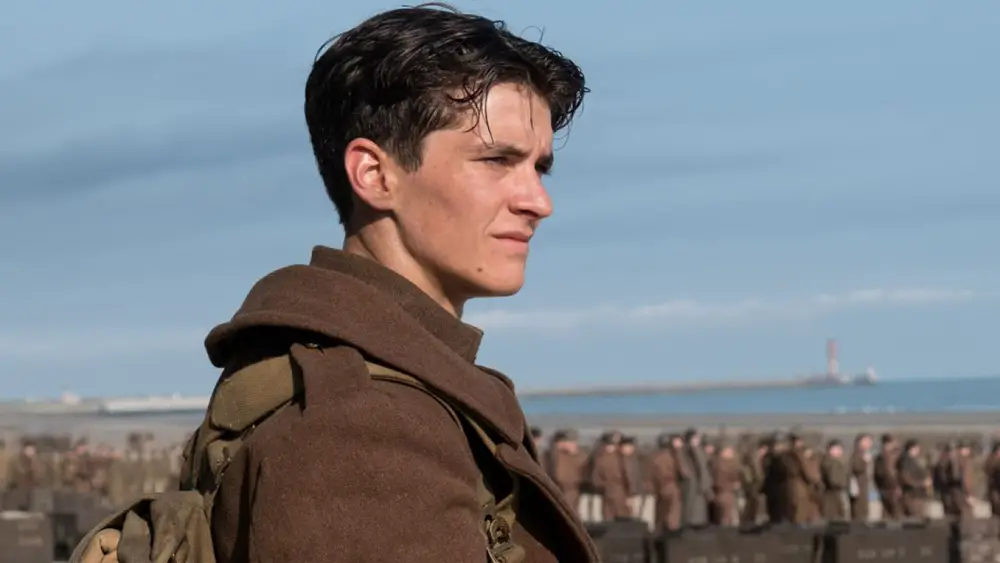 First of all the movie doesn't follow one character but instead it follows the story of multiple characters in different areas. During the movie these stories interconnect in order to give us the whole picture of what is going on. The problem with this, is that the editing of the film was done in such a way that some times you loose track of what is going on and at what moment. Personally I found myself more than once loosing the chain of events and struggling to understand when happens what. Only during the end of the movie all the stories come together and you can finally have a clear picture of the whole story. I think this is the weak part of Dunkirk and one that truly hurts a great movie like this.
The first of the three stories focuses around a young British private named Tommy who is waiting for evacuation at the Dunkirk beach among thousands of other British soldiers and his struggle to survive under cruel conditions. The second story is about a civilian sailor named Dawson and his son Peter aboard their boat named Moonstone that along with hundreds other boats are heading to the Dunkirk beach to save the allied soldiers. The third and last story is centered on two Spitfire fighter pilots as they fly towards the Dunkirk beach and try to save as many as they can.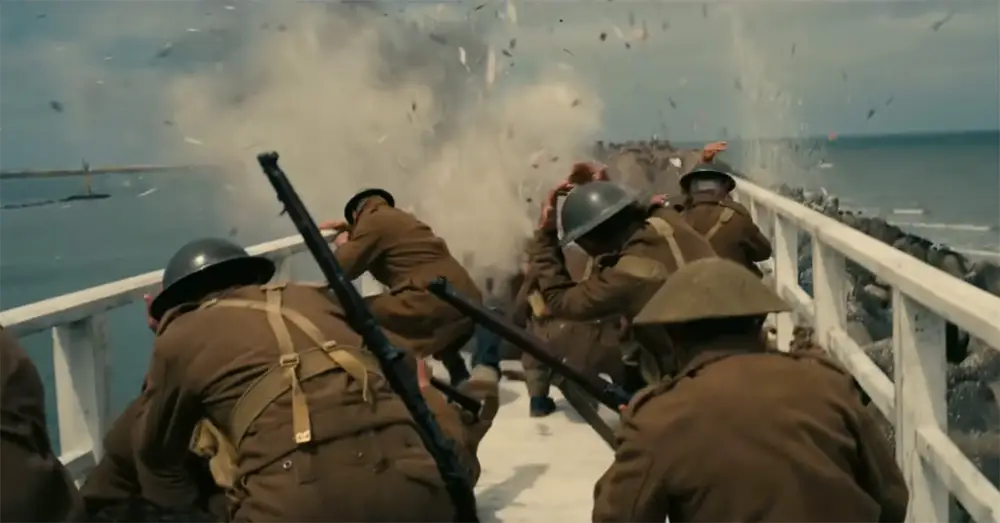 I cannot say that focusing on multiple characters was a bad move from the part of the director, in the contrary it gave us a greater sense of what is going on in the theater of war from different perspectives. Seeing how each one reacts differently depending on their status and general condition was very interesting. If only the editing would allow us to follow their stories in a more organized way it would make these characters more interesting to follow. Also not all these characters have a good ending. I will not spoil it for you but this is something I greatly appreciated because I didn't want to see another patriotic movie with invisible heroes killing Germans. Reality is different and in that sense this movie showed that while some where lucky during the War, some others were not.
The acting was very good, I cannot say I was thrilled but it was more than adequate and it didn't interfere with the story flow. All actors gave their best and it really showed on screen how their emotional status was during these dark times. The choice of the actors was spot on and it felt like it suited their roles perfectly.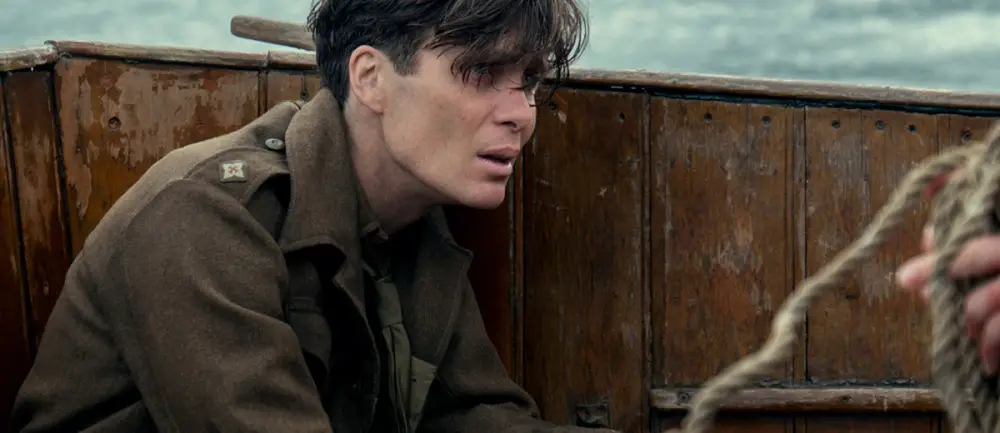 A Christopher Nolan film could not be anything less than technically excellent. High production values give you a great sense of the scale especially if you think that all three stories take place in different areas but put these three together and they give you a view of a wider area that is the Dunkirk beach and sea covering around it. Special effects were perfect and were used only when necessary. CGI never felt fake and to tell you the truth a lot of times I couldn't understand what is CGI and what was practical which means a lot when we live in an era of CGI filled movies.
As with the special effects, the sound effects and sound track in general was great. Moments of calm would reveal more ambient and subtle sounds while when action starts speakers are working overtime. When the Spitfires roar above the sea struggling to survive in each dogfight you feel like they fly inside you home entertainment room. Great use of positional audio and sound separation. If you have a good home cinema then this movie will definitely give you a few good moments.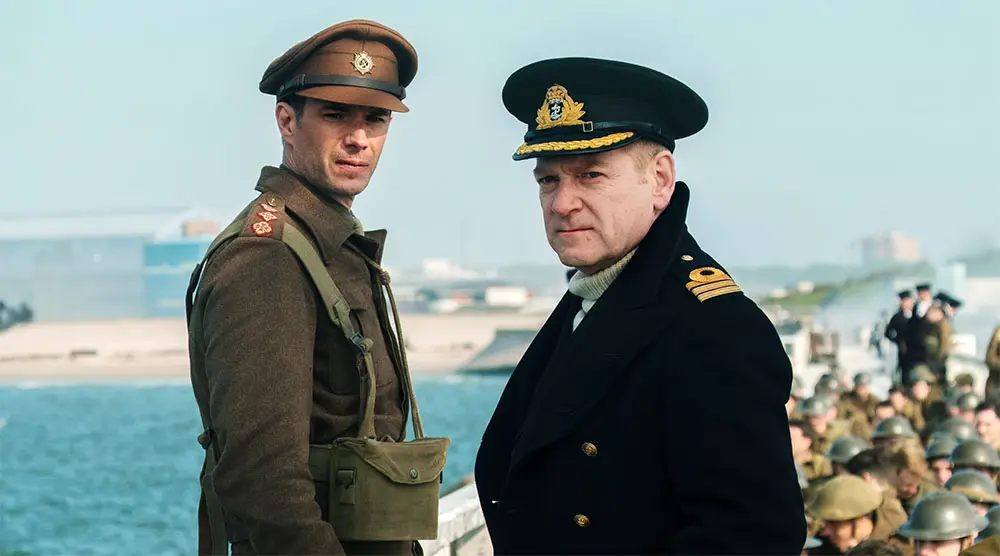 In the end this is not a movie for everyone. Even me that I like World War 2 period films I found it a bit too hard to follow. The editing was the biggest miss of this movie and that's why I will give it 4 stars out of 5. If you like historical movies you will definitely like this. For everyone else it will be a quality movie to spend the night. Recommended.

Dunkirk's 4K UHD disk offers such clarity that it's rare to see in home video. The colors are so vivid and the amount of details is breathtaking. You can see every single fiber of the nautical ropes or tiny details on the soldiers clothes that would be impossible to see otherwise. The movie was shot on film and after scanned at 4K for this UHD encode. The HDR grading was personally supervised by Christopher Nolan and the result is nothing less than stunning. I don't know if it can be called reference material but the Dunkirk UHD offers some of the best image quality this new format has offered us so far.
The UHD disk comes with a DTS-HD Master Audio track and from what we are told this was a deliberate decision by Nolan so no Dolby Atmos or DTS:X here but rest assured as I described above the sound design is nothing less than exceptional.
Movie Rating :





4K UHD Rating :





If you liked this review you can check more of our movies reviews in our dedicated section. Also don't lose the chance to subscribe to our Newsletter and gain exclusive privileges.
---
Photos
---
Cheapest Places to Buy :