ELAC Uni-Fi UF5
Design -

90%

Movies Performance -

92%

Music Performance -

92%

Inputs and Features -

95%

Price / Quality -

95%
---
Cheapest Places to Buy :
---
In the audiophile and home cinema community ELAC is a known quality for many years now so reviewing a pair of their Uni-Fi series is business as usual. But it would be a shame to start our ELAC Uni-Fi UF5 review without first mentioning the mastermind behind these exceptional floorstanders which is Andrew Jones. For many this name may not ring a bell but for those that have been in this industry for some time know that Mr Jones is a design engineer that has made a name over the years in various companies like Pioneer, TAD and KEF.
Although he has created a wide range of speakers from budget friendly to crazy expensive one major characteristic of his designs is the exceptional performance of his speakers but keeping a very reasonable low cost making many of his speakers perform similarly to ones that cost three or four times the same budget. Being in the ranks of ELAC now Andrew Jones offers us the UF5 which is a middle tier model that is priced very close to the $1K mark for a pair making them an exceptionally interesting low priced option. With so many good models from almost all manufacturers in the $1K price range we were curious to see if the UF5 could offer something different to make us choose them over anything else.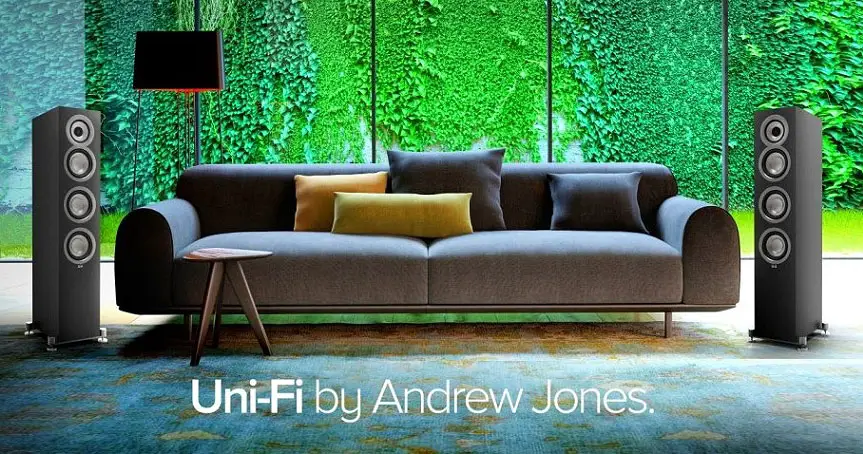 The UF5 bear a great resemblance to ELAC's Debut F5 but comes with some obvious upgrades that makes them a step to the right direction while the whole Uni-Fi series that consists of the UF5 floorstanders, the UB5 bookshelf speakers and the UC5 center speaker can create amazing 2 channel stereo music systems or even full blown home cinema surround setups.
Design, Inputs and Features
Exterior
Let's talk about the exterior first. The ELAC Uni-Fi UF5 cabinet has a size of 7.87″ x 38.0″ x 10.7″ (200 mm x 965mm x 273 mm) and a weight of 39.6 lbs (17.96 kg) making these relatively small sized for full blown loudspeakers which is definitely a plus if your area is not so big that can accommodate bigger designs.
The cabinet is made out of thick MDF that is covered by a black brushed vinyl finish while it also features specially designed internal bracing in order to minimize as much as possible cabinet vibrations that can result in unwanted sound coloration. ELAC has created an outrigger base design that is attached at the bottom of the cabinet and provides better stability and a wider footprint.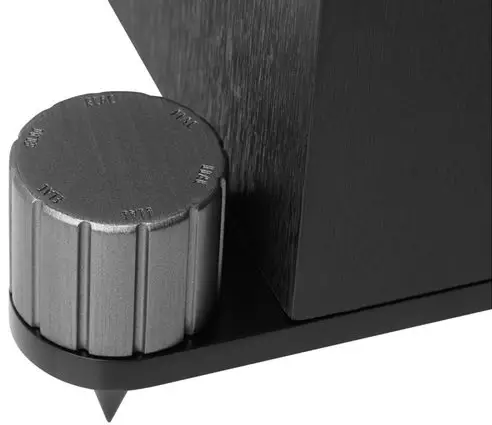 The four spikes included can be adjusted with the help of dialing knobs making the leveling a far easier process. Also included are spike stands in order to use them in hard surfaces. We cannot say we are thrilled by the stand design. It definitely provides more stability and ease of setup but the looks can use a bit of improvement.
The speaker's grille covers almost 3/4 of the front face while being magnetically attached means that when it's removed we don't see the ugly holes where it is attached giving it a more premium and clean look to it. It also features 3 bass ports in the rear panel something not usually seen in this price range while exactly below the last bass port we get the wire connectors.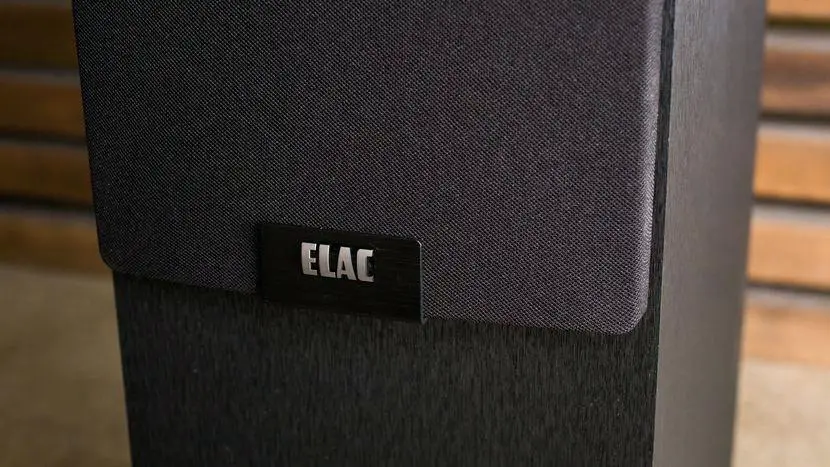 The UF5s may not be the speakers that will astonish you with their design as their "boxy" look with it's hard edges and straight lines will go mostly unnoticed but as sound depends very much on personal taste so does the looks. We would like a bit better base design but this is us nitpicking here.
Internal Hardware
What we get here are 3-way, bass reflex speakers and when removing the front grille we see a total of five drivers. We should note a couple of elements that really impressed us here with the first and most obvious one being the use of aluminum cones which makes the speakers look much better than others with cloth equipped drivers.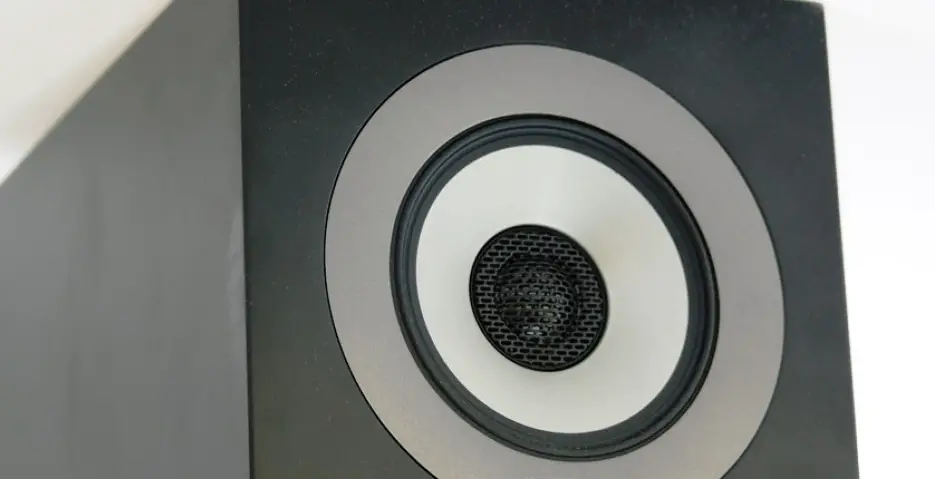 Now if metal can produce better sound is totally subjective as they tend to have a different texture than silk or cloth but we believe that no one can argue how good these aluminum ones look. The second thing we noticed is the use of a custom-designed concentric driver which is largely responsible for some of the UF5's better attributes and we will talk about them a bit further down our review.
First of all let's analyze this concentric driver that ELAC has used for the UF5s. By combining a 1-inch soft-dome tweeter and placing it concentrically withing a rigid aluminum 4-inch midrange cone the speaker manages to achieve better overall sound either your listening position is on- or off-axis as well as provide better power handling.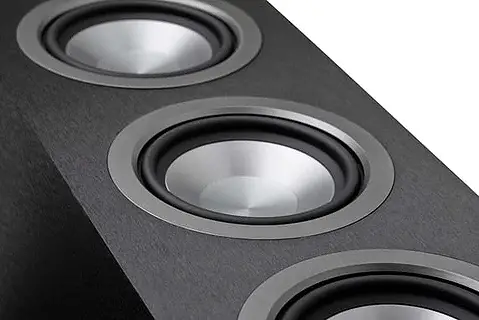 Below this we find an array of three 5.25 inch aluminum woofers that use larger sized magnets with vented pole pieces in order to provide increased power handling and better, more clean bass. The use of aluminum cones was made in order to eliminate resonances that usually plague the more common paper cones and provide a more clear overall result.
This unique drivers combination provide the UF5 with a frequency response of 42 to 25,000 Hz, 85 dB of sensitivity at 2.83 v/1m, 4 Ohms of impedance while the maximum recommended amplifier power is 140 watts per channel. Crossover frequencies are set at 270 and 2,700 Hz.
Connectivity
Exactly below the third bass port at the rear panel there is 5-way custom designed binding posts. We were very impressed by their construction and quality especially at this price range with good quality plastic and gold plated internals in order to accept either bare wires or special banana plugs.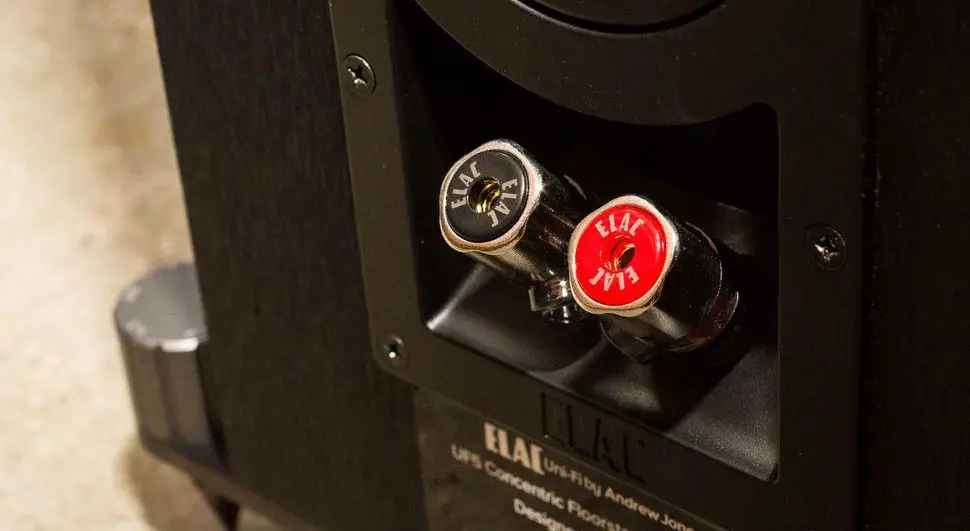 Performance
According to ELAC the UF5 should be placed 1-2 feet (30-60cm) away from the back or side walls in order to achieve better bass reproduction. As we do with most of our floorstanders we set the distance at 30cm from the back wall while we had much greater distance from the sides. Even with wider dispersion some toe-in was necessary in order for the speakers to provide a better performance towards our listening position.
Obviously, something that we mention in all our reviews, it's not crystal clear what the best position for the speakers is. You should certainly follow specific guidelines that can give you a better overall result but other than this you should try different positions in order to achieve what is best acoustically according to your own tastes.
So after connecting a pair of UF5s with our AV receiver and making the necessary calibrations we were ready for our testings.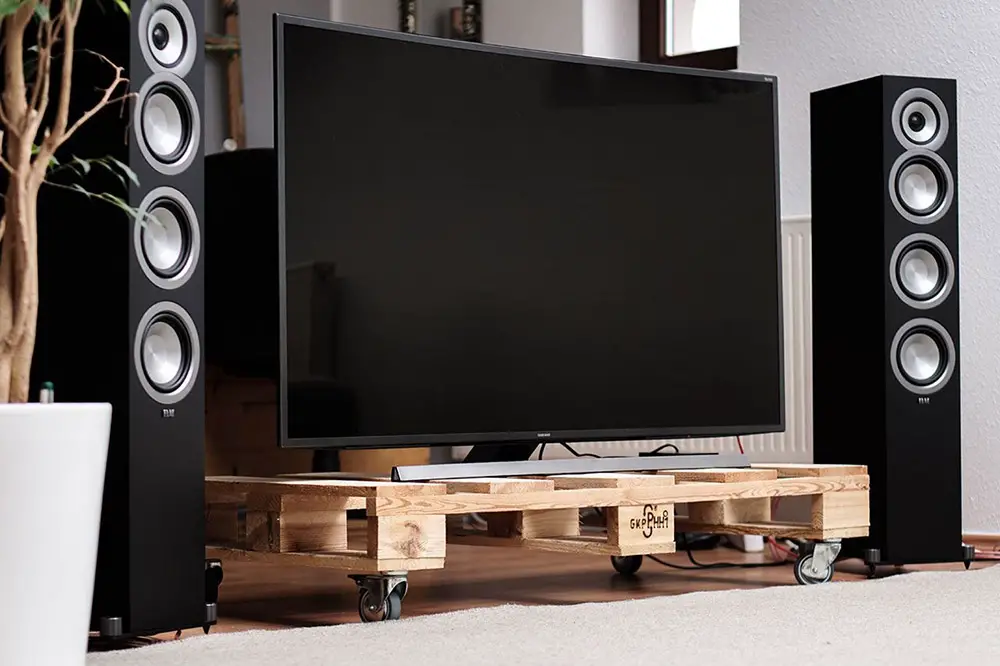 Movies
Usually during our speaker reviews we have a few favorites that we try out most of the time but in this one we went outside the normal in order to check a couple of new entries. The first one being Alita: Battle Angel in 4K UHD that has a very energetic Dolby Atmos mix. There are many moments in this film that provide excellent opportunities for testing but the most obvious scene for many obviously is the motorball sequence which is one of the most spectacular moments in the movie.
The first impression we got out of the UF5s was how clear and high resolution the sound was coming out of them. With the motoball scene being so much action oriented and being full of low frequencies the UF5s were able to produce very natural and smooth bass. These speakers can go pretty low, even more than what we were expecting but don't expect anything crazy. But even without a subwoofer we felt that the lower part felt alive enough even like this. Of course having heard this mix with a subwoofer things change dramatically but the UF5s can hold their own pretty well even without one.
The high end was pretty punchy although it was a bit too much for our tastes. We wouldn't exactly call it bright but it was pushing it a bit more than what we usually prefer for the highs. Mid-range was very coherent acting as a smooth bridge between the two ends while tonal balance felt great.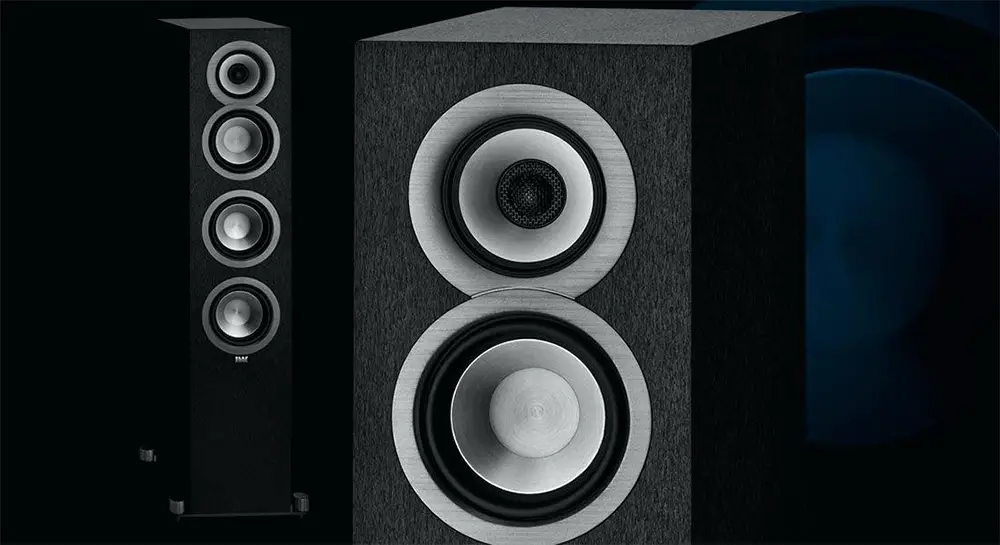 Other scenes like the Kansas Bar brawl or the duel with Grewishka provided plenty of opportunities for the UF5s to show their qualities. There are a lot of environmental and ambient effects at play here and the speakers were able to reproduce them with great precision making the soundstage surprisingly deeper and immersive.
Being a cyberpunk action film there are plenty of electronic and mechanical effects at play here and the speakers do a great job at providing a very real sense of the world. One example is the Centurions with their menacing electronic voice or their ground shaking walking. There is a scene where Alita saves a small dog from the Centurion's crushing feet and while it may not be a very memorable moment it was a very good example of how the speakers can recreate the sound of a scene with so much punch and clarity.
For our second test we pick up the 4K UHD version of Godzilla: King of the Monsters. Obviously such a film comes with a bombastic Dolby Atmos mix that can bring any speaker to it's limit with all the mayhem and distraction on screen. The UF5s once more managed to show the same kind of properties we had seen so far.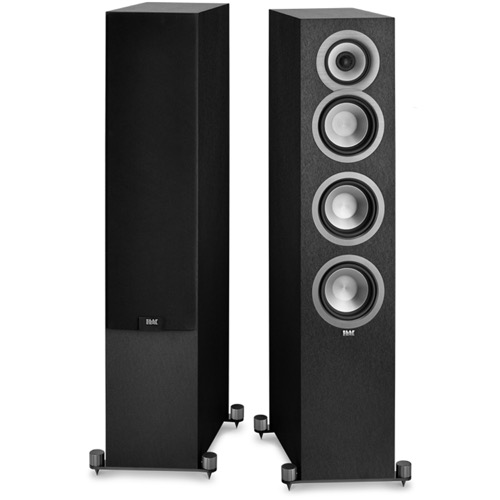 The film provide a vast array of scenes that mostly favor the lower end and as such we were able to get a better understanding of how the speakers could behave in this regard. Bass had a very natural feel to it while they were pushing the lows at levels that should be expected for their price. High frequencies were once again very energetic that many people will definitely like while the mid-range felt the most balanced and was able to bind the two ends seamlessly.
The UF5s were particularly good at reproducing various ambient sounds and they never let any information go unused. There was the kind of resolution that you will not find in cheaper speakers and even in a single 2.0 channels setup watching a film like this with the UF5s will definitely provide a very enjoyable experience. With Godzilla dialogue takes second seat but the speakers were able to provide very clear and distinguishable dead center vocals that never overlapped with the rest of the effects.
We tried to up the volume in order to check the integrity of the cabinets and the UF5s were able to pass with flying colors as there was no audible distortion or any undesired port noises. The UF5s were able to provide a very solid performance across the whole dynamic range.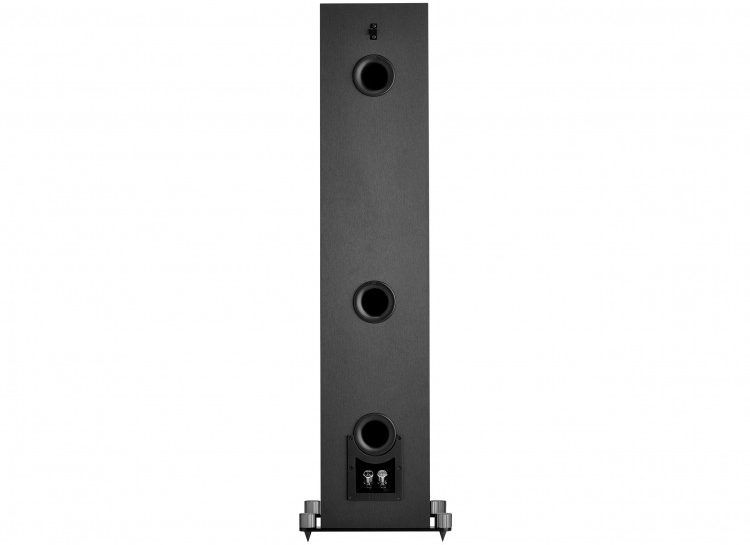 Music
Finishing with our movies testing we then picked up a selection of FLAC tracks in order to proceed with our music testing with the files being streamed through USB from our AV receiver that was connected with the UF5s. The speakers had a certain musicality to them that we definitely liked. Maybe it was the smooth bass that they provided that made our listening experience so much more pleasant but we found ourselves to get stuck into listening mode more than what we expected.
The UF5s were able to create very accurate spacial awareness as we had a very good sense of where each instrument could be heard from. Separation of frequencies were spot, the sense of control on the lower end could be felt across the hole testing area while they showed exceptional cohesion no mater the listening spot. Sometimes what matters is in the details and the speakers were able to capture all the subtle nuances of each track.
We cannot say that there was anything major to complain about with these speakers. ELAC and Mr Jones have really used the budget where it matters the most and created something that while may not blow you out of your mind it will for sure provide you with an unforgettable acoustic experience.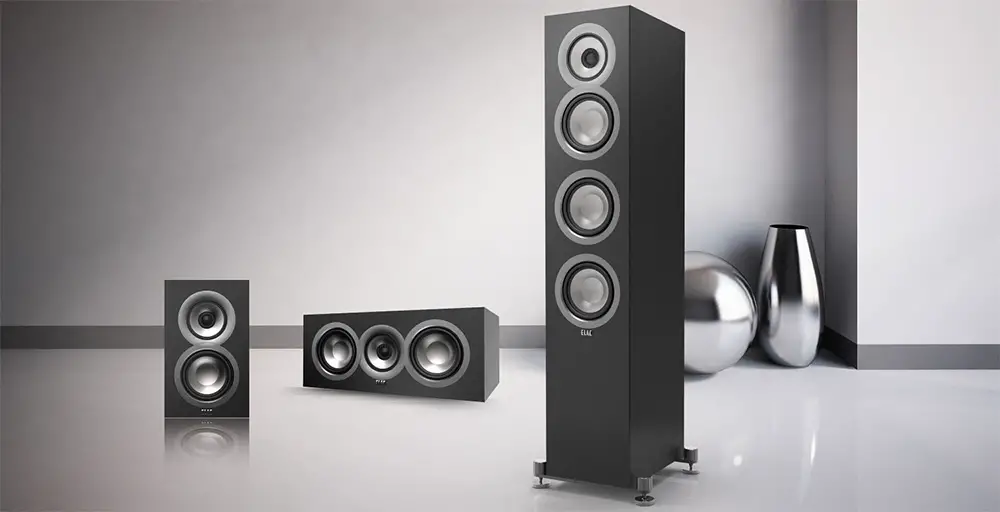 Final Thoughts
Before testing these speakers we had heard many people describe them with the same exact word. "Excitement" was the word we heard more than once and although it is hard to describe what this means as every person will analyze it in a different way we can now say with certainty that we understood what they wanted to say.
The quality of the cabinets is pretty high if you consider the cost and you get the kind of performance that you could very easily pay a higher price for. Hovering on the $1K price mark for a pair, if there is one negative is that there are so many quality speakers costing similarly that is a shame that these are a little bit lost in the sea of options available.
The ELAC Uni-Fi UF5 are the kind of speakers that don't ask much but can give plenty in return. They may not have the intimidating looks, although we admit the aluminum cones do look cool, or the extreme quality you will find in more premium categories but they offer what in the end is the most important factor. An exciting performance in more or less every situation and do that without the need to hurt your wallet so much. In the end, isn't this what all of us are looking for?
For more reviews you can check our dedicated Floorstanding Speaker reviews list or even look at our Product Reviews Table where you can find the brand and specific product you are looking for.
Also don't lose the chance to subscribe to our Newsletter and gain exclusive privileges.
---
Cheapest Places to Buy :
---
ELAC Uni-Fi UF5 Specifications