Epson Home Cinema 3800 (US) / EH-TW7100 (UK/EU)
Ports & Connectivity
9.0/10
OS, Apps and Features
8.8/10
Pros
Excellent out of the box performance
Great flexibility and portability
Very low input lag
Great value for money
Cons
Average black levels
Frame interpolation very limited
No motorized lens
Prone to misalignment due to the 3 imaging chips
---
Cheapest Places to Buy :
---
4K pixel shifting projectors have come a long way since they first appeared and right now we have more than a few models that can offer more than respectable performance with extremely low cost. One such company that offers such projectors is no other than Epson and in 2019 they released a couple of 3LCD 4K pixel shifting models in the sub $2,000 category. In our Epson Home Cinema 3800 review here today we will be looking at the more expensive of the two models with the other one being the Home Cinema 3200.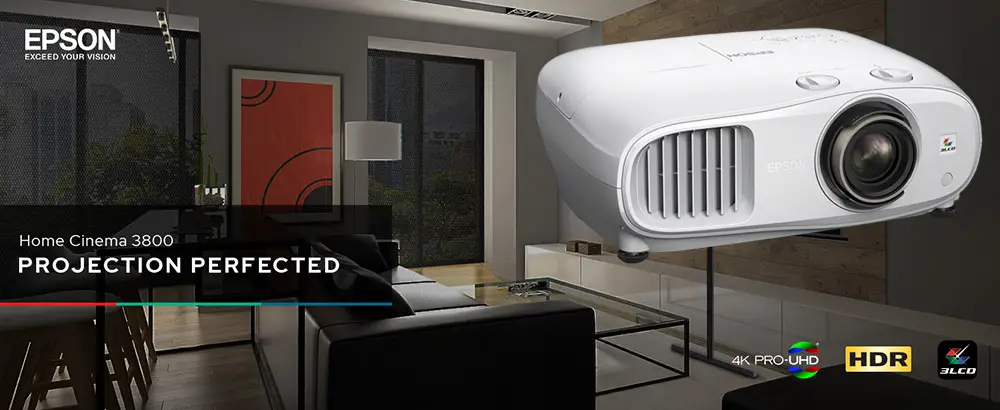 Just for the shake of mentioning, the two projectors are not very different with the 3800 model having higher brightness, better contrast ratio, a couple of more ports and on-board audio to justify it's higher price but other than these differences the two models share similar characteristics and components. As for the Home Cinema 3800, competition in the sub-$2K category is fierce with many pixel shifting models battling for the top performance spot. Epson already have a few projectors in this category like the slightly more expensive Home Cinema 4010 that we had previously reviewed so we were curious to see how close to that the 3800 really is.
With the projector having a 3LCD imaging system and using a 1920 x 1080 x 2 pixel-shifted resolution the projector is rated at 3,000 lumens of brightness, is claimed to cover 100% of the DCI-P3 color space with a dynamic contrast ratio of 100,000:1 and comes with HDR10 and HLG support which is not bad at all for such a low cost model. But there are many more interesting features like it's 18Gbps HDMI ports, 3D compatibility, lens shifting, built-in audio and also aptX Bluetooth making this model ideal for both indoors and outdoors action. But numbers don't mean anything so without further delay let's put it to the test to see what it is really capable of.
Design
First of all before we start talking about the actual design of the projector we should make a small mention about the name differences. This projector is known in the US market as the Home Cinema 3800 while it seems that in the UK and other European markets it comes by the EH-TW7100 model number. Keep that in mind when you start looking for this specific model with both being entirely the same.
Now the Home Cinema 3800 has a very Epson look to be honest. If you have seen any other Epson units before you will understand what we mean while it seems that they really tried to make this one as small as possible in order to add portability to it. Measuring just 16.1″ x 6.2″ x 13.0″ (410 x 157 x 330 mm) and with a weight of 15.2 lb (6.9 kg) this unit is definitely smaller than the average projector especially if you compare it with other 4K pixel shifting models. And this is to be expected if you want to be able to carry this around you have to make it small enough to handle with ease.
Now as for it's overall design the Home Cinema 3800 uses a very curvy design. You will not find any straight lines and hard edges on this one and the whole white shell is smooth and nicely constructed. At the front we see that Epson used an asymmetrical design with the lens positioned slightly to the right in contrast to what we saw in the Home Cinema 4010 that is using a centered lens. Zoom and focus controls are both on the lens barrel while on the far right side of the front face we get an IR sensor.
Ventilation seems to be very good in this one as we find a big air intake on the right side along with a smaller one placed at the bottom exactly under the lens. On the left side of the front face we find a big air exhaust vent for taking all the hot air out of the unit.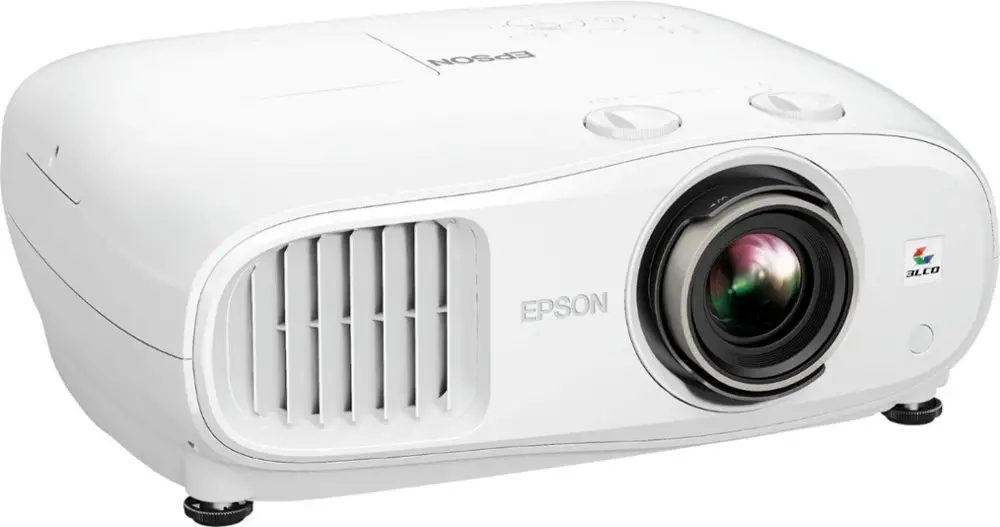 Now on the top side, just above the lens there are two knobs that are responsible for the lens shift and you can use these two to separately handle shifting in each axis. The top face is where we also find the usual built-in controls of the unit. There is a menu and an Esc button with a circular set of navigation controls under them that can also be used for keystone correction and volume control. To the left there is the Power button along with a Home button.
As for the indicators there is a very small light to the left of the Power button which is the status indicator and two LEDs above this for lamp and temperature status. A second IR sensor is placed at the right side of the navigation controls that is used in case you place the projector on the ceiling. At the top the only other thing we find the cover for the lamp bay.
At the back of the unit is where all the ports are placed in a slight inset to help hide the cable connectors. On each side we get two rather big speakers covered by metal perforated grilles. As for adjusting the angle the projector there are two front adjustable feet that can be screwed according to where you want to place it. Since we are talking about more or less a portable projector we would like to have at least a third back feet that can also be adjusted but the front ones are the only available.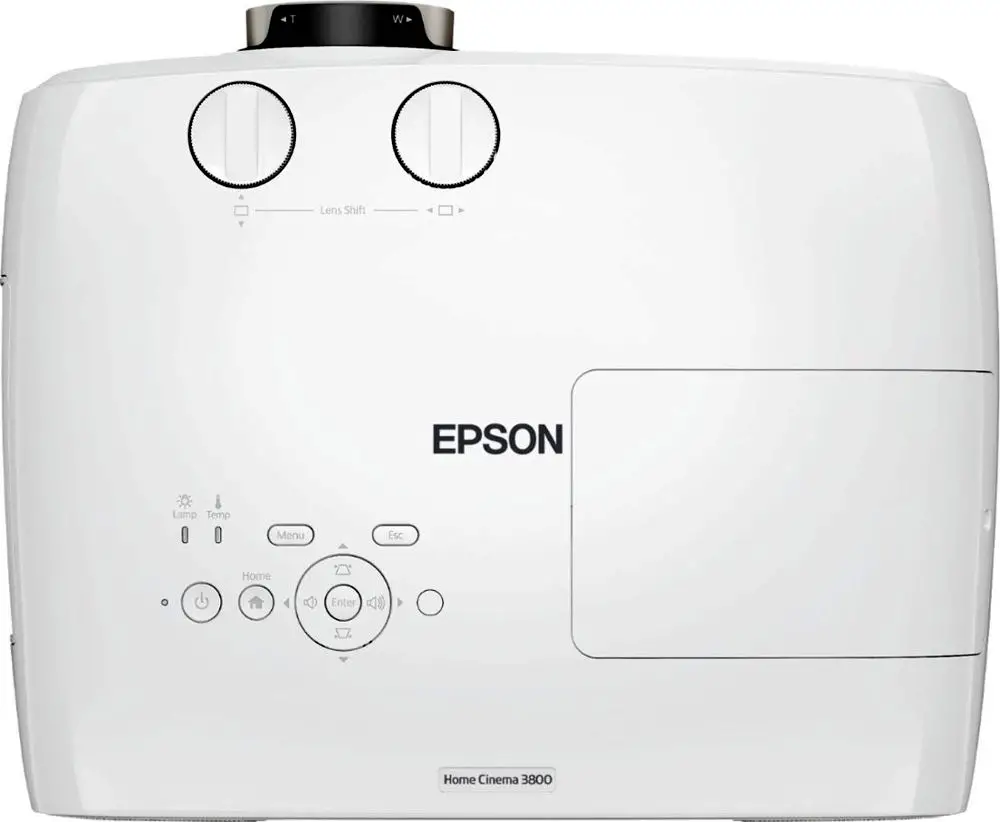 Next on to the lens that is being used. Utilizing a 12 element precision glass structure the projector can produce exceptional image clarity and edge-to-edge focus uniformity. Featuring a 1.62x zoom and with lens shifting that can go up to 60% vertical and 24% horizontal in both plus and minus we would say that the Home Cinema 3800 has more lens shifting than what we usually see in projectors of this price making it's placement and portability value even higher. As always keystone correction could not be missing but this should only be used as a last resort as using it can lower the overall image quality and this is the last thing you would want from a 4K projector.
When it comes to noise levels the projector has been rated by Epson at 24bB at it's lowest level that can reach as high as 35dB maximum. Obviously the 24dB value is when the projector is in Eco mode while it's highest value comes from High mode. Basically as with all pixel shifters noise come from two sources. The air cooling solution and the pixel shifting technology that due to the extreme re-positioning speed it can create a slight but audible buzzing.
It's not entirely audible and some people may not even pay attention to it but we always recommend to hear how a pixel shifter sounds before purchasing just to be on the safe side. As for this model during our testing we can say that with the pixel shifting technology enabled and in medium lamp setting the projector could be heard but only slightly and in no way did it bother us or found it overall frustrating.
Now as for it's lamp life the projector comes with a 5,000 hours expectancy in ECO mode and goes on to 4,000 hours in Medium mode which seems to be the standard for this category of projectors. If you use the unit in High mode expect this to go even lower at around 3,500 hours.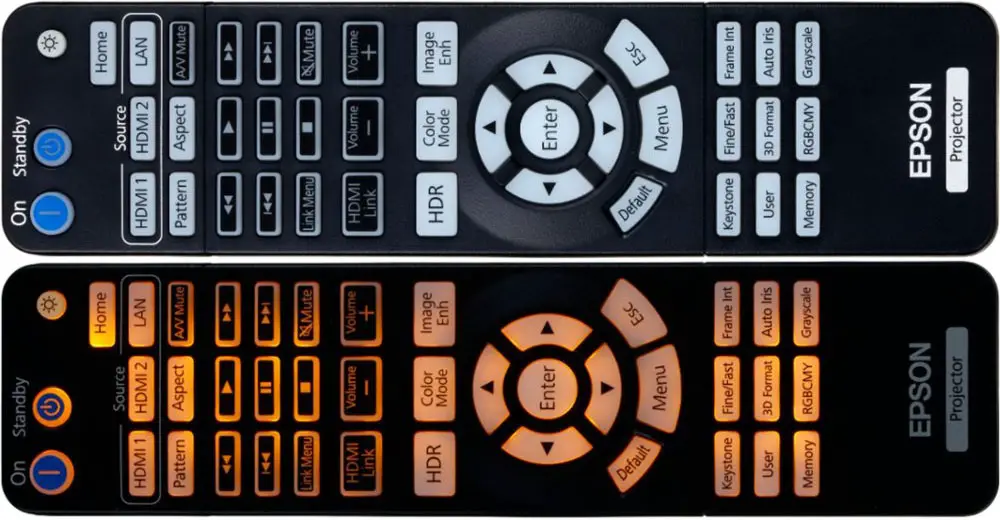 When it comes to projectors with such a low price manufacturers always try to find ways to make cuts and the remote is one of them. But we are glad to report that the one that comes with the Home Cinema 3800 is one with above average quality. It's plastic feels pretty sturdy while buttons are big enough and with a nice rubber touch to them. Buttons layout is good enough, although not the best we have seen, with source selection on top and playback buttons underneath while the usual navigation controls are in the middle with various image control buttons sitting at the bottom in a 3 by 3 buttons configuration.
It's not the kind of remote that would make you jump from joy but is one that definitely is above average for such a low cost projector. And we shouldn't forget the most important thing. There is a backlight function that give buttons a yellowish color in the dark which is a huge plus and we consider this a must for all home cinema equipment nowadays.
When we judge a projector design and construction it's always important to take into consideration it's cost and what we have here is basically a very nice projector that has good quality, nice and compact design, an above average remote and all this with a pretty low cost. Kudos to Epson for making it happen.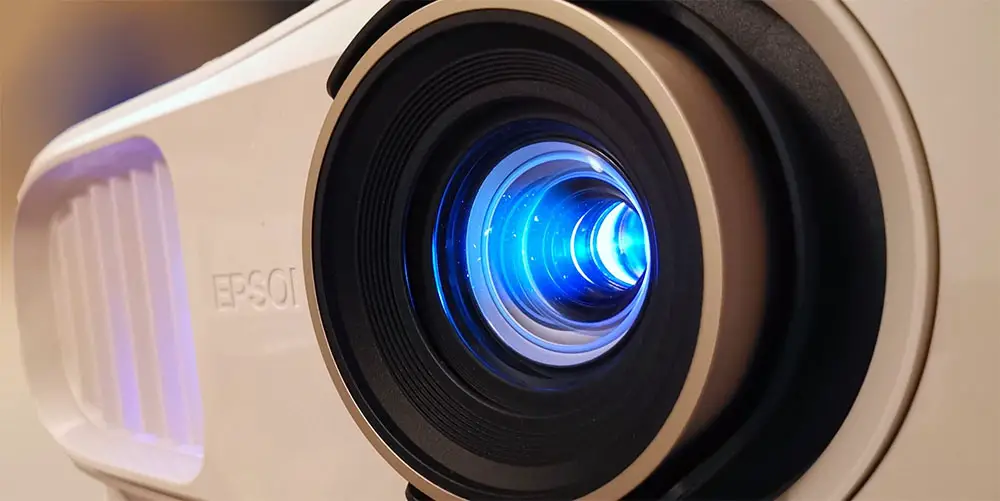 Video Quality
Technology used
Now as with all pixel shifting projectors there are two types of this technology available. In one of them the projector is displacing the image pixels in four different positions in order give you the illusion of a complete 4K image. The other type of pixel shifting technology is doing the same thing but changes only one position and by moving the pixels back and forth between the two positions you get the full 4K image. The Home Cinema 3800 belongs in the second category and in all honesty most of the times you will not even understand the difference between this and a true 4K model. It's that good.
So with the projector using a 1920 x 1080 x 2 with pixel shifting along with what Epson calls 4K PRO-UHD projection technology that is a collection of advanced technologies for resolution enhancement, color and image processing and the parallel process of millions of pixels by the three high-definition LCD chips that are controlled by the pixel shifting technology we get a result that is way better than what it's cost may make you think of it's image performance.
Now quality is really close to native 4K projectors as far as sharpness and overall clarity is concerned but as these cost at least $5,000 at the moment of writing pixel shifting solutions have become way too popular among many home theater fans. But as with anything pixel shifting has the disadvantage of creating some noise due to the fast repositioning of the pixel shifting which may bother you if you are very noise sensitive. If you have the opportunity we would suggest a testing in a quiet room to determine if this is very bothering for you or not.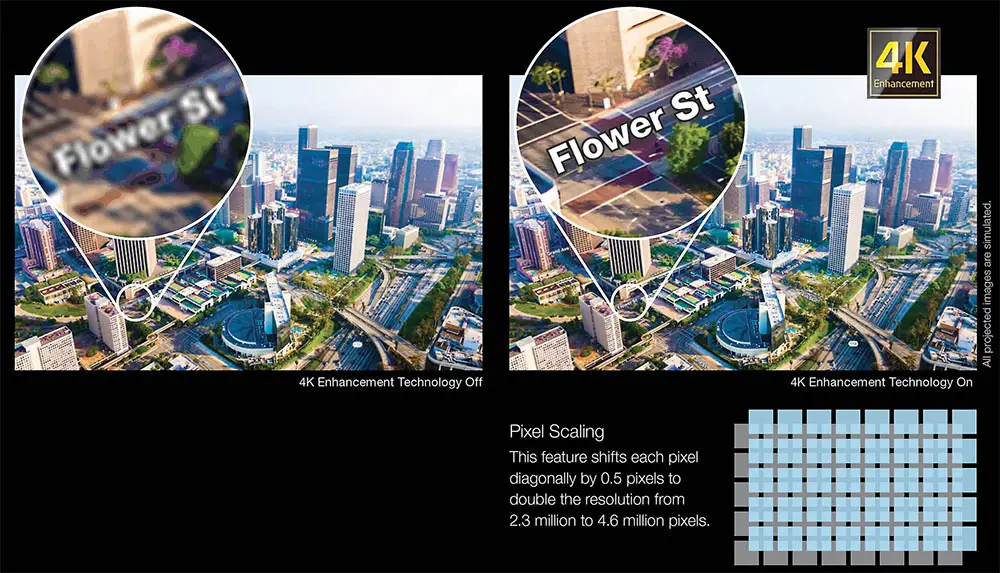 4K UHD / HDR Content
Next in line is our 4K/HDR testing and for this purpose we tried out the 4K UHD version of Aquaman with it's excellent image quality and sharpness. Our initial reaction was simply amazement. Sharpness and overall clarity of the image will make you question if you are looking at a pixel shifting projector or a native 4K one. Every little detail on their armors, weapons, skin details and imperfections, clothes textures and surfaces composition were rendered in very high detail giving the overall image a very three dimensional look. Also we were surprised how good and accurate colors were even without calibration showing great out-of-the-box color representation.
As for it's contrast ratio the projector is rated at 100,000:1 with auto iris enabled. Now this number is just a marketing number and real numbers deviate a lot from this but having an auto iris really helps this unit achieve better and deeper blacks along with finer shadow details. Now one thing you should keep in mind is that in this low cost category if there is one aspect that greatly suffers is black levels. We have seen some models using an auto iris in order to improve this a little but in general deep blacks in not something you are going to find in the sub-$2,000 category so don't expect any miracles.
One thing that puts the Home Cinema 3800 above most of the competition is the inclusion of a 16 steps HDR brightness control that you can directly access and use from the remote. Many low cost 4K projectors usually have far fewer steps so in this regard the 3800 offers you the ability to fine tune your viewing even better.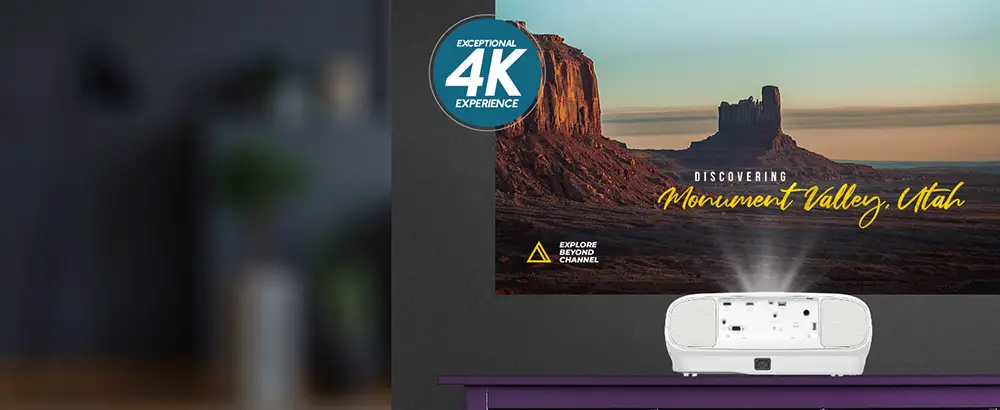 When it comes to the HDR protocols supported there are no real surprises here as the projector supports the usual HDR10 which is common for UHD playback along with HLG which is used mostly for broadcasting. No Dolby Vision obviously as there are no projectors supporting this yet.
Full HD / SDR / 3D Content
But our testing wouldn't be complete if we didn't try some Full HD content also as there is a huge amount of it that still hasn't transitioned into the 4K format making performance in 1080p a very important factor for any good quality 4K projector. For this reason we used the Blu-ray disc of The Hobbit for this particular test.
This film has a very characteristic color grading and the projector made a good job bringing all this to the screen with amazing accuracy. Obviously image sharpness was as good as it gets for a 1080p transfer but what was impressive was how good the colors were. From the lush greens of the forests to blazing red flames and soft midnight blues the Home Cinema 3800 needed little effort to keep us glued on the screen. If you still have a large library of Full HD content, and we are pretty sure that you have, then expect the Home Cinema 3800 to really get the best out of your collection.
While 3D is considered long dead in TVs it lives on with most projectors so if you don't want to throw your precious 3D collection away this unit will do just fine. The projector supports optional RF-based active-shutter glasses which you will have to buy separately as there are none in the box. With 3D brightness takes a hit but the good thing is that with this projector's high brightness output this is not as big of a problem as we had seen in a few other projectors recently. Image was free of any crosstalk and in general the 3800 is an excellent unit for watching 3D movies.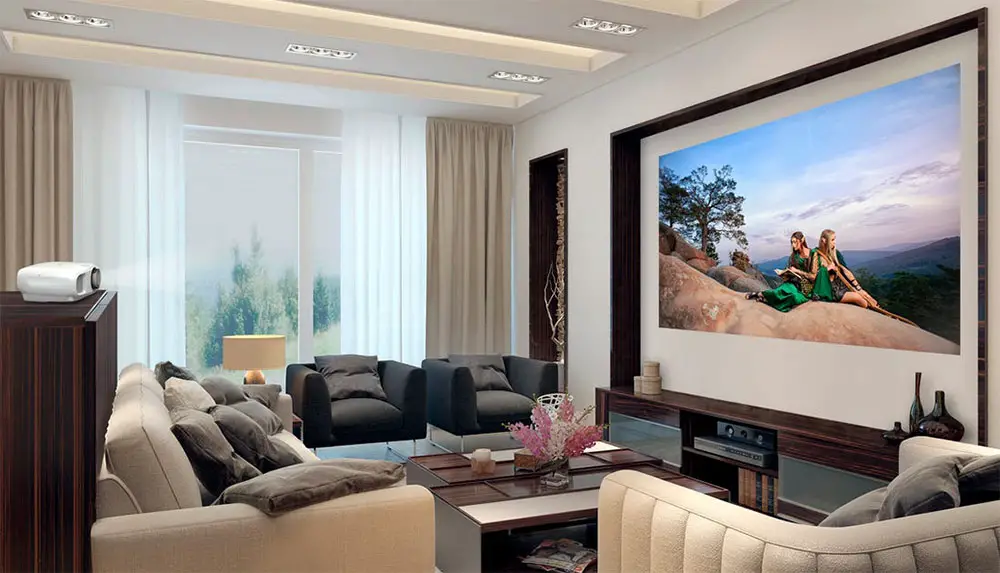 Color Coverage
Let's now see how this projector can do with colors. Using advanced 3LCD technology the Home Cinema 3800 can display 100 percent of the RGB color signal for every frame without any "rainbow effect" or color brightness issues. At least this is what Epson claims in their statements so we were curious to see how close to this it can really go.
Now we will talk a bit more about the available picture modes in the next section but from all that you can use, as far as color accuracy, the best ones are Bright Cinema, Natural, and Cinema. All three of them are very close to each other and in general these offer great colors without the need to make any adjustments something that many will greatly appreciate.
For SDR content Natural mode gave us a 89,5% coverage on the Rec.709 while in Cinema mode we got a perfect 112.6% coverage in the Rec.709 color space. On the other hand when it came to HDR content we were able to measure 70.2% DCI-P3 coverage which translates to roughly 104.6% on the Rec.709.
We were really enthusiastic by these measurements and what is impressive is that these are without any calibration and most people will find them more than simply acceptable making this projector a very friendly one to the average user.

Brightness / Picture Settings
Let's move on to our brightness testing now. The Home Cinema 3800 is rated by Epson at 3,000 lumens which is way above what we have seen in many DLP projectors with the same price. Obviously HDR in a projector is a highly debatable subject and some people don't even consider HDR what these units can produce so we are here to see how much of Epson's claims can be seen on the screen.
The projector offers four picture modes that include Dynamic, Bright Cinema, Natural and Cinema. Unlike other projectors there are no dedicated HDR or 3D modes and there is also no user defined one. For this last one what you can do is use one of the available ones, make any changes you want to it and save the custom made in one of the 10 available memory slots.
For our testing we used the widest angle in combination with Medium Lamp mode. In Dynamic mode we managed to get the most brightness output which came at 2,625 lumens which is really good even if it is still a bit away from it's theoretical output. The Dynamic mode has a slight green bias so many will try to avoid using it much. Bright Cinema came second at 2,040 lumens with Natural being close third with 1932 lumens. Cinema was the mode with the least brightness which was measured at 1452 lumens.
Now as we said except from the Dynamic mode the other three are very close to each other but in our opinion we would use the Natural picture mode for 1080p/SDR content while we would go for the Cinema mode when we would watch 4K/HDR content.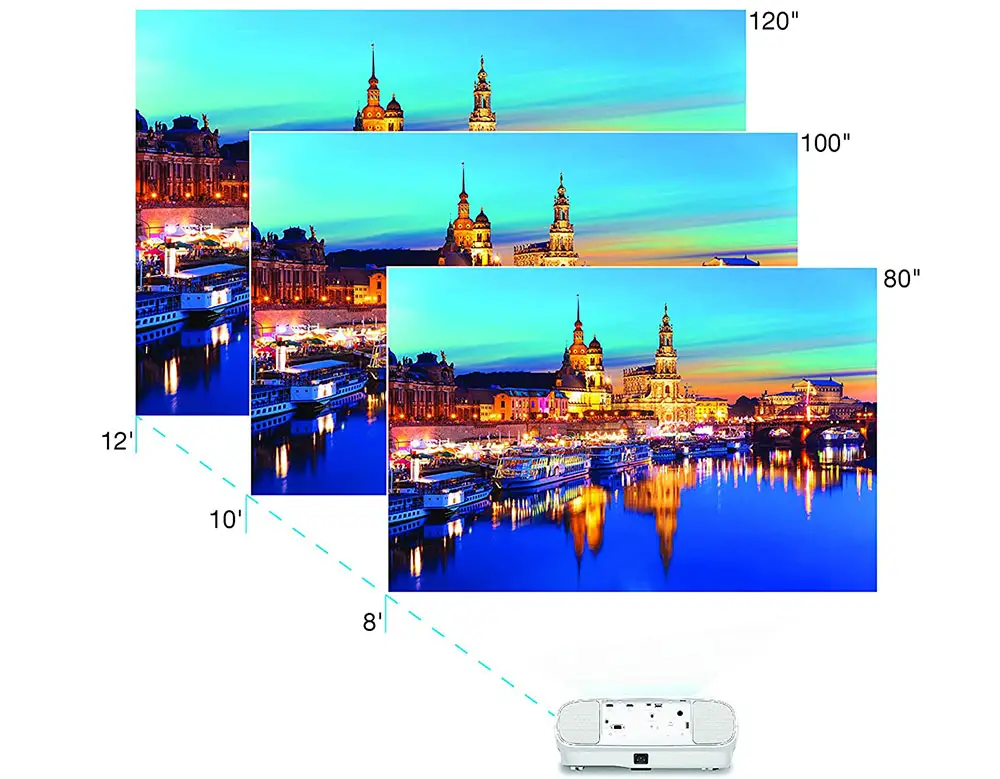 Black Levels / Contrast
One area that all these sub-$2,000 projectors keep falling short is in their contrast and deep blacks performance. In order to somewhat rectify this many manufacturers are using an auto iris that helps a little in this regard even if the end result is not as good as some more expensive models like the Epson UB series or with some native 4K models.
Now for a projector that had an initial price of $1,700 and with certain discounts you can get it for even as low as $1,400 we would say that the Home Cinema 3800 manages to offer black levels that most will find more than satisfactory and will do just fine in most situations. The use of an auto iris do help and with a theoretical contrast ration of 100,000:1 black levels and shadow details are very good for it's category.
Just keep in mind that with auto iris enabled you may hear a slight noise from it when in use. Just mentioning this as many may think that there is some problem with the projector but Epson has specifically said that a little noise from the iris when in operation is normal.
Input Lag
Next in our testing comes input lag. Now in general projectors have always fell short of what TVs can now offer in terms of input lag. With TVs now going even lower than the 10ms mark have put huge pressure even on some of the best gaming projectors out there. But in general we consider anything that is under the 50ms mark good enough in order to provide a pleasant experience.
Now for the Home Cinema 3800 specifically we were able to measure 27.5ms of input lag when we fed it with a 1080p signal which is excellent to be honest and this went even lower when we switched to 4K resolution to just 22ms. Very nice results, especially if you consider that the Home Cinema 3800 is not considered a gaming projector.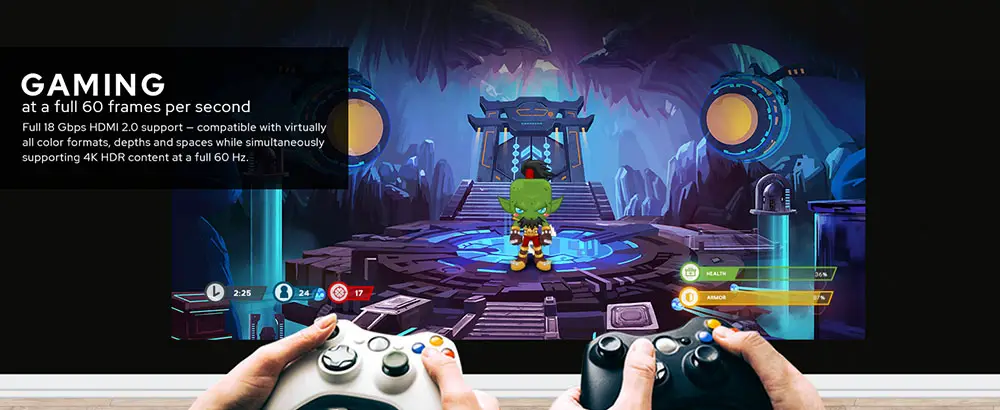 But in order to get a real sense of what these numbers mean in a real world situation as we always do in input lag tests lately we used our PS4 and went for a few laps around Suzuka with our Ferrari F1 in F1 2019. The projector is a real treat when it comes to gaming. As we had said many times in the past we consider ourselves mostly casual gamers so we can judge each game as that. And in our opinion the Home Cinema 3800 was extremely fast as all our commands were registering extremely fast on screen and all driving corrections never felt to lag very obviously that could create potential problems with games like this that you need very instant responses.
If you are looking for a projector for both watching movies but also play your favorite games then this one is definitely worth a consideration.
Motion Performance
When it comes to motion performance the projector had very smooth motion even in scenes where the camera was panning very fast. It's not usual to see a projector with such a low price to feature such good performance in this test but this one did.
Now the Home Cinema 3800 supports frame interpolation but there are some serious limitations to it's usage making it less useful as a feature in general. First of all frame interpolation in this projector doesn't work with 4K resolution signals. But even if you feed it 1080p signals you need to have the projector's 4K enhancement turned off so this is the only way to use it. As you understand there are a lot of requirements for it to work and for a projector that is mainly going to work with 4K content this feels more like an afterthought than a really useful feature.
So in general what you should expect is very good and satisfying motion overall from such a low cost projector but while it features frame interpolation it has so many restrictions that you shouldn't even bother using it most of the time.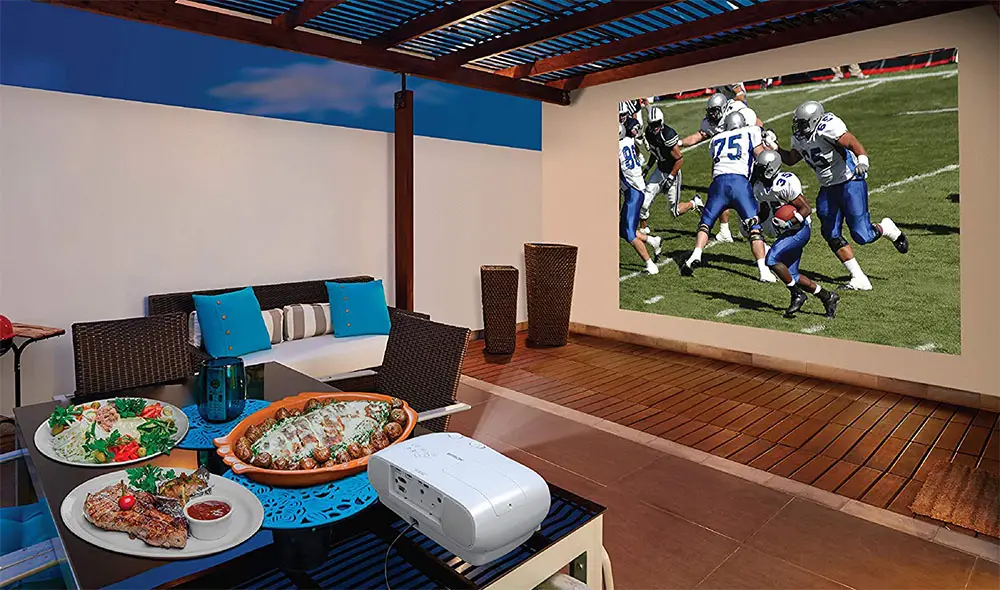 Ports & Connectivity
Let's take a look now to what kind of ports and connectivity in general we get in this unit. As we mentioned before all the ports are located at the back of the unit in a small inset to hide slightly the cable connectors and kept between the two speakers that are placed at both far sides of the back face.
From top left to right we get a couple of HDMI inputs, a USB Type mini B that is only used for service, another USB Type A that you can connect wireless accessories and make firmware updates, just below that a 3.5mm stereo audio output jack with a remote receiver to it's right, a 200 mAh, 3.5mm trigger out jack with an RS-232C port next to it and last but not least another Type-A USB port with a 5V/2A rating that can be used with streaming devices.
A couple of notes now and we should first mention about the HDMI ports. Both of them have full 18 Gbps HDMI 2.0 support which means they can both support content up to 4K/60Hz with HDR. That's pretty nice as many low cost units go for a single HDMI 2.0 along with a second one that is only HDMI 1.4. As for everything else we can say that the Home Cinema 3800 offers everything you would expect from this category and more. For example you don't see very often in this price an RS-232C port being offered.
Lastly as far as it's wireless capabilities the projector comes with Bluetooth built-in that supports the high-quality aptX codec and A2DP profile.
Very good overall and we cannot ask for anything more than what is on offer in this price.
OS, Apps and Features
The menu design and structure in the Home Cinema 3800 is nothing we haven't seen before as many, if not all, projectors just use a very simplistic user interface with different tabs and sub-categories in order to separate all their features and settings. In the same way this unit provides you with 7 different tabs that include Image, Signal, Settings, Extended, Network, Info and Reset.
Nothing out of the ordinary here to be honest. While we would like to have a more visually pleasing UI the one provided is simple and gets the job done. What should be mentioned is that the projector does not have any kind of smart functionality as we had seen in some other projectors lately. This means no streaming services or anything similar so if you want some kind of streaming functionality you will have to rely on an external solution like an Amazon Fire TV or something similar.
One feature that needs a bit of extra mentioning is Epson's Image Enhancement technology that includes 4K Enhancement, Image Preset Mode and Frame Interpolation along with a set of image processing features that you can adjust to your liking and can in some cases really improve the ending image quality like noise reduction, detail enhancement and super-resolution. With Image Preset mode you can select one of the five predefined options with different settings for each or select you very own if you find the ones available are not to your satisfaction.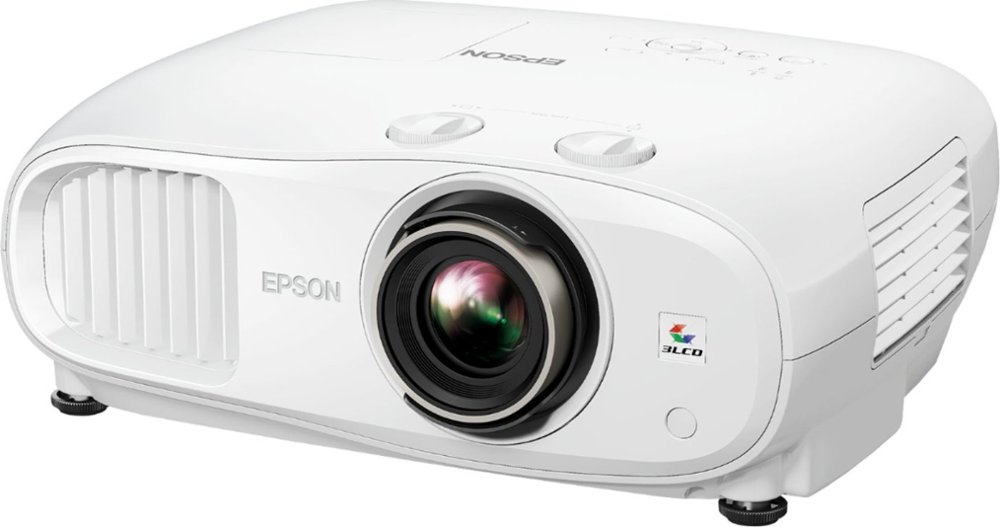 As we have mentioned before the projector also features a couple of built-in speakers that greatly enhance it's portability. These speakers are backwards firing. With 10 watts each, these speakers are nothing amazing to talk about but obviously you cannot expect anything major from such a small audio system. Sound does come loud and clear and is ideal for outside use or if you want to take the projector to a friend's house.
The nice thing about this projector is that even if you are not satisfied with the on-board audio and you happen to have an external speaker that supports Bluetooth by using the projector's built-in Bluetooth function you can stream the audio to your speaker and get far better audio quality this way. And with the projector supporting the high-quality aptX codec and A2DP profile it ensures that you will get pretty good quality out of it.
One last feature to mention is support for HDMI-CEC. If the projector is connected with another device that supports this then you can use the projector's remote to control some basic functions of the other unit also which in some cases can be very practical and will reduce the number of remotes you will have to use in your home theater setup. And since a huge amount of devices support HDMI-CEC nowadays it's almost a sure thing that this can indeed be a very practical feature.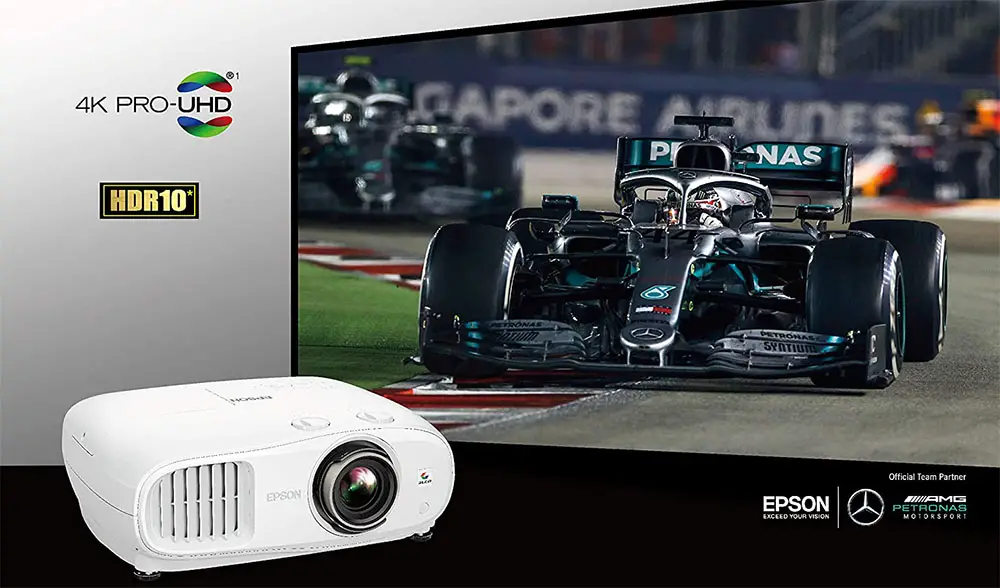 Final Thoughts
When you judge a projector you have to relate everything to the price it is being sold. With 4K pixel shifting projectors nowadays competition is very fierce as there are so many models in the sub-$2,000 category that manage to offer very respectable performance that is becoming increasingly difficult to set apart which is better and which is not. Epson's offerings including the Home Cinema 3800 we reviewed here today along with the cheaper Home Cinema 3200 have some very nice specs to be honest and the 3800 did manage to impress us in certain areas.
Some of the projector's strengths include the overall extremely good out-of-the-box performance with excellent 4K images that were extremely sharp and clear, colors were very good without any calibration needed, brightness was very satisfactory creating some amazing HDR images while black levels and shadow details were good enough as the included auto iris did help to improve things slightly.
The relatively small dimensions and weight of the projector along with the very generous for it's category lens shifting makes placement very easy, it's low input lag makes it ideal for gamers while the inclusion of many image enhancing and processing features will please the more advanced users. Lastly there are a few more features including built-in Bluetooth, HDMI-CEC and built-in speakers that makes it's value even higher.
On the downsides while black levels are satisfactory for most causal users, as we just mentioned, they are not as good as many more advanced users would like. If you are going to use the projector in a dark room then blacks will certainly look slightly grey and to be honest this is expected in this price. Also frame interpolation seems a bit of an afterthought as it cannot be used either in 4K resolution or even in 1080p if you are using 4K enhancement in parallel. Lastly as with all these 3LCD projectors they are prone to misalignment which can have a negative impact on the image if not correctly calibrated.
In the end there are so many things to like in this new low cost proposal from Epson. The Epson Home Cinema 3800 has the image quality, motion performance and portable design along with enough features to make it an interesting low cost offering in the sub-$2,000 category. If you are looking for such a projector then this one certainly is a very tempting unit and will offer you a great viewing experience either you are going to use it mostly outdoors or in a dedicated home theater room.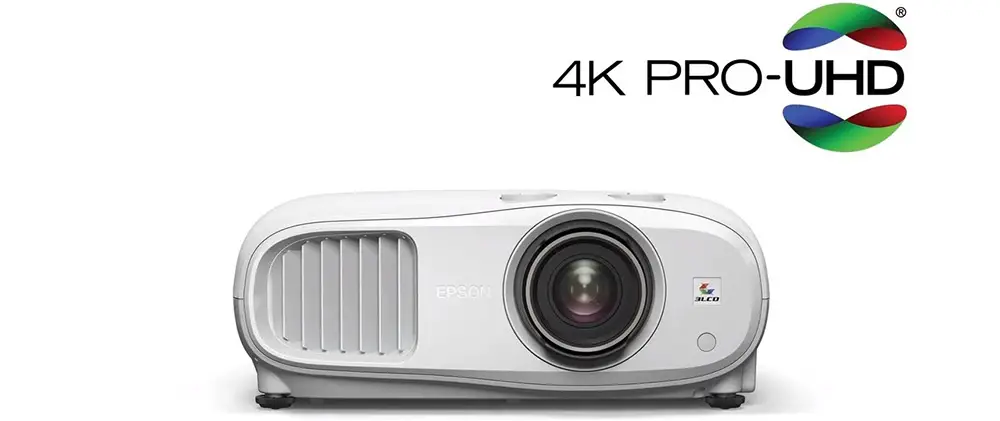 For more reviews you can check our dedicated 4K Projector reviews list or even look at our Product Reviews Table where you can find the brand and specific product you are looking for.
Also don't lose the chance to subscribe to our Newsletter and gain exclusive privileges.
---
---
Cheapest Places to Buy :
---
Epson Home Cinema 3800 Specifications