Epson Home Cinema 4000 (US) - EH-TW7300 (Europe)
Design -

90%

Video Quality -

88%

Inputs / Ports -

90%

OS, Apps and Features -

88%

Price / Quality -

94%
---
Cheapest Places to Buy :
---
Epson is one of the biggest manufacturers in the projectors segment and one of their latest creations, the Home Cinema 4000, is one very impressive projector. It may not be a true 4K projector and considering it's price this couldn't be different when true 4K projectors cost at least 3 times the price of HC4000 but what we get here is no slouch either and it has a few tricks up it's sleeve that we will talk about.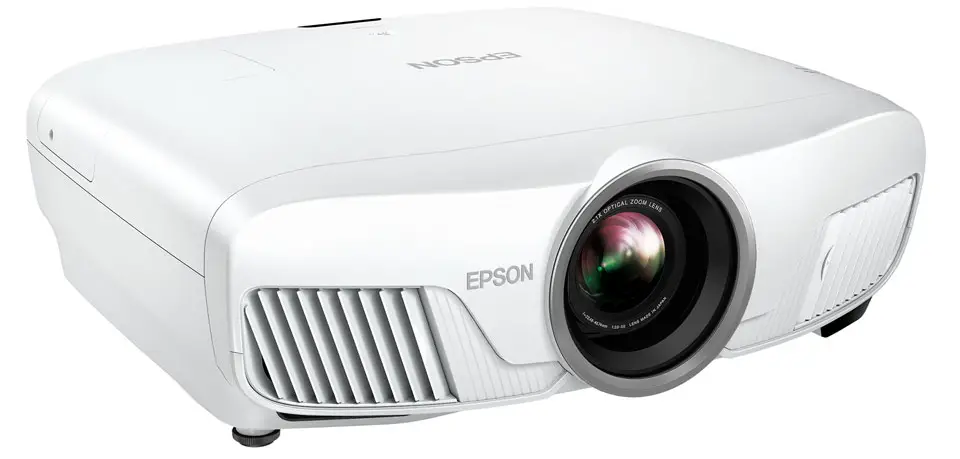 The projector can handle 4K material through a technology called 4K pixel shift and if you also take into account it's other features like HDR, wide color gamut and electronic lens shift among others it becomes very clear that this projector is very similar to the very successful Home Cinema 5040UB with the main difference being that the LCD panels of the HC4000 don't offer the same contrast or black levels of the 5040UB. But let's see how it fairs in our Epson Home Cinema 4000 review…
Design
Measuring at W521 x H170 x D450mm the Epson Home Cinema 4000 is a bigger than average sized projector. In fact it's one of the biggest projectors I have dealt with so if you plan on buying it first make sure you have enough space to place it and don't forget to leave enough room for adequate ventilation around it.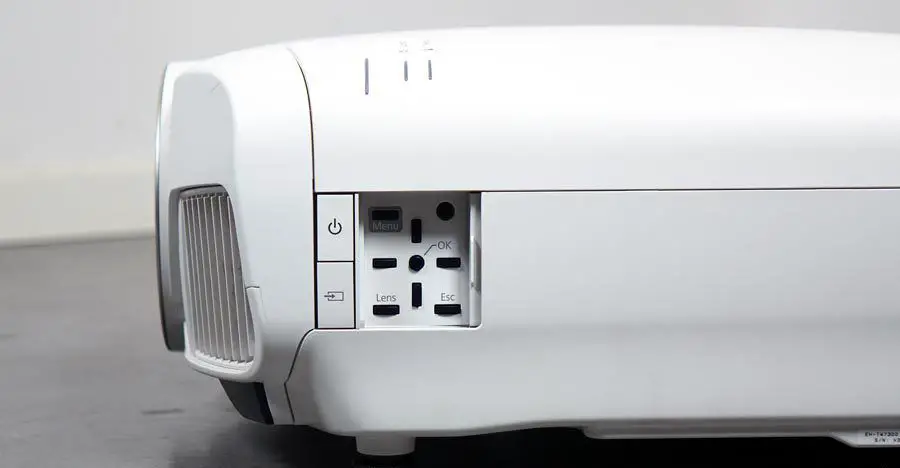 With a center positioned lens Epson has created a symmetrical design with ventilation openings on both front left and right looking similar to fish gills. On one side you will find a small sliding door that reveals a few buttons for the lens and menu controls. Since the projector offers motorized lens you are not going to find any manual dials for setting up the lens. All the ports and inputs are place in the back creating an overall pleasing and clean design and even for it's size I have to admit that this projector is one of the better looking ones.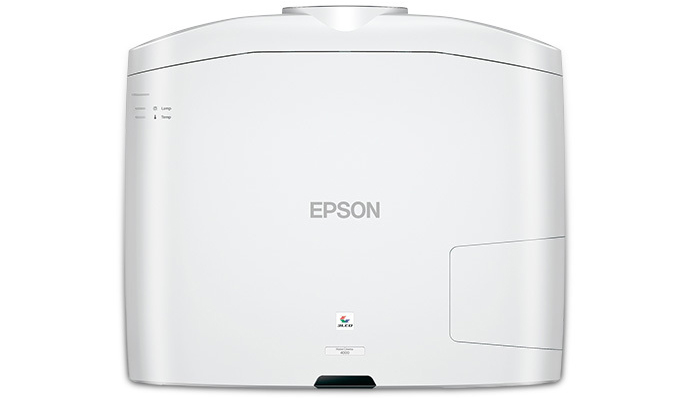 Video Quality
The first thing that becomes obvious when you start watching some content on the Home Cinema 4000 is that it's black colors are not as good as some other projectors. But I want to be clear on this, the black levels are not bad, on the contrary in it's price range it probably has the best and it is way ahead of any DLP projector in the same range but it cannot be compared with some of the more expensive projectors like the 5040UB.
The projector can handle 4K content with HDR, can cover 100% the DCI/P3 color gamut and does a good job with tone mapping using Epson's recommended settings. Viewing a 4K UHD disk is a real treat with all the expanded colors you would expect as well as great specular highlights creating an almost three dimensional effect. The result of course is not so dynamic as it would be with a good HDR TV as projectors are naturally dimmer than TVs but the end result is better than watching SDR content with fewer colors and dimmer highlights. HDR was primarily created for TVs and even the more expensive projectors still have a hard time catching up. But at no time did it feel like it was impacting the projector's HDR performance.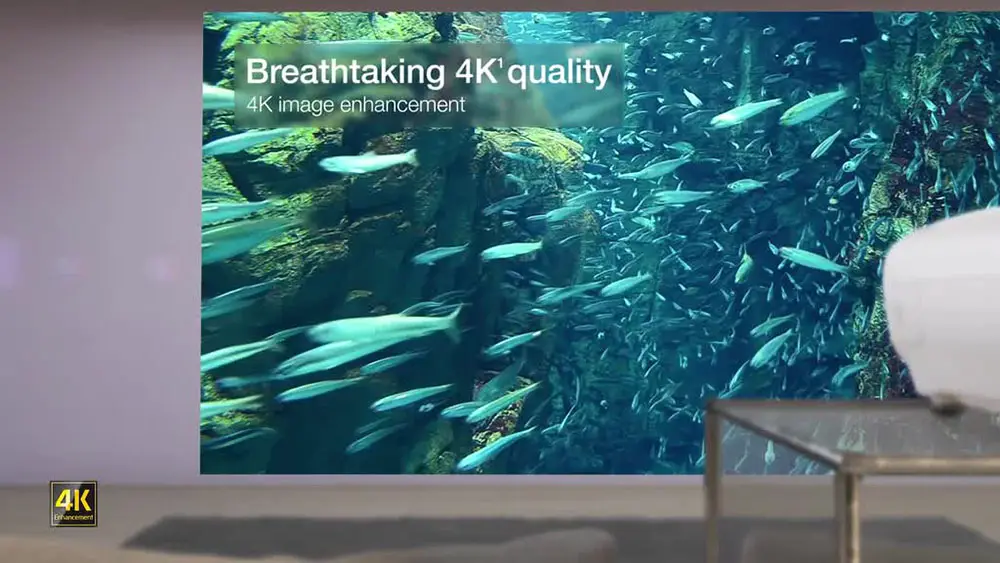 But even if the projector can display 4K content it is considered a native 1080p projector that can display 4K and can upscale any 1080p content you throw at it. Some other projectors offer a bit more sharp image than the HC4000 but the differences are not very noticeable. Watching a full HD Blu ray disk with the 4K Enhancement feature turned on created a surprisingly sharp image. Black levels as mentioned above may not be great but even in SDR content the result is satisfactory and never distracts from the overall experience.
The Home Cinema 4000 supports HDR10 high dynamic range but unfortunately no Dolby Vision. There are also a few limitations on how it can display HDR content. In order to get the full 4K UHD 10 bits with HDR/BT.2020 you have to feed it with a source that can output at 4:2:2 color subsampling. Anything more like 4:4:4 and what you get is 4K UHD 8 bits with SDR/Rec.709.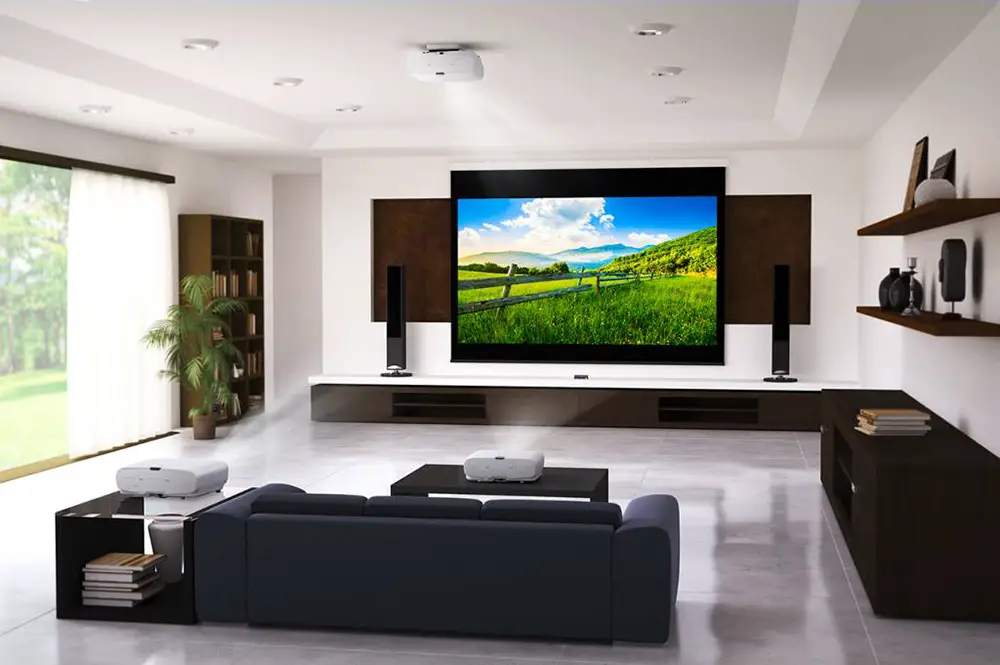 Frame processing is 120Hz so it can display 24Hz material. It can also display 60Hz material but artifacts would start to show. Fortunately there is not much 60Hz 4K content yet so this is not a big deal. The projector also supports 3D and the end result was great. I didn't see any obvious ghosting and images were vivid and bright enough so if you consider using the HC4000 for 3D viewing you will definitely be satisfied by the result. The drawback with 3D is that Epson's active glasses cost around $100 each but you can find third party ones in half of that price.
Inputs
As far as connections is concerned we more or less get the standard deal here. Two HDMI inputs, with only one being HDCP 2.2 compliant, a USB port, a service port, a VGA port if you are interested in connecting the projector with a computer, an RS-232 port and a trigger port. The projector also offers an Ethernet port for wired connection to the internet. All in all I would say you get everything you would need without offering anything more than the competition. The amount of inputs is adequate to get the job done.

OS, Apps and Features
What is great about the Epson Home Cinema 4000 is it's motorized lens. Now you have the ability to focus, horizontally/vertically shift and zoom all with the press of a button on the remote instead of manual dials on the projector itself. You can also save two different lens memories for different positions. Having motorized lens is a huge plus and makes setup so much easier compared to other projectors. I was surprised that a projector in this price range would offer such a feature and this is a huge plus compared to competition.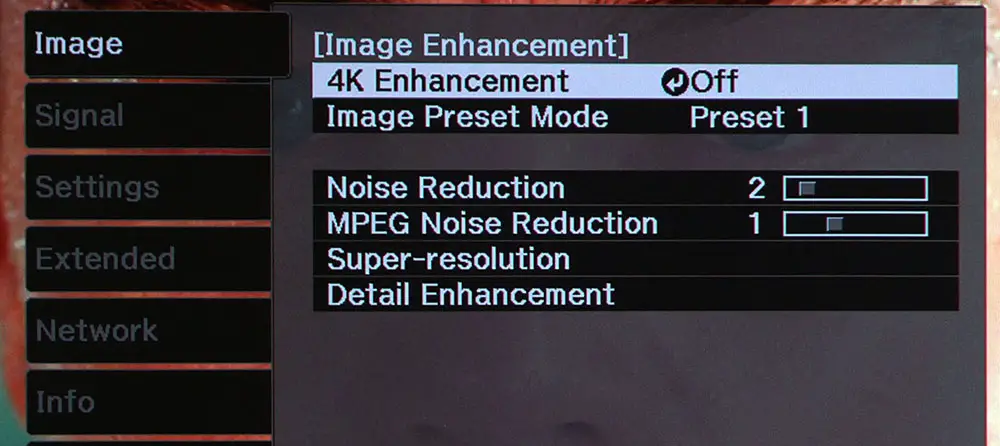 There are three power consumption levels on offer (High, Medium, Eco) with Eco being far too dim, Medium being adequate for SDR viewing and High being the best for HDR content. In Eco mode the projector is almost completely silent but on Medium and High settings fan kicks in and noise can become a bit of a distraction. We also get three levels of dynamic iris with Off, Normal and High Speed options that help black levels on dark scenes. Epson has a feature called Bright Cinema preset that offers some extra brightness for more spectacular HDR but you loose some of the expanded color gamut as a result.
Lamp life is adequate but even in Eco mode that Epson claims around 5.000 hours is only a third of what other projectors like the Optoma and BenQ claim. But you should consider changing the lamp earlier than the claimed lamp life in order to keep peek brightness and optimal HDR.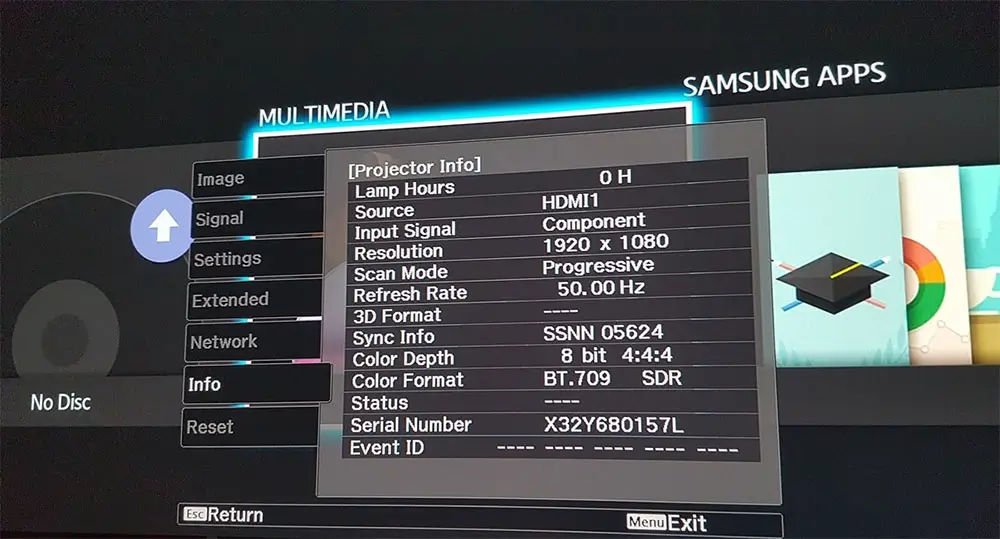 Another feature lets you adjust the three LCD imaging chips if it is needed. There is also picture in picture capability but this does not include 4K or 3D images so the feature is limited in a way. The projector also offers an info menu showing all details like lamp hours, input source, resolution and color depth among others. Other features include six color modes for 2d as well as another two for 3D. Other menu controls include Sharpness, Frame interpolation control, custom color temperature and a full color management system.
The remote control Epson is offering is adequate offering all the important functions needed. At first look it can show rather huge but after a while you get used to it. The buttons are spaced and big enough for normal usage while some of them can be programmed for specific options. The buttons have a backlight function also, very useful for using it in dark rooms.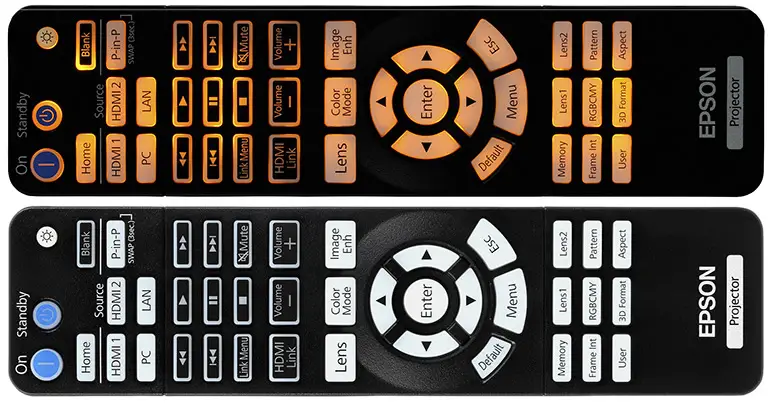 Final Thoughts
The Epson Home Cinema 4000 is a projector that may be for the budget sensitive but it performs pretty good considering it's price and the competition it has. It has a few drawbacks that keeps it from rising above the rest but even as it is there are times that you feel like you are watching a far more expensive projector. It has adequate contrast and black levels but what makes it better than others is it's HDR capabilities and video processing.
It may not be a true 4K projector and this is normal if you think what you have to pay for a real 4K projector. It's 4K enhancement feature is not doing much to create a better image. You will see some marginal improvement in image quality and clarity but don't expect anything dramatic as a true 4K image would be.
In general if you can get the more expensive Epson Home Cinema 5040UB then go for it since it resolves most of the problems the Home Cinema 4000 has with better contrast, deeper blacks and other features like static iris and manual switching between different resolutions sources. But if your budget does not allow you to go any higher then don't get disappointed as Epson Home Cinema 4000 will offer you a great experience and it is certainly worth the investment when you see it in action.

For more reviews you can check our dedicated 4K Projector reviews list or even look at our Product Reviews Table where you can find the brand and specific product you are looking for.
Also don't lose the chance to subscribe to our Newsletter and gain exclusive privileges.
---
Cheapest Places to Buy :
---
Specifications
Projection System: Epson 3LCD, 3-chip technology
Projection Method: Front / Rear / Ceiling mount
Driving Method: Poly-silicon TFT Active Matrix, 0.74″-wide panel
Pixel Number: 2,073,600 dots (1920 x 1080) x 3
Color Brightness – Color Light Output: 2200 lumens
White Brightness – White Light Output: 2200 lumens
Aspect Ratio: Native 16:9 widescreen (4:3 resize) Compatible with 4:3 with Normal, Full or Zoom Modes
Native Resolution: Native 1080p (1920 x 1080) with 4K Enhancement, Projected Output: HD, 2D, 3D, 1080p, 4Ke
Resize: 16:10, 4:3
Lamp Type: 250 W UHE
Lamp Life: Up to 5,000 hours (ECO Mode); up to 4,000 hours (Medium Mode); up to 3,500 hours (High Mode)
Throw Ratio Range: 1.35 – 2.84
Size – projected distance: 50″ – 300″
Keystone Correction: Vertical: ±30 degrees (Manual)
Contrast Ratio: Up to 140,000:1
Color Processing: Full 10-bit (partial 12-bit), Color Reproduction: Full-color (up to 1.07 billion colors)
Type: Powered focus/optical zoom/lens position
F-number: 2.0 – 3.0, Focal Length: 22.5 mm – 46.7 mm, Zoom Ratio: 1.0 – 2.1
Lens Shift: Vertical: ±96, Horizontal: ±47, Lens Cover: Powered, Slide Lens Shutter
Weight: 24.3 lb
Security: Kensington Security Lock Port
Operating Temperature: 41 ° to 95 °F (5 ° to 35 °C)