Epson Home Cinema 5050UB (US) - EH-TW9400 (UK/Europe)
---
Cheapest Places to Buy :
---
Epson seems to heavily invest in 4K pixel shifting technology as their latest projectors using Pro-UHD technology seems to be front and center in their current lineup. And while pixel shifting is not the same as native 4K, the technology is mature enough to offer such kind of quality that in most cases it's hard with a naked eye to spot the differences.
Last year's 5040UB was one of people's most favorite pixel shifting projector as it offered great image quality with black levels that could rival far more expensive, native 4K projectors at a price that had almost no competition. Now the time came for Epson to release it's successor with the 5050UB sporting many of the features we loved in last year's model with a few notable improvements. Does this new release  have significant changes and how does it compare to other models in this category. Continue reading our Epson 5050UB review to find all the details.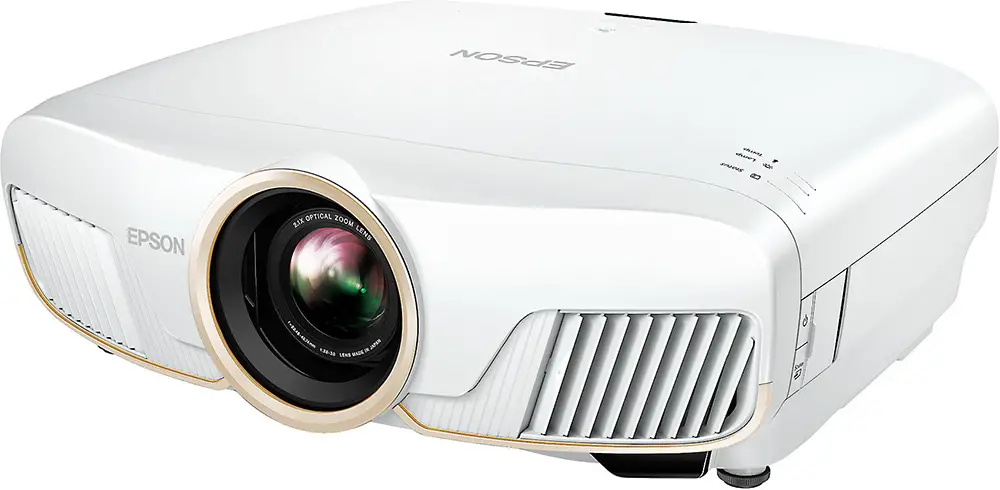 Design
First of all we need to clear up the naming confusion as in true Epson fashion the manufacturer tends to give different names to their models depending on the market. In the US market the projector comes with the naming 5050UB which is the basic model while there is also the 5050UBe which is the same exactly projector with the addition of an outboard wireless HDMI transmitter and internal wireless HDMI receiver and costs about $300 more.
Lastly there is the Epson Pro Cinema 6050UB which comes with a bit higher contrast ratio, adds lockable ISF Day and Night modes as well as adds a few extras like a ceiling mount, an extra lamp for future replacement and a cable cover. Other than these it's exactly the same model as the 5050UB but comes with a higher price of almost $1,000 more.
As for Europe we get the EH-TW9400 naming which is similar to the 5050UB but in reality is closer to the 6050UB as it comes with the boosted contrast ratio of 1,200,000:1 as well as having the black case of the later. There is also the EH-TW9400W variant which seems to be a mix of the 5050UBe and the 6050UB as it has both wireless capabilities and the boosted 1,200,000:1 contrast ratio. Hopefully this cleared a bit the differences between the similar projectors we get in the markets.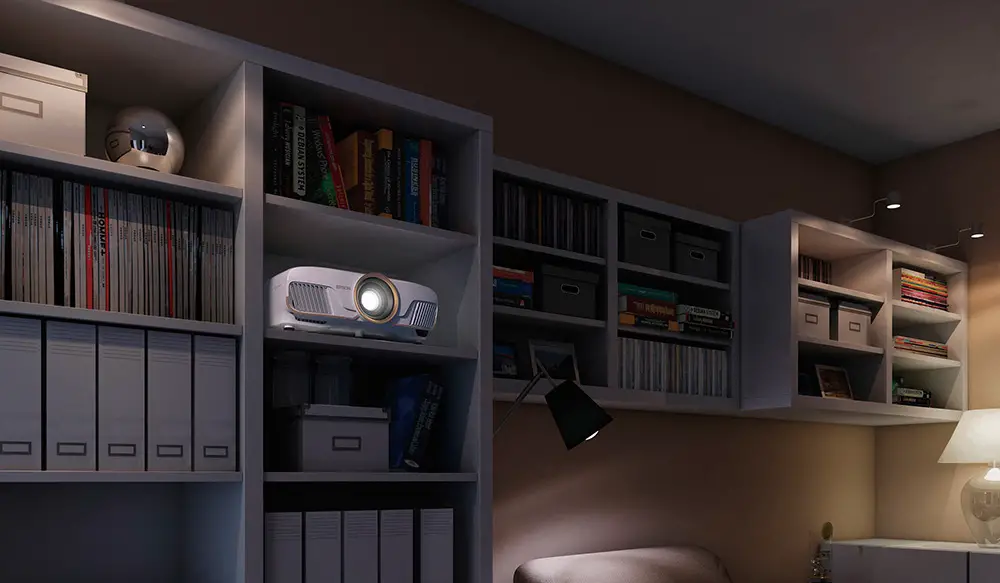 As for the looks the 5050UB comes with a lovely looking design and is very similar to previous years with very slight cosmetic changes. The projector is really big and is one of the biggest 4K pixel shifters we have dealt with. Obviously it was not designed to be carried around and even in small viewing areas it's best to ceiling mount it in order to save space. With a size of 20.5″ x 17.7″ x 7.6″ / 520 x 450 x 193 mm and weight of 24.7 lb / 11 kg the 5050UB is meant to be placed in a specific position and be left there.
Looking the projector from the front we see it having air vents in both front corners with one sucking and the other blowing air while the lens are positioned dead center. Under the right air vent we find a big IR sensor while in both front corners Epson used screw-type adjustable feet if you want to position it on a furniture. On the right side the are two big buttons for power and input selection while next to them a sliding door reveals more control buttons for lens control and menu navigation. Above the sliding door on the top side there are three LED lights for status, lamp condition and temperature while on the opposite side we find the lamp replacement door. A few logos and model number is everything else on the top keeping a pretty clean design.
The projector comes with motorized lens which is a real pleasure to have and is a feature that we found both in the previous 5040UB as well as the new 4010 models while it's very good 2.1:1 zoom and surprisingly wide-range lens shift of ±96 degrees vertical and ±47 degrees horizontally gives us total and easy control over it's calibration. For those unfamiliar with what lens shift is it means that you can change the position of the image without the need to move the projector something extremely useful if moving it around can prove a bit difficult.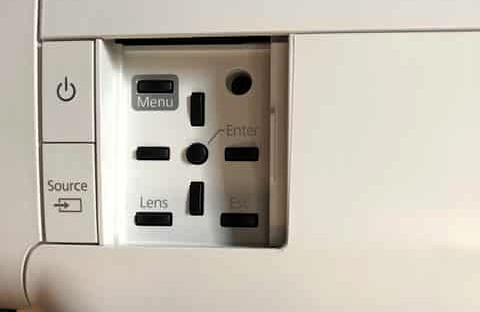 Fan noise is rated by Epson from a minimum of 20db in ECO mode to a maximum of 31db in High setting. During our testing we were sitting 2 meters (around 6.5 feet) away from the projector and both ECO and Medium lamp settings were mostly quiet during normal viewing. In High setting the fan makes more noise and is more audible which may be a bit bothering to some people that are more sensitive to high pitch sounds. But in general we found it quiet enough to have a pleasant viewing time with it.
Lamp hours seem to be similar to the 4010 model we had tested before as Epson gives the 250w UHE lamp 3,500 hours of life in High setting and 4,000 in Medium setting while there is also the familiar ECO mode that extends the lamp even further to 5,000 hours but this mode lowers image quality considerably to be used in any meaningful way. And although the number of hours given are not the highest we have seen it's more or less the average in this category.
Epson seems to be using the same remote with many of it's projectors and the one we find with the 5050UB is very similar to the one we had used in our 4010 testing. The remote is fairly big in comparison to some other projector remotes but at least it feels well made and sturdy enough while it is also backlight enabled which is very important in our books. At the top we find the input source buttons with playback and menu navigation buttons under them while on the bottom we get 9 buttons with various functions. The only difference we find in this remote is the HDR button which you can use to easily adjust the tone mapping during HDR viewing in real time.

The projector doesn't have any built-in speakers and this is another strong indication that this projector is not meant for mobility. It's meant to be placed in a home theater and be left there. Overall build quality is very good and although the unit is covered in a white plastic case there are small details like the gold rims under the air vents and around the lens that give it a bit of style and more premium look.
Video Quality
Technology used
The 5050UB is a 4K capable projector that is able to deliver the necessary resolution through 1920 x 1080 x 2 pixel shifting technology. This means that it displays a full HD signal with 1080p resolution and by moving the pixels in two positions at a very fast rate it creates the necessary 4K image. Epson's new PRO-UHD processing technology claims to have made further improvements in image detail and sharpness bringing the end result closer to a real 4K image. Basically this is just an improved version of the pixel shifting technology we already know.
According to Epson this has to do with the speed that the pixels are traveling from one position to the second. The less time it takes to travel between the two positions the more time the pixels are staying idle meaning higher clarity, more details and even more brightness.

The projector is using three high-definition LCD chips in parallel that are being handled by the pixel shifting processor and one clear advantage of this is that there is no "rainbow effect" that plagues some DLP projectors with color wheels. Of course having 3 chips has also a disadvantage compared to single chips projectors as the three color paths (Red, Green and Blue) are never perfectly aligned making them theoretically have less sharpness than DLP variants.
It's really a tradeoff and each technology has it's own disadvantages so there is no clear winner here with differences being very subtle at best especially in this price range.
4K UHD / HDR Content
One of the films we like to test during projector reviews is the 4K UHD version of Pacific Rim: Uprising and the 5050UB immediately shows it's quality. Sharpness and details were in abundance while the picture was full of colors creating an amazing result for a projector that is in the $3,000 price range. The extra brightness that the Epson can pump out is really evident here as Pacific Rim is a film with many highlights that benefit from this while HDR is a cut above what we had seen in other pixel shifters that usually cannot go so bright.

Looking at the Jaegers armors you could see individual scratches on them while the actors skin reveal every small imperfection showing the amount of detail the Epson projector can show. We may be talking about pixel shifting technology here but we challenge anyone to make out the difference between this and native 4K with a naked eye from a certain distance.
The projector also supports HDR and here the 5050UB has been upgraded somewhat. It's the first projector we have seen that not only supports the basic HDR10 protocol for UHD playback but also HLG which is the HDR that is being used for broadcasting.
Full HD / SDR / 3D Content
The projector may be primarily for 4K viewing but that doesn't mean it's not an exceptional performer with 1080p content. We tried various Blu-ray discs, one of them being Oblivion which has a very sharp and clean look that also stems from the artistic design of the film, and we found the 5050UB depicting very sharp images with a lot of detail and very lifelike colors. If you still have a large Blu-ray collection, and we are most certain you do, then rest assured that the projector will get the most out of every single disc of yours.

The Home Cinema 5050UB also has 3D capabilities and comes equipped with two 3D modes, 3D Dynamic and 3D Cinema and while both of them offer good out of the box image quality there was room for improvements with a bit of calibration. Naturally 3D lowers brightness but the overall result was great with no visible crosstalk.
We were never very fond of 3D but it's good to know that it is being supported for those still interested in this dying format. Unfortunately you will need to buy 3D active shutter glasses as these are not supplied with the unit adding a bit to the overall cost.
Color Coverage
The Epson 5050UB supports wide color gamut and compared to 1-chip projectors that claim 100% color coverage of the REC.709 this model is capable of covering 100% of the wider DCI-P3 color space which is the standard for UHD mastering. And while the difference between the REC.709 and DCI-P3 may not be so visible with bare eyes this also contributes to the overall improved image quality.

Brightness
The Home Cinema 5050UB is rated at 2,600 lumens which is an improvement over last year's 2,500 lumens rating of the 5040UB. 100 lumens may not be such a big difference but when we are talking about projectors brightness even the slightest of improvement is always welcome. Of course this 2,600 rating is the theoretical peak of this projector and more often than not real numbers can differ a lot.
This projector comes with 8 different picture modes, 6 for 2D viewing and another 2 for 3D viewing which include Dynamic, Bright Cinema, Natural, Cinema, Black & White Cinema, and Digital Cinema while for 3D the available modes are 3D Dynamic and 3D Cinema that the projector uses then a 3D signal is detected.
Obviously peak brightness depends on a lot of factors as different settings, modes and even lamp hours can give different results so our measurements are only given as a reference point for comparison between different picture modes and to give you a general idea of the projector's brightness capabilities. With this out of the way we used the high lamp setting with the widest zoom setting as the reference settings for our measurements.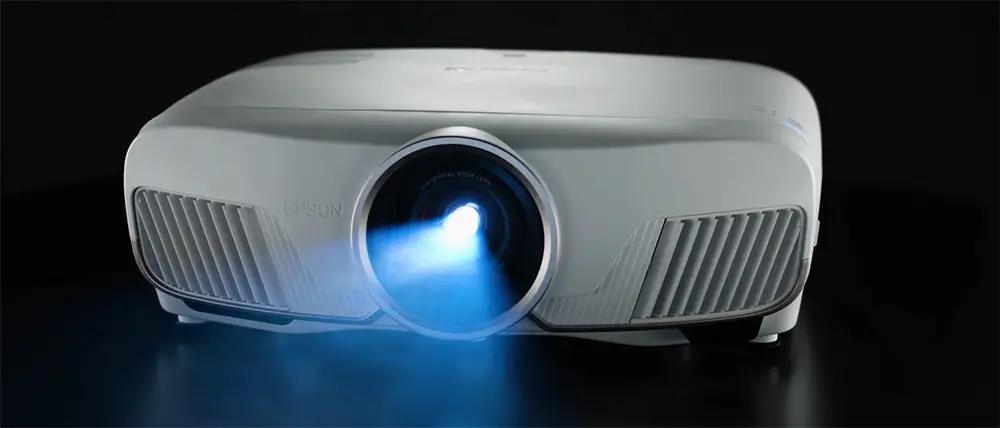 The Dynamic mode offered the most brightness with 2,550 lumens measured but it felt a bit greenish to our eyes. Bright Cinema came second with 1,870 lumens and Natural was a close third with 1,865 lumens while both of these offered better colors. B & W Cinema came next with 1,732 lumens while Cinema and Digital Cinema came last with only 930 lumens measured but this also has to do with the fact that these two modes also engage the DCI-P3 color filter.
Now for our recommendations we would suggest that you use the Digital Cinema mode when viewing 4K content with HDR as it managed to reproduce colors very accurately and could cover 100% of the DCI-P3 color space and while it may not be the most bright mode on offer it was bright enough to offer very good HDR results. As for viewing 1080p/SDR content we preferred the Natural setting as with a little bit of calibration we were able to achieve very good brightness and color accuracy.
Black Levels / Contrast
One of the 5050UB's main strengths and one that makes it stand out of the competition is it's exceptional black levels. This is where it's UB naming comes after all (Ultra Black). Usually in this low price range, that is around the $3,000 mark, it is almost impossible to find models that can produce similar black levels and you will have to go almost double the price to get something worthwhile so as you understand the 5050UB is in a unique position with it's exceptional performance in this regard.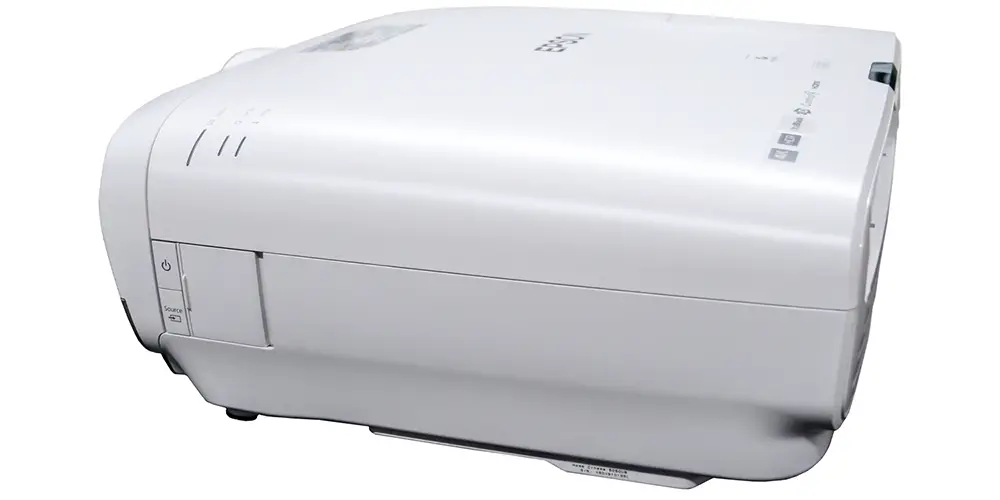 But how does the 5050UB manages to produce these black levels? Well, basically it's a combination of two things. Epson has equipped the projector with a series of polarizing filters in the path of light in order to reduce the amount of stray light. This in combination with an auto iris produce excellent black levels and very good dark shadow details giving the 5050UB it's contrast rating of 1,000,000:1.
A small note here, the European equivalent of the 5050UB, the EH-TW9400, gives a bit better rating at 1,200,000:1 and that's why we said in the beginning that these two models are almost the same but not entirely. But either way the 5050UB is really in a category on it's own and in it's price it's really the only option that offers this kind of black level quality.
Input Lag
Measuring the Input Lag of the projector gave us very good results in 4K resolution with an average of 23.2ms across the different picture modes. There are differences but they are very small and in general we got very similar measurements across the board. With Full HD content Input Lag was measured a bit higher at 27.2ms which was still very good. Although we have seen a few projectors with lower input lag we consider the 5050UB to be one of the better ones which can be very good if you are considering to use this projector for your gaming sessions also.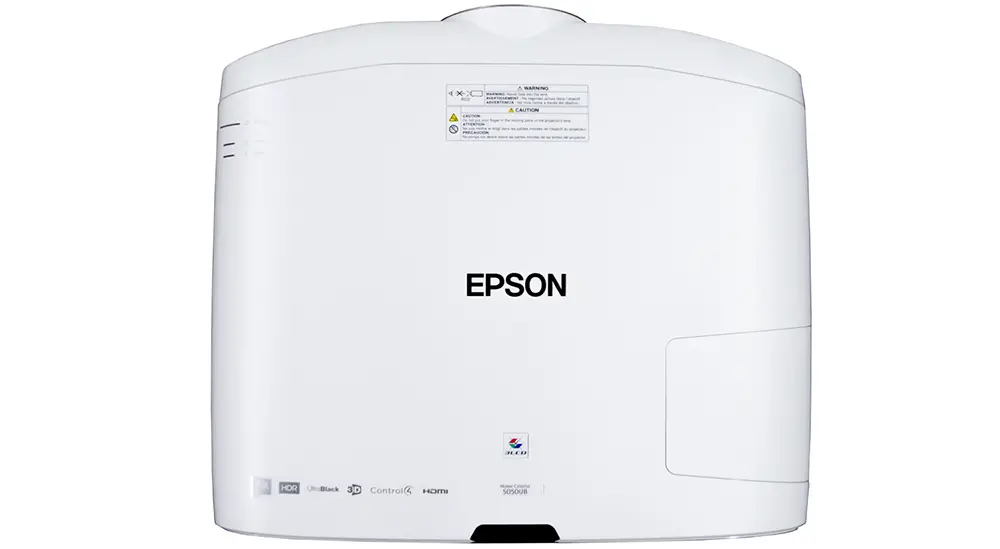 Motion Performance
As far as motion performance is concerned the 5050UB gave very solid results and performed similarly with other projectors in the same price range. The projector comes with CFI (Creative Frame Interpolation) technology in order to smooth the motion of fast camera movements by inserting additional frames between two existing ones.
And with the addition of Detail Enhancement motion blurring is reduced keeping the image clean and sharp. Calibrating Frame Interpolation and Detail Enhancement can be done through the remote and the menu settings and it's best to experiment with these to find what you like best. No complaints in general in this regard.
Inputs
One of the biggest differences compared to the previous 5040UB is that for the 505oUB Epson has upgraded it's HDMI ports to support 18Gbps of bandwidth which means it can now accept signal with 4K resolution at 60fps, HDR and wide color gamut which is a very nice improvement and that was one flaw that many people had criticized the otherwise excellent 5040UB last year.

Now as far as what we get this year the connections we find are more or less a standard affair with all of them grouped together at the back of the projector located in a recess that hides a bit the connection plugs. From left to right we find an Optical HDMI port (300 mA), 2 HDMI 2.0 inputs, a USB port for wireless or firmware updates, a micro-USB for service only, an Ethernet port (RJ45), a VGA port for connecting a computer, an RS-232C port for connection to a control system like Control4 and a trigger output in order to connect a motorized screen for automatic opening/closing when you use the projector.
The most obvious change in this year's 5050UB is the update of the HDMI ports to support 18Gbps and although this may not mean a lot to the most casual audience it is a definite welcome improvement to all those people that were disappointed by the lack of this in the 5040UB.
OS, Apps and Features
Setup was not particularly difficult and we were set and ready in no time. We used the threaded feet to level our projector as usual but there is an included ±30° keystone correction if you need to make corrections but it's one we definitely advice against unless absolutely necessary as keystone correction tends to lower the image quality.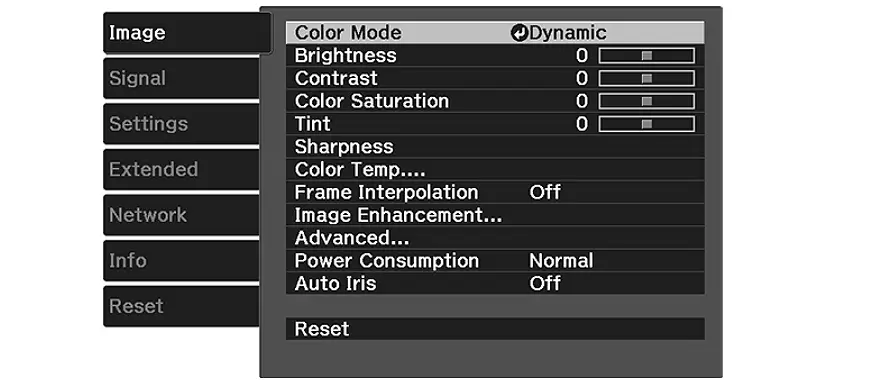 Menus are the usual we had seen before with different categories for image settings, colors, lens memories, display calibration and network among others. Navigation was fast and smooth with the remote commands immediately registering. We would love to see at some point a refresh in the menu and general settings as it looks vastly outdated in 2019. TVs are making visual refinements all time so we think it's time Epson do one also.
One major feature we like in the 5050UB is Lens Memories. With various content using different aspect ratios setting up zoom and lens shift all the time can be a real pain. Not with the 5050UB as it offers 10 lens memories in total so you can save your own settings with 2 of them being instantly accessible from the remote making things so much simpler.
For example you can set up one memory for HDTV content while the other for Cinemascope making the change just a push of a button. Using all 10 memories is an overkill and you probably will not be using more than 3-4 but having such an amount of flexibility is one of 5050UB's major strengths.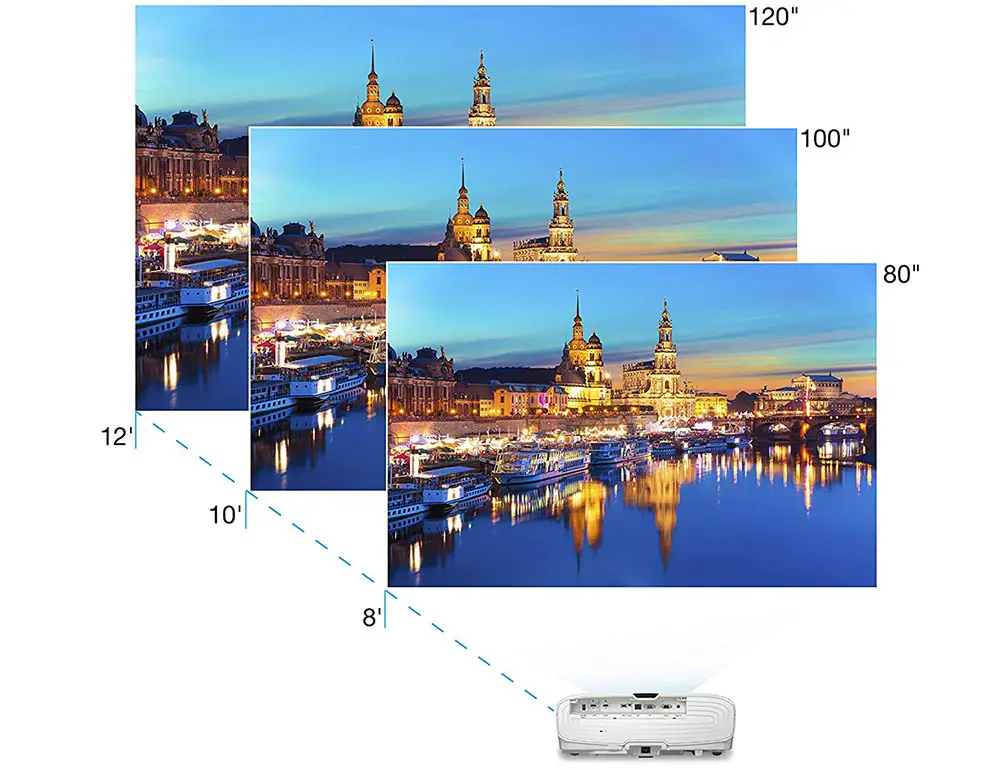 Final Thoughts
The 5050UB really is on a league of it's own. Surely there are other projectors that offer better performance but the key here is the cost. With a price tag of $2,999 the 5050UB offers amazingly sharp images that are almost indistinguishable from native 4K projectors, have excellent color reproduction with 100% coverage of the DCI-P3 color space, has the best black levels in it's category and comes with a few extra features like auto iris, motorized lens, lens memories and 3D playback that gives the projector so much more value.
Epson have managed to add improvements to an already very good projector that was last year's 5040UB by improving it's pixel shifting technology, upping slightly it's brightness and updating it's HDMI ports in order to be able to handle 18Gbps of signals which basically means it now supports 4K signals at 60Hz.
But with so many good things about it is there anything that could make us have second thoughts about it? Well we are nitpicking here, this is how good we believe it is, but if we had to find some drawbacks then one is definitely it's size. The projector is meant to be placed in one position and be left there, it's not mobile friendly to put it simply. Also since we have to place it in the 4K pixel shifting category then we would say that it's definitely one of the more expensive ones as we have seen 4K pixel shifters go as low as $1,300 with good picture quality also. Lastly using the lamp in High setting makes the projector a bit audible that can be bothering to people that are sensitive to this low frustrating humming of the fan.
Closing we will say that the 5050UB doesn't have any real competition as most other pixel shifters don't offer the same color quality and deep blacks that the Epson can while other native 4K projectors with better image quality and deeper blacks cost more than twice it's price. As such the Epson 5050UB manages to combine spectacular performance and features at a very affordable price making us give it our top recommendation.
For more reviews you can check our dedicated 4K Projector reviews list or even look at our Product Reviews Table where you can find the brand and specific product you are looking for.
Also don't lose the chance to subscribe to our Newsletter and gain exclusive privileges.
---
[table]
[tr][th]US Model[/th] [th]EU Model[/th][/tr]
[tr][td]Home Cinema 5050UB[/td] [td]EH-TW9400[/td][/tr]
[/table]
---
Cheapest Places to Buy :
---
Specifications
Projection System :Epson 3LCD, 3-chip optical engine

Projection Method : Front / Rear / Ceiling mount
Driving Method : Poly-silicon TFT Active Matrix, 0.74″-wide panel
Color Brightness – Color Light Output : 2600 lumens
White Brightness – White Light Output : 2600 lumens
Aspect Ratio : 16:9 widescreen (4:3 resize,16:10 resize), Compatible with 4:3 with Normal, Full or Zoom Modes

Resolution : 4K Enhancement (1920 x 1080 x 2)
Maximum Resolution : 4096 x 2160
Supported Resolution : 3840 x 2160, Full HD 1080p/i, HD 720p, 576p/i, 480p/i
Lamp Type : 250 W UHE
Lamp Life : Up to 5,000 hours (ECO Mode); up to 4,000 hours (Medium Mode); up to 3,500 hours (High Mode)
Size – projected distance : 50″ – 300″ (Zoom: Wide and Zoom: Tele)
Keystone Correction : Vertical: ±30 degrees (Manual)
Contrast Ratio : Up to 1,000,000:1, Auto Iris on
White Balance : 8-point adjustment
Color Processing : Full 10-bit (partial 12-bit)
Color Reproduction : Full-color (up to 1.07 billion colors)
Lens Type : Powered focus/optical zoom/lens position
F-number : 2.0 – 3.0
Focal Length : 22.5 mm – 46.7 mm
Zoom Ratio : 1.0 – 2.1
Throw Ratio Range : 1.35 – 2.84
Lens Shift : Vertical: ±96.3(H center, powered), Horizontal: ±47.1(V center, powered)
Lens Cover : Powered, Slide Lens Shutter
Terminal Inputs : 2x HDMI (HDCP 2.2), 1x USB Type A (for optical HDMI cable 300 mA max. power supply only), 1x USB (for wireless and firmware), 1x Mini USB (service only), 1x LAN (RJ45), 1x Computer/D-sub 15 pin, 1x RS-232c, Trigger out 12 V DC, 200 mA maximum
Display Performance : 4K/UHD @ 60 Hz compatible, HDR10, 3-dimensional DCI-P3 color Gamut, 4K, 1080p, HD, 2D, 3D
Input Signal : Composite: 480i , 576i, 480p, 576p, 720p, 1080i, 1080p, 4K x 2K / HDMI: TMDS
Features : Cinema Filter, Auto Iris, Super Resolution, Frame Interpolation
Fan Noise : 20 dB – 31 dB
Operating Temperature : 41 ° to 95 °F (5 ° to 35 °C)
Power Consumption : ECO Mode: 283 W, Normal Mode: 373 W
Dimensions (W x D x H) : 20.5″ x 17.7″ x 7.6″ / 520 x 450 x 193 mm
Weight : 24.7 lb / 11 kg