Harman Kardon Enchant 1300
Design -

94%

Movies Performance -

92%

Music Performance -

92%

Inputs and Features -

95%

Price / Quality -

88%
---
Cheapest Places to Buy :
---
Today we have the pleasure to test a soundbar that has been out for a while from the well known company called Harman Kardon. While they are not so much known as a company that makes standalone products they have made a name by fine tuning various audio products and electronics like soundbars from other manufacturers, speakers and even laptop computers. But they do own their very own range of audio products and in our Harman Kardon Enchant 1300 review we will be taking a closer look to this flagship soundbar and see if it can give us the kind of performance their name is so closely connected to.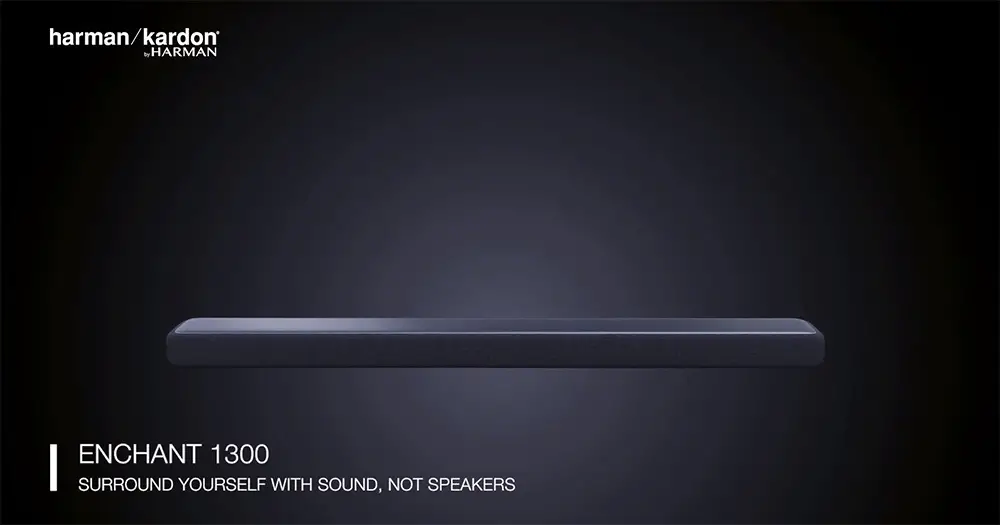 The Enchant 1300 soundbar is the top tier model in their Enchant lineup of soundbars with the 800 model being the second one. Now the 1300 is truly a premium model and Harman Kardon made sure to use some serious hardware to back it up. After all it's not everyday that we see a soundbar that comes with a whopping 13 channels built-into the main unit.
But it's not only the numbers that looks impressive with this one. Featuring a very high quality design along with many connectivity options and a good variety of features that include Chromecast, High Resolution Audio support, USB and Bluetooth streaming along with optionally connecting a wireless subwoofer it seems like this one is truly a heavy hitter.
The Enchant 1300 soundbar seems to have all the ingredients to be a top performer but obviously the price is also a factor here. While originally it came close to $1,000 just for the soundbar itself it seems that some heavy discounts are happening at the time of writing making it a very tempting opportunity. But does it have the kind of performance that can give this unit top scores that a premium soundbar like this should have? Keep reading to find out…
Design, Inputs and Features
Exterior
Looking the Enchant 1300 really gives you the impression of an expensive soundbar. Both it's size and looks reflects upon it's original high price and it seems that Harman Kardon went all the way when it comes to general looks and good quality materials used.
When it comes to it's size the Enchant 1300 is a big one. It's not the biggest soundbar we have seen as some of the top LG models far exceed this one but it's definitely on the long side. With a size of 44″ x 2.6″ x 4.9″ (1120 x 65 x 125mm) and weighting 12.5 lb (5.65 kg) this model will nicely fit under any TV of 55″ and above. This model comes standalone without a subwoofer although you can buy one separately and we will talk about it a bit further down our article.
Now as for the outer shell Harman Kardon did create a looker. Although the design doesn't have anything flashy or completely out of the ordinary it's small details that do make it look apart. It's combination of  materials with the entire front face that houses the front firing drivers and display unit being covered by a fabric as well as some other parts around it's main body as well as the back and the top featuring a metal cover with a very nice metal chrome strip encircling it. The same thin metal strip is also found around the side firing drivers giving it a uniquely premium look.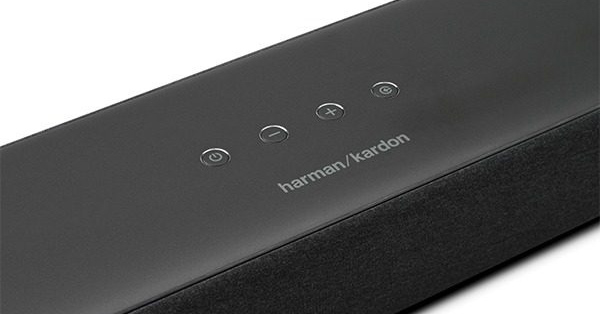 Now the top face also houses the few buttons Harman Kardon decided to include. These are small circular physical buttons that are placed in the middle of the top side and include a power button, volume controls and an input selection. Nothing else is available and for all other functions you will have to use the remote. We can admit that we prefer these physical buttons instead of touch sensitive ones as it makes it so much easier to use them in a low lit environment.
There are no microphones built-in that we see in some other soundbars of the same category, although there is a hidden one used for the sound calibration, and while there is voice control support this is done through an external device. But more on this we will talk a bit further down in the extra features section.
We always like when a soundbar has an actual display in order to give you some indication of the unit's functionality. And thankfully the Enchant 1300 does have one that is placed behind the cloth as per usual. When there is no action taken for a few seconds the display will turn off in order not to bother you while there is also a Dim function on the remote in order to adjust the brightness of it to your liking.
Let's take a look at the back now and here we see how good work Harman Kardon has done with the design. The top half is covered by the same cloth we mentioned above while in the middle of the bottom half we get all connections that are separated into two insets. Along with them we also find three sound ports that are placed in between the two insets something we don't usually see in soundbars. But with so many drivers are play it seems like a logical thing to do to help with sound pressure.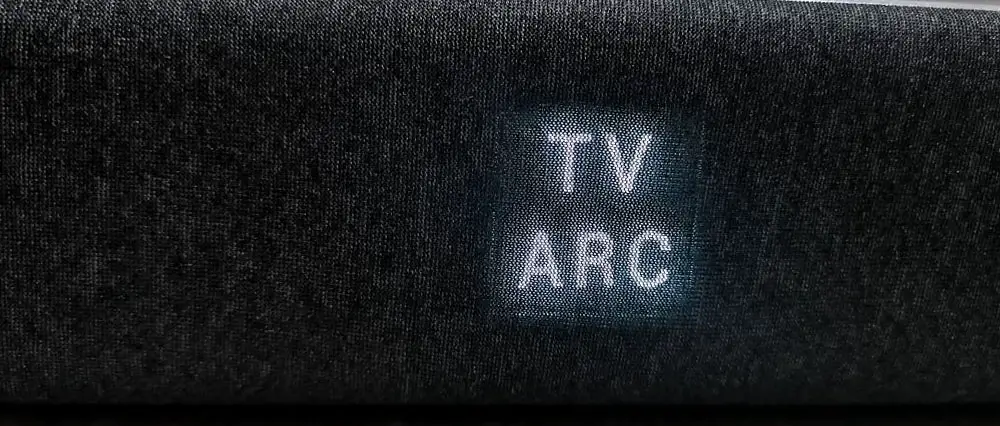 And although the unit does have a low profile we would like to see some IR repeaters being included as you never know under what kind of TV this soundbar will be placed and if it will obstruct the TV IR sensor or not. So we would suggest you measure the height of your TV before buying this in order not to have any problems with that after. Lastly there are special L-shaped brackets included in the package in case you want to wall mount it. As per usual the soundbar can be installed on a wall only in a vertical position.
We have only good things to say about the design. Premium materials, nice smooth lines and careful layout of all elements are what really makes this one really stand out. Placement can be a little tricky as with the side firing drivers it means you need to position it somewhere with open space on both sides but other than that we couldn't find anything wrong with this one. Excellent work.
Internal Hardware
It is not the first time that we review a soundbar that includes many drivers including Dolby Atmos up-firing and side-firing ones but a soundbar that comes with an astonishing 13 drivers in total is really an interesting, if not unique, aspect of this model. So let's take a closer look at what is hiding under the cloth.
For the three front channels we have a total of 10 50mm (2″) woofers. The left and right channels use 4 drivers each while the center channel uses two of them with a single 20mm (0.75″) tweeter sandwiched between them. Harman Kardon has also included a couple of 25mm (1″) side-firing tweeters placed inside a horn design that are essentially there to add more width and depth to the surround effects with the help of what is called "MultiBeam Surround Sound".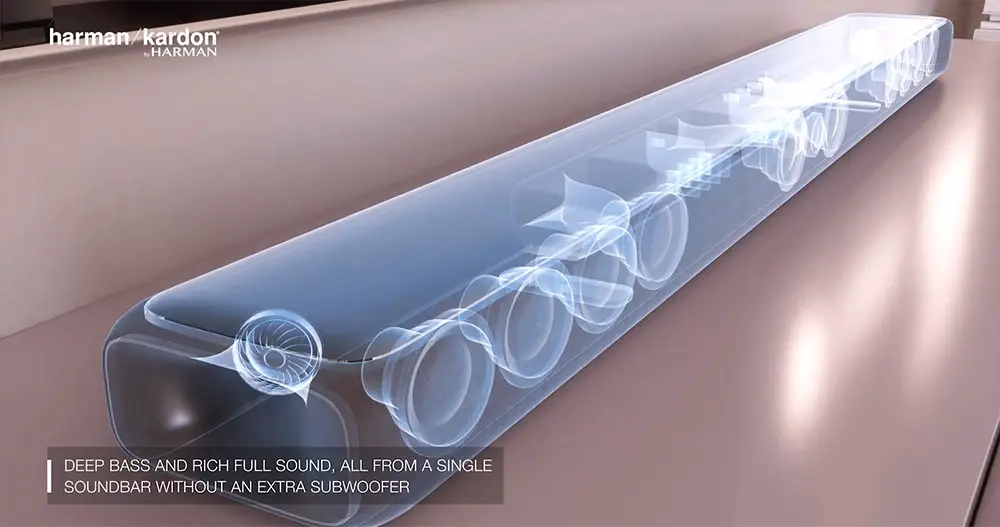 As you understand from the above the "13 channels soundbar" that Harman Kardon is advertising this soundbar to be is a little misleading. It may actually use 13 drivers but doesn't actually have 13 different channels as we understand them in a home theater setup. In reality this would actually be closer to a 5.0 channels soundbar with the three front channels along with the side-firing channels acting as the surrounds.
This 13 drivers combination can output a total of 120 watts of RMS power, has a frequency response of 71Hz–20kHz, a max 93dB SPL and 1% total harmonic destortion (THD).
Connectivity
One thing we keep seeing in many soundbars is that manufacturers opt to distance the power port from the rest of the connectors. Now while this happens for obvious reasons when it comes to cable management it can be a bitch to hide all cables and keep them well organized. Well, we are happy to see that the Enchant 1300 keeps all of them close together, even the power connector, and as such grouping all cables is so much easier.
Now let's see each inset separately starting from the one placed on the left side of the center sound port. From left to right we get the power port, an analogue stereo input, a USB port for connecting external storage and a digital optical input that you can use to connect to a TV.
On the right inset we get three HDMI inputs along with a HDMI output that also includes ARC functionality. Now a few notes to make here. We always moan about soundbars, even premium ones, having very few HDMI ports with most of them having one or maximum two. With the Enchant 1300 having three inputs and one output is like a breath of fresh air and will certainly help with more complex audio setups. Also all HDMI ports are HDCP 2.2 offering 4K with HDR10 pass-through and compatibility. One thing that unfortunately is missing is eARC which is not supported here.

A small note about the USB port also. Although we do get the reasoning why manufacturers like to hide this port in the back they have to understand that some times practicality is more important than looks. If you listen to music often through a USB stick, having to connect the external storage every time to the hidden port at the back can be a real pain. Just keep this in mind also.
Lastly just to the right of the central sound port there is a small button for the subwoofer pairing. If you just bought the soundbar then this is of no use but if you decided to buy the sub as well then you will have to pair the two with the use of this button.
As for the unit's wireless connectivity options there is both WiFi and Bluetooth built-in. WiFi supports IEEE 802.11b/g/n/ac in both 2.4 and 5 GHz networks while Bluetooth is version 4.2.
Overall we are very happy with what Harman Kardon has added to this model. And while most can be considered standard for this price range having three HDMI inputs is not so usual and this definitely put it ahead of the competition.
Control Options
When it comes to controlling the unit the main and most obvious one is through the included remote. In fact the remote is mandatory as many of the soundbar's functions can be controlled only with it as there is no dedicated app to use here that could replace it.
The remote provided is a nice one. It may not be anything fancy or extremely premium but does feature a design and quality above what we see in almost all soundbars these days. Construction seems sturdy and with a very good buttons layout so you can use everything easy and with little effort.

At the top there is a dim control for the display screen as well as the audio calibration button. Bellow these there are 5 presets that you can store your own sound settings and bring them up with a single press of a button. In the middle a huge volume button sticks very prominent with small mute, source selection, sound mode selection and Bluetooth pairing buttons placed around it. Below them there are four lines of buttons for playback, shuffle and night mode, bass control and lastly sound sync.
A nice remote overall we would say and the design does fit the design of the actual soundbar. If there is one thing we would like to have but it's missing is a backlight function that could help with pressing the correct button in a dark environment.
As we mentioned above there are also a few built-in buttons of the unit itself but these only offer extremely basic controls as you can power on/off the device, change the volume and select the input source. We don't expect you to use these very often so we don't consider it a minus that Harman Kardon hasn't included more functionality here. The remote will always be you main means of control.
The soundbar needs the Google Home app in order to connect to the internet. But using Google Home for that reason means that it can also be used for handling basic functions of the unit like volume control. Don't expect to get the full functionality a dedicated app would offer as there are extremely limited options here.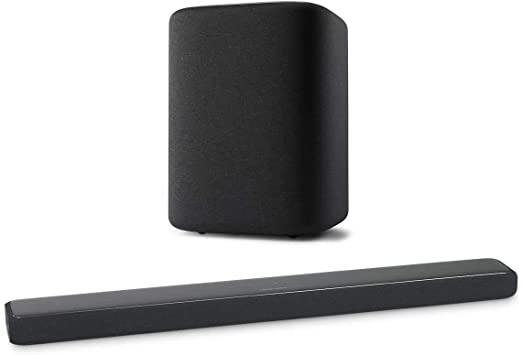 But Google Home also allows the soundbar to be controlled through Voice with Google Assistant. Obviously you will need an external device for that as we already mentioned that the soundbar doesn't have the necessary microphones needed but if you happen to have a Google Home mini for example you can issue voice controls and handle the soundbar that way.
Extra Features and Services
Packing some serious hardware would make you think that the Enchant 1300 would also support many of the new audio formats. Unfortunately this is not true as the unit will playback only the core Dolby Digital and DTS surround audio tracks. This means no Dolby TrueHD or DTS-HD Master audio and obviously no Atmos and DTS:X. The unit lacks any kind of Atmos speakers that would allow it to playback these new object-oriented tracks so what we are left with are the plain old surround audio formats.
And while support for the newer formats isn't there what Harman Kardon has tried to do is to make the best use of the hardware and software combination in order to provide the best possible acoustic result when it comes to a standard surround performance. The combination of the front drivers, the side firing horn based drivers and what Harman Kardon calls MultiBeam Surround technology is what is supposed to bring you the whole immersion with just the main unit itself.
It's very obvious that Harman Kardon's technology is based on what is known as a bouncing effect, meaning that sounds are bouncing on the walls of your room in a try to surround you and give you the illusion of behind the shoulder activity. While this technology can offer some degree of immersion don't expect to fully experience what a true surround system can do. This kind of technology is heavily dependent on the kind of space you have. So for example if you have the soundbar in a small room with straight walls this effect will work better.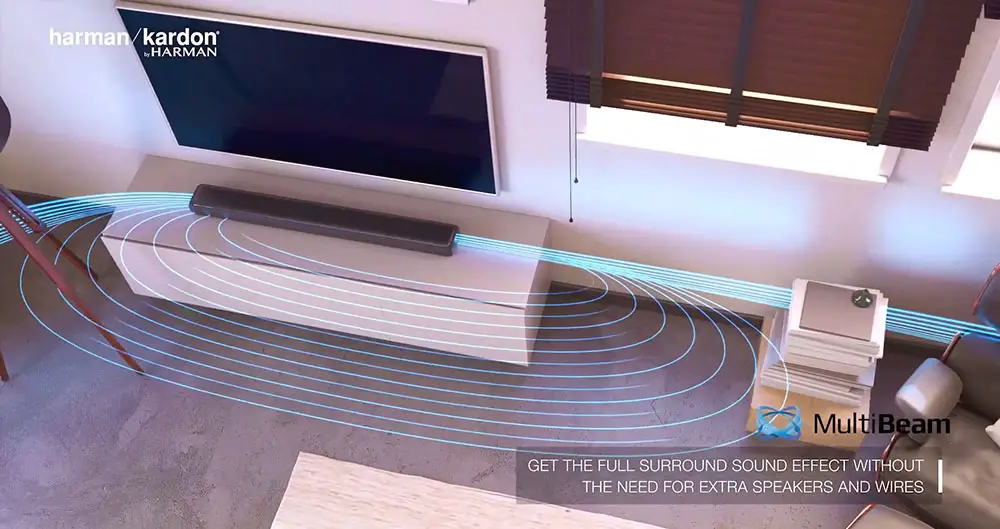 On the other hand an open area with far away side walls will dramatically diminish the effect of this technology. It's a little hit or miss but even in the best case scenario it will never be as distinct and precise as a real surround system. There is so much that these technologies can do in this regard.
The Enchant 1300 comes with it's own automatic audio calibration system called Automatic MultiBeam Calibration (AMC). With a press of a button on the remote the unit will play some test tones and will adjust it's settings accordingly to match the room or area you have placed the soundbar. Obviously you have to make sure nothing is obstructing the side firing drivers for the best possible result. We did try some content with and without the AMC calibration and to be honest the difference was very obvious. The sound-stage felt more wide and with more volume and detail than before so it is a system that can really help to improve the final result.
Any soundbar wouldn't be able to do without some sound modes and as such the Enchant 1300 features 5 different ones with Standard, Music, Movie, Voice and Personal the ones available. Standard and Movie use the Multibeam Surround technology with a more strong effect in order to create the necessary immersion while Voice and Music still use it but in a more subtle way. The Personal mode is similar to the Standard but you can adjust the bass and save it to one of the available presets.
Additionally there is a Night mode that does the obvious. It reduces loud sounds so it can make viewing in the night a more pleasant experience without fear of waking up anyone.
In a rather strange move Harman Kardon nowhere mentions if the Enchant 1300 can support High Resolution Audio or not. So we were a bit surprised to see that it can support it through the USB port as it can playback both WAV (192 kHz) and FLAC (192 kHz) files. Except from these it can also play the usual MP3, AAC and OGG file formats.
But USB is not the only way to stream music as you can do this also with the use of Bluetooth if you prefer to hear content through wireless. Unfortunately Bluetooth is only v4.2 and not the newer 5.0 but at least during our testing we never experienced any kind of connection or streaming problems but this is heavily dependent on your room layout.

But if you prefer to stream content from some online service the soundbar can please you with that also. As there is Chromecast built-in the unit there is a wide range of services available including Tidal, Spotify, Deezer, TuneIn and so on and so on. There is a total of 200 services that you can stream through online according to Harman Kardon so you are mostly covered in that respect.
Another feature available is HDMI-CEC along with TV remote control compatibility. With HDMI-CEC you can use the remote of your TV, if it also supports this feature, to control the soundbar and thus minimize the number of necessary remotes in your home theater. But even if your TV does not support HDMI-CEC the soundbar can accept commands from the most known manufacturer remotes. As a last resort even if it's an unknown TV model the soundbar can learn to respond to your TV's remote commands. The procedure is not very complex but you will need to follow some steps carefully for it to work as it should.
Last but not least we should not forget to mention about the optional subwoofer. The soundbar is expensive already as it is so adding the subwoofer would only rise the price to very high levels that would make many to look elsewhere. We think that making it as an optional addition was the best decision Harman Kardon could make. This way you can buy the main unit and decide later. If you are happy with it's performance then you don't need to spend extra money for a subwoofer that is neither small nor cheap.
Initial Setup
First of all we should mention that for this review we decided to test only the soundbar without the optional subwoofer. Because this offers the core experience and many may find this to be enough for them. Obviously getting the subwoofer will enhance the low end even further so whatever our findings will be without it consider that with it things can get vastly better.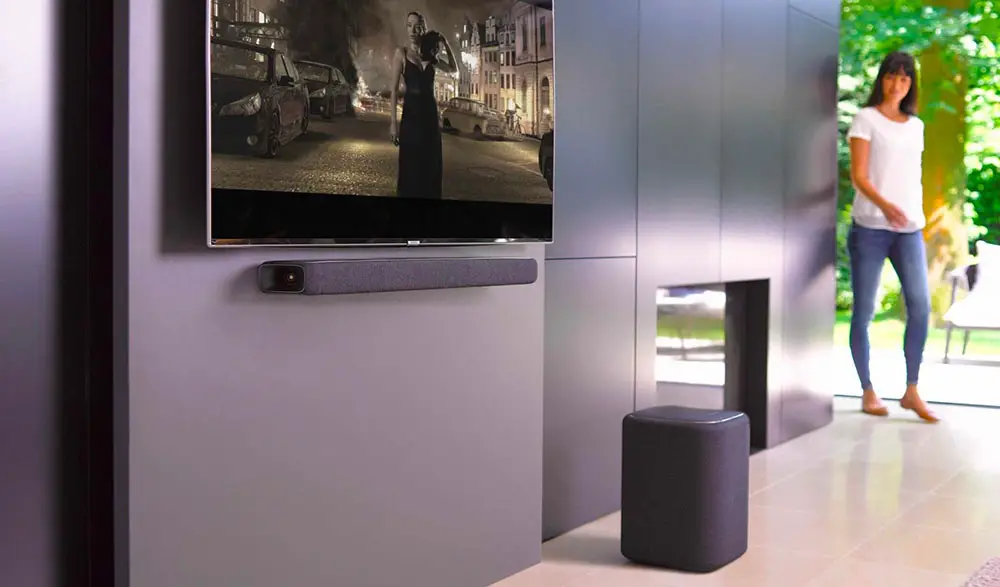 Now placing and connecting the soundbar is very straightforward. We connected our UHD player to the soundbar through the HDMI ports and we did the same for the TV. We made sure we placed the unit on the same furniture as the TV with free space on both sides of the soundbar in order for the side firing drivers to do their work.
Using Google Home to connect the unit to the internet is very simple and easy. Following the on-screen instructions shouldn't take long to complete. When finished with this step we then went on and used the auto calibration system to do it's thing. It didn't take long to finish so with this out of the way everything was ready for us to begin our testing.
Movies
One film that provides plenty of opportunities to test surround activity is Midway so the UHD version with it's amazing Dolby Atmos mix felt like the perfect choice.
The first thing that will immediately hit you and is very obvious is how loud the soundbar can go. And it does that without loosing a bit in clarity or precision. In a few words the front sound-stage was one of the most fulfilling ones we have experienced lately. The action at the front did felt to expand far beyond the physical limits of the unit and it's obvious that the side horns do their job in this regard.
But we not only felt a more expansive front sound wall extending to the sides but it felt like the action was much closer to us than what we usually see with similar soundbars. Most of the times what we experience is surround effects to sound slightly to the sides of the soundbar. But with the Enchant 1300 surround sounds felt like coming from our right and left sides covering an almost 180 degrees sound-stage in front of us.
Now obviously different viewing positions will result in different success of this so it's always a gamble if in your situation will work the same but if you are lucky you can certainly experience a very fulfilling experience. Now to be perfectly clear there was no surround activity behind us, plain and simple. The action may felt closer to us, we may felt it to both our sides but never behind us and to a certain degree this was to be expected. No soundbar has managed to do that without dedicated surround speakers so we were not expecting some miracle here.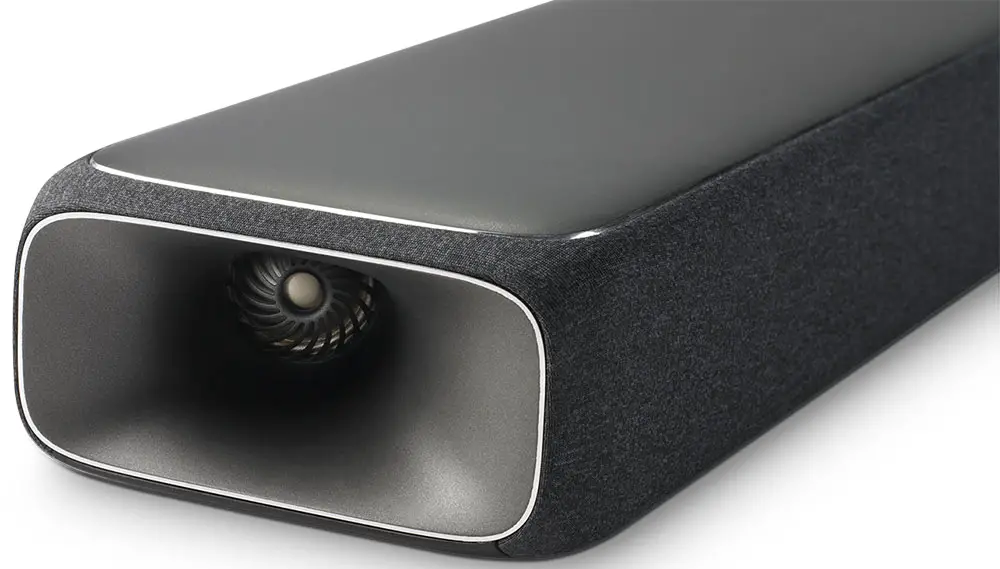 As for the actual sound the Enchant 1300 is a remarkable performer. Channel shifting was pretty good and precise with sound effects traveling from one side of our room to the other while the center channel kept the dialogue clear and distinct. At no point did we felt the sound effects to overshadow the dialogue showing good separation between the two.
As for the bass we were pretty happy with how the unit performed. Midway is a rather demanding film and without the help of a subwoofer we were a bit skeptical how it would fair. Now if you want to get some nice shaking the subwoofer is a must but even without it the soundbar will make a good job in offering you deep and clean bass that may not be the chest pumping experience you would expect but can hold on it's own just fine.
As we do in almost all our soundbar reviews we like to test a film from the Lord of the Rings movies and for this one we chose the Blu-ray disc of The Fellowship of the Ring and more specifically the Mines of Moria resulting in the confrontation between Gandalf and the Balrog. The soundbar managed to do an excellent work giving the necessary volume and depth with echoes bouncing all over our room. It's a very silent scene in total and ambient activity is very crucial as the soundbar was masterfully handling all elements.
When the Balrog appears and the orchestrated theme goes into overdrive the Enchant 1300 makes the best use of all it's drivers in it's try to give this epic soundtrack justice. Bass may sound a bit light on this regard but obviously we would not consider it totally lacking. It's just that it's missing the necessary punch to make you feel the weight of this ancient demon.

Closing we will say that the Enchant 1300 is an extremely capable performer when it comes to movies with excellent front sound-stage, good channels separation and precision and rather good bouncing effects that managed to bring the action both closer to us and to our sides. No real surround activity was observed but this totally normal as no soundbar to date has managed to do that without surround speakers so we cannot judge it in this regard very harshly.
Music
With the soundbar supporting FLAC files through the USB port it was the perfect opportunity to try out some high quality sound and put all those drivers to the test. For this part of our testing we chose the Music mode as it felt to us it was the best from all the ones available.
The soundbar exhibit certain qualities that were also very evident in this test also. Harman Kardon made an excellent job at creating a very balanced soundbar and with music the Enchant 1300 may not be the kind of audio hardware that will knock your socks off but it will certainly draw you in with it's musicality and volume of sound.
The unit was especially good at providing a very spatial music stage. All musical instruments had real weight and volume and you could pinpoint their origin in the room with good precision. Mids and highs had the necessary clarity while bass did felt like there was something missing. Don't get us wrong, for casual music listening the soundbar by itself is just fine but if you want a more authoritative performance the subwoofer is a must.
The unit did manage to keep the pace going through the various tunes and rhythms that we threw at it and it never felt like lagging or loosing integrity. In the end the Enchant 1300 may not be the kind of audio equipment that an audiophile would choose but it has certain values that anyone looking for a strong music performance will certainly find them with this one.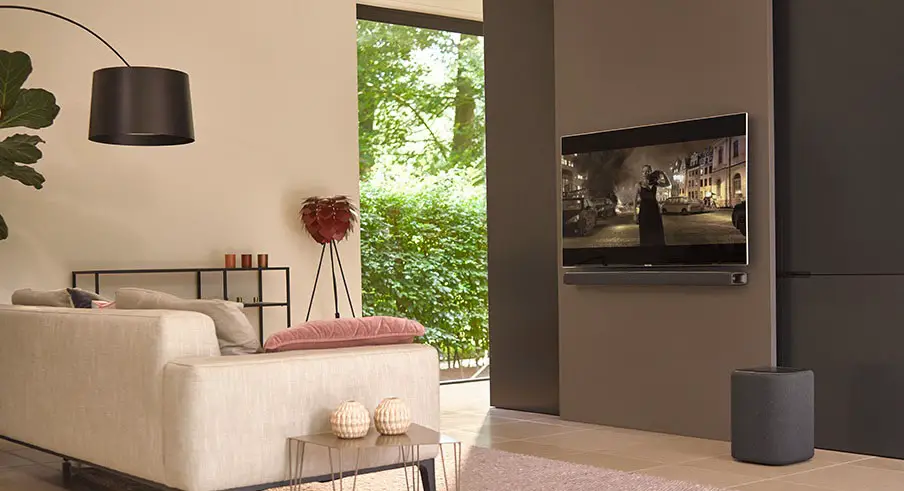 Final Thoughts
We have reached the end of our review and what we can say is that Harman Kardon did create a great soundbar. It may not be the best soundbar all around but it certainly has it's own strengths making it a serious contender in it's category.
On the plus side the design and quality of materials used are top notch and the soundbar does give you this premium look and feel. With 13 drivers along with the use of it's MultiBeam Surround technology the unit made a good job at not only expanding the front sound-stage far beyond it's limits but also bringing the action much closer to us than what we would thought it would. If you also add the ability to add the Enchant subwoofer, the built-in auto calibration system and Chromecast along with the ability to stream music through the USB and Bluetooth we get an excellent all around soundbar.
On the downside the price is rather high for a single soundbar as adding the subwoofer ups considerably the total cost. Also if you are hoping to get true surround activity behind you better forget it as there is none. If you absolutely want this then you have to look for a soundbar that comes with dedicated surround speakers. Lastly the side firing drivers means that you have to place it somewhere with open space in both sides while not having an IR repeater can mean trouble in some cases if it happens to obstruct your TV's IR sensor.
If you are looking for a soundbar that can offer a very satisfying front performance for both music and movies that has the necessary volume and can bring the action a little closer to you  while also support a satisfying number of extra features that are necessary in this day and age the Harman Kardon Enchant 1300 should definitely be on your short list of options. Highly recommended.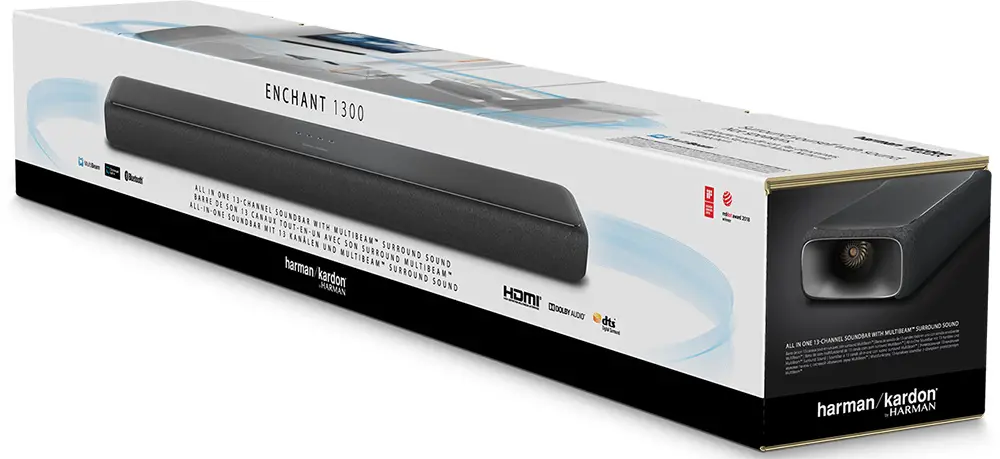 For more reviews you can check our dedicated Single Soundbar reviews list or even look at our Product Reviews Table where you can find the brand and specific product you are looking for.
Also don't lose the chance to subscribe to our Newsletter and gain exclusive privileges.
---
Cheapest Places to Buy :
---
Harman Kardon Enchant 1300 Specifications