JBL Studio 580
Design -

80%

Movies Performance -

94%

Music Performance -

85%

Inputs and Features -

85%

Price / Quality -

90%
---
Cheapest Places to Buy :
---
Today we will be reviewing a floorstanding speaker that has been around for a few good years and has been very popular among home theater fans. Lately we have seen many retailers aggressively lowering it's price which seems to be a small indication that we are approaching the end of it's life cycle in preparation for a refresh or a new series. The speakers we will be talking about come from no other company than JBL that most of you, even if you have a little experience in the field, will know that they have been in this game for many years and have created some amazing audio products. In our JBL Studio 580 review we will be checking the middle sized floorstander in their Studio 5 series and determine what the fuss is all about.
The JBL Series 5 consists of 5 different models with three floorstanders, a center speaker as well as a bookshelf speaker offering a complete solution when it comes to music as well as home theater setups. The Studio 580 that we will be testing here today is the middle sized floorstanding speaker offering a good balanced between size and performance and with the lowering of it's price, that in some areas approach more than 50%, it seems like it is the best moment to check them out if they are worth it.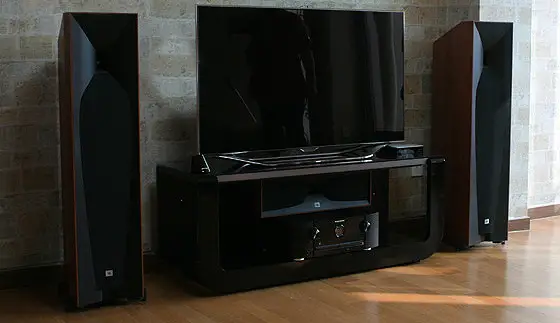 Having checked many of JBL's offerings in the past we have in general mostly favorable things to say about their products and if this is any indication the Studio 580 should manage to follow suit. We cannot stress enough that when buying speakers no matter how many reviews you read you should always have first hands experience as the way we perceive sound differs from person to person. So while we try to be as objective as possible this review is to give you just a slight idea of how these speakers perform. In the end your ears are the best judge and to minimize the risk you should avoid blind speaker buys whenever possible. And with that out of the way let's begin our review!
Design, Inputs and Features
Exterior
First things first so let's talk about the exterior quality and design. The JBL Studio 580 may be the middle sized floorstander in the Series 5 but these are some pretty big speakers compared to other brands. We cannot even imagine how big the Studio 590 are that are supposed to be the bigger speakers in the series. The Studio 580 measures 42.08″ x 9.84″ x 13.7″ (1069mm x 250mm x 348mm) and weights 48.9 lb (22.2kg) which makes these essentially ideal for larger areas where there are no space limitations. If you have a small overall area or you are limited by space then you should probably looks elsewhere as the 580s are clearly designs that need certain breathing space.
If there is one thing that certainly looks unique is the overall design of the Studio 580 as they go away from the typical box type of design. Instead the back face has a smaller footprint than the front resulting in a somewhat conical extension towards the front. The cabinet uses 19mm (3/4″) MDF enclosure giving them a fairly rigid construction while the heavily braced design with non-parallel surfaces provide the speakers with reduced resonances. You can find the speakers in two color variations with black or cherry being available.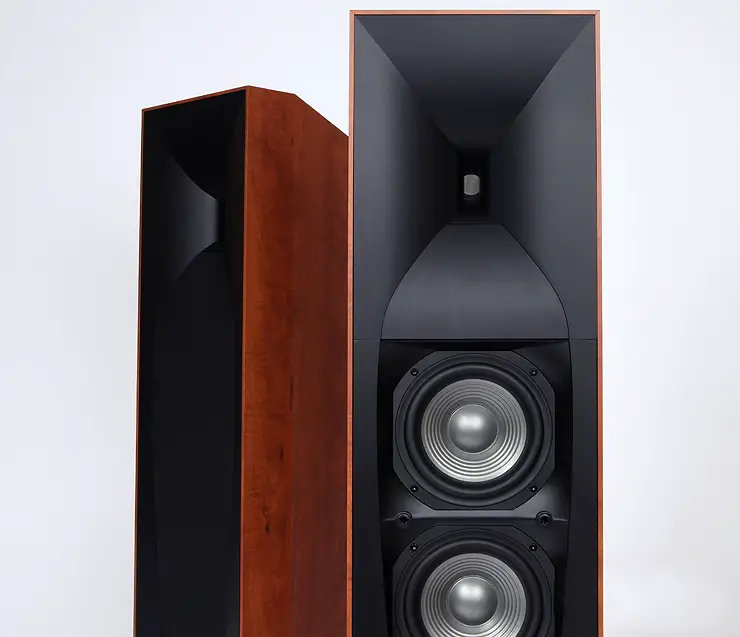 The speakers come with outrigger feet making the speaker's footprint a bit larger than its main body and you can use either the included threaded rubber bumpers or spikes depending on the surface you will be using them. The feet really feel somewhat cheap and for such large speakers we would like to see a better design than the one we got here.
The front face of the Studio 580 is certainly one of a kind with the cloth grille having curvy lines and covering the dual low-frequency transducers below the high-frequency horn. The grill attaches itself to the front face with the usual plastic plugs meaning that if you prefer to use them without the grill the plug holes will show a bit ugly. It would be nice to have magnetic grills but that's not the case here. The back face feature a single port tube with the wire connectors below having bi-amp capabilities. JBL has also provided special port tube inserts to slightly reduce the speakers' output in the 50Hz – 100Hz region if you feel like necessary.
One thing is for sure. The JBL Studio 580 has the looks that will certainly turn a few heads as it doesn't follow the usual boxy design and straight lines we usually see with floorstanding speakers. On the other hand build quality while certainly not bad we wouldn't call it exceptional either as there is room for improvement for both the cabinet and the feet. With their original price we would definitely expect something better but with their heavily discounted price they sure pack a lot of value.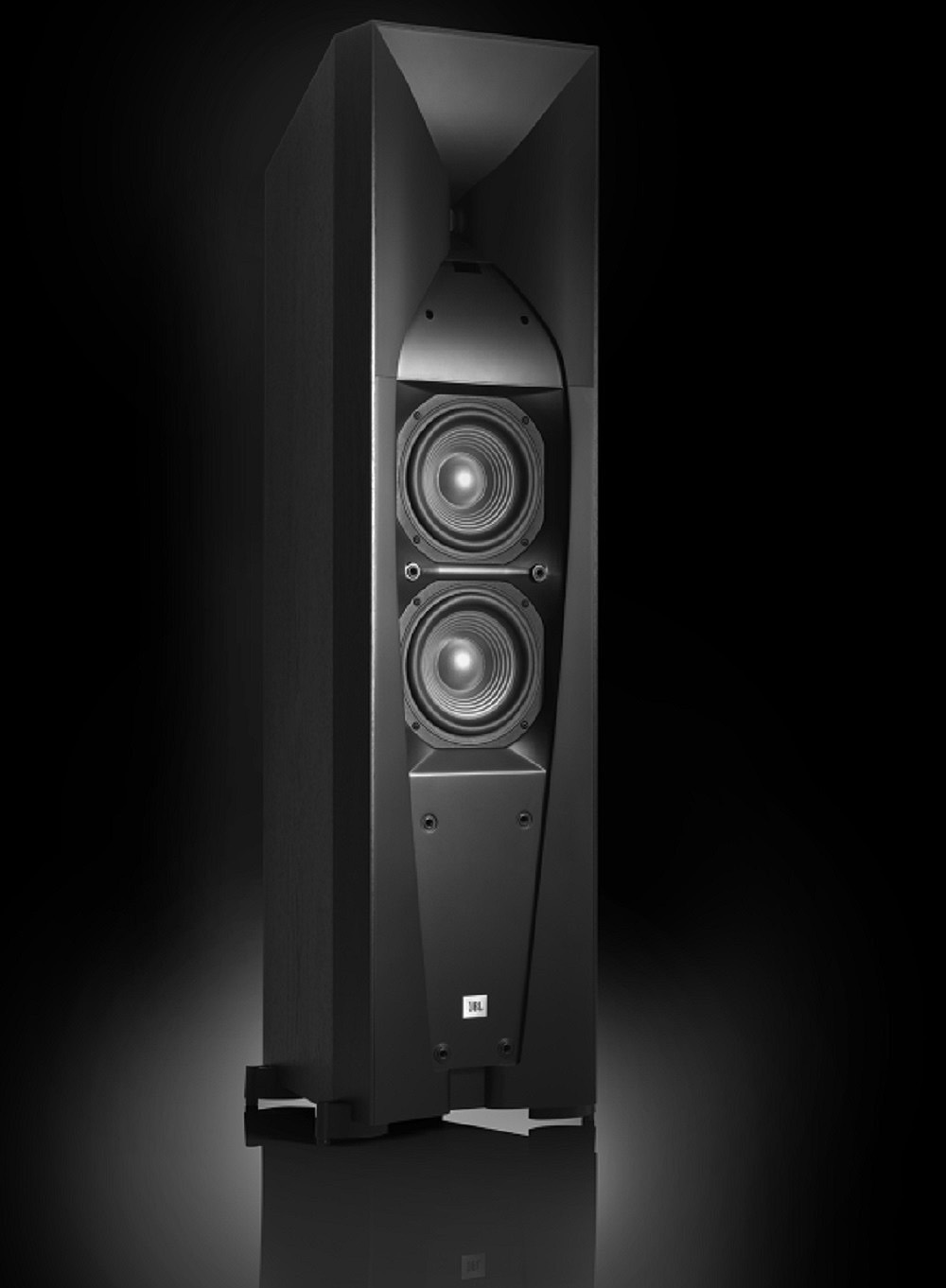 Internal Hardware
The JBL Studio 580 are a 2-way design speakers which means that the dual low-frequency transducers we find under the cloth grille are handling most of the bass heavy sounds while the 25mm (1″) high-frequency compression driver is responsible for everything else above the 1.5kHz range. This means that a single unit is handling most of the mid-range and high end frequencies that is very common among more conventional designs.
For this reason JBL has created a special system that includes a 25mm (1″) high-frequency compression driver featuring a one-piece Teonex diaphragm/surround, a neodymium magnet and comes with a 25mm (1″) voice coil offering better dynamic range with lower distortions. In front of that we find a glass-filled ABS bi-radial high-frequency horn which is responsible for widening the listening area while it's controlled directivity minimizes unwanted interaction of the high frequencies with your walls and furniture.
Below that we get dual 165mm (6-1/2″) low-frequency transducers that are responsible for all bass duties. These transducers come with 38mm (1-1/2″) diameter woofer voice coils and use stiff, lightweight ribbed PolyPlas cones with rubber surrounds. JBL uses their Symmetrical Field Geometry (SFG) technology on their heavy-duty magnets while they also feature rigid, non-resonant cast aluminum frames.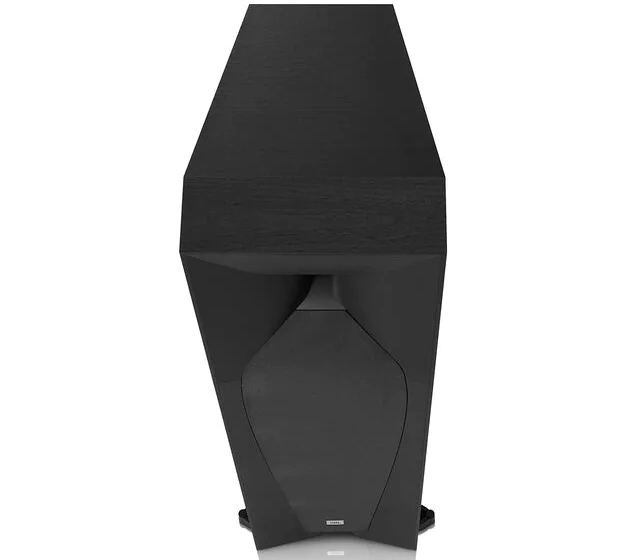 As we mentioned above the crossover has been set at 1.5kHz which is a bit lower than what we usually see but the low-loss, 2-way crossover network ensures smooth transition between the low-frequency transducers and the high-frequency compression driver with less distortion and sound coloration.
The combination of the 25mm (1″) high-frequency compression driver and the dual 165mm (6-1/2″) low-frequency transducers give the JBL Studio 580 speakers a frequency response of 40Hz – 40kHz, 90dB of sensitivity and 6 Ohms of nominal impedance while the recommended amplifier power has been set to 200 watts.
Connectivity
At the back of the unit under the rear-firing port we get dual gold-plated binding posts that are bi-wire-capable. The gold-plated speaker connectors can accept a variety of wire connector types which range from bare wire, pin connectors, spade connectors or banana connectors and their quality and construction is very good and above the average.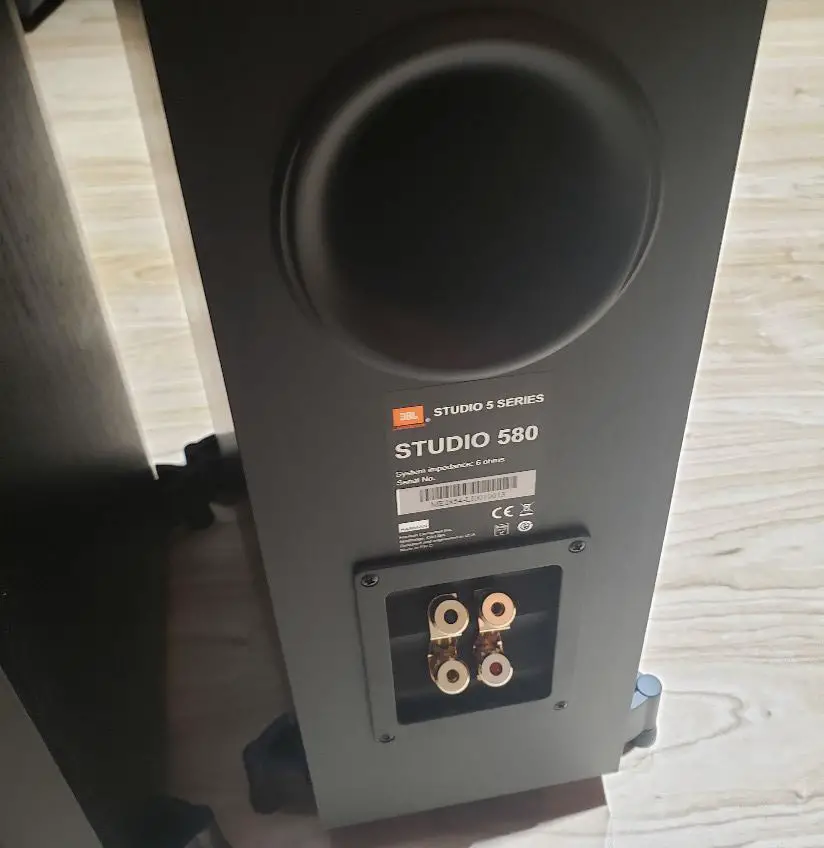 Performance
If you buy these speakers new then, as we always point out, you should give them a certain period of time in order to break-in and be able to offer the best acoustic result possible as in the beginning they may sound a bit off and not as good as you would expect. But as you use them you will see that their performance will improve as per normal in these situations. So just don't be alarmed if they don't sound exactly as some testing units that you may have listened before.
JBL is suggesting a maximum distance of 10 ft (3m) between them, 40-60 degrees angle and around 20 in (50cm) from the side walls in order to have a more accurate stereo soundstage and better imaging. In our testing we have placed the two speakers around 8.2 ft (2.5m) apart and about 1 ft (30cm) from the back wall in order to have certain breathing space for better bass performance. Also we did some toe-in but in all honesty we felt that the Studio 580 were more forgiving in this compared to some other models we had tested before.
The pair of Studio 580 was connected to our Onkyo AV receiver and we did try them both in a single stereo setup as well as in a full 5.1 surround setup for movie testing.
Movies
First in our movie testing comes the 4K UHD version of Godzilla: King of the Monsters with its amazing Dolby Atmos track. The film honestly failed to capture the magic of the 2014 film and turned out more mediocre than most people expected but even as such there is no denying that it's visual and audio qualities are top notch. And as we had a feeling that the Studio 580 were a bit bass oriented it was the perfect material to test how they could behave even without the presence of a subwoofer.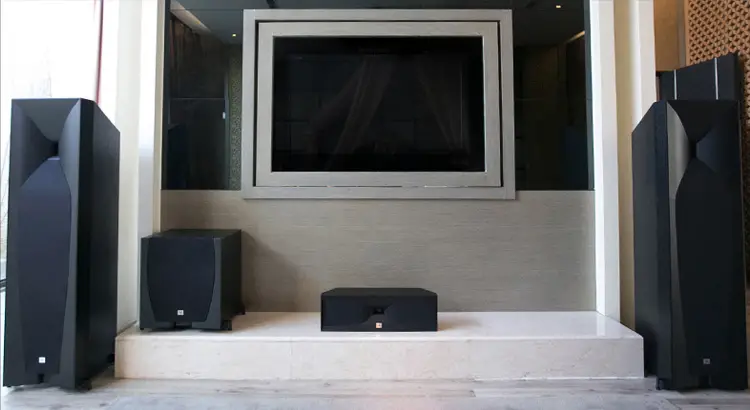 First we tried the Studio 580 without a center channel or a subwoofer in order to see how much of an impact this would have to the overall system's performance. Such a film is highly demanding but surprisingly the front speakers managed to cover these omissions in a masterful way. First of all watching these Titans duke it out requires some serious low end power and while the Studio 580 wouldn't go crazy low they were able to provide the necessary oomph such a mix has.
Also another very interesting fact was that without a dedicated center channel the dialogue managed to stay distinct and with good clarity even during busy action scenes. The speakers manage to have great sound imaging and there are moments that are completely lost in the soundstage if you just close your eyes and let the audio draw you in.
Obviously Godzilla is a film that favors the low frequencies more than anything else but in a few instances that the speakers had to go very high we felt that they pushed it a little too much for our liking. Not that it goes bothering high but it may definitely be a bit too much for some people.
So in all in this test we determined that the Studio 580 were able to deliver an admirable performance even when there was no center speaker or subwoofer. By being able to push the lows satisfactory enough and provide a clear dialogue as well resulted in hiding all the weaknesses of the system due to the missing speakers.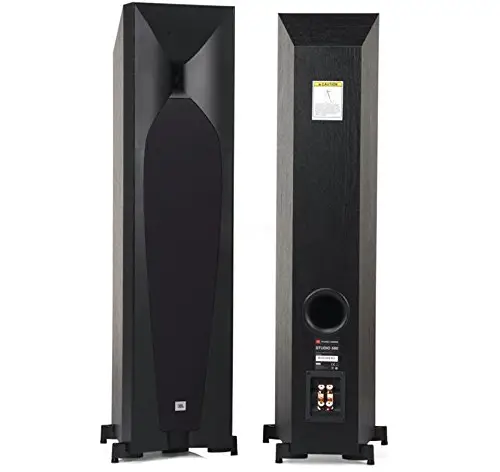 Now when we added a center speaker as well as a subwoofer for some true 5.1 channels action things obviously went to a different level. The front speakers suddenly felt to have more volume as the Studio 580 units were no more trying to cover the missing speakers and instead pushed the mid-range and highs leaving the low end to the subwoofer. Once again the speakers felt a bit too aggressive above the upper mid-range but we suspect that for heavy home theater use many will find it to their liking.
The speakers have a lot of energy with very high highs and very low lows while there were able to achieve very good resolution that does not compress even when pushing them at extremely high volumes. Sound was loud and clear that is very characteristic of JBL speakers and certainly feels like fun as we have seen many people describing them.
After all this smashing and destruction we felt like trying something a bit more delicate so what better film to go with other than Lord of the Rings: The Fellowship of the Ring. The Blu-ray disc has one of the best DTS-HD Master Audio tracks we have ever heard and we like as usual to skip forward to the Mines of Moria where Gandalf confronted the Balrog on the Bridge of Khazad-dûm.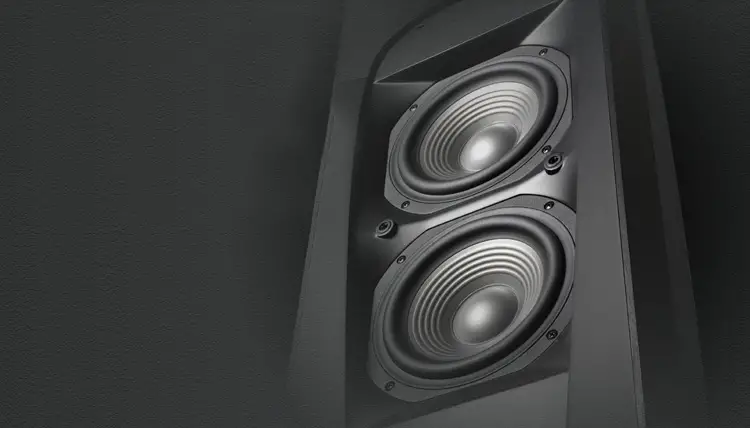 The orchestrated mix provided a good opportunity to see how flexible the Studios 580 can be by not just hitting the lows far too often and providing more balanced across the whole spectrum as the orchestra blends with the sound effects. The front speakers were able to give a very good sense of size as the vast mines of Moria offered the opportunity for the JBL speakers to expand the soundstage all across our room and really make you feel the grater volume of the surrounding environment.
When we reached the moment of the confrontation the growling sounds of Balrong and his trembling footsteps gave us a really uneasy feeling as he sounded so clear and defined. Adding the epic orchestrated music really made up for an epic moment that the Studio 580 were able to faithfully recreate. It's really the sum of all the small details that make this scene so amazing and having a set of speakers that can really bring all those details front and center is very important.
The JBL Studio 580 may not be the most delicate of speakers as they seem to favor certain frequencies more than others but with satisfying lows, aggressive highs and plenty of power to offer they are the kind of floorstanding speakers that can create a crazy roller coaster ride in any home theater imaginable.
Music
Proceeding now to our music testing we, as usual, select a few favorite FLAC music files that we stream through the USB port of our AV receiver in order to see how the Studio 580 can perform in case you are more of a music fan rather than a home theater one.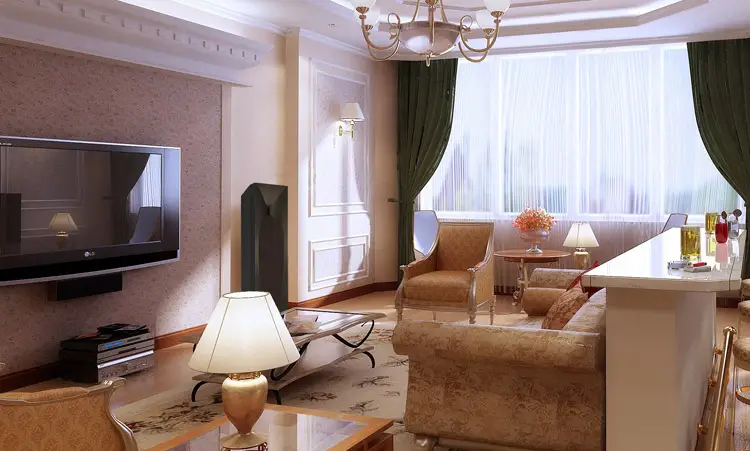 From the first moment the speakers surrounded us with their excellent coverage as well as amazing accuracy, great clarity and response/recovery time. One thing that we should mention, given their characteristics, for the best possible result it felt like we had to distance ourselves a bit from them as being too close may feel a bit overwhelming. Obviously they are meant for larger spaces and not tight ones but when you distance yourself from them everything changes for the better.
Also imaging was spot on and you could hear the vocals very nicely right next to your ears. Horn based floorstanders certainly have specific characteristics that you may like or not but these definitely provided a fun to hear session that although had some ups and downs but in the great scheme of things it was highly addictive.
Even with just a 2.0 channels stereo setup the speakers were able to elevate the spatial awareness around our listening area as we were very easily able to distinguish from where each musical instrument was playing. The speakers may be leaning more towards home theater use but that doesn't mean that they couldn't perform admirably with music also. We can imagine that many may like this type of performance for just music, so as we always say, better to test them yourself before taking your final decision.
Final Thoughts
The JBL Studio 580 is a rare case of floorstanding speakers where their performance scored much better than their looks. JBL is putting these speakers through some huge discounts the last couple of years and with a aggressive price cut of more than 50% at the time of writing these speakers do pack extreme value for what they offer.
The quality of the cabinets although not bad they could be a bit better while their looks is certainly unique and while some will like them we can understand why many may not. Performance wise the Studio 580 left us with with more than good impressions with very satisfying bass, solid mid-range and dialogue that felt very distinct and with good resolution. They provide very good imaging and can create a very wide immersive soundstage no matter the source material. Also the speakers can take a lot of beating and not feel a thing as going in high volumes didn't reveal any audible distortion.
If there is one thing that some may dislike is that they are bit aggressive on the high end. Obviously the kind of amplifier or receiver you have will definitely change the way this shows but on average we felt that the tweeter was pushing it a bit more than what we prefer.
With a price ranging at the $300-$500 at the moment which is around half it's full cost the JBL Studio 580 is the kind of speakers that can offer you a lot if you have a big area and you want to use them for home theater use. Not that they are bad for music but as they tend to be a bit more bass oriented it felt like they were right at home during our movie testings. These speakers have the power and performance that you may seek for your home theater and for that reason the JBL Studio 580 are certainly worthy of consideration.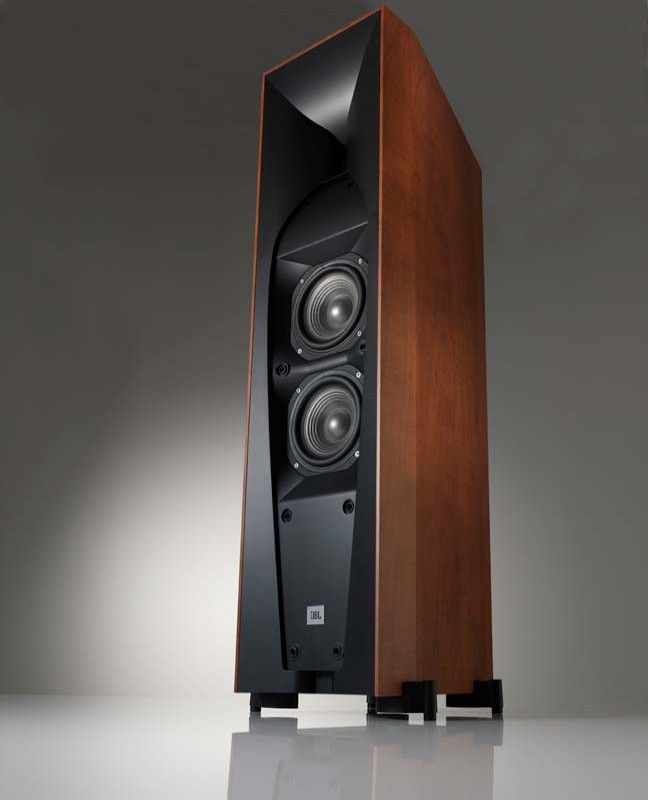 For more reviews you can check our dedicated Floorstanding Speaker reviews list or even look at our Product Reviews Table where you can find the brand and specific product you are looking for.
Also don't lose the chance to subscribe to our Newsletter and gain exclusive privileges.
---
Cheapest Places to Buy :
---
JBL Studio 580 Specifications