---
Cheapest Places to Buy :
---
The gang is back but the game has changed. As they return to rescue one of their own, they will discover that nothing is the same as they remember and they will have to go through arid deserts to snowy mountains to find their friend and escape once again.
Plot
*Be aware of spoilers*
A year has passed since Spencer, Anthony, Martha and Bethany managed to escape Jumanji and have gone separate ways with their lives. Spencer's life is not going very good while his relationship with Martha is on hold. Eddie, Spencer's maternal grandfather, discuss his problems while he recovers from hip surgery. In the end Spencer decides to re-enter Jumanji as he secretly repaired and reactivated it. Spencer's friends became worry when he failed to appear on their reunion and when they discovered the game was still running they decide to go find him. But things are not the same any more as along with them Eddie and Milo are also sucked into the game taking up on different avatars.
Once again the NPC character Nigel appears and explains the players they have to get the Falcon jewel from Bravestone's parents killer, Jurgen the Brutal. After barely managing to escape a herd of ostriches they meet Spencer as a burglar named Ming Fleetfoot at Oasis. Fridge and Martha obtain the Jumanji Berry while they discover a water that has the ability to exchange avatars. Bravestone enters a brawl while the players acquire camels to reach their next destination only to be killed by Switchblade. Their next goal is to pass a canyon with moving rope bridges and angry mandrills only to be saved by Alex Vreeke. After entering the mysterious water all characters return to their original avatars while Eddie and Milo become Ming and Cyclone.
The two of them are captured by Jurgen's men with Alex losing two lives to save Milo while Fridge and Bethany infiltrate Jurgen's stronghold. Martha battles Jurgen's goons while Spencer goes after Jurgen himself and confronts him aboard his zeppelin. With the help of the Berry he defeats him while Eddie carried by Milo gets the Falcon Jewel ending the game by crying out it's name. Milo tells Eddie that he decided to stay in the game while everyone else return safely to the real world. Spencer's mother call a repairman that finds the game in the basement while a heard of ostriches stampedes past the diner, shocking Spencer and his friends.
Directed by
Jake Kasdan
Produced by
Dwayne Johnson
Dany Garcia
Hiram Garcia
Matt Tolmach
William Teitler
Jake Kasdan
Written by
Jake Kasdan
Jeff Pinkner
Scott Rosenberg
Based on Jumanji by
Chris Van Allsburg
Production Company
Columbia Pictures
Seven Bucks Productions
Hartbeat Productions
Matt Tolmach Productions
Distributed by
Sony Pictures
Starring
Dwayne Johnson
Jack Black
Kevin Hart
Karen Gillan
Nick Jonas
Awkwafina
Alex Wolff
Morgan Turner
Ser'Darius Blain
Madison Iseman
Danny Glover
Danny DeVito
Running time
123 minutes
Author's review
When the original Jumanji came out in 1995 it was a classic Robin Williams film. It had plenty of action, adventure, humor and William's charisma that made this adventure film such a success. In all honesty when the sequel came out in 2017 starring Dwayne Johnson we had little hope that it would be anything more than just another adventure flick with shiny names and slick visuals that would be forgotten just after a few months of it's release. Oh boy how wrong we were as the sequel swept by the box office revitalizing this franchise more than 20 years after it's first outing.
With so much cash coming in from the sequel that had little to no connection to the original it was only a matter of time before a sequel would spawn. Usually when studios get so much success from franchises like this they spend little time making more in order to cash in on the franchise's good word of mouth. And as such we reached 2019 to get the third outing that aimed to repeat the success of the previous film by using the same elements that made it so successful. But does the third film manages to catch the same spark that made "Welcome to the Jungle" such a favorite and easy to watch film? Read on to find out.
There is a saying that says if something isn't broken it doesn't need fixing. When watching Jumanji: The Next Level it felt like the filmmakers followed this to the letter as the film felt more like a natural continuation of the previous film rather than a new individual release. This obviously stemmed from the fact that everything was retained the same. The same actors, the same type of humor, the same style of action and a generally similar structure followed. So if it happened you to like the previous film there was a big chance that you would certainly enjoy this one also.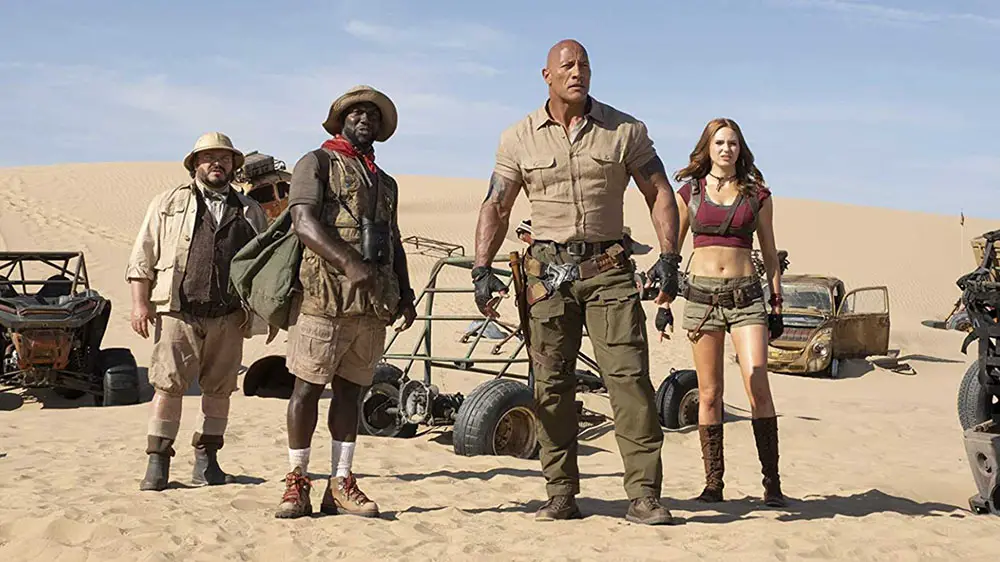 Usually with sequels things tend to fall apart because the filmmakers try to best the previous film and as a result they fail miserably making a sequel the inferior product. This is a pitfall we have seen again and again but surprisingly this was avoided here…mostly. By this we mean that it's obvious that "The Next Level" never tried to best the previous film. That was not it's intention. Rather it tried to replicate the same things that could bring it the same kind of success. And in doing so it managed to capture the same vibes ones again. Now if you would compare the two films side by side the "Welcome to the Jungle" still wins as it has a better story and a better overall structure and humor but not by far.
And this is probably why the latest release had slightly less success than the previous one. It was similar, very similar indeed, but not quite the same. Some times jokes felt a little bit harsh around the edges while in a few scenes it felt that the actors were really trying to replicate their goofy characters in the same way as previously done. This was not so evident in the last film and also this was responsible for the less stellar final result. But even with these shortcomings in general we were very happy to see the exact same characters getting themselves once again in serious trouble.
The light tone of the film surely was a major element that draw the masses and in combination with the characters that fit their roles perfectly we got a very energetic result. Dwayne Johnson may not be the kind of actor that is destined for the Academy awards but roles like this fit him perfectly. The combination of macho look and goofy behavior is like it was specifically created for him and it's amazing to see even such a mediocre actor managing to captivate the audience like it did. Jack Black is a known quality and his liners in our opinion lead the way. Dwayne Johnson may be the first name here but Black certainly show the way to the rest.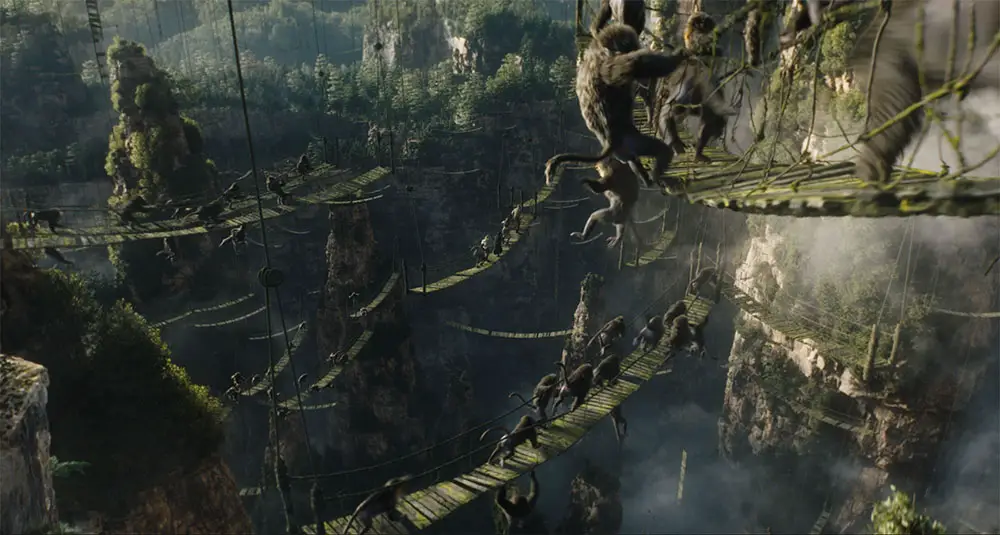 And we shouldn't forget about Kevin Hart and Karen Gillan as Franklin Finbar and Ruby Roundhouse respectively reprising their same roles and giving us, once again, a spectacular performance as they did the last time. As far as the acting goes we could not be more happy to see that everything was retained. Obviously there are a few additions like with Awkwafina as Ming Fleetfoot that also gives a memorable performance and this just shows that the few additions that were made were very carefully inserted in order to not destroy the general balance of the film but slightly tweak it.
In terms of story now the film in general doesn't stray away much from it's known formula. The players enter Jumanji and need to save it's world from the bad guy which could not be a more cliche storyline but this is what makes the film intriguing. Because the interesting part is the elements that makes this journey rather than the final goal. And even though deep down inside you know how such a film ends it will keep you glued to the screen till the very last moment.
But if there is one thing that the film falls short is exactly this. The story is far less interesting than it's predecessor and although it tries hard to keep the interest of the viewer with exotic locales, over the edge action and light goofy moments from it's characters sometimes it feels like it runs out of fuel trying to reach the end. This doesn't mean that what we got this time is bad but is missing this extra sauce that we found in it the last time.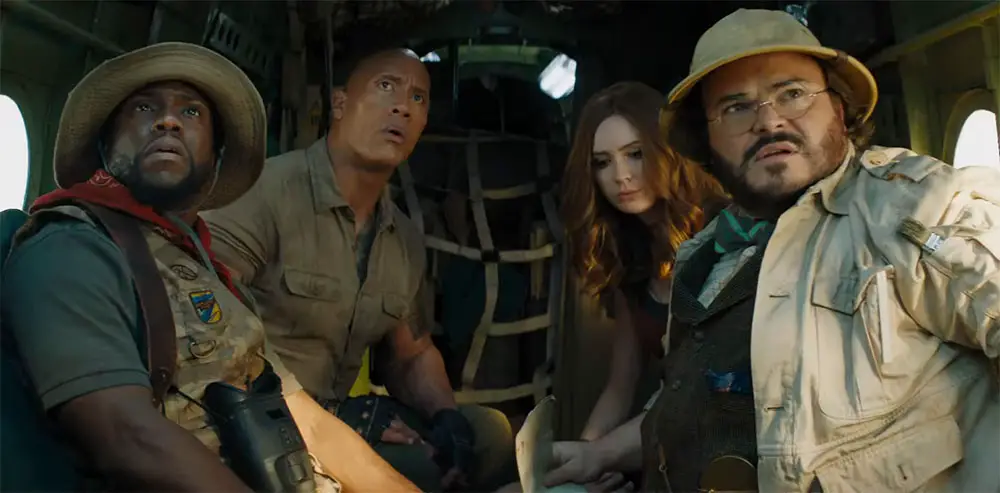 As for it's technical merits the film is without doubt a beautifully crafted film. Keeping the same colorful tone "The Next Level" is never shy of colors and uses it's vastly different locales to switch gears many times. From the familiar lush greens, to the deep desert reds and browns to the ice cold whites of the final act you will never get bored of watching the screen. And speaking of technical merits the visual effects step up a notch in order to deliver this visual extravaganza.
There are two main action scenes that need mentioning with the first being as our heroes try to escape a herd of ostriches aboard desert buggies while the second is obviously the moving rope bridges with the angry mandrills. It's not like we haven't seen similar action sequences before but in all honesty these two felt excellently choreographed and shot and made them feel very fresh and easy to watch and enjoy. We live in a world where we have seen all kinds of visual effects so being able to enjoy such sequences so much means a lot about their quality and how carefully they were constructed.
Also we liked very much the fact that the film is neither very long or short. It gives the story plenty of breathing space to develop while it never feels like it was dragging for far too long to become tiring. In this regard we believe an excellent balance was found and this is evident not only by the final running time but also by how they structured the various scenes. We never get action going on for too long and we are never let to relax to the point of getting bored. Just when the next action scene feels like it goes for too long it slows down enough for us to get a breather and vise versa.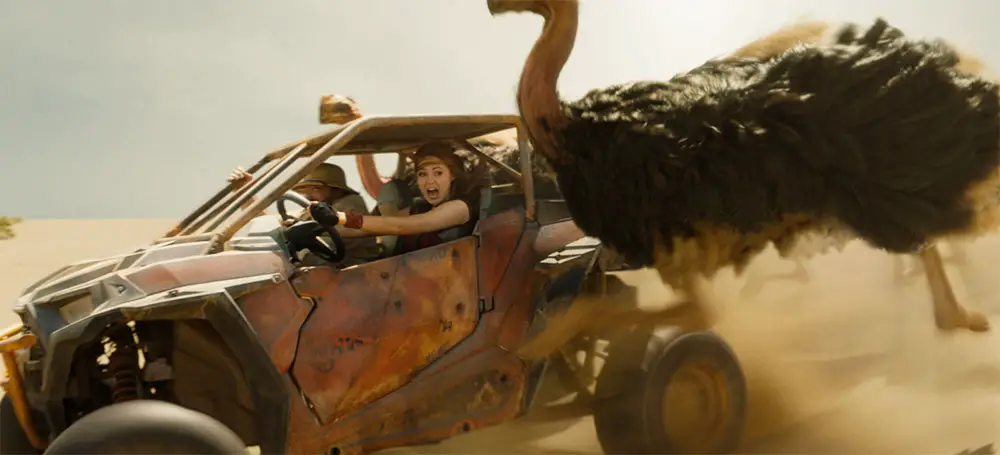 In the sound department things are very much similar to the other technical elements of the film. We find many of the same notes the previous film used in order to keep some continuity and make the viewer feel like they know what to expect but at the same time they introduced new music to spice up things a bit. Audio effects supplement the action masterfully and if you have a good home theater system then prepare for a lot of fun. 
Jumanji: The Next Level is what we call a pure pop-corn film that will never get an Academy reward but it doesn't need to. It knows what it is and tried to give it's best in order to offer you what it was made for. Pure entertainment for the whole family. The film managed to come surprisingly close in quality to the previous film and only the story falls a little short of expectations. Does this make it bad? Not by far, there are so many things to enjoy in this one that we could forgive it for not reaching the same exact qualities.
Acting is good for what it is, action is excellent, story although so and so it is still strong enough to drive the film forward and the visual and audio spectacle elevate the film as an excellent choice for all ages alike. If you adored the previous one you will certainly love this one also. For everyone else it can offer you two good hours of crazy action and funny one liners to spend a pleasant Saturday night.

Jumanji: The Next Level jumps into the 4K UHD medium with a spectacular 2160 resolution, HEVC / H.265 encoding released by Sony Pictures. The film comes in it's original 2.39:1 aspect ratio, uses the basic HDR10 protocol while for audio we get a bombastic DTS:X mix along with DTS-HD Master Audio 7.1 for those with no overhead speakers.
If there is one characteristic of the film in general is how bright and colorful it is. Obviously this was the intention from the very beginning as the first film also featured a similar tone and visuals. But first of all let's talk about the resolution. With the UHD the film has more space to breathe and as such we get a general boost in clarity that is very evident especially in the jungle scenes as the scenery gives the opportunity for tiny details to pop out. This is not the most sharp UHD we have seen but it is certainly very high on the list and this helps with surface and texture composition to become more detailed and easier to discern.
Everything for the actors skin imperfections to their various attires with with all their gear exhibit such attention to detail with the UHD managing to bring all this forward. And while in the jungle scenes it's easy to appreciate this level of detail it was amazing how more bare scenery as the desert sequence as well as the snowy mountains, during the final act of the film, managed to present satisfying details even if it was evident that they had less elements to work with.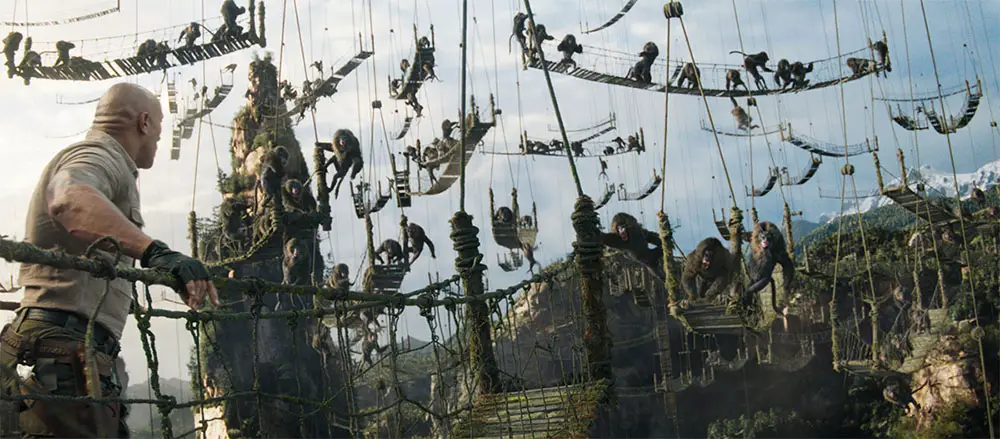 We liked how the film didn't stay stuck in a single color palette and the various locations helped to switch tones and colors all the time. HDR really helped to boost overall color volume and intensity and this is very apparent as lush jungle greens switch to deep desert browns and then to cold snowy whites. Having such color diversity makes things so much interesting as we don't get a specific color range that many films use to set their tone, instead here it's like a playground of colors and HDR10 makes sure to give them a further boost improving everything across the board.
Usually when it comes to 4K UHD the extra resolution and clarity sometimes bring forth various visual problems either it has to do with the film's visual effects or with the transfer itself. As far as the visual effects is concerned the extra resolution did benefit them as they appear very good on screen with an almost three dimensional feel to them. As for the film itself this is a pristine transfer with good noise handling, a bit better than the Blu-ray we might add, and no visible upscaling artifacts.
Now with such a good transfer you need an equally good audio mix and oh boy do we get one. The DTS:X track is a crazy ride and complements the visuals in the most elegant of ways. We cannot say that the overhead effects overwhelmed us but there are many moments where audio from above becomes alive and really ups the immersion. One such scene is obviously the jungle rope bridges as the extended scenery and action happening all around the camera allow for audio activity to expand in all three axis.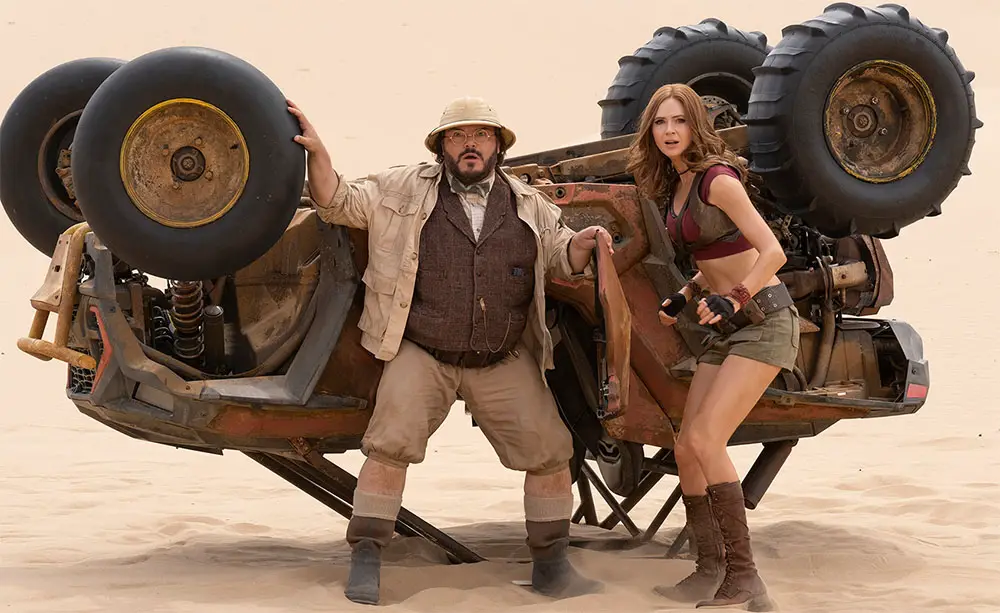 As for the rest of the film there are moments where you can hear the overhead layer but these are very specific and shows that they were there to add to the immersion and not to give you an all out presentation. The front stage was very solid and powerful while the surround activity was amazing and very active. Just check the desert sequence where the heroes escape a herd of ostriches to get what we mean by that. Dialogue was very clear and distinct and even in busy moments we never found it hard to understand what they said keeping the center channel nice and clear from the rest of the audio effects.
Closing we can say that the Jumanji: The Next Level 4K UHD is a totally amazing transfer and the best one yet where you can find this film in. With excellent clarity and resolution, great colors and solid HDR along with a playful DTS:X mix makes this release a sure purchase if you liked the film in general. It may just fall short of reference material but we would definitely place it very high on our 4K UHD quality list. Go get it if you still haven't done so.
Movie Rating :





4K UHD Rating :





If you liked this review you can check more of our movies reviews in our dedicated section. Also don't lose the chance to subscribe to our Newsletter and gain exclusive privileges.
---
Photos
---
Cheapest Places to Buy :