---
Cheapest Places to Buy :
---
Four teenagers are sucked into a game that transfers them into a magical world. Now the only way to escape is to work together and finish the game. But to do so they will need the help of someone that they thought was long gone…
Plot
*Be aware of spoilers*
In 1996 teenager Alex Vreeke receives a board game called Jumanji from his father. when the game turns into a video game console and he decides to try it Alex vanishes. 20 years later 4 students when clearing a storage room find the console containing the Jumanji game and decide to try it only to be drawn in the world of the game.
After all of them appear in a jungle they are socked by the fact that they have turned into the game avatars they have chosen. From that moment they try to understand what is going on and how to survive as dangers are lurking at every corner. They meet a character named Nigel that helps them understand their roles and explains to them what they need to do to finish the game and save Jumanji.
During a confrontation with the evil explorer John Hardin Van Pelt that want the legendary "Jaguar's Eye" that grands him control over all animal in Jumanji they meet the pilot Jefferson "Seaplane" McDonough who is the avatar played by Alex, the teenager that had vanished 20 years ago. The group tell him that they need him in order to save Jumanji from the evil Van Pelt. Alex is hesitant in the beginning as he has one life left and he is afraid that he will not make it but in the end he decides to risk everything to help his friends.
The group take the "Jaguar's Eye" back to the Jaguar statue, defeat the evil Van Pelt and call out the word Jumanji that ends the game. All five characters return to their world only to find that Alex is missing. As they return home they meet Alex, now grown up and having his own family. The following week the four friends hear the drumbeats of Jumanji and decide to destroy the console once and for all so no one else would play the game ever again.
Directed by
Jake Kasdan
Produced by
Matt Tolmach
William Teitler
Screeplay by
Chris McKenna
Erik Sommers
Scott Rosenberg
Jeff Pinkner
Story by
Chris McKenna
Based on Jumanji by
Chris Van Allsburg
Production Company
Columbia Pictures
Matt Tolmach Productions
Seven Bucks Productions
Radar Pictures
Distributed by
Sony Pictures Releasing
Starring
Dwayne Johnson
Jack Black
Kevin Hart
Karen Gillan
Nick Jonas
Bobby Cannavale
Ser'Darius Blain
Madison Iseman
Morgan Turner
Alex Wolff
Rhys Darby
Marc Evan Jackson
Running time
119 minutes
Author's review
I have very fond memories of the first Jumanji movie when it came out. Robin Williams was one my favorite actors and his performance as Alan Parrish really defined that movie. There had been rumors and talks all these years for a sequel but nothing was concrete and after the death of Robin Williams it seemed that the chances for a sequel had diminished completely. So when the news that a new Jumanji movie was at works it was a pleasant surprise although I was curious if it would have any connection to the original movie or not. So when Jumanji : Welcome to the Jungle came out I was pleasantly surprised with the result.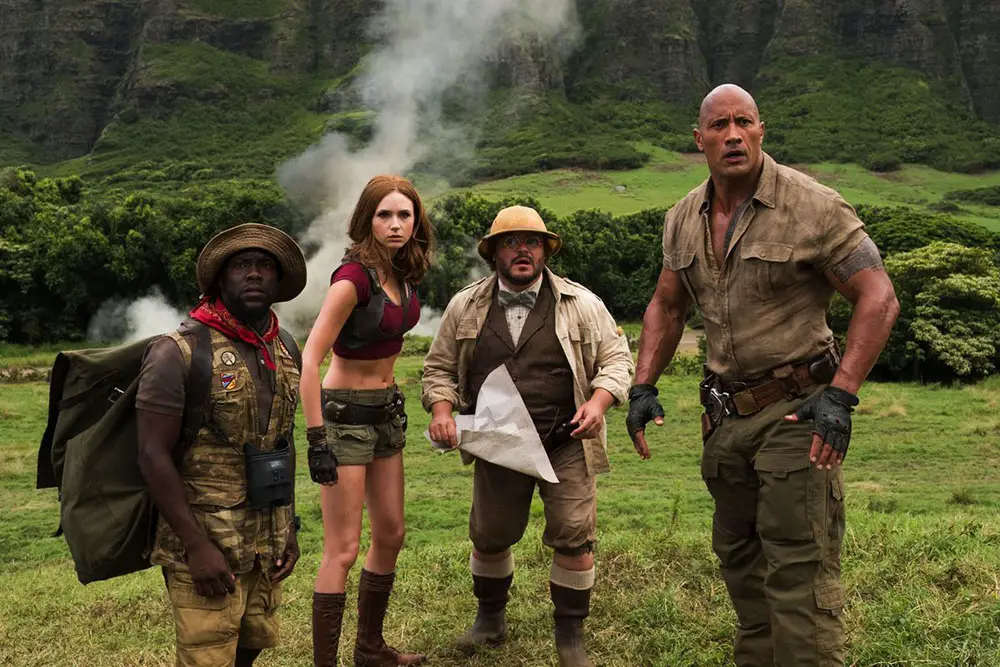 First of all the movie keeps only a very basic connection to the original film. That is the actual game that you have to play and when you start it you cannot escape until the game ends. And this is where all the similarities end and where the writers decided to go all new with this one. For a change this time the game does not change the world the players are but rather throw the players in the world of the game. A completely magical and mysterious world full of surprises and dangers.
The avatars that the players use follow the basic principles of a video game by having three lives and each character has strengths and weaknesses meaning all of them have to work together to reach the end of the game. The choice of the actors in my opinion was very successful and really each one of them has something to show offering very funny and goofy characters and creating a very strange group .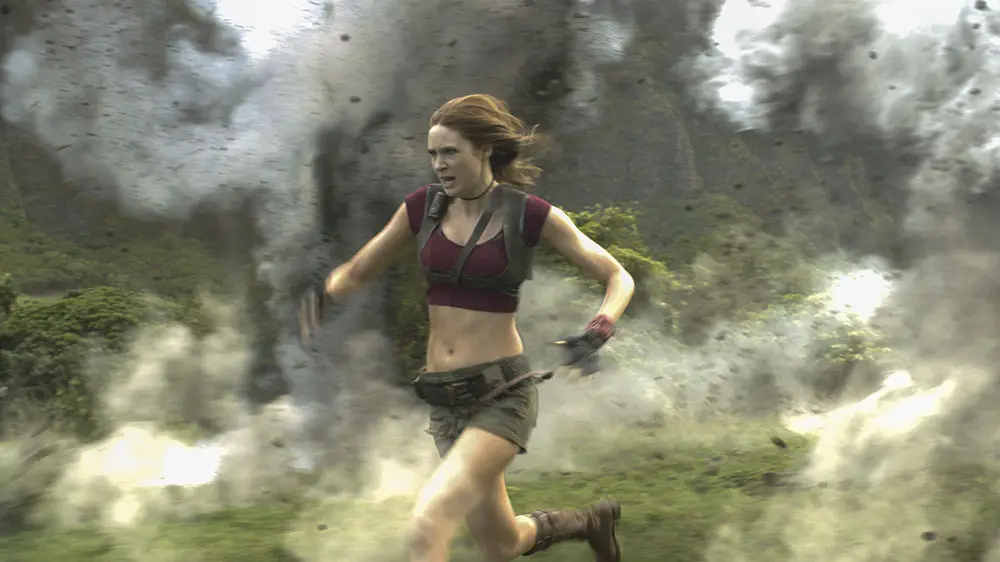 Dwayne Johnson as Dr. Smolder Bravestone, a muscular archeologist, Kevin Hart as Franklin "Moose" Finbar, an expert zoologist, Jack Black as Dr. Shelly Oberon, a cartographer that Bethany mistook for a woman because the description read "curvy genius" and Karen Gillan as Ruby Roundhouse as an expert "killer of men". Each and every one of them have their funny moments but for me the character of Jack Black is the one that elevates above all the rest. Dwayne Johnson may be the center character of the group but Black gives the best performance as he is the avatar of Bethany and trying to behave as a woman in his body offers us some very hilarious moments.
The story is nothing special and it shows that the writers tried to keep it simple as the movie tries to reach a wider audience and in this regard they succeed. The film obviously targets the younger audiences but even I that I consider myself not belonging to this group found it interesting to follow. This has not to do so much with the story in itself but with everything the movie has to offer that creates an interesting result. If you separate the movie into it's elements you will not find anything particularly interesting but when you put everything together they create a bombastic experience that certainly made me laugh certain moments and certainly kept me entertained the whole time.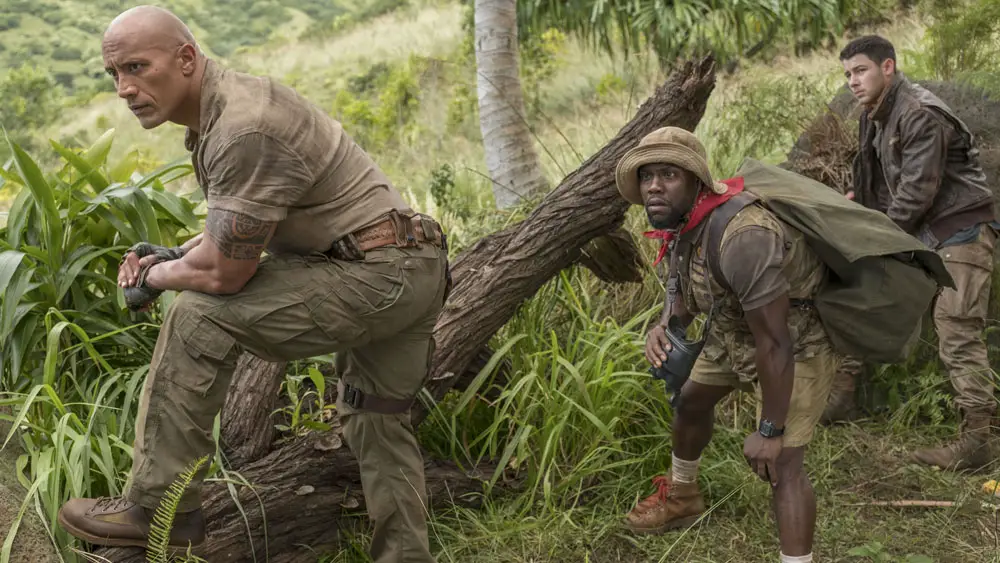 Technically the movie is almost perfect. The world of Jumanji although using real life locations is exceptional and for the few locations that they used CGI to reproduce them I didn't find them distracting. A lot of animals were recreated using CGI and special effects and although it was obvious they didn't bother me even if in some scenes they looked a bit fake.
The action was good and they spaced it evenly throughout the film. Even in the parts that didn't have any action they had added a few jokes here and there making these moment never feel boring. The sound design is also exceptional. When the action kicks the audio track gives everything it has with sound effects blasting their way out of all speakers. You really need to watch this film with a great home cinema system that will make it justice.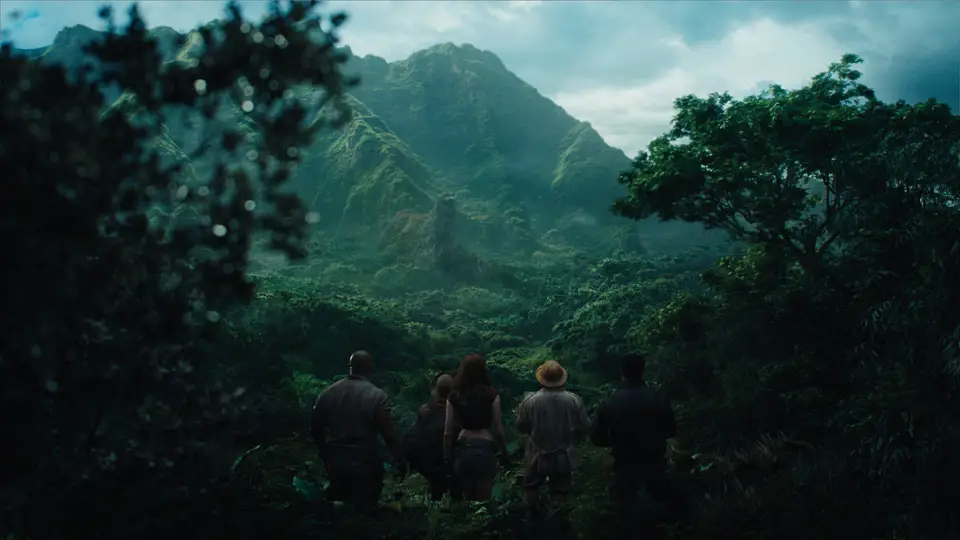 In general I found Jumanji: Welcome to the Jungle a pleasant surprise in all regards. It's a movie that it never intends to elevate to greatness but what it offers is what I call guilty pleasure. The acting may not be for the Oscars but it was funny and sometimes hilarious. The action may not be breath taking but it was very good. The special effects and CGI may not have been spectacular but they were pretty good for what they are meant for. And the sound design may not have been mind blowing but it did it's job adequately. All this made me enjoy the film to the end and left me wanting for more. If you want to spend some time entertained then this is definitely for you. Highly recommended.

Jumanji: Welcome to the Jungle ventures into 4K UHD with this fine 2160p, HEVC / H.265 encode from Sony Pictures that has a 2.39:1 aspect ratio while also includes Dolby Vision. The increased resolution really helps with bringing out more details while the visual style of the film really benefits from the increased resolution and sharpness. Textural detail also gets a nice boost with skin imperfections showing more clear while fabrics and hard surfaces are more defined.
Accordingly the colors also appear more vivid as Dolby Vision helps create a more wide and solid color palette. Greens are in abundance here with the lush jungles being front and center in big part of the film and although the difference between the Blu-ray and UHD disc is not dramatic the 4K version comes on top even by a small margin. Color density is better and more accurate while black colors are more solid than ever.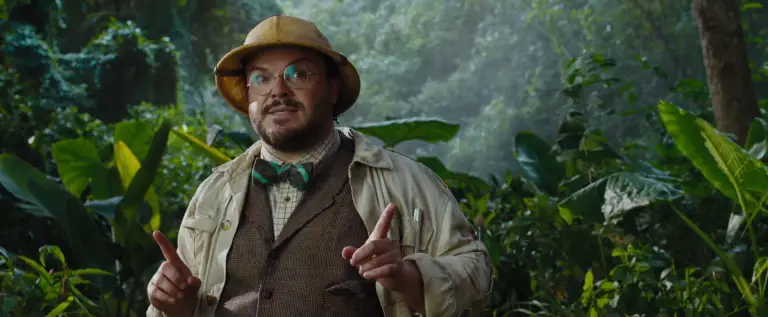 The included Dolby Atmos track is a nice improvement over the DTS track we saw in the Blu-ray edition. It follows a similar pattern as the picture by offering a nice improvement but without it being a dramatic change over what we have already heard. The Atmos track we find here feels more full and robust as the overhead layer offered plenty of moments of action above our head making the experience even more immersive. A film like this provide plenty of moments for all out acoustic mayhem but also opportunities for showing Atmos capabilities with ambient sounds. Channels shifting was very precise and clear while the dialogue was very distinguishable and never overshadowed by the rest of the channels/
Overall we would say that the 4K UHD encode offers a nice improvement across the board but never manages to reach reference material levels. Sharpness is great, colors are solid, HDR and black levels are better than ever while the Dolby Atmos track creates the necessary acoustic immersion for such kind of a film. If you are looking for the best version of the film this is it, even if it never reaches amazing quality levels.
Movie Rating :





4K UHD Rating :





If you liked this review you can check more of our movies reviews in our dedicated section. Also don't lose the chance to subscribe to our Newsletter and gain exclusive privileges.
---
Photos
---
Cheapest Places to Buy :