JVC DLA-NX7 (US) - DLA-N7B (UK/Europe)
Design -

95%

Video Quality -

98%

Inputs / Ports -

92%

OS, Apps and Features -

95%

Price / Quality -

90%
---
Cheapest Places to Buy :
---
If there is one company that has connected their name with some of the most high performing and premium projectors available on the market that would be JVC as for many years they were creating models that may not be affordable to most but they always offered some of the best quality and performance among commercially available projectors.
But it seems that slowly a change is happening as JVC's last lineup of projectors continue to offer top performance but with more affordable prices if you consider that all three of them are native 4K compared to previous native 4K as well as e-shifting variants offered by them. The latest lineup consists of the most affordable DLA-NX5, the middle tier DLA-NX7 and the cream of the crop DLA-NX9 which is a monster 8K e-shifter, the first of it's kind. Today we will be taking a closer look to the middle tier NX7 and while it comes with a still high $8,000 price tag when you consider we are talking about a native 4K JVC projector things tend to become interesting.
Does it's quality and performance justify this, still unreachable for many, price tag and what kind of improvements do we find this year compared to the previous models. Everything will be answered here in our JVC DLA-NX7 review.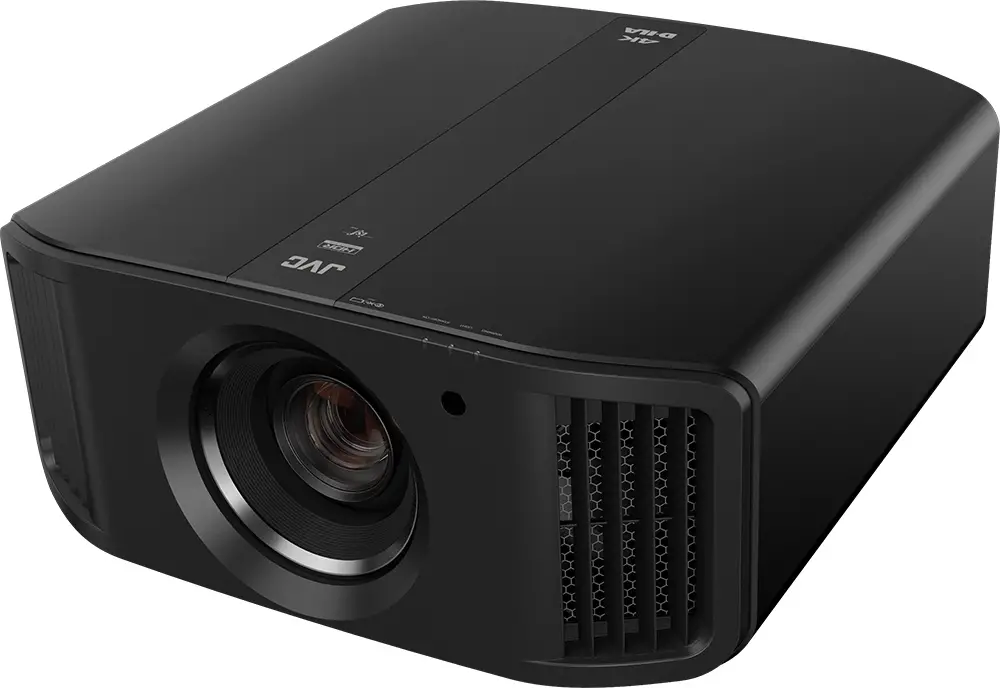 Design
Before we talk about the projector's design we need to clarify it's naming as it seems that this model comes with a few different names that could confuse more than a few consumers. This model in the US market is known as the DLA-NX7 while in the European market comes with the similar DLA-N7B naming. But you could also find it as RS2000 which is the Reference Series naming of this model.
Basically it seems that there are two divisions that sell these models, the JVC Pro division that sells the RS2000 and the JVC Consumer division that sells the DLA-NX7 and DLA-N7B models. The only way to distinguish these two is that the RS2000 one comes with a gold trim ring around the lens while the other two have a silver ring. Specifications are exactly the same so are their performances so you shouldn't worry which one to choose if it happens you to find both of them. Naturally this means that their price should be the same so don't be fooled if someone tries to sell you one of the two at a higher price by claiming that is better than the other.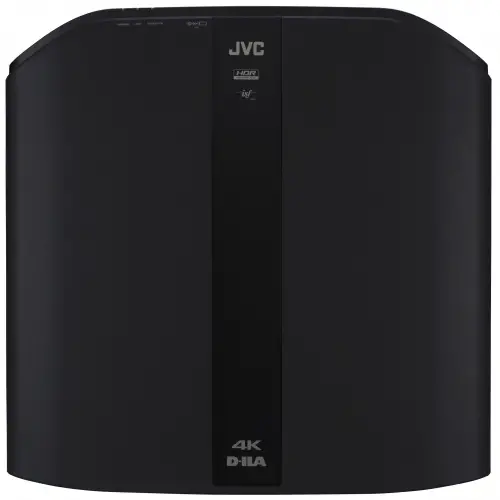 Now that we cleared the naming confusion let's see what we get with this magnificent projector. First of all for this year JVC has made more than a few changes with the overall size increasing considerably compared to previous models. The DLA-N7X is a small monster projector as it seems that the new hardware used necessitated the overall increase in size. The projector measures 19-3/4 x 9-1/4 x 19-1/2 (500 x 234 x 495mm) and weights 43.56 lbs. (19.8 Kg) which makes it one of the biggest projectors we have tested so far and if you are considering it make sure you have the necessary space to place it. It definitely is destined for big media rooms and home theaters as it's size can make placement in small areas rather problematic.
The NX7 has a rather simple design with it's matte black finish and curvy corners and while in general it has a certain "big black box" feeling to it it's one of those instances that less is better as we liked very much what we saw. At the front we get the lens dead center while on the right of them we see the IR sensor. In both front corners there are two huge air vents and while we were a bit afraid that there could be some light leakage thankfully we didn't notice any. Above the IR sensor we find three indication lights while at the top we don't get anything else other than a few logos.
At the back we find a few more big air vents that in conjunction with the front ones help keep the temperature at low levels. There is also a set of control and navigation buttons above the right air vent while right next to them there is a second IR sensor for the remote. On the left of the control buttons we get all the connectors that we will analyze a bit further down this article while the projector comes with four adjustable feet in order to easily balance it in case you want to place it on a furniture.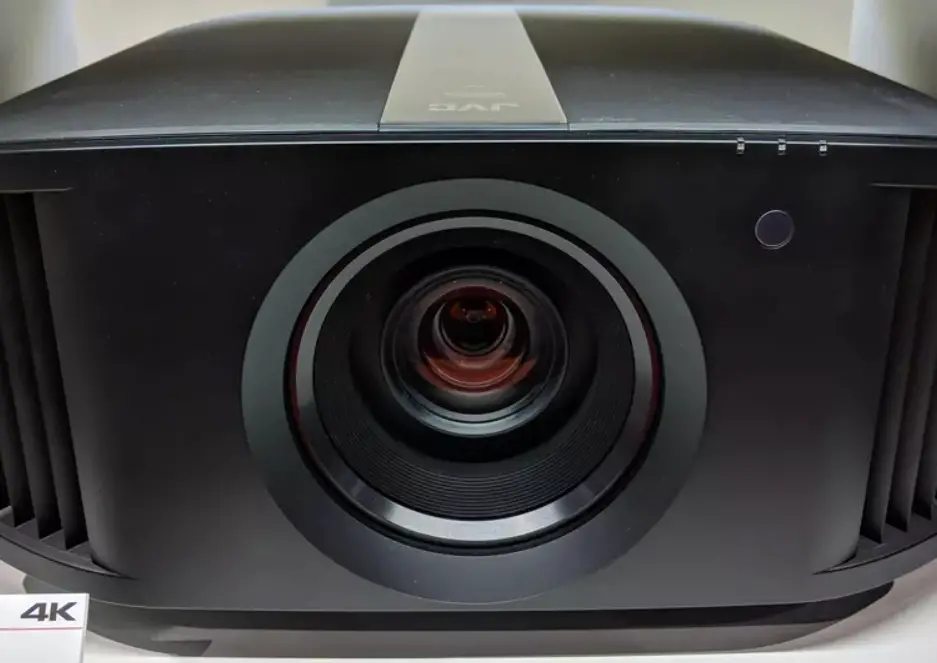 Let's talk a bit about the lens. The DLA-NX7 comes with a 17-element, 15-group all-glass 65mm diameter high-quality fully motorized lens designed by JVC to deliver amazingly sharp images. This lens also offers 2x zoom, a 1.4 to 2.8 throw ratio as well as a very good ±80% vertical and ±34% horizontal lens shift giving us plenty of freedom during calibration. The more lens shift you have the more you can move the image without the need to move the projector itself which is extremely useful if you consider it's huge size. Unfortunately while we get motorized lens there is no motorized lens cover which means we only get a plastic lens cap which can be very frustrating putting it on and off all the time.
The DLA-NX7 is a relatively quiet projector as in low lamp mode we measured a low 21db sitting 2 meters (about 6.5 feet) away from it. In high lamp mode noise went up to 29db which is still lower than a few other projectors we had tested recently. Offering such low noise operation stems from the bigger chassis that JVC used for the NX7 while also being a native 4K projector means that there is no pixel shifting technology employed here that can create excessive sound. We admit we are a little noise sensitive so by saying that the DLA-NX7 offered us a pleasant and quiet experience means a lot.
The projector is equipped with a 265 watt NSH lamp with JVC rating it at 4,500 hours in low mode which is more or less the expected lamp life we get in most projector's low setting. We have seen better but we have seen worse also and we consider this one to be on the average so no complaints here.

As for the remote we get, JVC has decided to redesign the whole thing and the one we found with the DLA-NX7 is smaller, easier to use with one hand while it has a certain premium look to it that suits the projector's expensive nature. Buttons are big enough while the general layout is much better. There is also a backlight function with a big light button being placed at the bottom center making it very easy to find and press. The backlight illuminates the buttons writing instead of the whole buttons giving it a nice effect. Overall very good design and quality and it seems that JVC has really delivered here.
There are no built-in speakers to be found here and this should be considered a given as with such a huge size mobility is practically zero. The projector is meant to be placed in a certain area and be left there so having built-in speakers wouldn't be necessary. If you want mobility there are other options to consider as the DLA-NX7 is best for what it was designed to do. To be left in your home theater room and let it do it's magic.
Video Quality
Technology used
The DLA-NX7 is a native 4K projector meaning that it can display the full 4K (4096 x 2160) signal without the need for any fancy pixel shifting tech. What is worth mentioning is the hardware hiding under the hood as JVC has equipped the NX7 with three of their new third generation 0.69 inch D-ILA chips that are capable of rendering a full 4K resolution image (4096 x 2160). As a result, since most 4K UHD content is rendered at 3840 x 2160 resolution, you will be getting black bars at the left and right of the image which means that you will need to do some calibration to get all the image on your screen.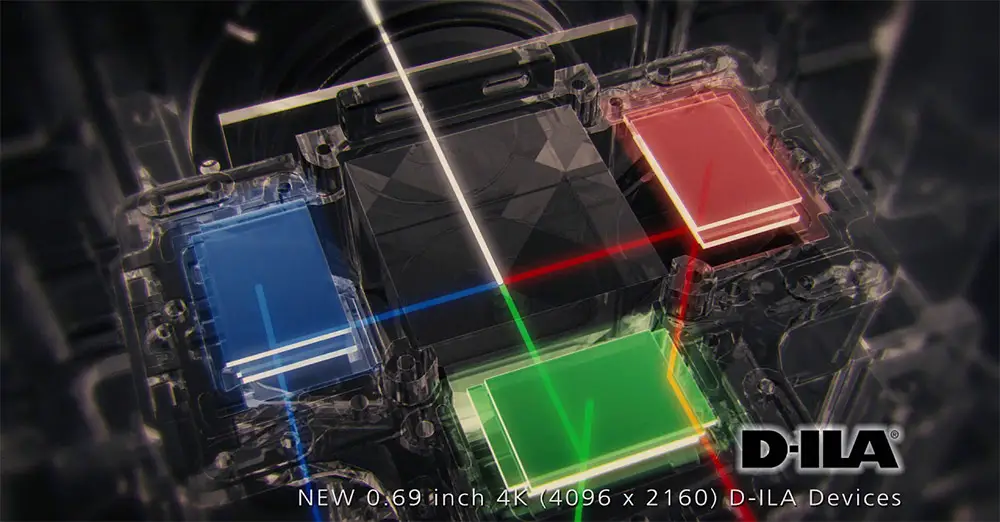 But improvements on the DLA-NX7 don't stop there as JVC has also improved control over the lens, used a new design for it's light engine and made new additions to the software like the new Auto Tone Mapping feature in order to improve in general the overall sharpness, contrast and brightness and thus giving us an improved image over previous models.
4K UHD / HDR Content
The film we decided to try with the projector was the 4K UHD version of Pacific Rim: Uprising which offers plenty of scenes, both bright and colorful but also darker ones, in order to test the various strengths and weaknesses of the NX7. The result? In one word, breathtaking. The amount of clarity and detail was through the roof while colors were popping out in every frame leaving us in awe.
The amount of details on the character's skin, clothes textures and metal armors were through the roof and some of the best we have seen so far. Pixel shifting may have come a long way but looking at this native 4K projector is like a revelation.
As far as HDR support the DLA-NX7 supports both HDR10 which is the basic for UHD playback and HLG which is used for broadcasting. One thing we should point out as far as HDR is concerned is that new this year is the inclusion of Auto Tone Mapping. In general one of the weaknesses of projectors is the ability to display very bright images where HDR needs it. This, many times, results in showing an image that is much darker than what is supposed to be. Here comes Auto Tone Mapping and what this does is that it reads the static HDR metadata of the content being displayed and adjusts the image settings of the projector according to the max and average light settings of the video in order to present a much better overall image.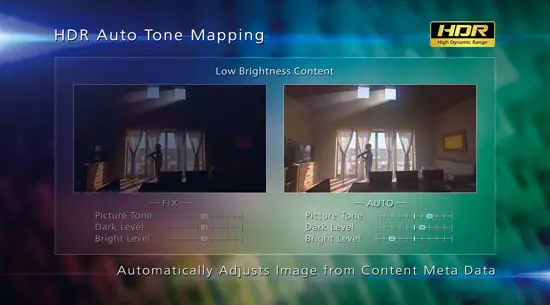 Trying this out revealed exceptionally good results with the projector managing to balance the HDR image but there is also a catch here. When the projector is able to read the HDR metadata of the content being displayed then you are good. The problem is that many times this is not the case and with the projector not knowing the max and average brightness settings it has no way to apply the Tone Mapping to it which leaves you the user to manually calibrate it according to the content's 1,000 or 4,000 nits grade. A bit experimentation is needed in this regard and it's a shame that this feature does not always work because when it does it does wonders.
Lastly the DLA-NX7 supports auto HDR switching when it detects an appropriate signal so you don't have to switch to a specific HDR mode manually which is very handy if you are watching a lot of HDR content.
Full HD / SDR / 3D Content
This projector lives and breathes for 4K content but it also has the ability to upscale lower resolution content up to 4K. We tried a few Blu-ray discs with one of them being Oblivion which, due to it's visual style, offers a very clean, almost sterile, look and the resulting image was excellent. Deep blacks, great shadow detail, very rich colors and exceptional clarity were some of it's strong points making your low resolution content as good as it can get. Most UHD players can do very good 4K upscaling and buying such a projector probably means that you will be accompanying it with one but even if it happens you to have an older disc player that has no upscaling the DLA-NX7 will do the work just fine.

3D may be good as dead when it comes to new TV models but still lives on many new projectors coming out with DLA-NX7 being one of them. But since it uses active 3D glasses you will need to buy the 3D Synch Emitter which is sold separately along with the glasses. 3D performance was actually very good as we didn't notice any crosstalk but naturally as with all 3D content brightness takes a hit and needs a bit of calibration until you can get some good results. As there are no dedicated 3D modes you have to use custom settings when viewing 3D content something that will take you a bit of extra time to get results to your satisfaction. But when you do the end 3D result is amazing with plenty of dimensionality creating an overall amazing experience.
Color Coverage
The projector supports wide color gamut and uses an optical light filter to increase color coverage at the expense of some brightness. By choosing the BT.2020 color profile our measurements showed 99% coverage of the DCI-P3 color space while on the more expanded REC.2020 color space coverage reached 72% which is very good and contributes in the generally exceptional colors we have seen during our testing.
Brightness / Picture Settings
JVC DLA-NX7 is rated as a 1,900 lumens projector and while this may seem a bit low considering we are talking about a HDR projector a simple number like this does not reveal the whole truth. We may have seen much cheaper projectors offering much more brightness in theory but there are many factors that contribute to the real brightness a projector can show.
First of all the DLA-NX7 comes equipped with 5 different Picture modes that includes Natural, Cinema, HDR10, HLG and Film while there is also a set of 6 user modes in order to save your own personal settings. Unfortunately there are no specific modes for 3D so for such content you will definitely need to create a custom one which may take a bit of your time. As we mentioned above the HDR10 and HLG modes will automatically enable when they detect the appropriate signal which can be very practical.

One thing we point out to all our projector reviews is that peak brightness depends on so many factors that our measurements should not be taken as a given number. Different settings, modes and even slightly different lamp hours can change these numbers so our measurements should only be used as a reference point for comparison and nothing more.
During our testing we saw that the DLA-NX7 offered very good out-of-the-box performance so if you are not very much into calibrations then you shouldn't worry as the defaults settings offer very good image results with great color accuracy and enough brightness. Peak brightness on the NX7 was measured at 1560 lumens which is more than enough for SDR content while it is sufficient for HDR video also.
We tried different options and after measuring many different combinations we decided that the best settings for 1080p/SDR content is to use Natural Picture Mode with BT.709 color profile, 6500K color temperature, 2.2 gamma and Dynamic Iris in Auto 2. As for HDR content choosing the HDR10 picture mode along with BT.2020 color profile and enabling the Auto Tone Mapping feature is your best starting point.
Black Levels / Contrast
The projector comes with a 80,000:1 native contrast and a 800,000:1 dynamic contrast in order to be able to offer very deep black levels and great shadows details. In reality the maximum contrast we were able to get was close to 65,000:1 native and 200,000:1 dynamic which may not be as high as claimed but it is still very good.
The projector also comes with a dynamic iris in order to boost contrast if you feel that it is too low for your tastes. We tried a few videos with the dynamic iris enabled and we can say that it worked pretty well although there were a few instances that you could notice changes in gamma levels but it was never at a point to become bothering so we felt that it's a feature that you can use if you are in need for more contrast.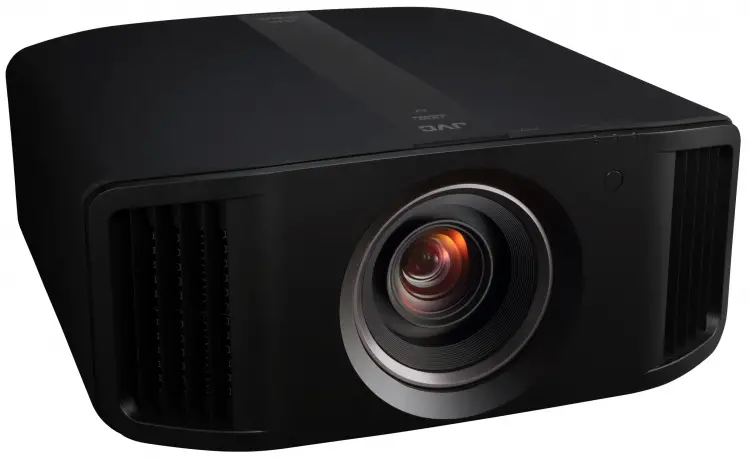 Input Lag
Input lag can be a very important factor for gamers so we were curious to see the kind of performance the NX7 would give us. Testing revealed input lag to be 38ms on average which is neither very good or terrible. We have seen projectors with much better input lag like some of the Sony ones but trying out a bit of Call of Duty WW2 in our PS4 revealed very good response even with such numbers. We should note that this number is achieved only if C.M.D. is turned off because enabling it made the input lag skyrocket to almost 100ms.
Also the projector supports Low Lattency Mode when connected to equipment that also supports this mode like game consoles in order to improve response time in fast action games something that is very important for serious gamers.
Motion Performance
JVC has also improved their motion interpolation software which they call C.M.D. (Clear Motion Drive) in order to display fewer artifacts during fast camera movements. C.M.D. works along with Motion Enhance which is another feature that was created to better manage the driving of the D-ILA panels according to the movement of the image which results in less motion blur. We were very pleased with the resulting motion performance as the projector was displaying very clean images and even with a film like Pacific Rim: Uprising that has many fast moving action scenes it managed to remain blur free. The software was also upgraded in order to also now support 4K content (4:4:4 chroma) at 60p. Excellent work from JVC in this regard.
Inputs
Connections wise what we get with the DLA-NX7 can be considered more or less standard. All connections are placed on the top left corner of the back side and looking at them from left to right we get a 3D sync port that you can use to connect JVC's separate PK-EM2 3D Synchro Emitter that communicates with 3D glasses, 2 HDMI ports, an RS-232C port for command and control, a USB port that is only used for firmware updates, an Ethernet port for wired connection to the internet and a 12V trigger port.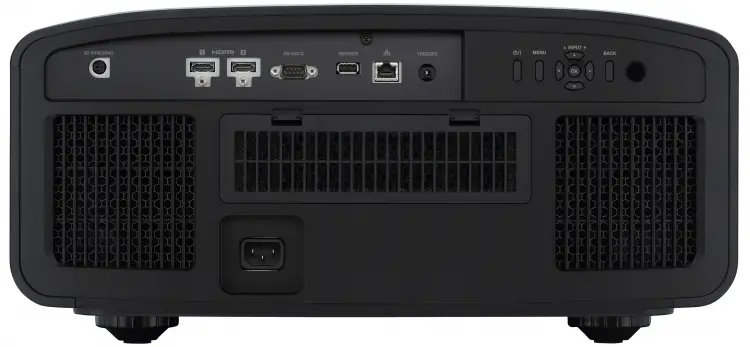 Something that needs to be noted is that both ports support HDCP 2.2 and are 18Gbps capable which is more than welcome as we had seen many projectors in the past use HDMI ports that cannot support the necessary bandwidth. Everything is more or less what is expected and we don't find anything fancy here.
OS, Apps and Features
Setup is not particularly difficult and if you follow the manual directions you will be up and running in no time. Positioning the projector is being done with the help of the four adjustable feet while the keystone correction and lens shifting features provide more freedom with the projector's placement. Just keep in mind that Keystone correction shouldn't be used unless absolute necessary as it can result in lower image quality which we want to avoid.
Powering up can be a slow process as the projector takes almost a whole minute before the initial D-ILA logo. At least HDMI handshake has been improved a bit which was a bigger problem with previous JVC projectors. Moving on to the menu settings we find them being separated in 6 categories depending their function with Picture Adjust, Input Signal, Installation, Display Setup, Function and Information tabs available. With so many settings at hand one can easily get lost but at least JVC has separated them in a way that doesn't need a lot of search to find what is needed.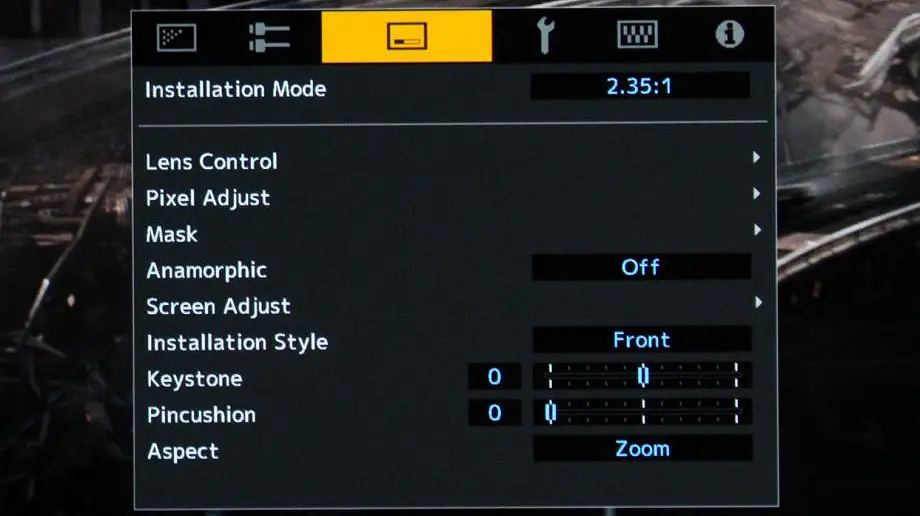 There is a huge list of features that you can use in order to make adjustments to the image and these include the Multiple Pixel Control (MPC) image processor along with a six-axis color management system while with Installation Modes, in contrast to lens Memories that you can save custom image settings, you can save settings that include Lens Control, Pixel Adjustments, Screen Adjustments, Mask, Anamorphic Stretch Modes and Aspect Ratios among others.
There is also a feature called Auto Calibration Function and with this the projector optimizes the image's greyscale, gamma, colour space and colour tracking in order to compensate long term usage that can create differences in image quality. There is also an ISFccc (Certified Calibration Controls) mode while we also liked the inclusion of the MaxCLL and MaxFALL mastering data in the info content page. This last one may be a minor but for those HDR geeks it's a perfect inclusion.

Final Thoughts
The DLA-NX7 is an amazing projector and one of the best, if not the best, projectors we have tested so far. We are in premium territory here as it offers native 4K resolution with amazing clarity and sharpness, great contrast, very high brightness and a plethora of video calibration settings. General build quality is very high while we also liked the redesigned remote offered this year. HDR performance is highly improved and with the new Auto Tone Mapping the resulting HDR images are much better than previous years. Motion performance was also great while the inclusion of 3D support was a plus. We reached a point that a top quality native 4K projector costs under 10 grand with the NX7 right now sitting at the $8,000 mark which is extremely low if you consider what you are getting for this money.
But even such a monster projector is not without flaws. It's size is not suited for all and this one definitely asks for a big room to showcase it's abilities. No motorized lens cover is a bit frustrating as you have to use the plastic cover if you want to protect the lens which is a bit disappointing when you pay so much money for it. Also while the projector supports 3D playback you need to buy the separate 3D sync module and extra glasses which adds to an already very high price. And finally the most obvious is the cost. With a price tag of $8,000 this is definitely not for everyone and while we believe that the projector is worth it the price is unreachable for a lot of people no matter how much value it packs. With Sony starting to offer native 4K models with a $5,000 price tag it will be interesting to see if JVC will follow suit the following years.
If you are looking for one of the best 4K projectors in the market right now the JVC DLA-NX7 is a serious contender and while it's high price may turn some people away we believe that it offers so much that it really deserves it. Either you want it for movies, TV shows, sports or gaming the projector will satisfy even the most demanding users and for this reason we give it our top recommendation.
For more reviews you can check our dedicated 4K Projector reviews list or even look at our Product Reviews Table where you can find the brand and specific product you are looking for.
Also don't lose the chance to subscribe to our Newsletter and gain exclusive privileges.
---
---
Cheapest Places to Buy :
---
JVC DLA-NX7 Specifications