JVC Exofield XP-EXT1
Reviewed at $999.00
Design & Built Quality
9.0/10
Inputs and Features
8.5/10
Pros
Amazing directional 3D sound reproduction
Dolby Atmos and DTS:X support
Good built quality
Nice Exofield mobile app
Cons
No Dolby Vision support
Using ARC/eARC can create a whole new set of problems
Exofield effect not ideal for all content
Price is slightly high
---
Cheapest Places to Buy :
---
Have you ever been in a situation where you have created the home theater of your dreams but for some reason, either because of children sleeping in the house or some grumpy neighbor, you cannot enjoy it the way it was meant to be? Sure you have, and makes you wish you could isolate yourself from the rest of the world and just enjoy your favorite movie without limitations. Well it seems that JVC has thought exactly the same thing and in our JVC Exofield XP-EXT1 review today we will be looking at a set of headphones that is meant to change all that.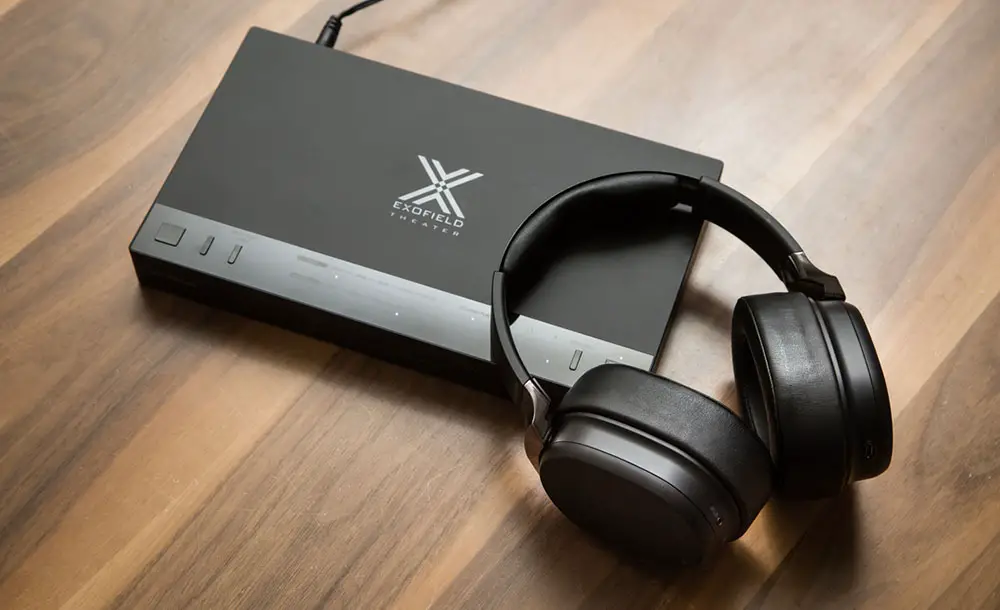 There are hundreds of headphones out there, both good and bad, so what makes the Exofield so different from the competition? Well, for start these headphones claim to support both Dolby Atmos and DTS:X and be able to fully convey the 360 degrees sound field of a fully capable 7.1.4 channels Dolby Atmos surround system. Bold claims you will say from a pair of drivers no bigger than your own ear. But the Exofield system is much more than meets the eye.
In order to be able to create a system that could really give you the sense of 3D sound all around you JVC had to go beyond the traditional headphone design and add an extra box which includes the necessary processing power where all the magic takes place. But adding such a separate box also opens more opportunities and so JVC has added more connections and more features that we will talk about shortly. With this processor box-headphones system JVC has managed to create a home theater system in the size of a headphones package.
But having headphones that create a full immersive 3D environment is not something entirely new as Sony had also created a similar system a few years back. And it seems that JVC looked upon Sony's implementation and took it one step further in order to bring it up to par with today's latest technologies. But other than Sony's and now JVC's release it seems that this market is still in its very infancy and JVC has a real opportunity to expand this virgin market the same way it happened to the soundbar market some years ago. But does the JVC XP-EXT1 has what it takes to make all that happen? Let's find out…
Design, Inputs and Features
Design & Built Quality
Let's talk about the actual headphones first. The Exofield looks like your typical over-the-ear headphones with some pretty big ear pads. They are very light for their size with a weight of around 330 grams while they feature a steel upper center part and each ear piece can be adjusted in height but also in angle making them easier to fit in your specific head shape.
When it comes to over-the-ear headphones creating the right ear pads is essential as they can become very tiring very soon. The XP-EXT1 comes with wide and soft enough ear pads that sit nicely on your head and envelope your ears gracefully. I had always problems with such headphone designs as my ears would always become hot and start bothering me after a while. So when we first tried the Exofield ones I was a bit skeptical how long I would be able to wear them.
In my surprise these headphones were the only ones I could wear for a long time. Yes, my ears would still become slightly hot but not to the point of being bothering and I could sit watching a 2-hours long movie without feeling any pain or uncomfort. And for me this means a lot and shows that JVC did a good job at creating a comfortable ear pad for long hours use. Also the pads did a good job at providing some passive noise isolation although we could still hear someone talking to us if close enough. But as a passive solution they performed very good in this regard.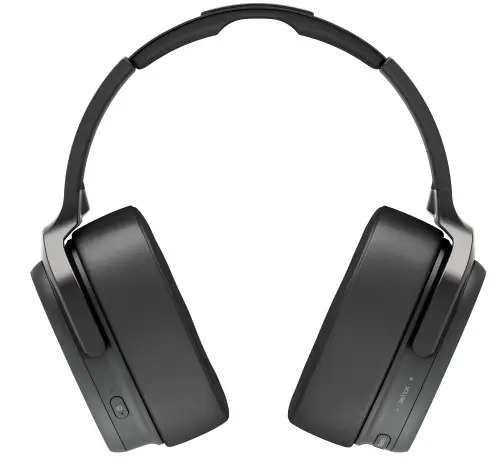 In each ear cap JVC has included the necessary buttons and connections needed for some basic functionality. The left one has the power button along with a small LED light next to it and a micro-USB port for charging the headphones. Two things we didn't like here. First of all we would prefer a USB-C port which is far more practical and secondly there is no charger included and you have to use a 5V third-party one. For a piece of equipment costing $1,000 having a charger included is a must in our books.
On the right cap we get an input button for selecting the appropriate input on the processor, an Exofield button for enabling or disabling this function, volume controls and a mini jack for connecting the headphones and processor for the initial calibration. The only thing here that could improve is the volume controls which are touch sensitive and some times it felt awkward changing the volume up or down. More than once we used the app in our smartphone to change the volume because it just felt easier to do.
As for its battery we found that it can last for more than enough time and very close to what JVC had rated them for. As such a full charge needs about 4 hours and is enough to hold you for more than 10-12 hours of listening time depending on use.
Overall, although the headphones could improve in some areas they felt pretty sturdy and of good quality and except from what we mentioned above we didn't had any major problems with their design or quality.
The second part of the Exofield system includes the processor which is a box that uses a wireless connection with the headphones and is where most of the processing happens. The processor is a typical rectangle box that many may mistake for a small player or streamer device. On the top there are some built-in buttons for basic control that include a power button, input/info, sound mode and pairing, a user data one and on the far right the Exofield button.

There are also a few LED indicators for showing which input is active, which sound mode is selected and also which user data is being used along with Dolby Atmos/DTS:X signals and Bluetooth connectivity. At the front there is a single mini jack for connecting the headphones and going through the calibration setup.
At the back of the processor unit we find all the connection ports but we will talk about them shortly. Keep in mind that there are also a couple of small switches underneath the unit, one for adjusting the analogue input and the other for enabling HDMI-CEC. Overall nothing worthy of note here. Although the processor do provide some basic controls we didn't use them even once as the supported app in our smartphone was all we needed for that.
Internal Hardware
The JVC XP-EXT1 are using a pair of 40mm drivers. These are not the biggest drivers we have seen in headphones but the ones used here are more than enough for what they are needed for. These are driven by powerful neodymium magnets and thus provide clean and dynamic reproduction of sound. According to JVC the included drivers have a frequency response of 20 – 20000 Hz.
And while the drivers included may not be anything spectacular or out of the ordinary the included microphones are. You see, what JVC engineers have done is to include a microphone in each ear cap. Why is that you may ask? In a home theater system you can understand from where sound comes because you have sound sources in different positions in space. With headphones this is not as easy to do as there are basically two sound sources and it all comes down to what is called Head Binaural Transfer Function (HRTF).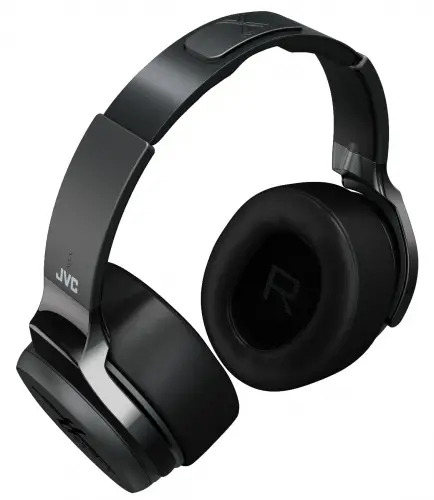 In order for the Exofield system to create the illusion of 3D sound it has to create the appropriate distortions in sound that will fool your brain into believing that sound comes from a specific position that is not the one where the driver is. But there is a very big problem in all this. Every person has a unique HRTF and these "distortions" have to be tailored in each person's specific HRTF for them to work properly. But how can you do that with headphones that have to work for thousands or millions of different HRTFs? This is where the included microphones do their magic.
During calibration each microphone, in each ear cap, captures your specific HRTF and the data are downloaded into the processor which analyzes them and is then able to create the appropriate sound distortions that will give you the illusion of 3D sound. And this is the reason why the Exofield system includes four user profiles. Because the one that will be created for you will not work for some other family member! This means that the system can potentially be used by four users.
In theory all this sound impressive and there is more science to it than we are willing to dive into in this review. But hopefully we were able to give you a very simplified description of what the headphones do in order to provide you with the illusion of having a full surround system from just two tiny drivers.
The processor unit on the other hand includes all the necessary components like analogue to digital sound processors and CPUs that are necessary for processing the sound data captured by the microphones, make the necessary calculations and output the corresponding signal to the headphones with the necessary processing in order for you to have the illusion of 3D audio.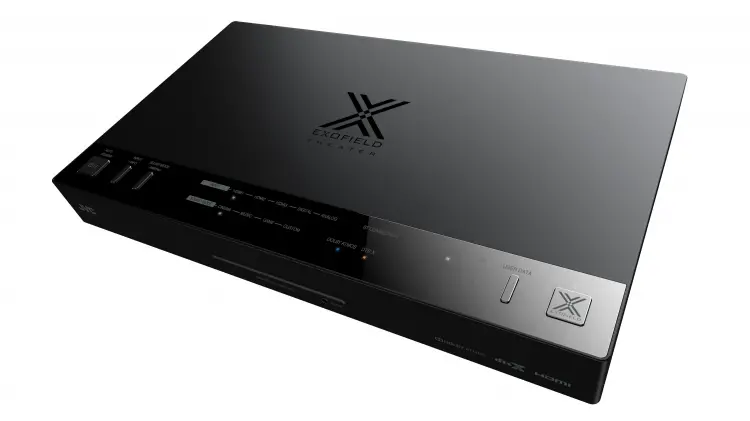 Connectivity
When it comes to connections JVC didn't want just to create an audio device but a complete hub where all your sources could be connected to the unit. As such at the back of the processor box we find three HDMI inputs along with a HDMI output that supports both ARC and eARC functionality. There is also an optical input and an analog stereo input.
Now what is very important to mention here is that JVC does not give specifics about the HDMI ports used. These are definitely not HDMI 2.1 but the most important thing comes down to their pass-through capabilities which seem to be rather limited. The Exofield system does not officially support Dolby Vision and this can be a huge thing if you want to use the headphones with a source and TV that output Dolby's advanced HDR protocol. This means that using the processor as a hub like JVC intended is not possible.
But the general consensus among users is still not clear if Dolby Vision can be passed through as some claim to have managed to do it while others have not and we believe this has to do with the overall bandwidth capabilities of these ports which is not clear at the moment. Just for the record in our case we were not able to pass a Dolby Vision signal through the processor unit in the time we tested it.
Overall this is one of the few major downsides the Exofield system has. Now there is a workaround for this and we will talk about it in the setup section below but with such a high price JVC should have though better of this and how many people are already using Dolby Vision signals.
The processor also have Bluetooth ver. 5 which it uses to connect to a mobile device and connect to the Exofield app.
As for the headphones one of the most crucial elements, when it comes to wireless headphones used for movies, is latency. Unfortunately most Bluetooth enabled headphones have major issues with audio lag and only those that use aptX Low Latency are capable at providing a lag free experience. So how does the Exofield system manages to provide a similar, latency free, experience? It does it by using RF signals instead of Bluetooth. The Exofield system has its own unique radio interface with DSSS modulation which is far better than typical Bluetooth transmissions and thus manages to offer a lag free signal.

Features & Functionality
The biggest selling point of the JVC XP-EXT1 is its ability to process Dolby Atmos and DTS:X signals and output them into the headphones. But supporting these latest sound technologies means that it is capable at processing all the older signals also including Dolby TrueHD, Dolby Digital Plus, Dolby Digital, DTS-HD Master Audio, DTS-HD High Resolution Audio and DTS.
But support doesn't end there as the unit can also process DTS Express, DTS 96/24, LPCM, MPEG-2 AAC and MPEG-4 AAC. Overall an impressive list of supported audio and while most will be interested in the latest Dolby Atmos and DTS:X we can assure you that, as you will read below, the Exofield system is particularly capable at created 3D sound even from the older and more simplified sound mixes also.
When it comes to functionality the Exofield mobile app is playing a crucial role as it includes much more controls that either the headphones or the processor unit have built-in. The app is nicely designed and connects to the processor through Bluetooth which is fast and trouble free.
Its home screen will give you the kind of signal that is being processed, what input is selected, sound volume and if Exofield is activated or not. The app is also necessary for the initial calibration and you can use it to change sound modes or use a custom one tailored to your needs. It is not a very complicated app and JVC made sure to keep it cluttered free and provide only what is necessary. Menus are easy to understand and everything has been placed in a way that make sense and are easy to find.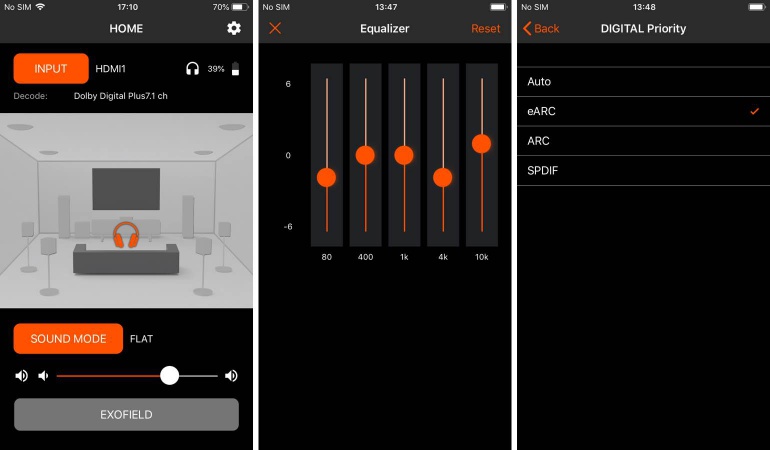 In terms of sound modes there are four available including FLAT which gives you the signal "as is", CINEMA which is better suited for surround sound, GAME that is tailored mostly for video games, MUSIC that has been balanced to offer a better output with music and a CUSTOM one so you can change the EQ curve as you like.
Overall we are happy with what JVC has done with the app. It's simple to use and understand, and finding your way around its menus is not a frustrating experience.
Setup
Now it terms of setting up the system first of all it is very important to decide how you will connect the Exofield system to your own sound system. If you just have a TV, things can be very simple but if you have a full home theater that includes multiple sources, an AV receiver and TV, things can get messy. And if you add to this that you want your Dolby Vision signals to be uninterrupted then be ready for waves of frustration as things can get more complicated than they should.
To give you an idea our system was comprised of a PlayStation 5 along with a media player connected to an AV receiver and from there to our test TV. Now if you don't care about Dolby Vision or in general you don't have any connection and signal problems then you can connect the processor at any point of your chain you want. But for Dolby Vision to work properly along with all other types of signals that use more bandwidth than what the HDMI ports of the Exofield can handle it means that your chain has to remain intact. And this left us with only one choice, to go the ARC/eARC route and connect the processor at the very end of our chain after our TV.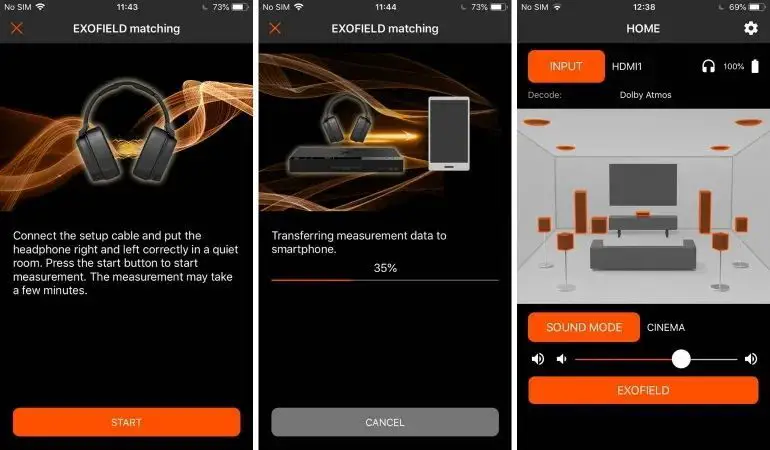 Now this seems simple enough but from what we saw things are not as easy as they seem to be. While theory says that connecting the Exofield system at the ARC/eARC port of our TV would pass the signal to the headphones it seems that ARC/eARC is more shaky in its functionality than it should and the end result is vastly dependent on all the components you have connected.
To understand how complicated this can be when we tried to use Exofield with our PS5 there was no possible way to get the sound pass from our TV to the headphones. For some reason our Samsung TV was refusing to do so. The only way to do it and make the TV pass the signal was to first turn on our media player and with a very specific powering on/off the AV receiver, media player and PS5 sequence the TV would finally agree to pass the signal from our PS5 to the Exofield system through its ARC function!!!
And the same applied not only for the PS5 but also for getting sound from the media player and also from the TV. This indicated us that somewhere in the chain the ARC/eARC functionality had problems connecting with the various devices. This is not necessarily a problem with the Exofield system itself but rather a more wide compatibility issue between various ARC devices but the problem remains and if you want to have Dolby Vision and the Exofield system work in parallel placing the processor as an "end point" in the chain and using ARC is the only way to go.
As the video below indicates connecting the system can be simple enough. But under certain circumstances what seems a rather straightforward connection scheme can quickly become a riddle for hardcore players.
But there is another problem we discovered when it comes to the Exofield's eARC connection. It seems that when we connect the processor through the eARC port and try to playback some video file that contains Dolby Digital Plus or Dolby Digital Plus (Atmos) sound the moment we paused or stopped the film the Exofield processor would hard shut down without a way to recover it unless we took out the power cable and reconnect it!
We went ahead and made extensive testing and this happens only when we use the eARC connection and play a file which contains the Dolby Digital Plus format. No other video file would make the processor behave in such a way and we tried different movies with different audio formats from Dolby Digital and DTS to Dolby TrueHD, DTS:HD Master Audio, Dolby Atmos through Dolby TrueHD and DTS:X.
Unfortunately we do not know if this a bug in the Exofield or of the eARC port functionality between our devices and this is the reason why the eARC in general should never be the preferred way of connection. It's simply too much unreliable to be used as it should.
If you are on the same boat as us we have another solution that in our case it proved to be our saving grace. We decided to add in our system the HD-Fury VRROOM which is a HDMI 2.1 device with multiple inputs and outputs. It even provide a specific HDMI output only for sound. With this device we connected both our sources in two of the inputs and there are enough outputs to connect our TV, our AV receiver and our Exofield headphones in separate ports.
This way we managed to have everything working with no audio sync problems between all our devices and Dolby Vision passes through as it should. We strongly suggest you go for such a unit if you really have trouble making the Exofield work properly. It made our system finally work as it should from the beginning. Keep in mind that HD-Fury makes a lot of similar devices but the VRROOM is a new generation that supports HDMI 2.1 with 40Gbps of bandwidth in its ports.
Now when you manage to go through the initial frustration of connecting everything and finding what works for your specific setup the first thing that you have to do is calibrate the headphones for your specific profile. The included instructions are very simple to follow and it shouldn't take you more than a few minutes to complete. The actual sound calibration is done by using some test sound tones which the built-in microphones capture and the data are after downloaded into the processor for analysis. When that is done your profile is saved into one of the available slots for future use.
You can do the calibration as many times you want and it takes just a few minutes to complete the whole process. When everything is said and done we were ready to put them to the test.
Movies
Now for our test we need to mention this. If your TV only supports ARC and not eARC means that you will not be able to hear the full capabilities of what these headphones can do with object oriented sound mixes. ARC can only pass Dolby Digital and DTS so this would be the best you would be able to get. But as you will read below this is not so bad as the headphones can do miracles even with these older mixes.
As for the movie we went for this was Greyhound. The movie comes with a Dolby Atmos mix through its Dolby Digital Plus codec so it was exactly what we needed for this test. But first we tried out the headphones with the Exofield feature disabled.

Now like this the headphones will provide the usual flat, stereo sound that you would get in almost all over-the-ear headphones. Nothing interesting, nothing inspiring and certainly not something worthy of the $1,000 price tag. But when you press the Exofield button is when the system really shows what it is all about. Suddenly it's like we changed headphones with what we experienced.
Sound suddenly because three dimensional and you could feel the soundstage enveloping you all around. Sound had extremely more volume, more depth and more directionality. We skipped forward to the point that the Greyhound is battling a pack of U-boats and oh my, did we feel encircled by the action! When the cannons of the Greyhound were giving everything they had you could hear the projectiles flying around. The amount of panning effects was staggering and what was very impressive was that they were very accurate and to the point.
The Dolby Digital Plus 5.1 channels mix that we were getting felt almost as it would feel when having a real 5.1 channels surround system. There was no absence of surround activity and we were impressed how good the Exofield system could portray these sounds just from two small drivers in our ears.
But the system is not so good only with top of the line sound mixes. We tried a few older Dolby Digital tracks and the unit was equally capable at providing the necessary sound expansion all around us. And this is the major strength of the Exofield system. It is not only good with Atmos and DTS:X, but lower quality digital signals like Dolby Digital and DTS can sound equally impressive.

But not everything is good and we should note a few bad points also. First of all the headphones can go loud enough but we are sure that many would like them louder. Also the dialogue felt some times like it was over-processed. And while in Greyhound this was not very obvious through all the action we did try a more quiet films with mostly dialogue and it did feel slightly…off. When we turned the Exofield feature off dialogue suddenly felt more like it should be but the whole performance lost in volume, directionality and surround activity.
Overall we need to stress you that the system impressed us so much that we could not believe how good surround sound a headphones system can provide. Yes, it's not perfect and there are moments that the output do feel more processed than it should but if you weight the positives and negatives of what the Exofield processing provides then we can outright say that we can neglect all the bad ones for such a performance.
Music
Next comes our music testing and for this we tried out some FLAC music files that we streamed through our media player for the best quality possible. For this test we opted to use the MUSIC sound mode as it felt the most suitable one for this occasion.
Again we initially tried the headphones with the Exofield feature turned off. During this, music sounded as you would expect from an average Bluetooth headphones set. Not bad but nothing to excite you either. The music felt flat without much dynamics and certainly no soul.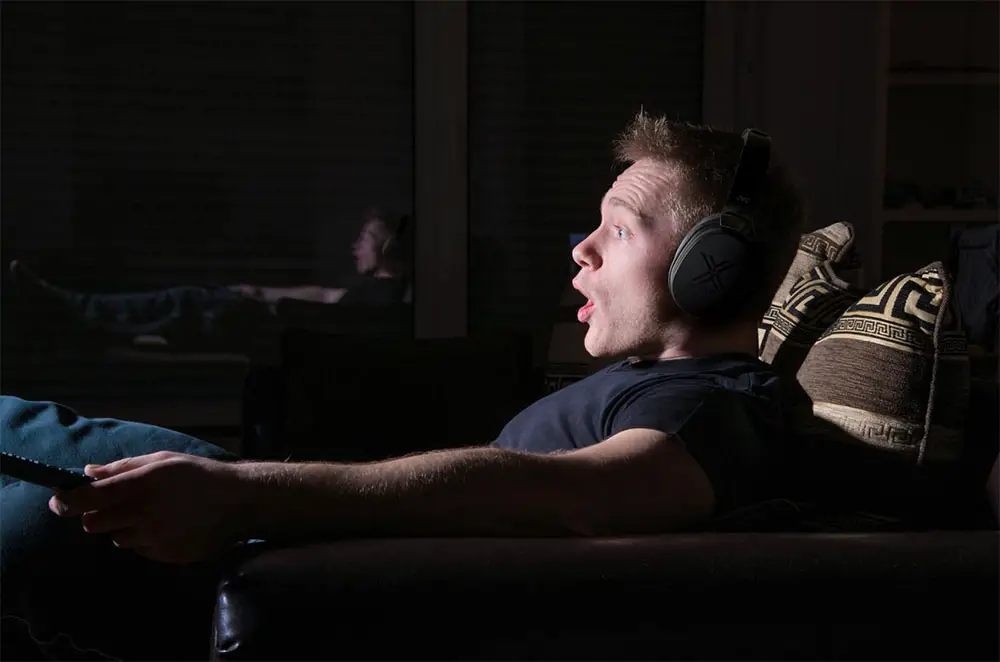 When we switched to Exofield mode we got an entirely different experience. Suddenly the music felt more alive, with more volume more vibrancy and more energy. Truth to be told with the Exofield feature it is immediately apparent that processing is added to the mix so if you are a hardcore purist then you may not like the end result but for everyone else the soundstage really comes to life.
Vocals had so much more emotion to them and the low end had good weight and could go deep enough, obviously limited by the capabilities of the included drivers. The whole performance was nicely recreated and whatever processing was being applied was not so much bothering even if very noticeable.
As with movies the Exofield effect, while good in most cases, it would not succeed giving a convincing output in all the songs we tried it out. In some of them the end result was too much processed and no matter how much we tried to overlook it we couldn't. But this was far and few between and it didn't represent the overall of performance we heard.
To be honest while with music the result was good enough it was with movies that this set really impressed us. Don't get us wrong, the Exofield system can really produce some very nice music with good depth, nice volume and enough energy. But for this there are other options to consider also.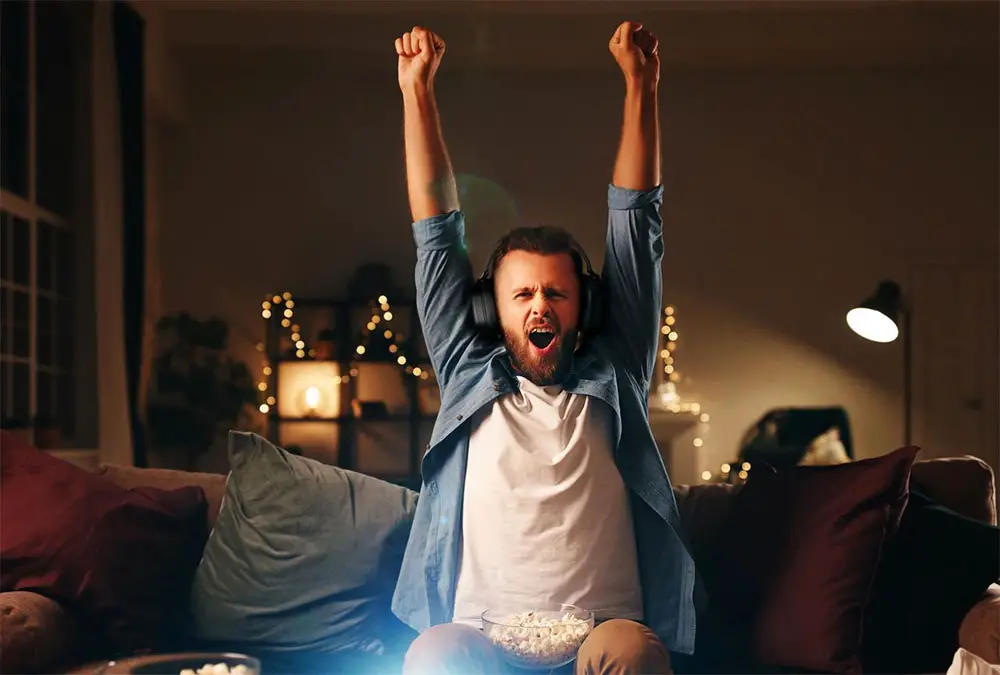 Final Thoughts
Home theater headphones are still in their infancy and if you look at the market right now other than the Sony's and now JVC's release there are no others that can really offer the same kind of sound output. JVC went a step above and beyond what Sony offered previously and the end result really shows that.
The Exofield system has a lot going for it. Its performance is undeniable and it can provide you with an experience very close to a real surround system. Built quality is good enough even if not something extraordinary while the supported app is easy and nicely designed even for those that are not very much into such sound apps. In terms of sound quality it's all about the Exofield feature and when this is enabled be prepared to be blown away as you will not believe the kind of directional sound this can produce not only with Dolby Atmos and DTS:X signals but also with core Dolby Digital and DTS ones.
On the downsides the most obvious one is the processor's wanky passthrough capabilities. There is no official support for Dolby Vision so if you want uninterruptable and trouble free signals then it forces you to rely on an ARC/eARC connection which as you have read above can create a whole new set of problems. Also the Exofield system, as impressive as it may be overall, is not good for all content used as some low quality ones may sound weird and unnatural. Also dialogue felt over-processed in certain movies we tried but this was very much content dependent.
Closing our review we can say this. You will make a big mistake if you see the JVC XP-EXT1 as a simple headphones system that costs close to $1,000. What you get here is a fully blown Dolby Atmos system in the size of headphones. And if, like us, certain circumstances don't let you use a full surround system to its full potential because of family or neighbors then the Exofield unit is your next best bet.
Is the JVC XP-EXT1 as good as a fully capable Dolby Atmos system? Not entirely. But it is damn close and at the time of writing this review there is nothing out there in the market that can offer such a similar experience to such an extent. And for this the Exofield system truly deserves its price tag. Good job JVC.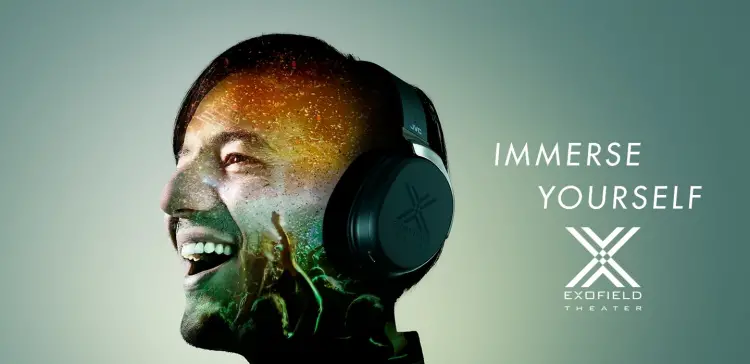 For more reviews you can check our dedicated Headphone reviews list or even look at our Product Reviews Table where you can find the brand and specific product you are looking for.
Also don't lose the chance to subscribe to our Newsletter and gain exclusive privileges.
---
Cheapest Places to Buy :
---
JVC Exofield XP-EXT1 Specifications