KEF T205
Movies Performance
9.2/10
Inputs and Features
9.4/10
Pros
Amazing design
Excellent build quality
Incredible performance
Ideal for tight spaces
Cons
Sound feels a bit different due to the thin design
A bit pricey for a 5.1 system
Subs controls are on the bottom
Floor stands have to be bought seperately
---
Cheapest Places to Buy :
---
Being able to have a home theater system can be a real blessing. To experience the kind of sound immersion of a cinema in your own house is easier than ever and elevates the realism of a film to another level. But there is a catch to all this. First of all a home theater system, even in it's most basic 5.1 channels form, needs certain space in order to place all the speakers around your listening position. And with the extremely thin TVs we got the last few years having some bulky speakers next to it can look a bit awkward. In our KEF T205 review we will be looking into a 5.1 channels system that was created in order to address these issues.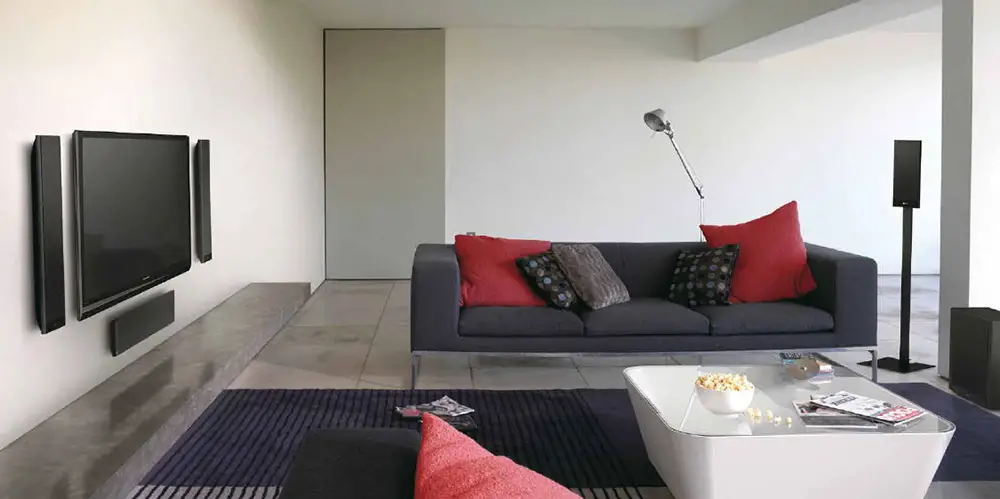 KEF created the T series some years ago with a specific goal. To design speakers that would take minimal space, would perfectly complement the design on today's flat TVs but keep the kind of performance we find in their full sized speakers. In theory this sounds exciting but making this actually happen needed some major engineering efforts. And from these efforts the T series was created that includes two satellite speaker sizes, the T101 and T301, two center speaker sizes, the T101c and T301c, which are basically the same speakers turned by 90 degrees and a single subwoofer with the T2 naming.
Now KEF has created three different systems using the speakers above with the T205 we will be reviewing here using the bigger T301 and T301c speakers for front and center, the smaller T101 speakers for surrounds in addition to the T2 subwoofer. But with a price that goes beyond what we find in other traditional 5.1 speaker setups does the KEF T205 manages to impress? Keep reading as we take a closer look.
Design, Inputs and Features
Exterior
If there is one thing that makes the T205 to completely differentiate itself from all the other home theater systems is for sure it's design. All the speakers feature an eye catching slim profile that is one of it's kind and you will be hard to believe the quality of sound such thin speakers can output.
All speakers including the front T301, rear T101 and center T301c speakers come in a rectangular design with a cabinet depth of just 35mm which is crazy if you think about it. But KEF hasn't stopped there as they decided to up the quality of the design overall by using a black aluminium side trim that complements the full frontal black cloth grille while the bottom front uses a gloss black face with the KEF logo printed at the center.
The front speakers come with a size of 23.6 x 5.5 x 1.4 in. (600 x 140 x 35 mm) and a weight of 3.3lbs (1.5kg) making them pretty lightweight and easy to handle. With such a size these are perfect for wall mounting as their slim design make them almost disappear on the wall.
The T101 surround speakers follow exactly the same design pattern as the front ones and the only difference in design is the smaller height as in the end they measure 13.0 x 5.5 x 1.4 in. (330 x 140 x 35 mm) and weight 2.2lbs (1kg).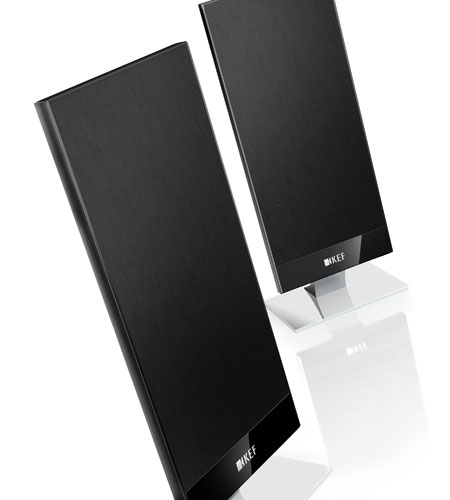 The center T301c speaker is basically a T301 speaker turned sideways so it features exactly the same size and weight as the fronts and the only thing that distinguishes it at first glance is the KEF logo that sits at the bottom of the gloss finish indicating that this is in fact the center speaker.
Let's talk a bit about the actual cabinets now. KEF went through a lot of design and engineering efforts to make them acoustically inert. This is very important as this plays a big role as far as the speaker's ability to produce a clean and refined mid-range. As such the drive units and cabinet have been designed together so the drive units brace the cabinets in a way to stop any unwanted cabinet resonances that could color the sound. We will talk about the actual drive units shortly but as far as the cabinets is concerned it's an amazing piece of engineering that KEF managed to create.
Lastly we should not forget to mention the subwoofer. The T2 subwoofer, being the only sub in the T series, is naturally the biggest speaker in the whole series with a size measuring 15.0 x 14.6 x 7.0 in. (380 x 370 x 177 mm) and a weight of 28.6lbs (13kg). But even as such KEF made sure to create a similar slim design to complement the other speakers and feel right at home with the whole series. Featuring a closed box design the subwoofer's cabinet comes with a strong and inert enclosure that houses a single forward looking 250mm (10 in.) bass drive unit.
Looks are very important in this system and the KEF engineers managed to create a subwoofer that is shrank compared to an average subwoofer design but still manages to keep a level of performance that you would expect from a larger unit. It also comes with KEF's SmartBass "connect and go" technology for simplicity when setting it up.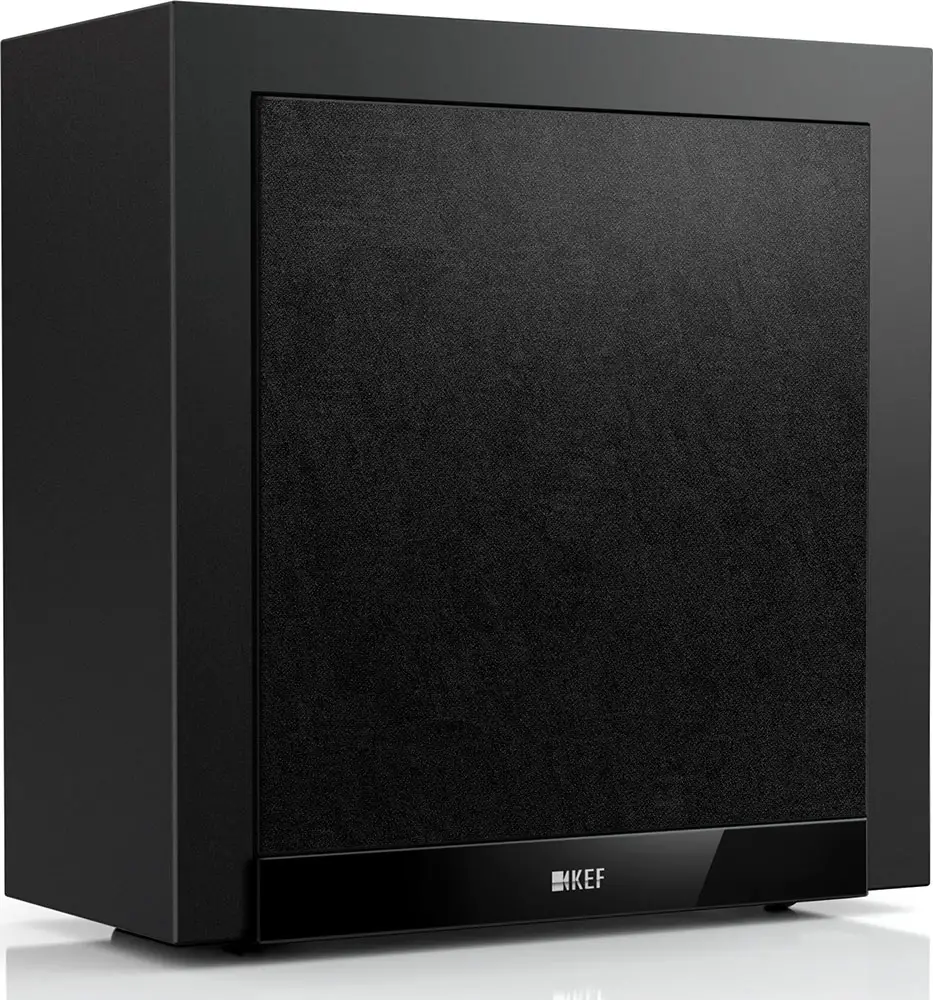 If there is one thing that we didn't like about the subwoofer was that all connections and controls are located at the bottom of the unit and this could not be a more frustrating place to put them on as you will have to turn the subwoofer sideways every time you want to make some change.
The T205 is the epitome of home theater design. KEF knows how to make slick looking speakers and with the T series they put all their knowledge into create what is surely a one of a kind design that certainly turns more than a few eyes in it's presence. Now if they manage to perform as good as they look is still up in the air but at least in the design department the KEF T205 managed to get top scores.
Internal Hardware
And if the design and general looks of these speakers is one part of the equation the other is definitely the hardware that hides inside. KEF went through a lot of trouble to create the necessary driver units that would fit in such a slim design and managing to do so is a small engineering miracle. But let's see what each speaker comes with.
The two front T301 speakers feature a two and a half way design and under the clothe grille we get two 115mm (4.5in.) dual layer mid-range drivers along with a single 25 mm (1in.) aluminium tweeter for the high frequencies. The exact same configuration is used in the center T301c speaker while the smaller T101 surrounds use a two way design with a single 115 mm (4.5in.) dual layer mid-range driver unit and a 25 mm (1in.) aluminium tweeter.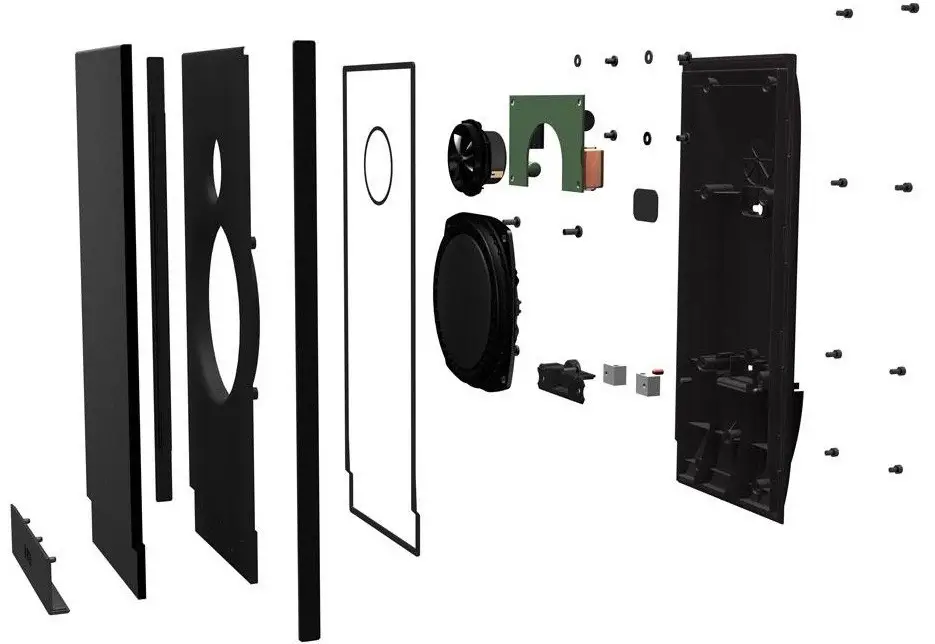 Now as far as the drive units is concerned a lot of finite element analysis (FEA) computer modelling has been used in order to create these in order to be able to not only fit but also perform according to the high standards that KEF has. The mid-range driver measures only 27mm deep which is amazing.
For the T series KEF had to rethink the design of the driver and as such their new design evolved around three major elements. The new driver uses a twin layered radiating diaphragm which allows it to move withing it's allowed frequency and only occupy a mere 5 mm depth. A Z-Flex surround helps the diaphragm to maintain it's pistonic motion while it's smooth form surface minimizes coloration of the sound from the tweeter.
Lastly a traditional mid-range driver consists of a cone, a voice coil in a magnetic gap, and a suspension attached between them around the voice coil former. All these require a minimum depth in order to work properly. Using a concentric suspension allowed KEF to create a cone with the same diameter but with much less depth than a conventional driver.
As for the high frequencies KEF used a new vented tweeter with a diameter of 25mm which is bigger than what we usually find in similarly sized speakers. Except from the bigger size the tweeter is also using a venting system into the rear of the tweeter magnet system that seems to be the same as in KEF's Reference series. Also very characteristic is the Tangerine Waveguide that sits on top of it and is responsible for better dispersion on the top end.

The front, center and surround speakers all have a frequency response of 80Hz – 30kHz, crossover frequency of 1.7kHz and 8 Ohms of impedance. The fronts and center have 110dB of maximum output which is a bit lower at 107dB for the surrounds while sensitivity goes as high as 91dB for the fronts and center and 90dB for the surrounds. These numbers are for wall mounting them, while these numbers are lowered by 3dB if you decide to put them on a stand.
For last we left the subwoofer which may not look much on the eye but is a small beast for sure. Under the cloth grille we get a 250 mm (10 in.) front facing driver in a closed box design. The general consensus is that closed box designs fit better for music so we will put it to the test to see if this holds true. The driver is powered by a highly efficient 250W Class-D amplifier which is very good for a subwoofer with such a small footprint.
The subwoofer has a frequency range of 30Hz – 250Hz with 110dB of maximum output and a fixed 250Hz, 2nd-order low pass filter.
Connectivity
Creating this slim design meant that the T series could not use the usual binding posts we find in almost all high quality speakers. As such KEF has changed the connections and incorporated down-facing holes and allen screws for tightening either bare wires of some kind of plugs that can fit them.
On the other hand the T2 subwoofer is using the usual RCA phono socket that most common subwoofers are using to connect to an amplifier or AV receiver.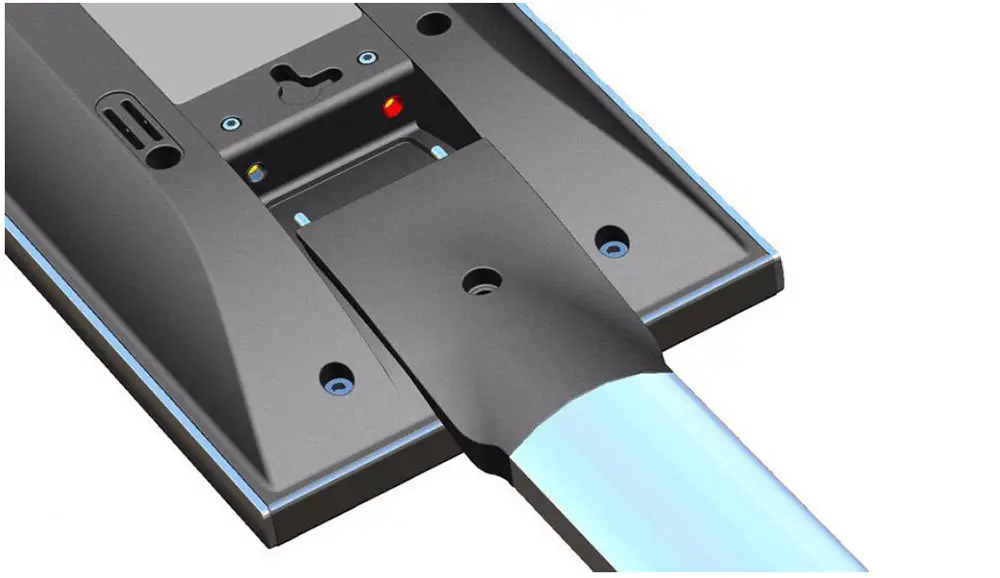 Extra Features
In general a speaker behaves differently when placed on a wall and when it is positioned in free space. So how do you balance a speaker if you don't know how it is meant to be used? KEF has found an ingenious way to do it. You see with their slim design the T series speakers are mostly meant to be wall mounted. After all why you would by such speakers if you are not going to take advantage of their design, right? So KEF has balanced them to perform the best when wall mounted.
Now in case you want to put them on a stand KEF has created what they call the Selecta-Mount. These at first look may seem like your usual speaker stands but they are not exactly. In order to adjust the balance when "off-wall" they have placed an extra filter section that sits before the speakers crossover network. This way KEF can "switch" the speakers to a "free-space" balance in order to perform the best that way.
This way to get optimal performance as the speakers inherently know that they are now in open space mode. Amazing solution and shows how much thought KEF has put into the series. Unfortunately these stands are optional and will cost you an extra $350 which raises the already high price of the speakers.
But if you want to place them on some furniture there are table-top stands to use that are easy to assemble and screwed onto the speakers.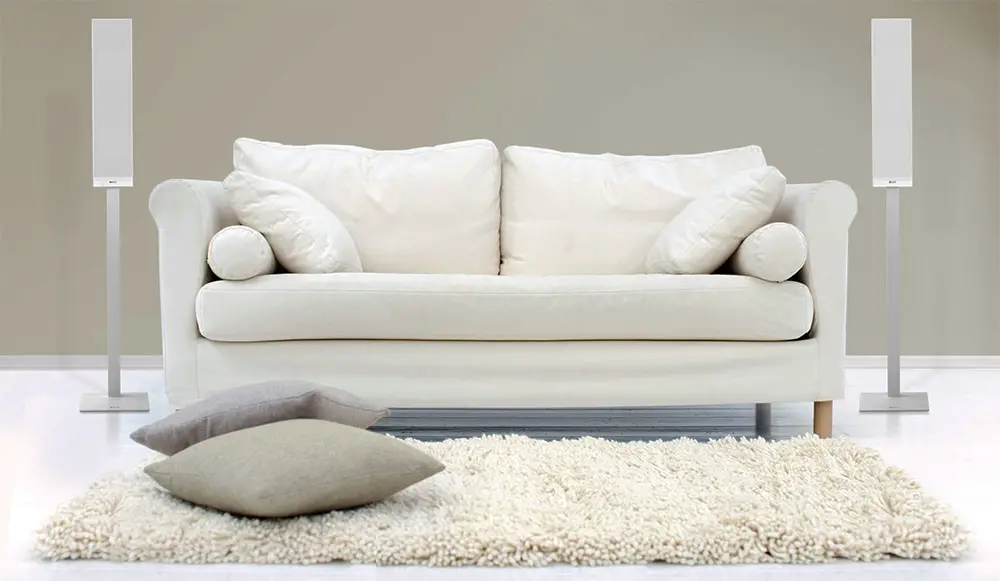 Performance
For our testing we placed the two front speakers on each side of our TV on a small furniture using the table-top stands while the center speaker was placed on an open cabinet below our TV. In a similar fashion the surrounds were also using their table-top stands for this review.
As this is only a basic 5.1 channels setup we decided against using any Atmos speakers in order to check how the system behaves by itself without any other additions. After making all necessary calibrations through our Onkyo AV receiver we were ready for our movie testing.
Movies
For this test we decided to go for the 4K UHD of Jurassic World which features a heart pumping DTS:X mix. The nature of the film favors very much the low end as well as environmental effects and the overhead layer mostly complements the main action so the omission of any overhead speakers wouldn't show so much in our case.
One of the first impressions you got while listening to the T205 system is how powerful and crystal clear the sound is. It's a little strange to be honest the first moments you hear them as you would expect something completely different from such slim speakers. From roaring dinosaurs, the trumping of the T-Rex footsteps or the many environmental effects the T205 may be a simple 5.1 channels system but it is loud, authoritative and put you front and center without holding anything back.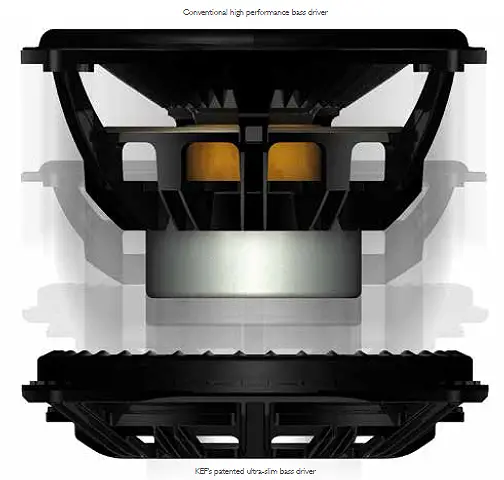 First of all the front soundstage felt fulfilling and with great volume. We cannot stop to emphasize how the sound wall in front of us expanded far beyond the physical limits of each speaker contributing to the overall immersion bubble we were placed in. The center channel kept pumping out clear and distinct dialogue that never felt overshadowed by the rest of the action or overlapping with the other audio effects.
The surround speakers, although smaller in size, were able to deliver the over-the-shoulder activity necessary in order to create immersion you would expect from a dedicated surround system. Jurassic World is the perfect film for this as there is a lot of ambient activity both in the jungle scenes with a lot of usual animal jungle sounds as well as in the command center where various technical equipment and computers were indicating their function.
And while the satellite speakers were able to deliver the necessary immersion it was the subwoofer that really brought everything into life. Every time Indominous Rex was on screen it's footsteps kept shaking the walls of our room while the all time favorite T-Rex roar will surely made a few neighbours upset. The sub has a lot of punch for it's size while it managed to dig deep without the bass feeling muddy or loose focus.
One thing that impressed us a lot is how good the T2 subwoofer integrated with the satellite and center speakers. In many cases it is easy to distinguish where the main speakers stop and the sub takes charge but in the case of the T205 system both integrated seamlessly. Almost you couldn't understand when the one stopped and the other started showing how good work KEF did in balancing all these speakers together.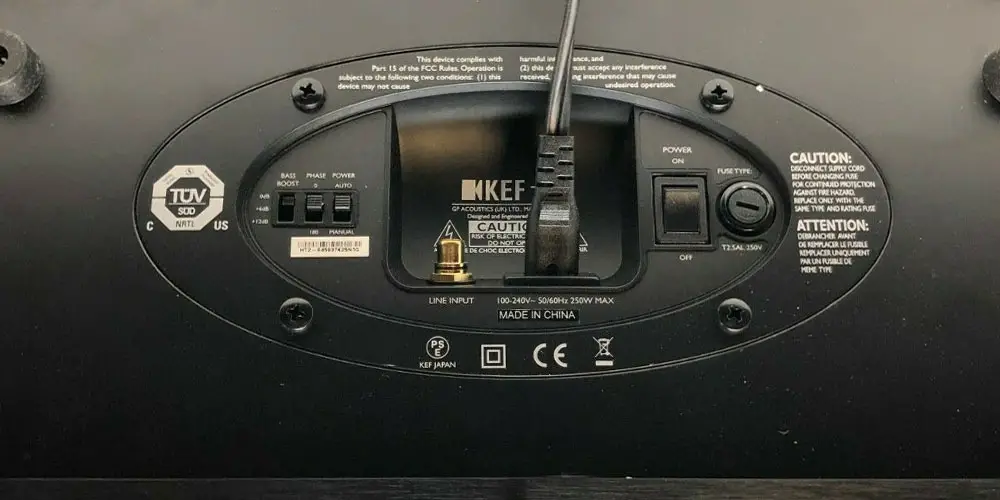 The whole system managed to show excellent channel separation while we didn't felt any lagging during fast channel shifting. In general we were amazed how much such a simple 5.1 system managed to keep us on the edge. In an age where anything less than a Dolby Atmos performance feels flat and uninteresting it's nice to see that even such a simple surround system can provide the kind of excitement and immersion someone deserves when paying such a high price.
Music
Next in line was our music test as we decided to stream a few FLAC music tracks through our AV receiver. Keep in mind that the whole T205 has been balanced in such a way so all speakers can do their part. Take one out like the T2 subwoofer for example and the resulting sound feels flat and uninspiring. As such the complete 5.1 system was used at all times and it's better to keep it that way for the best possible outcome.
The KEF speakers were able to give us a very smooth and natural sound that may never felt extremely detailed like some other speakers but they had a texture that you will start to get used to after a little while. Sound imaging of the front speakers was very good while the music stage felt alive and kicking with the subwoofer hitting the lows with exceptional power and rhythm. The music instruments were nicely refined and clearly positioned in space.
We liked very much how balanced the mid-range was while the highs never sounded very intrusive, something that can create ear fatigue. And if you add to that the very controled low end we got a remarkable performance from such a system. If you like your movies but also want good quality music reproduction the T205 has certainly got you covered.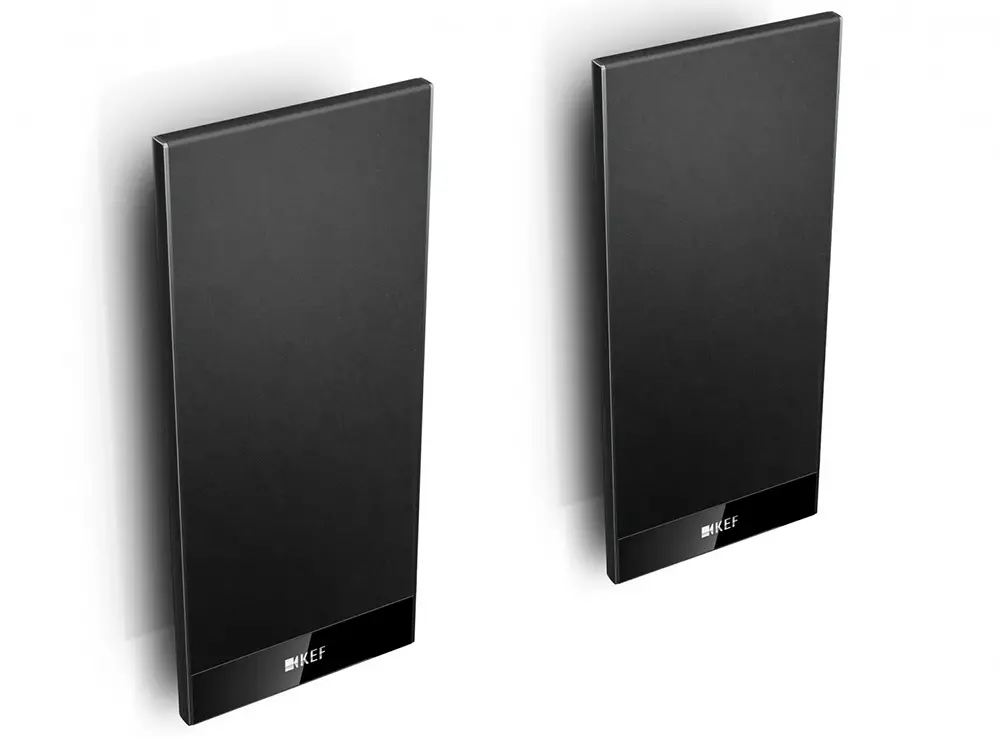 Final Thoughts
When we started this review we really didn't know what to expect from such a system. After all it's not everyday that you test speakers that are so unique as those in this system. KEF had a real problem to solve. To design a home theater system with speakers that would be as slim as a flat TV but perform similarly to full sized ones. And if this in theory sounded impossible KEF found a way to come really close.
Does this mean that the KEF T205 performs the same as a system with full sized speakers? Well this depends on how you see it. The sound does feel a bit different and this most probably has to do with the different cabinet design. But in no way it feels inferior to many full sized speakers we have tested lately. The system was able to reproduce very clear and distinct sound with a very natural and smooth tone while the sum of speakers created an amazing atmosphere both in our movie testing where the environmental immersion was very powerful as well as during music as each sound made the stage come to life.
It was very obvious that all the speakers were designed to work as a whole and taking anything out would throw it off balance but KEF made sure to create a very dynamic whole with every speaker knowing it's own capabilities. Very impressive was how the subwoofer integrated with the rest of the speakers to the point you could almost not understand the transition.
Having left us with so good impressions is there anything bad to say about it? Well, first of all the price for a basic 5.1 channels setup can be a bit too much for many. It's quality may reflect it's price but when there are far more cheap systems out there many users will think twice before spending so much. And if you want the floor stands also prepare to spend even more on this. Lastly we didn't like the subwoofer controls that for some reason are positioned at the bottom of the unit which makes a very odd decision to do.
Closing what we can say is the KEF T205 is really an amazing system. KEF created a sum of speakers that are a marvel to look at and performed just as good as many full sized counterparts. Obviously there are better performers out there but if you consider the kind of sound you will get from these it's totally jaw dropping. If you are looking for speakers that take just a fraction of space and will give you a totally awesome performance then there is no better option than this. Highly recommended.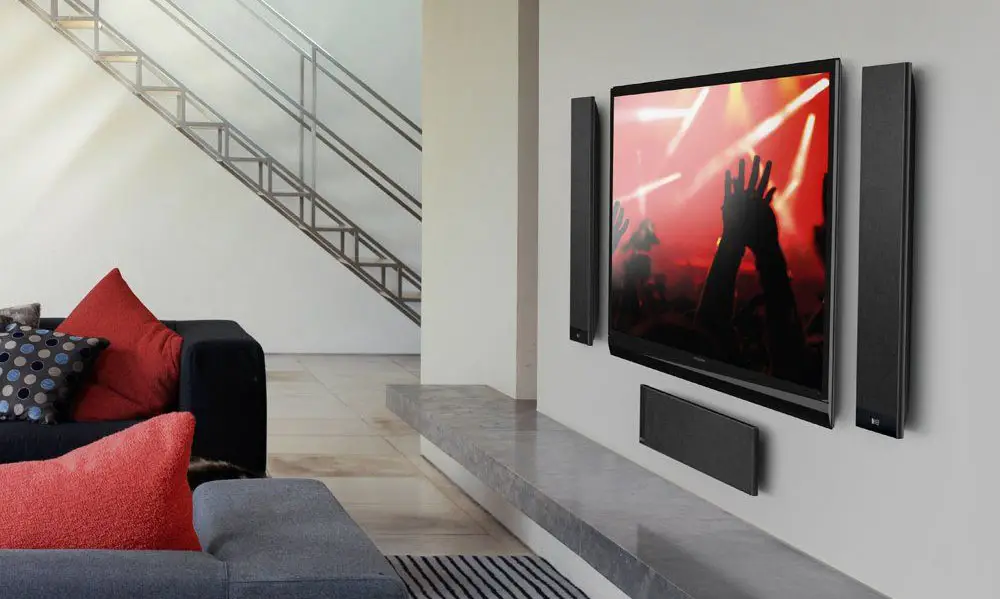 For more reviews you can check our dedicated Complete Home Cinema Speakers reviews list or even look at our Product Reviews Table where you can find the brand and specific product you are looking for.
Also don't lose the chance to subscribe to our Newsletter and gain exclusive privileges.
---
Cheapest Places to Buy :
---