Klipsch RP-5000F
Design -

94%

Movies performance -

91%

Music performance -

91%

Inputs and Features -

95%

Price / Quality -

92%
---
Cheapest Places to Buy :
---
If there is one thing in abundance in the home theater arena is the number of speaker brands available giving the consumers a lot of flexibility when it comes to choosing the kind of speakers they are looking for their home entertainment. And while there are many big names and known brands in the field one that constantly sits at the higher positions among consumer preferences is no other than Klipsch as they have managed to become a fan favorite with their horned based designs. Today in our Klipsch RP-5000F review we will be looking at a floorstander that belongs in their Reference Premiere series and see what it has to offer.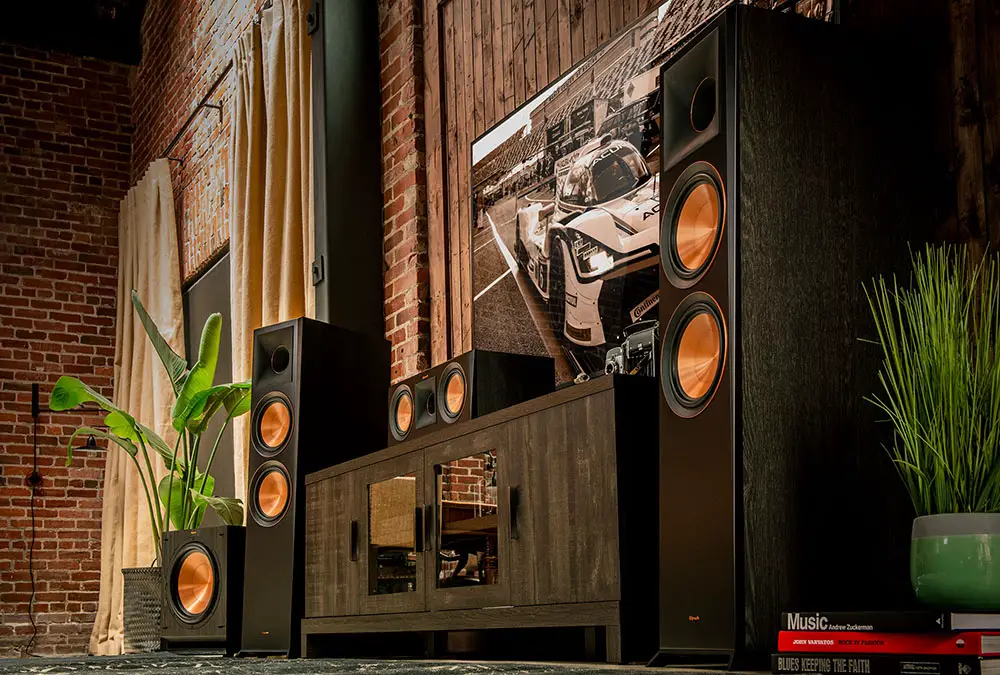 When it comes to Klipsch they really don't need much introduction as they have been in the field for over 70 years and in a way have mastered their horned based designs which has been the basis for all their speakers over the years. As for the RP-5000F, this is the second smaller floorstander in the Reference Premiere series which was designed to offer cutting-edge technology but at an affordable price making the RP-5000F managing a perfect balance between performance, size and cost.
Klipsch made sure to create a very extensive series that includes 5 floorstanders, 3 bookshelves, 2 surrounds, 1 atmos module and 5 center speakers. As you understand from the numbers given Klipsch takes very seriously their Reference Premiere lineup and made sure to include a huge amount of sizes that would cover almost all needs. But it's not only the numerous speakers available but also the technologies that come with them that include special Titanium LTS vented tweeters, tractrix horn technology and Cerametallic woofers giving them the distinct Klipsch look that many have fell in love with over the years.
But as always it may be nice to throw some fancy names and exotic technologies around in order to impress but its their real performance that matters the most and this is what we are here to determine. So without further delay lets start our analysis.
Design, Inputs and Features
Exterior
The RP-5000F may be the second smallest floorstander in the series but it still comes at a considerable size and will certainly make its presence felt in the room. With a size of 36.12" x 8.21" x 14.38" (917 x 208 x 365 mm) and a weight of 37 lb (16.8 kg) this horn based speaker could be classified as a medium sized floorstander that in general can be used in both small and medium sized rooms and this kind of flexibility ups their value considerably.
One crucial element when it comes to floorstanding speakers is their design and the RP-5000F is using a bass reflex cabinet via the rear-firing Tractrix port. Now one thing to consider is that while all speakers in general are affected by how close you place them to a wall these floorstanders with rear air ports are affected even more by this making the need for more breathing space around them a necessity. Placing them near a wall will enhance the low end in the expense of overall clarity and resolution so in case you are pretty limited in space the RP-5000F may pose some difficulties finding their best performing position.
When it comes to the cabinet construction the RP-5000F are really magnificent especially if you think of their price. Klipsch has put a lot of care into creating a tower that looks good and feels premium and solid in order to perform according to the standards the company has set over the years.
The RP-5000F include ebony and walnut models that boast satin painted baffles with a scratch resistant finish, while the premium piano gloss cabinet is hand-sanded for a clear, mirror-like finish. The mirror-life piano gloss finish is seamless due to the meticulous hand sanded and hand polished process.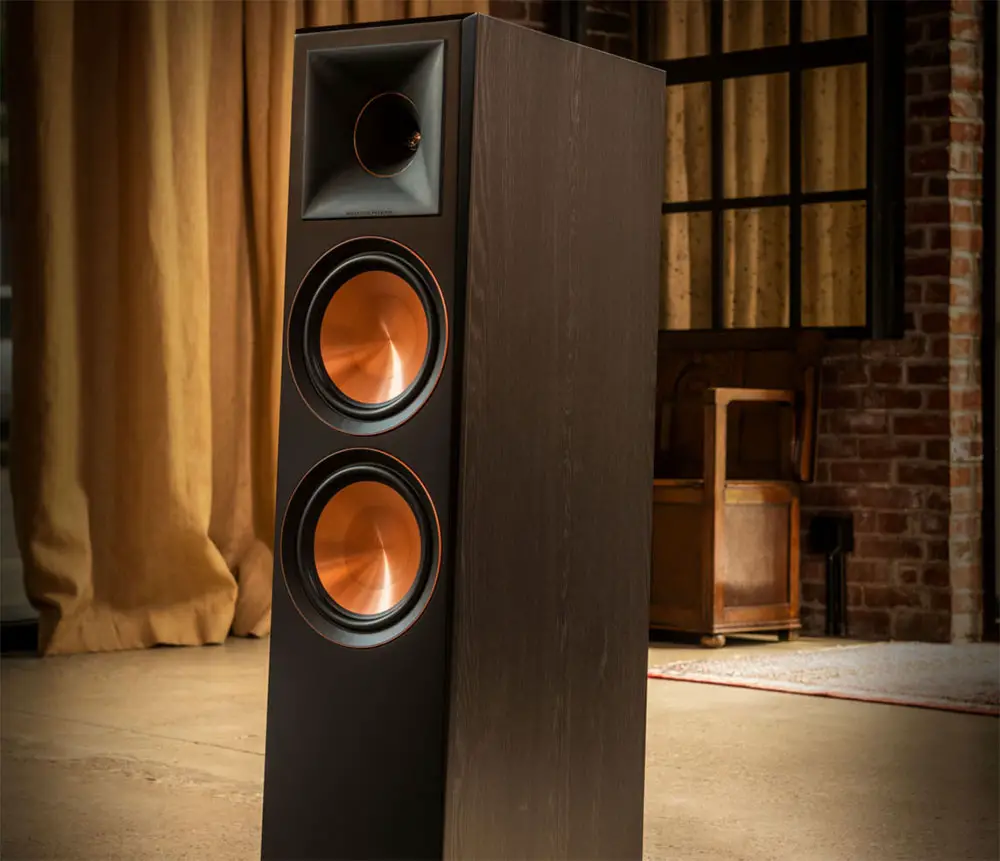 The front baffle has the characteristic Klipsch look and if you have seen their designs then you immediately know what we are talking about. Covered completely by a full frontal grille that attaches magnetically for an elegant transition from powerful showstopper to discrete performance piece. Obviously having a Klipsch speaker would be a shame to use it with the grilles on but nevertheless the option is there for you to choose.
It's when you take the grille out that the speakers really shine and show their beauty with the horned based tweeter at the top being accompanied by two 5.25" Cerametallic cone woofers below. The sight is unique and we will never get bored of looking at the unique sight a Klipsch speaker offers. At the bottom a small logo complement the overall look.
Turning the speaker around we find the wire terminals at the bottom, as usual, in a small inset while above we get a single Tractrix port which is another proprietary Klipsch technology. The Tractrix ports Klipsch uses are different than normal air ports that we see in most other manufacturers as their size is bigger and are perfectly matched to the cabinet and woofers, creating ideal airflow with minimal distortion or turbulence even at the lowest frequencies.
Utilizing Tractrix geometry, the Reference Premiere ports allow for the most efficient, fastest air transfer from the cabinet, which reduces port noise for punchier low frequencies. Klipsch Tractrix ports have custom designed inner flares that help reduce air turbulence entering the port. Less turbulent air helps reduce port noise for cleaner, more powerful bass.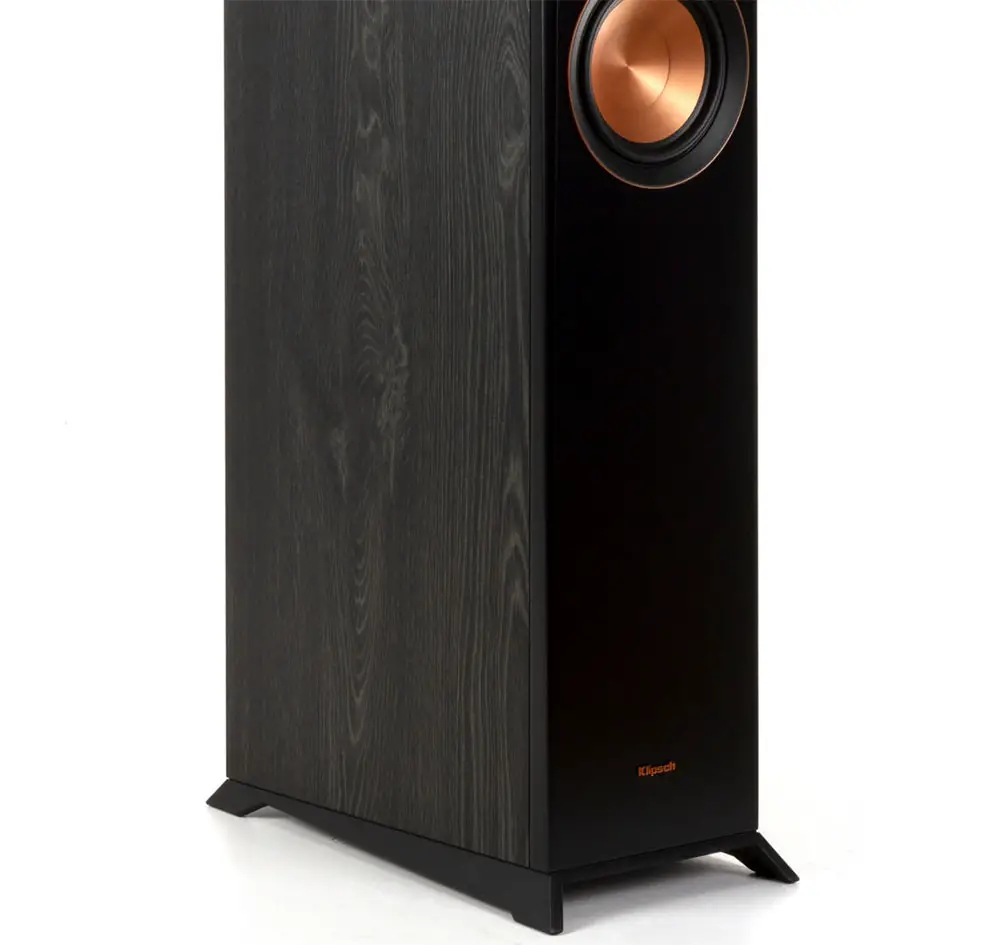 The RP-5000F comes with cast aluminum feet and provide a more modern look with less resonance than MDF or ABS plastic. It is mechanically designed to minimize surface area in contact with floor, decoupling the speaker for faster, tighter low frequencies and more detail.
To be honest there are not many people we know that don't love the look of a Klipsch speaker and the RP-5000F is no different. They certainly look far more expensive and premium than they really are and certain details like the copper anodized trim rings, cast aluminum feet, satin painted baffles and a laser etched logo treatment give the Reference Premiere series a modern, premium look.
Internal Hardware
And while it's nice to have some good looking speakers it's what is inside the cabinets that really matter and can make or break a speaker.
The RP-5000F uses a single high frequency tweeter at the top of its array along with a couple of 5.25″ woofer for the mid/bass frequencies. What is very impressive with this setup is that Klipsch has managed a 96dB sensitivity which means that the speaker is extremely efficient as it asks for less power for any given volume compared to most of the competition. How is this accomplished? Keep reading to find out.
First of all for the high frequencies Klipsch has used a 1" Titanium LTS vented tweeter with Hybrid Cross-Section Tractrix Horn technology. Horn loading maximizes efficiently and increases detail while focusing high frequencies towards the listening area. Proprietary Tractrix geometry provides the most efficient transfer of high frequency waves into the listening area. The phase plug and compressed molded silicon face ensure smooth frequency response. When combined, the cleanest, most natural sound possible is created.
The exclusive Linear Travel Suspension (LTS) minimizes distortion for enhanced, detailed performance. LTS tweeters are a hallmark of previous Reference lines, making it a core component of some of the best speakers in the world. The new vented tweeter housing reduces standing waves that create unwanted harmonics, resulting in enhanced detail and clarity in high frequency reproduction.
This tweeter is complemented by dual 5.25" Cerametallic cone woofers which are another very characteristic Klipsch element. A signature feature on the Reference Premiere series, Cerametallic woofers are exceptionally rigid and lightweight for minimal distortion and maximum efficiency. When paired with the Tractrix horn-loaded LTS tweeter, it provides the highest speaker efficiency in its class.
The combination of the Titanium LTS vented tweeter along with the dual 5.25″ Cerametallic cone woofers give the RP-5000F a frequency range of 35 – 25kHz with 8 ohms of nominal impedance, an impressive 96 dB (2.83V@1m) of sensitivity while the crossover frequency has been set at 1800Hz.
Connectivity
As we mentioned earlier the RP-5000F floorstanding speaker features dual input terminals so you can bi-wire or bi-amp your speakers for a custom, high-performance experience. With the available terminals you can either use bare wires or various plugs including spades or banana plugs if that is your preference but for these you will have to remove the seals that almost all speakers come with lately.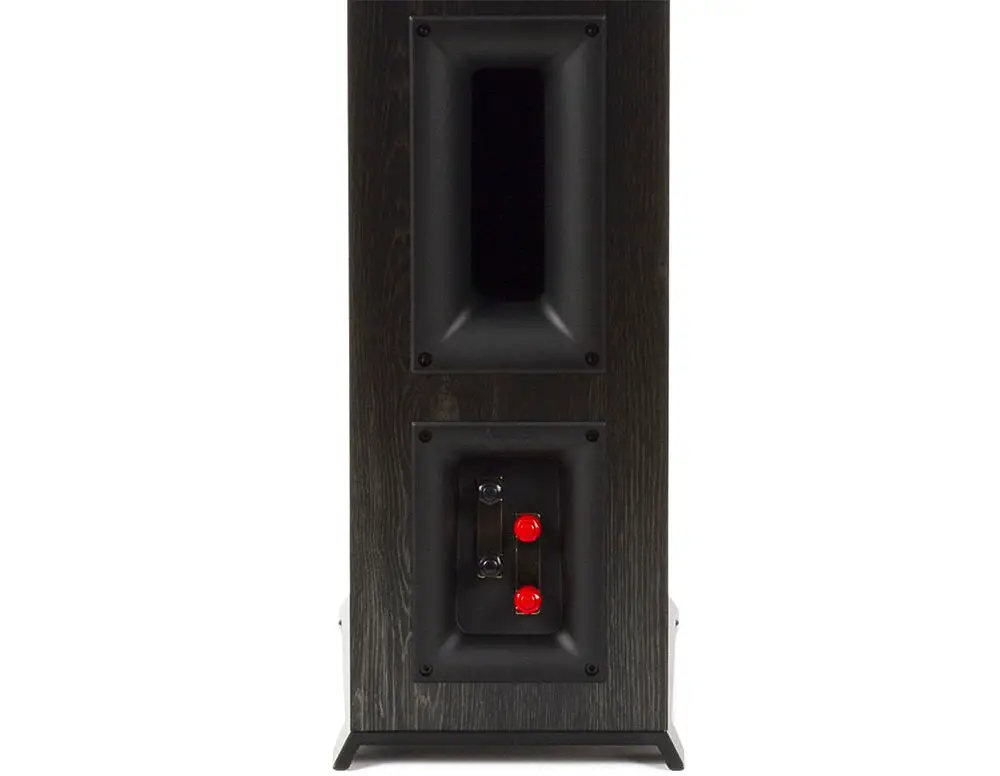 Performance
Unpacking was pretty straightforward as the speakers come with the stand pre-installed while their size and weight makes it easy for one person to handle. Klipsch is always pretty careful with their packing in case of bad handling during transportation.
Now as far as positioning Klipsch has included very thorough directions in their manual for those not knowing what a good speakers placement is but as always these are general guidelines and each room has its own acoustics so it really depends heavily on you to try out different positions and see what you like the most.
In our case, as we always do in these reviews, we left about 2 feet from the back wall in order to give them slightly more breathing space. Distance between the two speakers was around 9 feet while we like to toe-in them to our viewing position for better sound imaging. Keep in mind that placing the speakers near a wall will increase its bass output while lowering its overall definition so finding the best balance is always crucial.
The RP-5000F we tried were relatively new and were still in their break-in period so we were sure that with enough time we would get much better results than what we got during our limited testing. As a reminder most manufacturers suggest between 50-70 hours of break-in time before speakers can reach their peak performance but we always suggest to keep this limit at 100 hours to be completely sure of what you hear.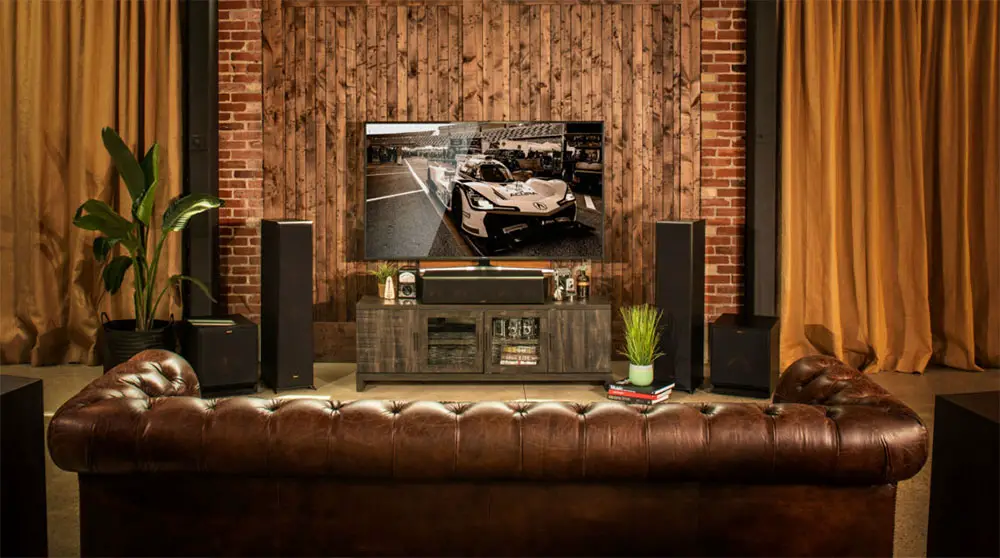 Now as far as our testing is concerned, for our movies we like to use a simple 4.0 channels surround system with only two front channels and a couple of surrounds and the reason for this is because we can easier determine how the front speakers can cover the omissions of a center speaker and a subwoofer. Weaknesses become more pronounced and although this would not apply to any real home theater system as almost all of them would have both a center speaker and a subwoofer we are here to determine specifically the characteristics of the two front channels and at least for us this is the best way to do so.
On the other hand when it comes to our music testing we like to go for a pure 2.0 channels system with only the two front channels as this is the way that most music purists tend to go with. Now after all necessary connections and calibrations with our Onkyo AV receiver we were ready to begin.
Movies
For this test we made an exception and instead of choosing one of the available 4K UHD discs in our collection we opted to try out Greyhound that is available through online streaming in Apple TV+ platform. The film is an amazing World War II era film showing the agony and hard times Allied ships had when travelling through the Atlantic Ocean full of supplies in order to help England with their struggle against Nazi Germany. The film features a totally immersive Dolby Atmos mix and we were eager to see how the RP-5000F would deal with it.
The film is pretty constraint when it comes to its set pieces as most of the action is taking place aboard the USS Keeling, radio call sign Greyhound, but there is so many moments of high intensity that will literally keep you at the edge of your seat almost until the credits roll. We had the chance to hear the Dolby Atmos mix in a fully fledged Atmos system so we more or less knew what to expect from it and it certainly has a very raw and natural tone to it that fits the era.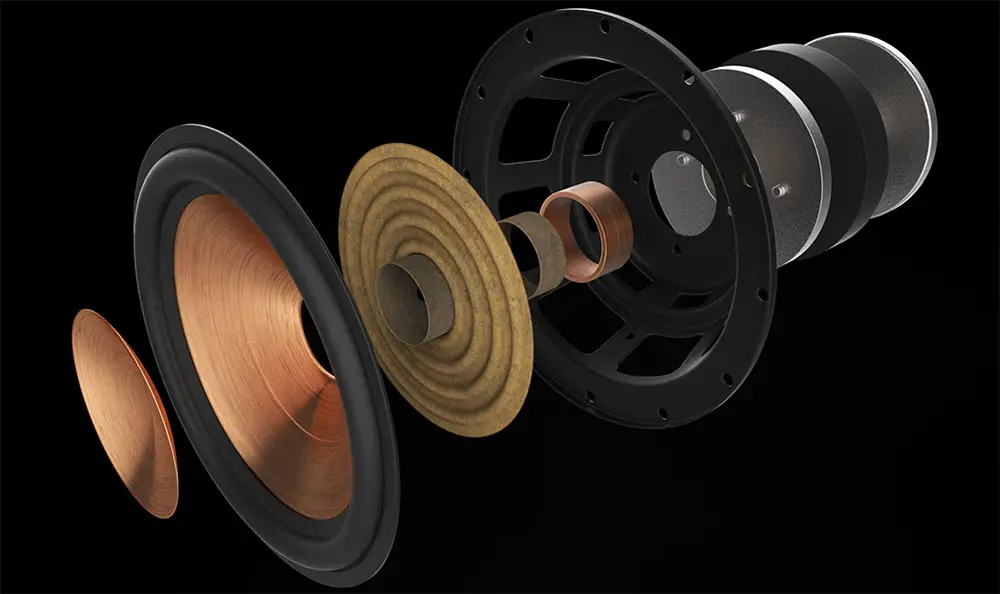 Starting from the front soundstage the RP-5000F did a damn fine job at filling the space in front of us while giving some necessary extension both to the sides as well as in depth that really upped the overall atmosphere. The film is not particularly heavy on Atmos effects and most of the action is front focused so the two front speakers had a lot of work to do and they did a really magnificent work.
Due to the limited communication technology of the era the Destroyer's captain had to constantly talk with his sailors and issue commands during the heat of the battle and in these moments the dialogue came out perfectly fine with no overlapping or mixing with the rest of the effects. We may be missing a center speaker but all dialogue was kept very isolated in the middle although it lacked a bit of depth and precision. But this was not very obvious and the RP-5000F handled everything exceptionally especially if you consider that during busy moments you would hear cannon fire, machine guns, explosions, the water waves as they splashed on the metal body of the Greyhound and a highly tense music complementing every scene all at once.
The speakers can really go loud and the film is the perfect material to test their limits. Even in extremely bothering high levels the RP-5000F were amazingly coherent and we never felt any audible distortion or that there were falling out of balance. The Cerametallic cone woofers of the speakers did sound amazing across the whole frequency spectrum. Loud, dynamic, with plenty of power and prowess but without loosing much on details and resolution. The high end felt exciting and energetic and while there were moments that felt borderline tiring in reality they never crossed that line that would make us feel ear fatigue.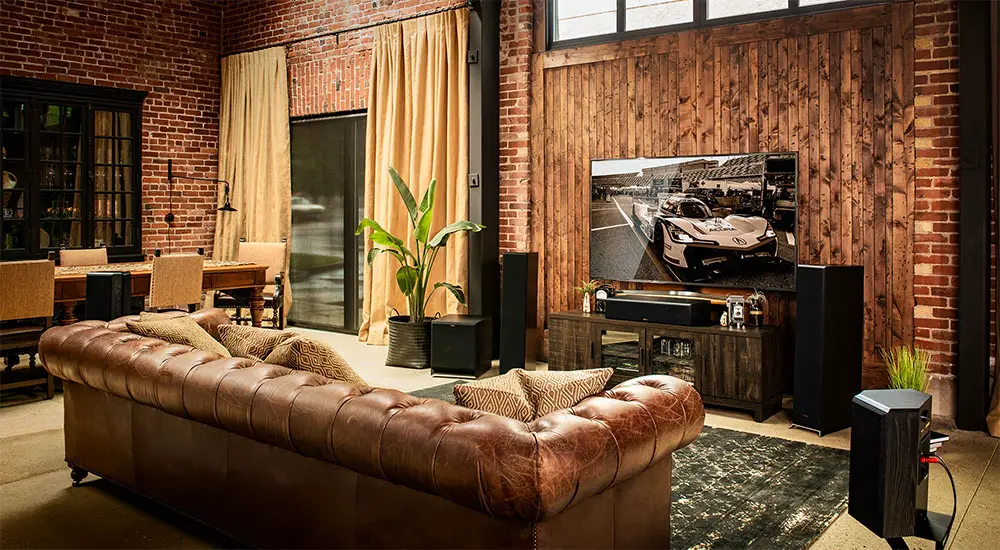 On the low end the speakers can provide a good bass but they cannot give you the sensation of a fully fledged subwoofer obviously. The bass is satisfying for the average scenes but when all hell brakes loose like when the Greyhound throw all of its ordnance on the Greywolf U-boat the cannon fire lacks the raw strength that would give you a real sense of the devastating power of these cannons. For the not so intensive scenes the RP-5000F low end did admirably as the woofers offer plenty of shakes and low frequency action to keep you happy.
For our second testing we always like to go for one of the Lord of the Rings films and for this one we decided to go with the Return of the King and its magnificent DTS-HD Master Audio Track. Soon the 4K films will be here so hopefully we will have a new benchmark to try in our tests but until then we will have to make do with what we have.
Now, although the whole film is reference material we like to skip forward towards the siege of Minas Tirith where we get the best action packed parts of the film and here we start with the charge of the Rohirim toward Sauron's army. One word to describe how the RP-5000F rendered the scene is amazement. The front speakers did an excellent job at portraying the scale of the battle while the horses were galloping and the ground was shaking as the imminent clash between the two armies brought an explosion of sound that was a feast to our ears.
The RP-5000F had little trouble keeping the pace as the battle escalated and all panning effects translated effectively in front of us. Again the front speakers had no trouble to go loud without loosing any cohesion or control and we felt a very natural balance across the whole frequency spectrum. Yes, there were a few misfires in the high end, at least in our ears but nothing that could destroy the overall performance or make you loose focus during viewing.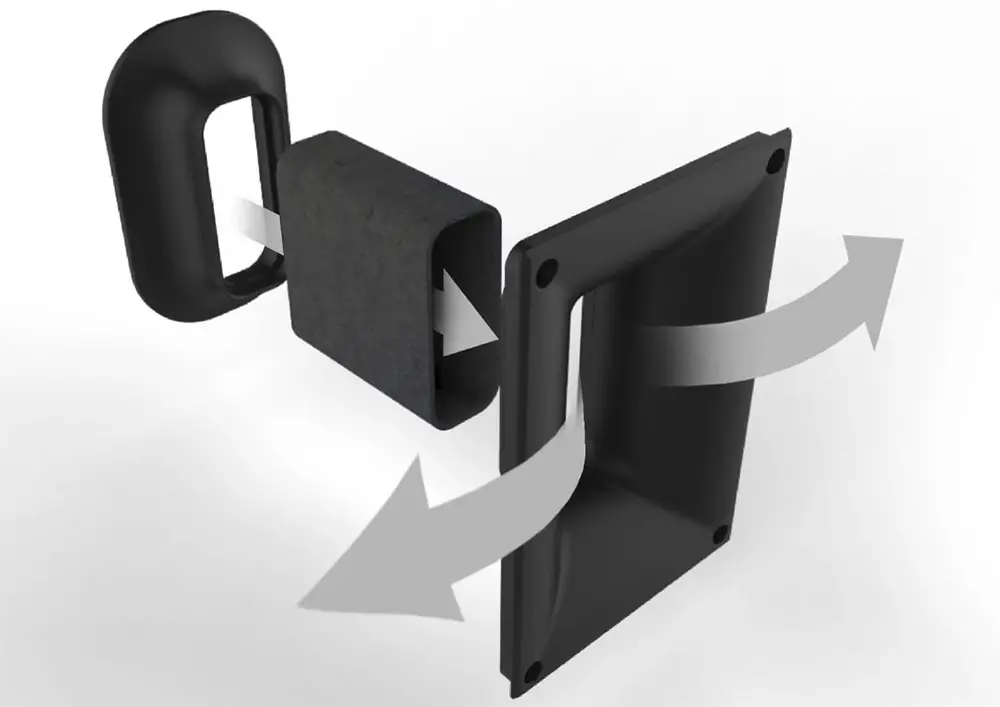 On the low end we pretty much got a similar behavior as before. Good bass, without it feeling muffled or boomy even when you hit high volumes. It will give you a pleasant low end that is adequate to complement the rest of the soundtrack but if you want to really elevate the immersion a subwoofer is a must. But from what we heard the RP-5000F did a valiant effort in this regard. This was particularly evident when the Mumakils appear. The shaking of the ground and the overall bass was good but lacked in weight that would make you feel their real size.
The experience we had with the RP-5000F was sensational. The speakers have no trouble to go loud and can do that without loosing much focus or control. Sound extension was pretty good in all axis and dialogue was clear and distinct even when the action would be front and center. If you are looking for a pair of towers for your home theater the RP-5000F is a perfect example of a speaker that can offer a lot without asking for much and for their price you cannot really go wrong with them. Excellent work Klipsch.
Music
No review would be complete without our music tests so without any delay we switched to a pure 2.0 channels audio setup with only the two front RP-5000Fs connected and we streamed a selection of FLAC music tracks through the front USB port of our Onkyo receiver.
The first thing that we noticed here was how energetic the vocals felt. The speakers rendered them with so much emotion that you could almost feel the performer right in front of you. Amazing transparency and overall presentation which made our time with the RP-5000F a real pleasure.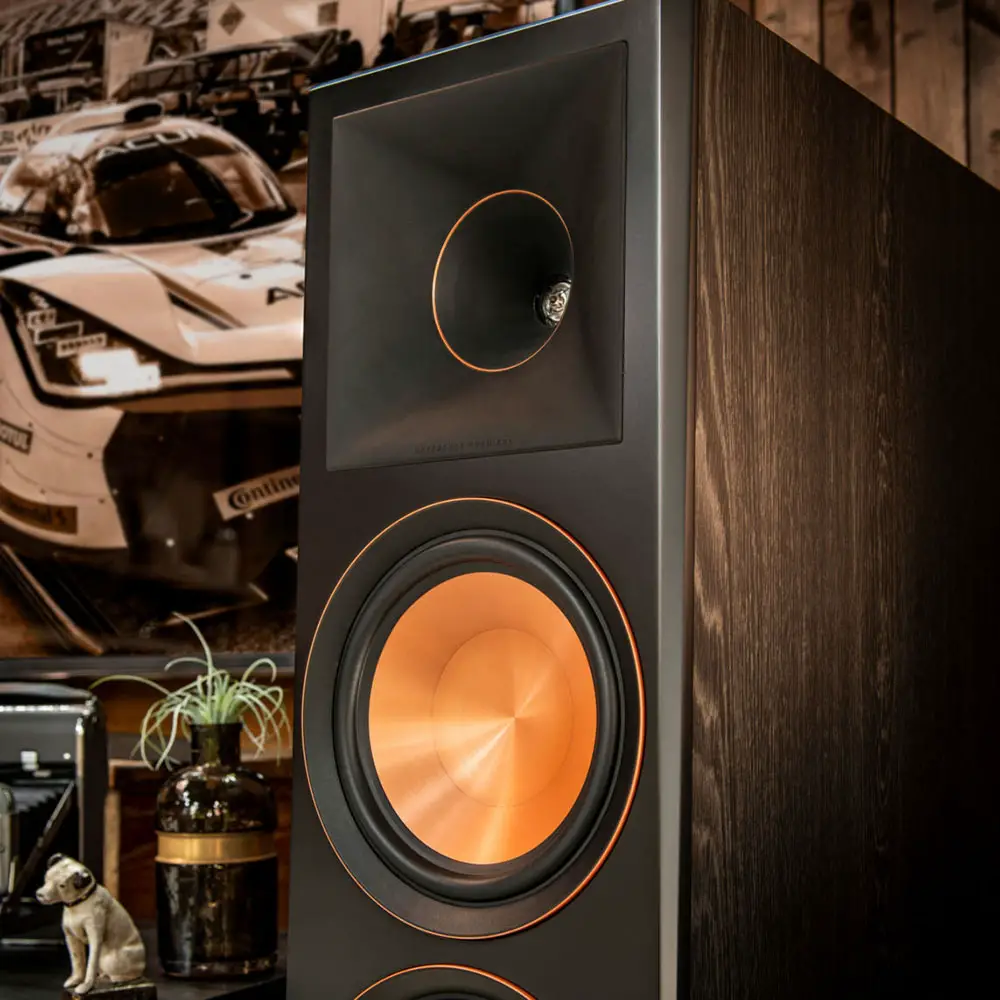 In terms of stereo imaging the RP-5000F did an amazing job as all sound sources were kept isolated and it made it easy to pinpoint their  location is space. Panning effects would transition nicely from one channel to the other with great accuracy and precision while overall audio dispersion was pretty good throughout our testing area.
The high end was impressive with plenty of energy, exceptional clarity and a very playful mood and although we are never very fond of overall exciting highs the RP-5000F never bothered us with their performance. The vented tweeter combined with the tractrix horn really give the speakers a very specific audio signature which is unique in this price.
As for the lows the floorstanders did an excellent job at keeping the pace even with demanding rhythms. The bass of the RP-5000F laid an excellent foundation for the rest of the frequency spectrum with good power, enough volume and good clarity. Dynamic changes on the lower end were very precise with the speakers showing good handling even with songs that needed more special care of their bass output. In terms of music we could not say that we missed a subwoofer, on the contrary we can say that we were pretty happy with how the RP-5000F behaved and if you are not particularly bass hungry they have enough energy to satisfy you.
Closing we can say that the Klipsch is the kind of tower speakers that can reveal a very exciting and energetic side to every song you try on them. They can go loud and they can do that without having to trade volume for resolution. Obviously they have a few weaknesses here and there and some may find their high end a bit too much but overall these are the kind of speakers that can elevate music to a whole new level.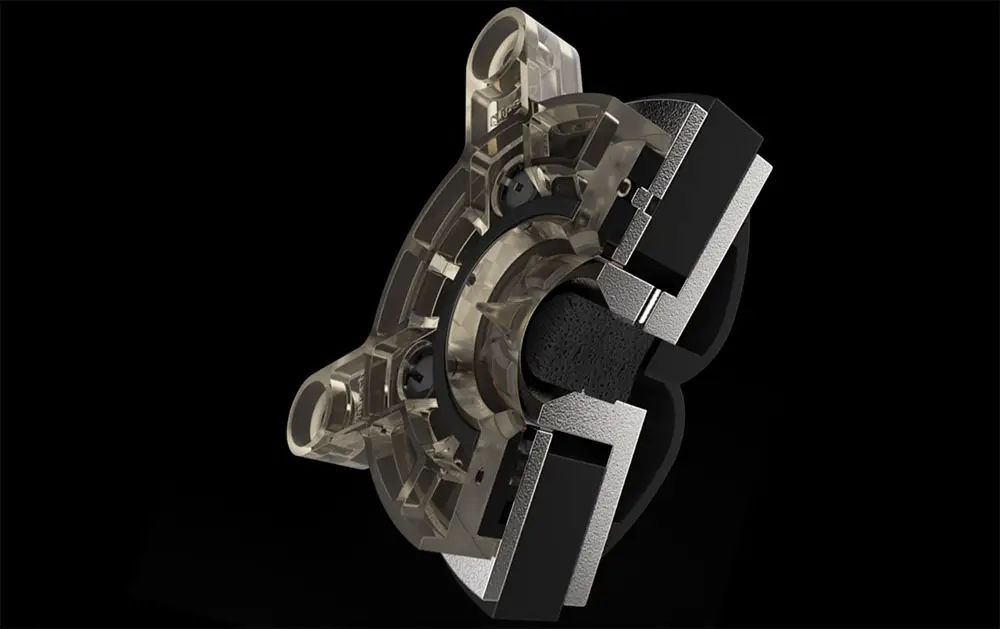 Final Thoughts
What can be said about Klipsch that hasn't already been said. They have been a fan favorite speakers brand for many years and they continue to do so and not without reason. Keeping up with their tradition the Reference Premiere series is here to give you an excellent value for money solution as the RP-5000F strikes an amazing balance between size, power, performance and price.
It would be a shame to talk about a Klipsch speaker and not to mention the beauty and quality of their designs and cabinets. The RP-5000F may not be a particularly expensive speaker but attention to detail certainly make them look far more premium than what they really are. And when it comes to their performance the RP-5000F really shined with very satisfying performance across the board. Very balanced mid-range, with energetic highs and fulfilling lows. Also worthy of note is how loud they can go without loosing cohesion while they did impress with how they handled sound extension in the soundstage.
We really fell in love with the RF-5000F and it's really hard to say anything bad about them. But if we had to find something then this would be the slightly overexciting highs that some may not like and also the speakers are loosing some details when more finesse is asked but this is mostly nitpicking on our part and it was not such an obvious weakness that can subtract from the overall experience. Also the overall look is very Klipsch specific and you either will love it or not as they don't aim for a modern look like some other brands do.
Reaching the end of our review we can only say that we felt so much satisfaction when hearing these towers that really show that Klipsch remains at the top of their game no matter how many years have passed. The Klipsch RP-5000F is the kind of floorstanding speakers that gracefully combine beauty, quality, performance and price and make them ideal for anyone that look for a HiFi experience without the enormous cost that many times this brings with it. And for that reason they get our highest recommendation.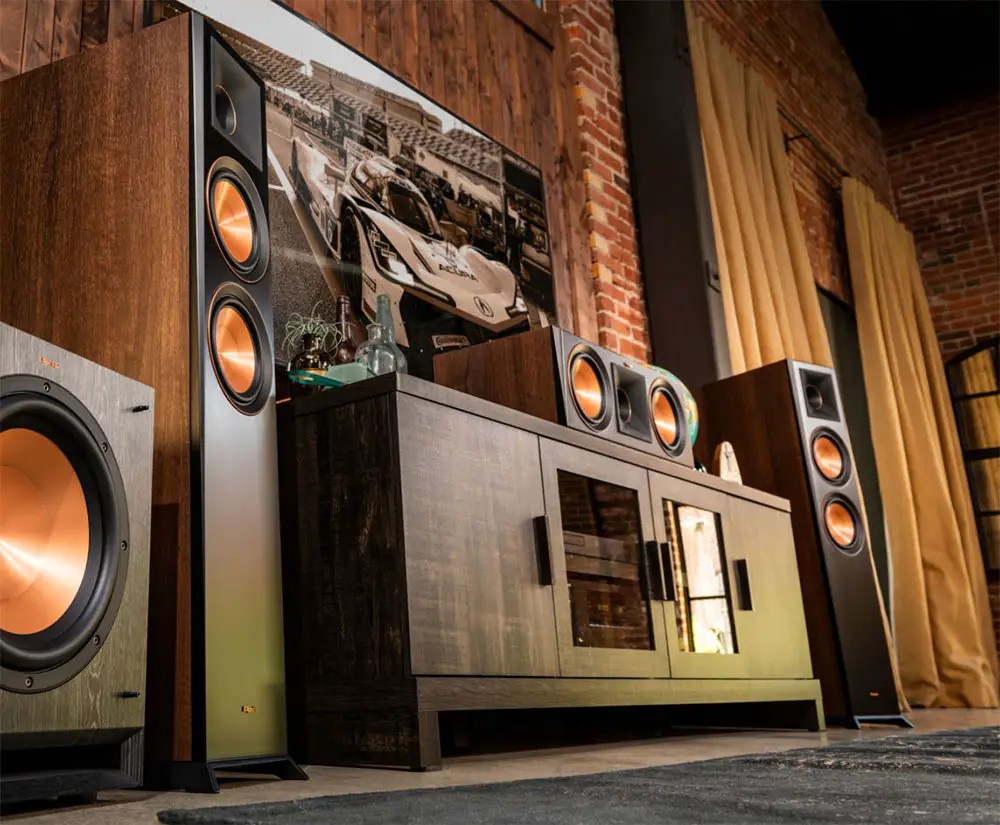 For more reviews you can check our dedicated Floorstanding Speaker reviews list or even look at our Product Reviews Table where you can find the brand and specific product you are looking for.
Also don't lose the chance to subscribe to our Newsletter and gain exclusive privileges.
---
Cheapest Places to Buy :
---
Klipsch RP-5000F Specifications