---
Cheapest Places to Buy :
---
A team of scientists explore an uncharted island in the Pacific, venturing into the domain of the mighty Kong, and must fight to escape a primal Eden.
Plot
*Be aware of spoilers*
Encircled by a gigantic, perpetual and mighty storm system, lies hidden a small uncharted island in the South Pacific, that for many years, somehow, managed to defy discovery, remaining concealed from the outside world. Inevitably, as a topic of legend for many civilizations, the unobtrusive Skull Island not only is notorious for the great number of planes and ships that have gone missing there, but also for the uniquely complex and self-contained ecosystem, where according to mere speculations, time stands still merging effortlessly science with myth.
So, without further delay and with the intention to make ground-breaking discoveries, however, utterly clueless of what would find there, an exploration and research team led by scientist Bill Randa and accompanied by Colonel Packard's squad, will boldly go where no man has ever gone before, completely cut-off from civilization. Soon enough, as strange, reason-defying encounters with magnificent, yet unclassified species baffle the esteemed scientists, one thing will become quite clear: apparently, we humans, never owned this blue planet.
Directed by
Jordan Vogt-Roberts
Produced by
Thomas Tull
Mary Parent
Jon Jashni
Alex Garcia
Screenplay by
Dan Gilroy
Max Borenstein
Derek Connolly
Story by
John Gatins
Production Company
Legendary Pictures
Tencent Pictures
Distributed by
Warner Bros. Pictures
Starring
Tom Hiddleston
Samuel L. Jackson
John Goodman
Brie Larson
Jing Tian
Toby Kebbell
John Ortiz
Corey Hawkins
Jason Mitchell
Shea Whigham
Thomas Mann
Terry Notary
John C. Reilly
Running time
118 minutes
Author's review
It seems that they always find a way to bring back the big ape on the big screen this time in the way of "Kong: Skull Island". Over the years there have been many different versions of King Kong, the last big effort being Peter Jackson's King Kong in 2005. Coming hot from his Lord of the Rings epic trilogy, King Kong was a great spectacle even if not the huge success the production studio was hoping for. After that it came a 12 years hiatus before we could see another movie starring the famous ape.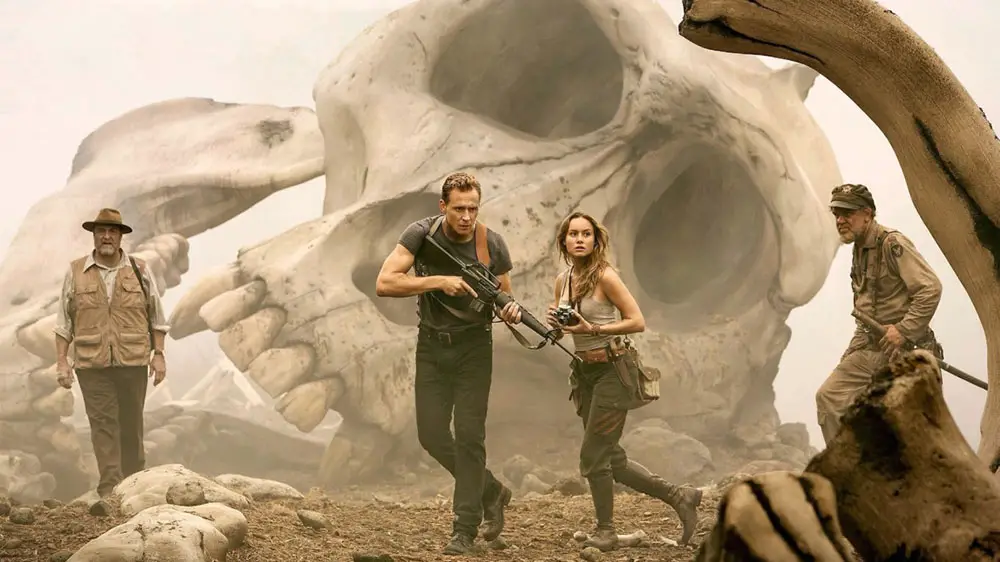 The 2017 film doesn't have any connection with the previous film or any of the other King Kong films in the past as it seems the studio decided to go for a reboot using new characters and creating a completely fresh story. This time they chose 1973 and the Vietnam era where a group of soldiers along with a scientific group were tasked with mapping an unknown island. While the story is nothing new or special it is sufficient to keep the action going and of course it offers a realistic reason to place these people in this uncharted territory. Of course you cannot expect anything more from a blockbuster action movie but after so many King Kong movies I would like to see a more interesting story about the big ape.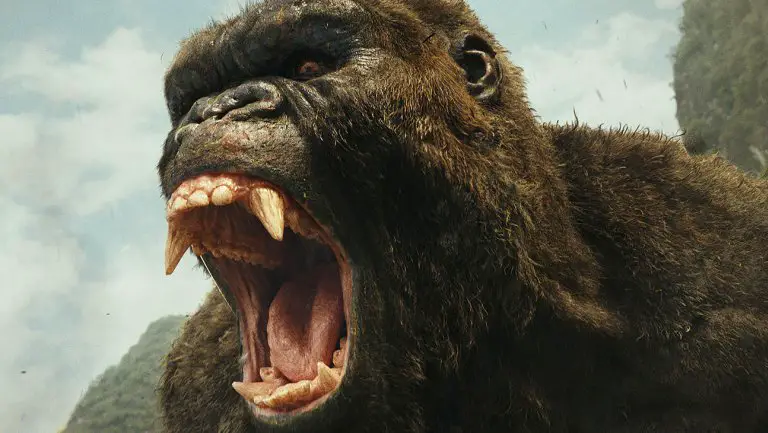 Of course sending a group of soldiers into the island ensured we would have a lot of cannon fodder and this becomes very evident from the very first minutes the expedition arrives on the island with King Kong raining havoc upon the helicopters armada. Most of the characters are completely forgettable and this was to be expected but we have a few characters that really rise above the rest. First and foremost Samuel L. Jackson's character as Colonel Packard. I mention him first because I liked that as the film progressed his character was balancing between military discipline and outright insanity and although his character is considered the bad guy of the film this characteristics make him so much more interesting.
Hiddleston also acts very good as British Special Air Service Captain James Conrad . For an actor that is mainly known as playing Loki in Marvel's cinematic universe he gives his character the necessary weight to be the main protagonist of the film but also to make him look capable of confronting Colonel Packard throughout the film.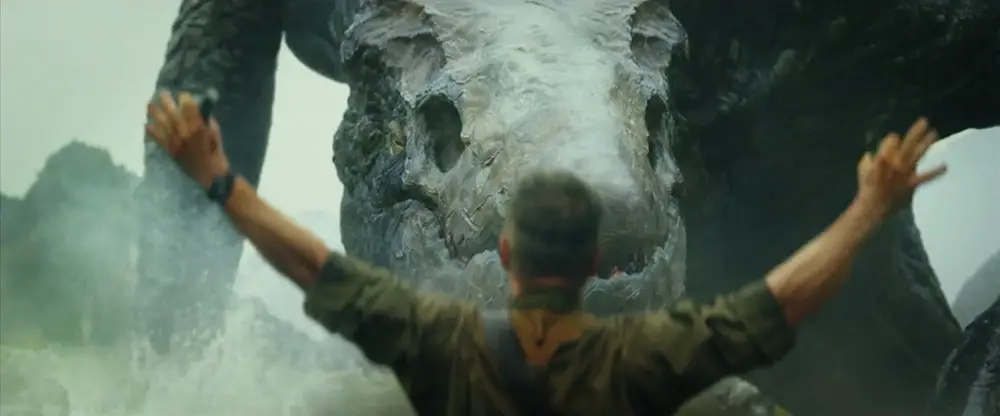 The action sequences are top notch and very well choreographed giving you a great sense of big scale of the monsters. I felt like the action time was well spread and never did it feel boring or that the film was dragging. Maybe this had to do because even at calm moments you have this sense of mystery and want to uncover what is happening in this mysterious island. But when the action kicks off and it really kicks off early it gives you a taste of what is coming.
Technically the movie is excellent and this was a given for such a big blockbuster. Although the CGI of 2005's King Kong were really good, 12 years helped maybe not in realism since we are talking about huge monsters that could never feel realistic but definitely in general feeling. When you go see a movie like Kong: Skull Island then you have agreed that what you see definitely does not follow the laws of science or realism so if you go with the right mentality you will definitely find something to like in this. The tropical island is spectacular and really a place you wouldn't think hides so many dangers.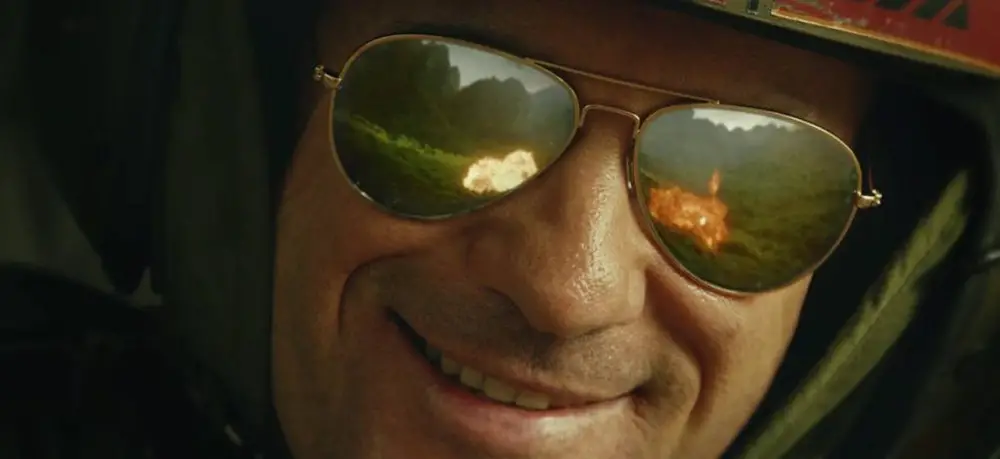 Kong: Skull Island is a pure pop corn movie and one very well made. If you like good special effects and a lot of noise then this movie is definitely for you. You cannot expect anything less from a "Kong" movie and this one definitely delivers. 4 stars out of 5 from me on this one.

Kong: Skull Island is another film that was shot in 2K resolution and upscaled to 4K for the UHD format. This doesn't mean that the UHD disk does not offer anything better that the Blu ray disk but as far as sharpness and textures details is concerned the difference is very subtle. What the UHD offers more as far as image quality is concerned is in it's great HDR and wide color gamut, offering brighter highlights and a wider color palette than it's Blu Ray counterpart. The overall image quality is better than Blu Ray even if we are talking about small improvements.
As for the soundtrack what we get is a Dolby Atmos track that is reference material. From the thunderstorm scene where lightning strikes, roaring helicopter engines and blowing winds keep you on the edge of your seat to the jungle scenes where animal noises and insects buzzing make you feel you are right in that tropical island, the Dolby Atmos track will always give you something to suck you in the middle of this beautiful but on the same time dangerous world.
Movie Rating :





4K UHD Rating :





If you liked this review you can check more of our movies reviews in our dedicated section. Also don't lose the chance to subscribe to our Newsletter and gain exclusive privileges.
---
Photos
---
Cheapest Places to Buy :