LG A1
Reviewed at $1,299.00 (55")
Product Name: LG A1
Product Description: 2021 4K OLED TV
Design -

9/10

Video Quality -

8.7/10

Ports & Connectivity -

8.8/10

OS, Apps and Features -

9.4/10

Price / Quality -

8.8/10
Summary
Reviewed at $1,299.00 (55″)
Pros
Amazing blacks
Excellent contrast
Lifelike colors
Very low input lag
Cons
Mediocre brightness
Motion performance was so and so
No HDMI 2.1 ports
No VRR support
---
Cheapest Places to Buy :
*We are a reader-supported website. When you buy through links on our site, we may earn a small affiliate commission at no extra cost to you. Home Media Entertainment does not accept money for reviews.*
---
For the last few years LG used the B series as their most budget friendly OLED TV on offer. In 2021 this was about to change as the arrival of the new A1 has changed the performance balance with LG trying to bring a more affordable OLED TV to the masses. As such in our LG A1 review today we will be looking at this entirely new entry that aims to combine the strengths of OLED technology with a lower purchase cost, making OLED TVs more affordable than ever.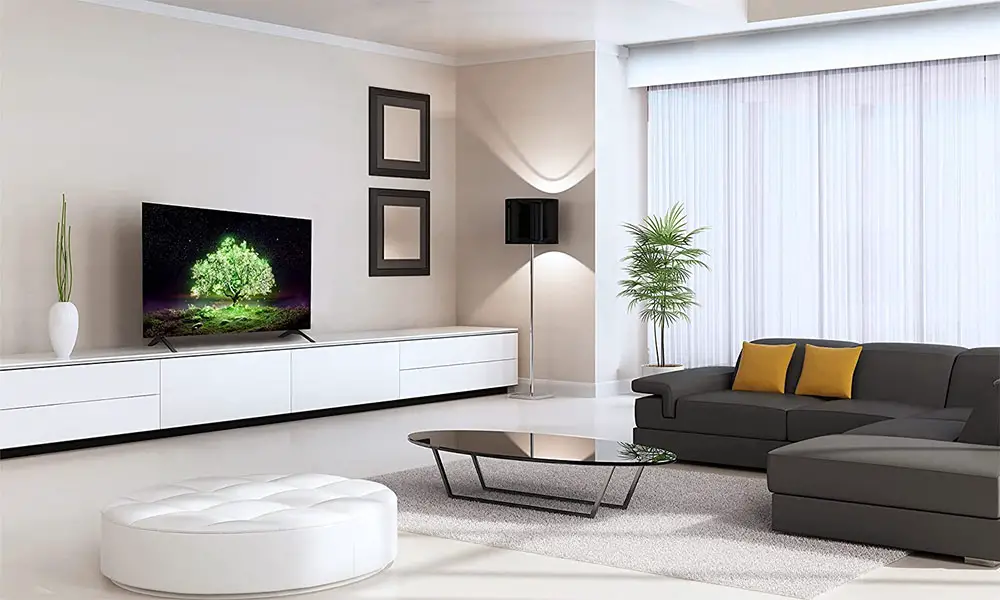 The LG A1 is an entirely new beast, it is positioned right underneath the latest LG B1 and is supposed to bridge the gap between the OLED series with LG's LCD units. Obviously the lower cost of the TV meant that certain corners had to be cut and we will be looking in more depth to determine if these cutbacks have a detrimental effect of the TV's performance or it manages to still be a release worthy of the OLED name.
Looking at the specs we find them being what you would expect from an OLED TV but with a few very notable downgrades. The A1 is using a 60Hz OLED panel along with LG's α7 Gen 4 AI Processor 4K which is the same processor we find in the LG B1. There is Dolby Atmos and Dolby Vision support along with Dolby Vision IQ that uses a light sensor to adjust the Dolby Vision dynamic tone mapping accordingly while the unit comes with plenty of extras including Filmmaker and HGiG modes, voice control, Bluetooth connectivity and the new webOS 6.0.
What is missing is HDMI 2.1 support making the A1 the only LG OLED to come without the latest ports. Does this have a negative impact on the TV as a whole or the more game centric nature of the new HDMI 2.1 does not affect so much its value as a low cost offering? That's what we are here to find out…
Design
The A1 is not so much different from the rest of the OLED series and keeps the same characteristic that make all OLED TVs such nice designs. The difference we find here compared to the rest is that the A1 comes with a much smaller plastic back panel where all the electronics are placed compared to the other units. Other than that in terms of design and layout there is not much difference to be found.
Being an OLED the A1 features an extremely thin design mostly at the top half while the bottom half is a bit thicker as it houses all electronics and audio system. We measured that part to be around 1,9″ (4.8 cm).
The TV features very slim borders which we measured slightly bigger than the other LG OLEDs like the LG C1 while at the back we find all connections being kept together in two separate groups on the lower right corner. The top half of the back face is made out of metal that holds the panel together while the lower half is made out of plastic and has a horizontal line type of design. The power cable is placed on the left side away from the rest of the connectors while the only other thing we find at the back is special holes for the VESA wall mount.
As for the stand the A1 is the only OLED release from LG to be using a bench type design. Although this type allows for better stability it can be a pain if you have a small furniture to place the TV on. Also the included stand is made out of plastic and does feel slightly cheap compared to the metal stands of the higher tier releases.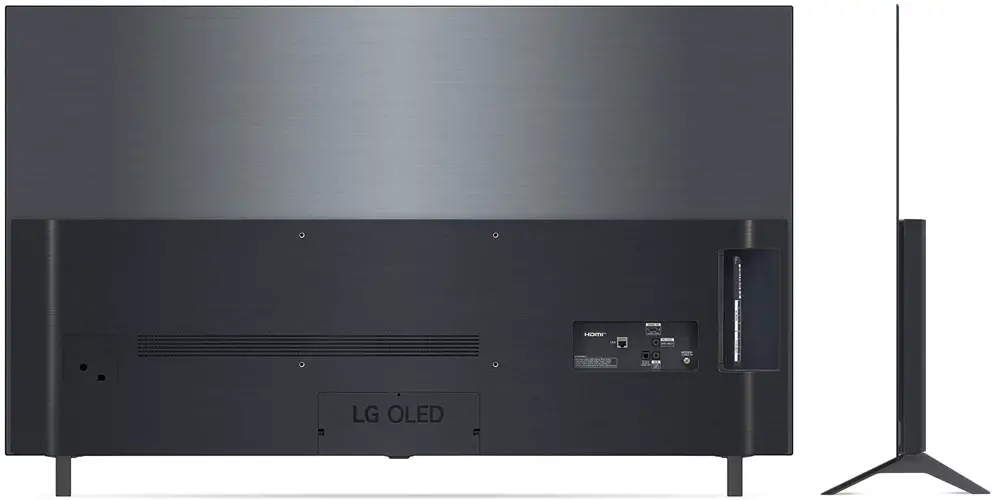 Two more things that we didn't like about this one is that it is slightly low which means if you have a big soundbar it may slightly obstruct your TV screen while there is no built-in cable management like other similar designs. In general the LG A1 doesn't offer much in terms of cable management so there is no way to hide or keep the cables together unless you use your own solutions.
But the new A1 not only borrows the same design lines of its bigger brothers but also uses the new redesigned Magic Remote. The new Magic Remote 2021 seems to bring some fresh changes that go with the new trends in 2021. Not that the old Magic Remote was bad but after some years it really needed some upgrading. Most functions remain the same with LG's unique pointer system, the same universal remote functionality and smart features.
What is different is the looks and to be honest we like the new one better while it seems LG decided to lower the number of available buttons but at the same time increase the dedicated ones. While before we had buttons only for Netflix and Amazon Prime now we also get Disney+, LG channels along with special buttons for both voice assistants. Also dedicated playback buttons are a thing of the past. The new Magic Remote may seem different but the changes are welcome ones and they don't affect the overall usefulness or functionality of the remote.
The A1 feels like a good quality TV. The only part we didn't like was the stand that feels a bit cheap but otherwise everything else was in line with what you would expect from an OLED release.

Video Quality
Processor technology used
LG is not providing many details on what have changed in their 4th generation of the a7 AI Processor 4K. We do get some promotional material explaining some of its key features, as we saw in their a9 Gen 4 processor also, but what improvements we find compared to last year's Gen 3 processor are almost non existent.
OLED technology had somewhat reached its peak and that's why the OLED Evo was created. But one aspect that developers are still improving is the image processing as the chips responsible for that become better every single year.
AI is the key word here as for one more year LG is heavily promoting the AI processing capabilities of these chips that use a combination of machine learning algorithms in conjunction to a huge image database in order to offer an improved overall image and superior AI upscaling.
The a7 processor includes LG's AI Picture and AI Sound suites which are a step down from the Pro variants we found in the LG C1. As such the processor automatically recognizes content genre and your ambient lighting conditions and then optimizes screen settings accordingly. It can also analyze the type of content, either it be movies, sports, animation, or standard, and automatically adjusts the picture and sound to best suit the genre.
Lastly there is AI Brightness Control which automatically adjusts tone mapping and screen brightness based on the ambient lighting conditions. The screen brightens in bright environments and darkens in darker environments to reduce halo effect and improve clarity.
For this part of our review we did try several different source videos in multiple resolutions from low SD content and broadcasting material all the way up to 720p, 1080p and 4K resolution and from what we saw the A1 was very capable at up-scaling content without any visible artifacts due to this process. Everything looked very good considering the original material. Not complaints here really.
But the a7 processor not only comes with image AI enhancements as it offers some more advanced audio features also like 5.1 up-mixing, adaptive sound control and AI acoustic tuning. But more on these in the appropriate section.
Lighting technology used
The A1 features an OLED panel with all the advantages this has. OLED panels feature self emitting pixels and as a result these TVs have no need for a backlight as we see in LED LCD models. Being able to control it's individual pixels has many advantages with the most obvious ones being the extremely accurate light control and the infinite contrast they have with deep blacks being a sight that needs to be seen to be believed.
One of the main problems of LED LCDs is that that they show what is known as blooming that creates bright halos around very bright objects when seen in dark backgrounds. The A1 has no such problems as with its self emitting pixels it can accurately light the areas of the screen that are needed.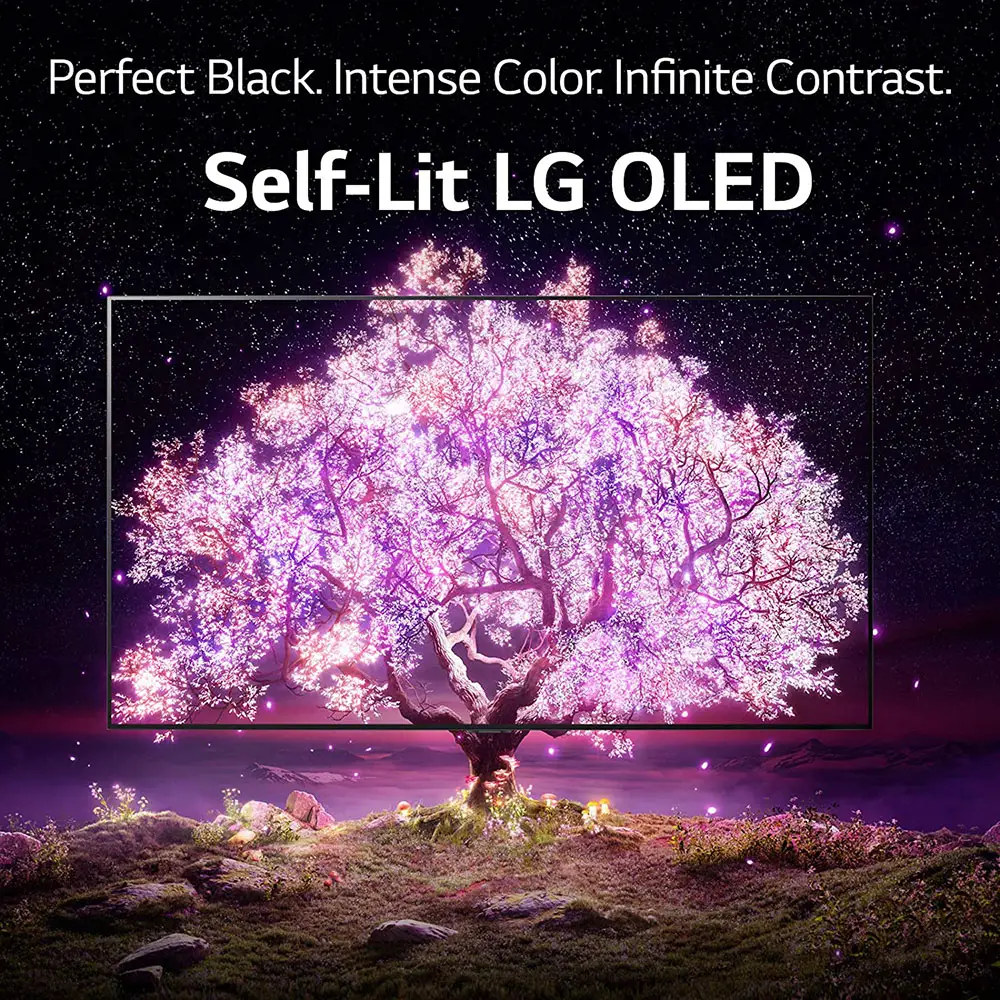 This year LG has two types of OLED panels with the new OLED Evo making its appearance on the higher tier G1 which enables it to be slightly brighter. On the other hand the A1 we have here, along with the LG B1 and C1, is using the same type of OLED panel that has been used the last few years among all OLED releases.
Unfortunately no technology is perfect and while OLED has so many advantages it's also more prone to permanent burn-in. Naturally if you watch different types of content the risk is much smaller but LG has also included a few features that can help minimize the risk of this happening. These include Screen Shift, Logo Luminance adjustment and an automatic pixel refresher.
Brightness / Contrast
One of the most important, but not the only one, factors of any HDR TV is its brightness and this is where OLED technology falls behind LED LCD as it cannot match the raw numbers we see in some of the top tier LED LCD releases. That's the reason why the improved OLED panel with the addition of a heatsink was invented in order to be able to push the brightness more than usual. With the A1 being a cheaper OLED offering we were curious to see if it can match the brightness of its bigger brothers.
First we measured the SDR brightness over a 10% window and the number we got was 348 nits which is slightly lower than what we had measured in the C1. But since the difference is small and SDR does not require a lot of brightness anyway this was not such a big deal. But it shows that the A1 is less capable in this regard.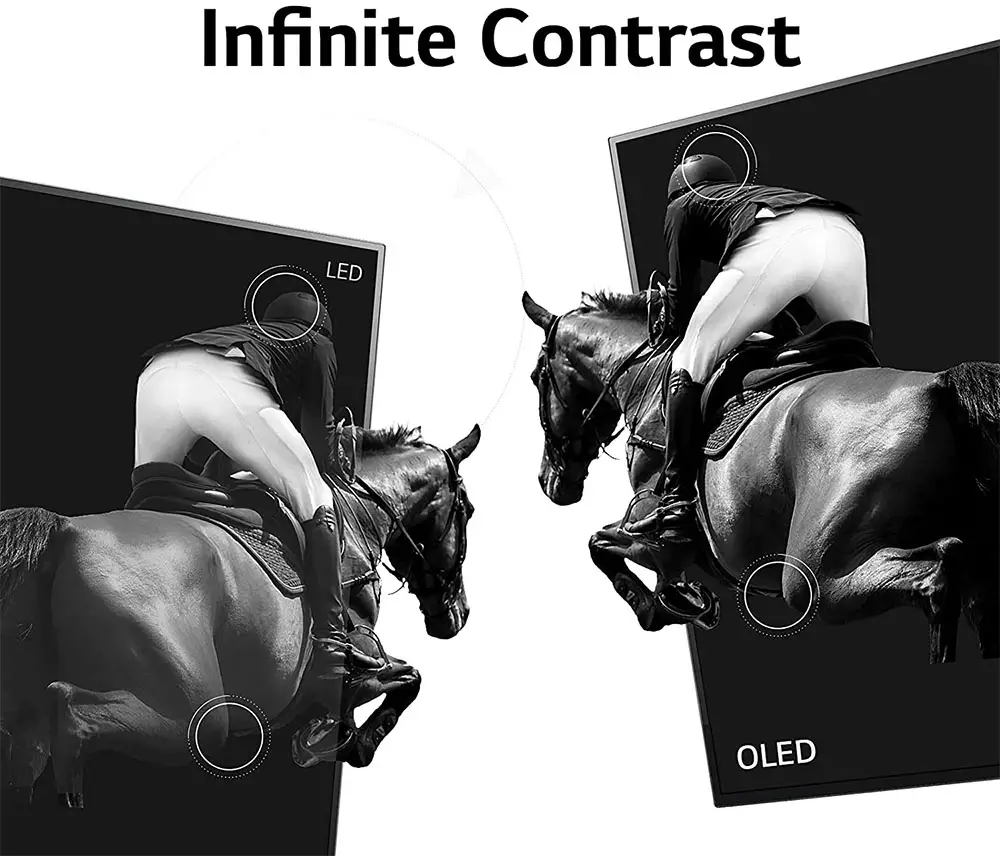 When it comes to HDR brightness over a 10% brightness we measured 482 nits which is not very good to be honest. The A1 is simply not bright enough to show highlights as impressive as they can be while when showing images in broad daylight the overall image looks dimmer than the rest of the OLEDs which has a very negative impact on the wow factor that an OLED has. This weakness can be more evident if you plan on using the TV in a very bright room as the low brightness will make things even worse.
Keep in mind that we took these measurements in Cinema mode with Peak Brightness on the highest setting.
As with all OLED TVs, the A1 comes with an Automatic Brightness Limiter (ABL) that lowers the overall brightness of the screen when large parts of it become very bright. This mechanism can be controlled by changing the Peak Brightness option and if you turn this off then in most cases you will get about half brightness output except from when almost the entire screen is bright which will limit the peak brightness to even much lower levels. If you use any other setting then in most cases you will get much higher brightness numbers close to the number we measured and with a full bright screen this number get lowered.
The A1 is very limited by its brightness capabilities. While SDR brightness is ok when it comes to HDR it is not up to par with the rest of the LG OLEDs or any OLED for that matter.
Viewing angles
Another advantage of OLED technology is the extremely good viewing angles it can achieve with this being another area where LED LCD TVs fail to achieve the same results and have to rely in extra layers in order to somewhat improve on this but never can reach the numbers we see with OLED panels.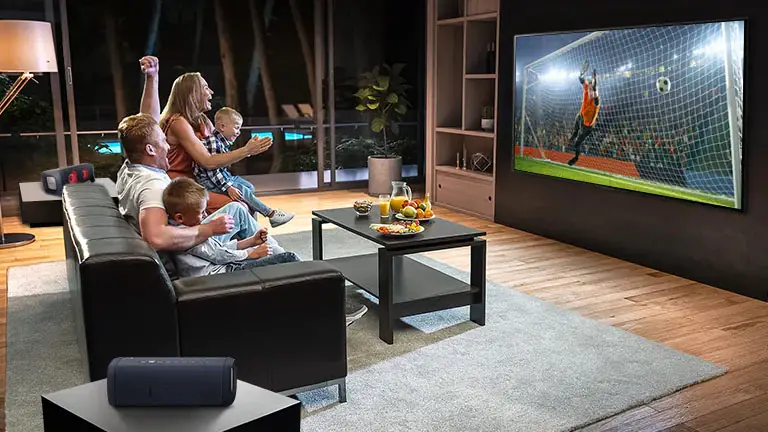 The A1 being an OLED is capable at retaining its image quality at angles that surpass 45 degrees with 50 degrees being the maximum before the image start to degrade to a very noticeable degree. Obviously anything above 50 degrees is too extreme of an angle to be watching at so it doesn't really matter so much after that.
The A1 managed to do better here even than the more expensive C1 and shows clearly how good this one can be not only for home theater use but for the whole family also.
HDR support
In terms of HDR nothing is different really. LG is firmly onto Dolby Vision bandwagon and from the looks of it we are not going to see any change in the foreseeable future. As such the A1 comes with support for the basic HDR10 that is needed for 4K UHD playback, it also supports the more advanced Dolby Vision which uses dynamic metadata for more accurate HDR representation and HLG that is used mostly for broadcasting.
The obvious omission is HDR10+ which is pretty much Samsung's territory while it seems to be also missing the Advanced HDR by Technicolor but this is hardly an omission as there was no real support for it to begin with.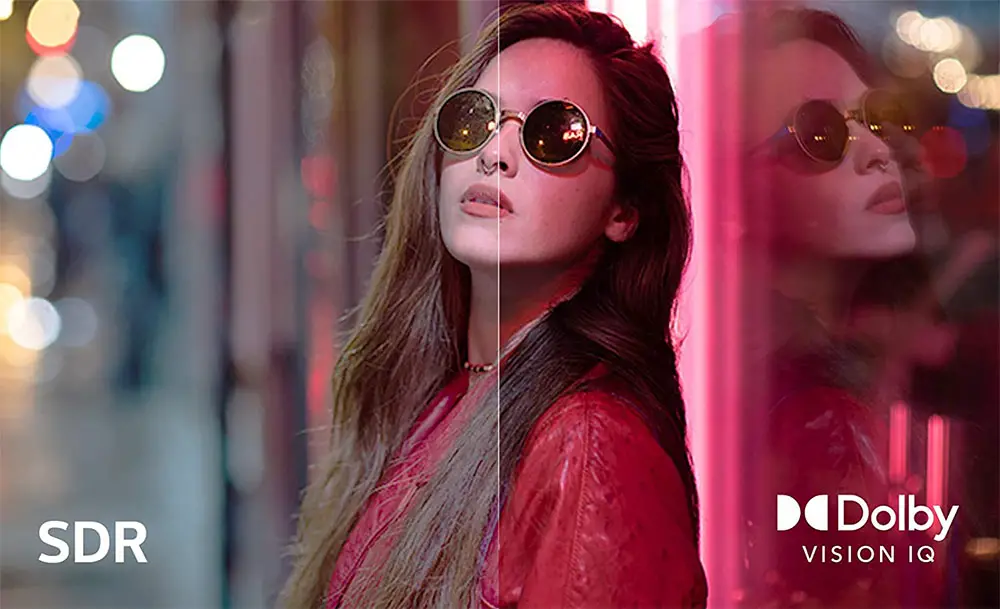 Dolby Vision IQ is making a return from last year and this basically uses an external light sensor on the body of the TV and can automatically adjust the Dolby Vision dynamic tone mapping according to the ambient light in the room and also according to the material that is displayed on screen at each moment. Obviously this can be turned off if you don't want the TV to go ahead with such processing that can really change the final outcome of the image.
Color coverage
Next we will be looking at the colors as the Α1 obviously supports wide color gamut and can display more vivid and lifelike colors. According to our measurements the LG Α1 can display about 98% of the DCI-P3 color space which is excellent. On the wider REC.2020 color space we got 75% coverage and once again this number was extremely close to what we saw in the LG C1 along with the previous LG OLEDs.
Very good performance here and unlike the brightness tests, colors seem to be on the same level as the more expensive offerings. We did notice some banding across various shades but it was not so much to become bothering. Smooth Gradation can help but keep in mind that if you use that you will be loosing some details so we suggest you keep that turned off.
Motion performance
With the A1 being the only OLED from LG utilizing a 60Hz panel this was bound to be one area where the TV would surely perform worse than the others. But being an OLED it doesn't need a backlight to light its pixels and while in theory this makes the A1 flicker free in reality this is not the case but the flicker is so small that is not visible to the naked eye.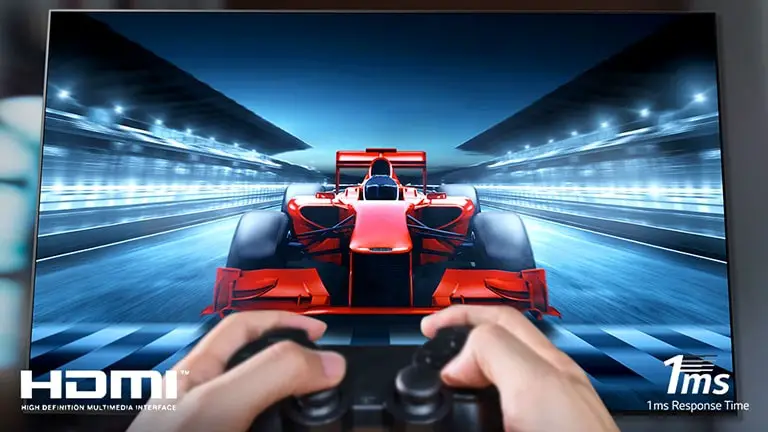 The TV also comes with the usual Motion Interpolation feature that can smooth motion during fast camera movements. In the A1 the motion interpolation did have some major problems keeping up with the action which resulted in very noticeable artifacts. Another indication that the feature in the A1 is less capable than the other TVs is that in the TruMotion setting in the menu you can only find and adjust the De-judder slider according to your preferences. There is no De-blur slider as the one we saw in the C1.
Also the A1 is the only OLED missing Black Frame Insertion (BFI) interpolation as well as VRR support which certainly lowers the value of the TV in terms of its gaming virtues. We cannot say we were thrilled with how the A1 did in this part. The 60Hz panel along with the missing features greatly lowers the capabilities of the unit and its a pity that motion cannot cope with the overall image quality that an OLED can offer.
Input lag
The last few years manufacturers push the envelope more and more when it comes to their TVs input lag performance and we have reached a point where we get amazing low values that can make these TVs excellent for gaming purposes. To be honest with the A1 being a new entry we didn't know what to expect but judging from the values we see in many other low cost offerings we were optimistic of its performance.
According to our testing the A1 was able to give us an average of 10ms input lag average in both 1080p and 4K resolutions which amazingly was the same we got in the C1. With such a low input lag gaming can really be a pleasure but in order to get such a low value you have to keep in mind that you need to use the available Game mode as outside that the input lag will greatly increase to around 136.5ms which is far higher than what we saw in the C1.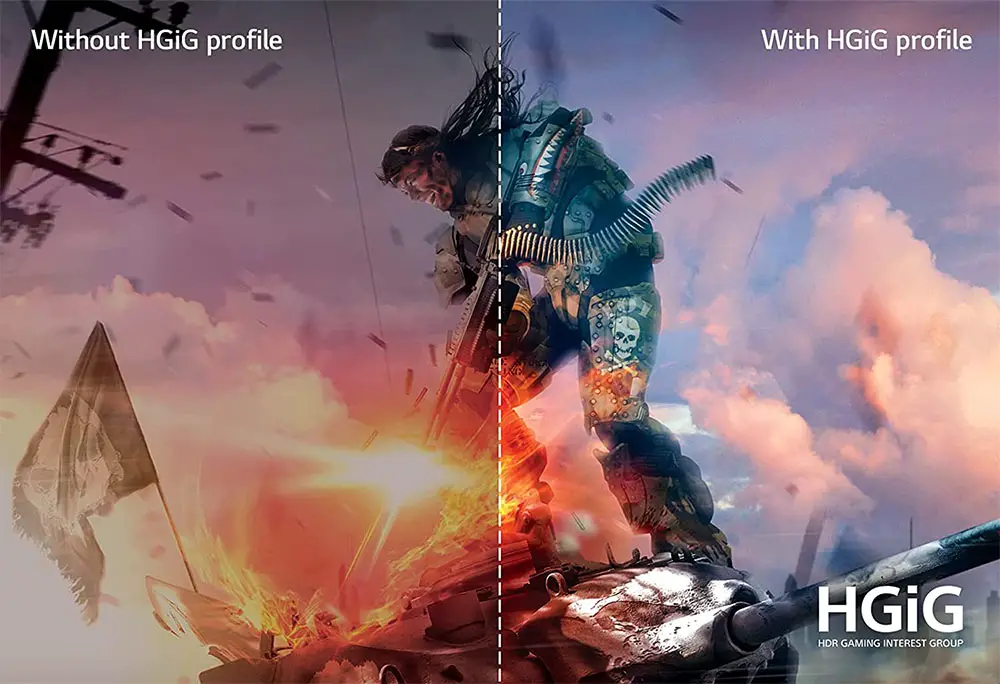 There may not be VRR but at least we do get Auto Low Latency Mode (ALLM) that can be used with any devices that support that like the PS5 and Xbox consoles and can greatly benefit users. Once again we get HGiG Mode which is HDR Gaming Interest Group's technology that ensures you enjoy HDR games the way that their creators and developers intended even though the TV is not the most capable of HDR units.
Before moving on we connected our PS5 for some F1 2021 action and in terms of input lag and response times the A1 did fare very well resulting in a very good and pleasant gaming session. Gaming may not be the most noticeable strength of the A1 but its response was instant and we had no trouble adjusting our commands immediately to the action. If you are looking for a low cost OLED that you want to also use for gaming the A1 can be a good one for consideration.
Image quality impressions
Closing this part what we can say about the A1 is that although it does have some of the strengths the other OLEDs have, its overall performance is majorly downgraded by some corners that LG had to cut to bring the cost to such low levels.
On the one hand you still get amazing blacks that stem from the OLED panel, excellent upscaling capabilities due to the latest a7 Gen 4 AI processor 4K, great viewing angles, lifelike and very vivid colors and extremely low input lag and response times. Add to these the Filmmaker and HGiG modes available along with support for Dolby Vision and the A1 can be a very good solution for the cost sensitive.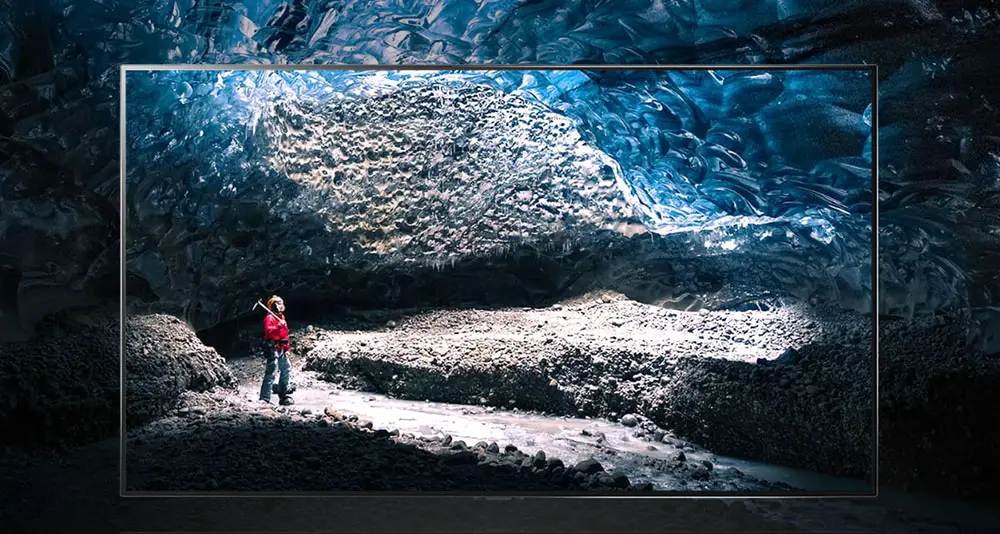 On the other hand brightness is much lower than the rest of the OLEDs and if you think that every nit counts the A1 fails to display HDR in a way that will wow you. Also motion performance has some major issues and the 60Hz panel does not help at all here. The A1 is also missing BFI motion interpolation, VRR capabilities and there is no HDR10+ as with all LG releases.
As a result the A1 can be a good low cost solution for mixed use but it is certainly not the ideal for very bright environments. If it is going to be used in low light or completely dark areas then it certainly can show it strengths much easier.
Audio Quality
Having an OLED means that there is extremely limited space to be utilized for the audio and there is so much that can be done with software that's why the audio system we get is good for casual viewing but fails to offer any substantial audio immersion when it comes to movies.
The A1 features a 2.0 channels audio system with a total of 20 watts of power. There is also AI Sound mode that up-mixes 2.0 channel audio to virtual 5.1 surround sound which gives you the illusion of a wider sound stage and more immersive sound. The AI Sound can slightly elevate the overall experience but it was not on the same level as the AI Sound Pro that we had tested in the LG C1.
And obviously you shouldn't be fooled by this 5.1 channels marketing thing as the TV cannot really portray a fully immersive surround experience. It just doesn't have the necessary hardware to do so and virtual technology can do so much.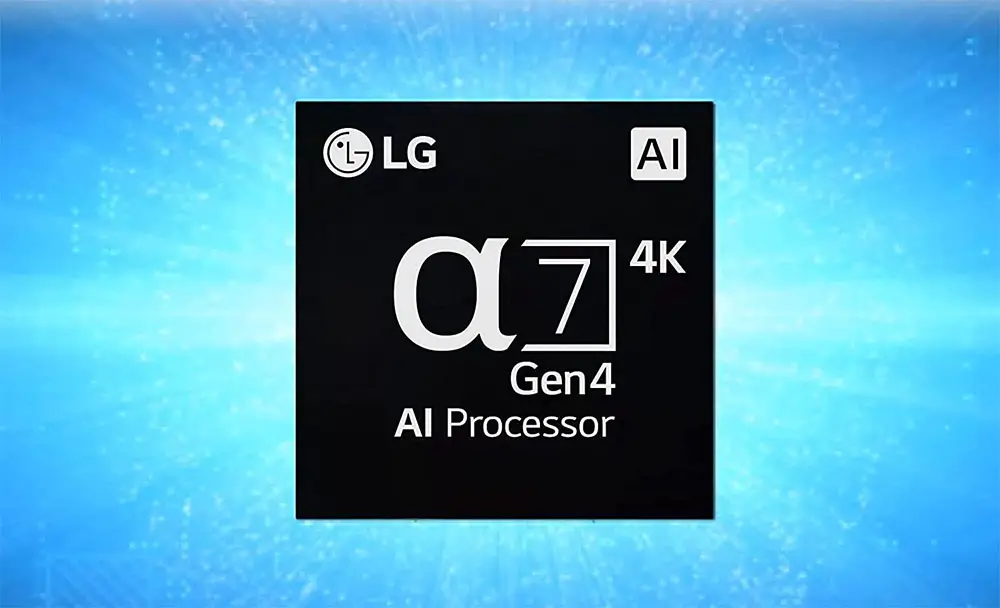 Dolby Atmos is once more available and can be used either through some streaming service or through the HDMI eARC connection. Obviously the TV lacks the necessary hardware to make Dolby Atmos real justice but nevertheless support is there for you to have. Overall the A1 offers the typical audio performance of a mid to low tier flat TV. Nothing that will impress you but good for most casual situations.
A feature that we first saw last year in many LG releases and is also found in the A1 is Bluetooth Surround ready which means that you can use the TV's Bluetooth to connect rear speakers to your TV creating a 4.0 channels audio setup. This may not be as good as a true surround system but is certainly better than the vanilla 2.0 channels system the TV comes with.
After LG dropping support for DTS last year it seems that this is going to be a permanent thing as the A1 has no DTS whatsoever which is really disappointing to be honest even if Dolby audio is the prevalent format these days.
The A1 features an audio system that can be described as adequate. Good audio reproduction with clear dialogue and loud enough but without the ability to create the necessary immersion for movies. If that is what you plan to use the A1 for then we would suggest you a soundbar or a full surround system.
Ports and Connectivity
The A1 is using a very familiar layout as we had seen in many other LG TVs in the past. All connections are placed on the lower right corner of the back side of the TV separated into two groups with one looking sideways and the other looking backwards making them harder to use if you plan on wall mounting the TV.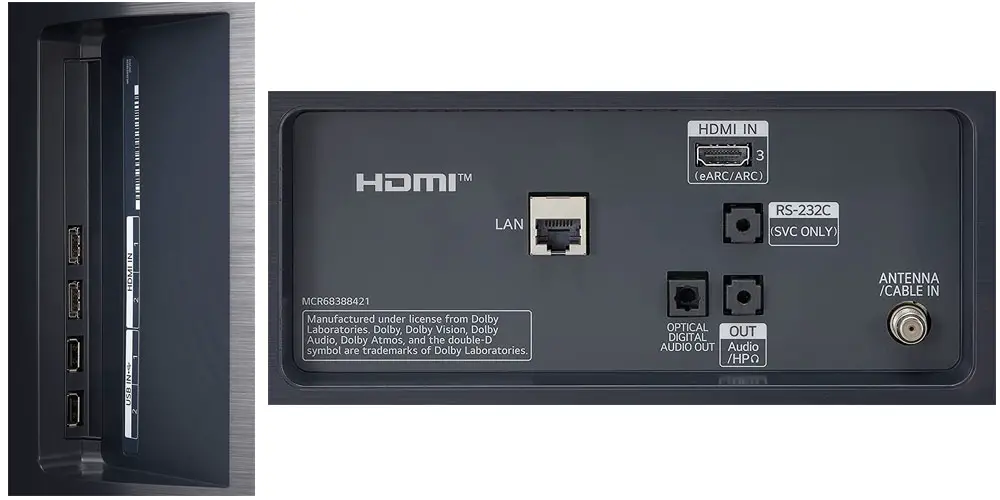 Let's start from the ones that look sideways and here we get two USB ports along with two HDMI ports. At the back we get another HDMI port that has added ARC/eARC functionality, a digital optical audio output, an analogue stereo audio output, an RS-232C port, an Ethernet port and the usual antenna/cable connector.
The most important fact here is that we have no HDMI 2.1 ports as all of them are the older HDMI 2.0. This means that the TV is missing some key gaming features like VRR and also 4K@120 support as its HDMI 2.0 ports can allow a maximum of 4K@60Hz signals. At least we do get ALLM which is supported by all gaming consoles along with ARC/eARC and HDMI-CEC.
One thing common to the C1 is the missing composite audio/video input and this is something we have noticed in general as manufacturers slowly are phasing out the analog ports in their new releases. So if you happen to have some older equipment that does not have a HDMI you should think twice before pulling the trigger on this one or it's time to start updating as this will surely extend to more and more audio/video products in the future.
As for the TVs wireless capabilities we get built-in WiFi (802.11ac) along with the newer Bluetooth v5.0 which seems to be the norm for most 2021 LG TVs.
OS, Apps and Features
In 2021 LG has drastically changed the look of their smart TV platform which now have reached webOS 6.0. The new 2021 version is being used in LG's entire new lineup and as such the A1 we have here has no differences compared to the C1 we had reviewed recently.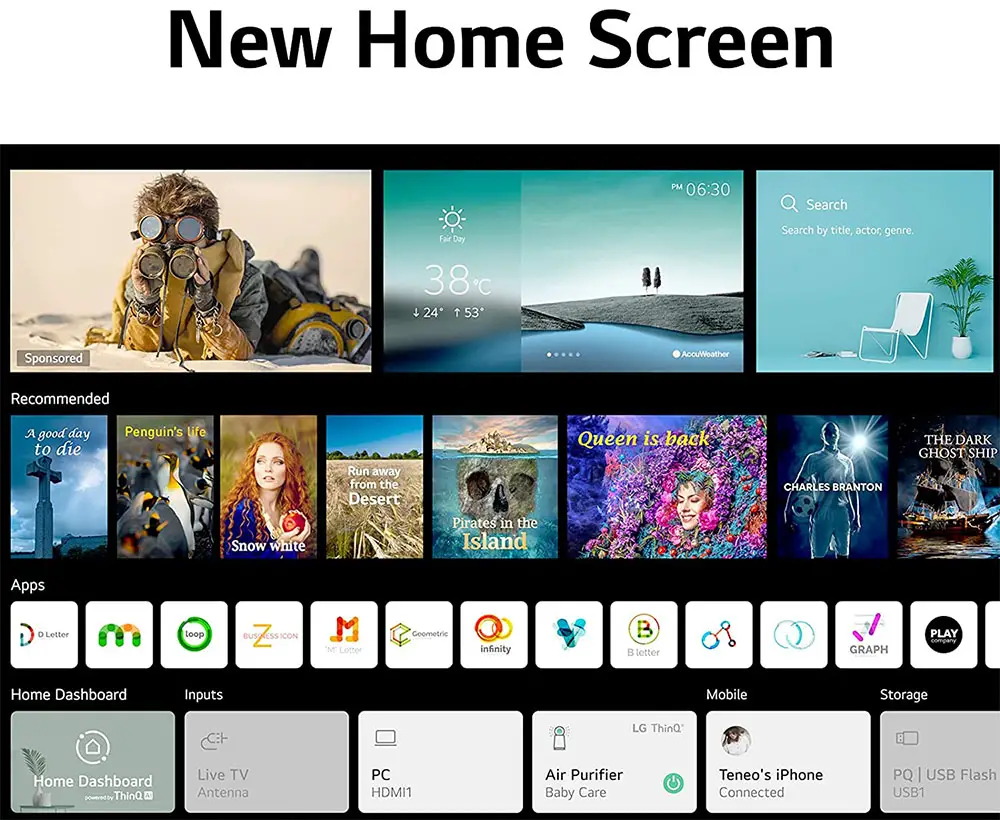 You see, up until last year webOS was using a single row of tiles on the lower part of the screen where everything was grouped together. Now in webOS 6.0 this has changed as the UI is taking up the whole screen and provide you with far more visual information than any of the previous versions ever did. We do get that some may prefer the old design that could still allow you to watch what was on screen but this is completely a personal preference.
The new webOS reminded us a bit of what Google TV is doing. It seems that smart TV platforms opt for a more personalized experience and as such the new webOS 6.0 tries to provide you with options that are tailored for your viewing habits. As such there are personalized ads, recommendations based on your viewing patterns both for streaming services and broadcasting channels and even shopping suggestions.
When you first look at the new design you will certainly feel like it's a cluttered mess but if you spend a few minutes with it most of its architecture will dig in and you will get the hang of it fairly fast. By pressing the Home button the main webOS page opens where you still get a single row of your apps on the bottom that you can re-arrange any way you want.
On the top you get three big tiles for sponsored content, weather and time along with search. Below a single row with recommendations depending what LG's algorithm believes you would like to watch. Under the apps row there are many more options to choose from like the Home Dashboard, broadcasting channels, shopping recommendations, Sports Alerts messages and much more.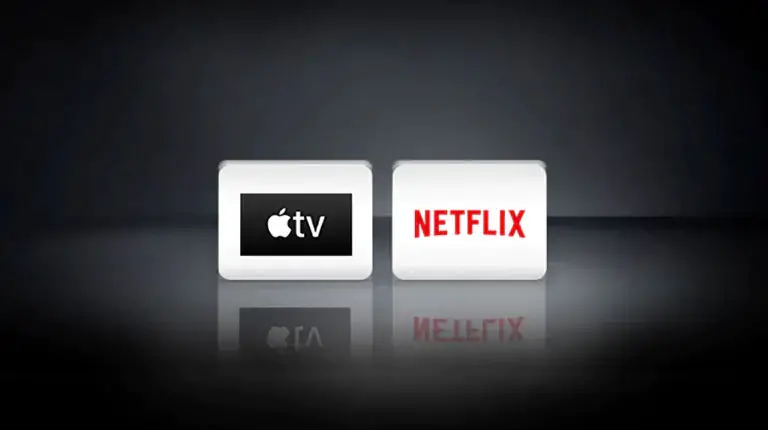 Overall we can say that we like what LG did with the new webOS 6.0. It feels fresh although a bit more cluttered for those not interested in so much information the new UI provides. Also if you are used in the UI of the previous years it will certainly take some time to find your bearings.
One thing that hasn't changed in the new 2021 version of webOS is app support and as such you will find all the apps you may need with more available from the online store for downloading. All the big players are present with Netflix, Youtube, Amazon Prime, HBO, Vudu, Hulu, Google Play Movies, Disney+ and Apple TV+ just to name a few of the most notable ones.
Other available apps include Apple Airplay 2 and Apple Homekit. With Airplay 2 you can stream content from other Apple devices on your TV while HomeKit lets you control certain aspects of the TV through your mobile device.
One interesting feature that makes a comeback this year is Sports Alert. You can set your favorite team on the TV and the C1 will inform you when a match will be shown and in which channel while can also give you score updates and the likes. The Sports Alert feature seems to be working with the internal tuner and it gives you the ability to choose from a wide range of teams and sports. Obviously it still doesn't include every sport and every team out there but there are plenty to choose from the list available.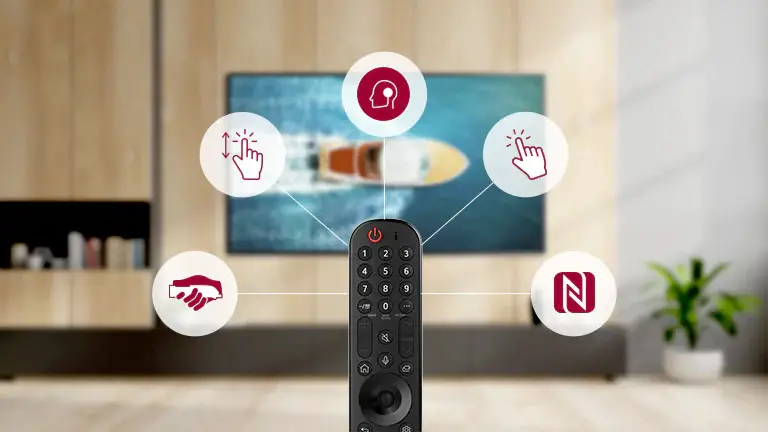 And since we are talking about a smart TV platform we could not go by without mentioning  voice control functionality. LG has included not only their own ThinQ AI that you can use to search for various information but also the two most used voice control platforms including Amazon Alexa and Google Assistant. By using the Magic Remote's built-in microphone you can issue your commands like search for a specific TV show or control your TVs volume and change channels.
There is also mobile app support if you prefer that instead of using the included remote. LG is using their ThinQ app that is supported both by Android and iOS devices and with it you can issue some basic commands to your TV.
For another year we find what LG calls Home Dashboard which is a nice little feature that lets you have an overall look at all the connections of the TV. Although not much have changed here Home Dashboard has now been fully intergraded into the webOS 6.0 Home screen making its access faster than before.
Before closing we need to mention the new Game optimizer feature that was added with a firmware update lately and with it you can check specific settings during gaming including fps, image options, colors, sound and many more. It is in a way similar to what Samsung has done and it shows that manufacturers have put a lot of effort to offer more practicality and accessibility to gamers which was to be expected with the new generation of consoles now out in the market.
This is our second foray with the new webOS 6.0 after our initial review on it with the C1. Although now we had a bit more experience we were still a bit stuck to the past and takes some time to get the hung of the overall new layout. But as we mentioned in our C1 review it's good that they try to give us something that feels new and fresh and it can certainly further improve in the coming years.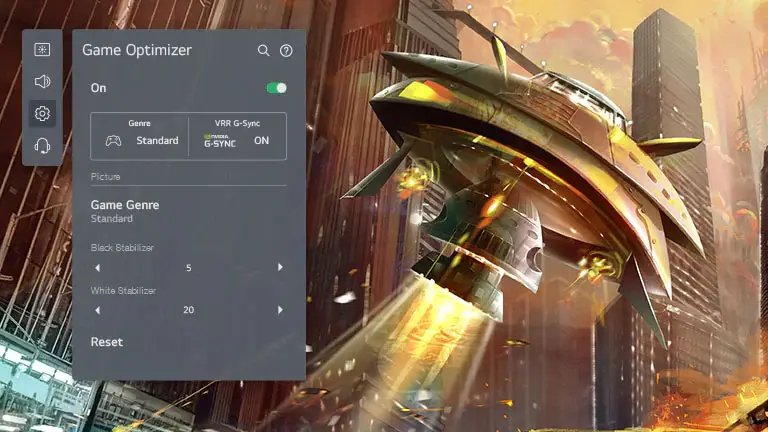 Final Thoughts
The LG A1 was certainly a gamble as it may bring forth a few of the qualities that we were used to see in OLED releases but it has certain shortcomings that don't allow it to be a great new entry.
On the one side the A1 takes advantage of what OLED is all about with amazing black colors, excellent contrast and extreme viewing angles. We also get great up-scaling capabilities due to the inclusion of the new a7 Gen 4 processor, it has incredibly low input lag that will surely satisfy demanding gamers and comes with plenty of extras for you to find including Dolby Vision, Dolby Atmos, Filmmaker and HGiG modes, the new Game Optimizer and also the latest webOS 6.0 with its amazing features and app support.
On the other hand brightness leaves a lot to be desired and is much more dim than what we measured on the C1 making this a not so good choice for a bright room. Also motion performance was not very good with stutter and judder being obvious in many cases. The unit also misses a few key features like HDMI 2.1 and also there is no VRR which certainly limits its gaming abilities.
If you don't care about gaming then its obvious omissions will not bother you. Also if you mostly watch in a low lit or completely dark room its lower brightness capabilities will not show so much as in a very bright area. Closing, the LG A1 can be a good low cost OLED TV that can be ideal for certain situations if it checks the right boxes. We are sure that the A1 will find its audience and at the right price it will certainly bring OLED to a wider audience.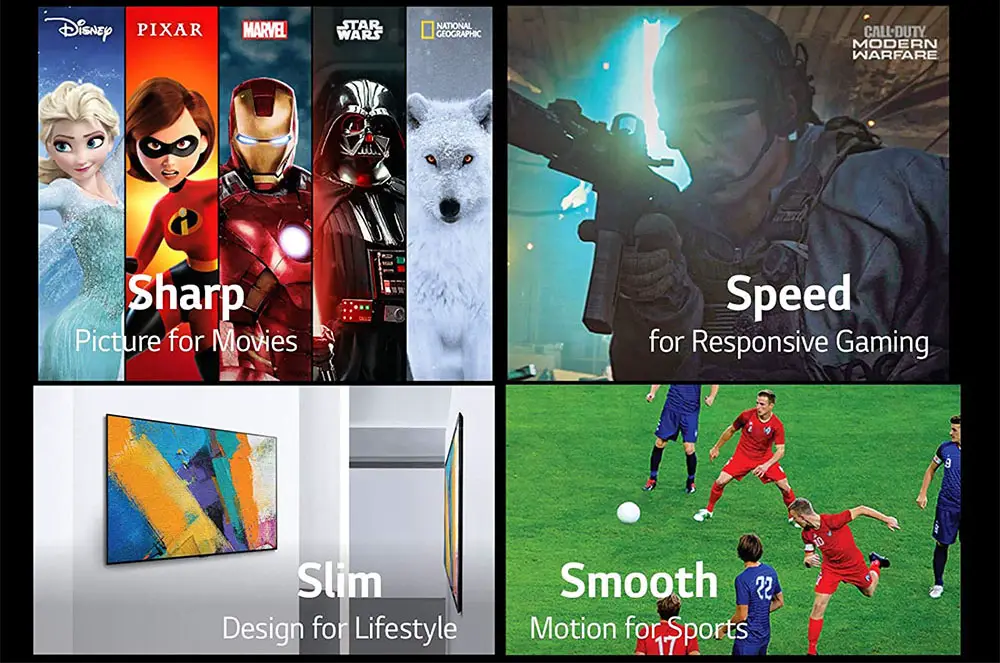 For more reviews you can check our dedicated 4K OLED TV reviews list or even look at our Product Reviews Table where you can find the brand and specific product you are looking for.
---
---
Cheapest Places to Buy :
*We are a reader-supported website. When you buy through links on our site, we may earn a small affiliate commission at no extra cost to you. Home Media Entertainment does not accept money for reviews.*
---