LG C2 OLED
Reviewed at $1,799.00 (55")
---
Cheapest Places to Buy :
---
Today we will be our first look upon LG's new TVs for 2022 and there is no better place to start with other than their most successful C series which for this year is named C2. The C series has proved to be a fan favorite and for good reason as it combined most of the top tier tech and features but at a more reasonable price than the G series. And in our LG C2 OLED review today we will be looking if their 2022 release manages once again to rise up to the occasion.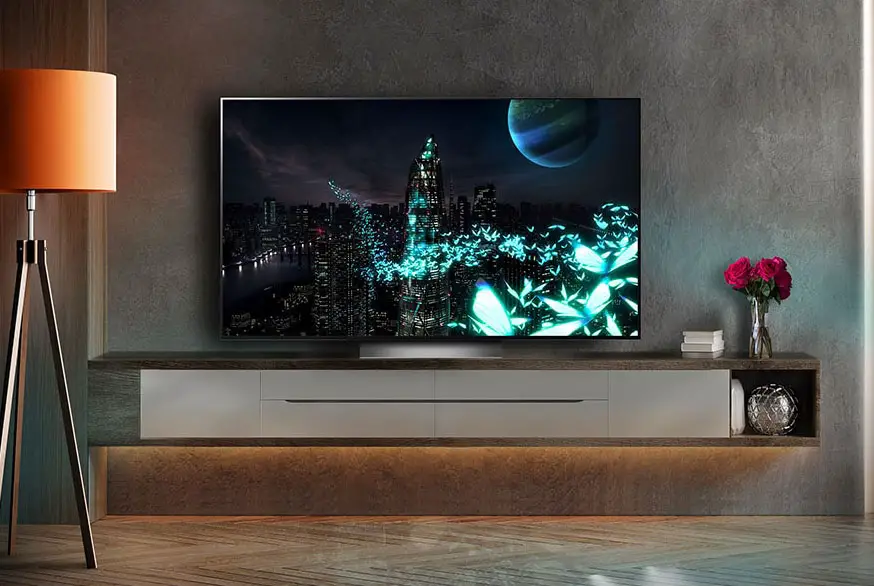 The C2 comes with a few changes compared to last year as it now officially carries the OLED Evo stamp which according to LG is not referring just the panel but a combination of specs including processing and algorithms along with the panel. There is also a 42″ size, a first for the C series which now spans across six different sizes. Lastly the C2 has almost half the weight of the C1 due to the use of a composite fiber material that is used for the first time.
So, as always let's go real quick over the specs to see what the LG C2 brings to the table this year. The C2 along with the G2 are the only TVs with the new OLED Evo branding with the C2 combining it with a Brightness Booster system, it uses the new a9 Gen 5 AI processor, features a 100/120Hz panel, has four HDMI 2.1 ports at full 48Gbps bandwidth, supports the usual HDR10, HLG and Dolby Vision HDR formats and for its OS is using the latest webOS 22.
LG has made some improvements and additions to the C2 which are not so obvious when looking at the specs above but we are going to talk about them in our dedicated sections below. We have a lot of ground to cover so without further delay let's start our analysis.
Design
When it comes to TV designs is not so uncommon for manufacturers to keep the same looks from one year to the next. And the C series is a prime example as the LG C1 looked extremely similar to the LG CX and the LG C9 before that. So it was a complete surprise to see the new LG C2 using a completely overhauled look with a new back design and new stand.
First of all being an OLED the C2 comes with an extremely thin design which has bigger surface than what was in the C1 and this is a result of the smaller electronics box being used this year. Also its thickness is slightly smaller measuring just 1.7″ (4.4 cm) at its thickest point.
The TV comes with even smaller borders than the C1 and really makes the screen more immersive than before as the black lines around the image become almost non visible here. The back side of the TV is made of brushed metal and has a nice texture to it while the electronics box, as mentioned above, is smaller and doesn't extend from one side to the other as seen in previous models.
All ports are placed on the right side looking sideways with the power port being separated, as always, from the rest. The back has a really clean look to it and the VESA holes are the only other element visible.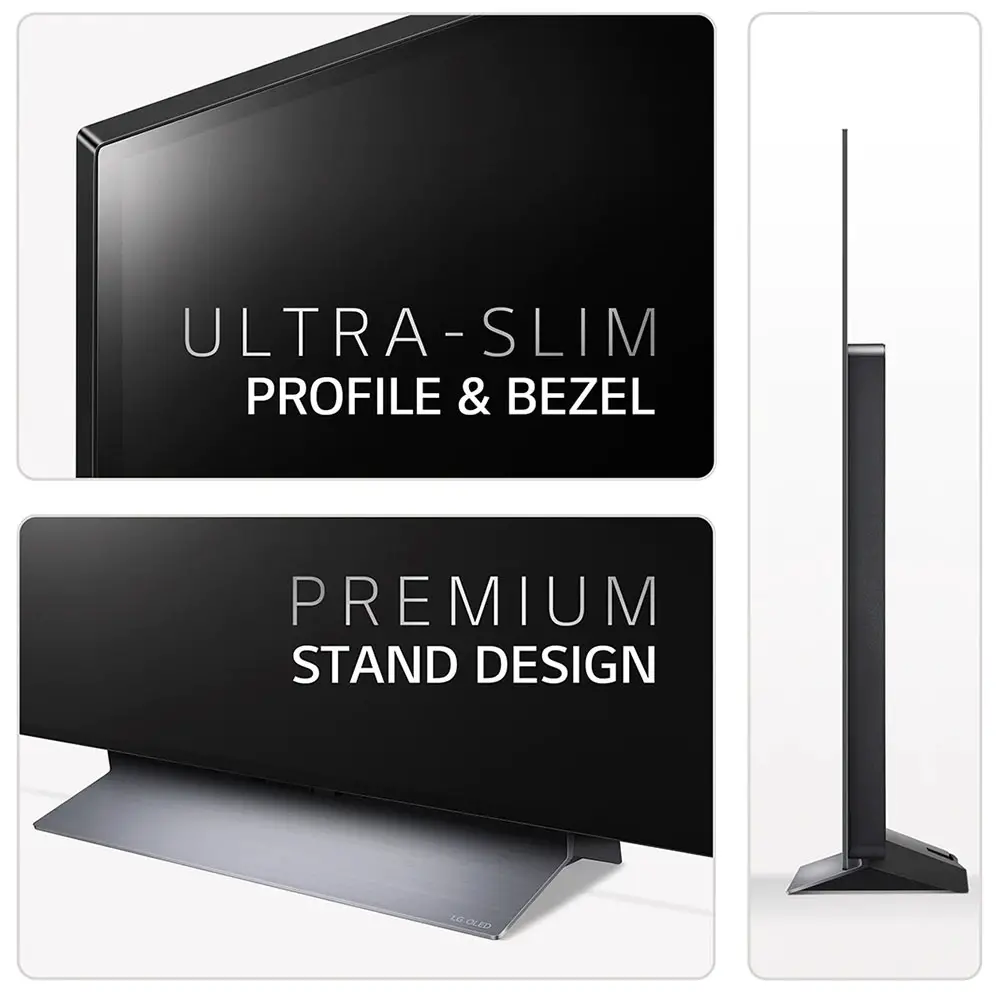 Continuing with the changes the C2 seems to come with a new, smaller stand which some may like but surely it cannot hold the TV as stable as the wider one used in previous years. As a result the TV may wobble slightly, especially the bigger sizes so make sure it is placed in a safe position. At least this year you will not need as big a furniture as before. Lastly we need to mention that the stand doesn't leave a lot of space between the TV and where it is placed so if you plan on adding a soundbar underneath it you have to make sure it fits.
And while the TV has completely changed what remained the same is the Magic Remote as the C2 get the same Magic Remote we found in many LG TVs in 2021 which is not bad to be honest. After all LG refreshed the design of their Magic Remote last year so it seems that they were happy with what they made out of it.
All functions remain the same with LG's unique pointer system, the same universal remote functionality and smart features. Also the reduced number of buttons is a welcome one while we still get six dedicated buttons as before.
Last year LG updated their remote so it seems that this year it was the time for the TV itself to get a brand new look and surely we liked what we saw. The smaller electronics box, thinner design and much smaller weight make the C2 keeping up with our times.
Video Quality
Processor technology used
We have reached the 5th generation of the a9 processor which is included in the C series and the C2 brings a few upgrades to the table that along with OLED Evo promise to make the C2 outperform its predecessor.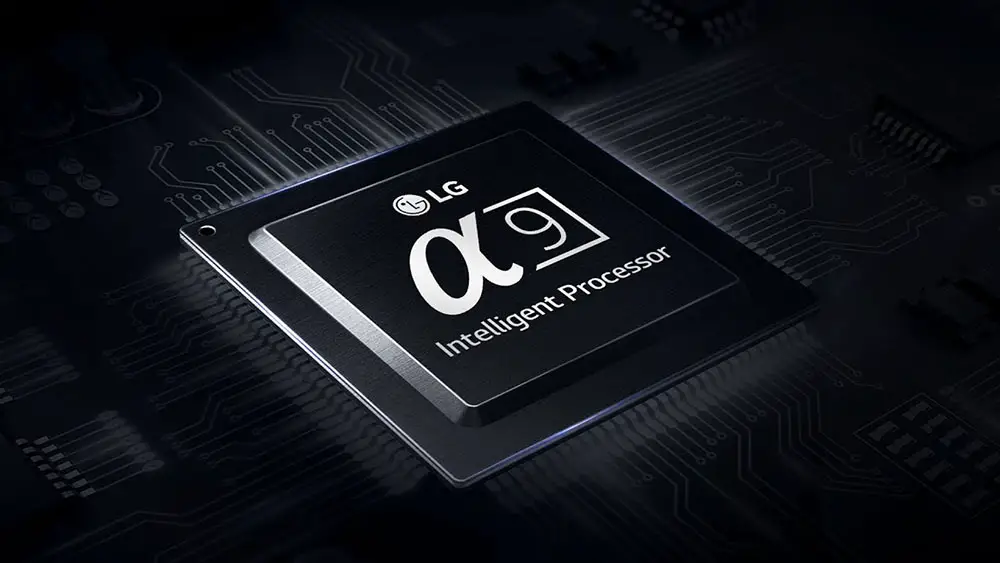 AI is the key word here as for one more year LG is heavily promoting the AI processing capabilities of these chips that use a combination of machine learning algorithms in conjunction to a huge image database in order to offer an improved overall image and superior AI upscaling.
The a9 processor features a few interesting technologies that are included in LG's AI Picture Pro and AI Sound Pro suites. As such for image we get face enhancing technology, AI upscaling, object recognition and enhancement along with specific scene analysis.
The 5th generation of this chip includes Dolby Vision IQ with Precision Detail which according to LG can accurately adjust the light levels of every area of the screen in order to increase contrast, sharpness and detail of Dolby Vision content.
During our tests of various resolutions and content material the C2 managed to upscale everything nicely. All content from low quality 480p up to 720p and 1080p resolution scaled to 4K without any noticeable artifacts due to the process and in fact we can admit that the C2 managed to upscale some content better than the C1 with more details visible in comparison.
But keep in mind that these improvements are not always to the benefit of the C2 as there were certain scenes that it felt like the C2 was a bit aggressive resulting in an image that surely looked more processed than natural. So in general we would say that the C2 has improved slightly here but not without some minor shortcomings.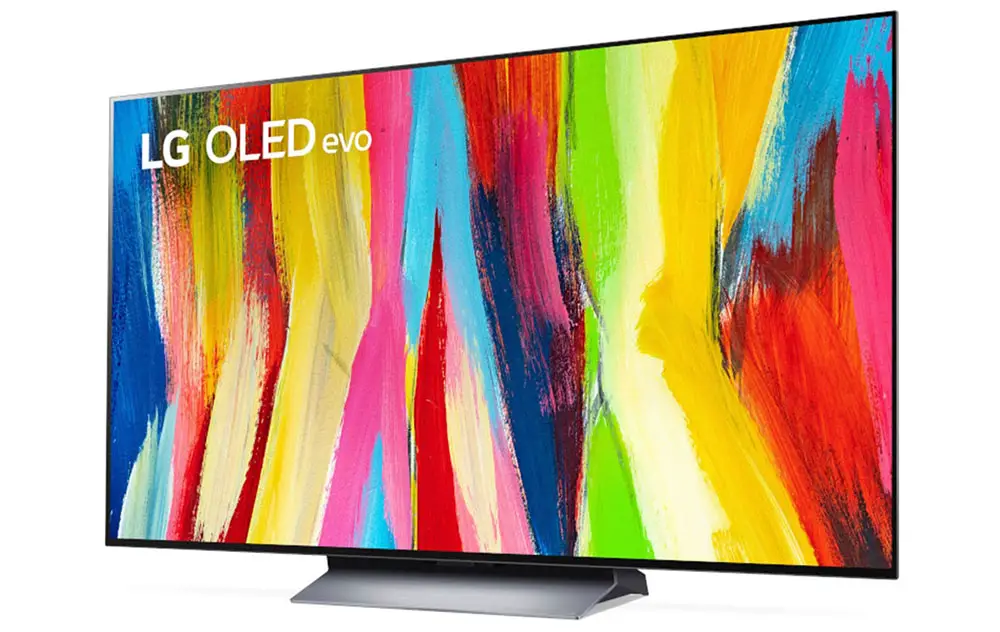 In terms of audio we are going to talk in more detail in the dedicated section below but the a9 Gen 5 brings a small upgrade as it can do 7.1.2 up-mixing instead of 5.1.2 channels that was previously possible along with the rest of the standard features like voice enhancement, auto volume leveling and more.
Lighting technology used
The C2 features a new WBE OLED panel that compared to the old WBC ones is advertised as being able to output more brightness and be less prone to burn-in. OLED panels feature self emitting pixels and as a result these TVs have no need for a backlight as we see in LED LCD models. Being able to control it's individual pixels has many advantages with the most obvious ones being the extremely accurate light control and the infinite contrast they have with deep blacks being a sight that needs to be seen to be believed.
One of the main problems of LED LCDs is that they have what is known as blooming that creates bright halos around very bright objects when seen in dark backgrounds. The C2 has no such problems as with its self emitting pixels it can accurately light the areas of the screen that are needed.
The C2 comes with OLED Evo which was previously thought to be just a better panel but it seems to be a combination of the improved WBE panel, better processing and more refined algorithms in order to up the brightness and display better colors than previously possible in traditional OLED TVs.
Unfortunately no technology is perfect and while OLED has so many advantages it's also more prone to permanent burn-in. Naturally if you watch different types of content the risk is much smaller but LG has also included a few features that can help minimize the risk of this happening.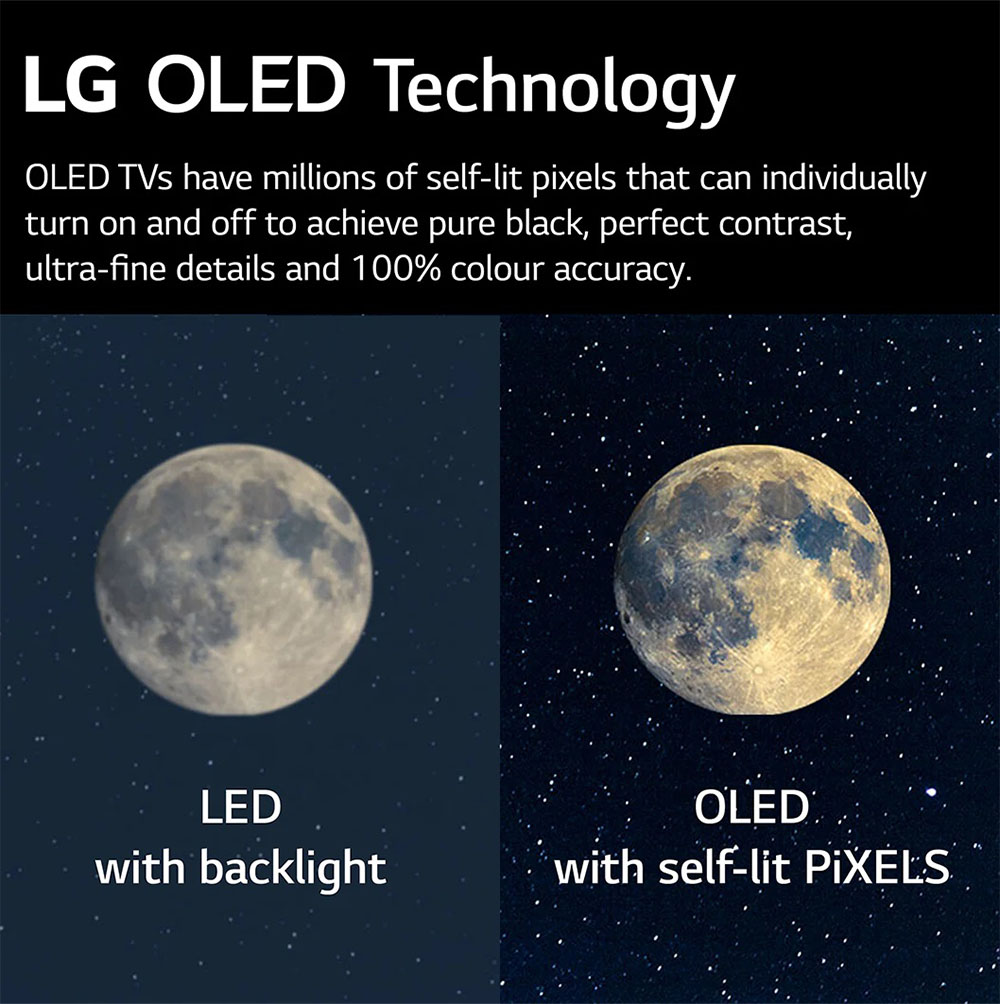 What is interesting is that by looking at the C2's service menu LG seems to have reduced the compensation interval time from 2000 hours that was set in previous OLED TVs to 500 hours. We cannot say for sure if this is the same for all the C2 sizes or for all the LG OLED models but it is an interesting change to see.
Brightness / Contrast
While OLED technology has major advantages over LED LCD ones, manufacturers had hit a wall in recent years when it came to overall brightness output. But recent advancements in the technology may be what was needed for this otherwise excellent panel. And the use of the OLED Evo in the C2 marks this evolution.
First test here is the SDR brightness over a 10% window and the number we got was 417 nits which is almost the same as last year's C1, even though it is slightly better. But since the difference is small and SDR does not require a lot of brightness anyway this was not such a big deal. Differences in panels could explain the small increase in brightness output.
When it comes to HDR brightness over a 10% brightness we measured 845 nits which is really good even if it still not on the same level as some LED LCDs. But even as such the difference compared to the C1 is more than obvious. We had measured the C1 last year at 757 nits so the C2 was capable of almost 100 nits more which is more than an obvious improvement.
As with all OLED TVs, the C2 comes with an Automatic Brightness Limiter (ABL) that lowers the overall brightness of the screen when large parts of it become very bright. This may not be very obvious when watching a movie for example but it can be noticed more with bright static images or if you use the TV as a computer monitor.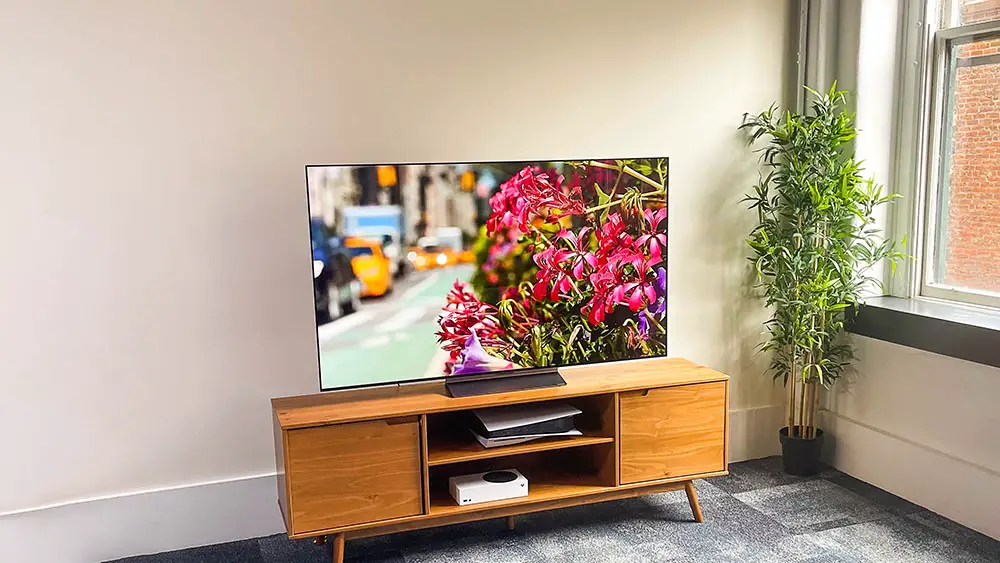 Also another thing that we noticed was that when watching a movie and there are transitions from high APL to low APL scenes the C2 would make the change almost instantly showcasing a more aggressive approach compared to the C1 which was doing the same across multiple frames in order to create a more smooth transition. As a result the change may appear as a small flicker to some while others may not notice this at all.
This is more obvious in slower 24p content and not so much with 60 frames content where the speed of the transition does not allow for this inefficiency to become obvious.
When it comes to contrast the C2, as with any other OLED, comes with infinite ratio as it can completely turn off it's pixels and results in a completely black image instead of the greyish black we see in so many LED LCD TVs.
Viewing angles
Another advantage of OLED technology is the extremely good viewing angles it can achieve with this being another area where LED LCD TVs fail to achieve the same results and have to rely in extra layers in order to somewhat improve on this but never can reach the numbers we see with OLED panels.
The LG C2 is capable at retaining its brightness, color accuracy and black levels at very respectable levels up to 45 degrees of angle with a maximum of 50 degrees before image starts to degrade too much. Not much difference here compared to the C1 and any minor differences there are, are not very noticeable with naked eyes.
With OLED's amazing viewing angles it makes the C2 an excellent choice not only for home theater rooms but also for any family setup with all family members sitting in different positions in the living room.
HDR support
Not much have changed in the HDR front for one more year as LG continues to support the same HDR protocols as before and they have pretty much stayed firm behind the Dolby Vision bandwagon the whole time. As such the C2 comes with support for the basic HDR10 that is needed for 4K UHD playback, it also supports the more advanced Dolby Vision which uses dynamic metadata for more accurate HDR representation and HLG that is used mostly for broadcasting.
The obvious omission is HDR10+ and we don't see LG supporting it in the foreseeable future as this is pretty much Samsung's territory while it seems to be also missing the Advanced HDR by Technicolor but this is hardly an omission as there was no real support for it to begin with and LG abandoned it from last year with the C1.
Dolby Vision IQ is making a return from last year and this basically uses an external light sensor on the body of the TV and can automatically adjust the Dolby Vision dynamic tone mapping according to the ambient light in the room and also according to the material that is displayed on screen at each moment. Obviously this can be turned off if you don't want the TV to go ahead with such processing that can really change the final outcome of the image.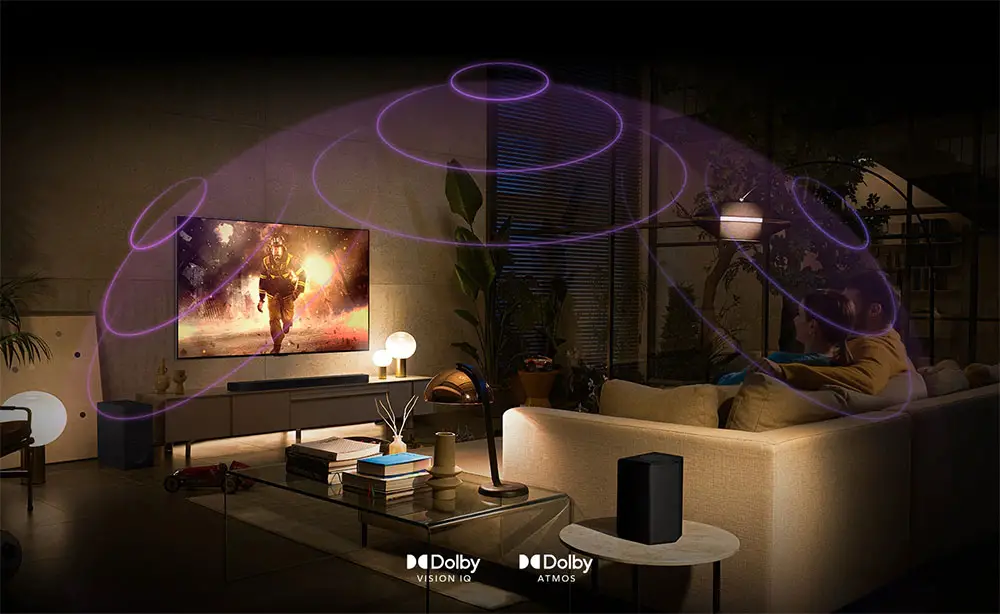 As we mentioned above new in LG C2 is Dolby Vision IQ with Precision Detail which can improve even further image quality for all material that use Dolby Vision and not only content made specifically for that.
Color coverage
Next we will be looking at the colors as the C2 obviously supports wide color gamut and can display more vivid and lifelike colors. According to our measurements the LG C2 covers about 99% of the DCI-P3 color space which is excellent. On the wider REC.2020 color space we got 76% coverage indicating overall a small improvement over the C1.
Color accuracy was great even without calibration something that will please users that are not accustomed to complex image settings. White balance was also great and within acceptable limits. After calibration both of them can be improved even further resulting in a very accurate image overall.
The C2 managed not only to have higher color coverage but also to perform much better than the C1 in terms of color accuracy and white balance without any time consuming calibration. After calibration both TVs would be very close to each other but this shows that the C2 can be much more friendly to casual users that are not experienced or don't have the right equipment to calibrate their TVs the right way.
Color gradients were great although we noticed some very minor banding in some darker colors. This can be fixed with the Smooth Gradation option but you are going to loose some details on screen if used so always use a low setting on this.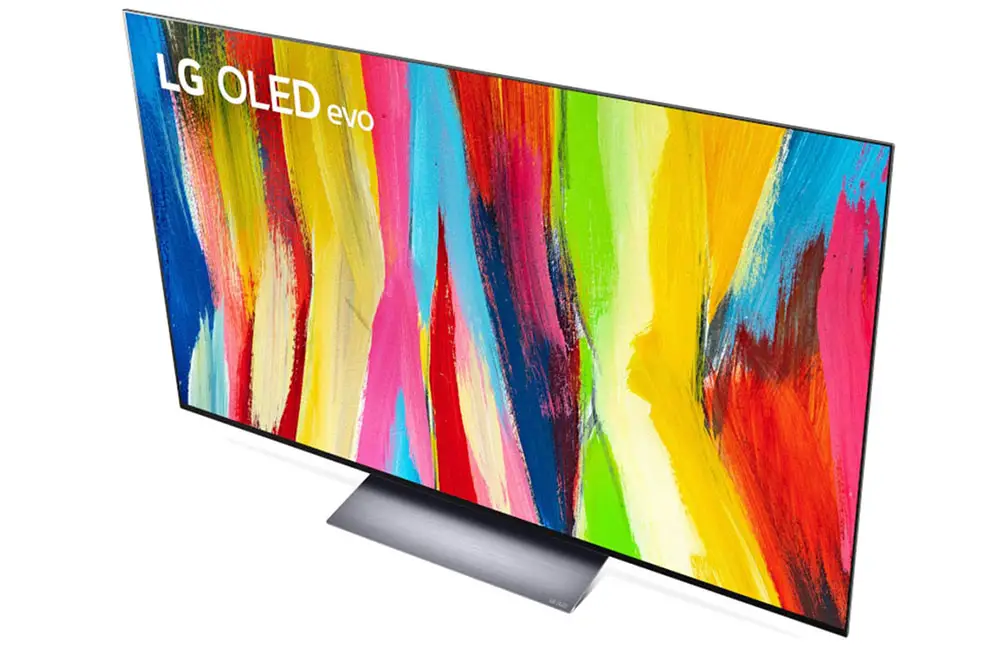 Motion performance
When it comes to it's motion performance the C2 behaved really close to what we had seen before in the C1 but there is one major change, or rather downgrade which we will talk about shortly. The TV features what LG calls OLED Motion Pro and is using a 120Hz panel. But being an OLED it doesn't need a backlight to light its pixels and while in theory this makes the C2 flicker free in reality this is not the case but the flicker is so small that is not visible to the naked eye.
The TV also comes with the usual Motion Interpolation features that can smooth motion and remove blur and judder from fast camera movements. Motion interpolation did a good job overall as we noticed only minimal artifacts from the process and these were mostly due to the very fast camera moves depending on each scene. In fact we can admit that the C2 displayed even less artifacts than what we had observed during our C1 testing.
Obviously using very aggressive settings will make the familiar "Soap Opera Effect" to appear so you have to adjust the settings accordingly. Motion Interpolation can be enabled by the TruMotion setting in the menu. You can set that to user and then adjust the De-blur and De-judder sliders according to your preferences.
There is also the standard by now Black Frame Insertion (BFI) feature which basically is a motion interpolation technique that inserts a black frame between every two individual frames and this can really create much smoother motion. But while the end result is pretty good there are some downsides to this with the most obvious being the lower brightness being displayed due to the black frames. BFI can be enabled from the OLED Motion setting in the TruMotion menu and here is where we find the only difference compared to the C1.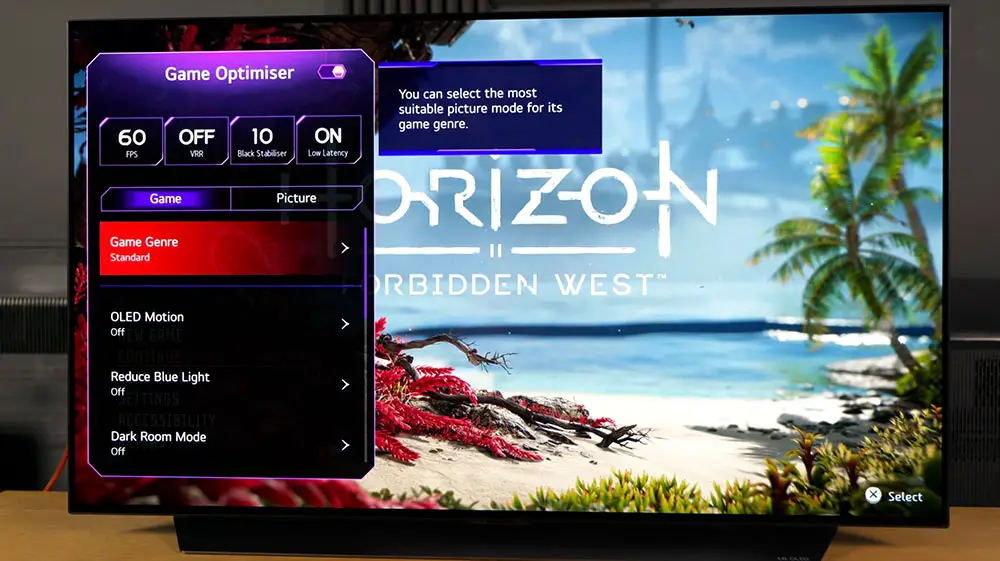 It seems that in the C2, LG has removed the different intensity levels and there is only a single on/off toggle. As a result the LG C2 cannot do 120Hz with BFI. The reason for this is not know but you should be aware of this actual downgrade.
Input lag
The last few years manufacturers push the envelope more and more when it comes to their TVs input lag performance and we have reached a point where we get amazing low values that can make these TVs excellent for gaming purposes. LG has been at the forefront of this and the C series was always in high regard from gamers.
According to our measurements the C2 measured an average of 13.2ms input lag in both 1080p and 4K resolutions at 60Hz which can be lowered even more if you use the Boost mode in the Prevent Input Lag menu. At 120Hz we measured 5ms in both 1080p and 4K resolutions which is one of the lowest input lag measurements we have seen and proves that LG TVs remain among the best for gamers.
With such low figures gaming can really be a pleasure but in order to get such a low value you have to keep in mind that you need to use the available Game mode as outside that the input lag will greatly increase to around 44.2ms which is still acceptable and in fact almost half of what we had measured in the C1.
We should also not forget to mention that the TV supports Auto Low Latency Mode (ALLM) that can be used with any devices that support that like the PS5 and Xbox consoles and can greatly benefit users. Once again we get HGiG Mode which is HDR Gaming Interest Group's technology that ensures you enjoy HDR games the way that their creators and developers intended.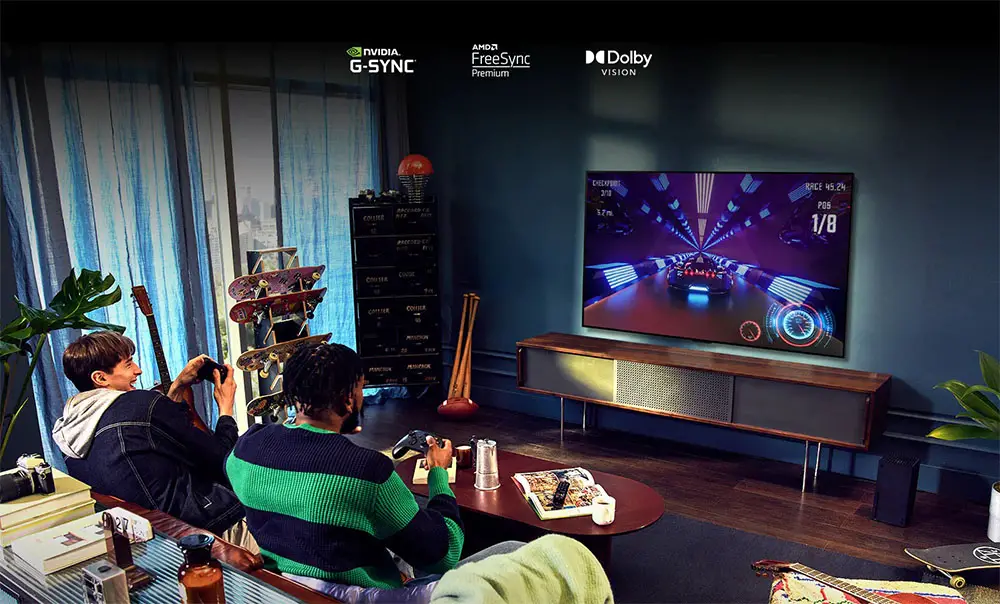 The C2 comes with support for all VRR technologies including HDMI Forum VRR, AMD FreeSync and NVIDIA G-Sync and can be enabled in the Game Optimizer of the C2.
One problem that seems to still be present in the C2 is VRR flickering in high framerate content although the C2 comes with a Fine Tune Dark Areas option in the Game Optimizer menu in order to somewhat improve this. Unfortunately this problem seems to be a general problem of OLED technology but this issue is not such a deal breaking one as it is more noticeable with static dark images and most of the time during gameplay you will not even pay attention to it.
And since we are into gaming we should not forget to mention that the C2 does great with cloud gaming as it supports both Google Stadia and Geforce Now. Obviously you will need to have the appropriate subscription and gamepad but having built-in support is one more element of the C2's strong gaming capabilities.
Before closing we connected our PS5 for a few laps with our F1 2021 copy and the LG C2 was honestly perfect. Fast response times and practically no delay in our commands resulted in a very pleasant session. If you are looking for a great performing OLED that can do equally good with gaming there is no better option than the C2, no doubt about it.
Image quality impressions
The LG C2 comes with certain improvements over the C1 making the new C2 a better option and a clear upgrade over last year's offer. The new OLED Evo in the C2 offers higher brightness, better upscaling with more sharp details, better out of the box color accuracy and slightly better motion interpolation.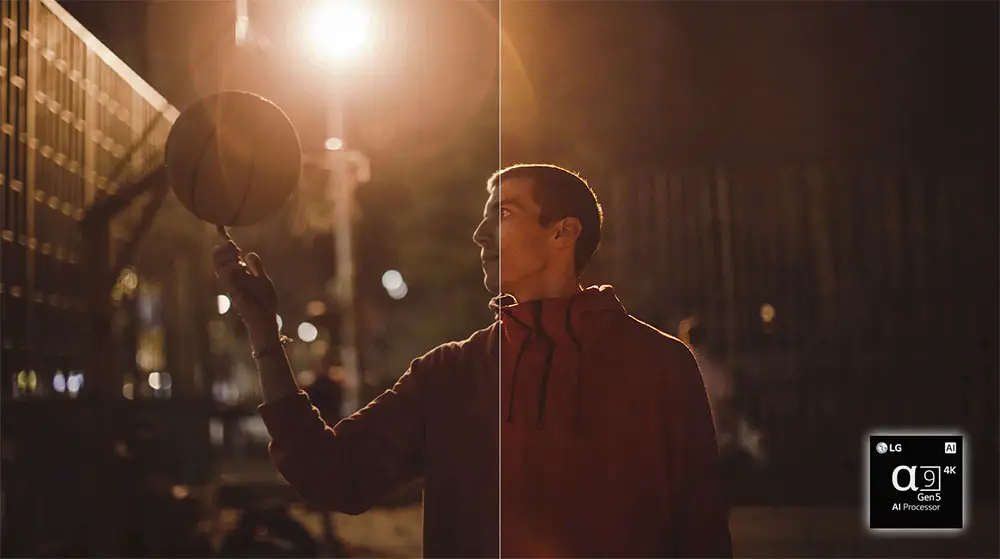 If there is one thing that the C2 does worse then surely this is the inability of the TV to do 120Hz BFI that was present in the C1. All other downsides are the same as the C2 still avoids HDR10+ like a plague and OLEDs, in general, has slightly increased risk of burn-in although the latest models have improved on this greatly.
Audio Quality
Not much have changed in terms of audio performance. After all the C2 doesn't have the necessary space to incorporate anything better than what we have seen in most OLED TVs in the last few years. And so the C2 behaved very similar to the previous C series as we find a 2.2 channels system with 40 watts of power that is enough for casual use at most.
A small upgrade we do get in the AI Sound Pro mode that up-mixes 2.1 channel audio to virtual 7.1.2 surround sound which gives you the illusion of a wider sound stage and more immersive sound. Previously the C1 could up-mix up to 5.1.2 channels but to be honest the difference is negligible. In general we found the AI Sound Pro to improve the acoustic result slightly but this depends a lot on the source material and it will not be always the same good as you would expect.
And obviously you shouldn't be fooled by this 7.1.2 channels marketing thing as the TV cannot really portray a fully immersive surround experience. It just doesn't have the necessary hardware to do so and virtual technology can do so much. Yes, sound may feel like it has more volume but there is no real activity anywhere else other than the front.
Dolby Atmos is once more available and can be used either through some streaming service or through the HDMI eARC connection. Obviously the TV lacks the necessary hardware to make Dolby Atmos real justice but nevertheless support is there for you to have.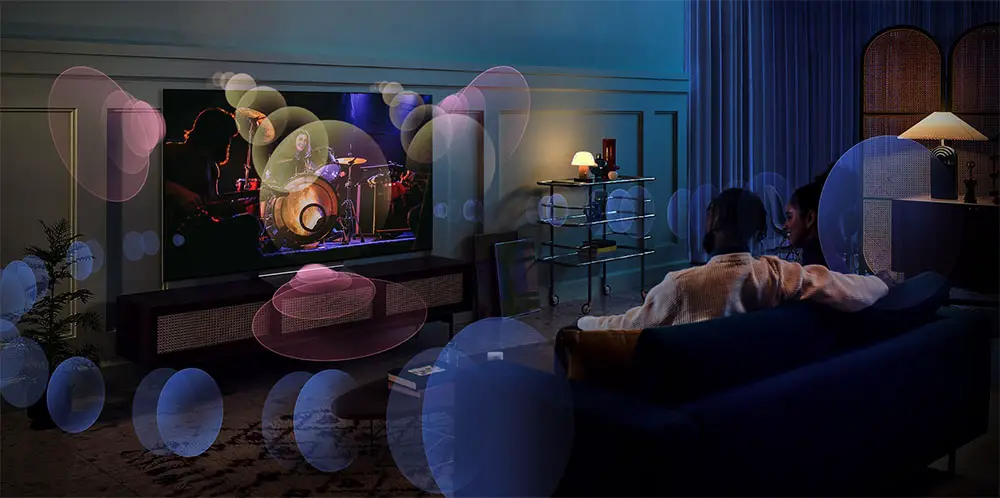 Unfortunately LG continues to avoid DTS and most probably this is a permanent thing. DTS is not supported either with native apps or through the eARC port so in case you really want this then Sony is the only of the big three that still supports it in their releases.
Another feature that makes a comeback is Bluetooth Surround ready which means that you can use the TV's Bluetooth to connect rear speakers to your TV setup. But there is a catch here as you cannot use this as a 4.2 channels audio setup in order to playback 5.1 surround audio. The TV will use legacy 2.0 channels audio and up-mix it to the 4.2 channels available so the end result is not as good or accurate as a real 5.1 surround mix.
Overall we cannot say that we were expecting any surprises in the audio department. It seems that LG has reached the maximim these designs can do and while we do see advancements in panels and image quality we cannot say the same for their sound. If you really want good sound with such an exceptional TV then we strongly suggest you go for a soundbar or a dedicated surround system.
Ports and Connectivity
LG has completely changed the layout of the C2's ports and instead of having two groups of ports now they have them all looking sideways in a single group just like many Samsung TVs have.
Starting from the top we find three USB ports along with four HDMI ports with HDMI 2 being the one with ARC/eARC support. Below these there is an Ethernet port, a Digital Optical audio output, an RS-232C jack, the usual antenna/cable input and an IR blaster port.
It seems that for 2022 LG has upgraded the HDMI 2.1 ports to full 48Gbps bandwidth, although in real life applications this doesn't make much of a difference as 40Gbps that was previously available in the C1 was still more than enough for all kinds of content of today.
The HDMI ports being v2.1 means that they support all new and old features including 4K@120, ARC, eARC, ALLM, VRR, G-Sync, FreeSync, HFR and HDMI-CEC. 
What seems to be missing in the C2 is the analog audio output and this seems to become a trend as Sony has also started to take these out. Analog ports are being phased out slowly and this becomes very obvious now.
Lastly the Ethernet port for one more year will only support up to 100Mbps which is a real head scratching. We don't believe that upgrading these ports to Gbit speeds would up the cost so much and with streaming requirements increasing every single year this change should have been made some time ago. Let's hope that manufacturers will take notice of this sooner rather than later.
And since we talked about online the LG C2 comes with upgraded wireless capabilities as it now supports WiFi6 (802.11ax) along with Bluetooth 5.0.
OS, Apps and Features
The new C2 is using LG's latest webOS 22 and while this is not a major upgrade compared to last year there are certain improvements and additions that are worth of mentioning.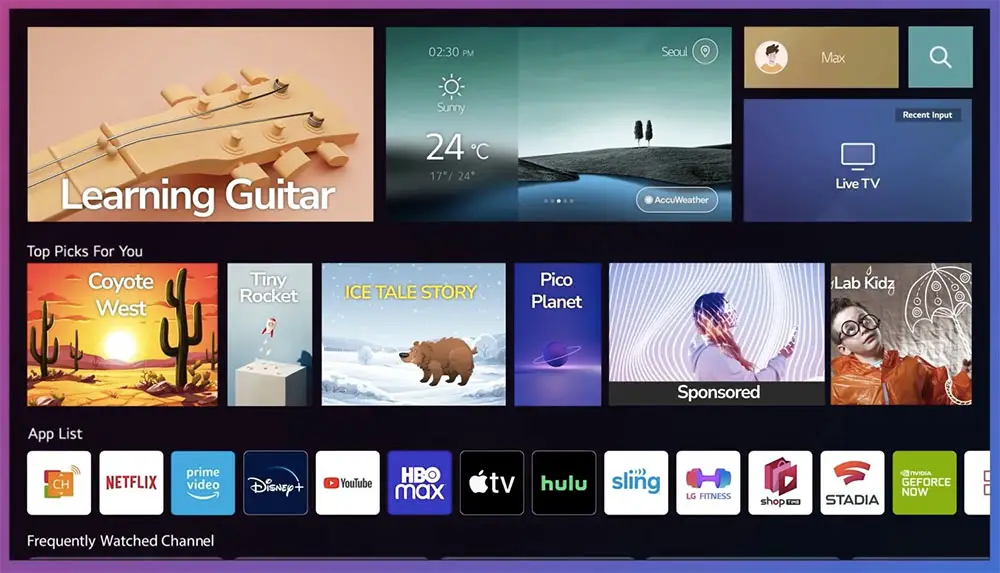 WebOS's UI is still taking up the whole screen and provide you with far more visual information than any of the previous versions ever did. This was a change made last year and seems to continue in 2022. We do get that some may prefer the old design that could still allow you to watch what was on screen but this is completely a personal preference.
The latest webOS looks a lot like Google TV and its layout. It seems that smart TV platforms opt for a more personalized experience and as such the new webOS 22 tries to provide you with options that are tailored for your viewing habits. As such there are personalized ads, recommendations based on your viewing patterns both for streaming services and broadcasting channels and even shopping suggestions.
And here is the first addition in the 2022 version as now we have user profiles and each family member can have their own favorite settings and streaming apps. Keep in mind that these user profiles do not extend to the image settings of the TV itself as these will remain universal.
When you first look at the new design you will certainly feel like it's a cluttered mess but if you spend a few minutes with it most of its architecture will dig in and you will get the hang of it fairly fast. By pressing the Home button the main webOS page opens where you still get a single row of your apps on the bottom that you can re-arrange any way you want.
Once again on the top you get three big tiles for sponsored content, weather and time along with search. Below a single row with recommendations depending what LG's algorithm believes you would like to watch. Under the apps row there are many more options to choose from like the Home Dashboard, broadcasting channels, shopping recommendations, Sports Alerts messages and much more.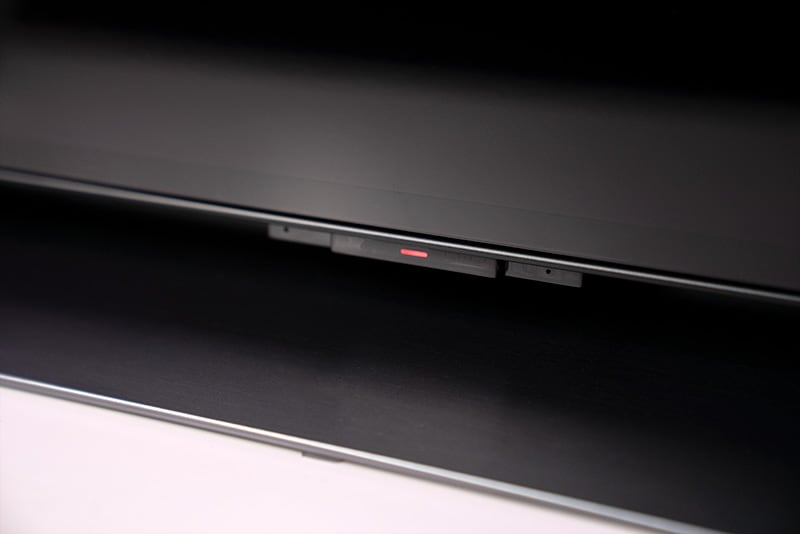 Another thing that we did notice was that the new webOS felt more quick and more responsive than before. Apps would open faster and navigation felt even more smooth which may have to do with the new chipset that the C2 comes with.
One thing that hasn't changed in the new 2022 version of webOS is app support and as such you will find all the apps you may need with more available from the online store for downloading. All the big players are present with Netflix, Youtube, Amazon Prime, HBO, Vudu, Hulu, Google Play Movies, Disney+ and Apple TV+ just to name a few of the most notable ones.
Other available apps include Apple Airplay 2 and Apple Homekit. With Airplay 2 you can stream content from other Apple devices on your TV while HomeKit lets you control certain aspects of the TV through your mobile device.
Another feature that makes a comeback this year is Sports Alert. You can set your favorite team on the TV and the C2 will inform you when a match will be shown and in which channel while can also give you score updates and the likes. The Sports Alert feature seems to be working with the internal tuner and it gives you the ability to choose from a wide range of teams and sports.
And since we are talking about a smart TV platform we could not go by without mentioning  voice control functionality. LG has included not only their own ThinQ AI that you can use to search for various information but also the two most used voice control platforms including Amazon Alexa and Google Assistant. By using the Magic Remotes built-in microphone you can issue your commands like search for a specific TV show or control your TVs volume and change channels.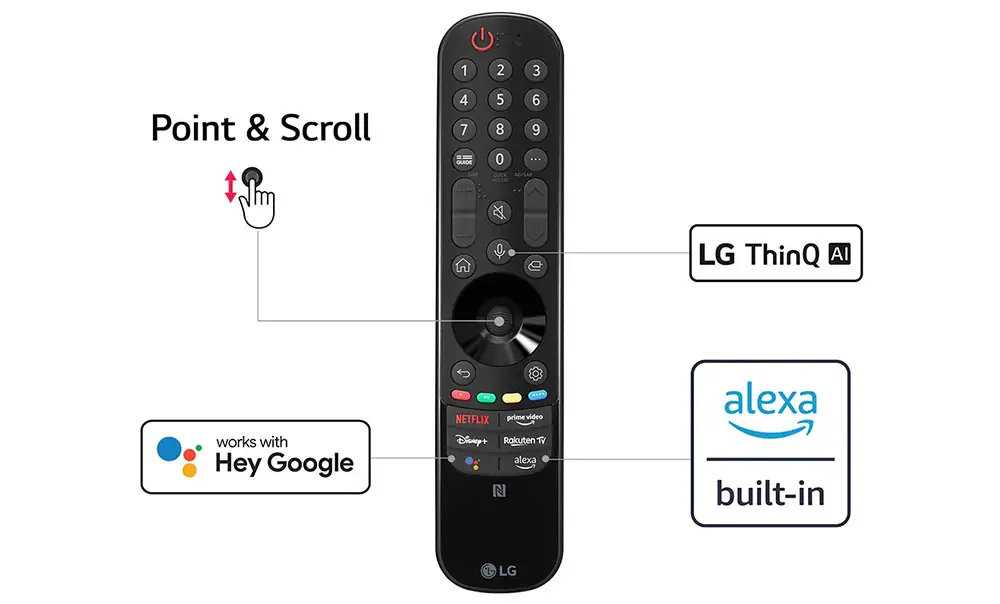 There is also mobile app support if you prefer that instead of using the included remote. LG is using their ThinQ app that is supported both by Android and iOS devices and with it you can issue some basic commands to your TV.
For another year we find what LG calls Home Dashboard which is a nice little feature that lets you have an overall look at all the connections of the TV. From last year the Home Dashboard has been fully intergraded into the webOS Home screen making its access faster than before.
Other new features in 2022 is the room-to-room sharing for viewing cable or satellite content on another TV at home and Multi-View capabilities including Picture in Picture (PiP) and Picture and Picture (PaP).
Overall the new webOS 22 may not be such a drastic change as was webOS last year but still feels smoother, faster and adds a few new features like user profiles and Multi-View capabilities that may appeal to some users on top of all the other features we got from last year making the new webOS one of the best versions yet.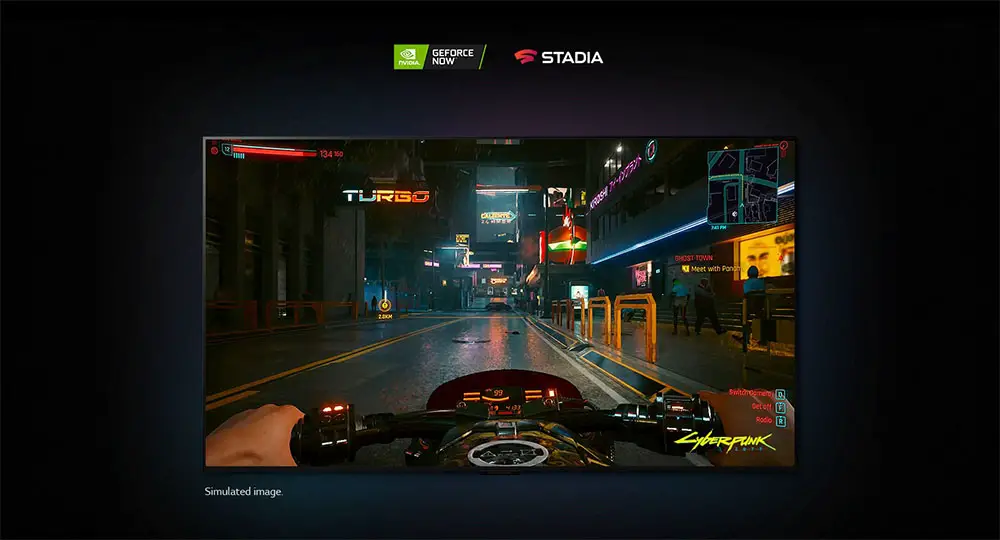 Final Thoughts
The C series has been a fan favorite for a few good years now and not without reason. But some of them felt more like minor upgrades than anything else. The LG C2 is the first model for some time that you can really see the improvements across the board.
Compared to the C1, the new 2022 C2 has better upscaling and sharper image, higher color coverage, better out of the box accuracy, higher brightness output, better color gradients and improved motion interpolation while retaining many of its strong aspects that all the C models have like extremely low input lag, excellent black levels and contrast ratio, strong gaming capabilities and a fully packed webOS.
On the downsides the most obvious downgrade compared to the C1 is the exclusion of 120Hz BFI. Everything else is the same as its predecessor with no HDR10+ support, no DTS audio either from internal apps or through the eARC port and the obvious risk of burn-in that all OLED TVs still have even if this last one is not a big problem anymore.
Closing what we can say about the LG C2 OLED is that if you are a gamer and you want one of the best gaming TVs for 2022 then this one fits the bill and then some. The C2 makes a lot of things right, it improves many aspects of the C1 and as a result it is an ideal model if you plan on using it for both movies and gaming making it the best C series release to this day. Highly recommended.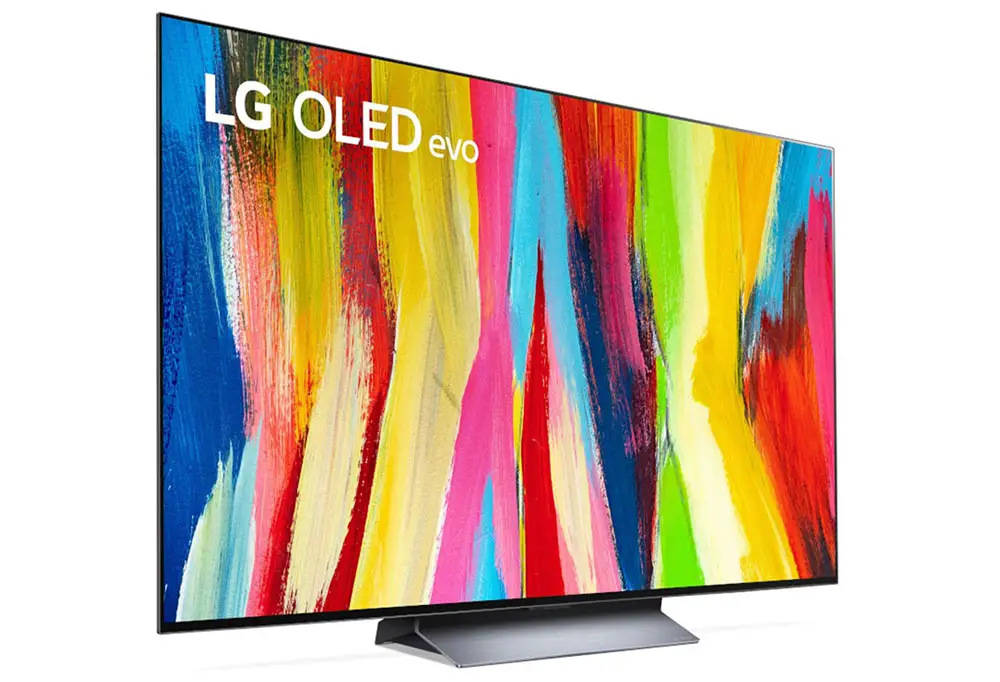 For more reviews you can check our dedicated 4K OLED TV reviews list or even look at our Product Reviews Table where you can find the brand and specific product you are looking for.
Also don't lose the chance to subscribe to our Newsletter and gain exclusive privileges.
---
---
Cheapest Places to Buy :
---