HU70LA (US) / HU70LS (UK/Europe)
Design -

90%

Video Quality -

85%

Inputs / Ports -

85%

OS, Apps and Features -

90%

Price / Quality -

95%
---
Cheapest Places to Buy :
---
Usually when we talk about projectors there are specific limitations depending on what you are looking for. You will have to choose between good 4K image quality, portability, smart functionality and features and all these at a very low price. And although there are a few models out there that combine some of these it was hard to find one that would have the whole package and here is where LG comes in as it seems they also thought of the same thing.
In today's LG HU70LA review we will be testing a projector that belongs in LG's CineBeam series and it's goal is to combine all the functionality that we see in today's smart TVs like online streaming and smart functionality along with good image performance all packed in a small box that is easy enough to carry around and do all this at a price that reaches the lower limit of 4K projectors prices. This really seemed like an impossible feat but LG thinks otherwise with the release of this unit.
What we have here is in reality a 4K pixel shifting DLP LED projector in an unusually small size that comes with LG's webOS smart platform along with all the bells and whistles this has like online streaming services and voice recognition controls and has a price tag slapped on it that touches the psychological barrier of $1,500. It sounds too good to be true isn't it? That's why we are here to put it on the test and see if LG has really created a small powerhouse or there is a catch hiding between all it's specs and features. Keep reading to find out.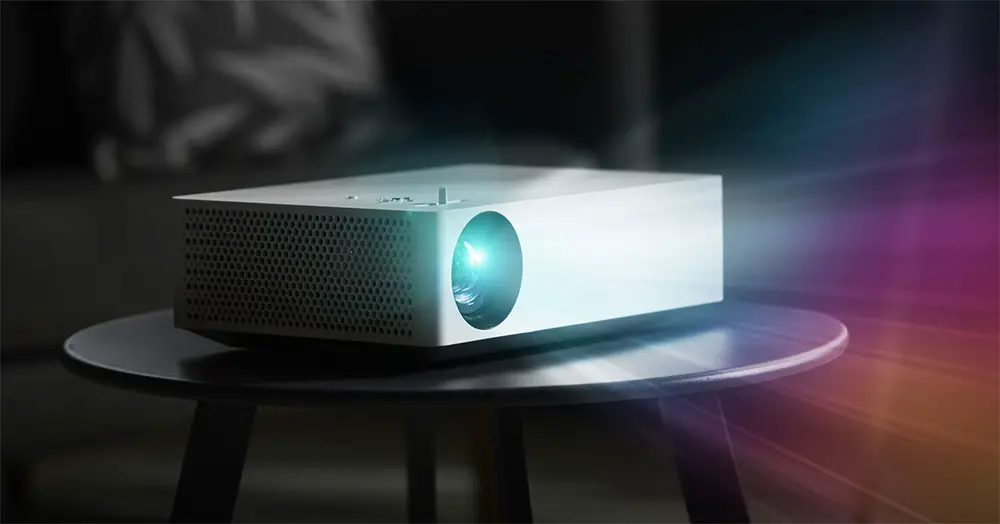 Design
It's been a very usual phenomenon for projector manufacturers to use different namings for different markets only adding to consumer confusion. The good thing is that in the case of the LG projector there is only a small difference so you shouldn't have a problem identifying the same model. As such in the US market this unit comes by the name LG HU70LA while in the UK and other European markets you will see it by the name LG HU70LS. So if you see these and wonder if there is any difference between them keep in mind that the HU70LA comes with a built-in Digital TV tuner while the HU70LS doesn't have this. All their other specs are like for like.
Now that we cleared the naming difference let's talk about the actual design of the unit. LG has created a very simple design chassis for the HU70LA that comes with an unusually small form factor for a 4K projector even if we are talking about a pixel shifting variant. Coming with a size of 12.4″ x 3.7″ x 8.3″ (314 x 95 x 210 mm) and weighting just 7.1 lbs (3.2Kg) this projector was created with portability in mind. And this is further supported by the simple boxy design without anything extruding that helps with storage and makes moving it around a piece of cake.
The strongest point of this LG projector lies on it's simplicity and the white boxy look with the straight lines and slightly curves corners may not turn heads but had something that really made us like it very much. We like designs that follow a strict symmetry and probably this is the reason we loved it's looks. The unit features an asymmetrical design for it's lens as it have been placed on the left side as we look the projector from the front.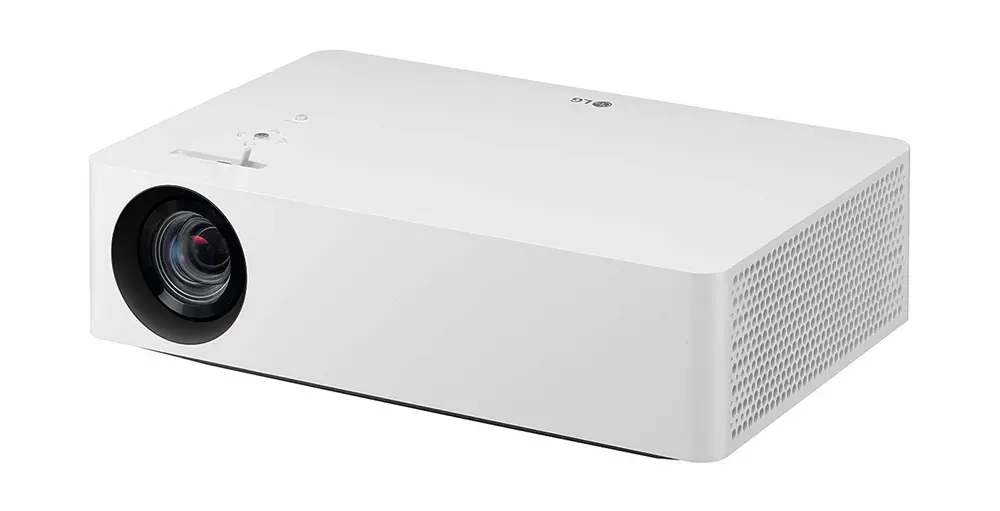 Both left and right side are completely perforated with the left one acting as an air intake and the right one as the outlet vent. The top side follows the general minimalism design as it features only the absolutely necessary. Just above the lens we get a lever for adjusting the zoom and below them a single circular power button with four arrows around it with the up and down controlling the channels and the left and right ones managing the sound while these can also be used with the single Focus button that is placed below them. All ports are positioned at the back and we will analyze them in the appropriate section of our review.
Let's now talk a bit about the lens that LG used in this model. The optical system features a 1.25x zoom with a throw ratio of 1.2 – 1.5 which means you can go for a 100″ screen size at 11.2ft(1.25x) ~ 8.9ft(1.0x) while the screen size limits are between 60″ and 140″. Unfortunately there is no lens shifting so placing the projector can be a bit more problematic. At least what you loose from this you gain by the increased portability this unit has.
There is also automatic Keystone correction in case you have a trapezoidal screen image caused by tilting of the projector. As we always say it is best to avoid this feature and use it only in the extreme situation that you cannot level the projector correctly as Keystone tends to lower image quality and we want to avoid this. In general the small amount of zoom with no lens shifting can put more troubles to you when positioning it than necessary. It's easy to handle size is what saves it and make these omissions somewhat less of a problem.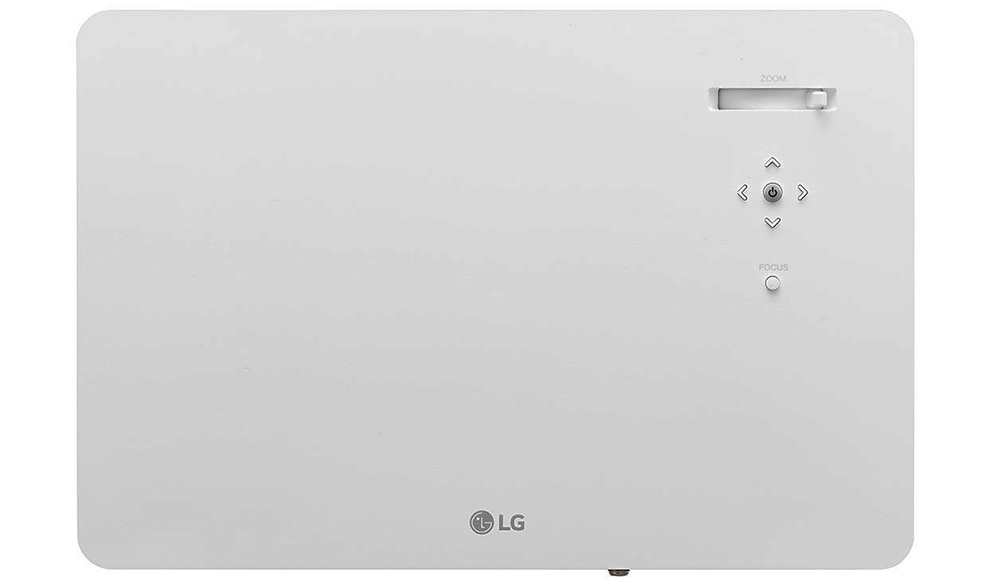 If you plan to place the unit on a furniture the back legs are adjustable so making the projector straight with the screen is not a hard feat and this way you avoid the need for Keystone as we mentioned above.
As for what is hiding under this shiny white plastic shell we will talk in more detail a bit further down this article but since we are talking about a 4K pixel shifting model we find no other than the familiar Texas Instruments imaging chip that has a native 1080p resolution and uses XPR fast-switch pixel-shifting in order to achieve the full 4K resolution.
Having tested many pixel shifting projectors in the past we can say that if going for a native 4K projector is too much of a stress for your wallet these variants can be an excellent alternative as they offer amazingly close 4K image quality and sharpness at just a fraction of the cost of a true 4K model. And this is the reason why these have become so popular these days.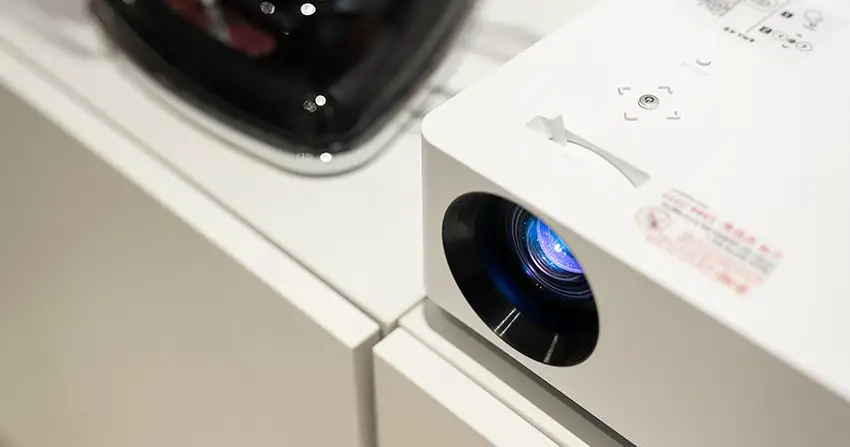 But while we have praised the 4K pixel shifting technology for what it offers it is not without a few shortcomings. One of them is slightly elevated noise levels compared to true 4K ones. This happens because of the extremely fast switching that can create a slightly elevated buzzing. In normal viewing conditions this will probably go completely unnoticed by if you are extremely sensitive and there are quiet moments then the noise can be heard.
LG has rated the HU70LA 28dB in Normal viewing with High Brightness rising this to 30dB and an economic setting that drops it to as low as 25dB. Since every person has different limits of how much noise you consider acceptable it would be better to give it a try if possible before deciding if it is ok for you or not. Just keep in mind that most pixel shifting models have the same characteristic so don't expect to find a similar one that will be completely quiet as this is the result of the technology used and not something that has to do with the design of the specific projector.
If there is one thing that projector users hate is lamp life as the more the projector is used the most it's lamp performance degrades until it needs changing which is not a cheap thing to do. LG seems to have also found a solution to this as this unit's light engine uses four LED channels for red, green, blue and an additional one that LG calls Dynamic green. This LED system is rated to last up to an amazing 30,000 hours before it needs to be replaced which can easily translate to many years of trouble-free operation.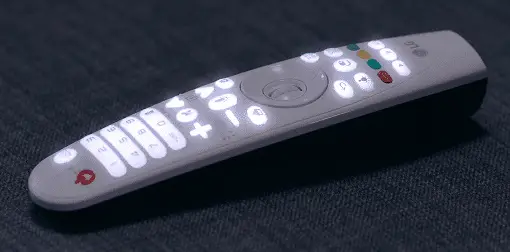 What LG has done with this unit is basically to fit a smart TV into a small box and as such they wouldn't be able to do that without including their famous Magic Remote that we have used countless times on their smart TV models. The one that comes with the HU70LA is a white variant that follows the same design lines as their previous versions and has all the functionality and features of a true smart remote.
This means that it uses LG's unique pointer system where you can use the remote like a pointer mouse instead of using the buttons to choose specific settings, it has a built-in microphone so you can issue your voice commands and comes with a complete set of control and function buttons for everything you will ever need. You always loved LG's Magic Remote and seeing it here is a huge plus in our books. Oh, and we shouldn't forget to mention that there is backlight function so you can easily use it even in a completely dark environment.
A couple of things we should mention before we close this section. First of all there is no frontal IR sensor as we see in almost all projectors. There is only one at the back and while in our situation we didn't have any problems issuing our commands it is a curious design choice not to include one at the front as placing the projector in the ceiling and behind you can create a few problems. The second thing you should keep in mind is that in order to keep the size as small as possible the projector comes with an external power supply brick which can be a bit troublesome to place or carry around.
But even with these small shortcoming LG has created a really amazing design that is based on simplicity and easy to handle ergonomics without sacrificing any of it's functionality.
Video Quality
Technology used
We already mentioned above that the LG HU70LA is using an updated version of Texas Instruments 0.47″ DMD DLP chip which has a native resolution of 1080p and by switching it's position four times it manages to display the full 4K image on screen.

This technology has certainly improved over it's first iterations as with the newer chips the speed of the shifting has increased and as a result the overall sharpness has been improved as the time it takes for the pixels to reposition themselves has decreased. It's not a night and day improvement but the difference is there and shows how much they are pushing this otherwise more affordable technology in order to come as close as possible to true 4K solutions.
Another advantage we have here is that since we are talking about a single chip DLP projector there are no alignment issues that we have seen in 3LCD or LCoS projectors that come with three imaging panels that need to be perfectly aligned, otherwise there is a loss of sharpness which results in a more softer looking images.
4K UHD / HDR Content
Proceeding to our movie testing the film we chose to try out was the 4K UHD version of The Lion King. Feelings of the 2019 release may vary as some people really disliked it while others adored it but one thing is for certain. The UHD disc has an amazingly sharp picture that is of reference quality and in combination with it's broad and vivid color palette it is a real visual spectacle and exactly what we needed for checking out the capabilities of the LG.
One of the first things we noticed was how sharp and clear the image was. We may be talking about a pixel shifting model here but this clearly shows how good this technology is compared to a native 4K model. You could easily distinguish Simba's individual hairs in his fur as well as make out so many details on the environments that will make your eyes wet. Also we were impressed how natural and full of volume the colors felt without the need to adjust any settings. As you will read below there is room for improvement but even with the default settings the colors were extremely good and accurate.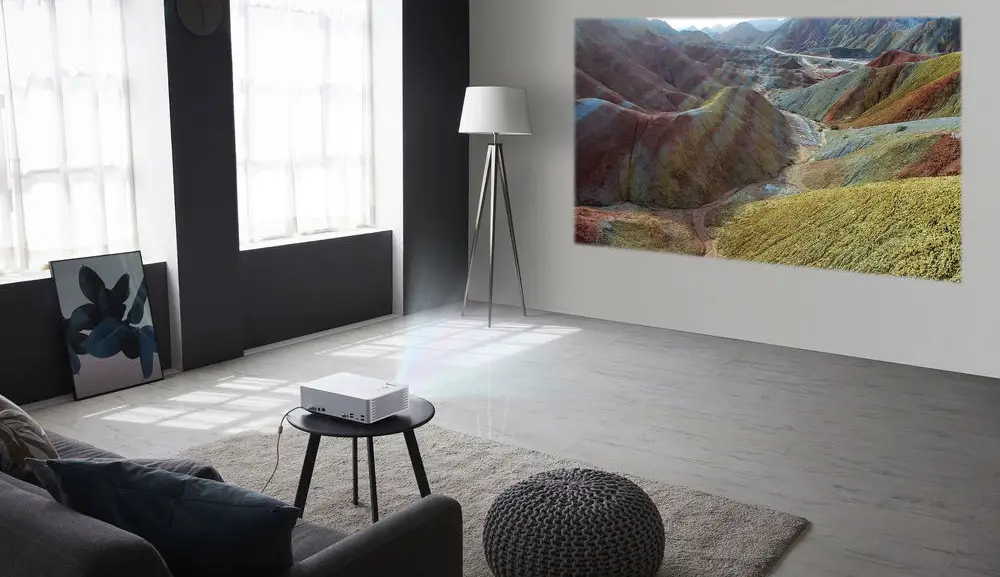 The projector supports HDR10 and while it's brightness capabilities are not extremely high the unit incorporates an auto tone mapping feature that is responsible for automatically adjusting the dark/bright levels of the content being played to the projector's capabilities which can make a big difference in certain situations. Keep in mind that projectors, even those that are HDR capable, cannot reach the brightness levels of TVs even more so in this low price range but even so the LG one was surprisingly good in this regard.
One thing we should note that while the HU70LA supports HDR10 and has a built-in DTV tuner, there is no HLG support that could benefit it greatly with broadcasting channels.
Full HD / SDR / 3D Content
A 4K projector is obviously meant to be used with 4K content but with such a vast library of 1080p content any quality projector should also be good at displaying HD/SDR content. For that we decided to try out the Blu-ray version of Oblivion. We love the artistic design of this film and how clean and sterile look it has making it an excellent 1080p sample.
The HU70LA was able to display the film with exceptional clarity. The outpost's environments were displayed with the kind of detail that really brings out all the small details of the production. The overall picture may not be as impressive as in our 4K testing but it still managed to give us very accurate colors, great sharpness and resolution and engaging brightness.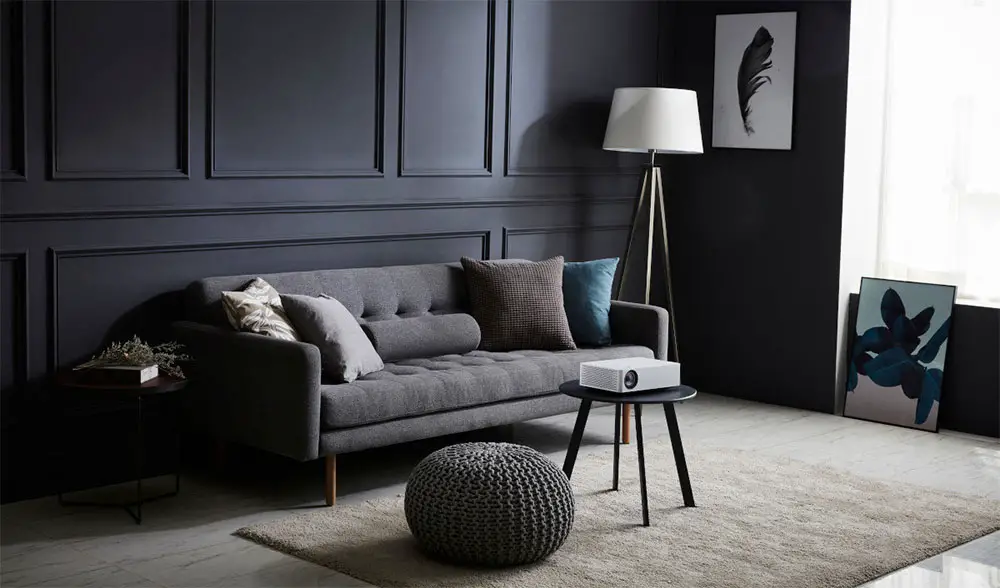 If there is one major downside is that there is no 3D support which can be a huge bummer for many that still use their 3D libraries around. As there are a few other projectors in this price category to support 3D it's a bit strange why LG decided not to include that on this model. And while this may disappoint a few in general when it comes to it's HD/SDR performance rest assured that your library is literally in good hands.
Color Coverage
We have already mentioned that the LG HU70LA comes with a 4 channel LED RGBB light system. This certainly has it's advantages as going away from the traditional spinning color wheel means that in theory it should reduce the Rainbow Effect that is plaguing many DLP projectors. Also by using RGB separate primary colors the projector can display a more vivid picture with very little color loss. This unique system can achieve a 95% coverage of the DCI-P3 color space making the colors this projector can display more alive and lifelike.
Brightness / Picture Settings
The HU70LA is rated as a 1,500 lumens projector and while this may not seem like an overall high number we would say that if it can come even close to this number we will definitely consider it a very good one as theoretical numbers usually deviate very much for their real performance. The projector features 8 different picture modes for SDR content that include  Vivid, Standard, Cinema, Sports, Game, HDR Effect, Expert Bright Room and Expert Dark Room. These change to 5 different ones when you feed it with HDR content that are Vivid, Standard, Cinema, Cinema Home and Game.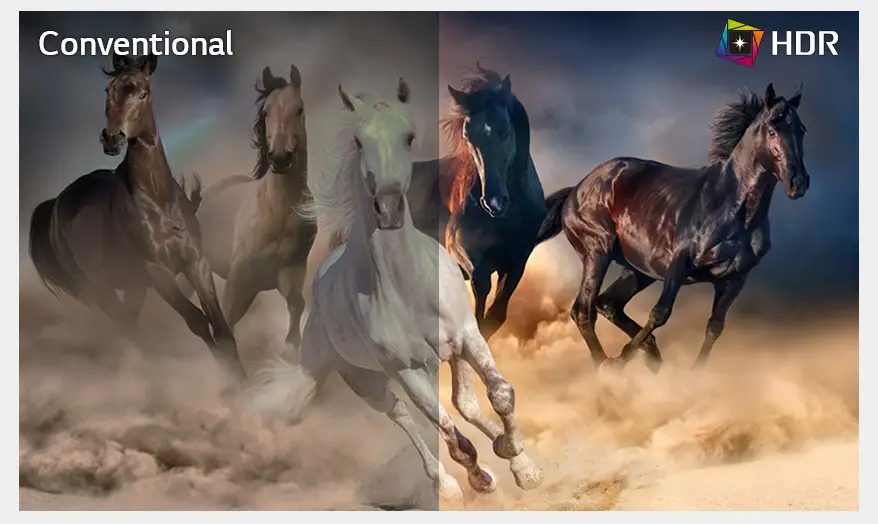 With minimum energy saving setting and widest angle zoom we got a maximum of 1258 lumens in both Game and HDR Effect modes which is really good considering that we are talking about such a low cost projector but these exhibit a slight blue tint that it was very subtle and we suspect that many users may not even notice it for casual viewing. The Cinema mode along with both Expert modes produce the least brightness at 1058 and 1060 lumens respectively but at the same time were the most accurate in terms of out of the box color accuracy.
Now obviously you can tweak things a little to make the image colors even more accurate but we will refer mostly for the best possible results you can get without the need to trouble yourself with calibration settings. If you are the kind of guy that just wants to choose the most accurate mode without going any deeper then for HD/SDR our recommendation is the Cinema mode that combines good brightness with the most color accuracy possible. As for 4K/HDR we will suggest you the Expert Bright Room mode for rooms with some ambient light or the Expert Dark Room mode for completely dark environments.
Black Levels / Contrast
If there is one area that we have seen time and time again these low cost 4K pixel shifting DLP projectors fall short is in their black levels and contrast performance and this seems to be the same here as the HU70LA is managing to display blacks that are closely to dark greys. There are projectors with better black performance but you will either have to go for a higher price or omit all the features and smart functionality this one has.
It's obvious that LG created this model to be used in a family room or living room where some kind of light will be present which could more or less mask this problem and for the average use you shouldn't consider this a major distraction. But if black levels is of utmost importance to you then there are other models for you to consider.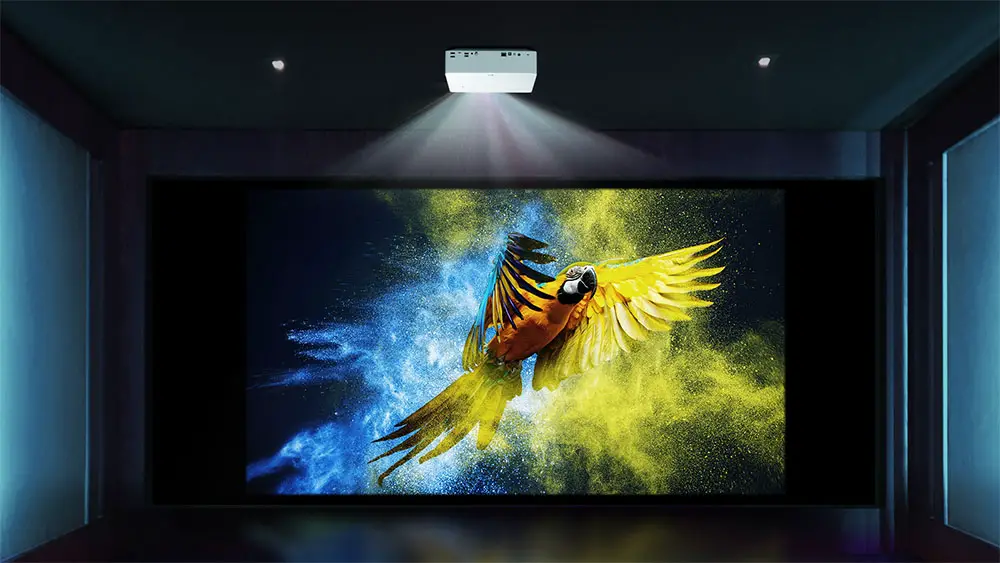 Input Lag
Next in line comes our input lag test and the LG gave us a measurement of 46ms with Instant Game Response mode on which is neither very good nor exceptionally bad. Anything under the 50ms mark we consider to be adequate for casual gaming but if you are a serious gamer and you want a projector that provides the absolute best in this then maybe this one will not fit the bill.
In our case there is one game we always try in all our reviews in order to get a first hands real situation feeling of how this measurements translate and this is no other than Call of Duty WWII that we tested through our PS4 console. Keep in mind that we consider ourselves only casual gamers so our standards may be very different than yours.
With this in mind in our opinion the LG managed to react very good to our commands. We never felt the high input lag to hinder our reactions and we had a pleasant overall gaming session with accurate controls and movement registers. So if you consider yourself a casual gamer you shouldn't have a problem at all.
Motion Performance
LG has equipped the HU70LA with it's TruMotion technology which basically is the projector's Frame Interpolation system for smoothing out movement and reducing judder and blurring. There are four settings you can choose from here with Smooth, Clear, User and Off. Smooth reduces judder, Clear reduces blur while the User option reveal two sliders in order to adjust the amount by yourself.
We found that upping the de-judder and de-blur sliders just a couple of steps to be the best setting to use as anything above that will start to make the motion look a bit unnatural. Many low cost projectors don't offer any kind of frame interpolation so this is another major plus of the LG unit.
Ports and Connectivity
Let's see now what the projector has to offer in terms of connections with all of them located at the back face. We will name everything from left to right  so at the far left there is a Kensington lock with the power connector right next to it. To it's right we find the IR sensor, which as we mentioned is the only one on the outer shell, a digital optical audio output along with an Ethernet port for wired connection to the internet.
On the right side we get a antenna/cable port for DTV broadcasting (available only in the HU70LA), a 3.5mm analogue output so you can connect your headphones, 2 USB 2.0 ports for connecting external storage devices to use with the built-in media-player, a USB Type-C that can be used to connect a PC or smartphone and lastly 2 HDMI 2.0 ports with HDMI 1 having added ARC functionality.

The included HDMI ports are fully 18Gbps enabled and HDCP 2.2 which means they support 4K/60fps with HDR. The projector also comes with built-in WiFi and Bluetooth capabilities. Overall an impressive connectivity set for the price asked. We can say that LG included everything that is important and more. Good work on this regard.
OS, Apps and Features
If there is one area where this LG projector differentiate itself from the competition is in the fact that here we basically have a smart TV cramped inside a small box. As such LG made sure to include in the HU70LA it's famous webOS smart platform that we had seen before many times in our reviews with various LG TV models. And along we get all the goodies this brings meaning a complete feature set of streaming and online services, smart functionality and voice control.
First of all we need to mention that the projector's menus are separated into two categories. On one hand we have the webOS menu that has an almost identical design with the one we find on LG TVs and can be summoned by pressing the Home button on the Magic Remote and on the other hand we have the projector's settings that can be brought up by pressing the gear looking button that is opposite side of the Home button on the remote and in this you can change image settings and projector parameters.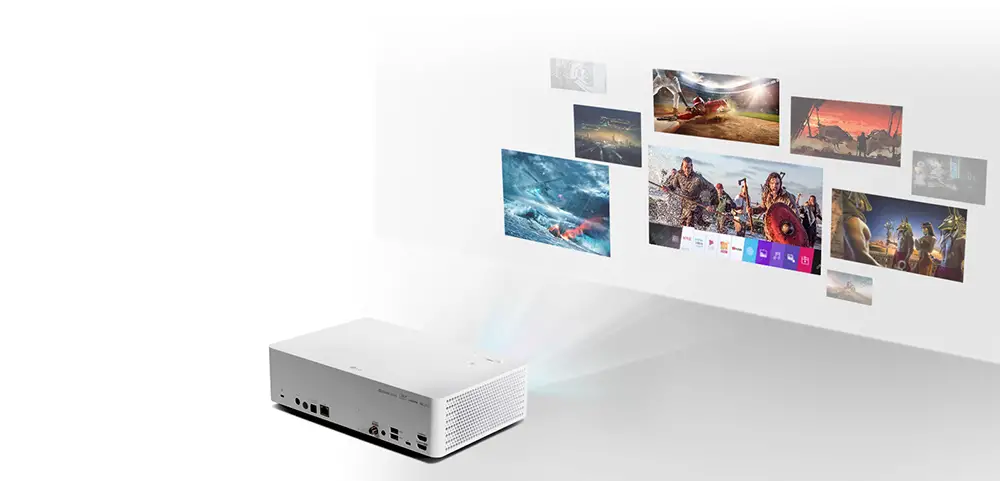 With so many menus and settings it can be easy to get lost but we definitely liked how LG managed to bring everything together into one nicely made UI environment. It's a welcome change compared to the usually boring and plain looking settings we see in many low cost projectors and what we have here is miles ahead of everything else in this regard. If you ever had the chance to see what a smart TV can offer then you have a small idea of what to expect here.
LG's webOS is famous for the support it has from developers with many streaming and online apps being present and this couldn't be different in this unit also. Obviously many of these services are location based but a few of them include Netflix, Youtube, Amazon, LG Channels, Google Play Movies, FandangoNow and Spotify Music among others.
Another feature that we see almost always with webOS is LG's ThinQ AI technology with which you can do voice search for specific content as well as use the Magic Remote's built-in microphone to control various aspects of the projector. But voice control is not only limited to LG's tech as we also find support for Google Assistant expanding even further the smart aspects of the unit.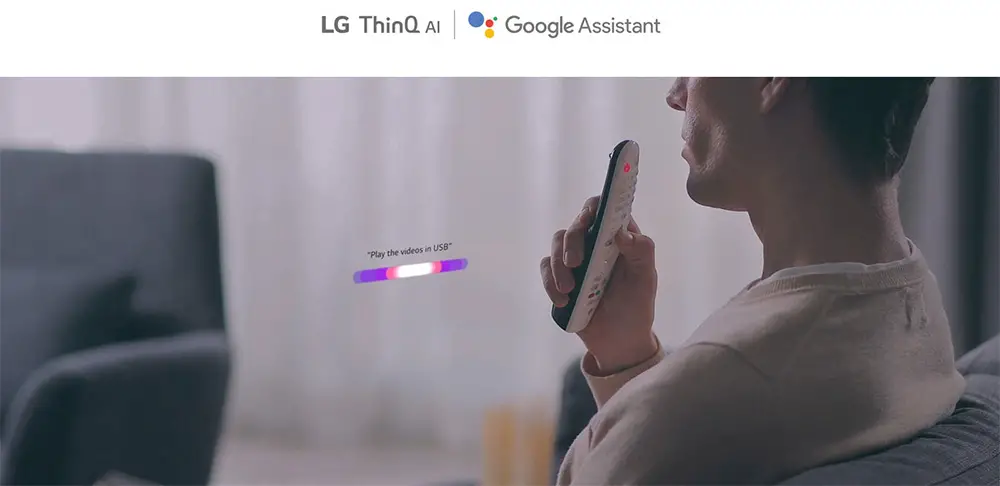 Having a couple of USB ports means that we get a built-in media player that can play various content either it be music or video. Although this one cannot obviously replace a dedicated media player we found it supporting some of the most usual files and containers both in 1080p and 4K resolution. It's not a complete list, as we found out that it cannot playback H265 content which is very common with 4K files, but this was to be expected and to be honest we are happy with the diversity the player already has.
Enhancing even further the projector's portability LG has thrown in there a couple of speakers for good measure. And while these 3 watts speakers are not anything fancy to talk about as they are good just in case you want to take the projector to a friend's house for a sports night it shows that LG left nothing unattended. With it's compact size, for a 4K model, along with the on-board audio the HU70LA is an excellent projector to carry around.
There are a few more features that we should mention and one of them is the support for Miracast as with it you can connect the projector with any mobile device or computer that also supports Screen share and project the content on a huge screen. There is also Bluetooth streaming and you have the ability to connect the projector with any kind of Bluetooth enabled speakers or headphones.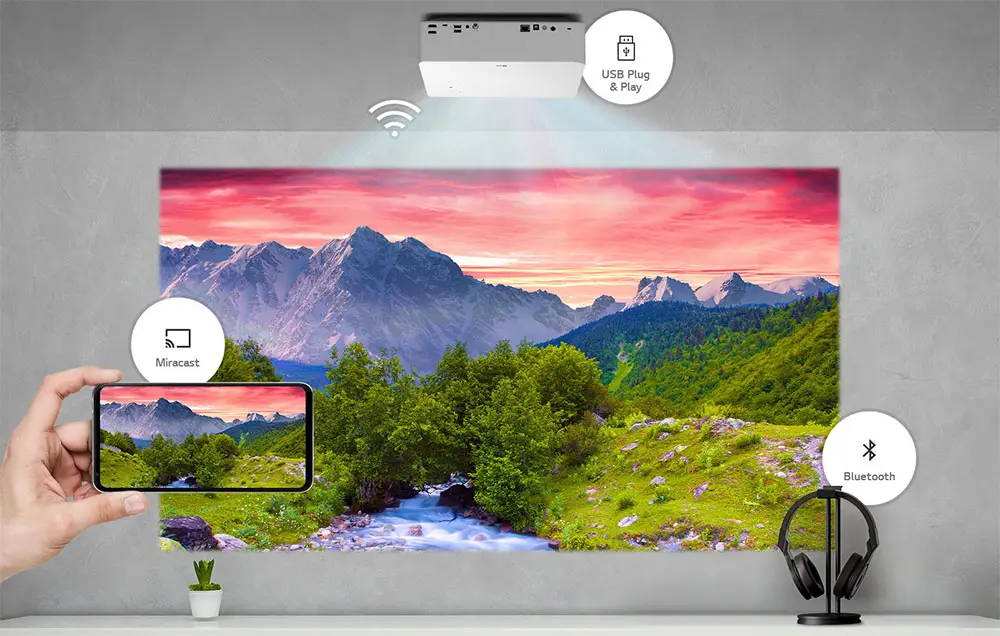 Lastly we should mention that there is also HDMI-CEC and with it you can use the projector's Magic Remote to control other devices like a UHD player for example if it also supports SIMPLINK. This way you can minimize the amount of remotes you have to use with your system.
The amount of features being supported reminds us of what we get in a fully functional smart TV. There is hardly anything missing here and this is quite amazing for such a small unit to pack so much functionality. LG managed to be way ahead of competition in this regard.
Final Thoughts
Sometimes it's hard to find specific words to describe a certain product. Usually when it comes to projectors and specifically those that are below the $2,000 barrier we have seen a trend where they try to focus as much as possible on offering the best image performance possible for the asked price. On the other hand LG feels like they went for a different approach. We can image a group of LG engineers looking at their latest smart TV releases and thinking how nice it would be if they could fit all this functionality in a small factor 4K projector along with the good performance that pixel shifting technology has and slap a low price that could compete with the other brands.
And it seems that with the HU70LA they did manage to do exactly that. This model has so many things to offer that it's crazy to think about it. It packs the kind of performance we have seen in many other pixel shifting models which is incredibly sharp 4K images with great out of the box color accuracy and good motion performance along with a fully featured smart platform in the form of LG's webOS that includes online streaming services, voice controls and built-in media player along with plenty of connectivity options all inside a nicely looking white box that comes with LG's Magic Remote. And you get all these at a price close to the $1,500 range.
Of course not everything is perfect. One area that these projectors seriously lack at is at their black levels and contrast performance. The projector managed to produce more dark greys than true blacks and although a bit of ambient light can minimize this problem it's something that should be noted. Also there is no lens shifting that along with the relatively limited zoom can make placement a bit troublesome. Lastly for a unit that comes with a built-in DTV tuner (on the HU70LA) we find it hard to believe that there is no HLG support that would greatly benefit from since this was mostly made as a broadcasting HDR protocol.
We could not be more happy overall by what we have seen here today. The LG HU70LA is a projector that was designed to be an all around device that is portable, has great out-of-the-box performance, can display amazingly sharp 4K images and content, comes with all the smart functionality today's TVs have and all that at a price that is hard to believe. LG has created a winner worthy of our highest recommendation.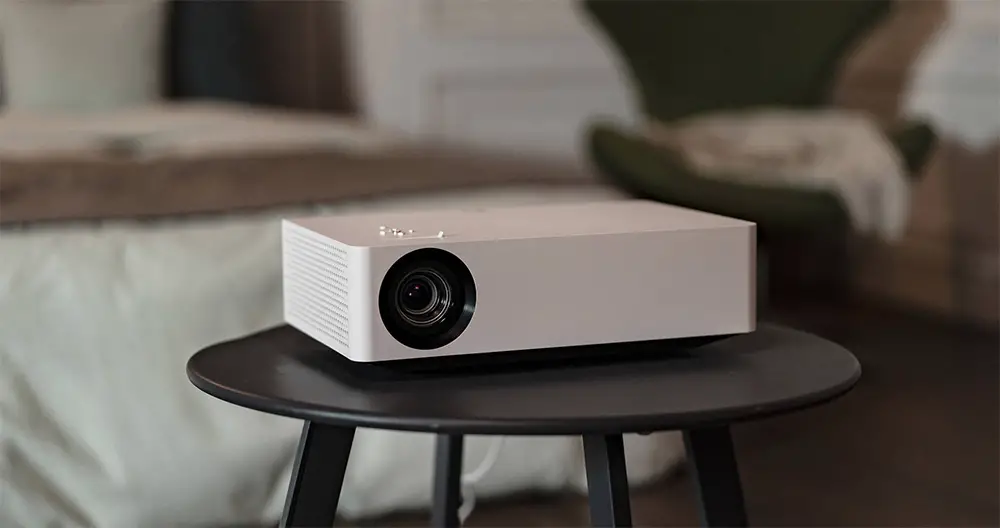 For more reviews you can check our dedicated 4K Projector reviews list or even look at our Product Reviews Table where you can find the brand and specific product you are looking for.
Also don't lose the chance to subscribe to our Newsletter and gain exclusive privileges.
---
Cheapest Places to Buy :
---