LG HU80KA (US) - HU80KG (Europe)
Design -

94%

Video Quality -

94%

Inputs / Ports -

90%

OS, Apps and Features -

90%

Price / Quality -

93%
---
Cheapest Places to Buy :
---
A few years ago seeing  a 4K projector was big news, but nowadays 4K has become a mainstream format at least for TVs and projectors slowly but with a steady pace follow the same trend making the announcement of a new 4K projector common news. But when LG announced the HU80KA projector it caught the attention of many and for good reason. After all it won the "Best of Innovation Award" in 2018 CES so it was only natural to see what is different about this projector specifically.
First of all the HU80KA is LG's first 4K projector and while 4K projectors have been with us for some time being the first from such a respectable manufacturer it really spices things up as far as the competition goes in this segment. Another thing that makes this specific projector so interesting is it's design and this actually has to do with how the projector can be used something that we will analyze a bit further down the article. If you add the extra wireless features and the very aggressive pricing then what we have here is a really intriguing piece of cinematic hardware. So without any further delay let's see what it has to offer in our LG HU80KA review.
Design
What is immediately apparent is that the design of the HU80KA is nothing of the ordinary. As you can see from the pictures the projector's design is one of a kind as no other projector from any manufacturer bear anything similar to this. But this intriguing design is not only for looks as it serves a very specific purpose. The HU80KA was designed from the ground up for maximum portability. This means that you can easily move it around but also be able to use it in different situations.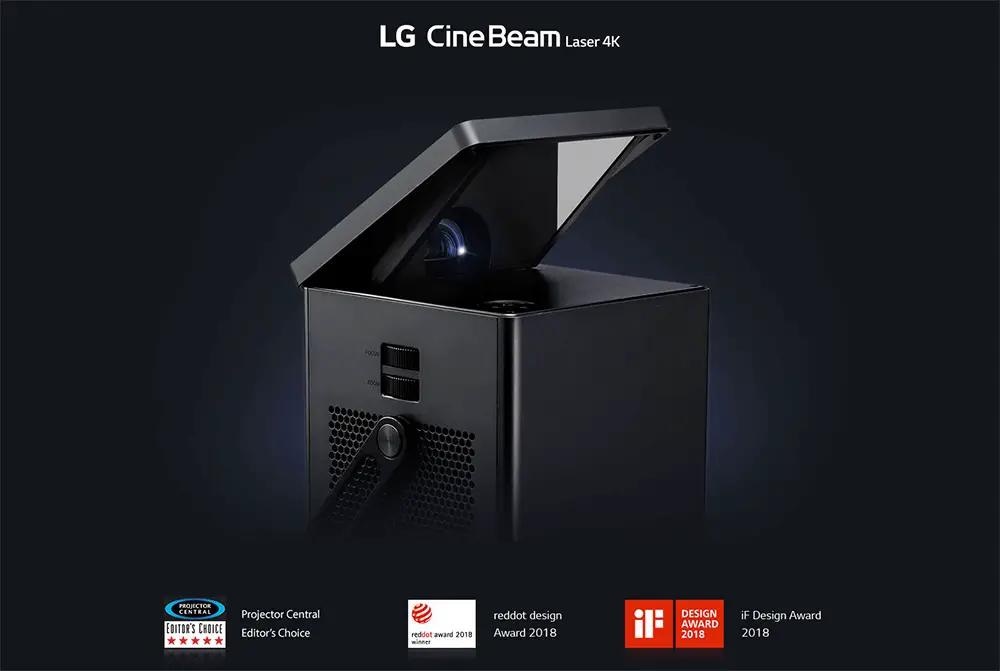 This means that the projector can work in different positions to satisfy the needs of a specific situation. You can ceiling mount it and have it directly point to the screen, you can place it upwards and with the help of the built-in mirror project the picture towards the screen or you can even project the image to the ceiling and watch a movie from the comfort of your cozy bed. There are so many possibilities that it's amazing for a projector to offer so many setups.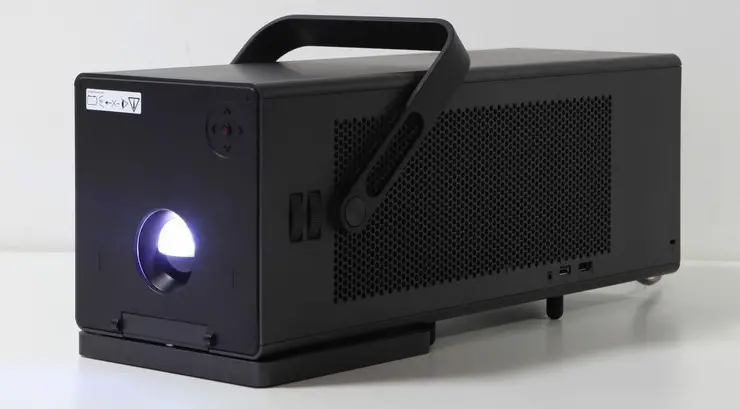 We should point out that the Hu80KA is not a short throw projector. Having a 1.2x zoom means that it has a throw ratio of 1.32 to 1.58 which means that more or less the projector will have to be placed in about the same distance as the viewers position.
There are a few buttons on the projector that will help you control it's various functions. On the side of the lens we find some navigation buttons while on one of the sides we find a couple of calibration wheels for the Focus and Zoom functions. There are no other visible buttons on the body of the projector.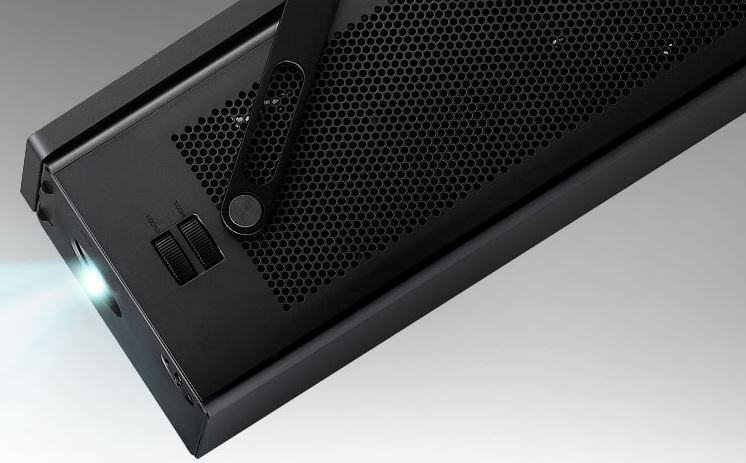 The HU80KA is the epitome of portability. LG has equipped the projector with a handle that makes it easy to move around and can also be used as a stand when the projector is at a sited position. Having also an auto power cord reel and wireless capabilities means that you don't need to carry any extra wires with you when moving it around. If you add in all the above it's relatively low weight of around 15 lbs (6.5 Kg) then we have to give kudos to LG for creating the ultimate portable 4K projector.
Video Quality
The HU80KA is a 4K projector that uses a 0.47″ 4K UHD DLP chip but what makes this one different is that while all the others are lamp-based, this one is driven by a laser phosphor light engine. As a result the black levels are much better, contrast is improved and it has a theoretical 20.000 hours of life before any replacement is needed.
It is very impressive how much contrast and saturation this projector can deliver with Full HD sources and while we are in the 4K era there is so much content in 1080p resolution that  having a projector that can perform so good in Full HD SDR material is more than welcome until at least 4K will become the dominant source for new content.

But when in comes to 4K content then the projector really shines. In addition there is support for the HDR10 protocol that can produce dazzling highlights and very vivid colors. With a brightness of 2,500 lumens the end result are very bright images and performance is much better in low light conditions compared to other projectors. Brightness uniformity is also very good with 87% uniformity at the wide angle end of the zoom while it reaches 92% at the telephoto end. Excellent uniformity from a projector using a 4K 0.47″ chip.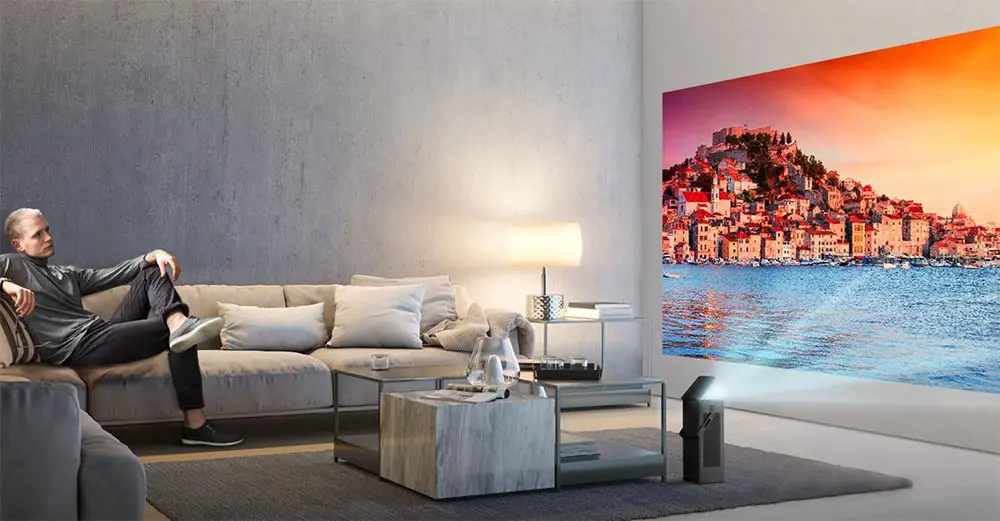 One thing that should be noted is the relatively high input lag that we measured. Although with different settings and features enabled the input lag can change the minimum we were able to get out of the HU80KA with TruMotion turned off is 71ms which is almost three times higher than what most top of the line TVs are offering nowadays. So if you are a gamer that take your sessions seriously then you might want to reconsider using this projector. But for casual gamers it's not the end of the world and although 71ms is on the high side it will not stop you from enjoying your favorite offline game.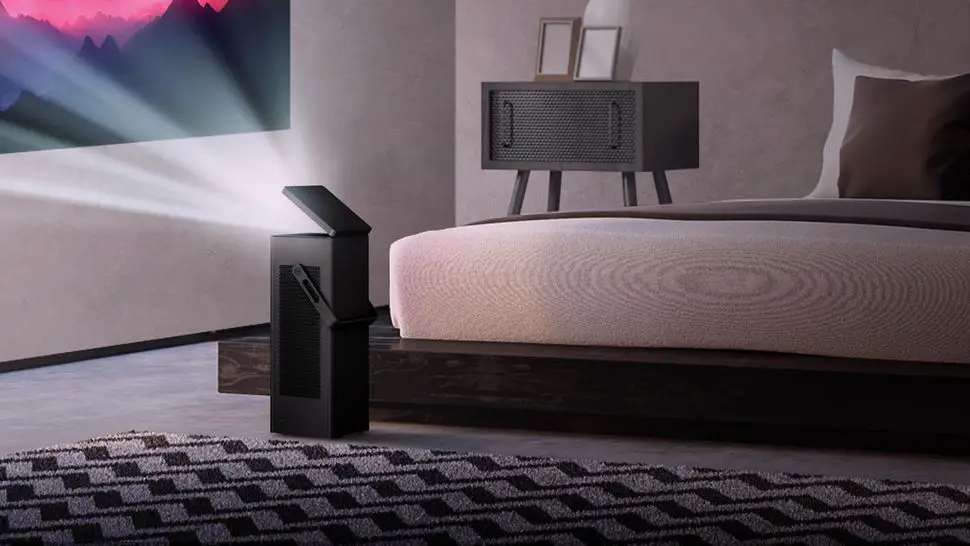 In general we are very pleased with the image quality produced by the Hu80KA in both Full HD SDR content but also in 4K with HDR. Contrast is high, black levels are good and saturation is excellent. Brightness is good enough delivering great HDR with lifelike colors and bright highlights making the end result really impressive.
Inputs
LG has created a special compartment where most connection ports are located. In addition, in true portable fashion you will find a auto power cable reel for easy management at all times. The ports we find here are a DTV tuner along with a Cable In port, an Optical Audio out port, a USB 3.0 port for connecting external storage, a HDMI 2.0 port and an Ethernet RJ45 port for wired connection to the internet.
There are a few more ports placed in the side of the projector and we guess these are meant for easy and fast access compared to the rest. What we get here is a 3.5mm audio jack, another HDMI port and another USB port but this time being version 2.0.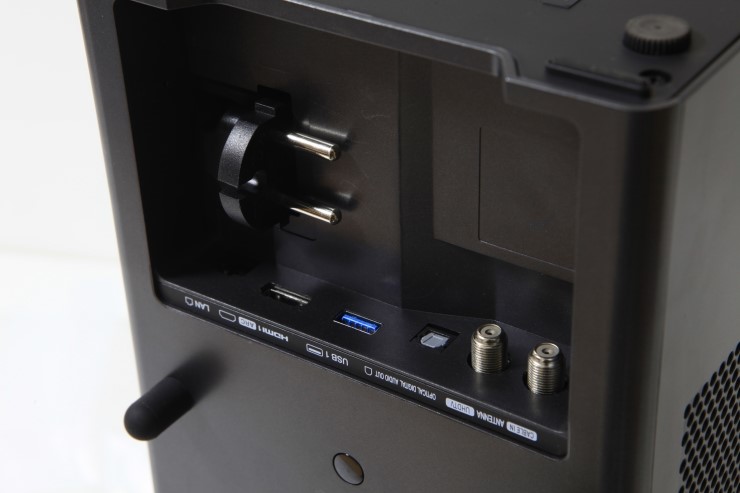 In general we have to say that everything has been designed to the last detail and this shows if you pay close attention to a few design decisions from the LG engineers. From the cable reel, the position of the connection ports, the easy access ports in the side even the small gap in the back so all cables can fit under the projector when it is placed in a certain position show that nothing is left to chance.
The inclusion of a USB 3.0 is a very welcome one and DTV as well as Cable In ports are not common to see but a great addition nevertheless. Great work on this regard from LG and they deserve our applause for trying to offer the best withing certain limitations.
OS, Apps and Features
The projector comes equipped with various settings and features that help you to adjust the image to your liking. First of all as far as the brightness is concerned depending on how you place the projector you can change the brightness output. You  can place it to project directly to the screen or you can have it stand upright and with the help of the built-in mirror to project at a 90 degrees angle. In this situation there is a 4% reduction in the overall brightness due to the mirror being used.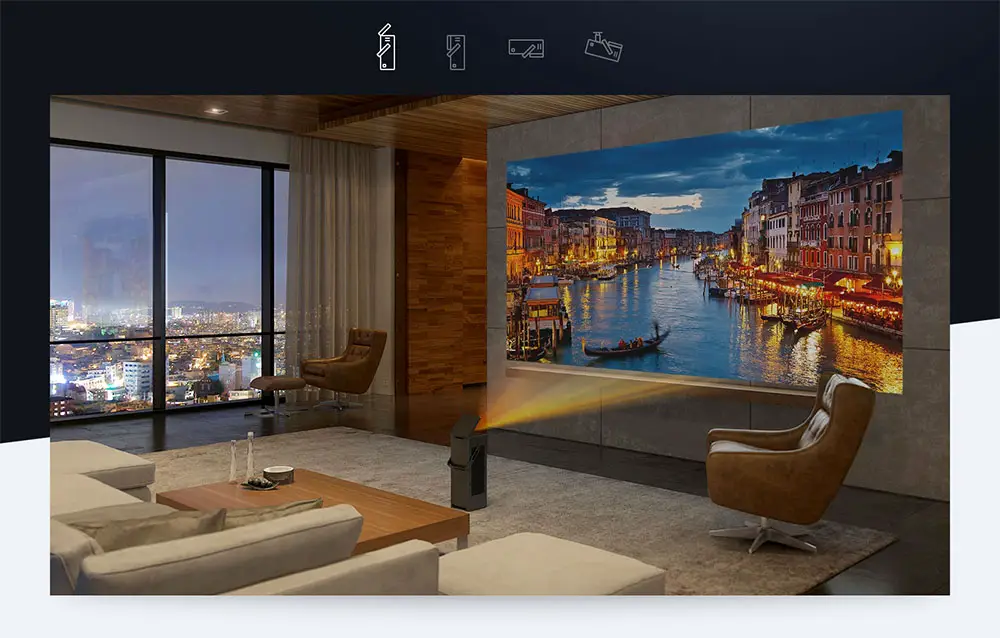 Another feature is that it has four independent color temperature settings and can be selected individually through preset modes. These presets include warm, medium, natural and cool. Natural seems to be the brightest of them all with warm coming second while cool and medium come last with almost identical levels of brightness.
The projector also has three different energy settings with minimum, medium and maximum. Think of these like some sort of Eco mode you find in other projectors. The minimum setting produces the most brightness. Switching to medium setting will reduce brightness by 28% and by using the maximum setting reduces the light output by 52%.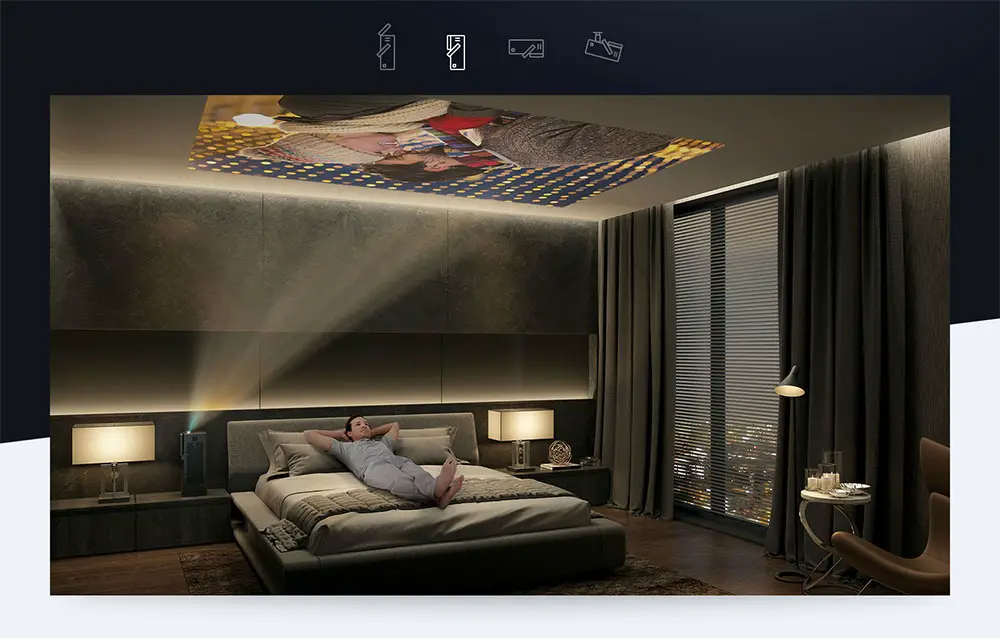 The HU80KA is based on a smart TV platform meaning that video streaming is very easy from services like Netflix, Youtube and others. In addition with it's wireless capabilities the projector offers a complete wireless smart TV platform that you can use anywhere you go. You just need an internet connection and a power plug and you are set.
As far as the the noise levels is concerned the HU80KA is a very quiet projector. Even at the minimum power setting in which case it produces full brightness the noise level is kept relatively low at about 30dB. If you use any of the other energy settings to lower the brightness the noise level can be reduced to about 23dB which is almost as quiet as it can be. Very good work on this regard from LG.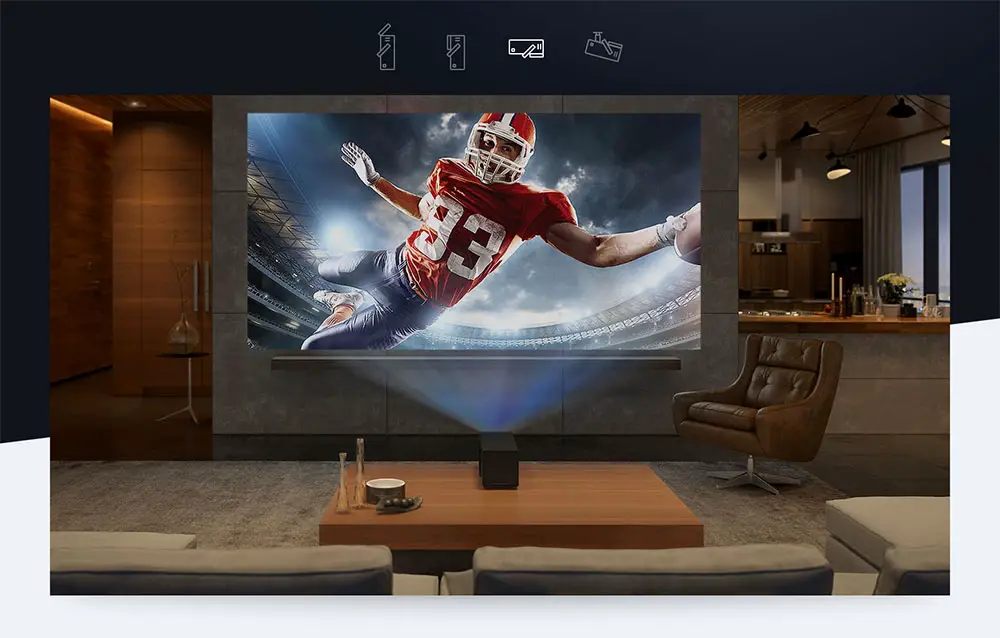 The projector also comes with a very adequate stereo audio system. The two 7W speakers are more than enough to produce the sound needed when you are moving this projector around. But if you plan on placing it in a home theater room or a media room then a dedicated sound system is preferable as the on-board sound cannot give you in any way the cinematic experience of a complete surround audio system.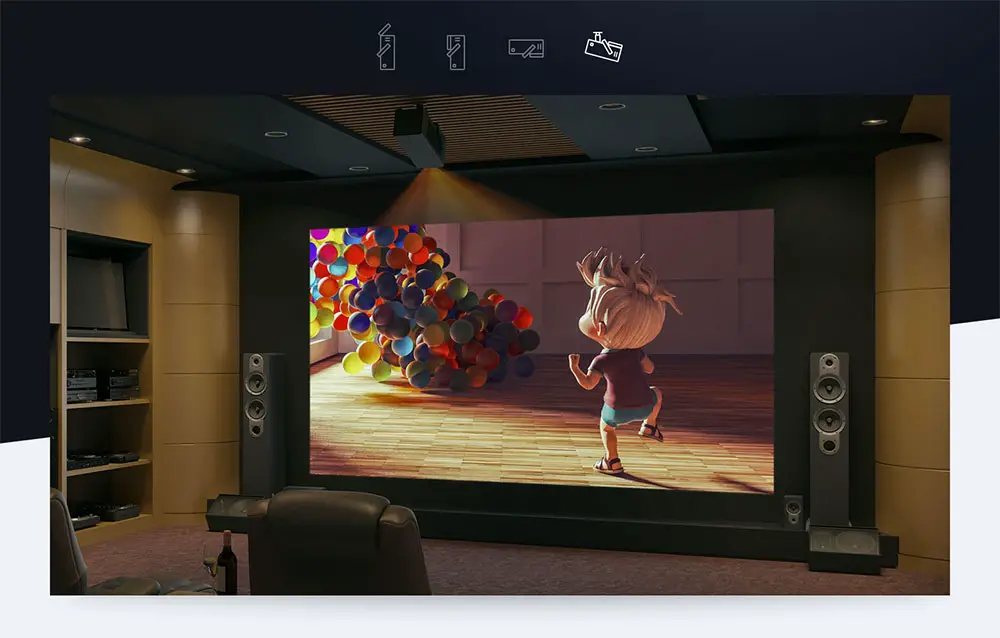 Lastly the included remote control is adequate providing all the necessary function buttons. Volume and channel buttons are larger than the rest, media buttons are color coded and are grouped at the bottom for easy access and the numeric buttons are grouped together separately from the rest for entering channels numbers. In general the remote is functional but offers nothing out of the ordinary.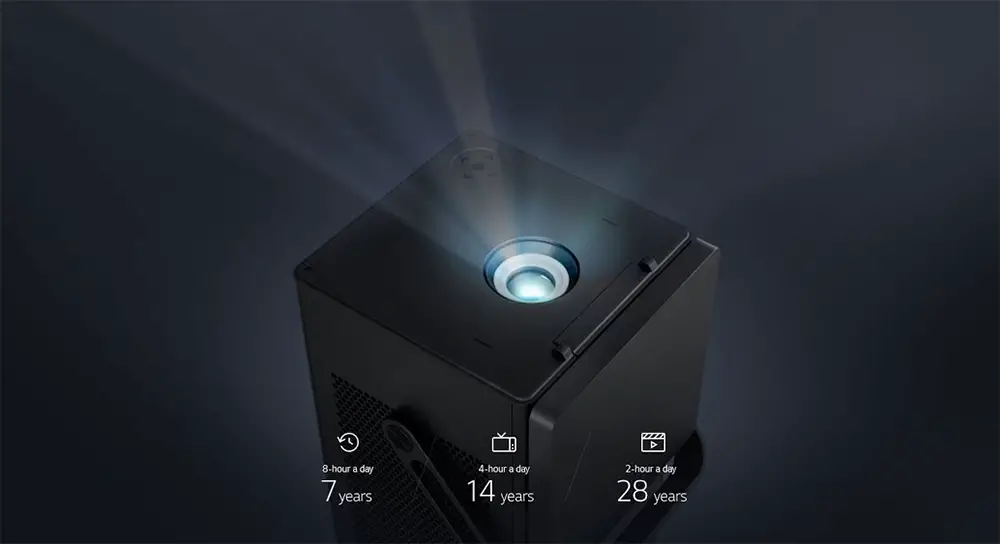 Final Thoughts
The LG H80KA is a very unique projector. In it's first try LG has managed to create a projector that ticks all the right boxes and offers us a device that is so complete and feature rich that it's almost too good to be true. The strongest point of the HU80KA is obviously it's extreme portability due to it's special design. If you add to this the smart TV wireless functions that make the use of wires obsolete then you get the idea how portability is the second name of this projector.
In all the above if you add the great 4K image quality it produces, good HDR, exceptionally good on-board sound performance and long hours of life and all these in a very aggressive price then it is very obvious how difficult it is to find something bad about the HU80KA.
But as with all electronic equipment it has a few drawbacks also. Firstly there is no 3D compatibility and while 3D seems to be almost dead for home entertainment, for some it is still important with their huge libraries of 3D enabled content. Also input lag is a bit high so if you are a hardcore gamer probably you will have to look elsewhere. Lastly it's menu can be a bit hard to navigate for some inexperienced people and LG could improve this a bit.
All in all the HU80KA is an amazing projector and it's drawbacks cannot overshadow it's strengths that to be honest are too many to count. If you are on the lookout for a new projector that you want to last at least a few good years then this one should definitely be added to your list for consideration.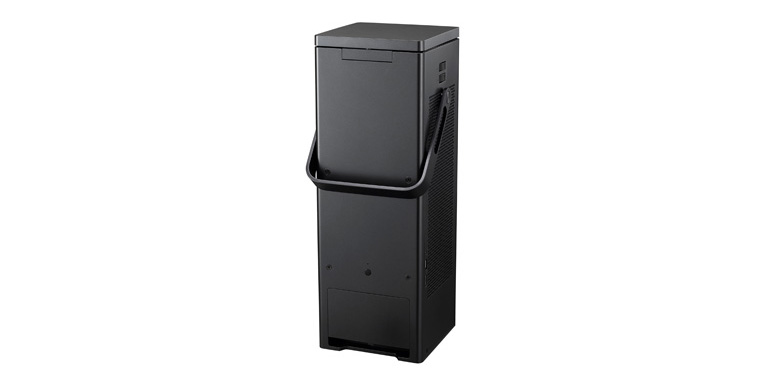 For more reviews you can check our dedicated 4K Projector reviews list or even look at our Product Reviews Table where you can find the brand and specific product you are looking for.
Also don't lose the chance to subscribe to our Newsletter and gain exclusive privileges.
---
Cheapest Places to Buy :
---
Specifications
Display Type : DLP
Native Resolution : 4K UHD (3840 x 2160)
Screen Size : 40″ ~ 150″
Projection Image : 150″@14.1ft, 100″@9.5ft, 40″@3.6ft
Aspect Ratio: 16:9/Original/4:3/Vertical Zoom/All-Direction Zoom
Zoom : x 1.2

Brightness :

Up to 2500 lumens

Contrast Ratio : 150,000:1
Lamp Type : Laser (LD + Phosphor wheel)
Lamp Life : Up to 20,000 hrs
Noise (Economic / Normal / High Brightness) : Below 23 / Below 24 / Below 30dB
Digital Keystone Correction : Auto Keystone (vertical)
Features : Trumotion, HDR Effect, HDR10, HDCP 2.2, Web Browser, App Store, Magic Remote
Premium content providers : Netflix, Hulu, Youtube, Channel Plus, UFC.TV, Accuweather

Connectivity

: DTV Tuner, DLNA, USB, Bluetooth, Screen Share (with Miracast, WiDi supporting device), Wireless Contents Share (with iOS, Android devices)
Audio : Built-in Speakers 7W + 7W Stereo, Bluetooth sound out, Bluetooth AV Sync Adjustment

Inputs / Outputs

: Digital TV Tuner, 3.5mm Audio out, S/PDIF (Optical) Audio out, 2 HDMI, 1 USB 2.0, 1 USB 3.0, 1 Ethernet RJ45, HID
Power : Power Supply 100V – 240V @ 50~60 Hz (PSU Built-in), Power Consumption 280W (Max), Standby Mode less than 0.5W, Quick On/Off (On in 10 seconds – Off in 2 seconds)

Accessories

: 1 Magic Remote (Battery included), Manual, Power Cord, Built-in (Auto Cordreel) adaptor
Dimensions : (WxHxD) 6.5″ x 18.5″ x 6.5″ / 165mm x 470mm x 165mm

Weight : 14.8 lbs / 6.5 Kg