LG OLED55B7V
Design -

92%

Video Quality -

94%

Inputs and Ports -

92%

OS, Apps and Features -

92%

Price / Quality -

90%
---
Cheapest Places to Buy :
---
Up until recently LCD TVs were dominating the market. Being around for many many years manufacturers have improved the technology and production problems to a point were each year now we get small improvements over the last. But no matter how many years will pass Liquid Crystal Displays as their full name is will always have some big weaknesses that derive from the technology that is used. And the most obvious one is black colors. Manufacturers have dramatically improved this over the years but they never could achieve true black colors. And this is where OLED came in. With OLED technology TV manufacturers were able to achieve what was impossible up until now with the classic LCD panels. True black colors. Although Panasonic and Sony are slowly jumping on the OLED bandwagon LG was one of the first to fully support this new technology. So now we are at a point that OLED TVs have become mainstream although their price is still a bit on the high side compared to classic LCD TVs. Today we will be looking at a 2017 model in this LG OLED55B7V review.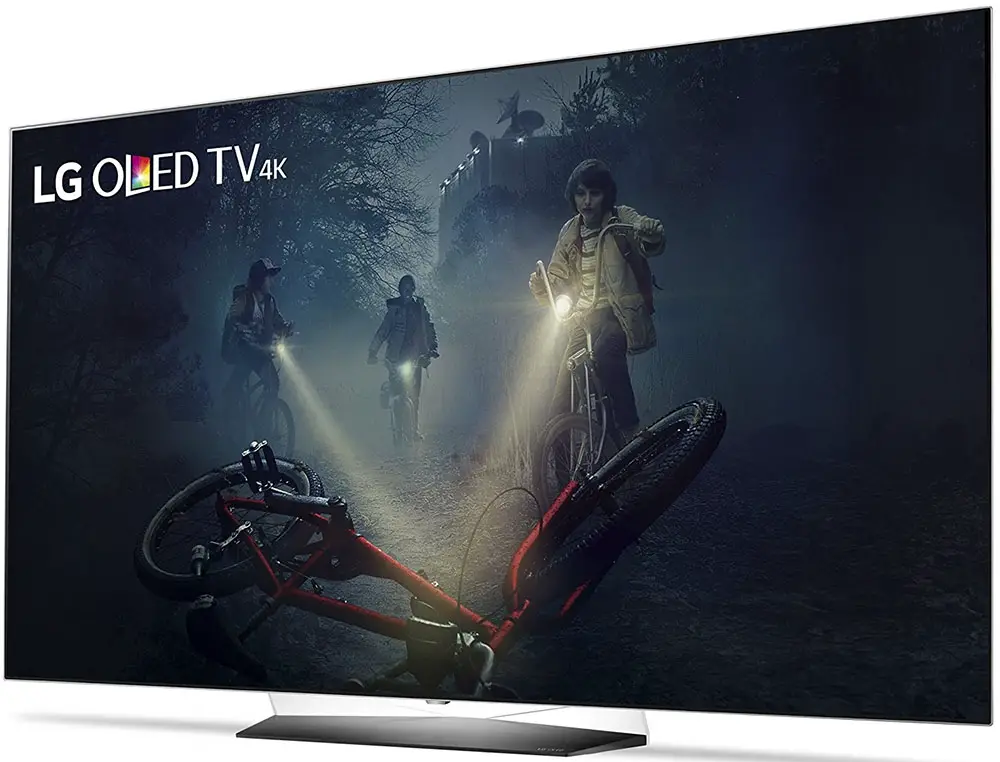 Design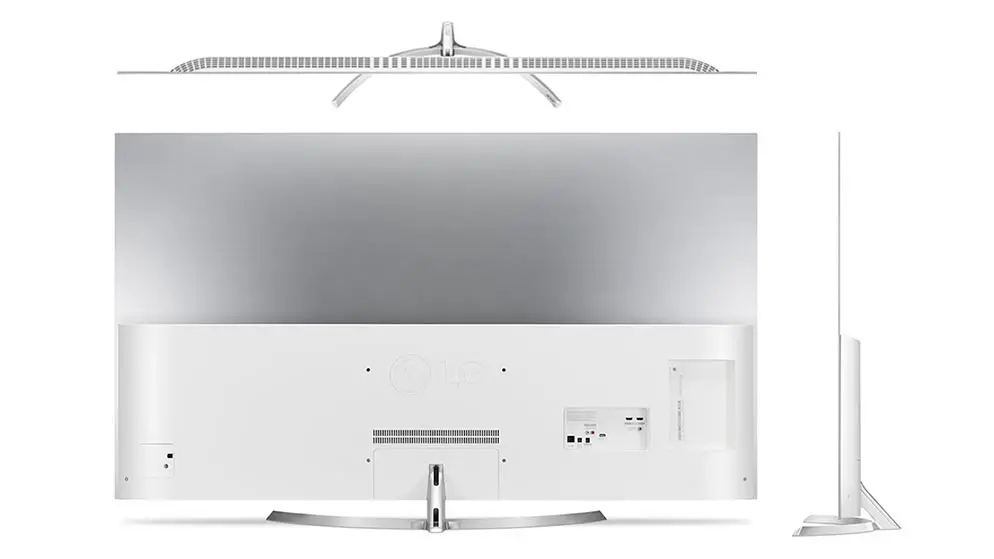 The LG OLED55B7V is a 55″ OLED 4K UHD TV. Being and OLED means that there is no need for backlights and this makes these TVs unbelievable thin. I really like how thin it looks and it makes a great looker in any room you want to place it either on a furniture or on the wall. The OLED panel is surrounded by a thin metallic silver trim which extends to the black bezel. The bottom part of the TV is a bit more thick considering this is where all the connections and hardware is housed as well as the speakers. The TV is placed on a metallic crescent stand with the LG OLED engraved on it. The US model with number OLED55B7A comes with a little different stand design that shows on the pictures below without changing anything else on the general design or characteristics of the TV.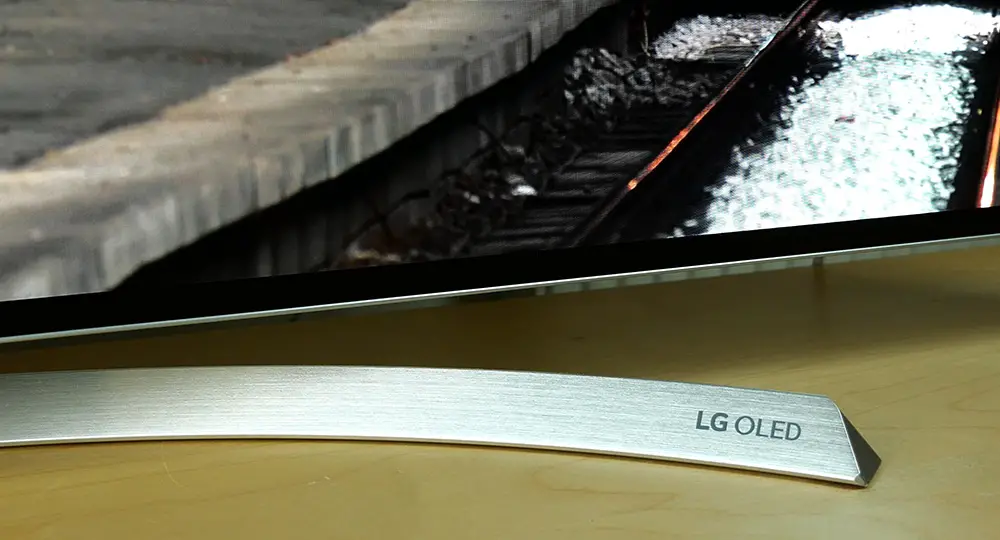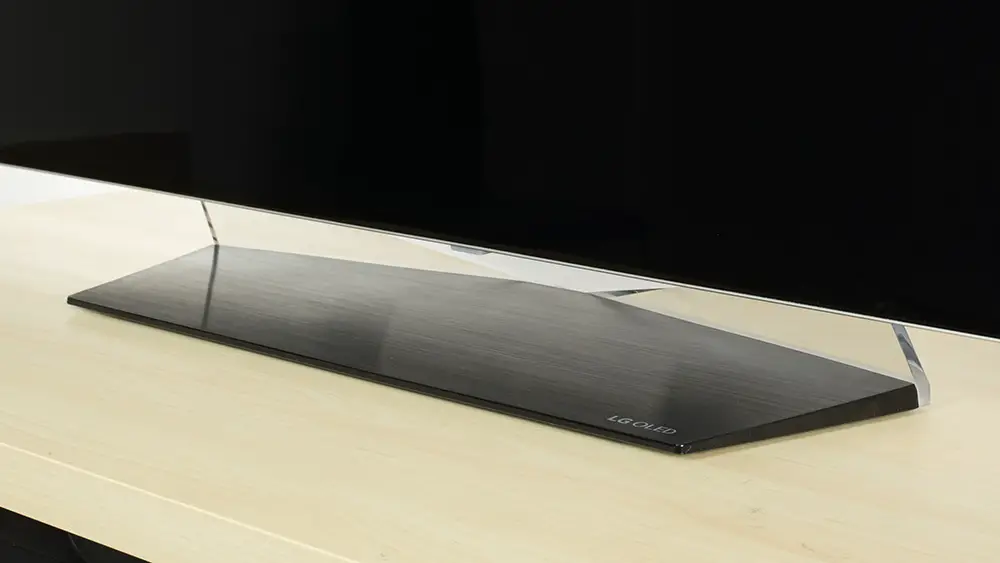 Video Quality
The advantage of OLED technology can be seen immediately from the first viewing. The advantage of being able to switch on and off each and every pixel of the TV individually is very clear compared to other technologies. This way you get absolute blacks and you do so without nearby bright elements affecting any part of the screen. Peak brightness is still the biggest weakness of OLED technology and although we are still away from the theoretical 1000 nits that LG claims things are better than last year's models showing that improvements are made each year as the technology matures. When you get so true blacks the colors pop out of the screen with stunning vibrancy and realism. OLED always struggled to find some balance between unbelievable true blacks and clean visible shadows and in this regard things seem to have improved a bit this year also. Viewing angles are also a strong point of OLED technology due to the self emitting nature of it's pixels making them ideal in big rooms with different viewing positions without loss in contrast or saturation.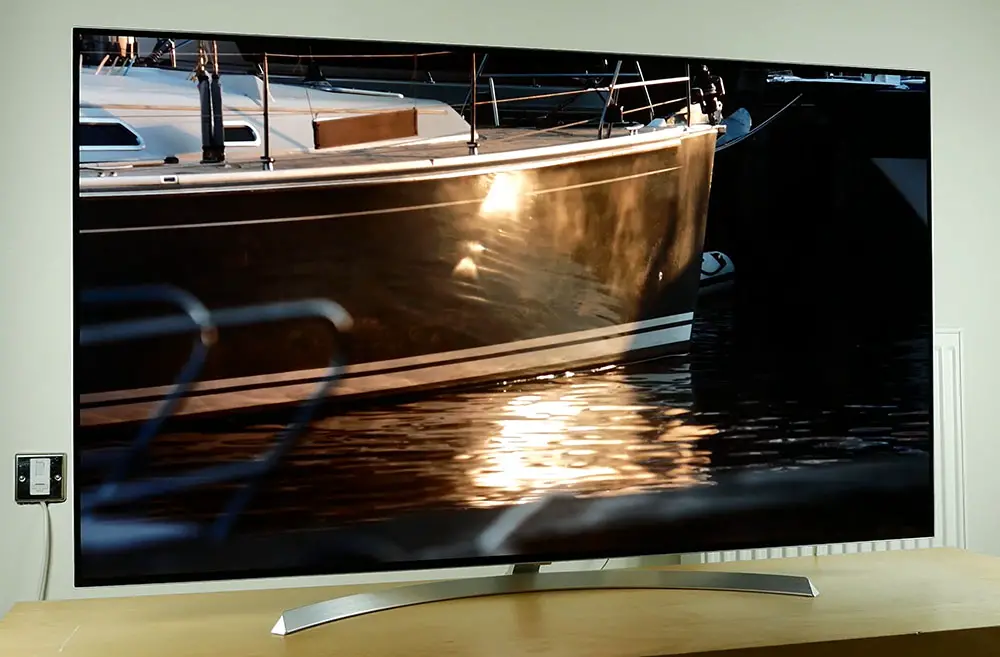 As far as HDR we get a lot of different options with the TV being able to handle HDR10 which is the open standard used in 4K UHD disks, HLG (Hybrid Log-Gamma) which is the HDR that is used for broadcasting in Europe, Dolby Vision which is the proprietary HDR technology by Dolby that is using dynamic metadata for scene by scene optimization and Technicolor's Advanced HDR which is still a format that has not yet become very known to most.
The LG OLED55B7V has proved to be very good for gaming also with a very low input lag measured at around 21ms if you use the Game mode in either 1080p resolution or 4K with HDR. Many people are worried for image retention and the reality is that this is a problem even with premium models. My experience has shown that this depends on a lot of factors and sometimes you need to be lucky to get a good unit because even if you are extra careful you can still get this problem with any TV nowadays. Fortunately I didn't have any image retention with the LG OLED55B7V but you should always be careful not to leave any image frozen for a long time that could potentially create this problem.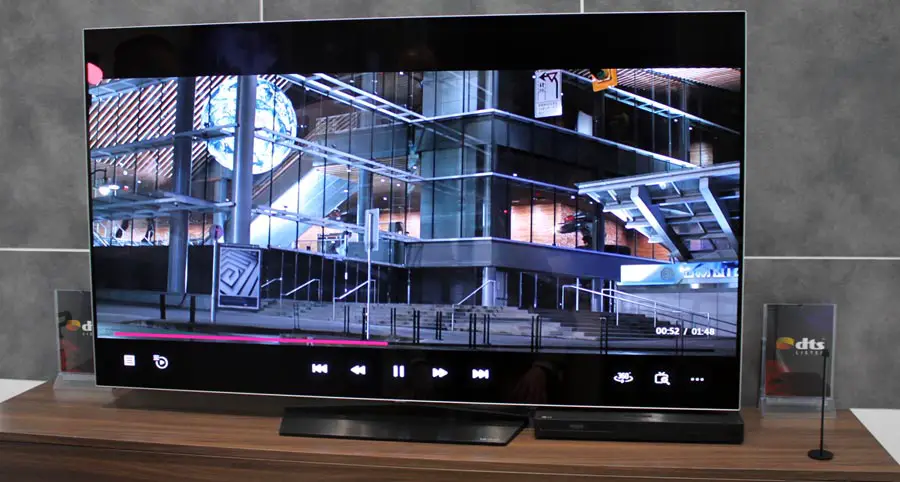 Inputs
All the inputs are on the body of the TV compared to other brands that prefer to use a separate box that houses all the connectors. To tell you the truth I prefer to have everything separately because it gives more freedom as to how and where to place all cables instead of having all of them hanging on the back of the TV but i guess this is a personal taste without affecting the performance in any way.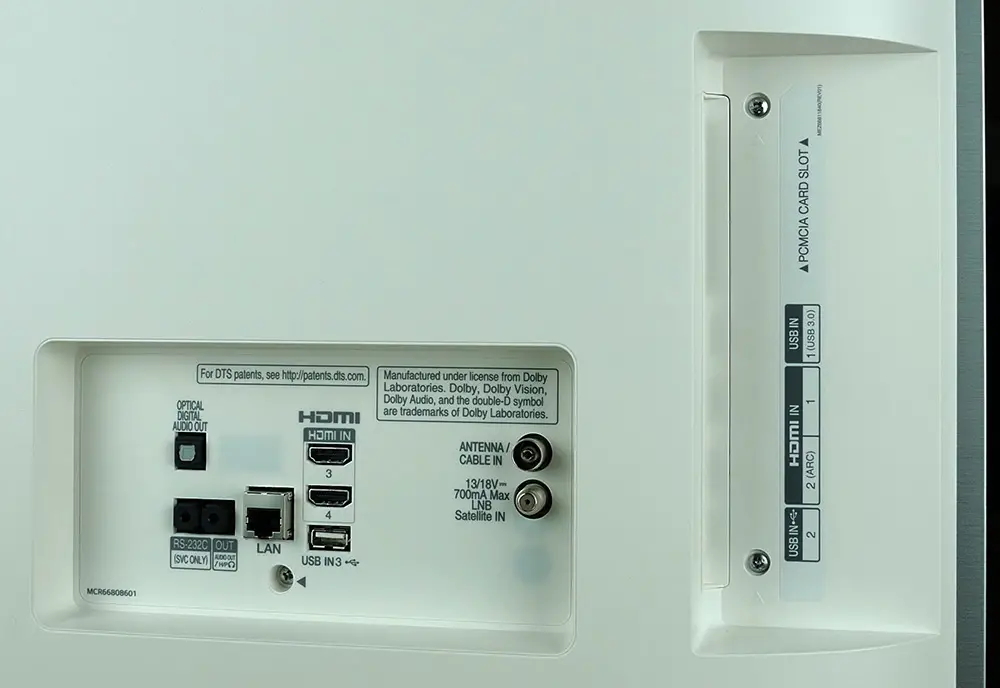 What we get here is 4 HDMI 2.0b ports that are HDCP 2.2 compliant enough to connect all devices you would need if you don't use an A/V receiver with a lot of HDMI inputs. We also get 3 USB ports one of which is version 3.0 something very useful when it comes to big files that need fast transfer rates. We also get a typical RJ-45 Ethernet port if you prefer wired connection to the internet, an optical digital out port, terrestrial and satellite inputs as well as a common interface port and lastly a headphones port. All in all i would say we get everything you would expect and need from a TV like this.
OS, Apps and Features
As with all LG TVs for 2017 this model is using the WebOS 3.5 platform which is user friendly and very responsive without any major delays in comparison with other TVs that use Android. The platform offers a wide range of applications laid like cards that can be arranged in any way you prefer.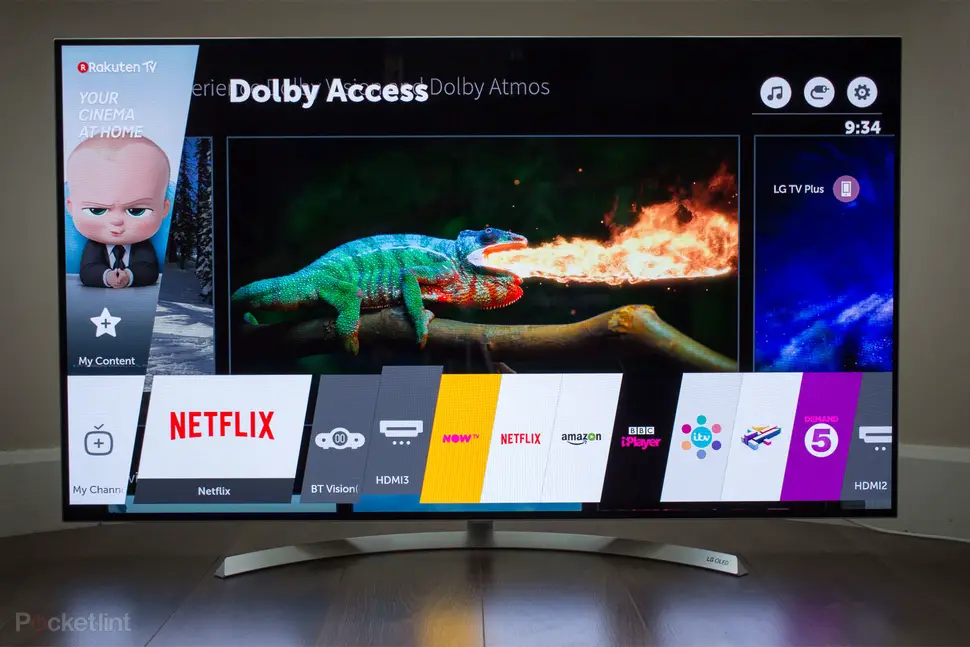 The remote control has a great design also combining the motion sensing pointer with a full suite of buttons. You can also find dedicated buttons for Netflix and Amazon but you can also program shortcuts for other applications to use with any number on the remote you want. The buttons are spaced out making them easy to press without pushing the wrong button accidentally.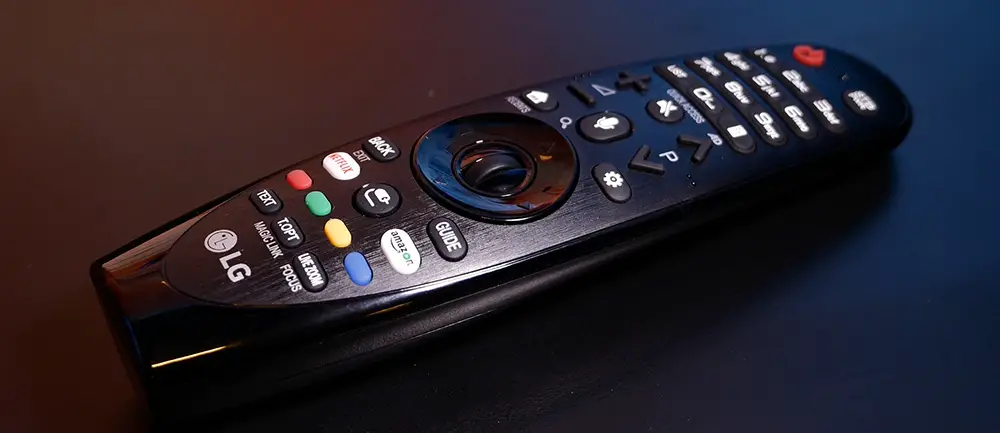 For such a thin TV we get pretty good sound quality for casual viewing with clear speech and adequate dynamic range. The down firing speakers don't help a lot to make the sound stretch far into the room so I would suggest a separate sound system if you are serious with your viewing pleasure.
Final Thoughts
The LG OLED55B7V is really a great TV that you can find in either 55″ or 65″ variants. OLED has come a long way and as it is right now the picture quality is truly stunning deserving a viewing to really appreciate what it has to offer. You may not get the brightness of LED LCD TVs but each year OLED is improving on this while on the other hand LCD TVs will never have the spectacular blacks you get now with OLED. One real downside of course is the price that is still on the high side even compared to the top tier LCD TVs. If you have the budget then by all means go for it but if your budget is something you have to consider then you may want to think twice if it really is worth it to pay extra money. Highly recommended.
For more reviews you can check our dedicated 4K OLED TV reviews list or even look at our Product Reviews Table where you can find the brand and specific product you are looking for.
Also don't lose the chance to subscribe to our Newsletter and gain exclusive privileges.
---
Cheapest Places to Buy :
---
Specifications
55″ OLED Resolution : 3840 x 2160
HDR supported : HDR10, Dolby Vision, HLG
Video : ULTRA Luminance, Colour Master Engine, Active Depth Enhancer, 4K Resolution Upscaler, Smart Picture Mode, HDR Effect
Audio : 40W 2.2Ch Dolby Atmos, Dolby surround, DTS
Video Codecs support : HEVC, VP9
Audio Codecs support : AC3(Dolby Digital), EAC3, HE-AAC, AAC, MP2, MP3, PCM, DTS, DTS-HD, DTS Express, WMA, apt-X
Ports : HDMI 2.0b X 4, USB X 3 (1X3.0), Ethernet X 1, Digital Audio output, Common Interface X 1, Headphone X 1, RF In
Network : Wireless IEEE 802.11a/b/g/n/ac support, Wired through RJ-45 port
Tuner : Digital TV Reception (Terrestrial,Cable,Satellite) DVB-T2/C/S2