LG SK10Y
Movies Performance
8.5/10
Inputs and Features
8.8/10
Pros
Enough power
Premium build quality
Dolby Atmos works well considering it's a sound bar
Optional surround speakers
Cons
Need ample space due to big size
Can decode only DTS core mix from DTS:X
Positional audio still not very accurate
High price
---
Cheapest Places to Buy :
---
Sound bars were always a very special market due to the nature of these devices and although manufacturers have been trying for the last few years to make this segment more mainstream they surely have an uphill battle in front of them. The fact that a lot of their products didn't offer satisfying results didn't help with the situation either but nevertheless we see valiant efforts to change this.
One of the manufacturers that are really trying hard to promote their Sound Bar product line is LG and for 2018 they have created six new products. The entry level 2.0 SK1, three 2.1 Sound Bars, the SK5, SK6 and SK8 and two top tier, 5.1.2 Dolby Atmos enabled Sound Bars, the SK9Y and the SK10Y. In this article we will test their flagship offering to see if it is worth it and how it performs in our LG SK10Y review.
Design, Inputs and Features
The first thing that will impress you in this Sound Bar is it's size being one of the bigger ones we have seen. Measuring at 144cm this is a Sound Bar that is definitely not for everyone. Having such a big size it is meant for those with big screens and big furniture to place it on. Based on its size I would say that the minimum you should have is a 55 inch flat TV but a 65 inch would be preferable.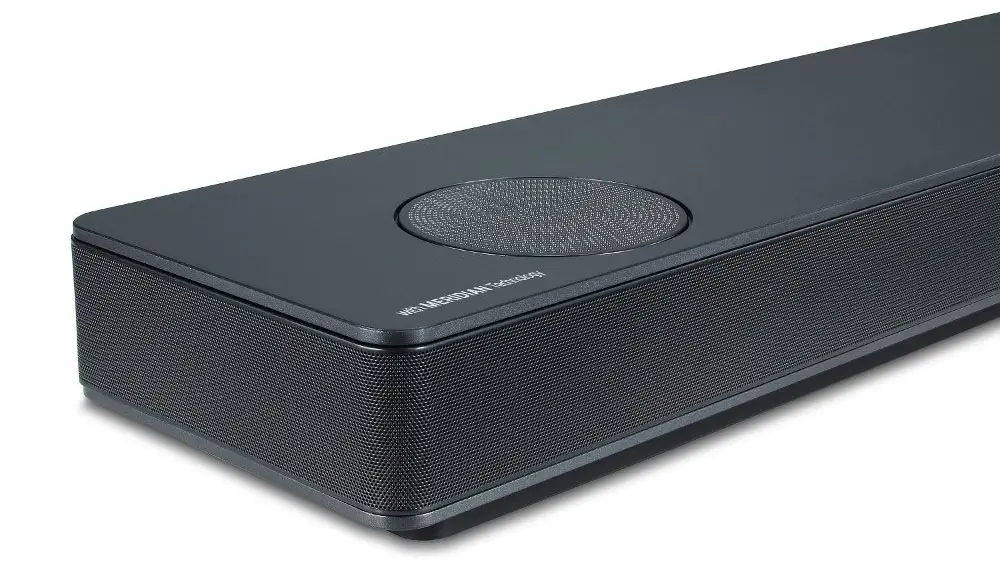 Placing it in your room can also be challenging. The SK10Y may be long but it is definitely not tall standing at only 63mm. But because we are talking about a 5.1.2 Sound Bar it must be placed on open area with free space around it in order for the up firing and side firing speakers to work properly. This means that it cannot be placed inside a cabinet and all three sides must be completely open for it to work properly. Included in the box there is a special designed wall mount so if you prefer to use it with your wall mounted TV then you can definitely do that but don't expect it to look very aesthetically pleasing.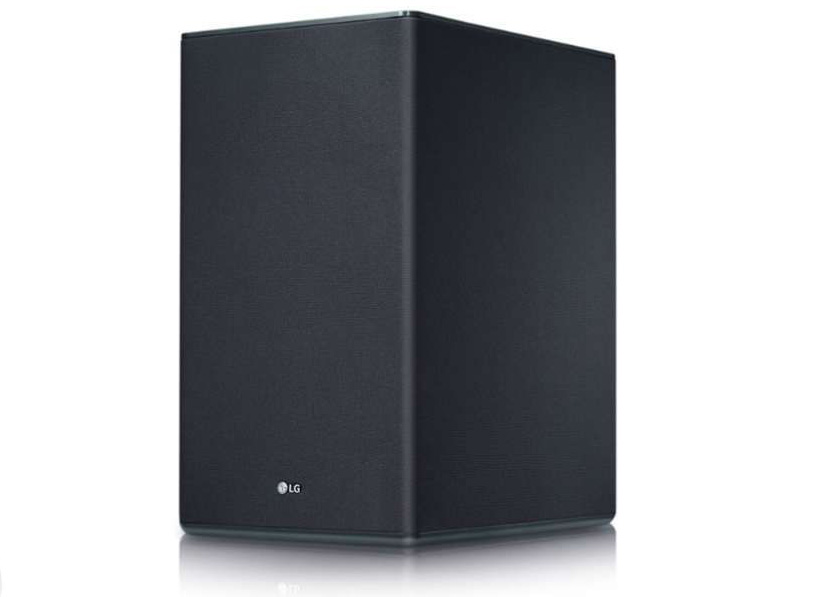 Along with the main unit comes a wireless 15 liters subwoofer so you will have to consider making space for that also but being a subwoofer and being wireless gives you a bit more freedom and choices of where to place it. Some corner or up against the wall are usually the preferable positions that you should try. The SK10Y also gives you the choice to connect a pair of wireless surround speakers, the SPK8s, creating a full 7.1.2 system. But these speakers are sold separately and will add to the already high cost of the main unit.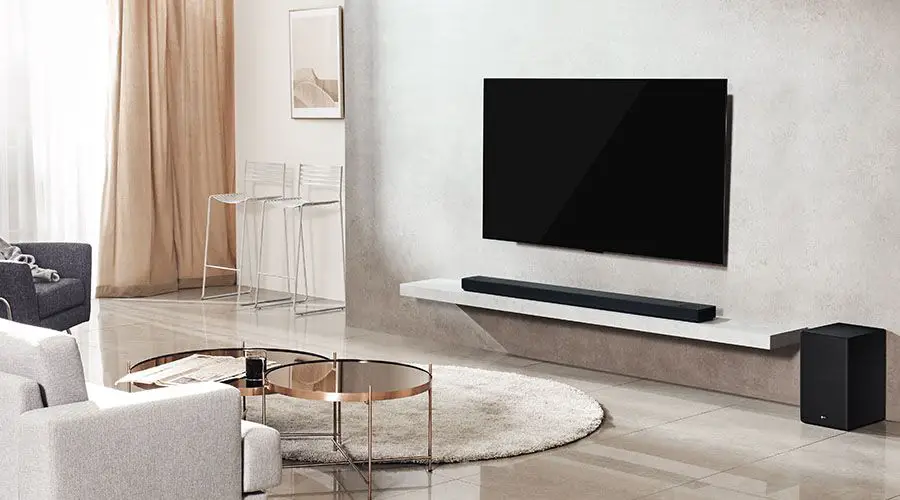 As for the unit itself the SK10Y may be big but it has a nice design that can look good under a variety of TV screens. It sports a very stylish, clean look as you will not find any buttons or other elements that can distract and on the top the only thing you see are the grills of the up firing speakers. LG went for touch sensitive buttons and it makes the Sound Bar look more high tech. The buttons are for power, volume, switching inputs and WiFi.
As for the connections they are all placed in the back well hidden . What we get are two HDMI input ports, one HDMI output that also supports ARC, an optical in port, a 3.5mm aux in port as well as an Ethernet port for wired connection to the internet even though it has built-in WiFi.
For the SK10Y LG decided to partner with Meridian and the end result can be seen in a few decisions that were taken regarding the design. First of all it uses aluminium dome tweeters instead of silk which LG claims they can reach up to 40Hz. Also each speaker is sealed in each own chamber instead of placing them all in an open chamber.
Other features the SK10Y supports are Chromecast so streaming content from compatible devices is done easily as well as support for hi-res audio up to 24-bit/192kHz. There is also Bluetooth capabilities so you can connect other devices that support this.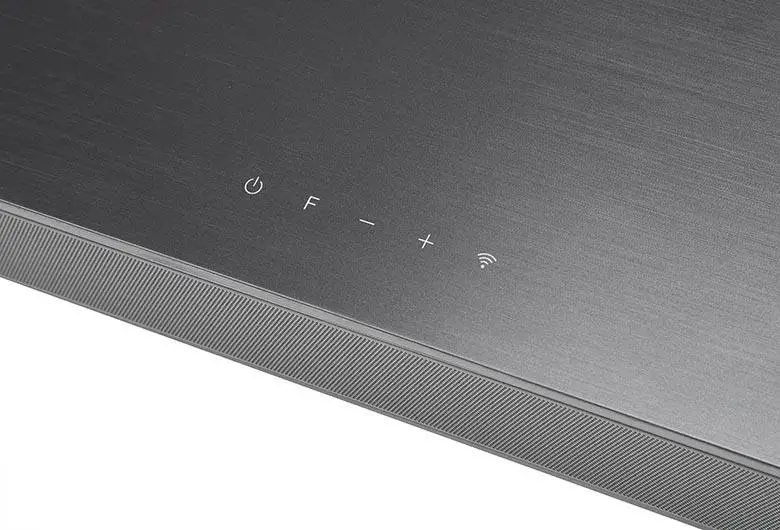 The Sound Bar can be controlled with three different ways. First are the on board buttons that we talked about, the second is the included remote that is a simple design remote with almost the same buttons. The volume and Function buttons are huge and this can be good when using the remote in dark environments. You also get playback buttons and some function buttons. In general the remote provides anything you need without being fancy or anything special. The third option is to download LG's Wi-Fi Speaker app to your smartphone (either Android or iOS) and use all the same controls. The choice is yours but it's nice to see LG providing different ways for us to choose the best that suits us.

The SK10Y provides various settings you can alter to your liking like speaker levels, treble, bass as well as Overhead Volume Control, which changes how much the upfiring speakers are involved. What I found particularly strange is the lack of a couple of very important settings like sitting distance from the Sound Bar as well as room height. In my opinion when dealing with a Sound Bar meaning that the speakers are not working from their nominal positions, settings like these are crucial in order to get the best sound possible. The omission of these are a mystery to me especially when we are talking about such an expensive Sound Bar that is considered the top of the line this year.
Performance
The SK10Y uses Dolby's DAP chipset and this means it includes a few features that are natively included like volume leveler and volume modeler as well as dialogue enhancer. It can also decode Dolby Atmos soundtracks as well as Dolby TrueHD. Unfortunately having a Dolby chipset has the drawback that it cannot decode DTS:X or DTS-HD Master Audio as it will strip the core DTS mix and internally process it to produce a similar Dolby Atmos effect.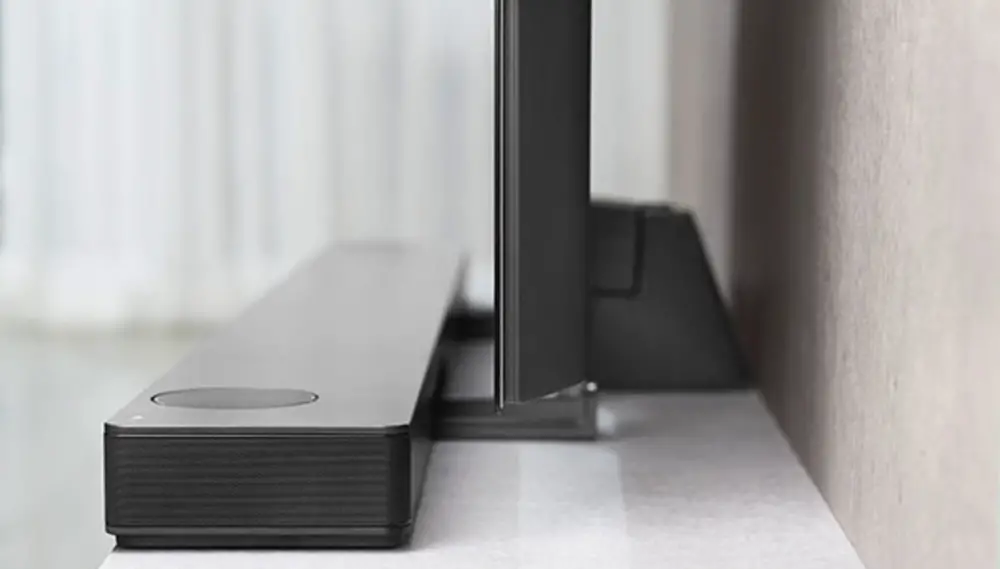 Another detail we need to clear out is that seeing the side firing speakers many would think that they are designed as such in order to bounce the sound they produce on the walls in order to recreate a surround effect. That is not the case as they use a feature called Acoustic Phase Matching which alters the timing of the audio giving the impression of surround sound. It's a nice feature that can create a more immersive sound field but in no way it can reproduce the sounds of dedicated surround speakers.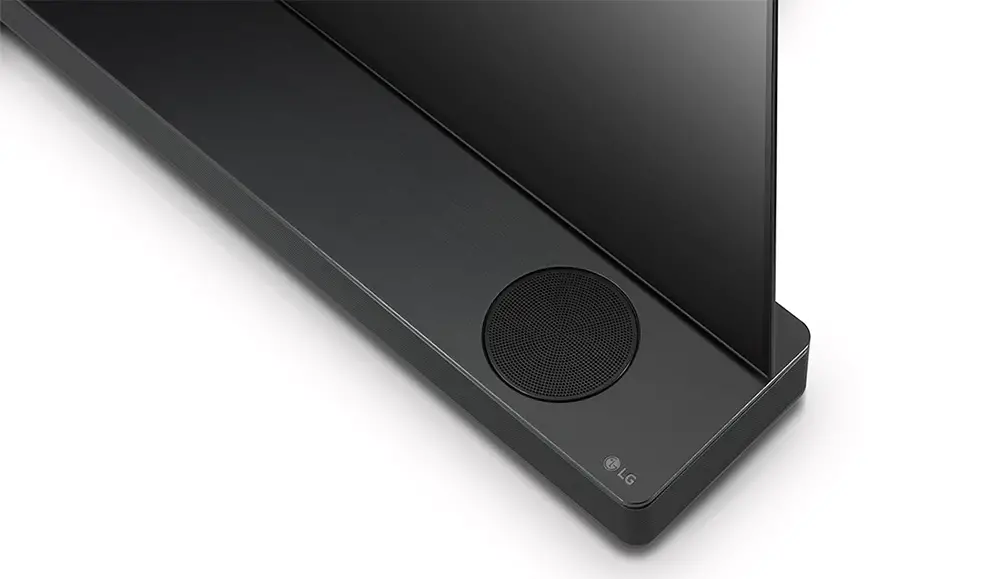 Something that I must point out is that during release a lot of users complained about the dialogue being almost inaudible during action scenes where sound effects would cover any vocals almost completely. This seems to have been a problem that LG acknowledged as they rolled out a firmware update that solved this issue with users reporting huge improvement during dialogue driven scenes. So because of that I am strongly suggesting when you use the SK10Y for the first time to make a firmware update almost immediately in order not to experience problematic playback.
Movies
Rated at 550 watts the SK10Y will almost never run out of power and is capable of creating a pretty strong and immersive sound field considering it is a Sound Bar. The biggest shortcoming of these devices is that creating surround effects when all the speakers are positioned in the front can be very challenging and most of them come short of this with mediocre results at best.
With the SK10Y things seems to have improved a bit as the Dolby Atmos overhead effects are audible and surround effects although not entirely clear they give you a sense they source from the back. The end result cannot be compared against a dedicated speakers setup but the gap between them has become a little big smaller from being chaotic in the past years.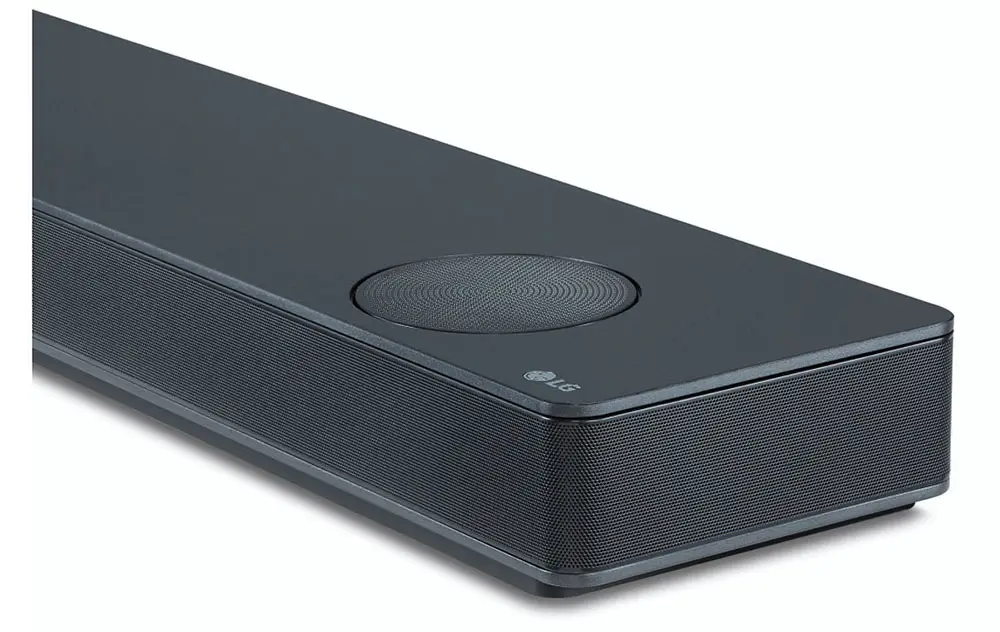 In trying to push the SK10Y to it's limits we used the UHD disc of Pacific Rim: Uprising, a movie with plenty of bang and surround effects that would definitely give us a taste of what LG has managed to do with it's flagship Sound Bar this year. The end result is quite good with enough clarity and level of detail while also delivering good sound separation between different channels. Overhead and surround sounds could be heard with enough detail even though there were no physical surround speakers. And although the SK10Y had enough power it lacked a little in punch and dynamics with the end result being a bit flat. Even being equipped with a subwoofer bass effects were never as strong as expected making the soundtrack loose a bit of it's ferocity.
In general what we get is an improvement over previous years and it shows that LG worked extra hard to improve the end result as far as how surround audio is handled by the Sound Bar but even like this if you want a truly surround experience then you will have to go for a dedicated speakers setup. If that is not an option then the SK10Y can be the next best thing.
Music
Trying a few music tracks the results we got were more or less in line with what we got when testing some movies. There was enough power and clarity in the reproduction of each track but the bass could be better making the whole song loose it's punch and make it feel flat and uninteresting. It will get the job done but don't expect the SK10Y to elevate your music experience to new heights.
Final Thoughts
The SK10Y is a valiant effort from LG and with the help of Meridian they tried to improve upon previous year's designs offering the absolute best in Sound Bar technology. Did they succeed? Well…short of. The SK10Y is a remarkable Sound Bar offering enough power to fill a mid sized room, the sound quality is very good but not perfect and the 5.1.2 system offered in the main unit creates a very immersive sound field that although cannot compete against sound systems with dedicated speakers it gives you a nice overall impression of positional audio.
On the opposite side the price is a major factor and here things don't look very good as the SK10Y is a very expensive piece of hardware. And if you keep this in mind then it's inability to decode DTS:X soundtracks makes things even worse. When you pay such a price you should expect it at least to support both next generation tracks. DTS:X is stripped to the core DTS mix that the SK10Y can produce and it may be good but we are in 2018 and DTS:X playback should be a given. Also the size of the main unit can deter many from buying it as you need a big furniture to place it on.
The end result is not perfect but is definitely towards the right direction and a sign of good things to come in the future. If a Sound Bar is your only option in order to enjoy any kind of immersive positional audio then the LG SK10Y is definitely worth a look.
For more reviews you can check our dedicated Soundbar-subwoofer combo reviews list or even look at our Product Reviews Table where you can find the brand and specific product you are looking for.
Also don't lose the chance to subscribe to our Newsletter and gain exclusive privileges.
---
Cheapest Places to Buy :
---
Specifications
Channels : 5.1.2ch
Total Power : 550W
Speakers : Front 50W X 2, Center 50W, Surround 50W X 2, Top 50W X 2, Subwoofer 200W (Wireless)
Features : Dolby Atmos®, High Resolution Audio up to 24bit/192kHz, 24-bit upsampling, Hi-Fi DAC, 4K Passthrough (HDCP 2.2), Group Play Mode, Chromecast Built-in, Wireless Surround Sound Ready (SPK8-S), Bluetooth Streaming, Adaptive Sound Control (ASC), Meridian Audio Technology, Works with Google Assistant
Convenience : TV Remote Compatibility, BLE EZ Setup, Smartphone Remote App (iOS/Android), Auto Volume Leveler, Audio Return Channel (ARC), Dynamic Range Control, SIMPLINK, Firmware Over-the-air (FOTA), Night Mode, Display Type LCD (8 char.)
Sound modes : ASC (Adaptive Sound Control: Default), Standard, Music, Movie, Bass Blast
Audio formats : LPCM, Dolby Atmos®, Dolby TrueHD, Dolby Digital Plus, Dolby Digital, DTS Digital Surround, FLAC (Up to 192kHz), OGG (Up to 48kHz), WAV, ALAC, MP3, WMA, AIFF, AAC / AAC+ – Streaming (Wi-Fi), AAC / AAC+ – Streaming (Bluetooth)
Connectivity : Ethernet, Wi-Fi Band 2.4G / 5G, Wireless Active Subwoofer, Bluetooth (ver. 4.0), LG TV Sound Sync (Bluetooth), LG TV Sound Sync (Optical), Optical Input, USB (Service Only), AUX In (3.5mm), HDMI 2.0 (HDCP 2.2) Out X 1, HDMI 2.0 (HDCP 2.2) Input X 2
Dimensions / Weight : Sound Bar (WxHxD) 57.7″ x 2.4″ x 5.8″ – 16.5 lbs, Subwoofer (WxHxD) 8.7″ x 15.4″ x 12.3″ – 16.8 lbs