LG 65SK8000PUA (US) - 65SK8100PLA (Europe)
Design -

89%

Video Quality -

86%

Inputs and Ports -

92%

OS, Apps and Features -

93%

Price / Quality -

90%
---
Cheapest Places to Buy :
---
LG has created a full lineup of TV models for 2018 from the top of the line OLED ones to the budget friendly LCD TVs offering something for all tastes and budget limits. The LG SK8000 model sits towards the middle of the LCD TVs lineup offering a few premium characteristics of it's bigger brothers but at the same time in order to stay competitive in price corners had to be cut, offering lower specs and as a result image quality suffers from this. Does it have what it takes to consider it for buying considering the competition? Let's find out in our LG SK8000 review.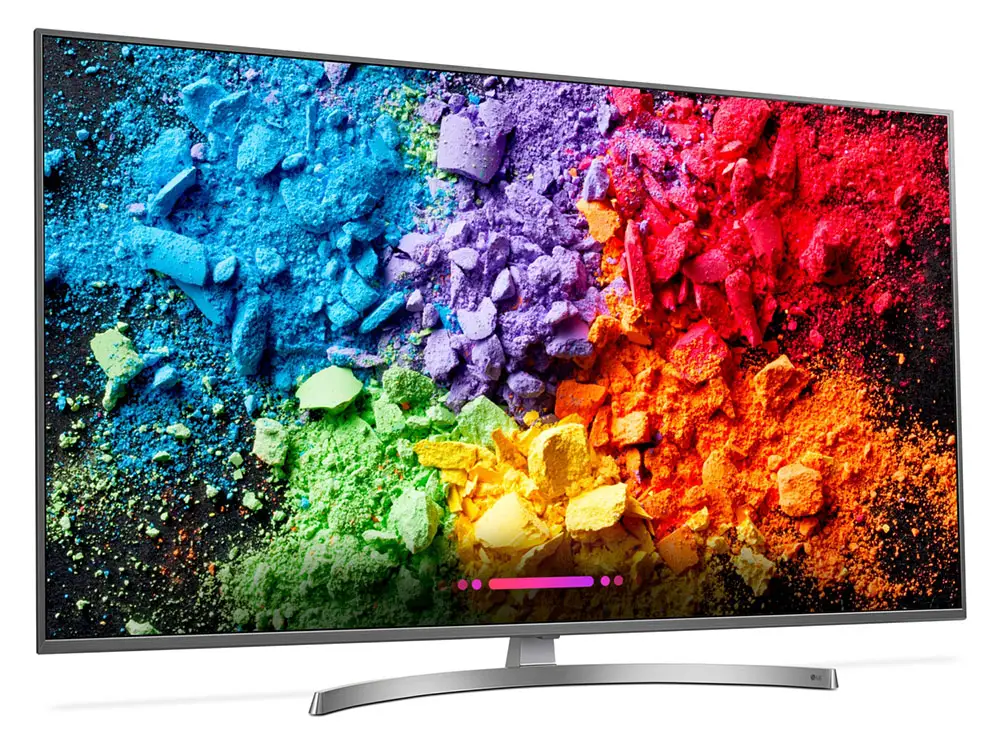 Design
When you look the LG 65SK8000 it gives you a sense of premium quality even though we are talking about a middle tier budget friendly model. In the front the thin borders gives a very nice look and they are made out of metal. The TV is fairly thin considering we are talking about an Edge-lit LCD TV but it gets a bit wider towards the bottom and this is due to the LEDs that are located there.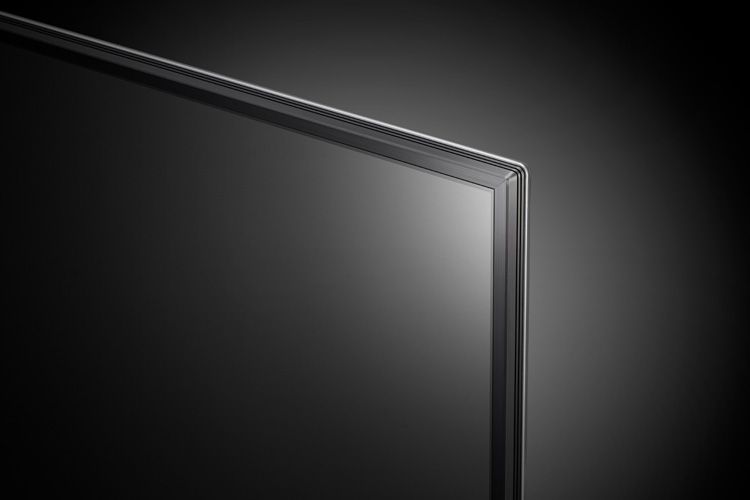 On the back of the TV we get what more or less we expected. A plain thin metal cover gives the back of the TV a pretty standard look. Cable management is fairly standard also with a single center hook on the stand to keep them all together. One thing to point out is that most of the connectors are facing outwards with a few of them facing sideways. This makes cable connections difficult if you consider mounting this TV on the wall. But if you plan on placing it on a furniture then you shouldn't have any considerable problems.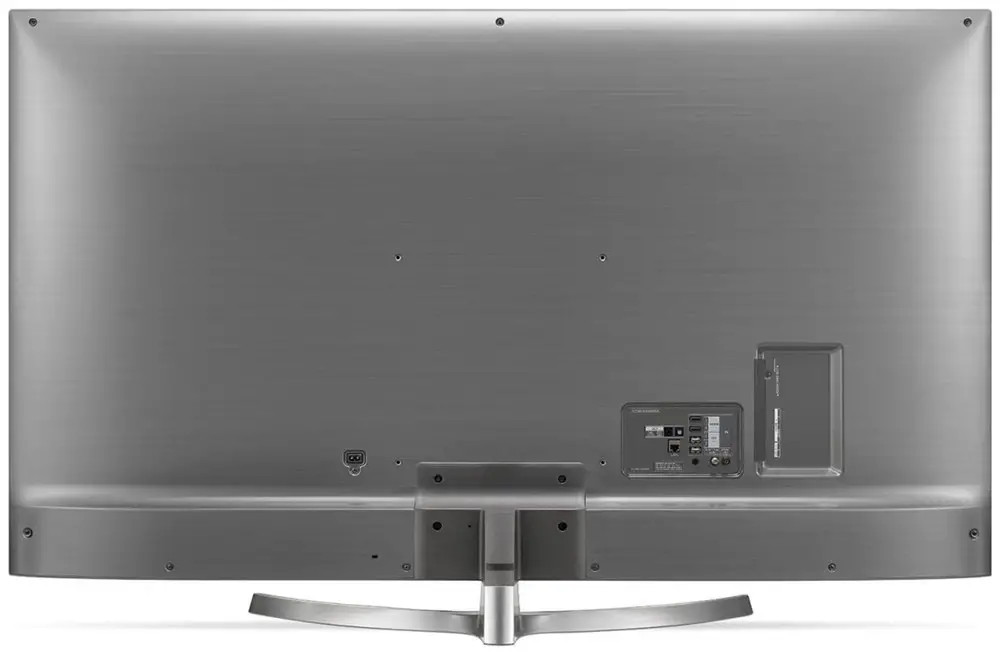 The TV comes with a crescent style metal stand that looks very similar to the SK9000 model and it definitely boosts the design quality and looks of the SK8000. Even though these Y shaped stands are not the most sturdy and can make the TV to wobble a little it never felt as if it was ready to fall or anything.
The model we are reviewing is the LG 65SK8000PUA which is the North America model. Keep in mind that the 65SK8000 model in Europe is a different model than the one in the US and comes with a bench type stand. Although it's specs are very similar the corresponding model in Europe is actually the 65SK8100PLA and this is exactly the same as the 65SK8000PUA in the US we are reviewing here. In general I am very pleased with the design of the SK8000 and when you first see it you won't understand it is a middle tier TV. Cable management could definitely be improved and I certainly miss Samsung's One Connect Box but otherwise you cannot ask for more in this price range.
Video Quality
The LG SK8000 has mediocre contrast ratio compared to other IPS panels in this category and as a result when you are watching in a dark room black colors tend to appear a bit greyish than true black. When there is a bit of light in the room things improve a little so it is preferable to watch in dim lit rooms than in completely darkness. Also the local dimming of the SK8000 is not very good so when it's turned on it doesn't help very much to improve the contrast. Local dimming is using vertical zones and as a result when the TV is displaying images with vertical dark white areas it cannot work effectively to improve the end result.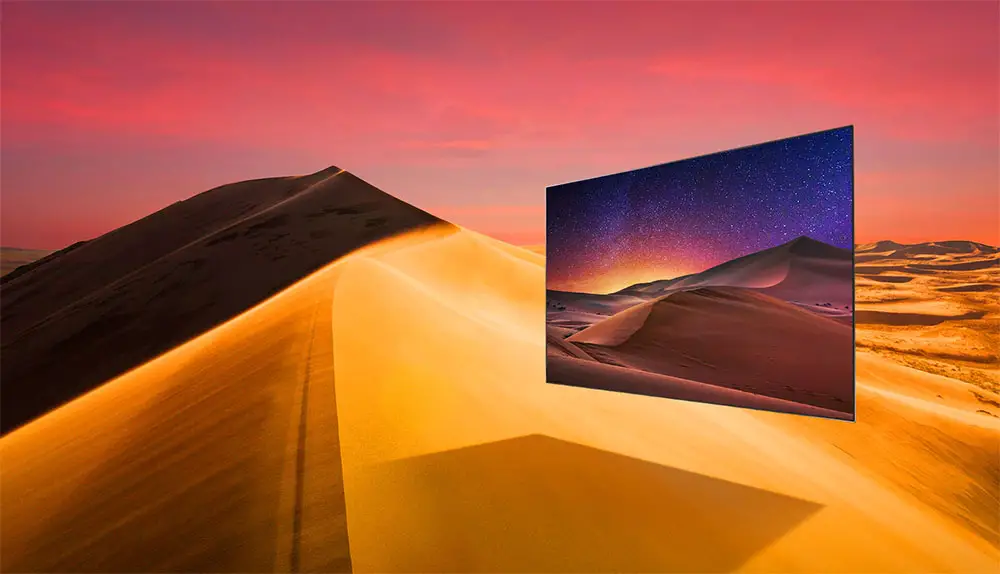 As for the brightness the end result is good but not great. When tested both in SDR and HDR the peak brightness never reaches high levels and this can make images look a bit dim in very bright rooms. Since the SK8000 uses an IPS panel it has better viewing angles than other LCD TVs that use VA panels. This means that the maximum angle you can sit from the center is about 25 to 30 degrees as anything more will start affecting colors, brightness and black levels making the image unwatchable.
As for it's color gamut the SK8000 has a good DCI-P3 coverage reaching around 85% coverage but falls short of the REC 2020 color space with only around 65% coverage meaning that although this model has the ability to display more colors than most Full HD TVs it doesn't reach the color coverage of other higher tier 4K HDR TV models meaning that it does not qualify for Wide Color Gamut (WCG) support.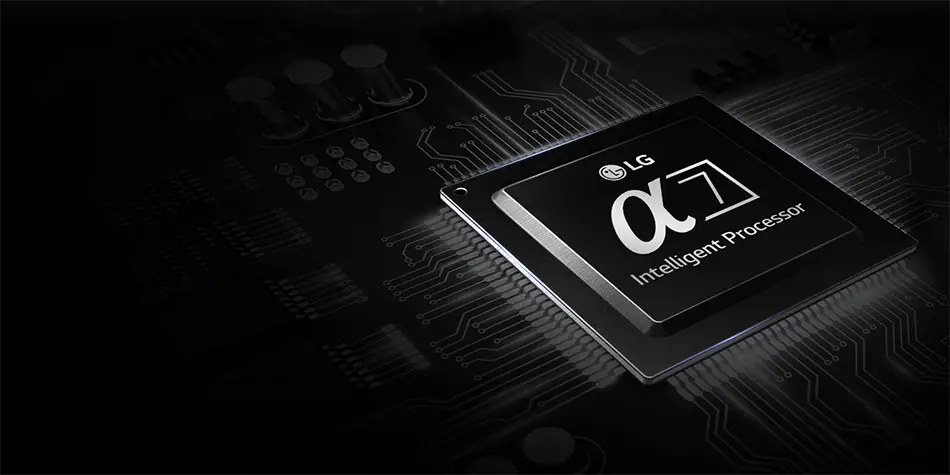 The strong point of the SK8000 can be seen in it's very good motion handling. Using a 120Hz refresh rate panel means that fast action scenes as well as sports broadcasts show smoother and with less judder. Response times are very good and motion blur is kept at very low levels. Input lag is also very good measured at 14ms in different signals both 1080p and 4K and only at 4K with HDR did the input lag climbed to 22ms. If you want to play video games then Game mode or PC mode are the preferred ones to use in order to have the best experience possible.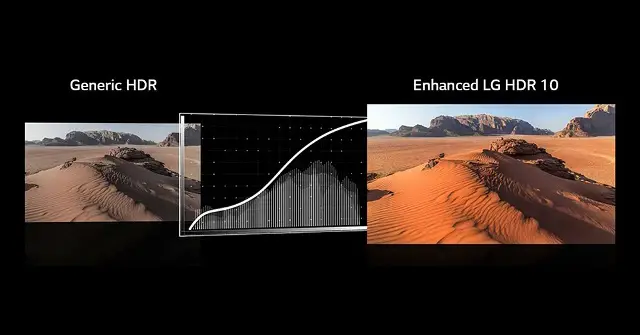 The model comes in 49″ and 55″ and 65″ variants. All of them share the same specs with the only difference being that the 49″ model has a 60Hz panel and as a result the motion quality of the the specified model to be worse than it's bigger variants. In general the quality is not bad but it cannot be called great either. It offers basic 4K HDR viewing and this for many people is enough. In this regard this TV will satisfy your needs but for those looking for some good image quality should better look for some higher tier model that have better performance in this regard.
Inputs
As with all LG TVs the connectors are all placed in the back of the TV with some looking towards the side and other outwards. For the side looking connectors we get two HDMI ports with one of them having Audio Return Channel (ARC) support and a USB port.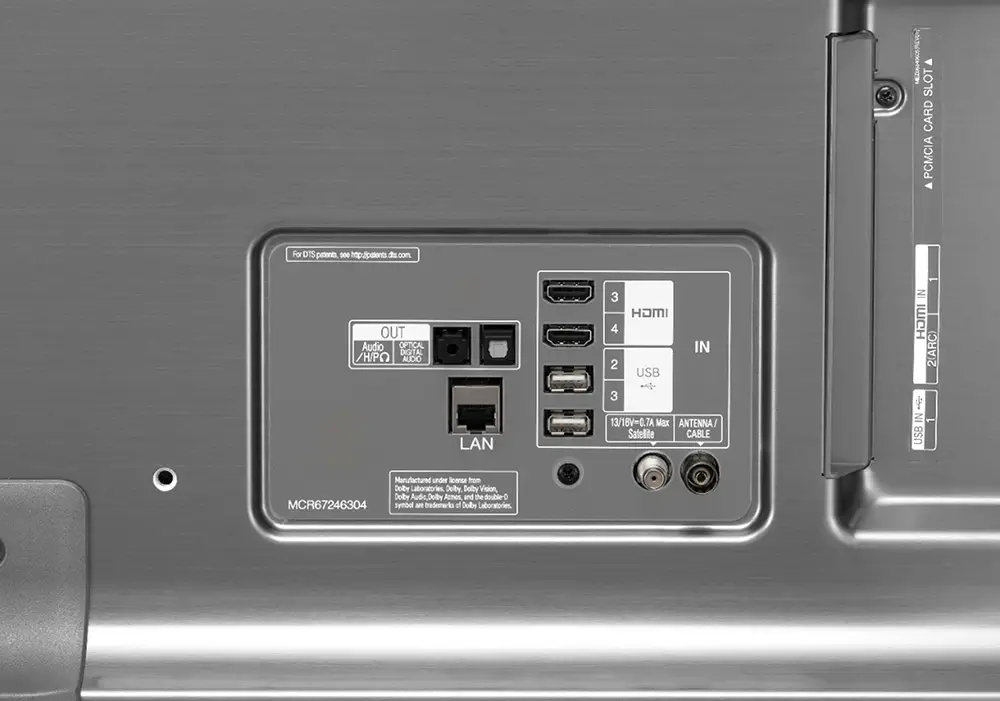 All other connectors are looking outwards and what we get here is two more HDMI ports, two USB ports, an Ethernet port for wired connection to the internet, an optical digital audio out, a composite input using the included breakout adapter, a mini RS-232C jack and the antenna/cable connector. All HDMI ports support HDCP 2.2 while all USB ports are version 2.0.
All in all what we see is pretty standard for this price range and these ports are adequate to make all your basic connections. I would like to have more sideways connections because if you want to wall mount the TV it will seriously limit your connectors options.
OS, Apps and Features
The LG SK8000 runs the latest version of LG's WebOS smart TV platform which has a plethora of apps that covers almost everything you will ever need. I found LG's Store very easy to navigate and find what you are looking for from thousands of apps that are on offer. One thing I didn't like was the built in adds and suggested content that force you to look at them as there is no disable option for them.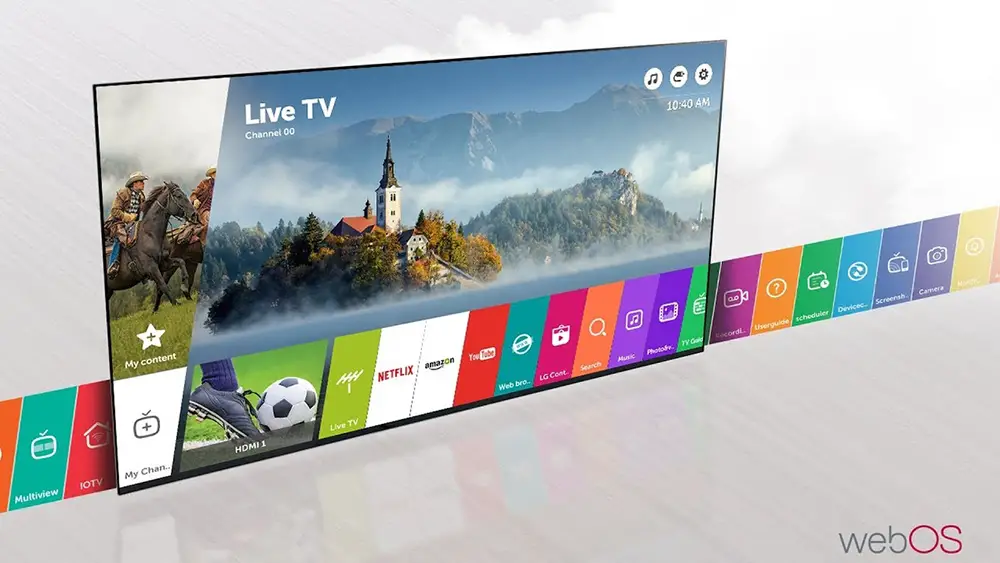 Navigation throughout the menus and apps is fast and easy but it gave me the impression of a little lagging some times that probably has to do with the processor being used in this model. LG offers a smartphone app in order to control your TV through you telephone and with it you control source inputs, launch apps and stream files from your phone.
The remote of the LG SK8000 is the same as with all the high end TV models from LG, offering quick access to most settings and menus as well as apps. The remote also has a pointer feature and can help navigate faster through the menus. The remote also offers voice command functionality and most commands are being processed through LG's proprietary technology called ThinQ AI while others by Google Assistant. Voice command functionality can be a hit or miss as it can recognize easy and clear commands but if you try to ask some more complex sentences a lot of times understands completely different things.

The buttons on the remote are nicely spaced and categorized although I never liked the symbol style buttons for the volume and channels controls. All buttons are made out of rubber and has a good response and feeling to them. In all LG's remote is not bad and certainly does what it was made for but I personally still prefer the Samsung One remote with it's fewer buttons.
Final Thoughts
The LG SK8000 is a good budget friendly middle tier TV that is best for mixed usage. It's mediocre brightness doesn't help to avoid glare and HDR is not adding much to the viewing experience. So and so contrast ratio with poor local dimming don't help with black colors and viewing suffers in dark rooms.
In contrast, motion and response time are great helping with fast action scenes and watching sports while the low input lag makes this TV ideal for gaming. Having an IPS panel also helps with good viewing angles although they will never be as good as OLED panels.
Closing this review I would have to say that the LG SK8000 is a really honest offering. It will never wow you with it's image quality like the top of the line models but it was never meant to. It will definitely offer you some good 4K HDR viewing even if it's not the best there is and does this without the need to spend a huge amount of money. And for that in my opinion this TV deserves a chance.
For more reviews you can check our dedicated 4K LED LCD TV reviews list or even look at our Product Reviews Table where you can find the brand and specific product you are looking for.
Also don't lose the chance to subscribe to our Newsletter and gain exclusive privileges.
---
Cheapest Places to Buy :
---
Specifications
Screen sizes: 49″ 49SK8000PUA, 55″ 55SK8000PUA, 65″ 65SK8000PUA (USA)
Screen sizes: 49″ 49SK8100PLA, 55″ 55SK8100PLA, 65″ 65SK8100PLA (Europe)
Resolution: 3,840 x 2,160 pixels UHD Flat panel
Processor: α7 Intelligent Processor

Billion Rich Colors: Yes
Nano Cell Color: Yes
HDR (High-Dynamic Range): Dolby Vision®, Advanced HDR by Technicolor®, HDR10, HLG

True Color Accuracy: Yes
HD to UHD upscaling: 4K Upscaler

Motion Rate: 240
Screen Lighting: Edge Lit LED
Ultra Luminance: Yes
Nano Cell Black: Yes
Smart TV: LG ThinQ® AI

Connectivity: 4 HDMI 2.0a – HDCP 2.2 ports, 3 USB 2.0 ports, 1 Ethernet port, 1 Digital Audio Out, 1 RS232, 1 Composite In,1 RF In

Built-in WiFi, Bluetooth and Ethernet port
Sound: 20W, 2.0 channels, Dolby Atmos and DTS-HD support

Remotes: Magic Remote Control (AN-MR18BA.AUS)

TV dimensions (65 inch model): 57.3″ x 33.2″ x 2.5″ inches w/o stand, 57.3″ x 36.1″ x 12.5″ w stand
TV weight (65 inch model): 57.8 lbs w/ Stand, 54.0 lbs without stand