LG SN9YG
Design -

92%

Movies Performance -

88%

Music Performance -

90%

Inputs and Features -

85%

Price / Quality -

90%
---
Cheapest Places to Buy :
---
It seems that LG is very serious when it comes to their soundbars as each year they make sure to refresh their entire lineup with new releases adding more and more features every time. And with Dolby Atmos and DTS:X being the holly grail of sound at the moment we see more manufacturers trying to incorporate the necessary hardware that will allow them to playback these advanced audio formats. Recently we had the pleasure to review the flagship model from LG for 2020, the SN11RG while today in our LG SN9YG review we will take a couple of step down in the performance ladder in order to check this soundbar-subwoofer combo.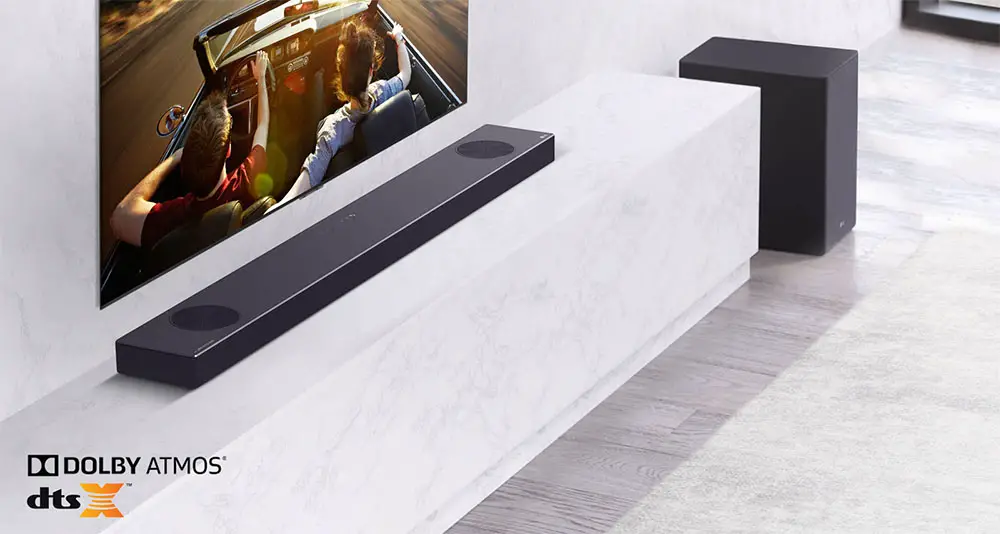 The SN9YG brings with it a lot of features and functions that we saw in LGs flagship, in fact the two soundbars are more similar than you may initially think. And while with the SN11RG LG went all crazy and added everything they could in order to create a small powerhouse, the SN9YG seems to be a more down to earth proposal both in terms of size and speakers layout. When it comes to features they are almost the same as the SN9YG is still considered a premium soundbar and LG made sure to equip it with the full feature set that all their top tier models have.
This is another model that Meridian Technologies had a play at and made sure to give the SN9YG all it needs to perform according to their high standards. If you add to that support for both Dolby Atmos and DTS:X, its ability to playback High Resolution Audio, USB and Bluetooth streaming, Chromecast and Google Assistant built-in, a featured audio calibration system and support for wireless rear speakers the LG SN9YG is an interesting proposal that will surely aim for those that look for a feature rich soundbar but doesn't go overboard when it comes to overall size and specifications. Does the SN9YG fit the bill? Let's find out…
Design, Inputs and Features
Exterior
In terms of general design it seems that all top tier soundbars from LG have the same lines and design layout and the only thing that is changing is the overall length and drivers configuration. We have to go further down in their lineup to find a somewhat different design and this is a trend that LG seems to be following the last few years. Their soundbars were always good lookers with no major problems in this regard so we suppose this is the reason why they haven't bothered changing the chassis at all.
First of all let's look at its dimensions. Basically what we have here is the SN11RG but in a more compact size. This is still a long soundbar measuring 48.0 inch x 2.2 inch x 5.7 inch (1220.0 mm x 57.0 mm x 145.0 mm) but compared to the almost 57 inches in length of the SN11RG the SN9YG is able to fit in much smaller furniture and TV sizes. Also with a reduced weight of 13.9 lbs (6.3 kg) things are slightly better when it comes to its handling.
One thing to keep in mind is that while the soundbar does have a shorter length it still features side firing surround drivers meaning that you have to keep both sides free of any obstacles that could affect the performance of the unit. This means that you cannot put the soundbar in some cabinet or anything similar which in the end will slightly limit your placement options.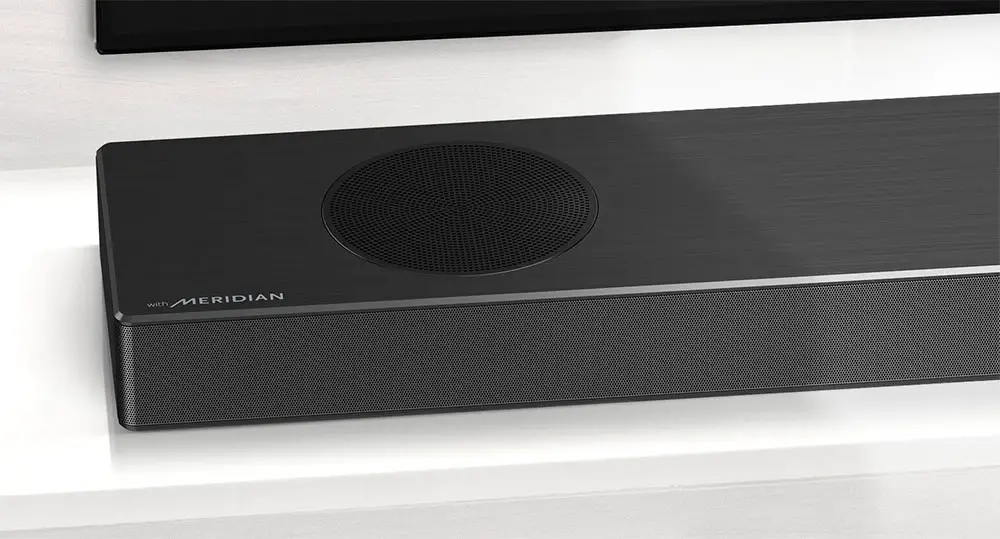 General design is the same as both the SN11RG and many of last years top tier LG models. The whole front face and both sides are covered by a metal perforated grille that hides all front and side firing drivers along with the front display. The rest of the body is made out of the usual plastic material that features a brushed metal finish making it look more premium and of higher quality.
At the top side we get a pretty familiar layout with touch sensitive buttons being placed dead center and provide some basic functionality without the remote. As he said many times before having touch sensitive buttons may look good and make the unit feel more premium but when it comes to practicality they fail miserably as using them in the dark is almost impossible.
Exactly at the front of these buttons there are two small holes that house the microphone array that is used by the auto calibration system along with the integrated Google Assistant. At each side of the top face we get a round perforated metal grille that hides the up-firing Atmos driver while the LG and Meridian logos are placed at each front corner.
When it comes to it functions display we get exactly the same system we saw in the SN11RG. This means that between the center and right channels there are a dual display system. The top is the functions display that shows various information about the soundbar itself like volume, input selection and Bluetooth functionality while there is a second smaller four LED display below that that indicates Google Assistant functionality.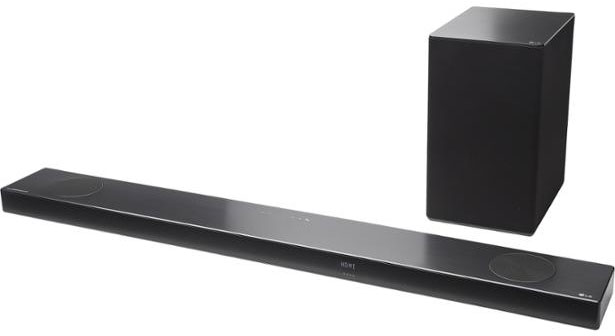 The main display will light when you press a command and after a few seconds will go off so it will not bother you when using it for a long time. We like very much this dual display system as it gives the soundbar the ability to show more information at the same time. Excellent design by LG on this one.
With the soundbar featuring a sealed enclosure type means that the back of the unit is pretty simple. The only thing you will find is a special inset towards the left that includes all the connections while the power port is located on the other side isolated from the rest. And since the special wall mounts are sitting under the soundbar instead of the back there are no holes either.
And this means, as you guessed it, that there is no IR repeater if you need it. Although the soundbar has a very low profile, in fact even lower than the SN11RG, having an IR repeater is a must in our books in order to cover all bases. Unfortunately it seems that LG has forgot this feature in general so make sure that your TVs IR sensor is high enough not to be obstructed.
The included subwoofer seems to be exactly the same as the one we saw in the SN11RG. And while in combination with LGs flagship it felt that it was slightly small in comparison with the SN9YG we would say that it is perfect in size. We measured it 8.7 inch x 15.4 inch x 12.3 inch (221.0 mm x 390.0 mm x 312.8 mm) and with a weight of 17.2 lbs (7.8 kg) this sub strikes the perfect balance between size and performance.
Its design is simple enough with a cloth covering the front and sides of the cabinet while its overall cubic design and simple lines can make it rather unnoticeable wherever you decide to place it. The back is as simple as the rest of the design with a single pair button for connecting it to the main unit if necessary and a rear bass port that helps with the low end.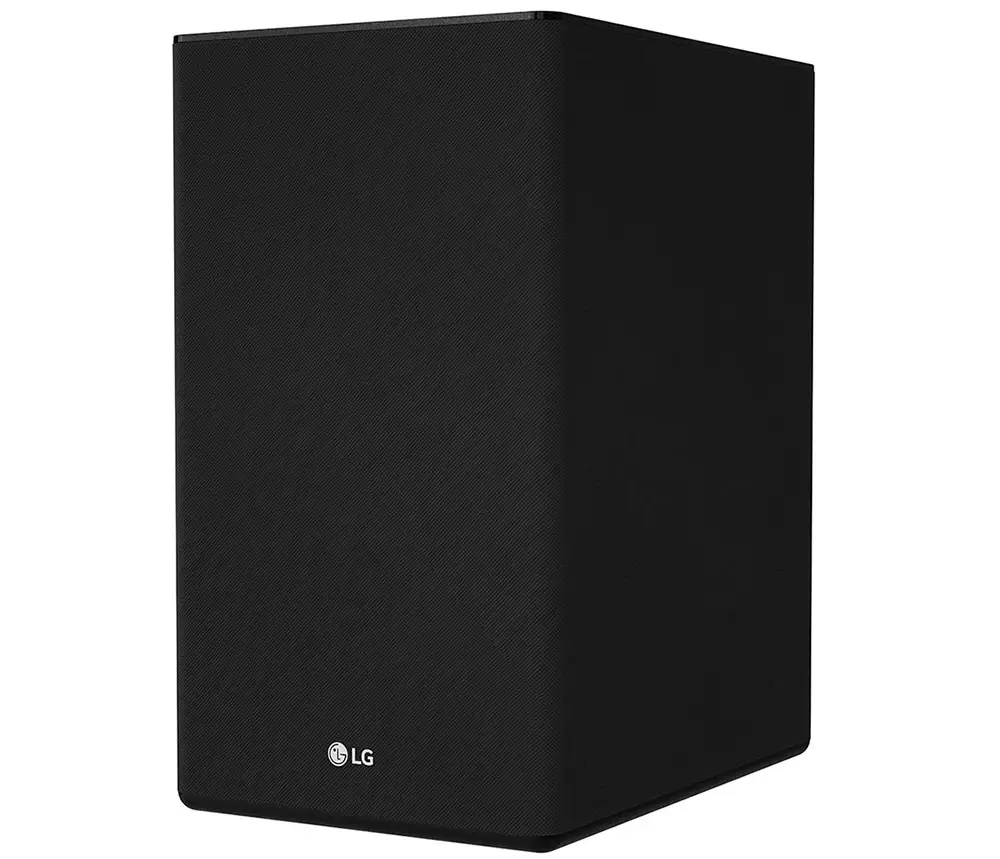 The SN9YG doesn't feature any rear surround speakers like the SN11RG but you have the ability to buy the optional wireless rear speakers kit (SPK8-S) if you want bringing it more in line with LGs flagship. But these speakers still lack up-firing Atmos drivers in comparison so at best you will be able to have a 7.1.2 system.
LG didn't have to re-invent the wheel. They already had a good design both in terms of quality and looks and seems that they are keeping it for the time being which is perfectly fine by us. If there is something to add in the future that would have to be an IR repeater as it can help a lot in certain situations.
Internal Hardware
Now there are two kinds of Dolby Atmos soundbars, those that come with up-firing Atmos drivers and those that use virtual tech to simulate the overhead Atmos layer. The SN9YG belongs in the first category and is essentially a 5.1.2 channels unit that can be expanded to 7.1.2 channels if you buy the rear speakers expansion kit.
Now while this is a 5.1.2 channels unit don't be fooled to believe that this is a true surround soundbar as the two "surround" channels are in fact the side-firing ones that are there to mostly give more extension to the front soundstage rather than more depth and over-the-shoulder activity. If you want surround action then the optional surround kit is a must.
The total power output of the soundbar is rated at 520 watts which is not bad with the main unit rated at 300 watts and the subwoofer at 220 watts. Each channel of the soundbar is rated at 40 watts (4 Ω at 1 kHz, THD 10 %) while each up-firing channel is at 50 watts (4 Ω at 1 kHz, THD 10 %) each. The subwoofer on the other hand comes with a 180mm driver and can output 220 watts RMS (3 Ω at 80 Hz, THD 10 %).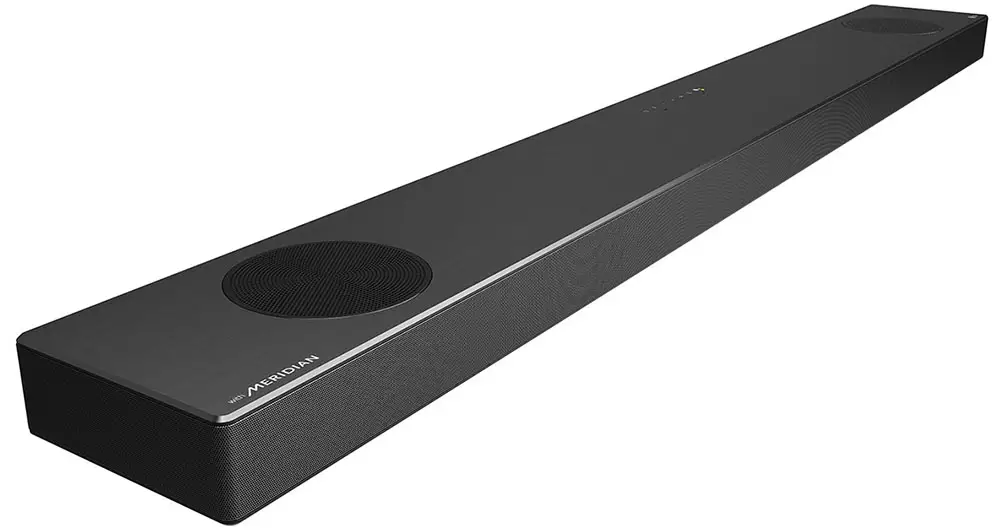 The reduction in size would also mean reduction in total output power. At 520 watts the SN9YG is still good enough while the included subwoofer, being the same we saw in LGs flagship, means that we knew more or less what to expect from it.
Connectivity
While every year soundbars are including more and more features and have managed to reach a point at offering a complete feature rich set one area where they seem to still struggle is at the available connections being offered. We saw this in the flagship SN11RG also as it offered almost the bare minimum for such a huge soundbar so things were obviously going to be worse with the SN9YG. But lets see that LG had decided to include in this one.
From left to right we get an HDMI output, an HDMI input, a digital optical audio input for connecting older devices that don't include an HDMI port and a USB port (5V/500mA) that you can use to connect external storage devices. That's all.
Both HDMI ports are the older HDMI 2.0 but are HDCP 2.3 enabled which means they can support a maximum resolution of 2160p@60/50 Hz 4:2:0. Although no support for HFR may not be such a big deal, seeing many LG TVs supporting HDMI 2.1 from last year already it feels like their soundbar division is stuck slightly in the past. At least the HDMI output supports both ARC and eARC functionality which is a plus and enables you to pass lossless audio formats.

And while not having HDMI 2.1 is not a huge problem what definitely is, is the available number of connections. One HDMI input doesn't cut it for even simple setups anymore. Your only solution to this problem is to either use your TVs HDMI ports to make all connections or use a separate HDMI switch which is not very practical to be honest.
As for its wireless capabilities it's pretty standard what we get as LG has included both WiFi (802.11a/b/g/n) and Bluetooth v5.0 for streaming and connections purposes. The subwoofer also connects to the main bar with a wireless connection making its placement far more easy since there are no cables involved.
Control Options
Next we will be looking at the control options that we have for the unit. It seems that LG has included the same features in all of their top tier models and as such the SN9YG seems to be exactly the same as the SN11RG we had reviewed recently so expect this part of our article to be almost the same to what we had observed before.
The most obvious way of controlling the soundbar is the included remote and since many of the functions are similar to LGs flagship they share the same remote also with the same buttons and same layout. Basically the remote is similar in design with many LG soundbars this year and the last couple of years as they only change the buttons layout slightly to accommodate the various functions of each model they release.
The remote is simple in design and made out of plastic while it uses big rubber buttons that have a nice feeling when pressed. Having big buttons with enough space between them is good since there is no backlight to help if you want to use in in low lit environments.

At the top left corner we find the power button with two huge buttons below that for volume control on the left and a functions / mute combo button on the right. Three buttons in a single row are placed below them for sound mode selection, Google Assistant use and sound tuning. The last one can also be used for surround activation if you happen to have bought the rear speakers kit also.
Below all these there is an array of nine buttons including playback controls, Night Mode, folder selection, information, auto power for enabling the unit in case it receives a signal and a repeat mode selection.
The remote is simple but yet practical and very functional. Nothing major to say here, it just gets the job done.
Except from the remote there are the usual built-in buttons that can be used for some limited control. The ones we find in the SN9YG include a power button, a function button for input source selection, volume controls, a playback control button, a mute microphone control if you don't like the soundbar to hear your room all the time and a Google Assistant button for enabling the voice control assistant.
We also get Sound Sync and SIMPLINK which is pretty standard for an LG soundbar and with these you can use the remote of your TV in order to issue some basic commands to the soundbar. These two functions can be very practical if you want to reduce the number of remotes you need to have in your home cinema.
LG seems to have a close relation with Google when it comes to their soundbars as Google Assistant comes built-in in many of them. With the included microphone array you can issue your commands without the need to have an external Google Assistant device. If you like this kind of control then the SN9YG will make you feel right at home. Unfortunately once again there is no Amazon Alexa support so if it happens you to use Amazons voice control solution you are out of luck.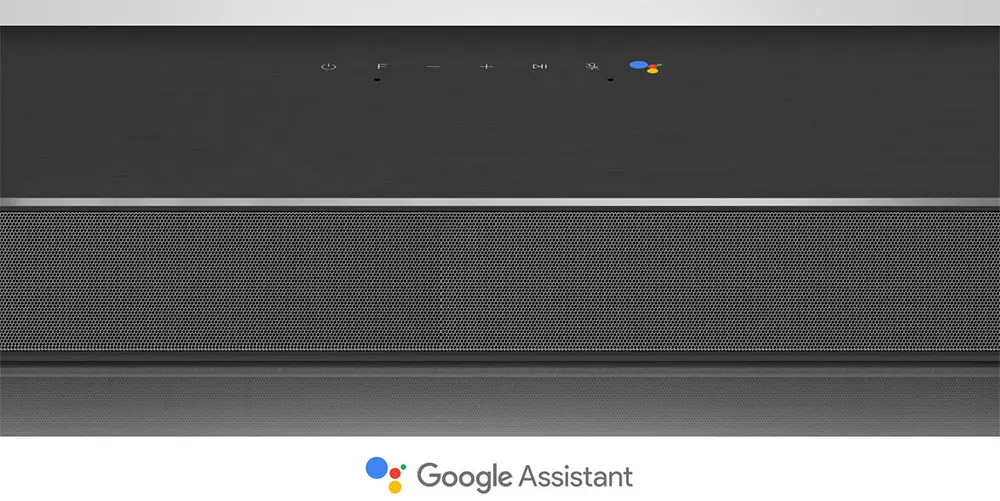 Lastly we shouldn't forget to mention the available mobile apps that the soundbar supports. First of all the unit needs Google Home in order to do the initial setup but with it you can issue some basic controls to the unit. But for its main app LG has used the Wi-Fi Speaker app that is supported both for Android and iOS devices. Keep in mind that if you are using the "Smart ThinQ" app for your other devices it will not work for this soundbar. And lastly there is also Chromecast so you can use any Chromecast enabled app and do some basic control of the unit with it. So plenty of options to choose from.
The SN9YG is basically feature complete when it comes to the ways you can control it. We would like to see LG supporting Amazon Alexa at some point as this seems to be the only big omission from their control options at the moment. Other than this we could say that we are happy with what is offered here.
Extra Features and Services
When it comes to the audio capabilities of the SN9YG along with various functions and extra features the unit comes with everything we saw in the SN11RG making it very obvious that all the top soundbars from LG are very similar to each other in this regard.
We are in Dolby Atmos territory with the soundbar supporting also DTS:X and LPCM. Supporting the latest audio formats means that it can also playback all the older surround formats like Dolby TrueHD, DTS-HD Master Audio along with the more simple Dolby Digital and DTS tracks. As always for the Dolby Digital and DTS formats the optical port is enough but for all else you will need to use the HDMI port that support the higher bandwidth needed.
Now it wouldn't be an LG soundbar if it was not equipped with many sound modes to choose from and in this regard the SN9YG does not disappoint. When Dolby Atmos and DTS:X formats are detected the soundbar locks into each appropriate mode and cannot be changed. But for all other audio formats the unit has six different modes that you can choose from and give different acoustic results depending on the content being played.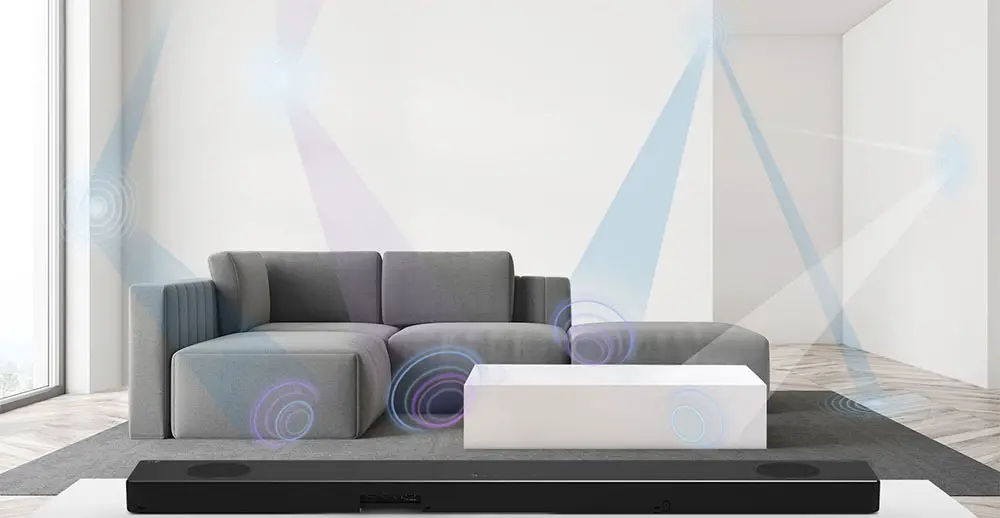 Things are exactly the same as we saw in the SN11RG as we get the Bass Blast and Bass Blast+ modes that enhance the bass and low end in general, the Standard mode that uses Meridian technology for the best and most balanced output no matter the content you use it with, Movie mode that gives higher priority to surround effects and activity and Music that can offer better performance with music.
Lastly there is the AI Sound Pro  that uses Adaptive Sound Control (ASC) in order to adjust the sound levels automatically along with treble and bass depending on the content being played each time. This can be especially handy if you don't want to mess with the audio settings all the time and you look for an all around solution.
As with all LG soundbars we also get a Night mode called Night Time mode and can be used to reduce overall sound intensity while improving fineness and softness during late night viewing.
Meridian is present for one more year in many of LGs top soundbars and the SN9YG uses their advanced Digital Signal Processing technology that is being utilized in the Standard mode. The soundbar also supports High Resolution Audio due to the HiFi DAC that is included in its hardware and provides the unit with support for audio files up to 24bit/192kHz.
Another feature that you will find is AI Room Calibration which uses spatial awareness technology to measure your rooms unique characteristics and adjust the audio settings depending to your environment. Many low tier soundbars don't come with any calibration system or rely on the user to make any changes but in the case of the SN9YG the soundbar can make adjustments by itself using algorithms in order to compensate your rooms layout and improve the overall audio performance.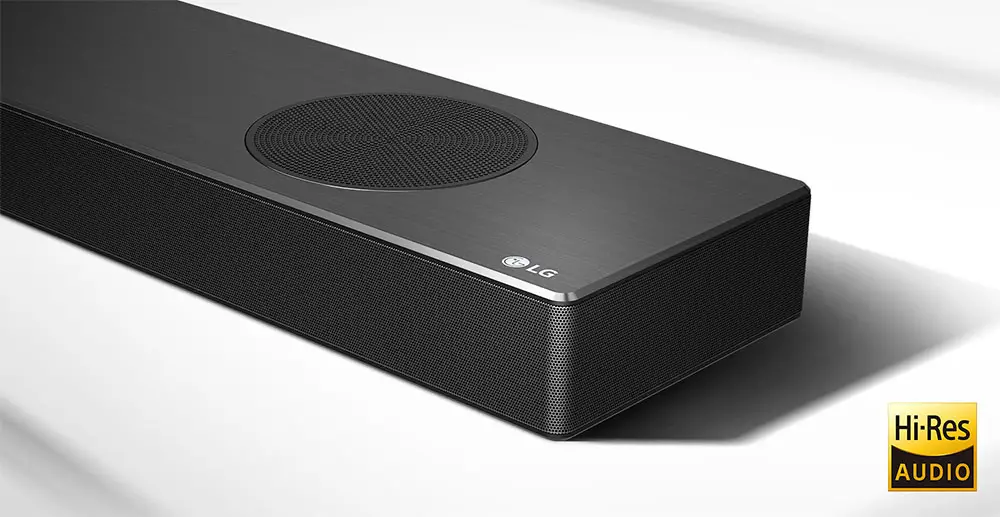 When it comes to streaming similarities continue as we get both USB and Bluetooth to stream audio from. With the unit supporting High Resolution Audio we don't only get support for the usual MP3, OGG and AAC formats but also for FLAC and WAV up to 24 bit/192kHz. As for Bluetooth we are pleased to see that another of their 2020 release uses the newest Bluetooth 5.0 which can provide much better and more stable connections compared to the older v4.2.
And if you thought that USB and Bluetooth was all the soundbar could do think again as LG has included Chromecast which means that you can stream audio from various streaming services online by using a Chromecast enabled app.
Closing this part we can say that as we saw in the SN11RG, the SN9YG comes with the complete feature set that LG is using for 2020. The soundbar offers plenty of audio formats support along with High Resolution Audio, has USB, Bluetooth and online streaming to choose from while there are enough sound modes to cover all preferences and needs. The SN9YG has almost everything that you may ask from a soundbar of this category.
Initial Setup
The procedure to install the soundbar is basically the same across most LG models so with the SN9YG the whole process was similar to what we did with the SN11RG. LG has really made things as simple as it gets so you shouldn't have major problems completing this step even if this is your first time doing so.
After we unpacked the soundbar and subwoofer we placed the main unit under our test TV and made sure the IR sensor is not obstructed. We also placed the subwoofer in the front left corner of our room as we always do and connected both in a power outlet. The soundbar and subwoofer should connect to each other automatically but you can do it also by yourself if this doesn't happen for some reason.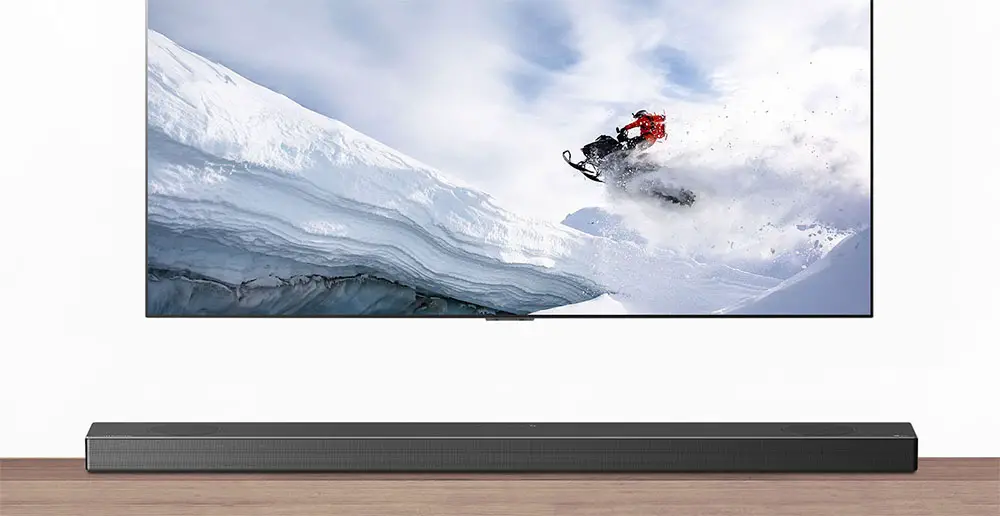 Keep in mind to place the main unit in a position where both sides are not obstructed as you need to remember that this one has side firing drivers and it will seriously degrade its overall performance if you cover them. The same applies for its up-firing drivers for the Atmos effects. As for connecting our unit we used an HDMI cable from the HDMI output of our 4K UHD player to the HDMI input of the SN9YG while another HDMI cable was used from the HDMI output to one of the HDMI inputs of out test TV.
The next step will need you to download the Google Home app to complete the initial WiFi connection setup and then download the LG Wi-Fi Speaker app that can be used to do various adjustments like choose sound mode, change volume and use the soundbars audio calibration system.
After this initial step you can also adjust the volume of each individual channel along with treble and bass if you prefer to make these yourself. The problem we find here is that there is no individual adjustment available for the rear channel so if it happens you to have the rear surrounds kit you need to place them both in equal distance and height in order to perform similarly.
As a last step you need to decide if you want to use the surround function which in our case we left enabled at all times and the Sound mode you want to use if your content is not using Dolby Atmos or DTS:X in which case you don't have control over it.
Movies
For our first movie test we decided to go with the UHD version of Saving Private Ryan that comes with an astonishing Dolby Atmos audio track. With the soundbar locked into Dolby Atmos mode we went ahead and watched the entire opening sequence with the landing of Allied soldiers on Omaha beach.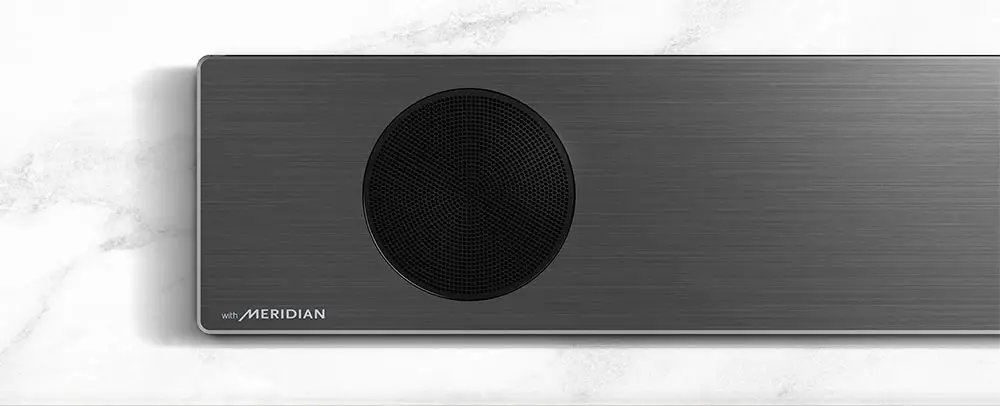 The SN9YG managed to create a very convincing front soundstage that really expanded far beyond the physical limits of the soundbar and this most probably has to do with the inclusion of the side firing drivers that help with this expansion. The front channels were very good at separating the various effects with nice channel shifting from one side to the other. The center channel kept the dialogue very clear and distinct while it was firmly placed at the center and we never felt that it was drowning under the craziness of the action.
When it comes to the Dolby Atmos effects although Saving Private Ryan is not the kind of film that has very distinct overhead effects wherever possible they help to create a more full and immersive outcome by elevating the top layer slightly more. Keep in mind that as we had seen in the SN11RG in order for the up-firing Atmos drivers to provide a convincing Atmos atmosphere your ceiling shouldn't be more than 9 feet high (about 3 meter) and not be at an angle.
Our testing area was exactly at 9 feet and with a straight ceiling and even as such the overhead effects felt slightly elevated rather than coming entirely from the top. This was evident as the German artillery shells were falling on the beach as the soldiers were trying to push forward. In no way the SN9YG can reproduce the Atmos effects to their full extent but this was to be expected with such small up-firing drivers. Another thing to point out is that the sweet spot where these effects seem to be the most evident is pretty narrow and their strength as well as precision diminishes as you move away from that spot.
When it comes to surround activity the soundbar fails to create any kind of over the shoulder action. Yes, the front soundwall felt slightly closer to our position but never we felt enveloped by it and with no dedicated surround speakers this was to be expected. If you really want surround action then the optional wireless rear speakers kit (SPK8-S) is the only way to go. The side-firing speakers only manage to extend the action to the sides and in no way behind us.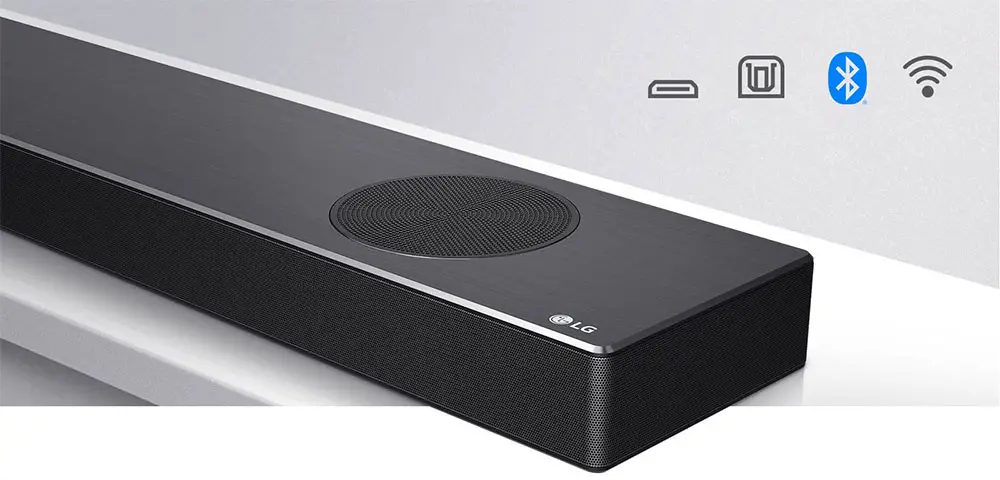 As for the bass the subwoofer was good at reproducing all the chaos on screen and provided the necessary shaking at each point. From artillery fire, to grenade blasts, to machine gun fire and debris falling all over the place the included subwoofer did enough to give the mix the necessary weight. And while the subwoofer didn't lack in overall power it seemed to us that it was lacking the necessary weight in general. For most people it will be just fine but we like to nitpick a little bit here.
For our second testing we went with the Lord of the Rings: The Return of the King with its magnificent DTS-HD Master Audio track. In this case we were able to choose the sound mode we wanted and we tried both the Movie mode and the Standard mode that uses the Meridian technology. With no real surrounds available it felt like the Standard mode was the way to go here as the Movie mode changed the audio signature a bit too much. On the other hand the Standard mode felt like it respected the sound mix the best and gave a very balanced outcome both in terms of overall sound distribution and audio dynamics.
We skipped the film forward towards the siege of Minas Tirith and when the Rohirim charged against the Sauron army. The SN9YG created a very nice atmosphere with good expansion on each side with the use of side-firing drivers while the up-firing drivers helped to elevate the overall front sound wall even if there were no real Atmos effects here to be used.
Once again we noticed good channel shifting and panning effects with no noticeable delay or lag. The center channel provided clear dialogue even with all the battlefield action and the subwoofer once again provided the necessary low end extension even though we would like it to have a bit more soul and life.

Surround activity once again was missing in action and although here we don't have such obvious effects like cannon and projectile fire a film like Lord of the Rings has a lot going for it when it comes to environmental and ambient activity with the SN9YG failing to portray all this convincingly. If you want to improve this get the surround speakers kit for sure.
Overall the SN9YG did provide a very nice experience and for most people it will be more than enough to complement their TV but we felt that for a price of around $800 the soundbar was lacking in maximum volume. This was one of the few cases where we could push the volume to the max and keep it there without feeling like our ears would explode. Obviously you will be using it in lower volume but being able to reach the max with such easiness means that there is an easy to reach limit which may disappoint some users.
But other than that we had no major complaints on this one. The front performance was very convincing with good panning activity and channels separation, Atmos effects were solid for an up-firing unit while bass was adequate even if not entirely satisfying.
Music
No review of ours would be complete without throwing a few rhythms and tunes to it to see how it behaves. And with the soundbars support for High Resolution Audio it was exactly what we needed to pick a few selected audio tracks in FLAC format and stream them through the USB port.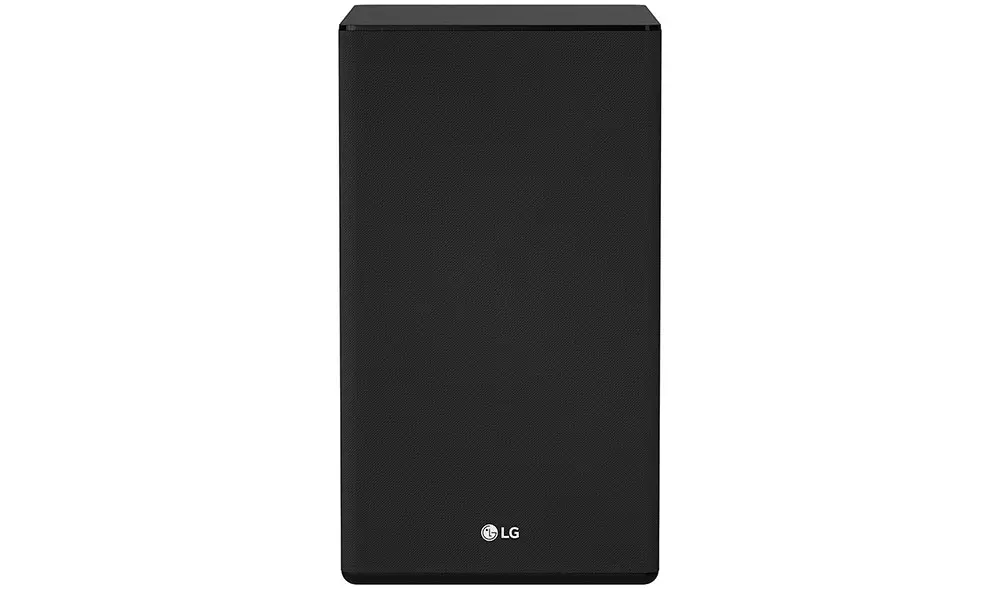 As for the mode of preference we were between the Standard and Music modes but in the end we decided to go for the Standard mode as it gave a more satisfying tone for music in general. Now the soundbar is no HiFi material but certainly you shouldn't expect as such from a soundbar of this category. The SN9YG is certainly very expansive on its front performance managing to stretch the sound wall in both sides and provide the necessary depth towards the front.
The unit had very good sound imaging with the musical instruments well defined in space. Obviously it was not the best and most highly precise performance we have heard of but for its size and capabilities we didn't feel that it had any major problems in this regard.
Stereo panning effects were pretty solid while the center channel kept the vocals isolated from the rest of the performance. Overall the music felt very natural and it seemed like the Meridian Technology used in the Standard mode did little to add any artificial elements to the audio which is exactly how we like it. Music should be as much in its original state as possible and we didn't notice any major alterations.
As for the subwoofer, this managed to keep the tempo and dig deep even with more demanding tracks and never felt like it was left out of breath. Once again it seemed that it lacked a bit in flavor that would give this little extra something to the whole performance.
Overall the SN9YG performed very close to what we had seen with the SN11RG and this was to be expected as many of the same elements that defined LGs flagship are present here also. The soundbar is good, its just not extraordinary good. The front soundstage was fulfilling, channel separation was solid, mid-range felt balanced and highs were satisfying. The subwoofer offered the necessary low end extension but when you expect it to offer this extra something it leaves you unsatisfied.
If you are a casual music listener then the SN9YG is perfect and will not disappoint you. You just need to have your expectations at check.

Final Thoughts
The SN9YG really feels like a toned down version of LGs flagship, the SN11RG. It features a similar design, only more compact in size, we get the same build quality, a similar audio drivers configuration, with only less overall power and no surround speakers while the full feature and function set is included along with all the Atmos and Meridian technology.
And while in the case of the SN11RG you could get a fairly decent dedicated audio system instead with the same price, with the SN9YG and with its price tag hovering around the $800 mark we cannot say the same so this is a good option for those looking for decent performance and don't have the necessary space and budget to go for something better.
The soundbar has many good points as it comes with all the ease of use a soundbar should have and this includes initial placement and setup but also everyday use. With its size you really save some space and this is what a soundbar should do all along. Performance was good but not great and it will provide you with an obvious upgrade over any TV audio system. Lastly its feature set could not be more complete as the inclusion of High Resolution Audio, USB and Bluetooth streaming along with Chromecast, Google Assistant and wireless surround ready capabilities makes the SN9YG comes with everything you would like a soundbar to have.
On the downsides now. One of the most obvious ones is the lack of any surround activity. The side firing surrounds add only width to the soundstage rather than bring the action closer or behind us. Also the subwoofer although could go low enough it felt slightly uninspiring. The soundbar also feels like it can hit its maximum volume much easier than you would expect from a soundbar of this price as we could push it to the maximum and never felt like our ears would explode. For this size we were expecting a bit more audio output. Lastly the available ports are disappointing as with a single HDMI input you will have to be creative with the connections you will have to make especially if you have a lot of equipment in your home cinema.
The SN9YG is specifically designed for small rooms and its maximum volume really shows that. If you have such an area with a relatively low and straight ceiling with a TV of 55″ and above and you are looking for a Dolby Atmos soundbar with up-firing drivers, satisfying overall performance, optional surround speakers connectivity and a great feature set then the LG SN9YG fits the bill perfectly. It's not the kind of soundbar that will floor you with its performance but it will provide you with the necessary immersion in such a confined space and this is all that matters in the end.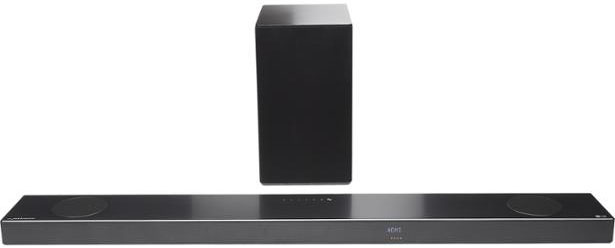 For more reviews you can check our dedicated Soundbar-subwoofer combo reviews list or even look at our Product Reviews Table where you can find the brand and specific product you are looking for.
Also don't lose the chance to subscribe to our Newsletter and gain exclusive privileges.
---
Cheapest Places to Buy :
---