LG SP7Y
Reviewed at $349.00
Product Name: LG SP7Y
Product Description: 5.1 CH Soundbar
Design -

8.5/10

Movies Performance -

8.6/10

Music Performance -

8.4/10

Inputs and Features -

8.4/10

Price / Quality -

9/10
Summary
Reviewed at $349.00
Pros
Good front soundstage
Easy to setup and handle
Can be expanded to 7.1 channels
Good price
Cons
No real surround activity
Bass could be better
DTS Virtual:X makes sound feel over-processed
No WiFi
---
Cheapest Places to Buy :
*We are a reader-supported website. When you buy through links on our site, we may earn a small affiliate commission at no extra cost to you. Home Media Entertainment does not accept money for reviews.*
---
We didn't have the chance so far to check any of LG's latest soundbar releases for 2021 so it was about time to start looking at some of them. LG is one of the manufacturers that releases relatively large yearly lineups and take up a big chunk of the consumer market by offering something for all budgets and all needs. Today in our LG SP7Y review we are going to be testing this low to mid-tier release and if it can be a worthy candidate with so many models already in the market at the same category.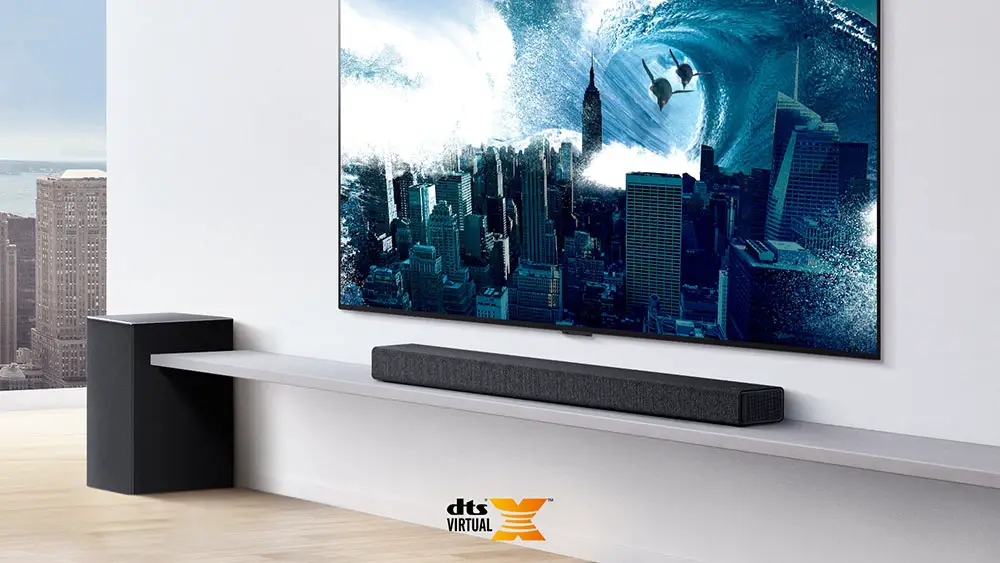 Now for your information the SP7Y is not directly replacing any model from last year. If you look at the model numbers from 2020 the SN7Y was a 3.1.2 Dolby Atmos soundbar while the SN6Y was a 3.1 channels one. The SP7Y we have here on the other hand is a 5.1 channels soundbar and while it does have similar characteristics and features with many other LG's releases there is no model from 2020 with a 5.1 channels setup showing that LG wanted to bridge the gap between the two last year's models. And to be honest this is a smart move as LG now has a unit on offer for those interested in a 5.1 channel soundbar.
But what does the SP7Y has to offer? The unit is a soundbar-subwoofer combo and even though it bears the 5.1 channels rating it doesn't have any surround speakers for over the shoulder action. It comes with Dolby Audio, DTS Digital Surround and PCM support, there is also DTS Virtual: X for a more surround fulfilling experience, it can playback High Resolution audio and is capable of both USB and Bluetooth streaming. Lastly there is the ability to expand the system to a full 7.1 channels one with the addition of the optional wireless rear speakers kit (SPK8-S) and thus gain real surround sound.
We have reviewed in the past many soundbars with similar characteristics so most of the times it really comes down to how good of an audio performance the LG SP7Y can really give you. So without further delay, let's find out…
Design, Inputs and Features
Exterior
Many of LG's soundbars feature similar designs with the top-tier units sharing a similar shell with different dimensions only while the rest of the lower and mid-tier selections use a different one that fits the lower capabilities of these units. The SP7Y surprised us a bit here as what we have is a completely different design that does not follow any of the previous looks we had seen from LG.
In terms of size the SP7Y measures 39.4 inch x 2.5 inch x 4.1 inch (1000.0 mm x 63.0 mm x 105.0 mm) making it just the perfect fit for any TV of 49″ and above. And with a weight of 7.1 lbs (3.2Kg) it is relatively easy to handle and move around during initial setup. While the soundbar is not very big keep in mind that because it features side-firing drivers it would be advisable not to place it in any kind of cabinet as the side drivers will be obstructed and the unit will not be able to function properly.
The main material being used is obviously plastic that is used at the back and the sides while the front, top and part of the back side are covered in a fabric grille. The side drivers are covered by a plastic perforated grille and the overall quality feels good enough and on par with other LG soundbars. There are no microphone arrays here as the unit lacks any kind of voice control functionality.
The SP7Y also includes a fully functional display that we find at the front, just on the right side of the center channel and can display various information like input selection and volume adjustments. The only thing we could say about this one is that due to the use of a thick fabric grille the display is not so visible as in some other units. But at least in a low lit environment it is easier to distinguish.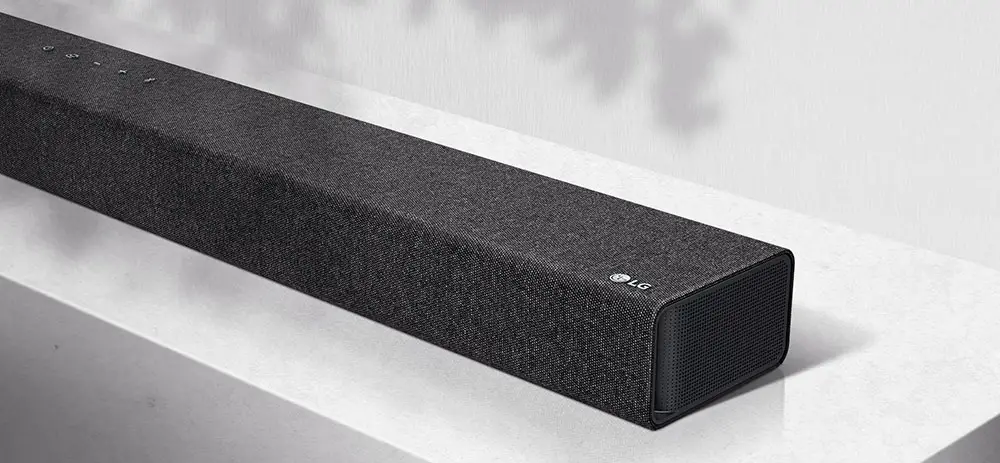 At the back we only find the two insets that house all the connection ports while underneath we find some holes that are used for the wall mounting brackets while we like that this one does have special grooves for cable management as they connect both insets to a center point at the back from where all cables can go out of the unit. Lastly there is no IR repeater here so make sure the height of the soundbar will not obstruct the IR sensor of your TV.
As for the included subwoofer this is definitely a new design also and although in terms of looks it doesn't deviate much from the usual it is very obvious that it's not the same we had seen in other similar units. It has the same boxy look and we definitely love that it comes with a more slim front side that in combination with the front firing driver makes it easier to fit in tight spaces.
The subwoofer measures 7.1 inch x 15.5 inch x 11.4 inch (180.0 mm × 394.0 mm × 290.0 mm) and weights 12.8 lbs (5.8Kg) while it uses a plastic top and back, the sides seems to be from some kind of melamine while the front is covered by a fabric grille. The back of the subwoofer is a standard sight as we find only a big air port, the pairing button and the power connector.
The unit doesn't come with any surround speakers as LG has made this an optional choice in case you don't want them. But for those interested the SP7Y is wireless surround ready and can connect to the wireless rear speakers kit (SPK8-S) in order to create a 7.1 channels system.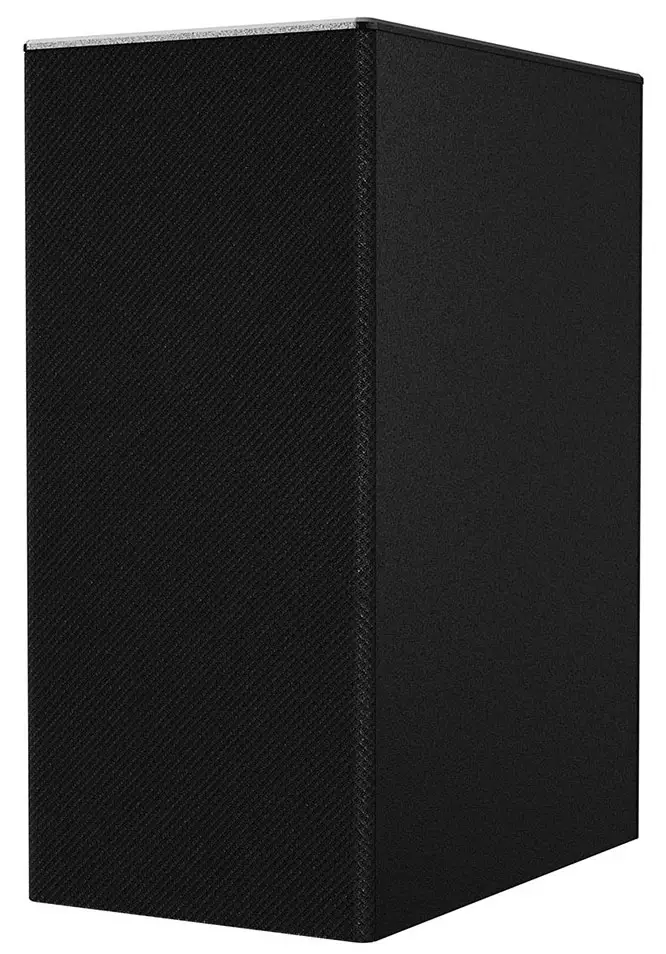 Overall the SP7Y did surprise us with its new design but ultimately it is not so much different from other LG releases in terms of quality and materials used. It's the standard you should expect from such a price and on par with LG's standards.
Internal Hardware
The soundbar is classified as a 5.1 channels soundbar with the three main front channels for right, center and left along with two side-firing ones and a single subwoofer. As a result this one is not Dolby Atmos capable.
For the two main channels (left and right) LG has used a combination of a single 52 x 99 mm woofer unit along with a 20mm silk dome tweeter. As for the center channel and the side firing ones we find a 2 inch full range woofer for each. Lastly the subwoofer is using a single 6 inch front firing driver. The woofers being used in the SP7Y are slightly different than what we had seen in previous LG units but the reason for this change is unknown. We will surely see how they fare in our testing shortly.
The total power output of the soundbar is rated at 440 watts which is normal for its category. The two main channels have a rating of 45 watts RMS (4 Ω, THD 10 %) each while the side-firing channels are also rated at 45 watts RMS (4 Ω, THD 10 %) each. On the other hand the center channel is rated at 40 W RMS (4 Ω, THD 10 %). As for the subwoofer it has a power rating of 220 watts RMS (3 Ω, THD 10 %).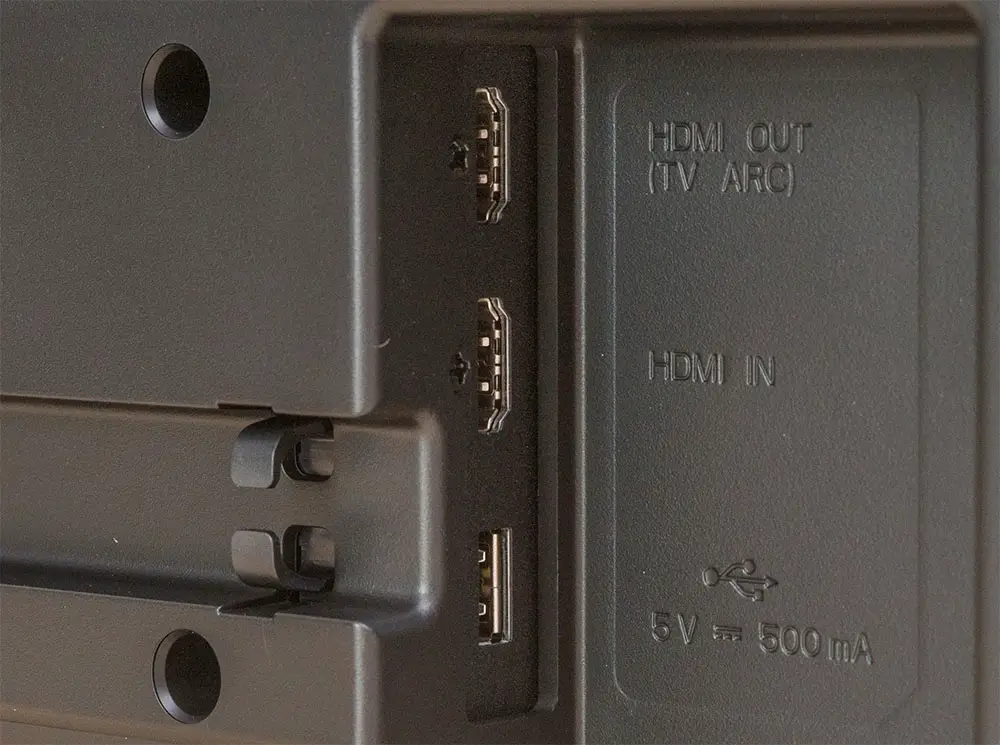 In terms of power output there are no surprises as the SP7Y is what you should expect. The different drivers being used is a bit puzzling but other than that we don't expect it to perform much different that their previous releases in the same price.
Connectivity
These low cost soundbars seem to offer more or less similar connectivity options and the SP7Y seems to be no different. In terms of wired connections in the left inset we find a HDMI output with ARC support, an HDMI input and a USB port (5V/500mA) while on the inset to the right we find the power connector and an optical input.
Now having both an input and an output HDMI means that the SP7Y can be used as a hub that passes through the signal to a TV. The bad news here are that because these are v1.4 means there are certain bandwidth limitations meaning that not all signals will be able to be passed through. The HDMI 1.4 port can support 4K resolution up to 30fps meaning that anything higher than that and the soundbar will refuse to work. For movies this shouldn't be a problem but if you plan on connecting a gaming console and expect to have 60Hz or 120Hz then you will certainly face a few issues.
Also the inclusion of a single HDMI input means that if you have multiple sources then there is no way to pass them through the soundbar all at once. So your only solution if you definitely want to connect them all through the soundbar first is to use some short of HDMI switch.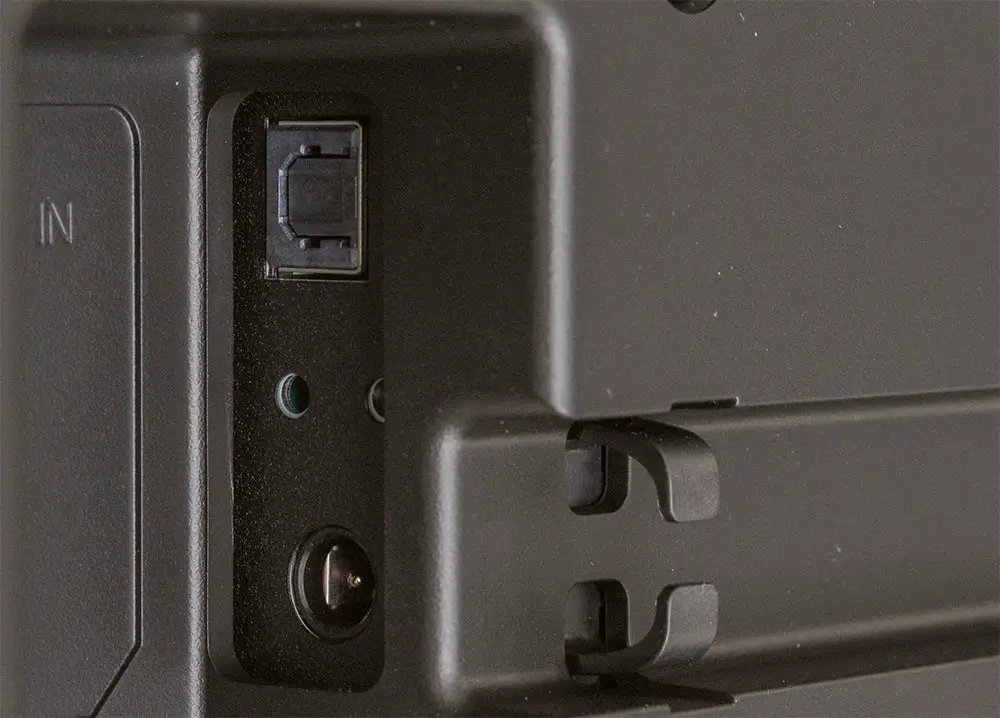 When it comes to wireless support the soundbar gets only Bluetooth 4.0. We would like to see Bluetooth v5.0 being used as many, even low cost units, have been using it lately. The subwoofer on the other hand is connecting to the main unit with a wireless connection with the two of them being paired from the factory and makes placement so much easier this way.
Control Options
Let's see next how you can control the unit and first is the included remote.
In terms of design it is a simple one with just the basic of buttons. It surely doesn't need more as there are not many functions in the soundbar that would require more physical buttons. Simplicity is key as always. Design is lovely, plastic is the main material while it uses a combination of matte and gloss surfaces. The rubber buttons are big and have good distance between then making it easier to avoid wrong commands.
At the top left corner we get a single power button with two big controls below for volume on the left and a functions/mute combo button on the right. A trio of round buttons are below for sound effects, Bluetooth pairing and Information. Below these we get the standard navigation controls while at the bottom there are only two buttons for Sound Tuning and Settings.
Simple and easy to handle remote really. It's nothing extraordinary but will get the job done. If only it had a backlight it would have been perfect as trying to press the right button in the dark is a frustrating procedure.

LG has also included a couple of functions that can further extend the control diversity of the unit and as such we find Sound Sync and SIMPLINK which are two technologies that enable you to use your TVs remote in order to issue the soundbar some basic commands. This way you can limit the number of remotes you need to have in your entertainment area.
The soundbar lacks any kind of voice control functionality so if this is your thing then you should look at one of the more expensive releases. At least we do get mobile app support and for this unit you have to download the LG Sound Bar app for Android and iOS. The app is connecting to the unit through a Bluetooth connection so make sure your device supports that.
The app is nice and provides a pleasant looking alternative to the included remote. It lets you adjust various settings of the soundbar like volume control, input selection, USB playback and Bluetooth connections or change the available sound modes.
Extra Features and Services
LG has a pretty standard feature set that includes in all their mid and lower-tier units and the SP7Y seems to get exactly that.
First of all comes the audio formats that are supported. The soundbar comes with Dolby Audio including Dolby Digital, DTS Digital Surround and PCM support. Obviously there is no Dolby Atmos or DTS:X but also no Dolby TrueHD or DTS-HD Master Audio for that matter.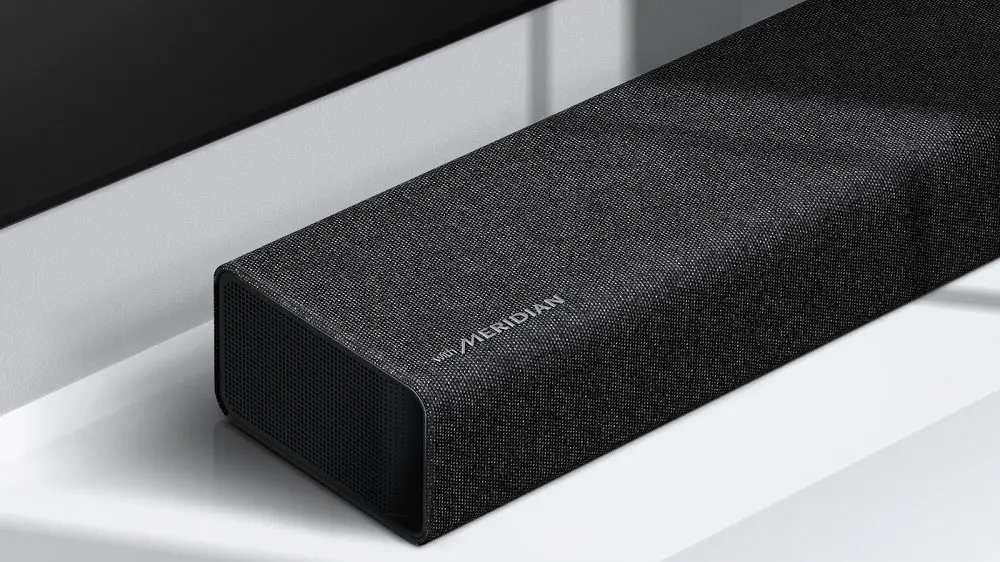 We like that LG always include many sound modes in their soundbars. Although some of them do not make much difference at least giving you this flexibility is always good. So in the SP7Y you have no less than nine different sound modes to choose from which is really impressive for this price.
Available are the Bass Blast and Bass Blast+ modes that enhance the lower frequencies, the Standard mode that uses the Meridian technology and seems to be the best and more balanced for every situation, the Cinema mode that gives higher priority to the surround effects, Music that also uses Meridian technology and has been adjusted to enjoy better sound from a music source, Clear Voice that enhances the center channel, Sports that create a more immersive stadium feel and Game mode if you like to have a more immersive gaming experience.
For last we left the AI Sound Pro mode which uses Adaptive Sound Control (ASC) in order to analyze the properties of the input sound and provide the sound optimized for the content in real time and also DTS Virtual:X which is used to create a full surround experience without the use of any real surround speakers.
On the other hand if you are a late night watcher the included Night mode , that is called Night Time here, can reduce the overall sound intensity and improve fineness and softness of sound for better late nigh viewing.
And since we talked about the sound modes we couldn't continue without making a special mention to Meridian that for one more year they offer their expertise and tech to LGs soundbars by using their high quality Digital Signal Processing technology.
The soundbar also supports both USB and Bluetooth streaming. And while Bluetooth offers convenience with USB you can stream High Resolution Audio up to 24 bit/192kHz. The supported file formats include the lower quality MP3, OGG and WMA files while you can also playback FLAC and WAV files for the more audio purists.
As we mentioned above the soundbar may be a 5.1 channels unit but it can be expanded to 7.1 channels with the use of the optional wireless rear speakers kit (SPK8-S). We like that LG grands you this option since many may not have the space to accommodate the surround speakers and thus would limit the consumer market this would be ideal for. The downside in this is that the price goes up if you consider purchasing it which can also be a deciding factor.
The SP7Y is missing a few features that are mostly related to online functionality and this may disappoint some. In this day and age where everything is connected online having WiFi and all its related features should be considered a must. Otherwise we find a pretty standard feature set for this category.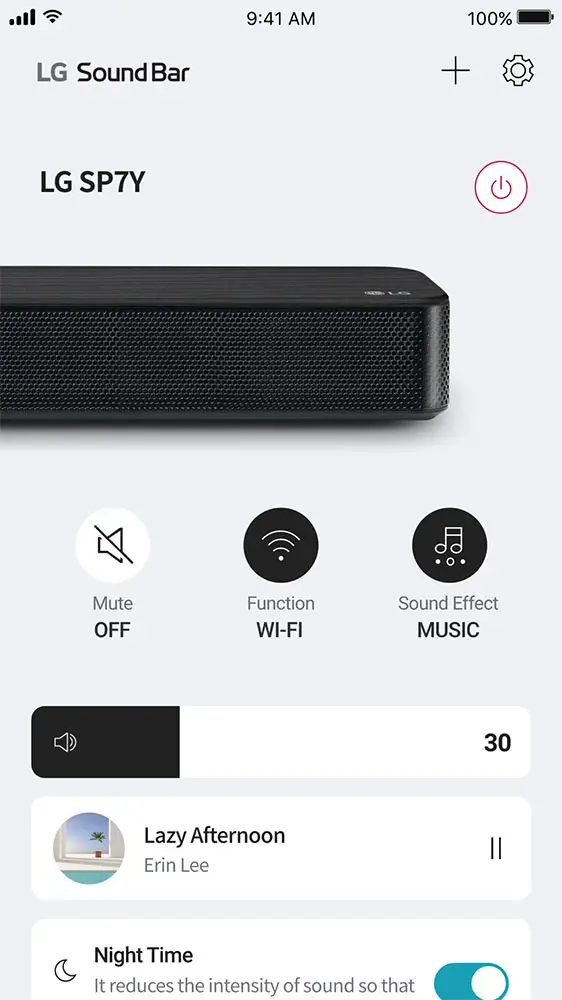 Initial Setup
LG has made sure to create a universal procedure for initial setup of all their LG soundbars that is fast, easy and pretty much straightforward. So we pretty much followed the same steps we did with all the other LG units previously.
After unpacking and placement we connected everything to a power outlet and the soundbar paired with the subwoofer immediately. We used the HDMI input to connect our Panasonic 4K UHD player and used the HDMI output to drive a HDMI cable to our test TV.
After al connections you have the option to connect the soundbar to the LG Sound Bar app otherwise you can use the remote to make some manual adjustments. Keep in mind that there is no auto calibration system here so everything has to be made manually. You can select the appropriate sound mode and adjust the sound level of each channel separately. After going through the initial steps you are practically done.
Now for this test we decided to use a couple of sound modes to see how the soundbar would behave. Since a soundbar means practicality we like to select a sound mode and forget about it. So we decided to use the AI Sound Pro because we wanted to see how the soundbar's algorithm will behave in this test. We also tried the DTS Virtual:X mode which is basically the only mode that can get you a more realistic surround experience without the use of real surround speakers.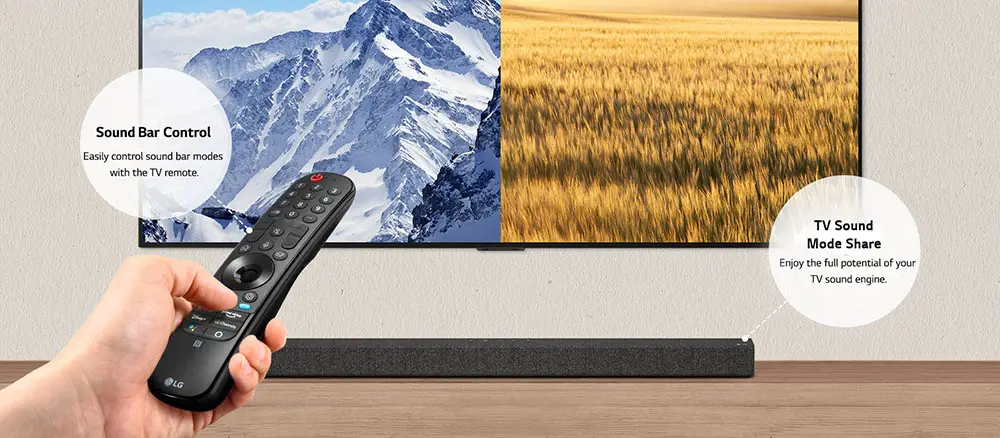 Movies
Saving Private Ryan in 4K UHD is as good as it can get to see how much we can push such a unit. The film comes with a Dolby Atmos mix which unfortunately we cannot enjoy so the core Dolby Digital track will have to suffice.
The obvious scene to try out was no other than the landing on Omaha beach. The SP7Y is pretty limited by its hardware so we were not having very high hopes on how the unit would be able to portray such an extensive landscape. But the end result was slightly better than what we were expecting. The front soundstage felt more expansive and with more depth than other low cost units.
What saves this soundbar is basically two things. First of all having a center channel helps to add more depth in the middle and fill the space with more accuracy and detail. The second is the side firing channels which is a nice trick we see lately being implemented more and more in order to create more extension even with small sized units. This way the SP7Y feels bigger than it really is and helps a lot especially when it comes to scenes that include large scale battles like this one.
In terms of actual sound quality the Sp7Y did good but don't expect to be blown away. The soundbar had good balance at normal volume levels which was lost in the upper limits with some distortion taking place across the entire frequency range. Mid-range was good, the high end had satisfying energy while the bass was not as good as we were hoping from this subwoofer. It was not bad but it lacked the shaking power you would expect with all the German artillery falling on the beach.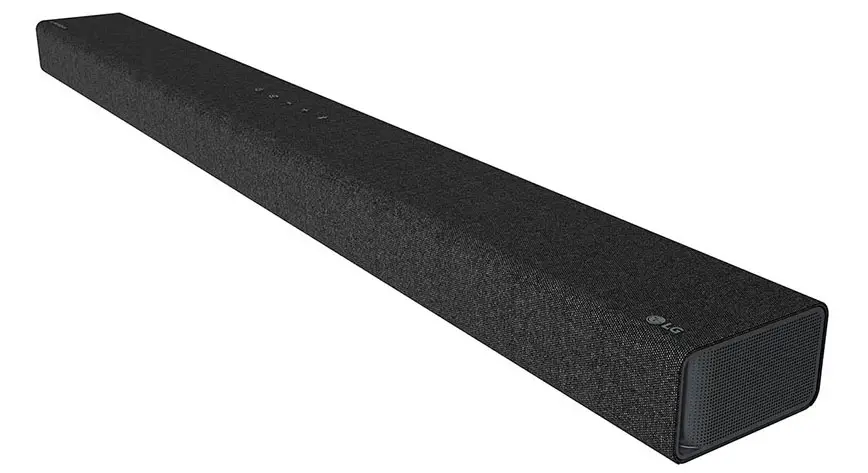 As far as surround activity there was none really. All action was firmly placed at the front and slightly to the sides and this was to be expected with no real surround speakers. Now, we did try the DTS Virtual:X mode and this does try to add more volume and depth which means that the action feels slightly closer to our position but again the was no audible activity at the rear.
Also keep in mind that DTS Virtual:X produces heavily processed sound so while in general surround activity may feel slightly better this is not always the case. As the soundbar will try to reproduce sounds that should come from the back, these will be heard from the front and thus there were times that it got really weird and unnatural. But this is the nature of DTS Virtual:X and really depends on the content it has at hand.
If you really want to have a better surround experience getting the optional wireless rear speakers kit (SPK8-S) is your only option. We do get that not everyone has the ability to add more speakers but at least LG gives you the choice for this.
We also tried Mad Max: Fury Road in 4K UHD which again comes with a Dolby Atmos mix that falls back to its core Dolby Digital one. Here we would say things sounded a bit better and this has to do more with the fact that the film is a more front driven experience. Yes, it also has its fare share of surround action but you don't miss so much here especially if you have a good front soundstage performance.
Again the Sp7Y did manage to expand sound slightly more to the sides as the side-firing drivers did help with that while dialogue was clear and distinct due to the inclusion of a center channel. Sound details were not very high but were good enough to be considered adequate while the subwoofer once again slightly disappointed us. The roaring of the machines didn't have this raw power we know they have. Just when the soundbar went into overdrive it left you asking for more that ultimately we never got.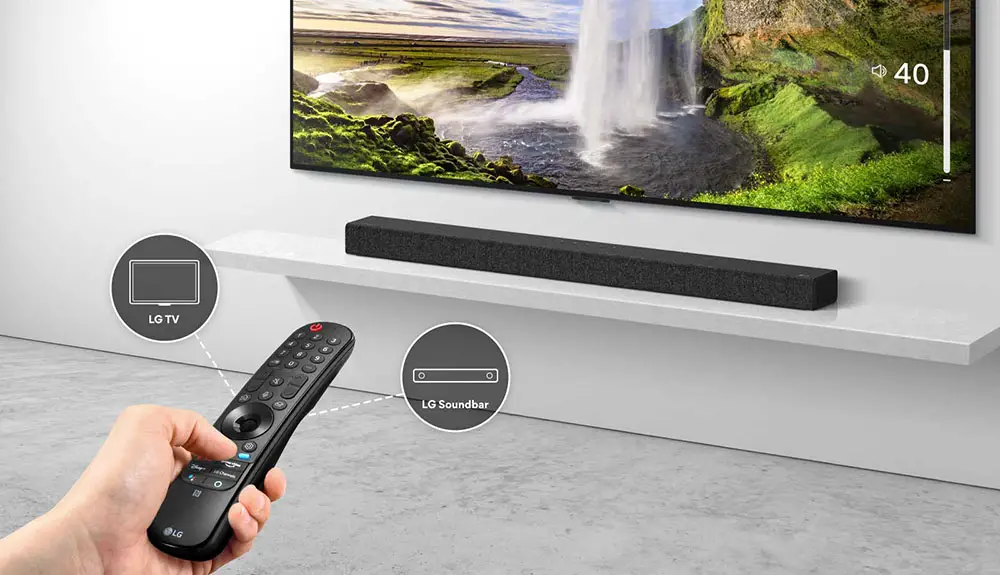 The AI Sound Pro mode once again did a good job at finding the right balance you would seek in an action film like this. Good front stage, nice extension at the sides and depth at the center and clear dialogue all the time. The missing rear activity was not so obvious here so the whole experience felt slightly better. Obviously when the film asked for it like the thunderstorm sequence the soundbar didn't have the ability to give us the full surround performance. But at least this was most notable at specific moments.
Again switching to the DTS Virtual:X mode added certain volume and depth and brought the action closer to us. Also it helped slightly with the lower end as it felt more raw and menacing than before but again it failed to really shake us the way we would like.
Overall the LG SP7Y behaved in a similar manner to many other similarly priced units. The limitations of the soundbar are obvious and this has mostly to do with its surround performance which was below par without the use the optional surround kit. At the front, things felt much better and the center and side channels help with that a lot. We were a bit disappointed with the low end as it wasn't as deep as we would like it to be while if you like to push the volume to higher levels than usual the unit lacks the ability to do so without loosing some of its stability.
Music
Next came our music test and for this one we chose a few FLAC selections that we streamed through the USB port for the best possible quality. In most of these tests the best modes are either the Standard or music ones and for this test we decided to use the music one but either will do just fine and really depends on your preferences.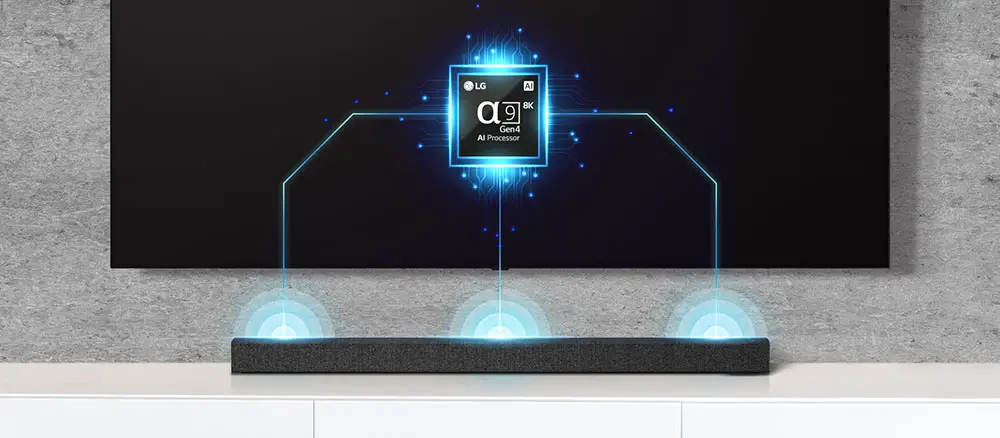 All soundbars in this price range, or even higher for that matter, are for casual use only so the SP7Y can offer exactly that. Don't expect any HiFi performance here really and you should never expect such from any soundbar that has so limited hardware.
The SP7Y will certainly elevate the performance of any given TV and the result will be more than obvious. Scale was bigger, dynamics were better and details were finer. There was good transparency although we have heard much better. It was not that hard to distinguish the sound sources and pinpoint their location in space but the end result was certainly lacking compared to more expensive offerings. Panning effects were good enough but didn't have such a long extension and the wow effect of other longer units.
Vocals had good energy due to the use of the dedicated center channel which certainly helped a lot here while the subwoofer added some much needed power in the lower registers but without making the performance as exciting as we would like to. We tried to push the soundbar with more bass intensive songs and although we didn't feel that the end result was bad it certainly failed to elevate the whole performance as a good low end output can.
The LG SP7Y can be considered another soundbar-subwoofer combo that will give a satisfactory result for most casual users that are looking for a low cost solution to improve upon what their TV can give them. If you consider yourself among them then this unit will not disappoint you. Just remember to keep your expectations at check and the SP7Y will surely offer you many hours of music enjoyment.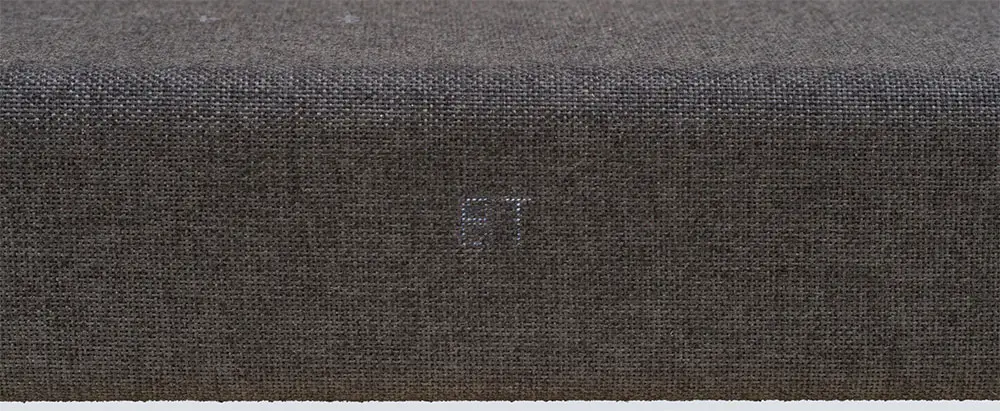 Final Thoughts
The SP7Y was the soundbar that was missing from LG's lineup that could close the gap between their 3.1 channels units and the higher Dolby Atmos capable ones. It doesn't offer anything outside of the ordinary but in the end you shouldn't expect anything else. LG is a known quality and with the price asked you get a sensible improvement over what your TV can do but don't expect it to reach the stars.
The soundbar really has a lot going for it even for such a low cost. Its 5.1 channels system is enough to create a very nice immersion bubble at the front with nice extension and good dynamics while the center channel provided a bit more clarity to the dialogue as well as with vocals. It is easy to handle and setup as any soundbar should be and the ability to add a pair of surround speakers by adding the wireless rear speakers kit (SPK8-S) is certainly a plus and gives added flexibility. Also we liked that there are plenty of sound modes to choose from making it easier to find the one that suits the content you prefer.
On the downsides obviously the one that strikes out the most is the missing surround action. Everything is fixed at the front and even the side firing drivers in combination with the built-in DTS Virtual:X cannot make things much better. Also the unit is not the most loud soundbar we have heard and certainly pushing it to its limit will make it stumble here and there by loosing some fidelity and balance. The subwoofer also did not provide the deep bass experience we would expect and while for most casual users it will be enough if you want something more, well….don't.
Closing the LG SP7Y is a nice low budget soundbar that will do exactly what it was meant to. It will improve the sound quality of your TV, it will provide you with a much better front soundstage and it will be able to handle all kinds of material, either movies or music to a satisfactory degree. Just don't expect any miracles, keep your expectations at bay and it may even manage to surprise you in the end.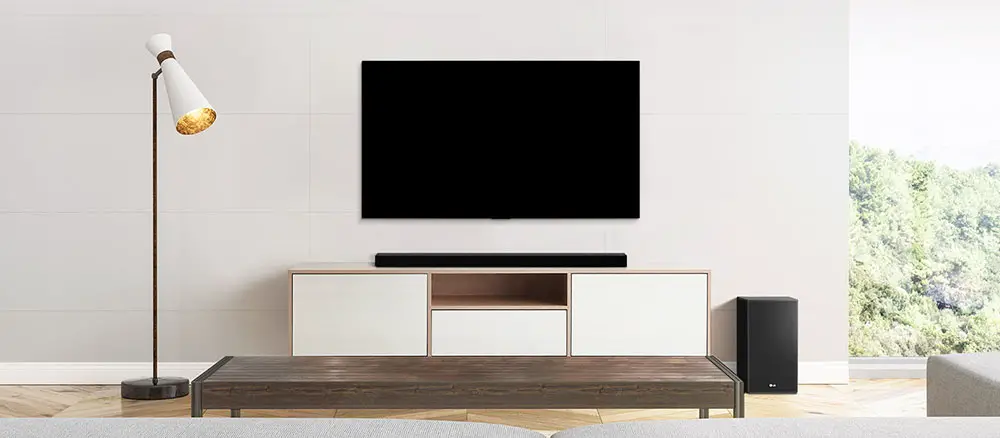 For more reviews you can check our dedicated Soundbar-subwoofer combo reviews list or even look at our Product Reviews Table where you can find the brand and specific product you are looking for.
---
Cheapest Places to Buy :
*We are a reader-supported website. When you buy through links on our site, we may earn a small affiliate commission at no extra cost to you. Home Media Entertainment does not accept money for reviews.*
---