Logitech Harmony Elite
Design -

94%

Setup -

90%

Interface -

92%

Everyday use -

94%

Price / Quality -

90%
---
Cheapest Places to Buy :
---
All of you that have some kind of home entertainment system at some point became frustrated that you had a small flock of remotes by your side every time you wanted to watch a movie. Trying to find the correct remote in the dark to change the volume or to pause the movie was a pain especially if you were sitting in a dark room. The minimum amount of remotes usually is three as you need one for the player, one for the receiver and one for your TV but depending on your setup it could be even more. Logitech seems to feel our pain and thus they created a universal remote that can handle almost everything. It for sure has a catchy name but can it do what it is made for? Let's check it out in our Logitech Harmony Elite review.
Design
Logitech has created a great looking remote and it shows that a lot of thought went into it to make it as good and practical as possible. It's a bit more heavy than your average remote but not to the point of being frustrating. On the front it has a glossy black plastic while in the back they used a rubber cover so it cannot easily slip from your hand. The remote uses a rechargeable battery that can be swapped if needed and it uses a sleek docking station for recharging. Charging depends heavily on the use and can last from a few days if used lightly to much less if you use it a lot. But this is not a big problem as you can have it on the charging station whenever not in use as it looks really nice when docked.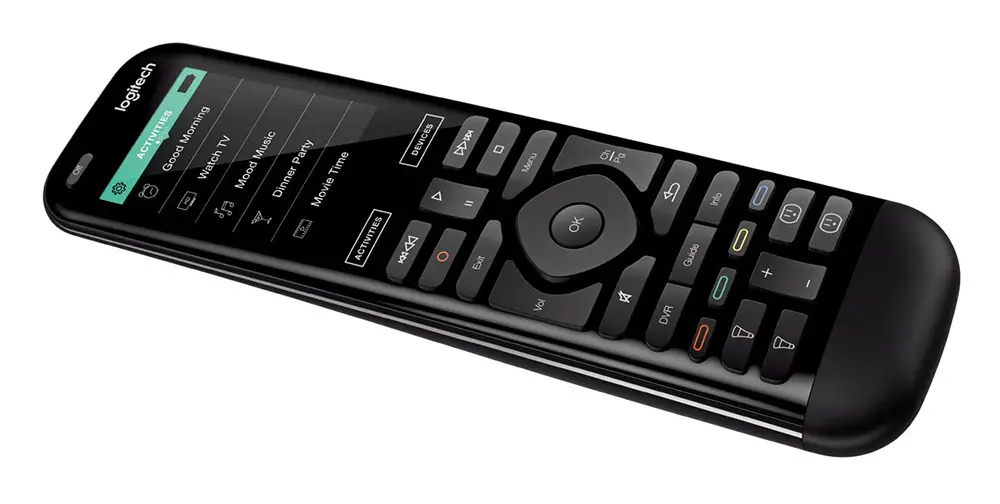 Logitech engineers have put a lot of thought on how to position everything. On the top we have a 2.4 inch touchscreen display that you can use to issue commands, use shortcuts and access devices lists. It's a very well thought addition and extends the capabilities of the remote further than any other simple universal remote. Under the touchscreen there is a huge array of motion sensing back-light buttons that lets you control everything. In the beginning it may be a bit overwhelming but I assure you that after a while it feels like everything is where they should be.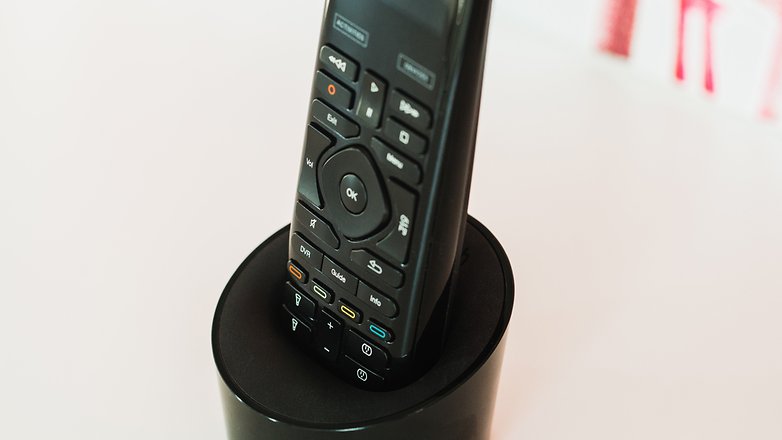 One thing I noticed was that the Logitech Harmony Ultimate had the so-called transport buttons (Play/Pause, Fast Forward, Reverse, Record and Stop) above the touchscreen making them much harder to press. In the Harmony Elite everything has been placed under the touchscreen and this makes things easier for all the obvious reasons. This is a huge plus and a good change showing that Logitech continues to improve upon their designs.
On the bottom we find a few buttons that extends the remote's capabilities beyond the strict Home Theater system environment as it can control lights and switches in your house and although you can also do that through the touchscreen it is nice to have dedicated buttons so you don't have to navigate through the touchscreen options to find this function.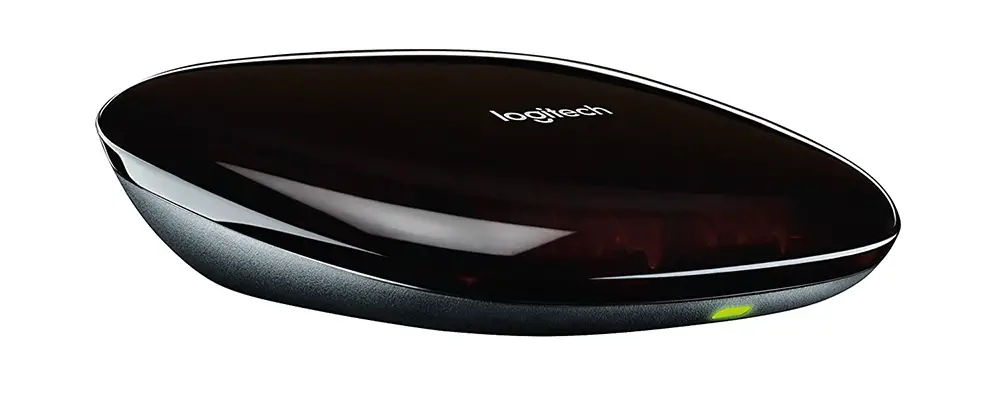 Lastly a very integral part of the Logitech remote is the Harmony Hub which communicates with the remote and issues all commands to your entertainment center. It connects to your Wi-Fi in order to control all your smart home devices and it also comes with IR blasters that you can position in front of any device you may want. It doesn't need to be in line of sight so you can hide it somewhere and forget about it.

Setup and Interface
With so many capabilities it must be overwhelming to set it up correctly, right? Wrong as Logitech tried really hard to make everything as simple as possible. All you have to do is download the app in your smartphone, create a free account and you are good to go as adding new devices is as simple as choosing one from the list and let the Hub sync your remote. You can also use your computer if you prefer this than your smartphone but with your phone it can get easier to experiment.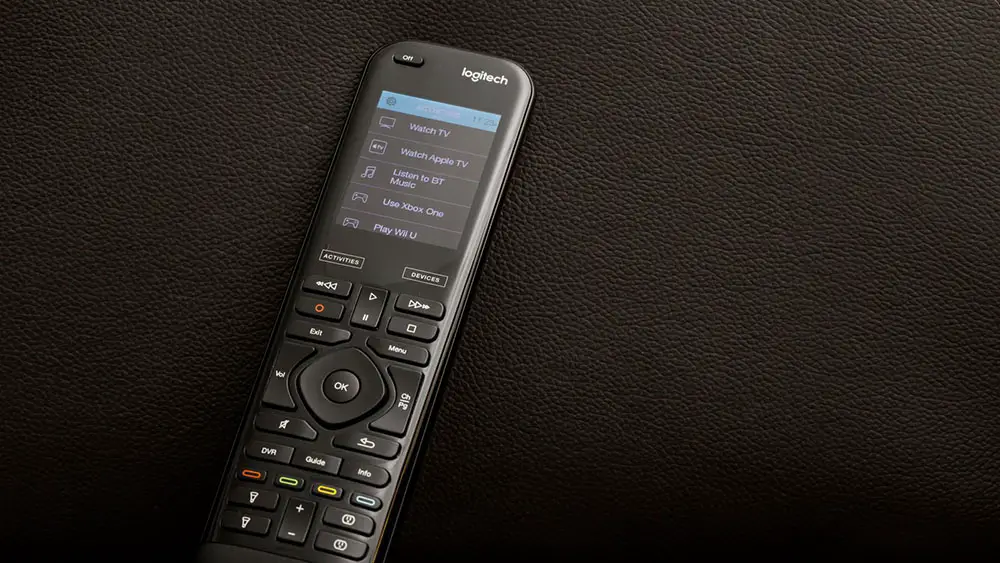 A nice function is what is called "Activities" which basically is a chain of commands grouped in one key function. Let's say I want to watch a movie. This means I have to power up my Samsung TV, choose HDMI 1 input, then power up my Onkyo AV receiver, choose the correct volume, set it to the 4K UHD player input and then power up my Panasonic UHD player. All these actions can now be done with a single command through the Logitech Harmony Elite. You start to see now the practicality of this remote?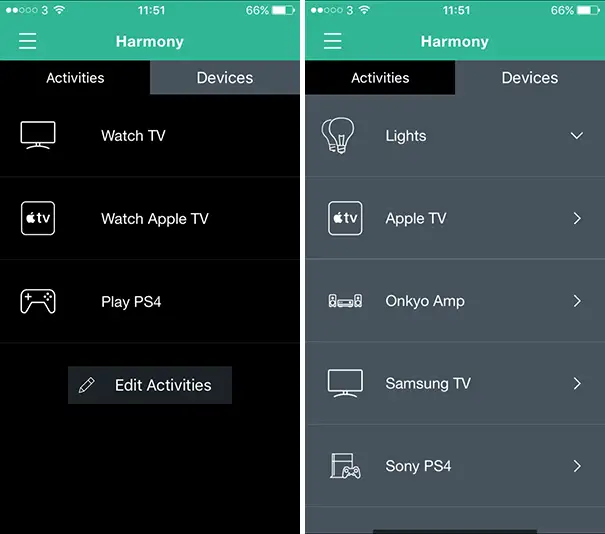 Under the touchscreen there are two touch sensitive buttons that let you access the "Activities" list and the Devices list. "Activities" we described above what they do and you can create many different combinations of chain commands and name them as you want. In the Devices list you can see all the devices that are connected to your remote and from here you can have direct and precise control of all of the device's functions.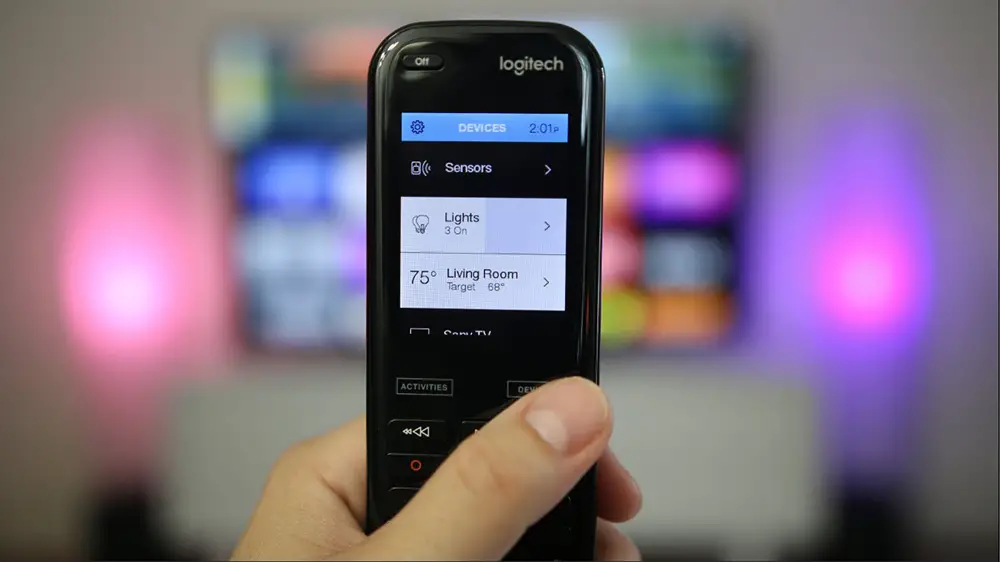 The remote is not only good for controlling your home theater entertainment system but your smart devices as well. You have two physical buttons for lights and two for power outlets and every single one of them can be programmed to your liking. The Harmony Elite is compatible with a vast array of smart gadgets and devices and it even supports Amazon Alexa in order to issue voice commands something that unfortunately is not a built-in function. Smart Home Hubs, Thermostats and lights can all be controlled with your Harmony Elite remote. Unfortunately if you want Z-Wave and ZigBee compatibility then you have to purchase the Harmony Home Extender which adds extra cost to an already expensive device but also extends the compatibility of your remote to include window and door sensors, more lights and locks like Yale and Kwikset.
Everyday use
If you are used to have a few remotes around when firing up your home theater entertainment system then replacing everything with just a single remote is a breath of fresh air. In the beginning it may take a little time to get used to it but after a while you will not want to go back. It's so good when you feel you have everything grouped together and the amount of flexibility this remote offers really is a game changer.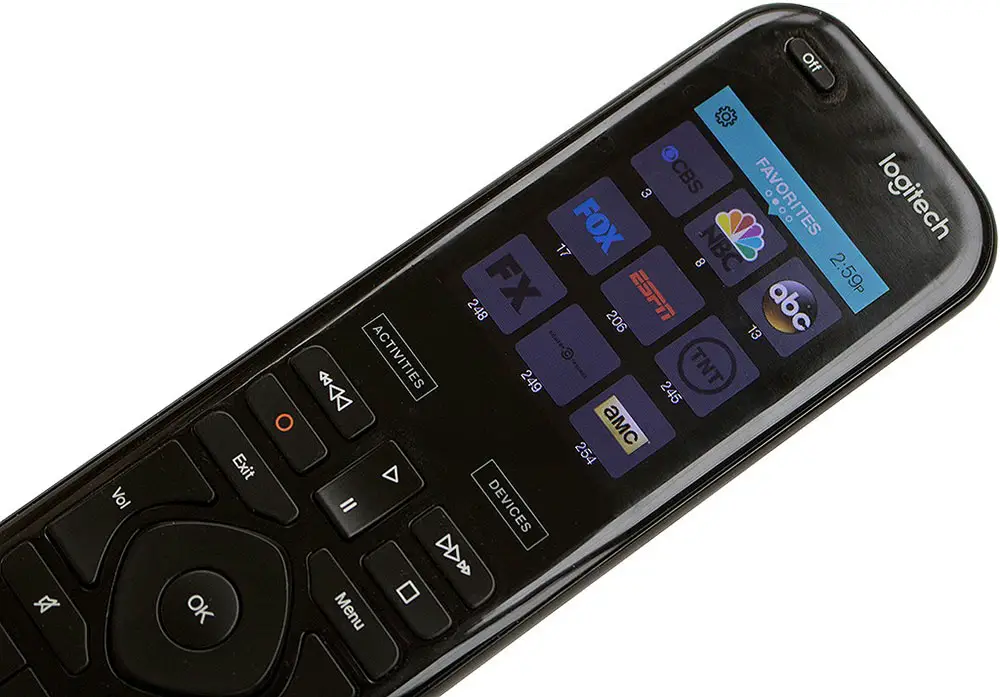 A little bit above in the review I wrote how you can group certain functions in a chain command in what is called an "Activity". Since I mostly watch movies with my home theater the buttons I press every time are 99% the same. So by having an activity that groups all these functions together for me was one of the best features I could ask for as with a press of a button my system is ready to start a movie.
Good and bad points
There are so many good points about this remote. From the easy setup and adding new devices to creating chain commands with the "Activities". The design is well thought and it feels sturdy in the hand and not cheap in quality. The motion sensing back-light help when using it in the dark. The amount of  compatible devices is huge and counts more than 270.000 devices from 6.000 brands for both home theater equipment and smart home devices. The remote extends far beyond simply controlling you home entertainment center and becomes a smart home controller for your house. And with the addition of the IR blasters you never have to open your AV system drawer any more to issue a command to your UHD player or AV receiver.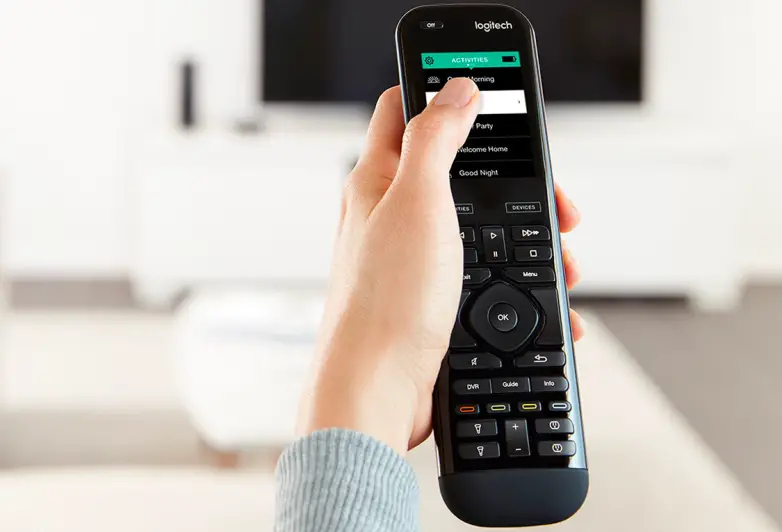 But as with any device the Logitech Harmony Elite has a few drawbacks also. The battery with normal use will last from one to two days before you have to recharge it. There is no built-in voice commands functionality and you have to buy Amazon Alexa if you want to have this feature. Also it cannot control ZigBee or Z-Wave smart home products and you need to buy the Harmony Home Extender that extends the support list of the remote far beyond it's original capabilities.
But if you consider the starting price then having to buy 2 extra devices to have these extra features may seem a bit too much. And if you can live without the extra device support the built in voice commands function should be a given and a bit disappointing that it doesn't offer this out of the box. Another minor issue is that some times there is a small delay between pressing a command on the remote and seeing the result of it. Some times the command is not registered at all and you have to press the button again. I guess this has to do some times with the internet connection and wireless signal but it happened very rarely and never I felt it became a big deal.
Final Thoughts
There are so many things to like with this remote that after trying it you will definitely justify it's high price especially if you are tired like me having to deal with so many different kind of remotes all the time. For those that want to use it only for their AV system it may be a bit pricey but I can assure you than after you get used to it you will never go back.
The Logitech Harmony Elite is in a class by itself. It offers so much more than other universal remotes and Logitech has improved almost every aspect of it compared to previous generations of Harmony remotes. If you want to control your AV system and your smart home all from one remote with a very easy to setup and control interface then look no further as the Logitech Harmony Elite is here for you. My highest recommendation.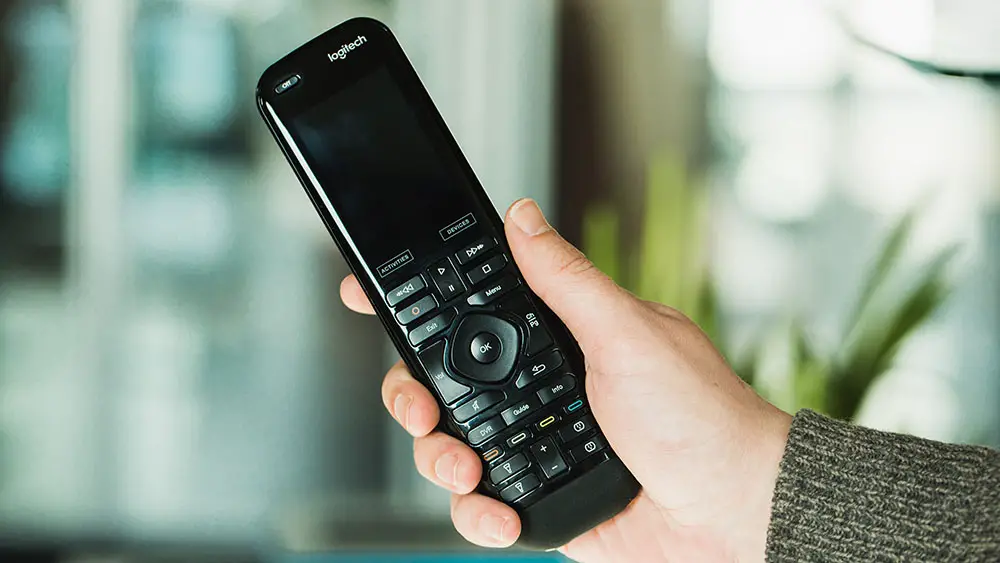 For more reviews you can check our dedicated Universal/ Smart Remote reviews list or even look at our Product Reviews Table where you can find the brand and specific product you are looking for.
Also don't lose the chance to subscribe to our Newsletter and gain exclusive privileges.
---
Cheapest Places to Buy :
---
Specifications
Connection Type : Micro USB
Infrared (IR) : Yes
Wi-Fi: Supports 802.11g/n, WPA Personal, WPA2-AES and 64/128-bit WEP encryption
LCD Display : 1.5 inches (diagonal), 65,000 color screen, 128 x 128 pixels
Backlit Buttons : All buttons are backlit
Battery Details : Li-Ion rechargeable, replaceable
Remote : 54mm(2.13in) X 29mm(1.14in) X 192mm(7.56in) weight: 163.8g(5.78oz)
Hub : 103.3mm(4.07in) X 124.7mm(4.91in) X 26.5mm(1.05in) weight: 112g(3.95oz) cable: 1.6m (5.4ft)
IR mini blaster : 35mm(1.4in) X 23mm (0.91in) X 12mm(0.5in) X 34g(1.2oz) cable: 2.54m (8.3ft)