Marantz NR1509
Design -

94%

Audio Quality -

86%

Inputs / Ports -

79%

OS, Apps and Features -

83%

Price / Quality -

80%
---
Cheapest Places to Buy :
---
A few months ago we were introduced to the Marantz slim lineup of AV receivers when we reviewed last year's NR1608 which left us very good impressions overall despite it's slimmer design. What impressed us very much was that despite it's smaller size Marantz made no compromises to what features it would include in the unit and we could say that other than it's overall power which was rather limited naturally due to size constraints everything else could have been included in a fully sized AV receiver.

Following last year's recipe Marantz has released two new units for 2018 and although at first glance they seem very similar there are a few differences that set them apart. The bigger, and more expensive, of the two units is the NR1609 while the one we will be reviewing here today is it's smaller brother, the NR1509. From the outside they look the same but keeping a closer eye reveal a few key differences in their specifications and features setting them apart which makes them target difference audiences. Having only good things to say for this slim series we were curious to see what they managed to do with this obviously budget-friendly model for this year.
So without further delay let's dive deeper and analyze what this lovely little AV receiver has to offer in our Marantz NR1509 review.
Design
We fell in love with the size of this slim series of AV receivers. Having a smaller footprint means that they fit in tighter spaces, they produce less heat and in general they don't look like a big black box sitting with the rest of your home cinema equipment. The NR1509 follows the same principle by having a size of 17.3 x 16.2 x 7.3 inches (440 x 376 x 105mm) and weight of only 8,2 Kg or 31.1 lbs if you prefer making it ideal for anyone that has limited space or small furniture. Having dual WiFi antennas can make the need for a bit more height but you can turn them sideways without downgrading the receiving signal at least from our testing.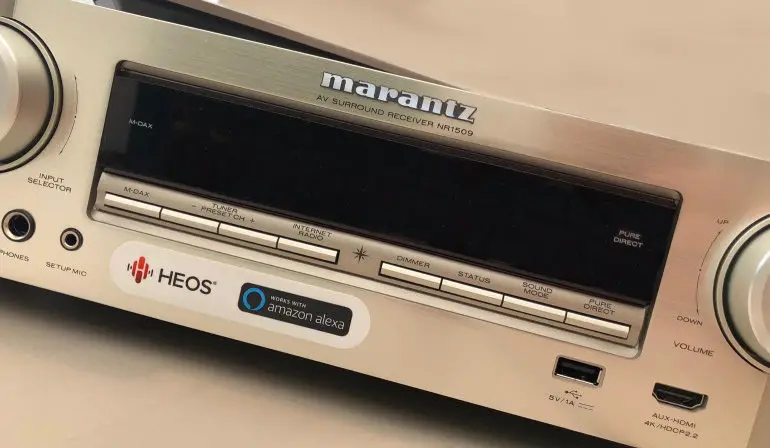 In the front we see the usual configuration we see in all their slim lineup. The NR1509 features the familiar curved front side that Marantz is using with a big functions display in the middle  showing various information like audio track, input and volume while on both sides there are two big turning knobs, the one on the right for the volume and the one on the left for input selection. Under the input selection knob we find the power button while under the functions display there is a single row with 8 buttons that control various functions like tuner preset channels, internet radio, dimmer, status, sound mode and pure direct.
Under this row we find a few frontal ports for quick access with a PHONES jack and the test microphone port being placed under the left side of the display while on the right side there is a USB port (5V, 1A) for connecting external storage devices as well as an HDMI port that support 4K/HDCP 2.2 that makes it ideal for connecting some projector that you don't plan on placing it permanently. All other ports are naturally placed on the back and we will talk about them in our dedicated section.

The remote that comes with the NR1509 is nothing special but provides all the necessary functions needed. The buttons have the necessary space between them making them easy to be pressed and they are separated into groups depending on their functionality. The buttons could be a bit bigger and we would like to have some kind of backlight functionality but that's a no with this remote. Although the design and quality is nothing to brag about the included remote gets the job done and for such a budget friendly receiver we shouldn't expect anything fancy.
The NR1509 follows the same design that we saw in last year's NR1608. It's slim size makes it ideal for tight spaces, small rooms and not so ideal furniture while keeping it's nice curves and functional characteristics. It doesn't miss anything important that a fully sized AV receiver would have and this a small win for Marantz. And we have to applaud them for managing that.
Audio Quality
The Marantz NR1509 may not support the latest audio formats but it has full support for Dolby TrueHD and DTS HD: Master Audio making it more than capable of delivering an immersive experience. Having five channels of amplification it means we can only create a 5.1 (or 5.2 if you prefer a dual subwoofer setup) audio setup with only two surround speakers. Not having height channels that the new audio formats are using is definitely impacting the end result creating a sound stage that definitely feels more restricted vertically. The receiver is rated at 50watts per channel (8 ohm, 20 Hz – 20 kHz, 0.08%, 2ch Drive) ideal for small rooms, bedrooms and media areas.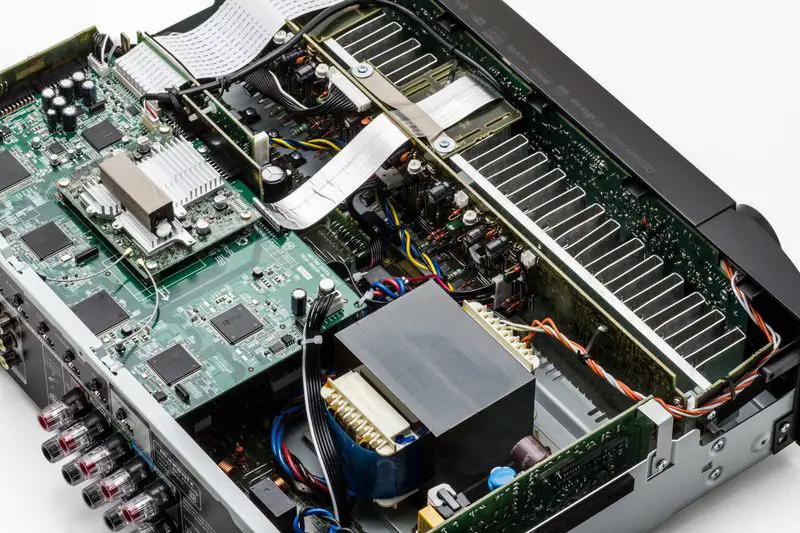 For our tests we used, as usual, the 4K UHD disc of Pacific Rim: Uprising, a film with an audio track that has plenty of effects and destruction that can push any system to it's limits. The results we got were more than satisfying considering the limitations we have to deal with. The sound stage expanded all around us and the NR1509 managed to deliver all the surround effects clearly and with precision. Especially projectiles and fast moving objects like fighter jets felt like they were moving all around us. Missing the top layer that the Dolby Atmos offers of course made the experience a little bit less enthusiastic but at no point will it prevent you from enjoying what is offered to the maximum.
During more calm scenes like in the beginning where the main hero is inside the Jaeger scrapyard you can hear various ambient sounds from the metal carcasses of these robotic beasts. Center channel is also very distinguishable with the dialogue being clear and separated from the rest of the effects.

The NR1509 may perform admirably when used at normal volume levels but when we tried to push the receiver to test it's limits it is when it started to show it's weakness. At times it felt like struggling to deliver the necessary power given it's limitations and the result left a lot to be desired. But if you consider such a receiver then going very high in volume is probably not the thing you plan to do.
As with movies we also tried a few music tracks and we got similar performance delivering a dynamic soundstage with very good speakers distribution. Details were clear and instruments separation was audible. Even when there were fast changes in the songs dynamics the receiver did well to keep the pace. Only when pushing the volume to it's limits it felt a bit like loosing control. The NR1509 supports a wide variety of lossless and lossy audio formats like MP3, WMA, AAC, FLAC, ALAC, WAV, FLAC HD 192/24 bit, WAV 192/24 bit, ALAC 192/24 bit as well as DSD streaming (both 2.8 and 5.6MHz).
Inputs / Ports
With last year's NR1608 we were hugely impressed by the amount of ports that Marantz had managed to fit in such a slim design and we hoped that this would apply this year also. Unfortunately since the NR1509 we are reviewing here is supposed to be the budget friendly model from the two that were released in the series for 2018 it was bound to have less ports than it's bigger brother.
In the front as we mentioned  there is a PHONES jack, a test microphone port, a USB and an HDMI IN port. Now in the back the first thing we see is the five HDMI IN and one HDMI OUT ports with all of them supporting 4K and HDCP 2.2 while the HDMI out also supports ARC. Not the biggest amount of ports here but we would say normal in this price range. The NR1509 also comes equipped with color-coded speaker terminals for easy and fast installation.

Everything else includes four analogue stereo inputs, three composite inputs and one output, 0ne remote control input and one output, one digital optical input and one digital coaxial input, multichannel pre-out ports, two outputs for a dual subwoofer setup, antenna connections and an Ethernet port for wired connection to the internet.
For such a budget friendly receiver we couldn't expect to find the same amount of ports as the bigger model in the series so in this regard we have to be happy with what we get. Choosing such a receiver means that you don't have a lot of requirements and what is being offered should be more than enough to create a respectable dedicated audio system.
OS, Apps and Features
Any receiver in 2018 should support the latest resolutions and protocols and as such the NR1509 supports 4K/60Hz full-rate pass-through, 4:4:4 color resolution, HDR and BT.2020, plus Dolby Vision compatibility and Hybrid Log Gamma (HLG).
One difference we saw during setup compared to the more expensive model was that the menus for the NR1509 were more simple visually. We don't know if this is a hardware thing or something else but we found it strange to see a visual difference in the menus as they were not so much computational intensive to begin with. But even if they are visually different, they were very simple and easy to navigate and at no point did we feel lost. Marantz provides a setup assistant that helps you through the whole process of connecting your devices and setting up your speakers.
There is also the ability to control the receiver through the Marantz 2016 AVR remote app which is available for both Android and iOS and grands you the ability to change every single function as there is a plethora of options and audio settings you can play with. The visual interface is also much better than the one provided with the built-in menu of the NR1509 making it more pleasant to use.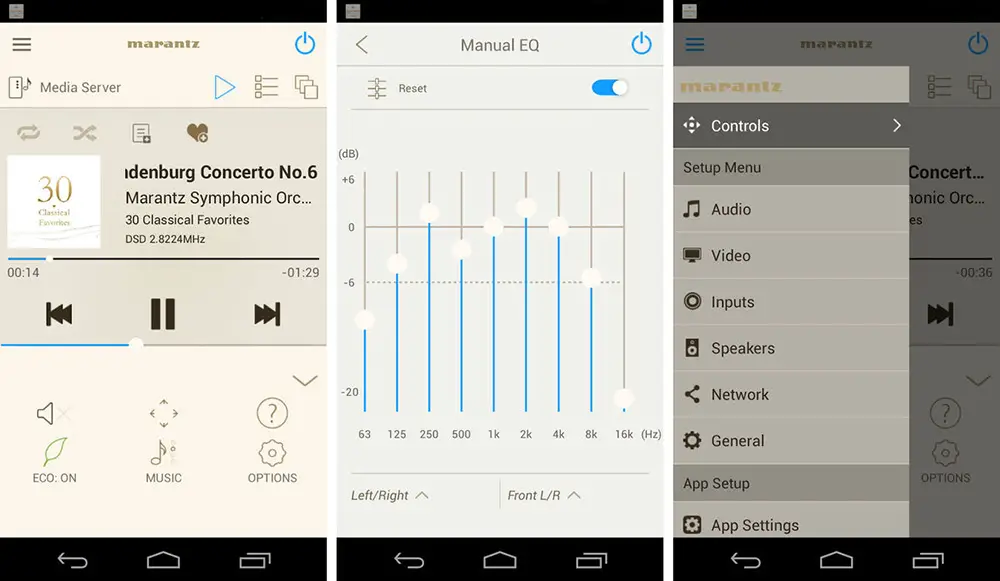 Setting up the NR1509 becomes way easier with the inclusion of the Audyssey MultEQ audio calibration system and the help of the included testing microphone. Of course doing a manual calibration is always the optimal way but for people that are not very experienced or don't want to go through the trouble the results of the system are very good, all things considered, creating a very balanced system that will certainly satisfy most.
The Audyssey MultEQ also includes the Audyssey Dynamic EQ feature that helps sound to retain it's dynamic levels and clarity even if you have the volume at low levels. Another included feature is Dynamic Volume that helps balance the volume spikes when there is change between television programming and commercials. Marantz also offers the Audyssey MultEQ Editor App which you can install in your Android or iOS smartphone and grands you more options for the setup and tuning of the AV receiver. The only negative about the app is that is not free and Marantz charges a one time charging fee in order to get it which in our opinion is unacceptable and Marantz should rethink of offering this app for free also.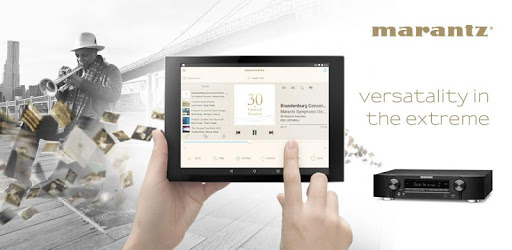 For those that are economy sensitive there is an ECO mode that can be used to lower power consumption. You can either turn it to Auto and let the receiver manage when it is used or turn it off completely in order to get the maximum out of the receiver.
The NR1509 has also the capability to stream music either from a local source like a network drive (NAS) or from the internet through some online music service using either WiFi, that supports both 2.4GHz and 5GHz, or through wired connection with the help of the Ethernet port. There is a wide support of streaming services like Spotify, Napster, Deezer, Tidal and Sound Cloud giving you a wide variety of options to choose from.
You can also stream high res audio from an external storage through the frontal USB port as well as through your tablet or smartphone using Bluetooth connectivity or with Airplay. There is also support for the HEOS multiroom audio technology with which you can connect with other HEOS enabled speakers around your house.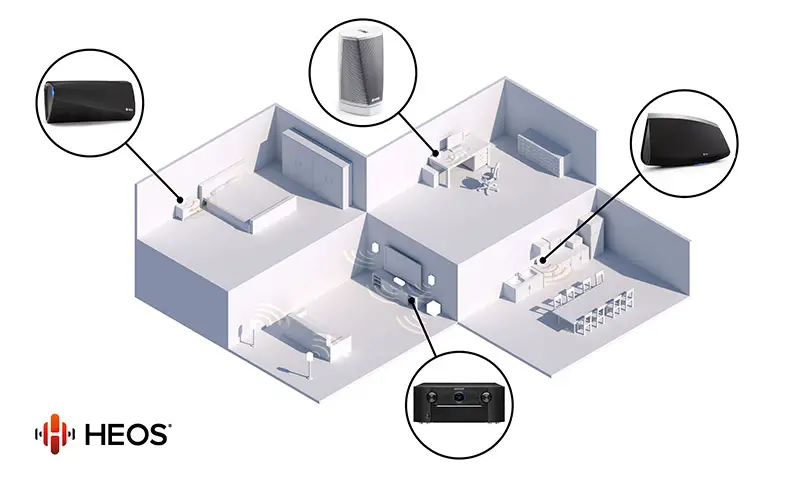 One new feature for 2018 that was not available in last years models is Amazon Alexa voice control via the HEOS Home Entertainment skill with which you can control the receiver through a compatible Alexa enabled speaker like Amazon Echo or a Sonos One. Voice commands include switching inputs, change volume and stream music among many others and the system seemed to respond rather well to the commands we gave it.
Final Thoughts
Marantz has managed to create a very good receiver that is targeting a specific group. Those that have tight spaces, small rooms and furniture, low budget and not very high expectations or requirements will find the Marantz NR1509 ideal for their needs.
The receiver supports both Dolby TrueHD and DTS HD: Master Audio and you can create a 5.2 surround setup that for most mainstream consumers will be more than enough. It has 5 HDMI ports, enough to connect most of your devices and all of them support 4K Ultra HD 60Hz and HDR pass-through. There is also Dolby Vision and HLG HDR formats pass-through. If you add the very good overall audio performance and the low price it's offered the NR1509 can be a very good addition to your dedicated surround system.
Naturally being the budget friendly model in the series it was bound to have lower specifications. As such there is no support for the new object-oriented audio tracks like Dolby Atmos or DTS:X. Also at 50watts per channel it may feel a bit under-powered but it will be more than enough if it is used in small rooms and media areas. Also it is missing some key features like up-scaling and multi zone support. Connection ports are also limited so you have to be sure that it has enough to connect all your equipment.
Today AV receivers pack so many features that when you see what Marantz NR1509 offers it may feel a bit underwhelming. But if you consider that we are talking about a budget friendly AV receiver with specifications and features that a few years ago were considered high-end and all these in half the size of a normal receiver then we believe that for people that cannot afford or don't care to spend huge money to get top of the line equipment it is a great piece of hardware that will offer you countless hours of immersive cinematic enjoyment.
For more reviews you can check our dedicated Slim Line 4K AV Receiver reviews list or even look at our Product Reviews Table where you can find the brand and specific product you are looking for.
Also don't lose the chance to subscribe to our Newsletter and gain exclusive privileges.
---
Cheapest Places to Buy :
---
Specifications
Slim Design 5.2 channel AV Receiver with 85W per channel
Dolby True HD and DTS-HD decoding
AirPlay, Bluetooth, Internet Radio, Spotify Connect, Network Audio Streaming
Works with Amazon Alexa via the HEOS Home Entertainment skill
Built-in WiFi with 2.4GHz/5GHz dual band support; built-in Bluetooth

4K/60 Hz full-rate pass-through, 4:4:4 color resolution, HDR and BT.2020, plus Dolby Vision compatibility and Hybrid Log Gamma

6 HDMI inputs (incl. 1 front) with full HDCP 2.2 support
DSD (2.8/5.6MHz), FLAC, ALAC and WAV support
Audyssey MultEQ, Dynamic Volume and Dynamic EQ
Integrated Phono input to directly connect your turntable
Colour-coded speaker terminals, Setup Assistant, Marantz AVR Remote App
Intelligent ECO mode with off/on/auto setting