Marantz SR5013
Design -

92%

Audio Quality -

93%

Inputs / Ports -

90%

OS, Apps and Features -

94%

Price / Quality -

88%
---
Cheapest Places to Buy :

---
Marantz has released a few new AV receivers the last few months with two of them, the SR5013 and SR6013, belonging in the lower tier, entry-level range. Acting as replacements for the already very good SR5012 and SR6012 these two new AV receivers are released in the market with a few updates compared to their predecessors in order to keep them in line with all the rest competing brands.
Today we will be reviewing the lower of the two receivers, the SR5013 which is supposed to be the baby of the SR series. Having reviewed recently their NR slim lineup and getting very good scores we were curious to see how this entry-level, fully sized AV receiver would fair and if it is a worthy upgrade compared to last year's model. So without further delay let's start our Marantz SR5013 review.

Design
The SR5013 is the lowest model in the SR series and in traditional Marantz fashion it looks completely the same like last year's SR5012. As far as the looks is concerned there is no change or update in the design and the only thing that identifies the new model is the naming on top of the frontal display.
The SR5013 may be the lowest-tier model in the series but it's size has nothing lower-tier to talk about. Of course we have seen bigger receivers especially those that belong towards the top of the lineup but measuring 17.3 x 13.3 x 6.3 (440 x 348 x 161mm) with the antennas in a horizontal position and weighting 22.1lbs (10.0kg) the receiver needs enough space and some more in order to have breathing space. If you place the antennas in vertical position you will need more height but during our testings we had them always vertical and never had any connection problems so if you want to save space you don't need to extend them. Having a dual antenna setup also helps and if your wireless router is not extremely far you should be fine.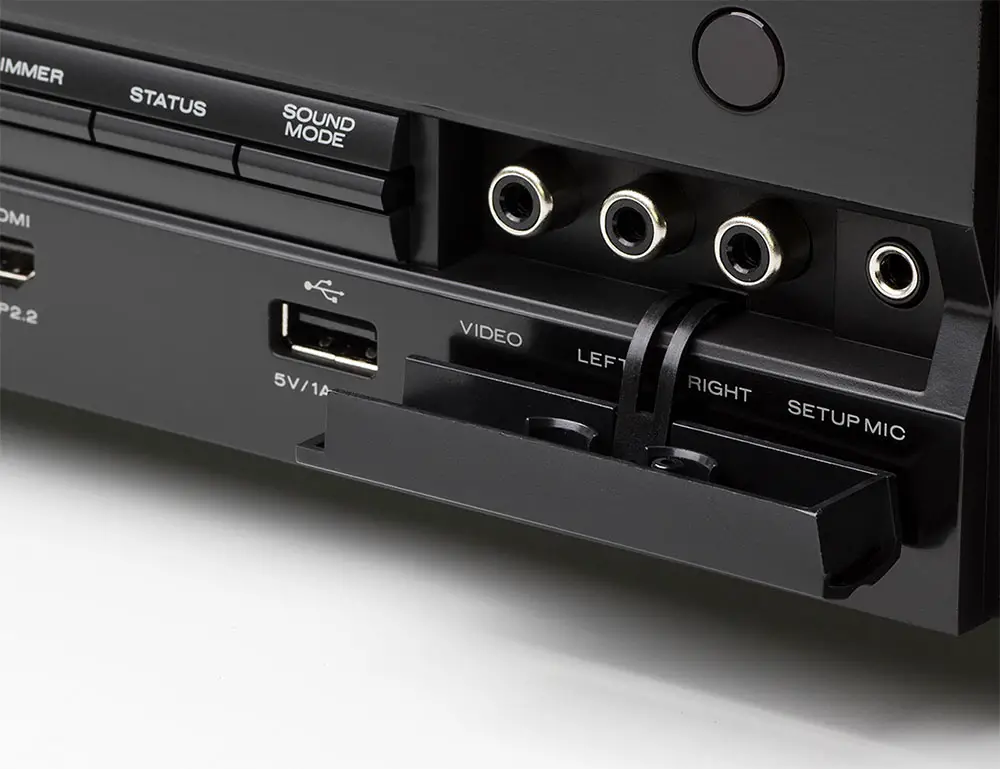 The front panel design keeps the usual, characteristic Marantz design with the circular frontal display as well as the curved corners that gives it a very specific look and you can immediately tell this is a Marantz receiver. The circular display can show various information like input selection and volume among others. On the right we get a big turning knob for the volume and on the left side another one for input selection. Under the volume knob we find a big circular IR receiver while under the input selection knob a headphones jack.
The power button stands alone on the left side while everything else is positioned in the center under the display in a slim row of buttons which include Pure Direct, M-Dax, Zone 2 controls, tuner controls, a dimmer button, a status button and a sound mode button. Right next to this row we find a cap that hides some additional ports that include an AUX VIDEO IN, an analogue stereo input and the calibration microphone port. Under all these buttons there is an HDMI IN port that is HDCP 2.2 enabled and a USB port (5V/1A) for connecting external storage and flash drives.

The remote that comes with the SR5013 is nothing fancy to talk about and is almost identical to last year's remote with the only difference the addition of a PHONO button. Everything else is the same with the buttons having a pleasant rubber feel to them and enough space not to accidentally press the wrong one although we would like them to be a bit bigger. In the middle there is the usual menu and settings navigation buttons, on the top the input selection buttons while on the bottom we get some playback and smart selection buttons. More or less a pretty standard setup. The general look of the remote is simple but Marantz has added a nice metal looking frame to it to make it feel a bit more premium. Other than that there is nothing special to it. Also there is no backlight function which is disappointing to tell the truth.
Changes for this year are almost non existent. The main body of the SR5013 is completely the same and the remote would be the same if it was not for the additional PHONO button. Marantz is known for using the same designs for some years and there doesn't seem this will change in the immediate future. As with all Marantz AV receivers this one also has all the Marantz specific touches to it's design that makes it immediately distinguishable from the rest. We like the design and frankly we are not bothered if it's used for a few times but hopefully at some point in the future Marantz will give us a refreshed design just for the heck of it.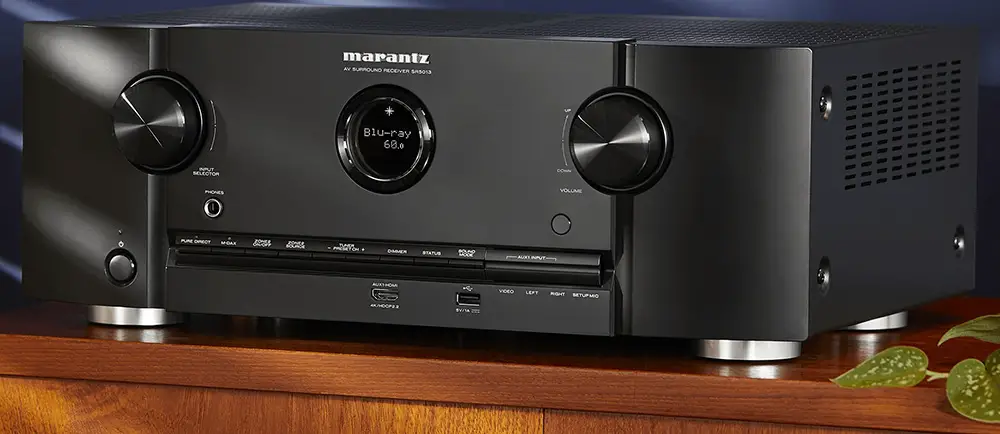 Audio Quality
Even for an entry level receiver we get a wide range of audio tracks support that include Dolby Atmos and DTS:X as well as up-mixing technologies like DTS Neural:X and DTS Virtual:X that are capable of reproducing surround effects by virtual speakers from non surround audio tracks. Unfortunately as this is entry-level range there is no Auro-3D support. The receiver has 7 channels of amplification with 100W per channel (8 ohm, 20 Hz – 20 kHz, 0.08% 2ch drive) plus 2 subwoofer ports making this receiver capable of a 7.2 channels or a 5.2.2 channel audio setup by using 2 height channels so that the object oriented audio tracks can take advantage of the height layer. For our testing we opted for a 5.1.2 setup with 2 overhead speakers that we had positioned in the middle of our testing area plus 1 subwoofer.
For our testing we tried out a few selected scenes from the film Battleship as the 4K UHD disc comes with an incredible DTS:X track that holds nothing back as far as acoustic madness and environmental effects is concerned but at the same time we were able to check a few selected scenes that were filled with ambient and environment sounds as well as dialogue.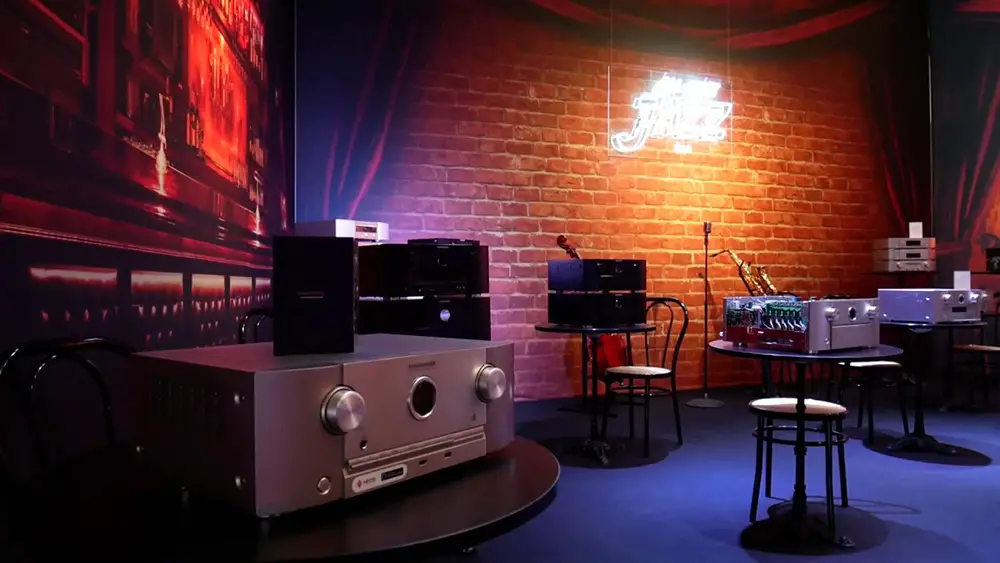 In the scene where we get the first showdown between the alien ship and the navy destroyers, sound from all channels comes very clear with sound effects that are very distinguishable from each other even when you consider the mayhem that is happening in the scene. As the explosive pegs are nailing the destroyer and explode cutting it in half the subwoofer may have top priority but you can hear all the metal debris and splashes on the water that results the sinking of the ship. The alien targeting system emits a menacing electronic sound that reveals it's foreign alien nature.
During the final act with the USS Missuri fighting the shield mother ship the dual energy beams that emit towards the sky and create the protective bubble that keeps the rest of the fleet outside the warzone made all speakers go crazy with it's ecstatic energy emitting sound that comes out with great clarity and punch. When projectiles start flying around the surround speakers join the party and sound effects were moving between channels with very good precision creating a very immersive sound stage. Height speakers were also busy enough by expanding the top layer and made us more than a few times lower our heads to avoid incoming fire.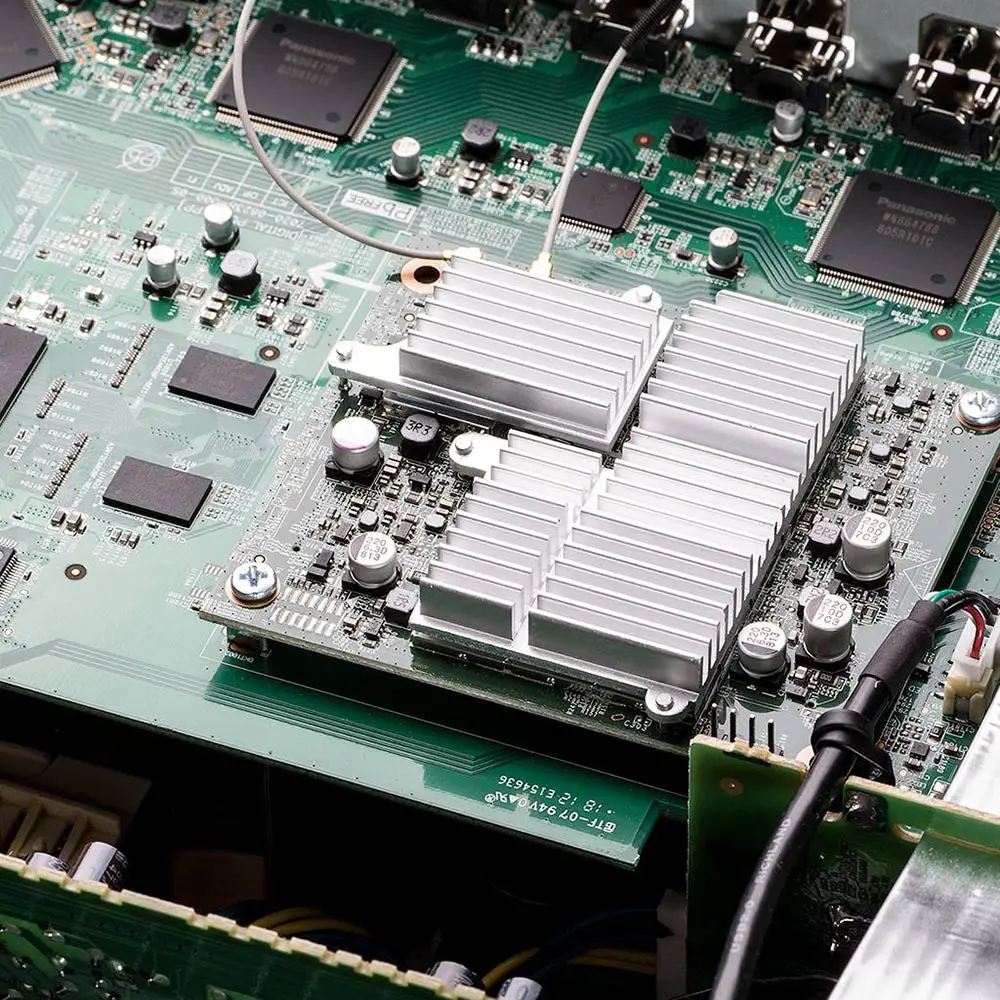 Dialogue was very clear and distinguishable from the rest of the sound effects and even during action scenes it was very audible with good separation from the rest of the channels. With 100W of power the receiver has enough headroom to push it beyond normal levels but this doesn't mean that it can go on to extreme levels. Having tested the much less powered NR1609 recently, the SR5013 gave us a pleasant boost over those levels so if the NR1609 offers you everything you would need but you found it a bit under-powered then the SR5013 will be the ideal one for your needs.
The SR5013 may be good with movie audio tracks but is also a capable music performer with it supporting a wide variety of lossless and lossy audio formats like MP3, WMA, AAC, FLAC, ALAC, WAV, FLAC HD 192/24 bit, WAV 192/24 bit, ALAC 192/24 bit as well as DSD streaming (both 2.8 and 5.6MHz).We used our selected FLAC music tracks in order to test how the receiver behaves during music playback and we got very good balanced performance also.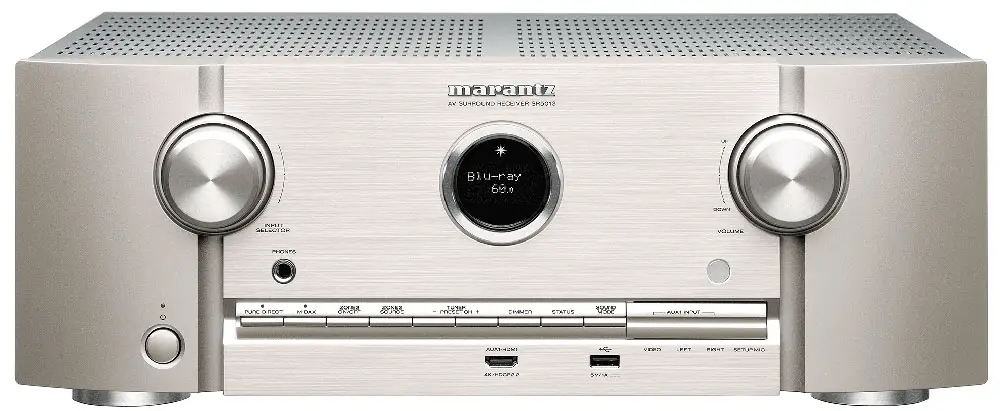 Very good bass reproduction, music instruments were clearly distinguishable in space and shifting between channels was accurate enough with good control over dynamics. With 100W per channel the receiver is capable in going high enough in volume and although it may not be enough for very large areas it will be enough for medium to large sized media rooms. Even when we pushed the receiver into high levels it managed to keep a surprising level of control that was very satisfactory for it's level. It may not offer the best quality you have ever heard but what you get is definitely worth it of the name and quality of Marantz.
Inputs / Ports
Getting a lot of connection ports is considered a given in this day and age and even for entry-level receivers they need to offer more to stay in the competition. The SR5013's predecessor offered a huge list of connections and we were curious to see if there would be any changes this time. As it turns out there are some differences but only minimal that are adding to an already jam-packed back panel. As we said above in the front panel we find an HDMI IN, a USB port, a HEADPHONES jack, the calibration microphone port as well as an AUX VIDEO IN and an analogue stereo input which are not very often seen in the front of receivers but nevertheless is a welcome addition.
In the back panel is the most interesting part as there are so many ports that we didn't know from where to start. Obviously the most obvious ones are the 7 HDMI IN ports on offer with all of them being HDCP 2.2 which means they support 4K@60Hz, HDR and Wide Color Gamut and with the additional front HDMI we reach 8 HDMI ports in total which is an impressive number. We also get 2 HDMI OUT ports which we definitely like as we can use the second HDMI port to connect some other audio device. One of the HDMI OUT ports also support ARC. We also find 7 speakers connectors enough for a 7.2 or a 5.1.2 audio setups. All connectors has different colors for easy identification.


As for all the other connections we get 2 coaxial and 2 optical digital audio inputs, 1 Ethernet port for wired connection to the internet, 1 remote control input and 1 output, 2 composite video inputs and 1 output, 2 component video inputs and 1 output, 4 analogue stereo inputs, 1 dedicated phono analogue input, pre-out coaxial connections, 2 subwoofer inputs, 7.1 channel analogue connections, a signal ground connector, antenna connectors, a 12V DC output, a RS-232C connector and an IR input.
As you can understand from this there is enough ports to make any kind of connections you would like. The only difference this year is the addition of the dedicated PHONO connection that adds more value to an already impressive list of ports. For an entry-level receiver we are definitely satisfied with Marantz in this regard and only makes us curious to see what else they will be able to fit in there in the following years.
OS, Apps and Features
As with all receivers nowadys the SR5013 supports 4K/60 Hz full-rate pass-through, 4:4:4 color resolution, HDR and BT.2020, plus Dolby Vision compatibility and Hybrid Log Gamma (HLG) which is a HDR protocol for streaming content. The SR5013 also supports upscaling of lower resolution content to Full HD and 4K although most TVs are capable of doing this by themselves.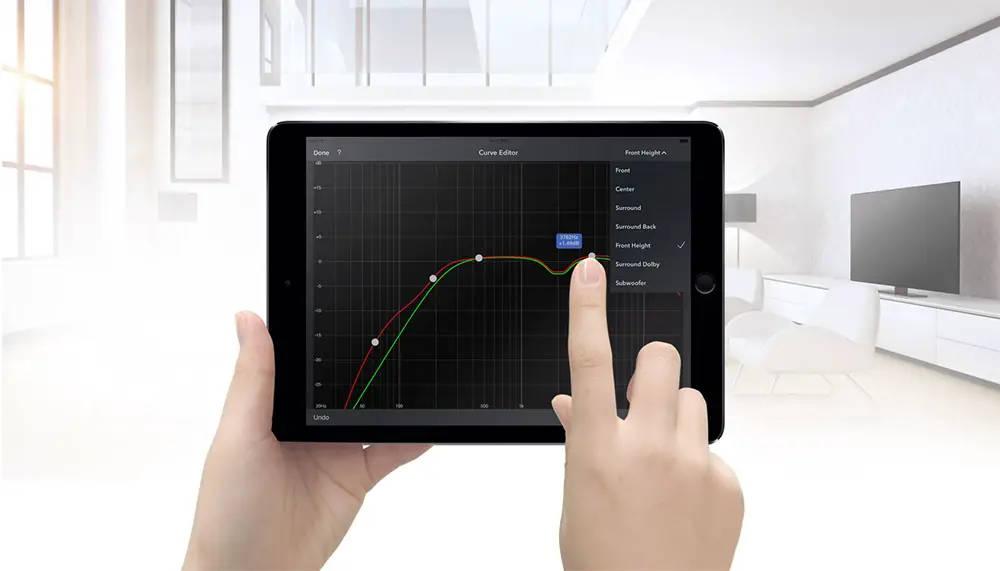 As with the whole SR series the SR5013 also comes equipped with the Audyssey MultEQ audio calibration system that helps a lot to create a balanced audio system if you are not very used or experienced with such calibrations. The end result may not be as accurate as doing a manual calibration but nevertheless it offers a nice alternative if you don't know how to do it right.
Additionally with the Audyssey system comes also the Dynamic EQ that keeps the dynamic levels as well as clarity even at low volume and the Dynamic Volume feature that balances sudden volume spikes when there is shifts between TV programs and commercials. In order to make the calibration easier Marantz has created the Audyssey MultEQ Editor App that you can find on both Android and Apple stores and let you calibrate the system through your smartphone and tablet by offering a very nice visual interface that is much better than what is offered in the built-in receiver UI. Unfortunately the app is not free and there is a one time charge for it which is rather disappointing.
The SR5013 also supports the Marantz 2016 AVR remote app which lets you control all functions and features of the receiver through your smartphone or tablet and thankfully this one is completely free to download. The app supports both Android and iOS systems so you can find it in their respectable stores.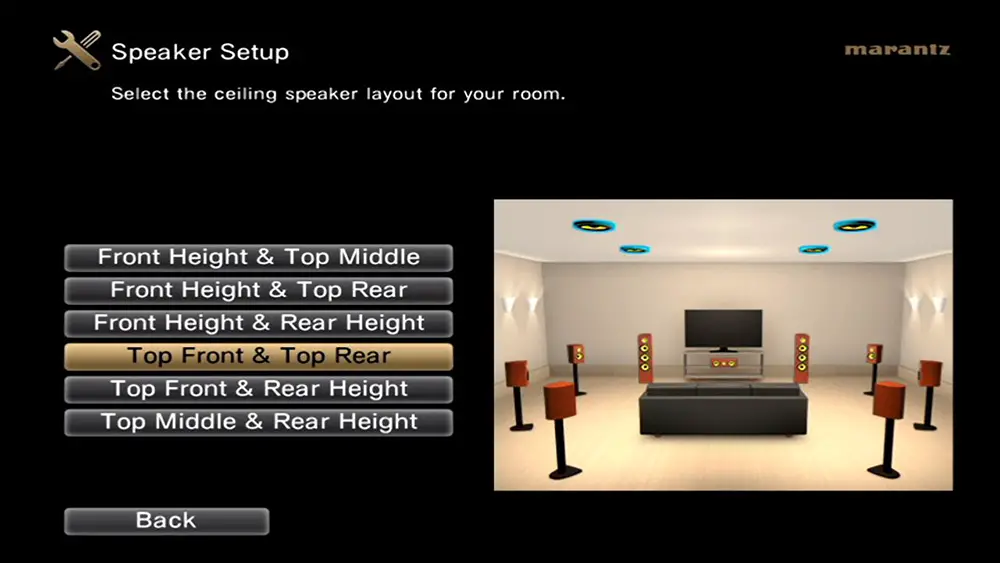 The built-in visual interface of the SR5013 is nothing fancy to talk about but everything is well organized into categories making all features and settings easy to find. We have seen more visually impressive interfaces and Marantz could work a little on this but since you will not be spending all your time in these menus it's not a big deal.
Another returning feature is the intelligent ECO mode with it's Auto and Off options. You can use this in order to minimize consumption by letting the receiver manage it's power output when in use or completely turn it off in order to get the maximum out of it.
Streaming is becoming more and more standard nowadays so naturally the SR5013 supports it either from local network drives like NAS servers or from the internet as the receiver supports a long list of streaming services like Spotify, Napster, Deezer, Tidal, Pandora, SiriusXM and Sound Cloud as well as TuneIn internet radio.

Connecting to the internet can be done either wireless as it comes with built-in Wi-Fi with 2.4GHz/5GHz dual band support or through the Ethernet port. Although we always prefer wired connections we tested both and we didn't notice any connection problems due to the wireless signal.
Streaming can be done also through the front USB port by connecting external storage devices or from a tablet or smartphone with Bluetooth connectivity. Another way to stream music is by using Apple's Airplay.
Multi-room music playback is becoming standard and so the SR5013 supports the HEOS multiroom audio technology with which you can use other HEOS enabled speakers to hear music in other parts and rooms of your house. Another multi-room technology that the SR5013 will support and is new this year is Apple's Airplay 2 which basically is the same thing to how HEOS works but this will be available in the near future by a firmware update.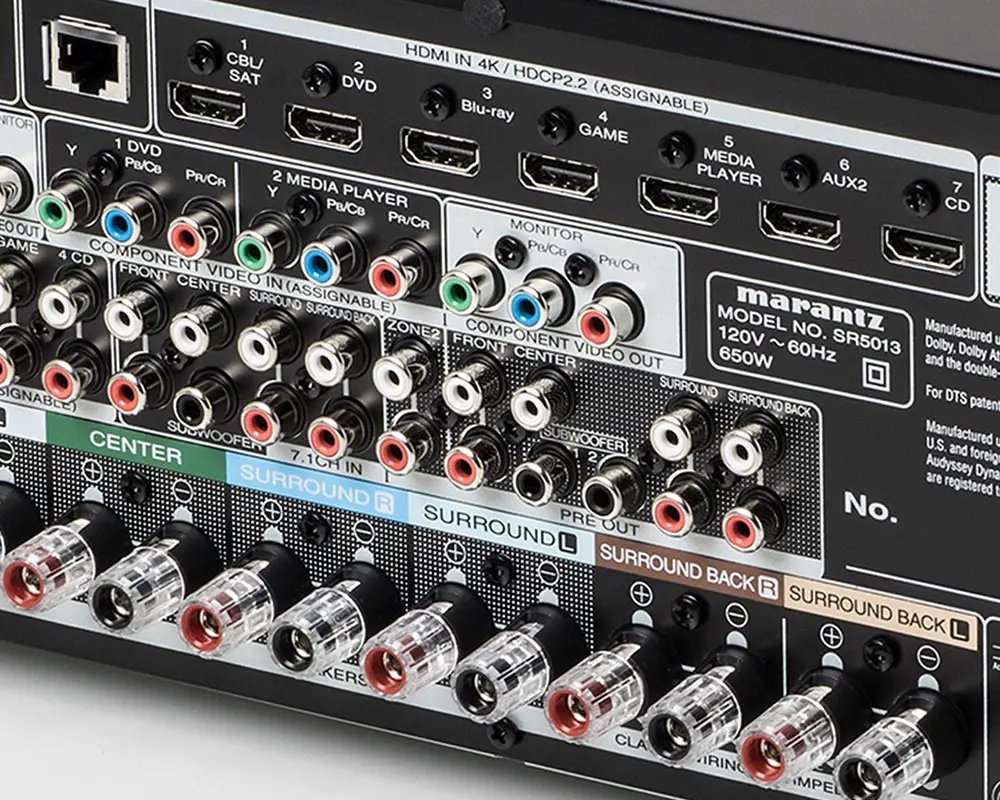 Another new feature for this 2018 lineup is support for Amazon Alexa voice control via the HEOS Home Entertainment skill with which you can control various functions of the receiver through an Alexa enabled speaker like the Amazon Echo. Commands include input selection, volume control and streaming music among others. We had tried this feature recently during our Marantz NR1609 review and testing and we found the system to respond rather well to our commands so if you like such a voice control system this is a welcome addition.
Final Thoughts
We have reached a point that is becoming harder and harder for manufacturers to add more value to new receiver models that are being released every year. As so we see that technologies that were meant only for the top tier models with each passing year to find themselves going down the ladder to cheaper models. This year the SR5013 continues from where it's predecessor left with some additional upgrades.
With 100W of power the SR5013 offers 7 channels of amplification, support for all next generation audio tracks and processings like Dolby Atmos, DTS:X, DTS Neural:X as well as DTS Virtual:X, support for 4K/60Hz full-rate pass-through, Dolby Vision and HLG compatibility and a wealth of online and streaming services. With the addition of Audyssey, setup and calibration becomes much easier while HEOS and Airplay 2 support lets you create your own multi-room speaker configurations. The number of connection ports could not be higher as the back is jam-packed with ports but even so they managed to add a dedicated PHONO connection while the design although similar to previous years is very good to need any change. Performance was very good for this price range and we had no problems during testing either movies or music giving very satisfactory results.
If there would be one thing that we didn't like is that although the SR5013 is considered the entry level model in the series the price is very high as there are competing models with much lower prices than the Marantz one. If they want the SR5013 to stay competitive they should seriously rethink their price strategy. The receiver is fine packing some amazing quality, connections and features but competition is fierce and as such manufacturers should be very careful to price their models correctly in order to stay relevant. As for anything else we would like to have some backlight in the remote although this is something we often don't see even in top tier models.
Closing we have to say that the SR5013 is a nice AV receiver that is being undermined only by it's price. If you already have one of the previous SR50XX models then an upgrade is not worthy as the differences are very small to justify a new buy. If you are on the lookout for a new receiver then you might consider this if you can find it at a discounted or special price. But as it is right now it would be hard for us to suggest it when there are so many other competing brands that offer similar specifications. When the price will go down, and will go down for sure, then the Marantz SR5013 is definitely worth to consider.

For more reviews you can check our dedicated 7 channels 4K AV Receiver reviews list or even look at our Product Reviews Table where you can find the brand and specific product you are looking for.
Also don't lose the chance to subscribe to our Newsletter and gain exclusive privileges.
---
Cheapest Places to Buy :

---
Specifications
7.2 channel discrete power amplifier, 100W per channel (8-ohm, 20Hz – 20kHz, 0.08% THD)
8 HDMI inputs — including one HDMI input on the front panel — with full HDCP 2.2 support, plus two HDMI outputs
4K/60 Hz full-rate pass-through, 4:4:4 color resolution, HDR and BT.2020, plus Dolby Vision compatibility and Hybrid Log-Gamma (HLG)
Supports object-based audio formats Dolby Atmos, DTS:X and DTS Virtual:X processing
Ability to decode high-resolution audio ALAC, FLAC and WAV lossless files up to 24-bit/192-kHz — plus DSD 2.8MHz and 5.6MHz tracks let you enjoy music exactly as the artist intended
Marantz proprietary HDAM circuit boards for more detailed, dynamic sound
Built-in HEOS wireless multi-room audio technology
Amazon Alexa voice control via the HEOS Home Entertainment skill
Stream the most popular music services — like Spotify, Pandora, TuneIn, Deezer and many others — via Bluetooth, AirPlay 2 or the HEOS app
Now available – Apple AirPlay 2
Integrated Phono input to connect to your turntable
Optimize your audio experience with Audyssey MultEQ, Dynamic Volume and Dynamic EQ for a seamless setup within your listening environment
Setup assistant, advanced GUI and Marantz 2016 AVR remote app for an easy out-of-box experience
Built-in Wi-Fi with 2.4GHz/5GHz dual band support (dual antenna)