Marantz SR5015
Design -

91%

Audio Quality -

93%

Inputs / Ports -

91%

OS, Apps and Features -

95%

Price / Quality -

89%
---
Cheapest Places to Buy :
---
During the summer Marantz went ahead and released their latest 2020 offerings and as with all their yearly releases we got small updates over what we had seen in the previous year. We have already reviewed one of their new releases, the slimline NR1711, and the big news for this release also is obviously the inclusion of HDMI 2.1 and 8K resolution pass-through. It has been a shaky start for all 8K AV receivers as the inclusion of the new HDMI 2.1 was not without problems but we will talk about this shortly. In our Marantz SR5015 review today we will be looking at the lower tier, full sized receiver has on offer for this year.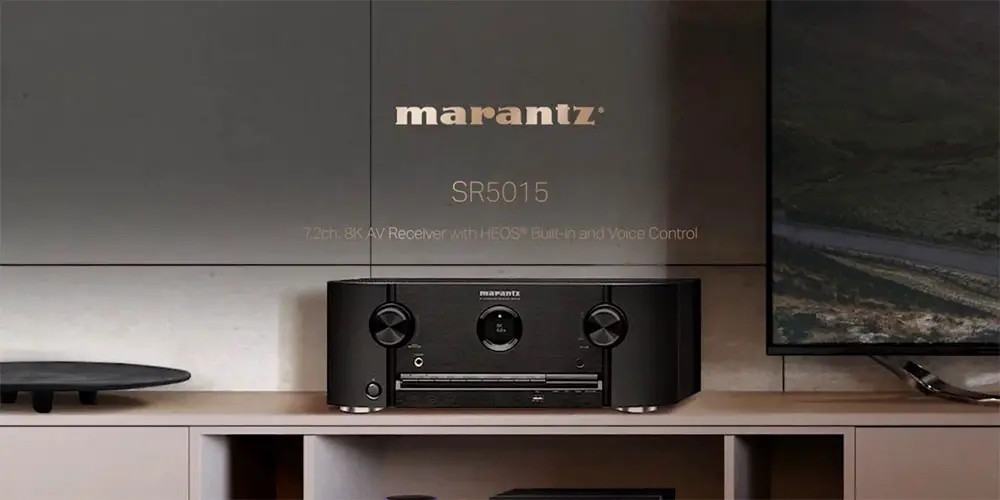 Marantz always had very dedicated followers and not without reason. Year after year they have created very stellar products with top quality materials and although their products are more expensive than what a casual user would normally buy it shows that Marantz aims for quality without letting the price compromise the result. The SR5015 may be the lowest unit they have but it's build quality, materials used and internal hardware show that what we have here is far from a baseline audio product and is aimed for those that seek something more from their home theater setup.
The SR5015 has 7 channels of built-in amplification with 100 watts of power per channel and comes with a huge list of features including support for Dolby Atmos and DTS:X formats, Dolby Surround and DTS Neural:X up-mixing technologies as well as Dolby Atmos Height Virtualization and DTS Virtual:X virtual technologies. It comes with Audyssey MultEQ XT audio calibration system while the most major extra features include HEOS, Airplay 2 and High Resolution Audio.
What is new this years is obviously the inclusion of HDMI 2.1 which means 8K/60Hz or 4K/120Hz resolution pass-through along with a set of new technologies that come with the new port including Variable Refresh Rate (VRR), Quick Media Switching (QMS) and Auto Low Latency Mode (ALLM).
We have a lot of ground to cover so without any delay let's start our analysis on the new SR5015.
Design
In general the unit doesn't differentiate itself much from its predecessor, the SR5014, so parts of our review remain the same as last year but we will make updates and point out the differences wherever is needed. As such the SR5015 keeps the same dimensions which are 17.3″ x 13.7″ x 9.1″ (440 x 348 x 231 mm) but you can certainly lower its profile to just 6.3″ (161mm) if you turn the antennas horizontally without this affecting the quality of connection. The unit weights 22.3 lbs (10.1 kg) and it's just about the weight you would expect from its class.
There is no change at all in the layout or general design and having both yearly releases next to each other doesn't indicate any major differences at all. The only changes you will spot are obviously the naming but for this year there is also the front HDMI port missing which seems to be the standard for many of Marantz AV receivers this year.
All Marantz receivers have a very distinct characteristic that immediately make you understand it's origins and this is no other than the small circular display at the front of the unit. This along with the slightly curved front left and right corners create a very intriguing design that differentiate itself from the rest more boxy type of AV receivers. The unit comes with the usual two knobs configuration with the right one for the volume and the left for input selection while under the right one we find the IR sensor and under the left one the headphones jack. On the lower left there is a single circular button for powering the unit while everything else is located on the lower middle part of the front face.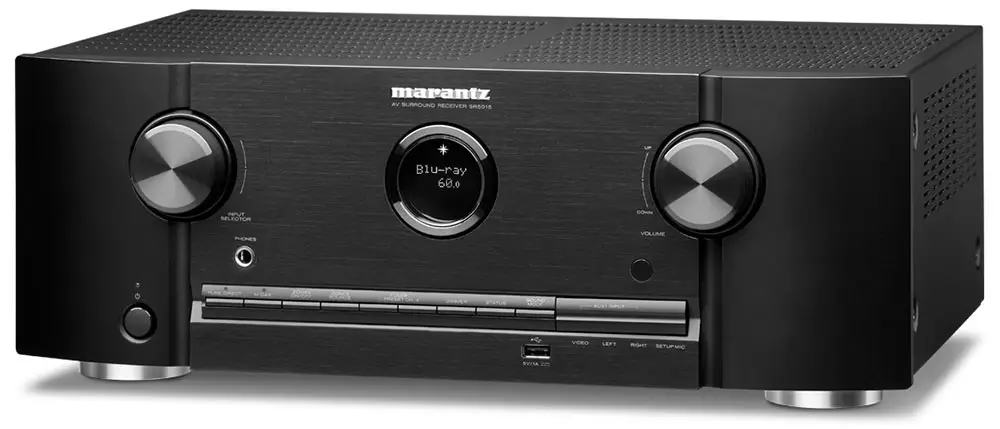 Here we get a single line of thin buttons that include Pure Direct, M-DAX, Zone 2 and tuner controls, Dimmer, Status and Sound Mode selection. To the right of this single line there is a closing cap that hides a few front ports that include a composite video input, an analogue stereo audio input and the calibration microphone port. Under all these buttons we get a USB port for connecting external storage. Now why this port is not hidden also like the rest we believe was done as it's used more frequently than the others and it would be frustrating to have to open this cap all the time.
The obvious omission is the front HDMI port that was sitting right next to the USB. We don't know the reasoning behind Marantz decision to do so but the inclusion of the new HDMI 2.1 must have something to do with that. But to be honest we are very disappointed with this as a front HDMI port was always useful and very practical and we do hope that Marantz will bring it back in their future releases.
Marantz always put a lot of attention to the internals of their products and the SR5015 is no exception. As such it features high-current discrete power amplifiers for all its channels and with its low impedance driver capability, it offers operational stability with a wide range of speakers for balanced, quality sound. It also uses AKM AK4458 32-bit DACs that are responsible for all audio conversions, it features Marantz's proprietary Hyper Dynamic Amplifier Modules (HDAMs) that deliver ultra-wide-band response and detailed reproduction as well as current feedback circuitry and Hybrid PLL Clock Jitter Reducer for optimum fidelity and maximum dynamic range.
Next we should talk about the included remote which basically is extremely similar to last year and exactly the same as the one we saw in the NR1711. The remote is code named RC042SR and the different naming indicate some changes and basically what has changed is the functionality of one button as the AUX2 which was used for one of the HDMI inputs has been switched to 8K for the HDMI 2.1 port located at the back.

As for the actual design since everything is the same our feelings towards it remain the same as before. There is a lot of space between the buttons but we feel they should be slightly bigger to give a more comfortable touch. At least adequate space between them ensures you will not accidentally press the wrong button in the dark as there is no backlight function here that could help. Also with the buttons available we believe that the remote could shrink a little to be easier to handle as it is slightly bigger than what we would like.
The top of the remote is where all of the inputs are located with the only change being the 8K button that we mentioned above while volume, channels and navigation controls are placed in the middle as we usually see followed by three playback buttons with four selection buttons underneath them. At the bottom we get four colored sound modes to choose from. Nothing fancy but not bad either. It has a nice texture surface that makes it look more interesting but it still doesn't have a backlight function that could be so useful.
As with the NR1711 changes compared to last year are minimal with the obvious omission being the loss of the front HDMI port. We certainly hope this is a temporary change and in the future Marantz will bring this back but as it is right now this is surely a step back from their previous designs.
Audio Quality
When it comes to what kind of audio formats are supported things are pretty much the same across the board as all new 2020 models, at least the full sized ones, come with the same kind of specs in this regard. As such the SR5015 supports all the latest audio formats like Dolby Atmos and DTS:X. There is also Dolby Surround and DTS Neural:X up-mixing technologies that can upmix simple stereo audio tracks into full immersive surround sound.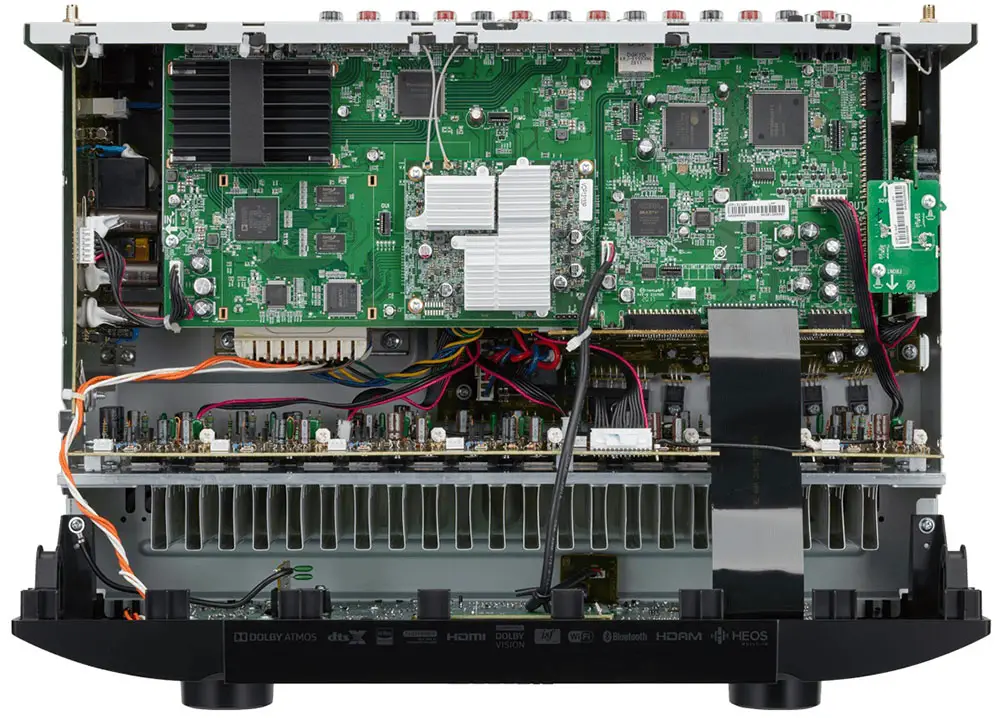 There is also support for virtual tech and while until 2018 there was only DTS Virtual:X from last year Dolby Height Virtualization has become a standard feature also. What these virtual tech do is that they can create virtual speakers in space where there are no actual speakers present and create the illusion of sound with the use of special algorithms and processing. This can be very handy if you cannot place speakers in certain areas like on the ceiling for example. Obviously the result is in no way the same as having actual speakers but it can be a good alternative in many cases.
One thing that is worth noting is that Dolby Atmos Height Virtualization can be used for both Dolby Digital as well as DTS audio tracks. On the other hand DTS Virtual:X can be used only with DTS tracks and as a result Dolby's offering seems to be getting the upper hand on this. Also if you want to enable the Dolby Atmos Height Virtualization it can be a bit tricky to find out how to do it as there is no direct button that can enable this.
In order to enable it you will have to first go into the main menu, in the Audio section and find the surround parameter. In there you will find the Speaker Virtualizer that you have to enable first and after use one of the sound modes that use Dolby Surround. This way Dolby's virtualizer will be enabled. Not easy or straightforward at all and even the manual is not very clear with this. We were hoping Marantz to make this a bit simpler from its first implementation but has remained the same so far.
The SR5015 retains exactly the same 7 channels of built-in amplification with a theoretical 100 watts of power (8 ohm, 20 Hz – 20 kHz, 0.08% 2ch drive) which is plenty in order to fill a medium sized room without any problem. The receiver is capable of powering dual subwoofer setups which is very common among home theater fans and it's good to see this here also. With the supported channels you can either create a 5.2.2 Dolby Atmos audio setup or if you don't care about the overhead layer then you can go for a 7.2 channels or even the more basic 5.2 setup.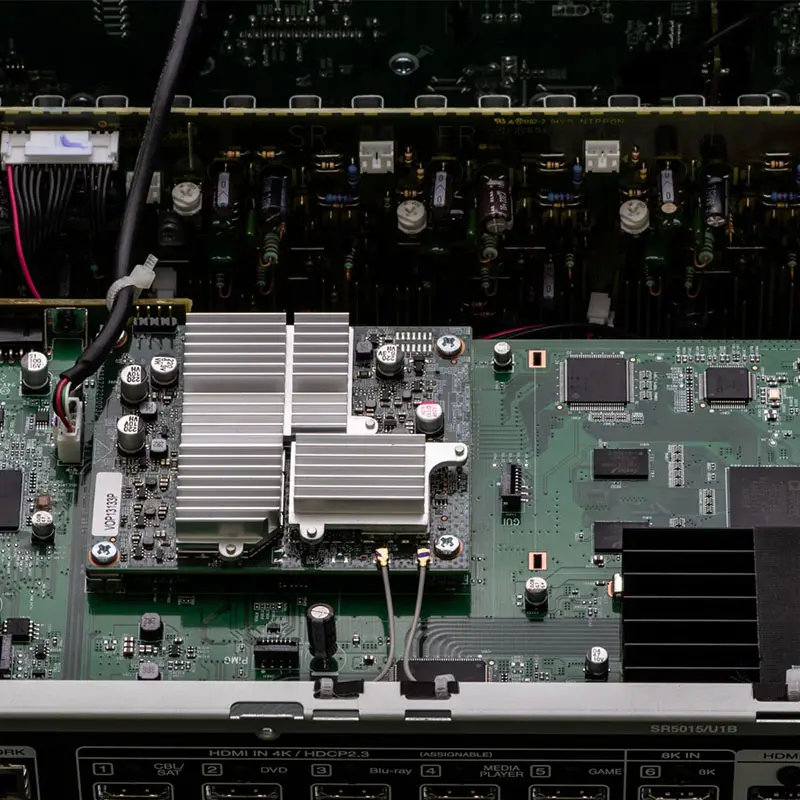 As we always do in these tests we went for a 5.1.2 Dolby Atmos setup with a single subwoofer placed at the front left corner of our testing room and 2 ceiling speakers for the Atmos overhead layer that we positioned in the middle of our listening area. As for the movie we went for this was the newly released Greyhound that you can get from Apple TV+ and contains an amazing Dolby Atmos mix that is exactly what we need to flex the muscles of the SR5015.
The film is really powerful on atmospherics and its sound effects in combination with its subtle soundtrack create an eerie atmosphere during its most intense moments. The film is very much dialogue driven but is not shy on action. The SR5015 did an amazing job at rendering all dialogue clear and distinct even when all hell broke loose.
This is particularly characteristic as even when the action starts the captain of the USS Keeling was issuing his commands to his sailors at all times and thus the action and dialogue were overlapping each other constantly. But this didn't stop the SR5015 from delivering all channels, and especially the dialogue, with a surprising degree of resolution and separation from everything else.
Now as for the front soundstage the SR5015 did fill the space and expanded beyond its physical barriers. When the Fletcher-class destroyer was throwing everything it had to the U-boats you could feel all the projectiles as they were flying all over the place. But it was not only a matter of throwing everything to you. The receiver rendered everything faithfully from the heavy 5″ guns down to the smaller 12.7 mm machine guns. Everything sounded just right, with no extra processing or alterations.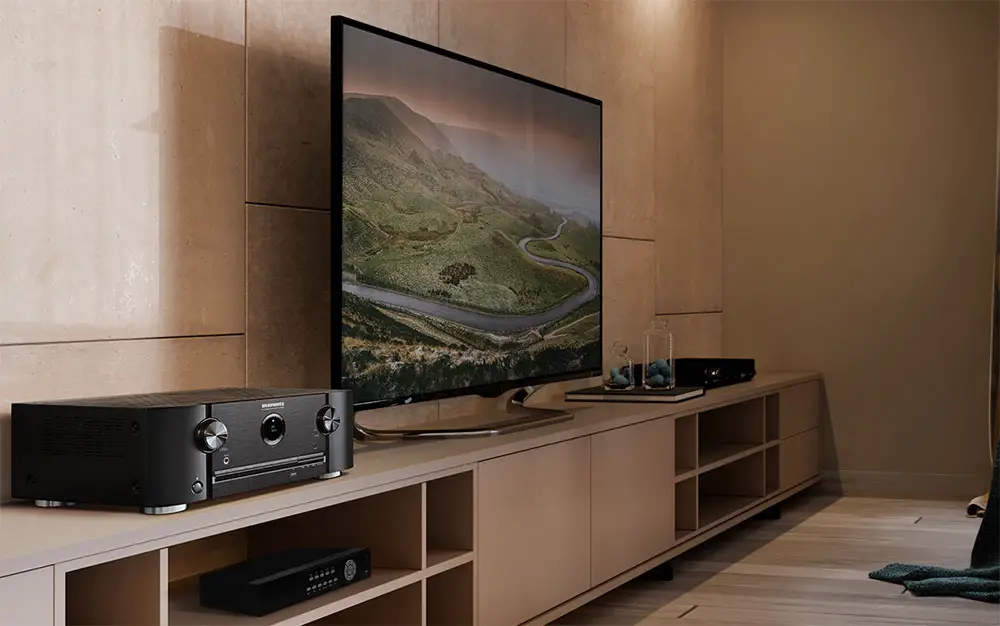 The surround activity was just as good as the front action. The receiver was very capable at channels shifting and transitioning and everything felt smooth and with no distracting delays. The film is using surround activity intelligently as it is mostly front action driven but over the shoulder action helped to expand the world around us and give us a sense of grander scale while when the tension was rising as the destroyer was playing hide and seek with the U-boats the surround speakers worked in harmony with the front action to create an unsettling atmosphere which felt totally amazing.
Dolby Atmos effects were also on the menu but the film is using them sporadically mostly in order to complement the action rather than take center stage. The occasional airplane fly over would make you turn your head up to pinpoint its location while they did an even better job at using the overhead layer in order to create a more immersive bubble around you with atmospherics and ambient sounds.
Lastly no review would be complete if we didn't mention about the bass. A WWII film like Greyhound wouldn't be able to do without some awesome low end action and the SR5015 didn't disappoint. Explosions were powerful, the guns of the USS Keeling were thumping with menace and the depth charges were exploding with an amazing low end wave hitting us as we were holding on to our seats. The experience was certainly amazing and if you are a lover of low end action the receiver will give you everything you need and more.
The SR5015 comes with 100 watts per channel and while obviously this is a theoretical number the receiver has plenty of juice for any kind of small or medium sized rooms, home theaters and media areas. We did push it to higher than what we would accept levels and never felt that it was bulking under the pressure or loosing balance. Everything sounded just as it should with slight exceptions here and there but overall you are going to be amazed by its control over the sound across the whole dynamic range.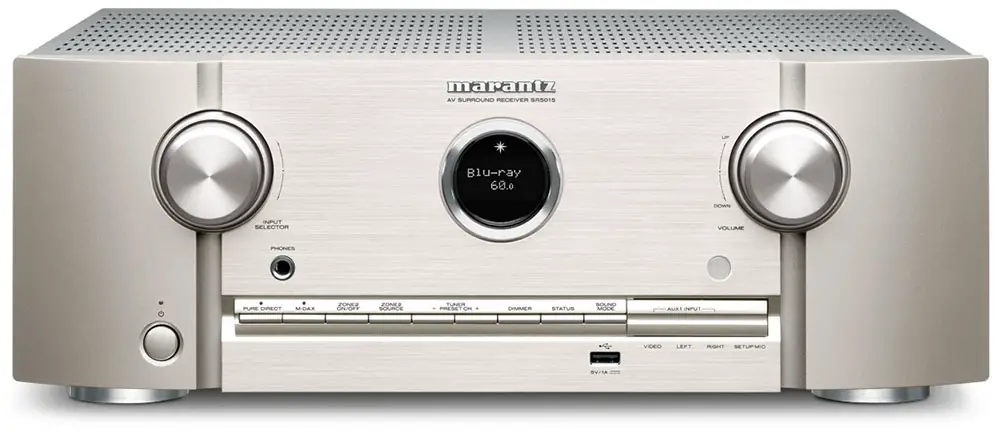 The SR5015 also retains all the characteristics that made the previous models such good music performers. As such this receiver supports not only the usual lower quality audio formats like MP3, WMA (up to 192 kbps) and AAC but can also playback High Resolution Audio in the likes of FLAC, ALAC and WAV files up to 192 kHz / 24-bit quality. DSD streaming is also available for both 2.8 and 5.6MHz.
For this testing, as we usually do, we selected a few favorite tracks in FLAC format that we streamed through the front USB port for the best quality possible. The receiver performed similarly to many other Marantz offerings which shows the good work engineers have done in this respect.
The front soundstage suddenly came to life as all instruments were meticulously rendered in space. The receiver worked in harmony with our speakers and delivered amazing sound imaging across the room as each audio source was precisely positioned in front of us. Stereo separation was excellent while panning effects were to the point. The mid-range had good tonality and balance, the high end was exciting and playful while the low end would keep pace even during demanding songs and rhythms. We tried out a vast selection of songs that included pop, rock, jazz, classical and even heavy metal and at no point did we feel that the receiver couldn't handle a specific song.
Overall the SR5015 didn't have to try much in order to amaze us. It handle everything with a degree off expertise that is very characteristic of Marantz. Either it be a heavy action film or a delicate classical song the receiver, like a maestro in an orchestra, will handle everything with finesse, tight control and powerful output.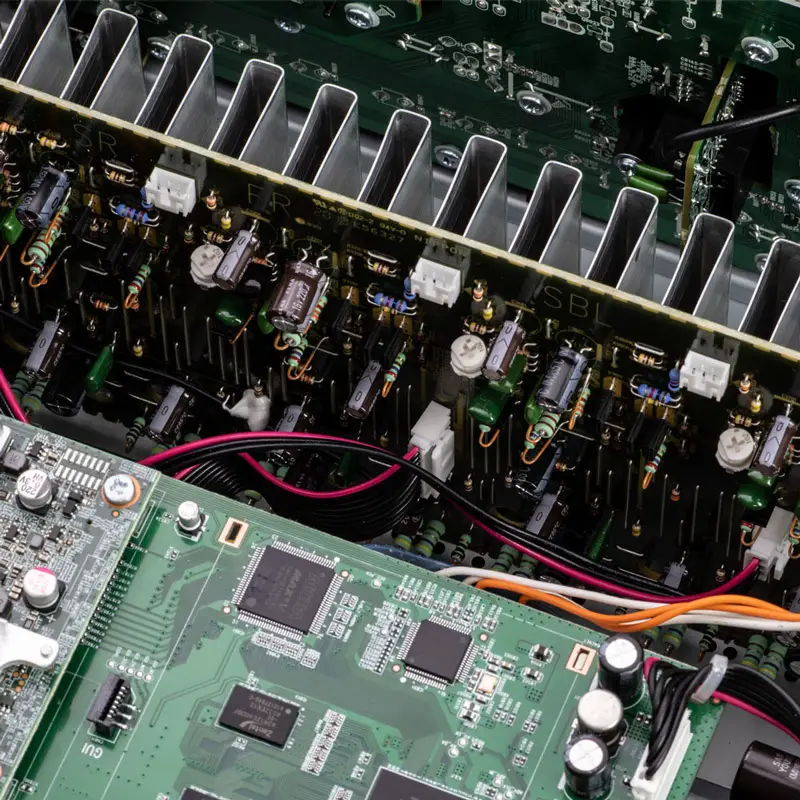 Ports and Connectivity
Next we will be looking at the available ports and connectivity options that the SR5015 comes with. The receiver may not have many differences with its predecessor in terms of actual audio performance but in this section is where we find its major difference as the arrival of HDMI 2.1 and 8K pass-through is final here but not without a few hiccups. The SR5015 may be Marantz's entry level full sized unit but in reality there are a lot of expectations from such a premium device.
For the sake of keeping everything together we will mention once more the front ports that we analyzed above with the SR5015 having a USB port for connecting external storage, a composite video input, an analogue stereo input and the Audyssey microphone port. Missing this year is the front HDMI which is extremely disappointing and hopefully we will see it return in the future.
At the back of the unit we find all other connections and while the SR5015 offers an impressive number of them the new 2020 model actually sees a reduction something that we will talk about shortly. First of all we find 7 speaker terminals and all of them can be used with the built-in amplification in order to create either 5.2.2 or 7.2 channels setups. We also get 6 HDMI inputs and two HDMI outputs.

Now this is where we find the only and major change compared to last year. You see, the SR5014 had 7 HDMI inputs along with an 8th front one along with the two HDMI outputs. Marantz reduced this number as now we get a total of six, rear only, HDMI inputs and one of them only is HDMI 2.1. So in essence Marantz sacrificed two HDMI ports (one front and one rear) in order to give us one HDMI 2.1. Now take this anyway you want.
As for the HDMI 2.1 what comes with it is 8K/60Hz and 4K/120Hz pass-through capability, 4:4:4 Pure Color sub-sampling, Dolby Vision, HLG, HDR10, 21:9 video, 3D and BT.2020 pass-through, HDR10+, Dynamic HDR, ALLM, VRR, QMS, QFT, ARC, eARC, Auto LipSync and HDMI-CEC. As you see it comes with the full list of supporting features making it pretty much future proof.
Now there is another thing we need to mention here about the HDMI 2.1 ports being used in all AV receivers this year including the SR5015. It seems that the Panasonic chip that handles the HDMI 2.1 connection cannot process the signal of specific sources that output at 4K/120Hz RGB signal (8-bit, 10-bit, 12-bit) like the Xbox Series X and this results in a black screen. Now there are not many sources that currently support 4K@120Hz with this exact configuration but this is probably a hardware issue and cannot be solved by a simple firmware update.
Now if you are wondering, the SR5015 has no problem whatsoever if you are watching movies or playing games at 4K/60Hz and 4K/120Hz YCbCr 4:2:2 signals (32Gbps) or anything below that so in most cases you are going to be absolutely fine. This means that the PS5 will work without any problems. In the rare case where the receiver accepts a 4K/120Hz RGB signal (8-bit, 10-bit, 12-bit), like from the Xbox Series X for example, this is when this problem will appear and the only current workaround is to connect your source device directly to your TV and from the eARC connection to the receiver.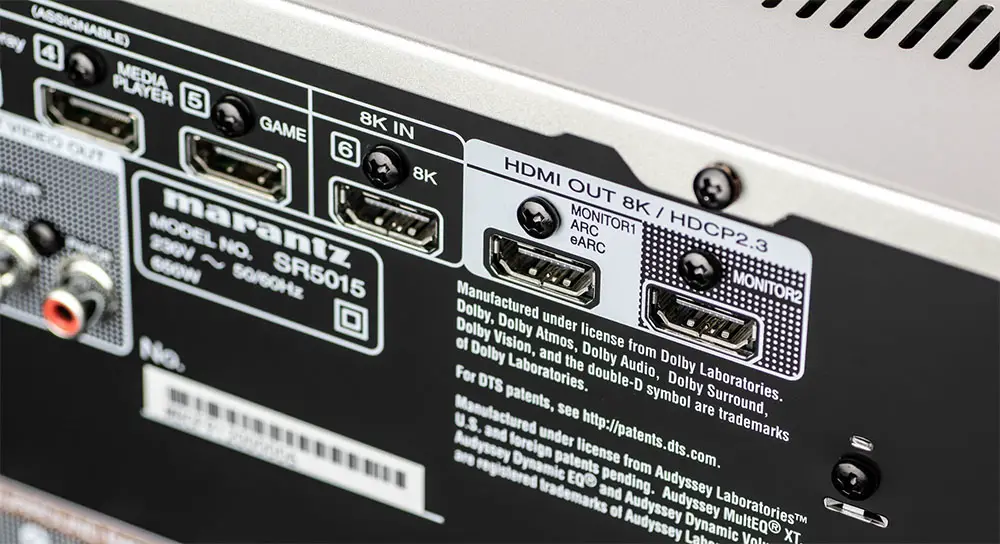 To be honest this is a problem that should not happen in the first place and shows that somewhere there has been a major miscommunication between manufacturers but you should keep in mind that this will probably not affect you as much as you may think of.
Right now this problem seems to affect all new AV receivers in 2020 including Denon, Marantz and Yamaha. All manufacturers have acknowledged the problem but as far as a solution it is still unclear how it will be handled and all of them are currently investigating the problem. In all honesty, as this seems to be a problem on a hardware level, we don't see anything changing at least as far as the 2020 models is concerned. But we will keep you updated on future articles about this development.
As far as the rest of the connectivity options everything remains the same as we get 2 components video inputs and one output, 2 composite video inputs in addition to the front one and one output, 4 analogue stereo inputs in addition to the front one and one more that is dedicated to phono, 2 coaxial and 2 optical digital audio inputs, 7.2 channels multichannel pre-outs and 1 analogue multi-room output. There is also an Ethernet port, an IR flasher input, an RS-232C port, a 12 volt trigger and the usual FM, AM and WiFi/Bluetooth antenna ports.
Wireless connectivity seems to be the same as it has built-in WiFi that supports both 2.4 and 5GHz as well as Bluetooth for streaming audio but here we get a small update as the SR5015 comes with v4.2. We would like to see Bluetooth v5.0 but it seems that Marantz still uses the older version this year.

With no doubt the big news here is the inclusion of an HDMI 2.1 port along with 8K resolution pass-through and all the new technologies that come with it. But it's not smooth sailing for the new port as the discovery of the HDMI 2.1 chipset limitation will certainly leave a sour taste among gamers and users alike even if it is a minor one for most people that will use their 2020 receivers mostly for movies. But other than that the new HDMI do bring a lot to the table and is a good basis for future releases.
OS, Apps and Features
Moving on we will now analyze all the extra features and functions that come with the unit. This is another part of our review where we find extreme similarities to what was offered in the NR1711 we reviewed recently so our analysis will be similar and we will make appropriate changes wherever we see something different.
Calibrating the SR5015 can become very easy for those that have no previous experience as the receiver comes equipped with the Audyssey MultEQ XT calibration system. The XT naming means that this is a more advanced version of the MultEQ edition and features more measurement positions along with higher filters resolution.
The AV receiver comes with a calibration microphone and by using the built-in wizard that guides you step by step you can achieve very good results without the need to manually do any changes which can be very handy for casual users. As always for the best results a manual calibration is the best but from what we have seen the Audyssey system is an excellent assistant for novice and inexperienced users and the XT edition featured in the SR5015 is a significant upgrade over the more basic MultEQ system.
Along with the Audyssey system there are a couple more features that are included in the suite with the Dynamic EQ being one of them that keeps the dynamic levels as well as clarity even at low volume. The second feature that is included is the Dynamic Volume that balances sudden volume spikes when there are shifts between TV programs and commercials.
What is new to the 2020 SR5015 is the ability to store two Audyssey settings and switch between the two settings on the fly, giving you the freedom to tweak your listening experience based on content or listening environment. This can be especially handy if you like to watch different types of films and want to have a setup created specifically for each type.
And while the built-in system includes all the basic settings if you would like to dig deeper into calibrating your system you can get the Audyssey MultEQ Editor App that can be downloaded for iOS and Android devices and make the necessary calibrations from there. The app has more settings and features and you can do a more advanced calibration of your system that would be otherwise impossible. The only minus of this, is the price as the app has a one time fee that you need to pay in order to download.
But Marantz has another app available and this one is free of charge called "Marantz 2016 AVR" remote app and with this you can have total control of the SR5015 from your mobile device. We had checked this app before in some of our previous reviews and we found it pretty good so since it's free you can try and see if you like it.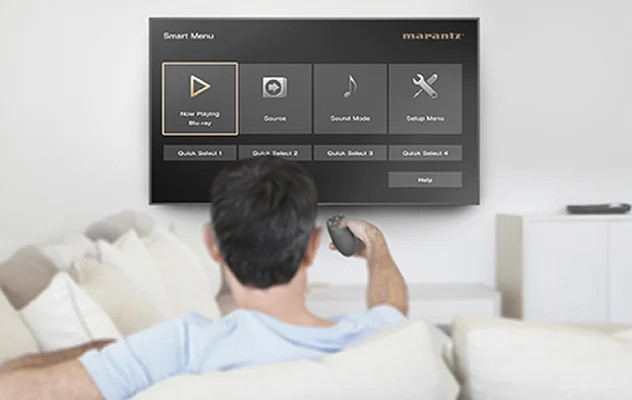 Another aspect of the receiver that has remained unchanged is that it features exactly the same setting menus. Having mostly the same capabilities and functions meant that there was no need for any major overhauling. All settings are separated into categories according to their appropriate function and everything was easy to find even with so many settings and features available. We have said before that at some point we would like to see a visual overhaul of the menus and get a visual design that comes a bit closer to what TV manufacturers have made as many AV receivers feel like they are stuck in early 2000.
As with all Marantz receivers, the SR5015 comes with an ECO mode that you can enable and let the receiver manage its power output in order to achieve power economy. But if you want the unit to perform at its peak power at all times then we suggest you to better leave this setting turned off.
All Marantz receivers include strong streaming capabilities and the SR5015 continues this trend. Streaming with the SR5015 can be done locally if you have a network server like a NAS connected or through the internet from one of the available streaming services available. The list is pretty extensive and includes all the big names like TuneIn Internet Radio, Spotify Connect, Tidal, Deezer, Amazon Prime Music and Napster among others.
With the receiver supporting both wired as well as wireless connections (2.4GHz and 5GHz) you can choose what is best for your given situation. But streaming capabilities don't stop there as with Airplay 2 you can stream music from Apple devices through the use of Bluetooth if you are an Apple lover. And since we mentioned Bluetooth we should note that the SR5015 can also stream audio to Bluetooth enabled headphones. And to take this even further there is the ability to output sound from both the wired speakers and to a Bluetooth headphones at the same time.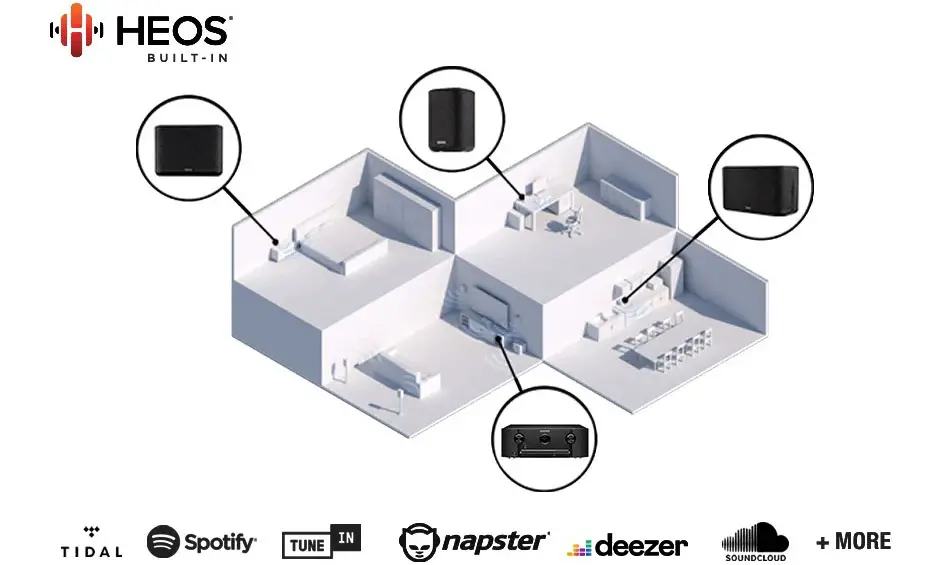 We already mentioned above that the receiver supports USB streaming but we should also note that the unit comes with M-DAX2 support. Compressed music enhancement in the SR5015 is done by Marantz MDAX2 technology. The use of compressed audio files like MP3, Windows Media Audio or AAC is getting more popular than ever. The audio quality of these compressed files however is less than what is found in the original lossless files that are on a CD, especially lacking in the higher frequencies and affecting the lower frequencies which make the audio image less wide and deep. The Marantz Digital Audio Expander 2, also called M-DAX2, recalculates the outputted frequency range. This enables you to get a more detailed and clearer sound.
Next comes the receiver's multi-room capabilities. As with all Marantz receivers we get the HEOS multi-room audio technology that you can use to connect the SR5015 with other HEOS enabled speakers you may have around your house. Similarly you can use Airplay 2 that does exactly the same job with speakers that are Airplay 2 enabled. And while streaming has definitely become the normal nowadays when it comes to multi-room environments the SR5015 also supports Zone 2 in order to connect a pair of speakers to a 2nd room or area.
Voice control is another standard feature lately so it couldn't be missing from the SR5015 either. As such the unit supports all the known services including Amazon Alexa, Google Assistant, Apple Siri or Josh.ai. All of them need their respective external devices to be used obviously but it's good to see that Marantz offers full support for the last few years now and it has become a standard nowadays.
Marantz was always offering strong custom installation capabilities to their AV receivers and the SR5015 seems to be no different. The unit features external RS232 and IP control capabilities for easy customization and compatibility with third-party integration solutions. The Marantz SR5015 offers IP control capability for major third-party control devices, as well as Control4 SDPP (Simple Device Detection Protocol) certification for seamless integration with Control4 home automation equipment.
IR (infrared) remote control input and output are included on the rear panel for remote control compatibility with other components in your home theatre system. As a result the SR5015 is really a technology heaven for custom installers as there are so many options and flexibility when it comes to choosing what suits you the best.
Closing a few more features that are worth mentioning are HDMI-CEC, analogue and HDMI to HDMI upscaling to 8K@50/60Hz resolution, Bi-amp capabilities as well as being "Roon Tested" certified. For this last one there seems to be a bit of confusion as there are two types of certifications. Roon Ready and Roon Tested. The SR5015, as with all the other Marantz receivers, is Roon Tested which means that if you use Airplay for example audio quality is limited to 16 Bit/44.1kHz. Keep that in mind in case Roon is specifically important to you but also want your files to be streamed in their original quality.
The SR5015 is a fully featured AV receiver and there is nothing major missing here. Things seem to be almost the same from last year with very small deviations but last year's SR5014 was already fully packed so we had no major objections on what was offered anyway.

Final Thoughts
The problem with yearly releases is that new features are either cosmetic or in the best case scenario very minor. We would say that this year we got a slightly bigger update mostly because of the HDMI 2.1 inclusion along with everything that brings. But it is not smooth sailing for the new protocol as there seems to be certain compatibility issues that will certainly leave a bitter taste to many users that are thinking of getting one of the 2020 releases. But even with its rough HDMI 2.1 start the 2020 SR5015 remains an amazing and extremely capable AV receiver.
The unit comes fully packed with features and functionality as we get Dolby Atmos and DTS:X along with Dolby Surround, DTS Neural:X, Dolby Atmos Height Virtualization and DTS Virtual:X up-mixing and virtual technologies in addition to the Audyssey MultEQ XT audio calibration system, support for HEOS and Airplay 2 multi-room tech, voice control, High Resolution Audio, online and USB streaming, custom installation options and HDMI 2.1 support with all the new technologies this brings like 8K/60Hz and 4K@120Hz pass-through, HDR10+, Dynamic HDR, ALLM, VRR, QMS and QFT.
The obvious minus is the problem all new 8K receivers have with passing through 4K@120Hz RGB signals (8-bit, 10-bit, 12-bit) and will certainly make many users to think twice before purchase. Obviously for those that will use the receiver mostly for movies will have no problems whatsoever but nevertheless it's a problem that shouldn't exist and when we talk about paying a premium price for the SR5015 it adds more salt to injury. Also we loose two HDMI inputs including the highly practical front one to get a single rear HDMI 2.1. We would also love to see at some point Marantz adding backlight functionality in their remotes. You are buying a premium product so getting this feature should be a must already.
The 2020 SR5015 is a very capable receiver and one that will certainly satisfy you with its total amazing control over all audio elements, its smooth and enveloping sound reproduction and the totally satisfying functionality options it offers. If you are looking for an AV receiver that reeks quality and want to use it either for movies or music then the Marantz SR5015 should definitely be on your list. Highly recommended.

For more reviews you can check our dedicated 7 channels 8K AV Receiver reviews list or even look at our Product Reviews Table where you can find the brand and specific product you are looking for.
Also don't lose the chance to subscribe to our Newsletter and gain exclusive privileges.
---
Cheapest Places to Buy :
---
Marantz SR5015 Specifications